Better Living uses affiliate links. If you make a purchase through them, we may receive a small commission (for which we are deeply grateful) at no cost to you.

Spending days soaking in the warm summer sun can be one of the simple joys of summer. But at night it's all about staying cool as a cucumber if you want to make sure you're getting a good night's sleep. Sleep can not only energize you during the day, but it is also a time for the body to heal itself, calm the mind and relieve stress. That means getting a solid 8 hours of quality sleep is the cornerstone of good health. One of the best ways to make sure you're sleeping comfortably through the night this summer is to have the right linens on your bed. There's nothing worse than tossing and turning all night simply because you're just too hot to sleep.
So what are the best types of linens to put on your bed in the summer? In the summer months, it's important to choose light and breathable materials that will circulate the air around you and balance your body heat. And our favorite sheets to do just that with? Linen.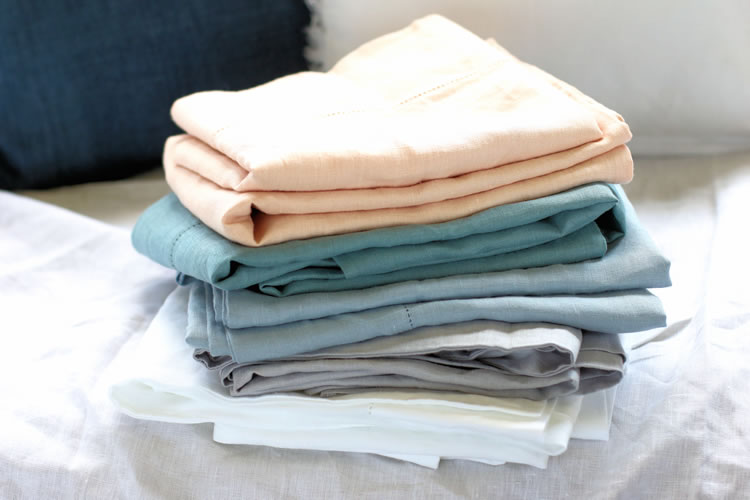 What Exactly Is Linen?
Linen is a natural fiber similar to cotton made from the stalk of the flax plant that has been produced for thousands of years. It was even used in ancient Egypt and is considered one of the most luxurious of all fabrics! This is the same flax that produces seeds whose oil high in Omega – 3 fatty acids and you may be popping into your morning smoothie. I do! In Europe linen is the fabric of choice for bedding for these good reasons:
Here Are 7 Amazing Benefits Of Linen Bedding
1 | You know how wine gets better with age? So do linen sheets! With every wash and use the linen fibers slowly change instead of breaking down making their texture softer and silkier. It's a dreamy texture that really can't be replicated by manufacturing.
2 | Linen sheets are resistant to bacteria and naturally repel dirt! They're also hypo-allergenic and make the perfect choice for anyone who is prone to allergies or sensitive skin issues.
3 | Do you tend to sweat or get hot at night? Maybe this sounds like the person you sleep with? Linen is just what you need! It can absorb as much as 20% of its weight in moisture before it will begin to feel wet. It even wicks away moisture from your skin and can dry quickly too!
4 | Linen is a highly breathable fabric that keeps you cool during the summer months but can also keep you warm during the winter. Amazing!
5 | Hate static cling? Me too! Linen is an anti-static fabric.
6 | If you've ever looked to buy linen in the past but found them to be a little pricey, consider this: linen sheets are incredibly durable. Linen is 30% stronger than cotton and when properly cared for can last for decades. Over the years they will end up costing you less than "cheaper" sheets that will need replacing in a few years. And when you add in the amazing health benefits they're truly an amazing investment!
7 | Like to care for the earth and shop green? Me too! Linen is a sustainable, environmentally friendly and biodegradable textile. Flax (the plant it comes from) doesn't require much water and can grow in poor soil!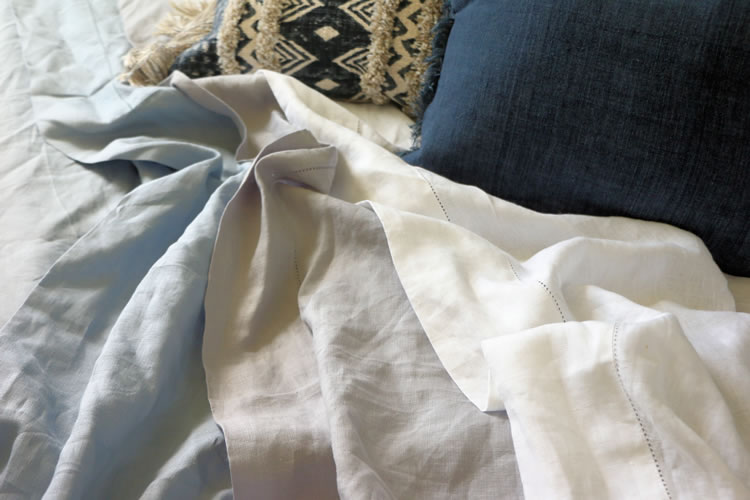 In a recent pursuit for some linen sheets, we teamed up with The Company Store to do a quick refresh on our summer bedding. The Company Store offers beautiful timeless linen bedding that is made to keep you cool while keeping your bed stylish. Their pure linen Comfort Wash Sheets are the perfect linen sheets and bedding to spruce up your summer bed. They're incredibly comfortable, already washed and give you a relaxed and easy look that is simply timeless. They come in some beautiful colors too!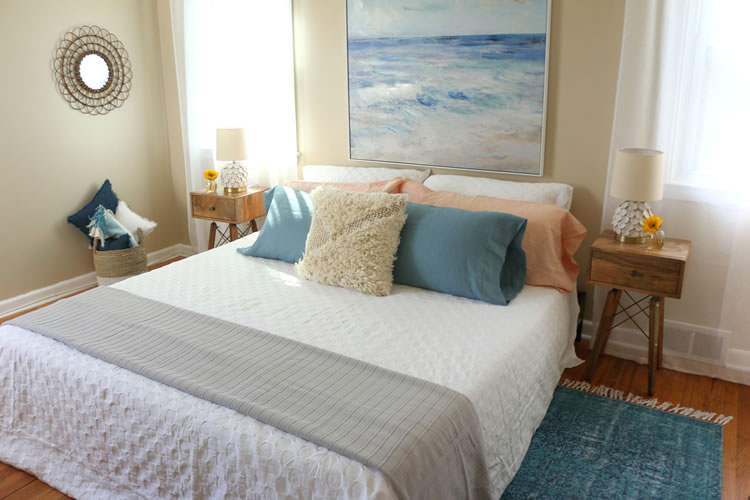 While I'm drawn to rich dark colors in the winter, my summer bedding linens are all about is all about being light, cool and airy. For summer I chose to refresh my bedding in colors like light blues, light grays, and pastels. Colors that make you feel cooler just by looking at them. The Company Store's linen sheets in the color Creamsicle are a new obsession of mine. It's a peachy hue with a hint of blush that looks gorgeous against shades of blue. It's so sweet! And everyone needs at least one great set of crisp, clean and soft white sheets. White linen sheets can be a great foundation layer for your bed. Pair it with your favorite colors and patterns in layering blankets, decorative pillows, and throws. You really can't go wrong.
When refreshing your bed for summer you don't need to makeover your entire bed in linen. You can of course and it would be absolutely incredible. But The Company Store's Comfort Wash Sheets and Bedding can also be purchased individually. They also have amazing quality bedding in other super high-quality fabrics, textures and gorgeous patterns. If you're looking to start incorporating linen into your bed's wardrobe try starting your refresh slowly. Start with some linen pillowcases in a variety of different colors or simply a top sheet to get a feel for what you like.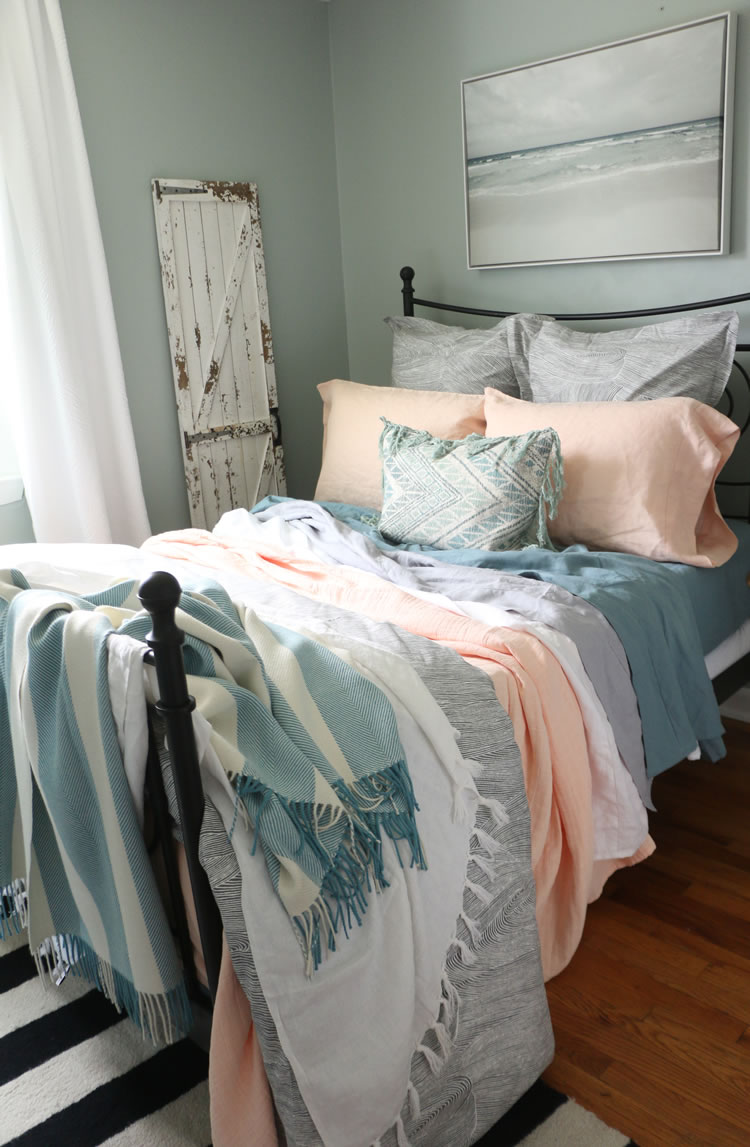 When refreshing the bedding in my guest room I wanted to add a few layers and textures while keeping things beachy. I never know how my guests are going to feel and I always want them to be comfortable. Extra layers can always be thrown to the side. So I paired The Company Store's Breaker Organic Percale Duvet & Sham that has a wave-like pattern in gray and cream with their lighter Gossamer Blanket (shown in Creamsicle) that is amazing for layering. It's soft and dreamy and I now need one in every color. It's the perfect summer blanket and is even perfect for snuggling up on the sofa.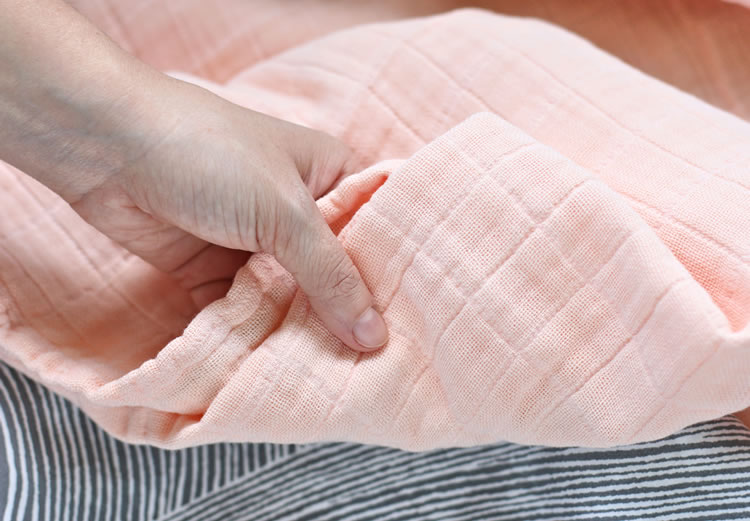 With a few decorative pillows and a change of the shams, I can quickly and easily change up the look of the bed.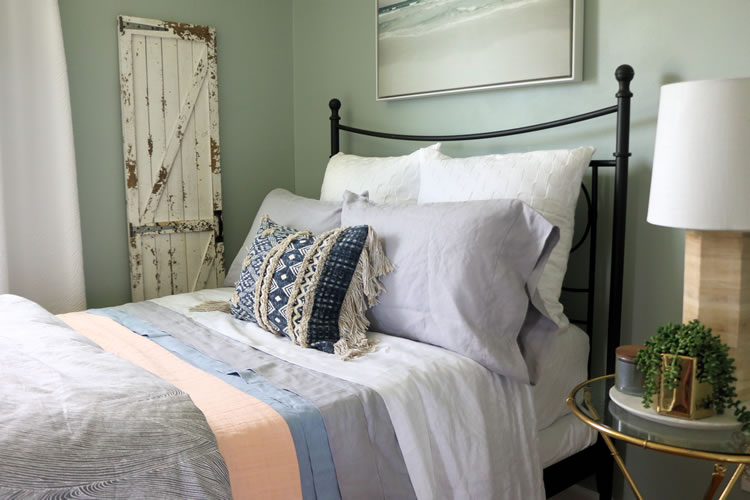 And if you get hot with your usual blanket in the summer, but feel too cool with just a sheet, try layering linen sheets for added warmth without bulk. Not only can you layer the colors to create a new dimension to your bed, but the in the hotter months they'll give you the comfort you need.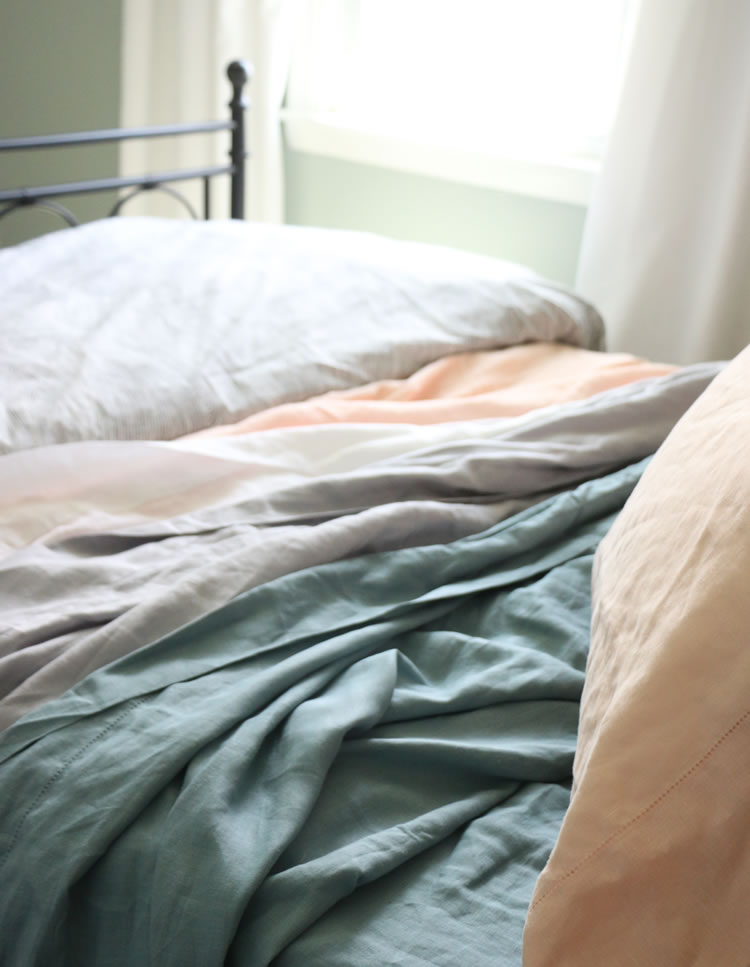 You can also add a lighter top layer. I like to sleep with a blanket that isn't going to cause me to overheat but has a bit of weight to it. In my own room, I paired the Comfort Wash Sheets with The Company Store's Network Coverlet and Shams (White) and their Legends® Egyptian Cotton Blanket (Sterling) for another light layer. Love it, love it and love it.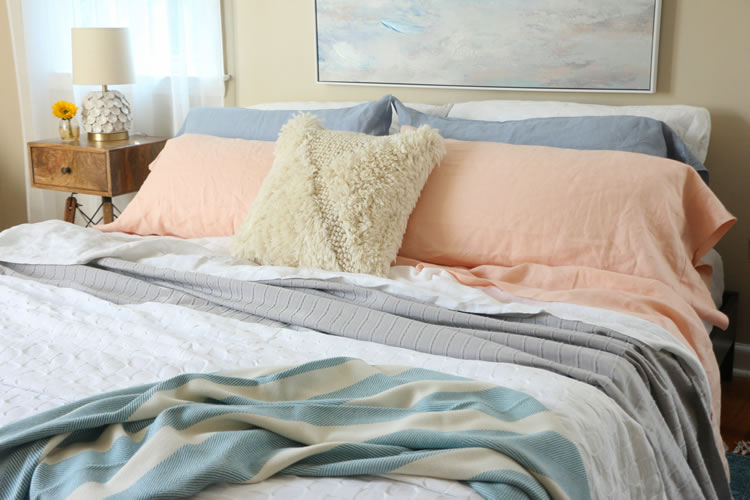 Not only do I adore the checkerboard pattern of the Network Coverlet, but it can even be used as a top layer in winter. And the texture? Unbelievably smooth. I can't recommend it enough! Oh my gosh, get it now! You will not regret it.
And no bed is complete without a few decorative pillows or throws. The Company Store has a beautiful selection of decorative pillows in a variety of colors, patterns, and textures. To stick with at least a few linen pieces I chose their Belgium Linen Fringed Throw in white and paired it with a couple Belgium Linen boudoir size pillows in Indigo and another in white. The linen is buttery smooth and will work as a beautiful accent anywhere in the home. They have a variety of colors to choose from including blush.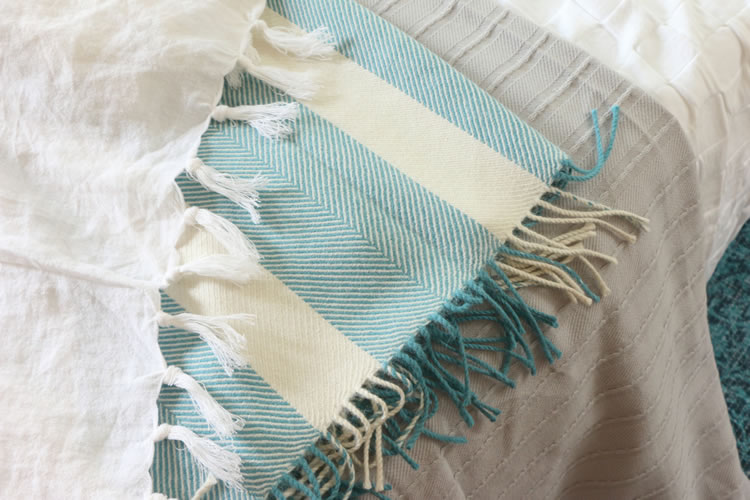 To add texture to the beds in both rooms I simply chose pillows with beautiful geometric patterns, a little fringe and a touch of shag. The quality of these pillows is outstanding and will last for years to come.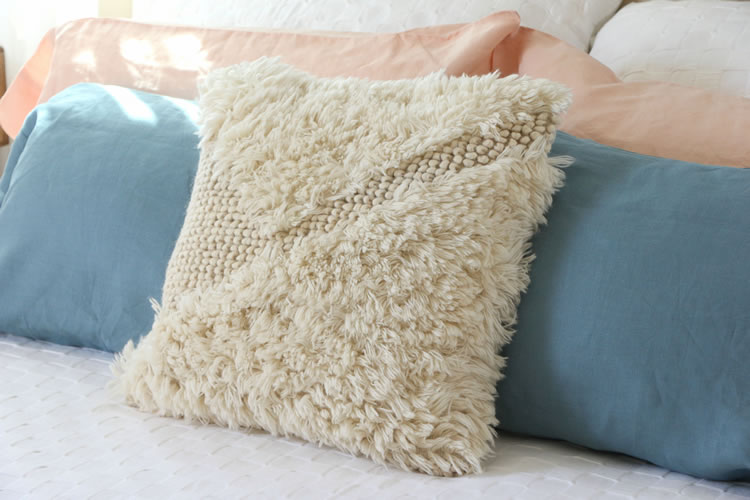 I really can't resist anything with a stripe and their Alpaca Herringbone Throw Blanket in turquoise is simply surreal. It's baby soft and will turn any spot in your home into a cozy corner. Super light yet warm, I'll be snuggling up with this throw and these linen sheets for years to come.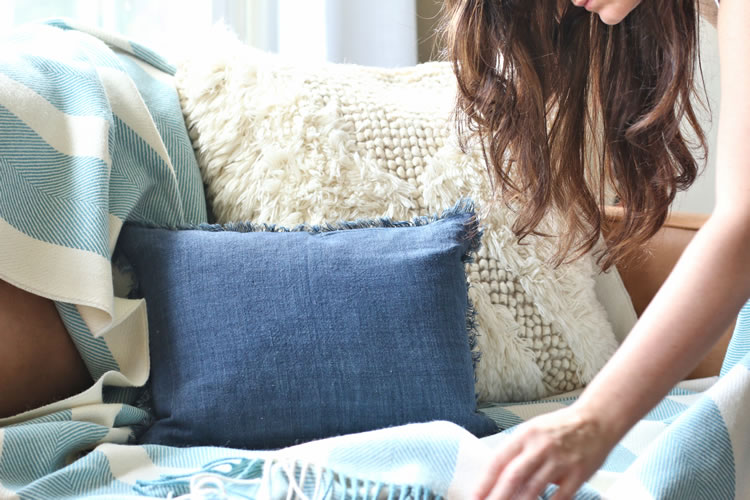 Do your sheets need a summer refresh?
Visit The Company Store @ thecompanystore.com to start dressing your bed in linen!
Your sleep will thank you.
Products Featured In This Post:
Bedding
Comfort Wash Solid Linen Sheets | Cstudio Home Breaker Organic Percale Duvet
Blankets
Gossamer Blanket | Network Coverlet | Legends® Egyptian Cotton Blanket
Throws 
Belgium Linen Fringed Throw
Pillows
Belgium Linen Pillow Covers