Better Living uses affiliate links. If you make a purchase through them, we may receive a small commission (for which we are deeply grateful) at no cost to you.
Does this sound like you? You rush out of the house only to realize you probably should have eaten something because you know you're going to get hungry. Like really hungry. Then when you finally do get a chance to eat something it ends up being total junk.  In order to stay away from the bad stuff when you're on the run, it's important to have an arsenal of quick and easy grab and go snacks available.  Here are some of our favorite healthy snacks that are easy to have on hand for when you're on the run.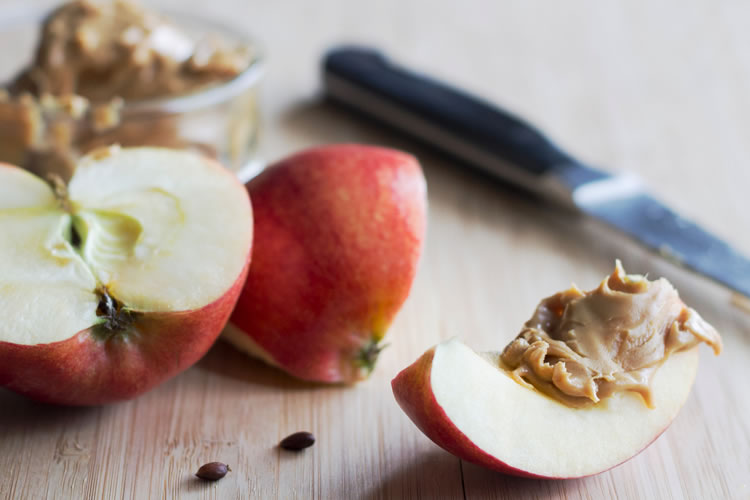 1. Apple or Celery With Nut Butter
We love an apple with peanut butter as a low-calorie post-workout snack. It's also great for when you're on the go. One small apple with a tablespoon of nut butter is an awesome easy snack with a healthy combination of carbs, protein and monounsaturated fat to keep you fueled. Just make sure to choose a natural peanut or nut butter with little ingredients other than nuts and salt. Nut butters with high amounts of added sugar, filler ingredients, and hydrogenated vegetable oils should be considered a no-no.
2. Jerky
Jerky is a great high protein, low carb, low fat on the go snack. A 1-ounce serving of beef jerky provides about 9-10 grams of protein. Not bad! And you can easily hide it in your purse in case you want to snack while you're waiting in line. I've done it. Don't judge. But again avoid brands with tons of salt and sugar and stick with more natural flavored options. Flavors like BBQ or Teriyaki may add lots sugar and mystery ingredients you already trying to avoid. Plus you don't have to stick with beef. Jerky is now available in all sorts of varieties like bison, turkey, chicken, salmon and duck.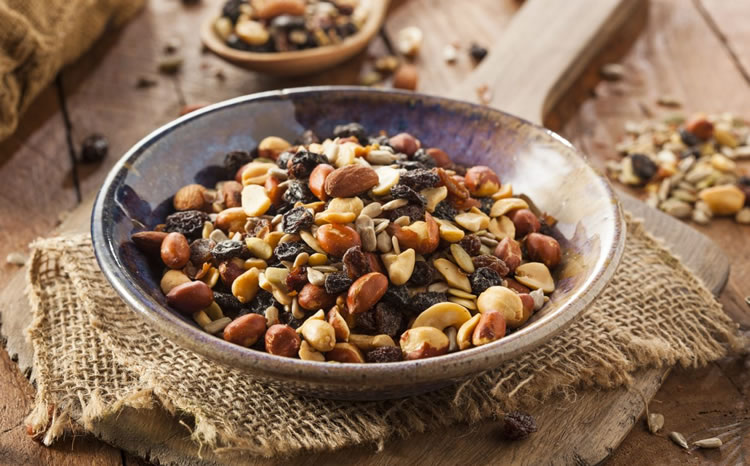 3. Trail Mix
Who doesn't love some trail mix? I know I do. And there's a reason hikers consider it their go-to food. Mixed seeds and nuts provide a quick and easy way to get a good serving of protein in a travel-friendly package. With so many varieties or trail mix, there's one for everyone. Just make sure not to go nuts (I had to do it) and eat the whole bag. A couple of handfuls is all you need to keep you going. If you're not crazy about the flavor combos you've seen in the stores or maybe you have an allergy, it's super duper easy to mix up a batch on your own. Personalized trail mix? Count me in!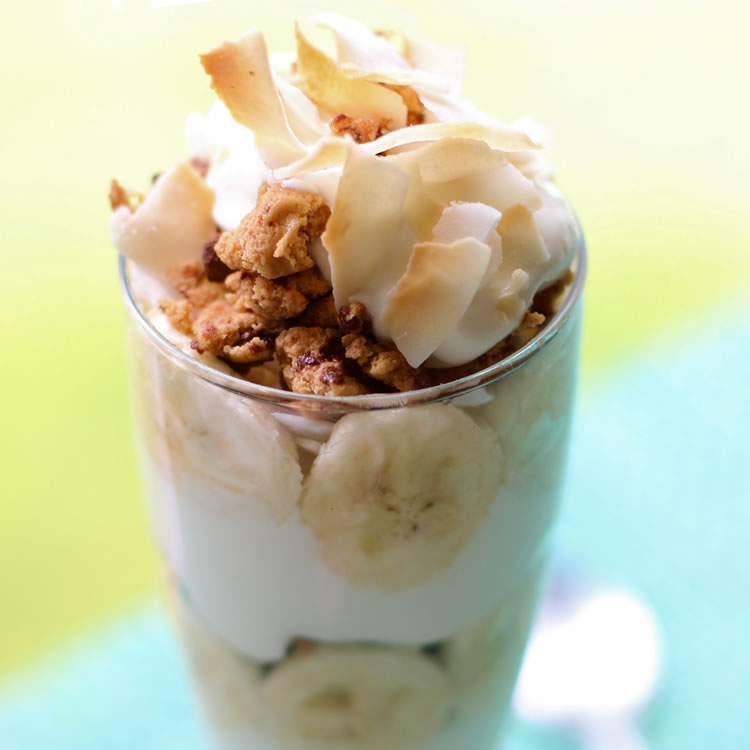 4. Greek Yogurt With Fresh Berries or Granola
Greek yogurt not only has more protein than the regular stuff, you'll get lots of calcium and a healthy dose of probiotics that will boost your immune system. Check your grocery store for those convenient single size servings of Greek yogurt for a great snack on the go. For a decadent probiotic packed treat check out our recipe for a Healthy Greek Yogurt "Cookie Dough" Parfait. Have it ready it in a to go cup in your fridge to grab when you're on your way out the door. It's also a perfect food to refuel muscles after a hard workout. No post-workout snack is really complete without a good balance of carbs, so be sure to add some fresh fruit or granola to the bowl.
5. Hummus And Veggies
I love hummus. Not only is it healthy and satiating, but it actually tastes good. And it comes in a huge variety of yummy flavors like olive, jalapeno, and spicy three pepper.  A 1/3 cup serving of hummus paired with 1/2 cup veggies (I like bell peppers, celery, and carrots) will provide about 6 to 7 grams of protein. Grabbing it on the go? Scoop some of your favorite hummus in the bottom of a portable container or travel mug, throw in a handful of veggies, put the lid on and throw in your bag for an easy, healthy snack on the run. You can even spread some on your favorite sprouted whole wheat bread for a veggie based lunch option.
6. Make A Shake
While eating whole foods is always ideal, protein powder can also be a convenient thing to have on hand when you're in a pinch. There are so many options on the market from whey to dairy free to vegan in all sorts of fun flavors like smore's, cookie dough, pumpkin pie, red velvet, and the list goes on and on. One of my healthy favorite protein shakes tastes just like cake batter. Well almost. In a blender add 1 scoop of your favorite vanilla protein powder, 1/2 avocado, 1/3 small banana and handful of ice and top with the milk of your choice (it's almond for me). Blend it up, pour it into a to-go container for a healthy shake that will keep you full on the go!
7. Quest Hero Bars
Candy bars are a quick and travel-friendly food to keep you from going into the "hangry" zone on the go (you know who you are). Except for one thing. They're usually terrible for you. Luckily now there's a candy bar you can stash in your bag, eat on the go and actually feel good about. Quest's new Hero Bars are a chocolatey candy bar with a gooey layer and a protein filling packing 15 to 17 grams of protein depending on the flavor. And apparently, they're 3-time Olympic Gold Medalist and superstar gymnast Gabby Douglas's favorite. I tried them. They are in fact, super delicious.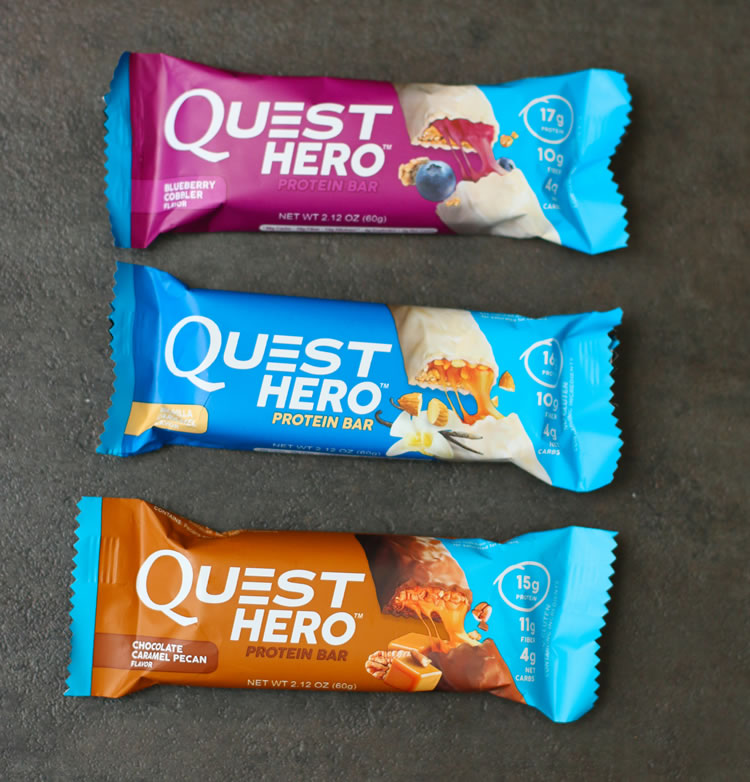 And guess what? They have only 4 net carbs. So you're probably thinking how can something taste so good with only 4 net carbs and be healthy. Sounds fishy. I thought the same thing.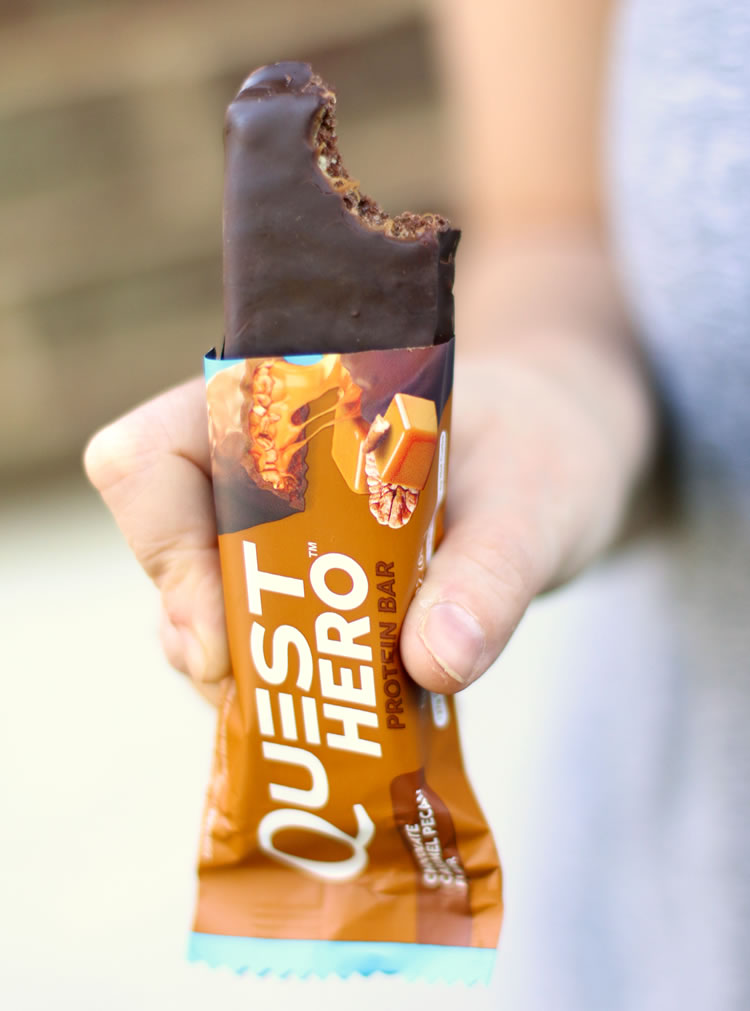 We did some digging and found out that Quest Hero bars use allulose instead of regular sugar. What is allulose you ask? Allulose is a rare sugar commonly found in nature. It is naturally occurring in foods like maple syrup, figs, and raisins in small quantities. Although it has the same clean sweet taste of regular sugar, allulose is not metabolized by the body, passing through the system virtually calorie-free.  Sounds sweet to me!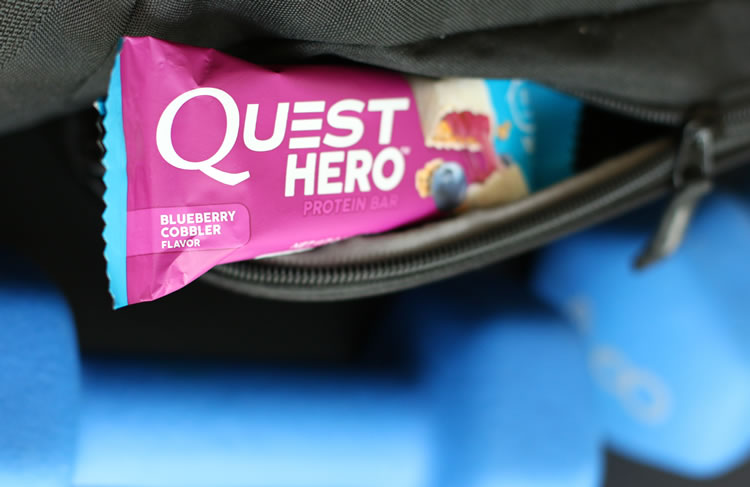 Quest Hero Bars come in 3 different yummy flavors: Chocolate Caramel Pecan (my favorite), Vanilla Caramel, and Blueberry Cobbler and you can find them at places like GNC, Vitamin Shoppe, Vitamin World, Wegmans and your local nutrition shop.
Click the link here to learn more about the NEW Quest Hero Protein Bars!