Better Living uses affiliate links. If you make a purchase through them, we may receive a small commission (for which we are deeply grateful) at no cost to you.
It's safe to say that 2020 has given us a whole lot of coal this year. And with the holidays quickly approaching and recommendations for social distancing to remain in effect to deter the spread of the COVID-19 virus, we won't be able to gather with our friends and family the way we're used to. But that doesn't mean you can't have a little holiday cheer of your own. If you're searching for a little holiday spirit while staying safe and healthy, a trip to Peddler's Village in Lahaska, PA might be just what you're looking for. 
Recently listed as #13 of the "33 Best Christmas Towns That'll Instantly Transport You to the North Pole" by Woman's Day, Peddler's Village is an old-fashioned Colonial-style "village" with 65 specialty shops, great places to eat and drink, a salon & spa, and even an inn. Peddler's Village is charming year-round, but every year in the second week of November, it transforms into a magical holiday destination with over a million twinkling lights that will no doubt make you feel as if you've been transported inside a Hallmark movie.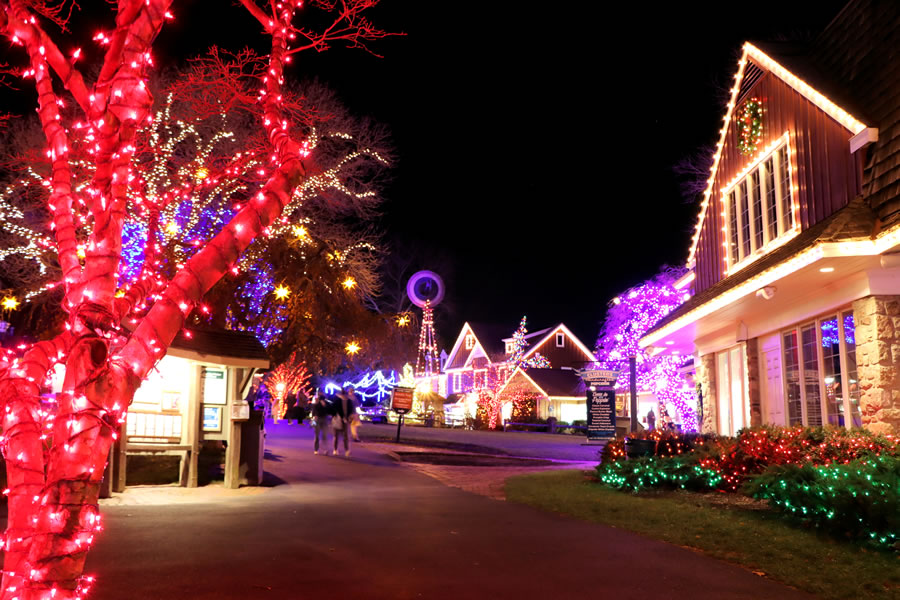 But Peddler's Village is also serving up the safe and socially distant holiday getaway we all need this year. In between visiting shops and enjoying all the gorgeous holiday decorations outside in the open air while sipping hot chocolate. To keep the holiday cheer while keeping guests safe Peddler's Village has implemented a variety of safety protocols including regularly disinfecting outside and interior spaces, offering sanitizer stations throughout the Village, and requiring guests to wear masks when social distancing isn't possible. You can read more about other steps they're taking to ensure the safety of guests and staff here.
Here's more of what you can do and expect while in the village for the holidays!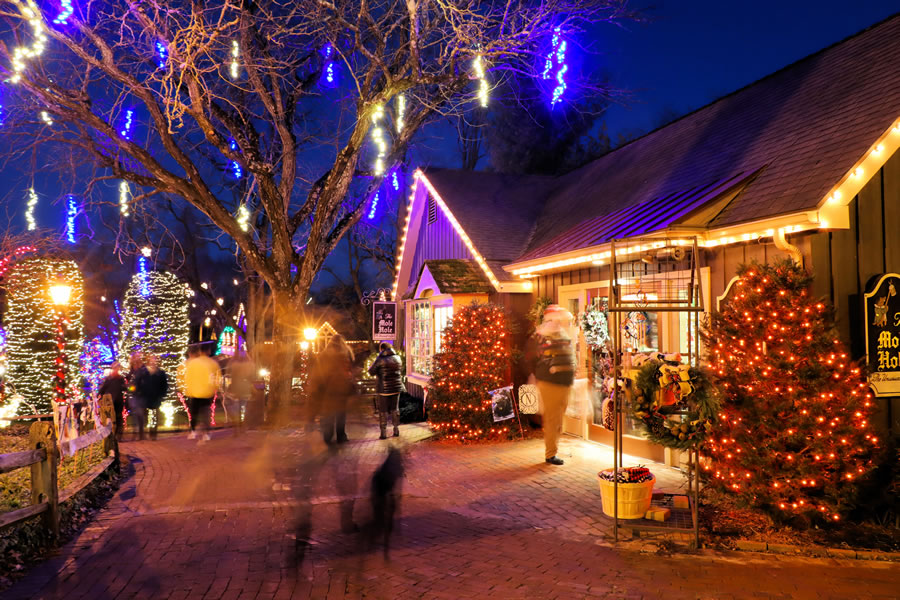 Where to Shop at Peddler's Village
Peddler's Village is a wonderful place to shop this year to support local, small businesses. Not only are the shops open air, allowing for social distancing and plenty of space between guests, but over 95% of the shops are owned and run by small business owners. You'll find everything from clothing and accessories for children and adults, to home goods, toys, holiday decorations, gourmet foods, art, spices and so much more. There's so many great finds here and I seem to find something special in each and every shop. It's really the perfect place to find unique gifts for everyone in your life. 
Here's a few of our favorite shops at Peddler's Village: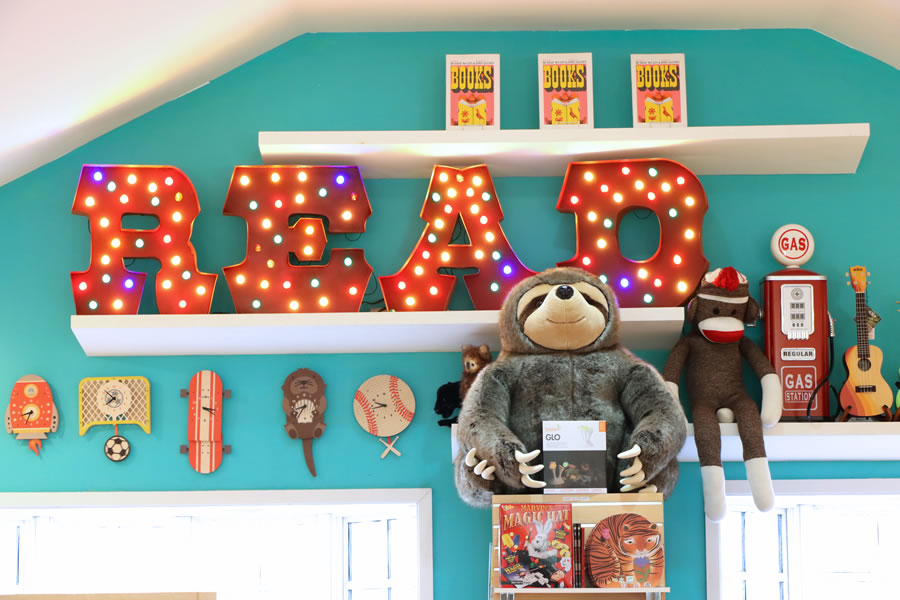 Ja'Zams
Rt. 263, Store 160, Lahaska, PA 18931
https://jazams.com
If you're shopping for children or have children with you while visiting the village, don't miss Ja'Zams. This happy, bright toy shop offers a great selection of hard to find books, toys, puzzles, art kits, games and adorable stuffed animals for kids of all ages. Many are even educational and eco-friendly.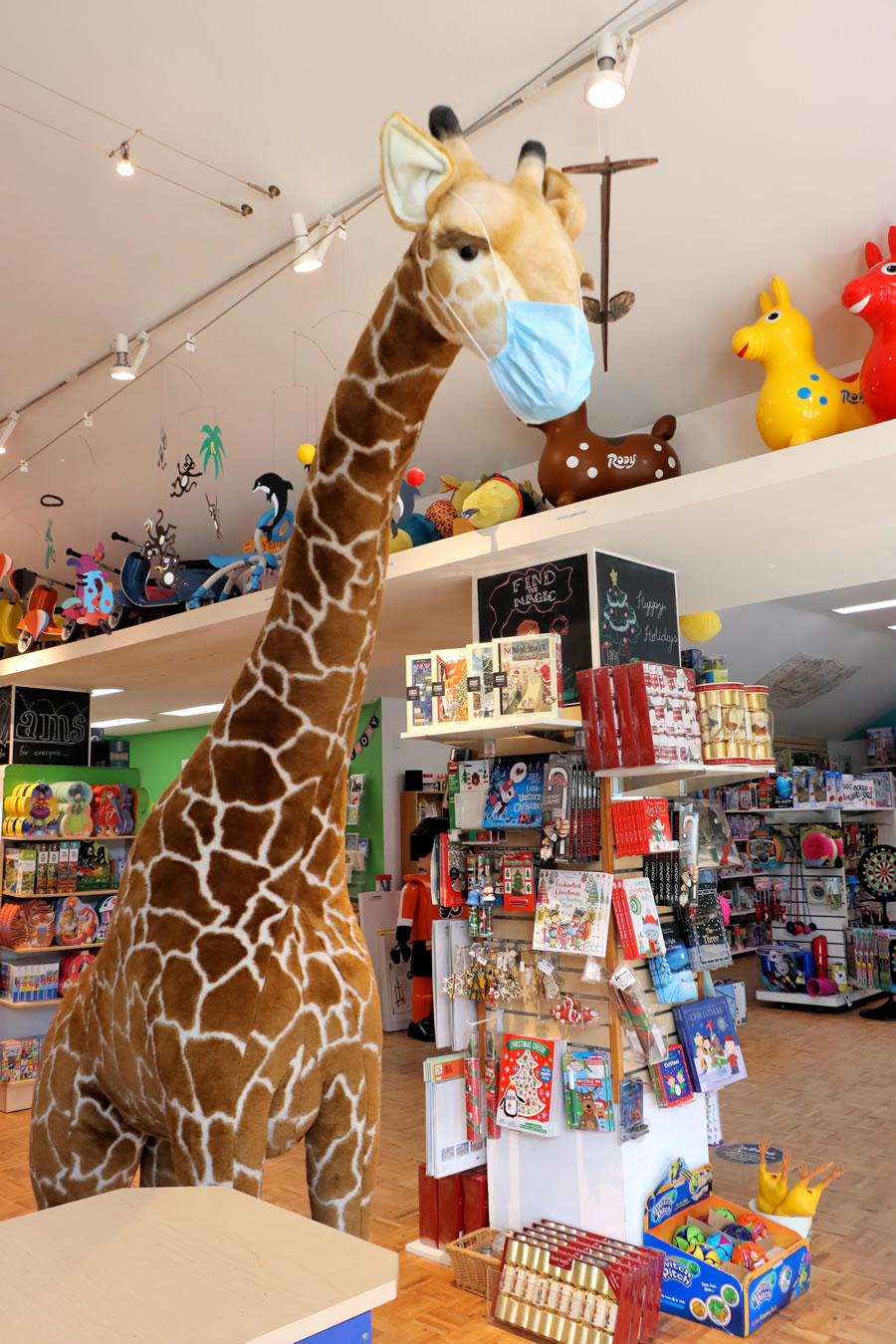 The sweet whimsical details hanging in every corner of this shop always have me remembering just what it's like to be a kid again. And if you have a child to shop for, there's no way you won't be able to find something special here. Ja'Zams offers curbside pickup, complimentary personal shopping, and delivers orders of $30 for free if you're located within 8 miles of their store. You can also shop their website online. Gift Cards can also be purchased on their website or in store.
What's In A Name
168 Peddler's Village #408 Lahaska, PA 18931
https://villagenamestore.com
If you're looking for a truly special and personalized gift with meaning, head over to What's In A Name. Born and raised in Dublin, Ireland, friendly owner Neil Sweeney relocated to Buck's county set up shop in Peddler's Village in 2015 with more than 20 years of experience working with the Historical Research Center. An expert on onomastics (the study of the history and origin of proper names) and heraldry (the origins of family names and coats of arms) Neil can help you unravel your past and offers things like parchment scrolls, single and double coat of arms prints, jewelry as well as hand-stitched embroideries and heirlooms to commemorate the journey into your past. Here you'll also find the largest collection of antique maps in Bucks County. If you're looking for a gift with meaning that will last a lifetime this is the place to go.
Savory Spice 
32 Peddlers Village, Lahaska, PA 18931
https://www.savoryspiceshop.com/pennsylvania/peddlers-village
If you love to cook and experiment with flavors or need to find a gift for someone who does, don't miss Savory Spice. This shop offers a variety of awesome high-quality and unique herbs, spices, seasonings, and dip mixes that are both sweet and savory at great prices. Spices here come in a variety of convenient sizes, whether you're just looking to give something a try or want to stock up your pantry. They have a wonderful selection and I always  find myself browsing here for way longer than I intend. Some of my favorite finds here include their Aleppo pepper and Vindaloo seasoning which is delicious on chicken. Bakers will love their extracts, cinnamon, vanilla, and other baking spices. They also offer recipe cards to help you use your new found spices and spice sets that make gift giving easy.  
This is the perfect time of year for some new pajamas. Whether you're shopping for yourself or someone else, head to Lace Silhouette in the village for a great selection of awesome pajamas as well as shapewear and lingerie for both everyday wear and bridal occasions. And if you need help finding your size, their fit experts can help you find the perfect size for your body and shape. Here you'll find brands like PJ Salvage, Stella McCartney, Free People, SPANX. Cosabella, UGG, Patagonia, and so much more.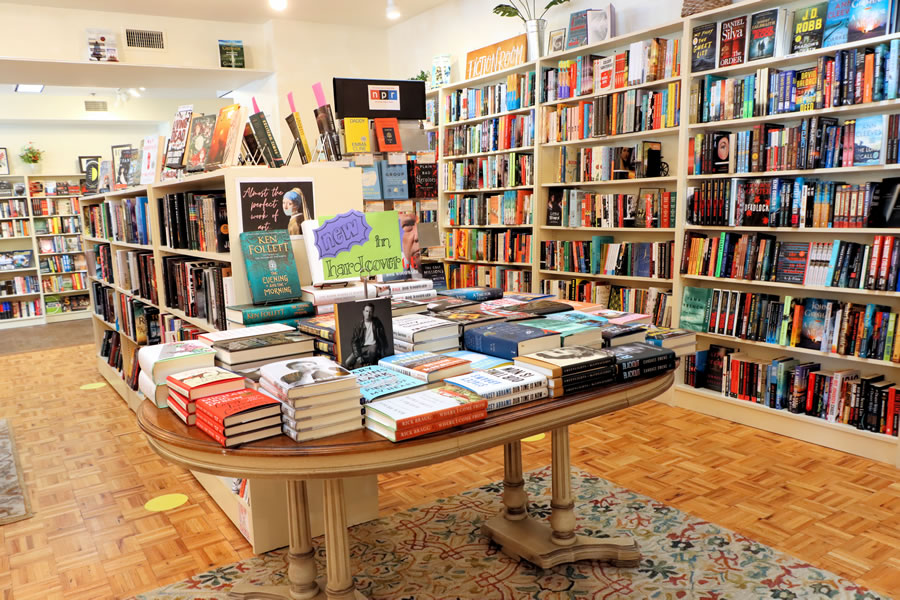 Lahaska Book Shop
162A Peddler's Village (corner of 162 Carousel Ln & Rte 263 A)
https://www.doylestownbookshop.com
Digital books are convenient and all, but they can't ever replicate the feeling of holding and reading a real physical book. Bright and cheery, Lahaska Book Shop is an adorable independent book shop right in the village with a wonderful selection of books, magazines, and fun finds for both children and adults. Stop in and browse their unique collection of reads. There are tables out front for you to take a moment to relax and enjoy your new literary find. If you're local they also have a sister store in Doylestown and gift cards here make a great gift for locals.
Anything that makes bath time a little more luxurious always makes a great gift. For a wonderful selection of all natural, artisanal and luxury bath products like bath bombs, bath salts, scrubs, soaps and creams, venture into Soap Opera.
Not only is the store adorable, but it smells wonderful too! Pick up some of their most best sellers including their Bath Bombs, their Milk Jug Bubble Bath and shower steamers. Gift sets make holiday shopping super easy and they carry products for men as well.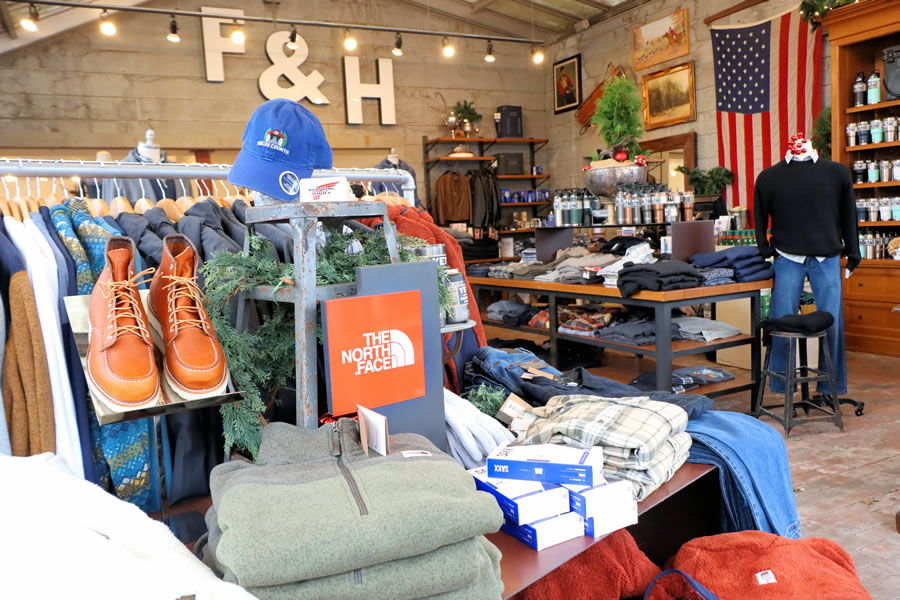 One of the latest shops to open in Peddler's Village, Fox & Holly Bucks County is a modern boutique-style department store offering a variety of quality brands in clothing, shoes, home goods, and specialty products for both men and women. The clothing pieces here are high-quality, unique and super-stylish. Just a few of the brands carried here include Patagonia, Yeti, Liverpool, Piccadilly, Gabby Isabella, Z Supply, Red Wing Shoes, UGG, and Pikolinos. 
Sticky Situations
Peddler's Village Shop #63 
https://www.stickysituationshoney.com
Food gifts are always a good idea. Sticky Situations in the village offers an awesome selection of a locally sourced infused honey, vinegar and olive oils in a variety of flavors. Put together a bundle of your own selections or choose from one of their perfectly curated boxes like their BAKER'S BOX with Dark Chocolate Honey, Nutmeg Honey, and Cranberry Honey or their CITRUS BOX with lemon, key lime, and orange blossom honey. There's so many delicious flavors to choose from. For the foodie in your life that loves to cook go for their infused oil and vinegar sets with popular sets including their 2 Pack Taco Tuesday Box with Guacamole Avocado Oil and Tequila Lime Vinegar.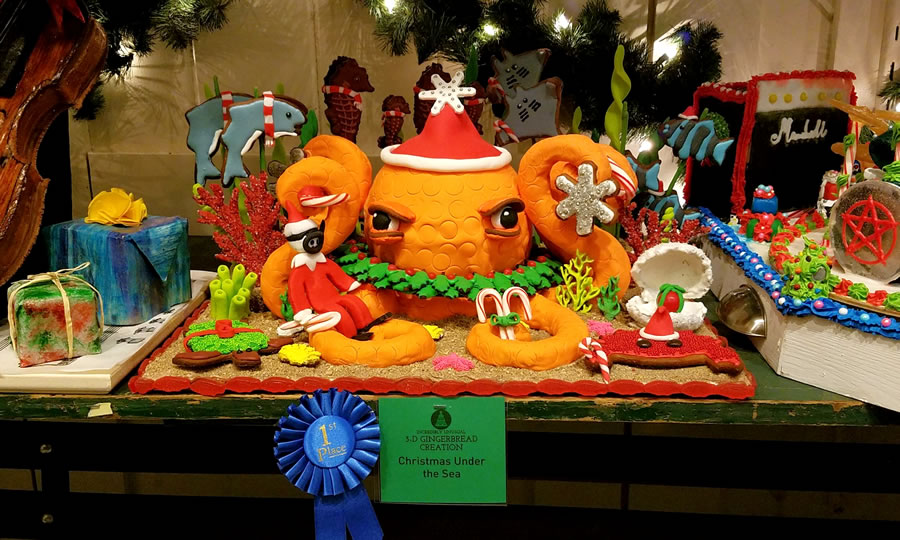 See The Gingerbread Competition at Peddler's Village
Every year starting in November Peddler's Village hosts its annual Gingerbread Competition, where visitors to the village can see all the entries on display until January.
You'll be amazed at the craftsmanship and level of detail and creativity. And there's also a variety of competition categories including Traditional Gingerbread, Authentic Reproductions From Around the World (think notable landmarks, wonders and inspiration from around the globe like the Eiffel tower) and Reproductions of a TV or Movie Set. Winners of the competition were announced back in November, but their incredible works will remain on display through January.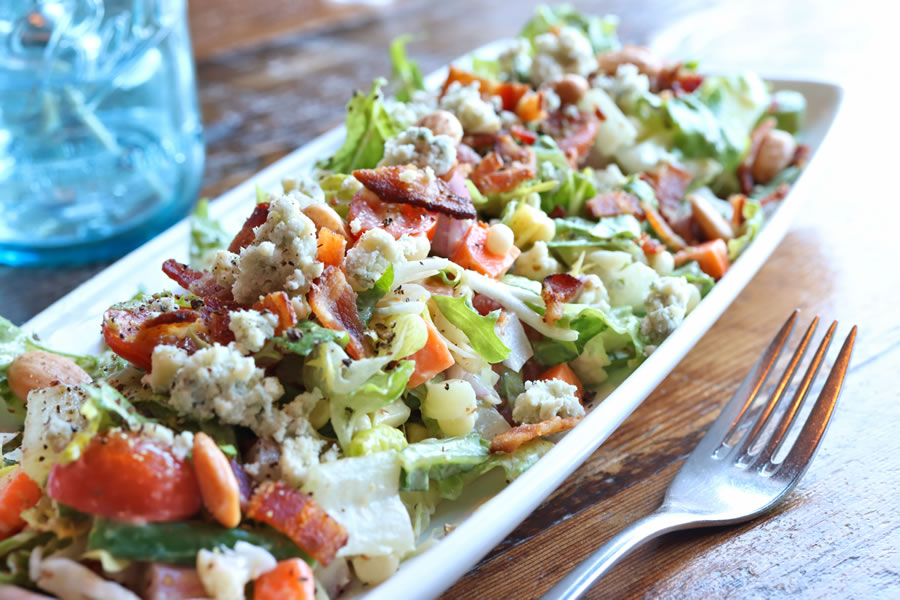 Where to Eat at Peddler's Village
While shopping and strolling throughout the village there's not doubt you're going to want a bite to eat. And Peddler's Village has a variety of super tasty options whether you want a quick bite to go or if you're looking to take time to indulge. To protect guests and employees, important safety measures like frequent sanitation and spacing tables at least six feet apart are done in accordance with state mandates. The outdoor dining options available throughout the village provide heat lamps and fire tables to keep you warm on chilly days.
Here's a few of the great dining options you'll find: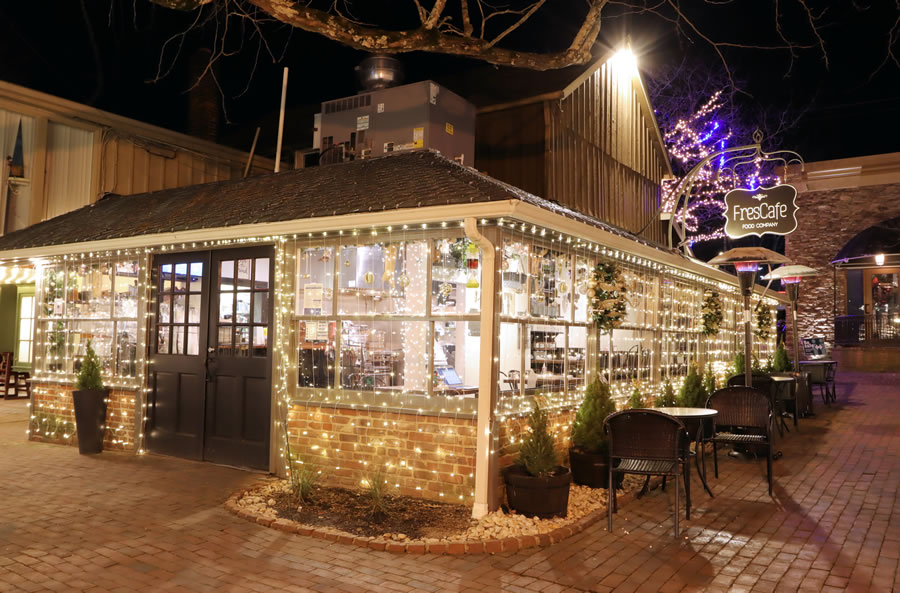 FRESCAFE
Shop #7 Peddler's Village Lahaska PA 18931
frescafepa.com
With modern rustic vibes in a cozy space, FresCafe is the spot to go if you're looking for fresh and creative casual comfort food. Located directly across the courtyard from Earl's New American, FresCafe serves both breakfast and lunch all day. You'll find a variety of brunch inspired and healthy menu items including salads, warm sandwiches and gourmet grilled cheeses.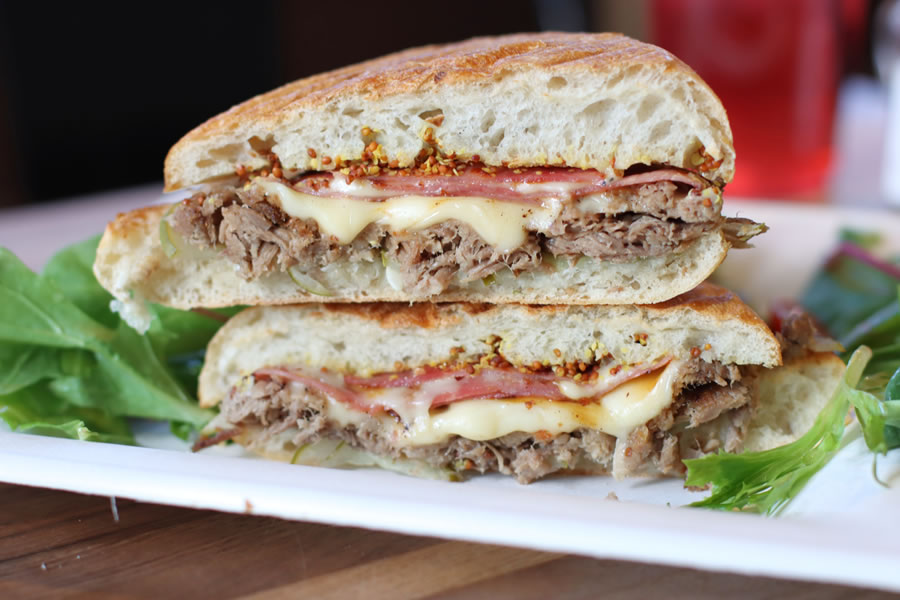 One of our favorites is the hot pressed Cuban sandwich with roasted pork, ham, pickles, melted swiss cheese, and stone ground mustard served with mixed greens on the side. For those of you that love brunch, FresCafe serves breakfast until 4pm. That means delicious dishes like their Brioche French Toast, Stuffed Croissants and Cheddar Biscuits with Chorizo Gravy, fresh juices and smoothies.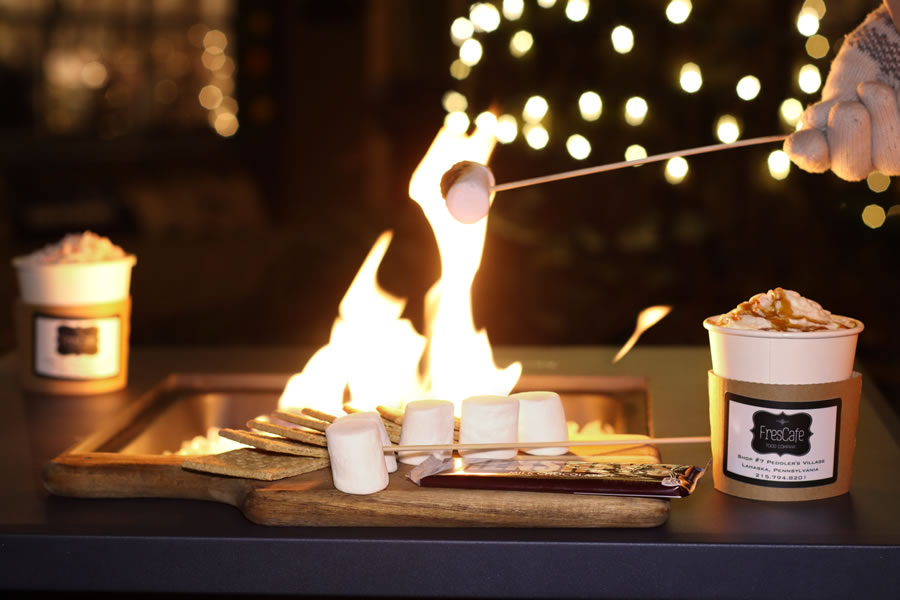 Seating is available indoors and outdoors as well, complete with heat lamps and fire tables on the patio. For a super fun eating experience while in the village that kids will love, have a seat at one of their fire pit tables outside and toast up some marshmallows to make your own s'mores. It's so much fun! They also have a delicious hot chocolate and latte menu to help keep you warm as you stroll around the village. Curbside pickup is available to those driving through.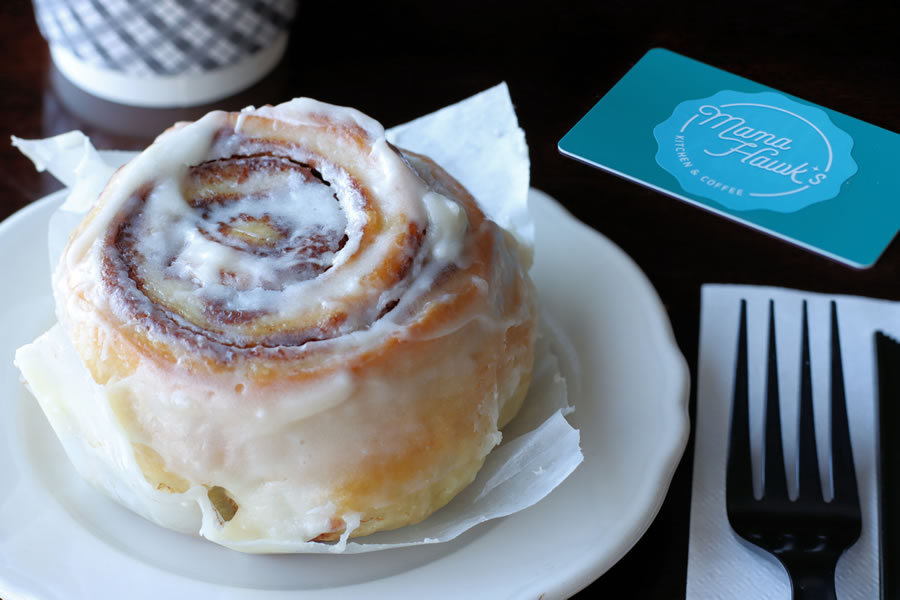 Mama Hawk's Kitchen
58 Peddlers Village Rd, Lahaska, PA 18931
mamahawks.com
If you're like me and simply can't pass up a fresh cinnamon bun, Peddlers Village has you covered. While browsing the shops along York Road, be sure to stop into Mama Hawk's Kitchen. Offering gourmet coffee,  10" wood-fired pizzas, paninis, soups, and salads, Mama Hawk's also has some of the most delicious, fresh-baked cinnamon buns EVER in a variety of yummy flavors. The day we stopped in, some of the cinnamon bun flavors included their original style, Pecan Pumpkin and Orange Cranberry filled with orange zested sugar, fresh cranberries, and drizzled with orange infused cream cheese frosting. They also have a selection of baked goods made daily onsite from Mama Hawk's very own special recipes. And please, definitely take a box of cinnamon buns to go home with, because I can guarantee you'll be sorry if you don't.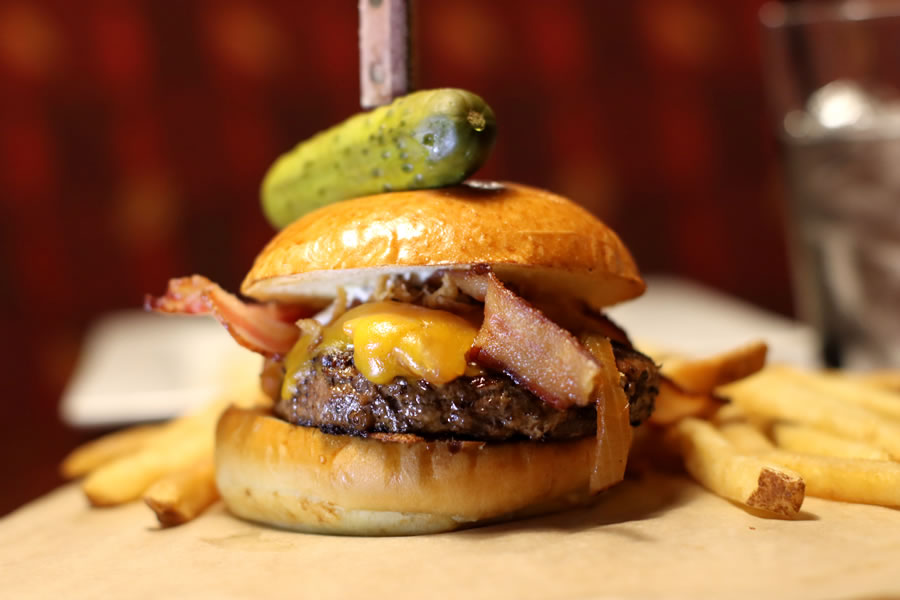 Buttonwood Grill
Route 202 and Street Rd, Lahaska, PA 18931
https://buttonwoodgrill.com/
When the craving for a burger hits you in Peddler's Village, be sure to head to Buttonwood Grill, where the motto here is "Great Food…Good Friends…Fun Times." Serving a menu of their own signature award-winning Buttonwood burgers, along with delicious stone-fired thin-crust pizzas, creative salads, and a variety of delicious appetizers, there's great eats to be had here. A spacious casual restaurant with friendly and attentive service, Buttonwood Grill serves lunch and dinner, along with craft beer, wine and original cocktails. Don't' miss their Happy Hour and be sure to take home one of their growlers to go.
The house made desserts here are wonderful too. We thoroughly enjoyed the Pumpkin Bread Pudding and the Peanut Butter Pie with Oreo Crust. Both were delightful.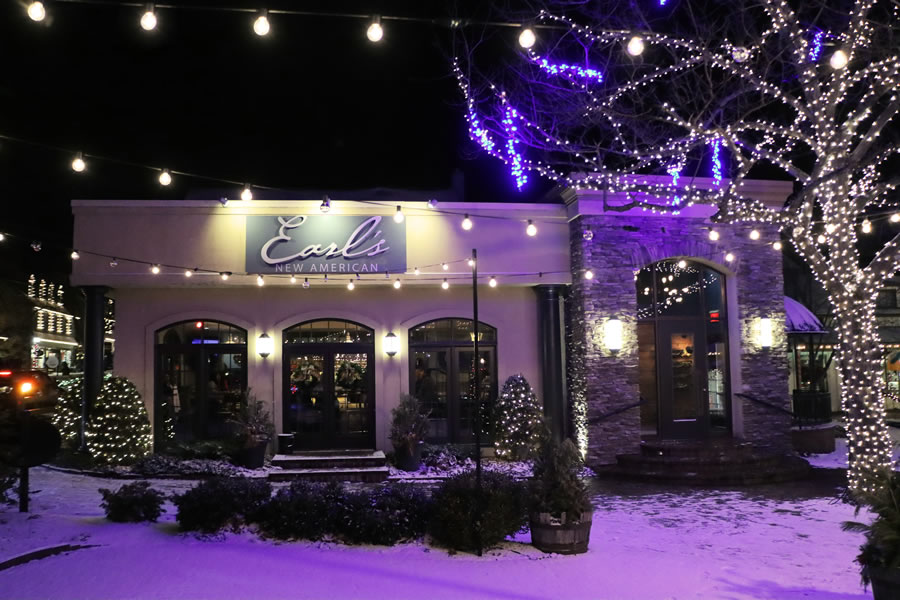 EARL'S New American 
2400 Street Rd. New Hope, PA 18938
https://earlsnewamerican.com/
For an exquisite dining experience in a refined, rustic modern setting, Earl's New American is a great way to make your trip to Peddler's Village even better. With food inspired by farm to table ingredients and infusions of both local and international flavors, Earl's New American offers everything from raw bar and steaks, to a lovely variety of appetizers, salads, fresh seafood, and pasta dishes. We love the steaks at Earl's and some of their standout dishes include the Lobster Dumplings on the appetizer menu, the chopped salad, and the She-crab soup.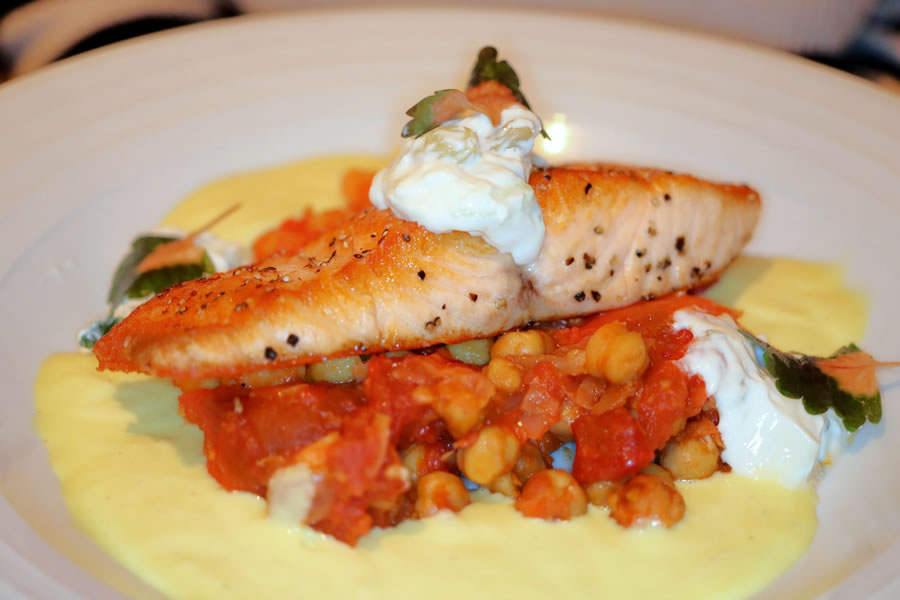 If you're in the mood for a dish with an exotic flavor, you must try the Pan-Seared Salmon served over a chickpea stew. It's seasoned with tomato, red bell peppers, onion, garlic, ginger, tandoori spice, a hint of mango, and topped with yogurt sauce, cucumber, golden raisins, lemon, mint, and honey. It may sound like an abundance of ingredients, but the flavors are subtle and blend perfectly. It's absolutely delicious.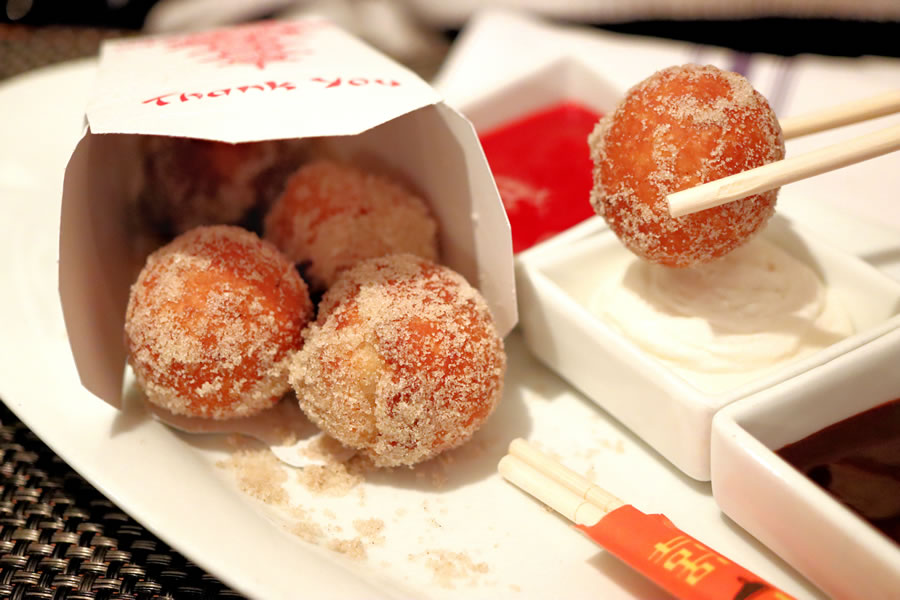 For a fun dessert, try the Dim Sum Donuts served in a Chinese takeout container with chocolate, raspberry, and vanilla dipping sauces. Super yummy!
Update Your Look and Get Pampered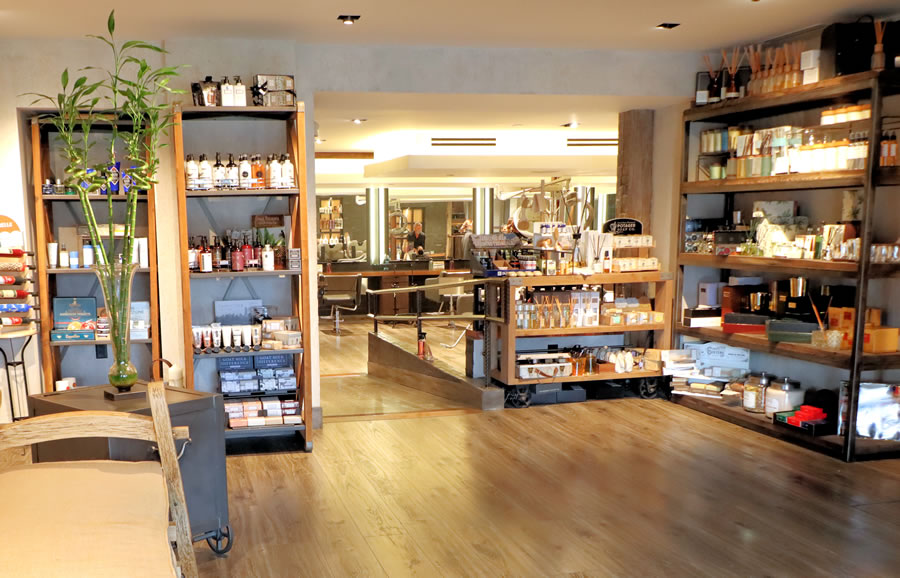 David J. Witchell Salon 
56 Peddler's Village, Lahaska, PA 18938
https://davidjwitchell.com/
There's no doubt that Peddlers Village is a great place to shop and eat. But it's also a great place to relax and get pampered.  If you're looking to wind down for a few hours while in the village, David J. Witchell Salon is the place to go. Modest and unassuming on the outside, David J. Witchell is a chic and beautifully designed full-service salon & spa. They offer everything from hair cuts, color and style transformations, manicures, pedicures, and makeup applications, as well as facials, massages, and body treatments.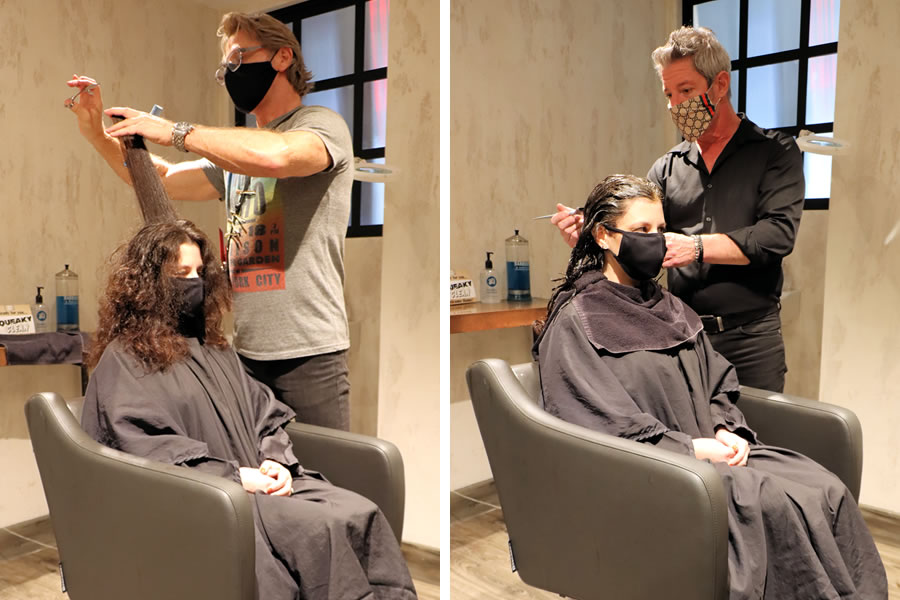 While in town, I was lucky to get a hair appointment with David after a sudden cancellation. I have to admit, that after almost a full year of not being in a salon (scary I know), I was a little nervous not knowing what to expect in a post-pandemic salon environment. Any health concerns I might have had were quickly dissolved, as David and his trusted business partner Galina have seamlessly implemented protocols to keep clients feeling comfortable but, more importantly, safe. Client temperatures are taken upon arrival, glass has been installed at the reception desk, there's frequent sanitization, and everyone working and entering the salon is required to mask up. Salons in Pennsylvania are also currently required to operate at fifty percent capacity to allow for sufficient social distancing. At David J. Witchell's there's plenty of room for clients to spread out. I really did feel safe and well taken care of throughout my appointment.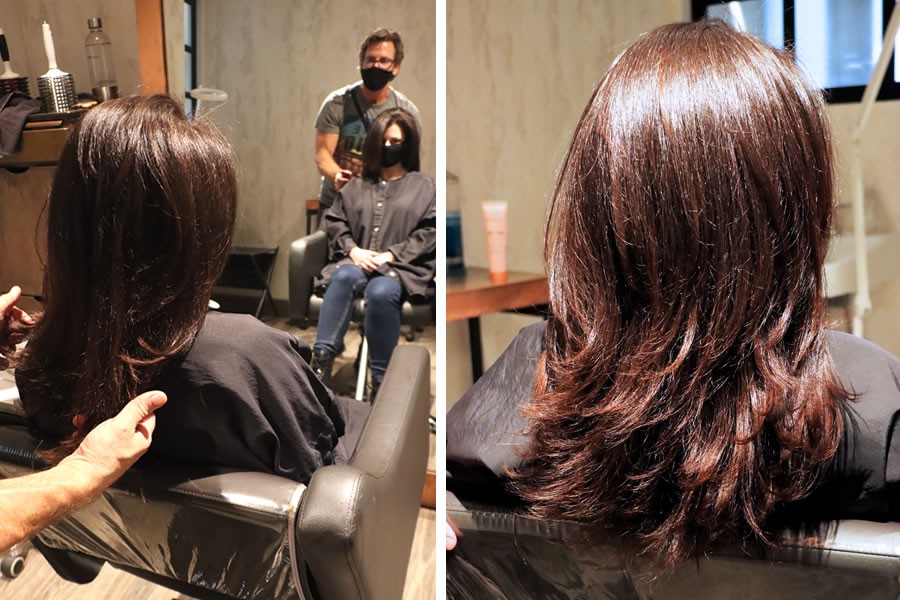 As for my hair? After a cut by David and color refresh by Joseph, let me just say the level of talent and artistry here is amazing. Having worked hard to work with naturally curly hair with a variety of textures, I'm thrilled with the result and utterly impressed with the cut and shaping David gave my hair. And Joseph gave me a rich winter-friendly color that is perfect for my skin tone while keeping my hair soft and healthy. The level of professionalism, quality of service and friendliness here is unmatched.  
Where to Stay in Peddler's Village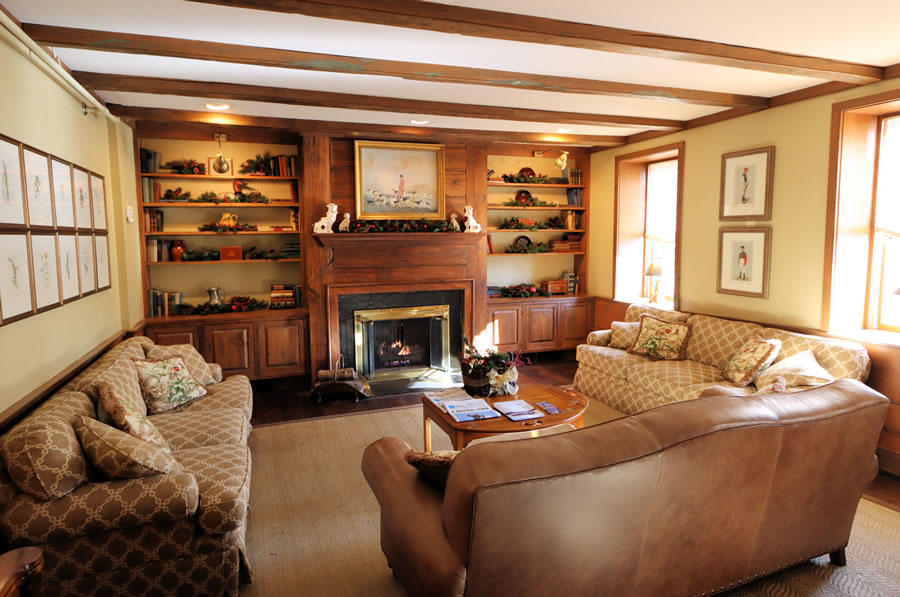 Golden Plough Inn
5883 Lower York Rd, New Hope, PA 18938
(215) 794-4004
GoldenPloughInn.com
Of course, Peddler's Village is wonderful for a day trip, but it's so beautiful this time of year I suggest you give yourself some extra time and book a room at the onsite Golden Plough Inn. They offer 62 elegantly decorated country-home style suites with rooms located in their main house as well as scattered throughout the village. Suites are quite spacious and there's a variety of comfortable room types, whether you're traveling for a romantic getaway or family vacation.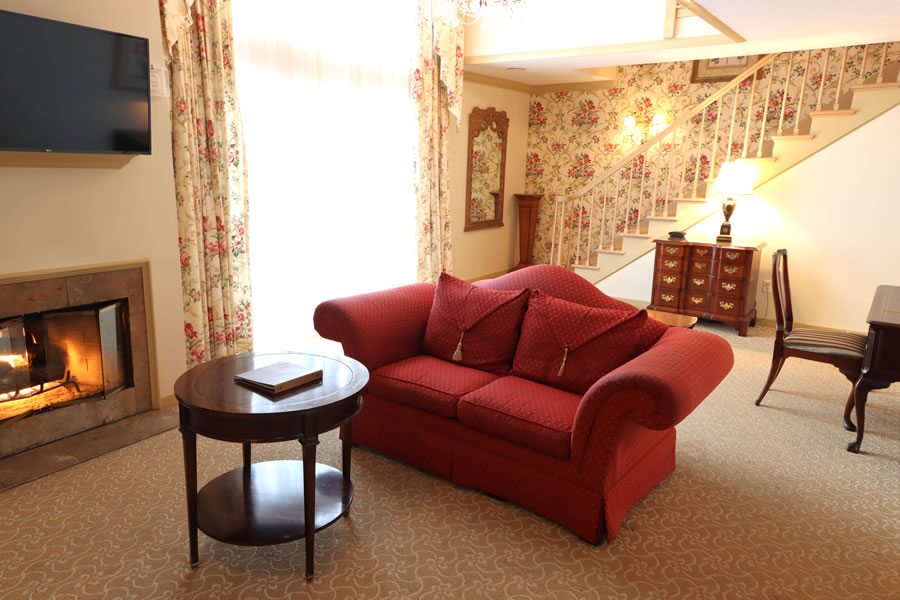 Our bi-level suite was incredibly spacious and came complete with a large jacuzzi tub, comfortable king-sized bed, a comfy sitting area, and a kitchen with a coffee-maker that we used daily. Our favorite unique room feature is the gas fireplace which is perfect for warming up and winding down after touring the village on chilly nights.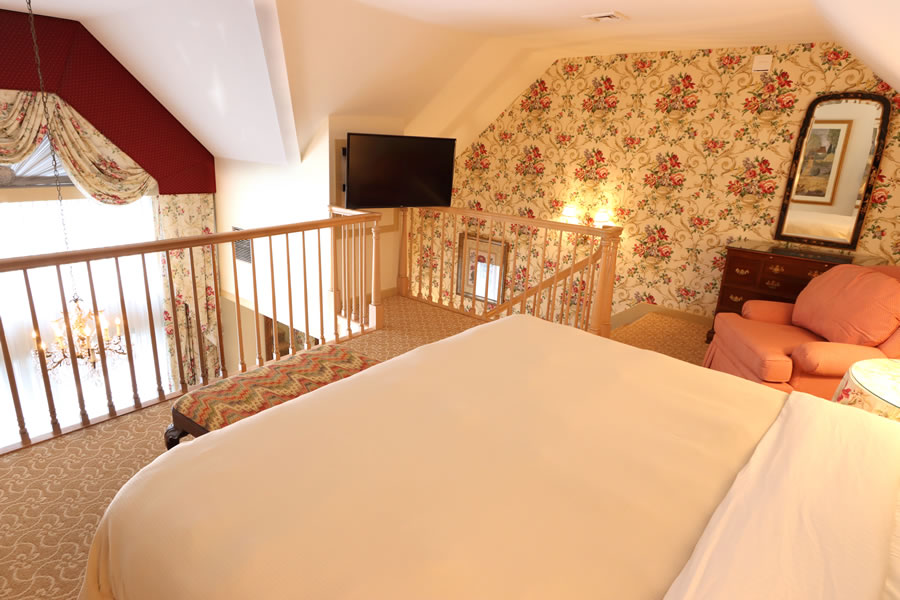 You can see all the room layouts and accommodation options at the Golden Plough Inn here.
What's also great is that all rooms at the Golden Plough have nearby free assigned parking spots throughout the village so you never have to worry about finding a spot. We usually skip breakfast, but it is served daily at the Buttonwood Grill or the FresCafe across the street. You'll also find free coffee and tea available for self-service in the main lobby of the Golden Plough Inn each morning. They're currently offering 50% off bookings of suites for Sunday-Thursday stays. Read all about that here.
Booking Tip: If you're traveling with someone who has trouble with mobility, have a chat with the reservation desk before booking to discuss which rooms might be best suited.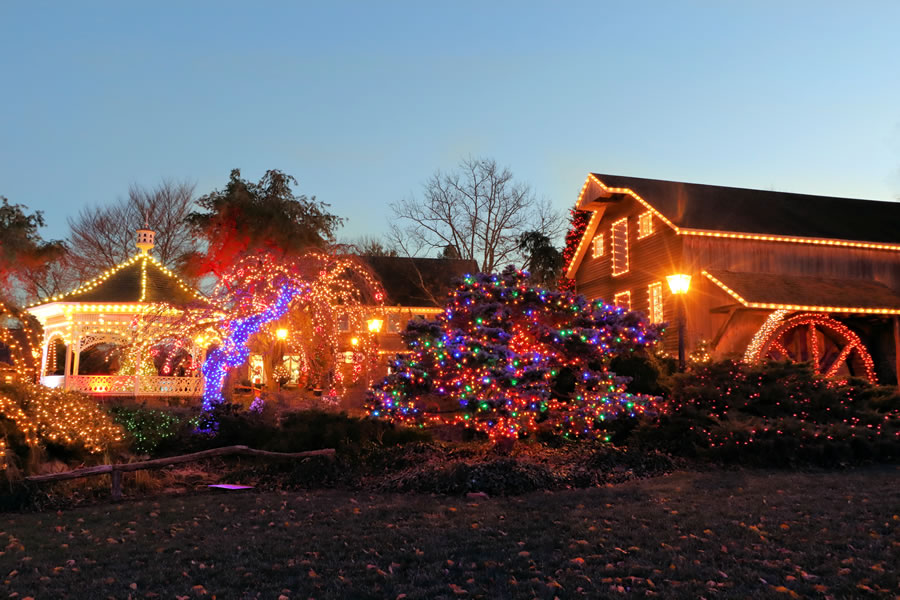 Tips For Visiting Peddler's Village During the Holidays
Please note that due to the pandemic, Pennsylvania travel restrictions and state health mandates can change at any time in an effort to minimize the effects of COVID-19. To stay in compliance and help slow the spread please visit https://www.health.pa.gov and https://peddlersvillage.com to know what to expect before you go, especially if you're traveling from out of state.
If you have all that sorted out, be sure to check the weather before you go and dress accordingly with warm layers and comfortable shoes since you're going to be doing a lot of walking and spending time outdoors. Also, masks are currently required in the village, so keep yours handy and bring some extras. Many of the shops in the village sell warm clothing including hats and gloves so don't worry if you forget yours at home.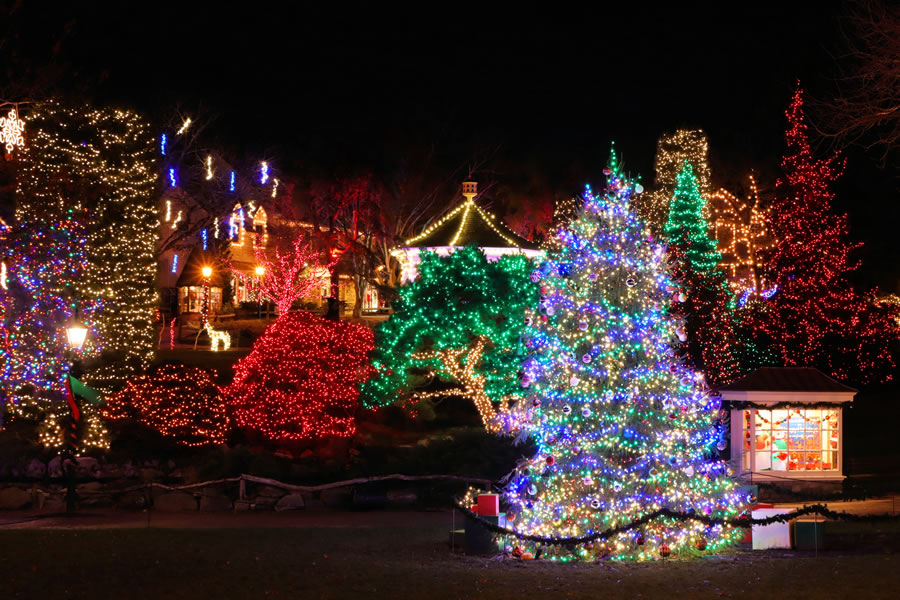 How To Get To Peddler's Village
Less than an hour from Philadelphia and 90 minutes from NYC and Wilmington, Delaware, Peddler's Village is located in Lahaska, Pennsylvania makes the perfect quick getaway or day trip destination if you live in the region. Peddler's Village is centrally located between New Hope 10 minutes to the east and Doylestown 15 minutes to the west along Route 202 (Lower York Road). Spend some extra days if you can and explore the nearby attractions in Bucks County including historic New Hope right on the Delaware River.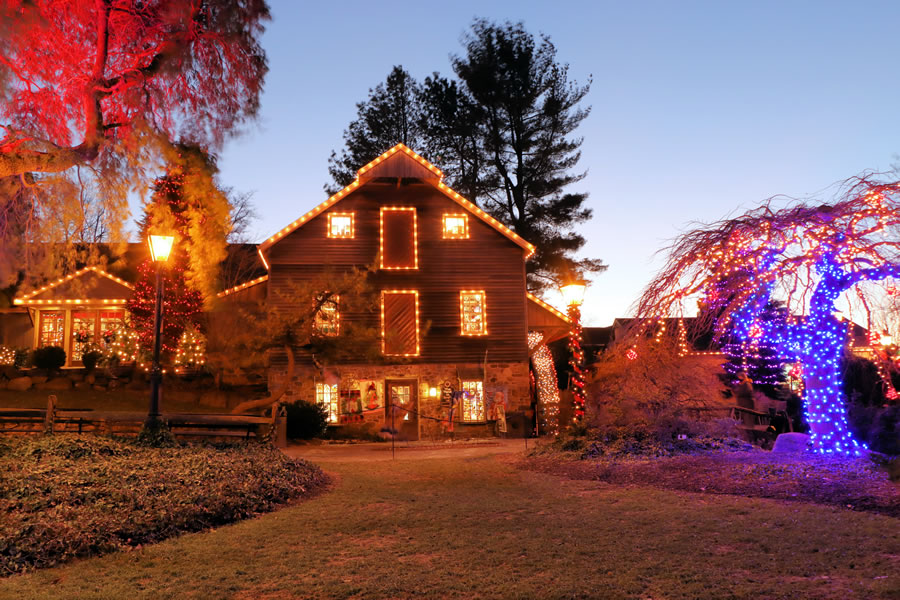 Shop Peddlers Village From Home
If you can't make it to Peddler's Village this year you can still check out all the shops and support the shops that call the village home through their new Virtual Village portal linked here. It's a wonderful way to bring Peddler's Village into your own home while scoring some super unique finds and supporting small business.
Peddler's Village is open air and open every day! Beginning Friday, November 27 and continuing until January 10, 2021, shopping hours for the Village will be extended to 10 a.m. to 9 p.m. on Monday through Saturday, and 11 a.m. to 7 p.m. on Sunday.
For more information about holiday events at Peddler's Village, visit PeddlersVillage.com.