Better Living uses affiliate links. If you make a purchase through them, we may receive a small commission (for which we are deeply grateful) at no cost to you.
Do you remember the last time you took a vacation? Like a real vacation. Was it to a city you'd never been? Maybe a tropical paradise? Or a winter wonderland? After a stressful year let's just say I needed to take some time to get away and clear my mind. Restore and refresh, do some fun things, have some unique experiences and eat some great food.
Last year I took a great little vacation to Isla Mujeres, a small island just off the coast of Cancun. While Cancun is known for partying, Isla Mujeres is its sleepier younger sister. Relax is the mantra here, where the beaches are gorgeous and ocean views stunning. With great food, a rich history and casual island vibe, it was just what I needed. Driving the length of the small island in a golf cart and walking among the Mayan ruins at Punta Sur, the southern most tip of the island is an experience I'll never forget. Its these unique little things that make us want to travel.
Well, I think its about time for me to recharge and restore once again. This time I'm looking for a perfect winter getaway. Sand and sea is fun, but so is snow. I want to relax, but I also want to have some amazing experiences. A little luxury wouldn't hurt. Amazing food is forever a must. I think I've found exactly what I need from Vail Resorts at This Is What Epic Looks Like. A collection of luxurious mountain resorts across 8 iconic ski destinations in Colorado, Utah and California, This Is What Epic Looks Like has a variety of unique winter mountain experiences waiting. While it's difficult to choose, their resort at Park City is just the place I want to go.
Where is Park City?
Nestled high in the Wasatch Mountains, Park City, Utah is a historic western mining town dating back to 1849. Although it's now home to the largest ski resort in the United States with 7,300 acres of skiable terrain, sophisticated dining, boutique shopping and world class events like the Sundance film festival, Park City still maintains its authentic mining town look and feel.
It's Unique
Did you know Park City is the only ski resort with lift access directly to the town's historic Main Street? The idea of skiing right down the to shops, restaurants, and galleries that line its historic Main Street sounds pretty amazing. It's a completely unique mountain experience that you'll only find here. Just the kind of thing I'm looking for.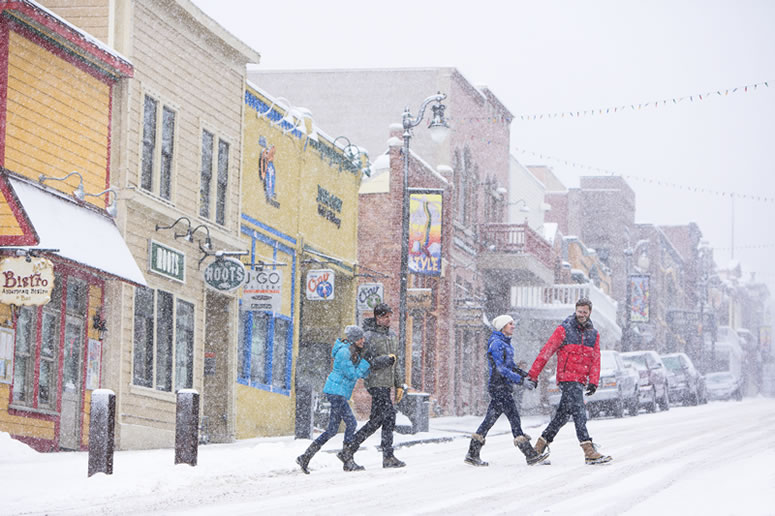 The Food Sounds Amazing
I've been known to stalk a few restaurant menus before I travel somewhere. I will travel for food. Who doesn't? If what I've read is accurate, Park City has a pretty amazing culinary scene with a variety of different restaurants to please just about everyone. And if there's great food count me in. The Farm, one of Park City's award winning standout restaurants, creates fare that is fresh and sustainably produced from regional farms. Dishes like their "Niman Herb Brined Tomahawk Pork Chop" served with pretzel and apple bread pudding, or their "Truffalo Burger" with ground Colorado buffalo, truffle aioli, white cheddar, onion sprouts and truffle parmesan fries are calling my name.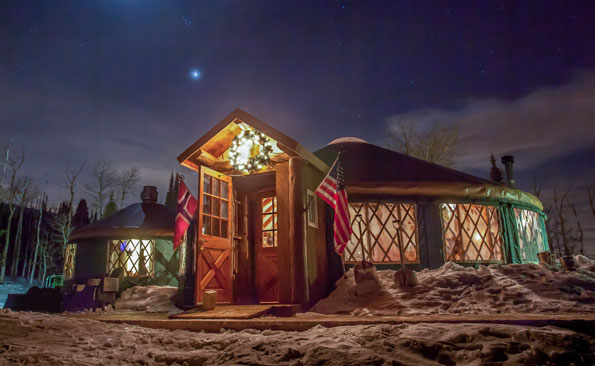 The Nordic nighttime dining experience at the The Viking Yurt in Park City sounds like something out of a movie. This European culinary adventure begins with a 23-minute spectacular sleigh ride up 1,800 feet with incredible views of the night sky, Park City and the surrounding mountains. Once guests arrive at the yurt they are greeted with hot spiced glogg (wine) followed by a five-course elegant dinner. After dinner, you sleigh back down the mountain, nestled under the heavy blankets, to the base of the resort. This is an experience I don't think anyone would ever forget.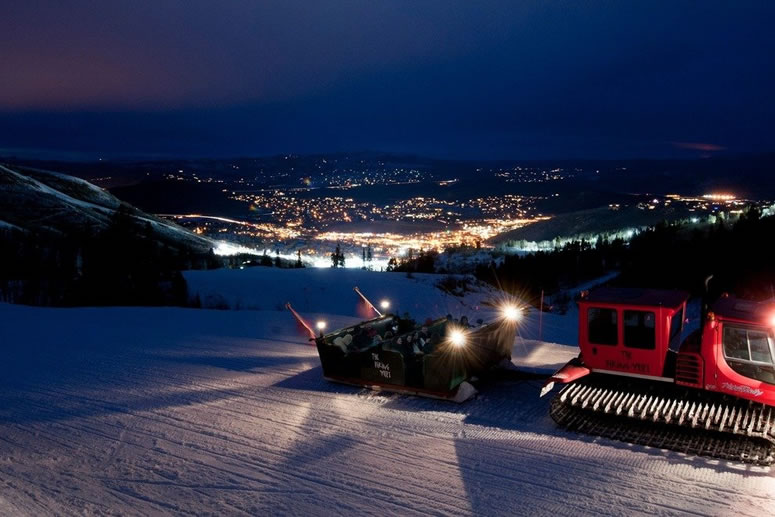 Luxury Personal Service
Now I know I'm not the greatest skier. At all. And with 330+ mountain trails in Park City it can be a seem a bit overwhelming. Then I learned about Park City's Peak to Peak Guided Experience where an expert guide takes you on a personalized mountain journey throughout the resorts 7,300 acres. It's part guided tour, part lesson.
Here's why I think it's great:
• My guide can help me tackle skiing terrain I wouldn't dare on my own.
• I can learn new skiing skills and techniques. Score!
• I'll be with other adults on my level.
• It's a totally relaxed vibe.
Plus, there's no waiting in the lift lines, which means more time on the mountain. Worth every penny.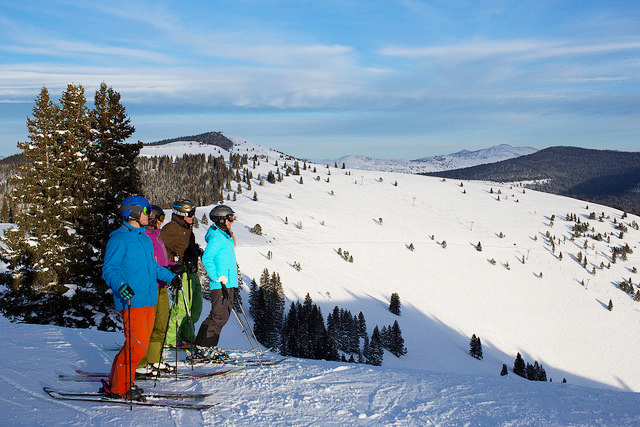 There's Even Guided Snowshoe Tours
I've never been snowshoeing but I think it sounds pretty fun. I like to think of it as snow hiking. Park City has seasoned outdoor guides that will snowshoe you off the beaten path. Through aspen and evergreen forests up to snow covered Alpine Lake, it's the perfect chance to discover mountain wildlife, enjoy the mountain views and release a little stress. And how many people can say they've been snowshoeing?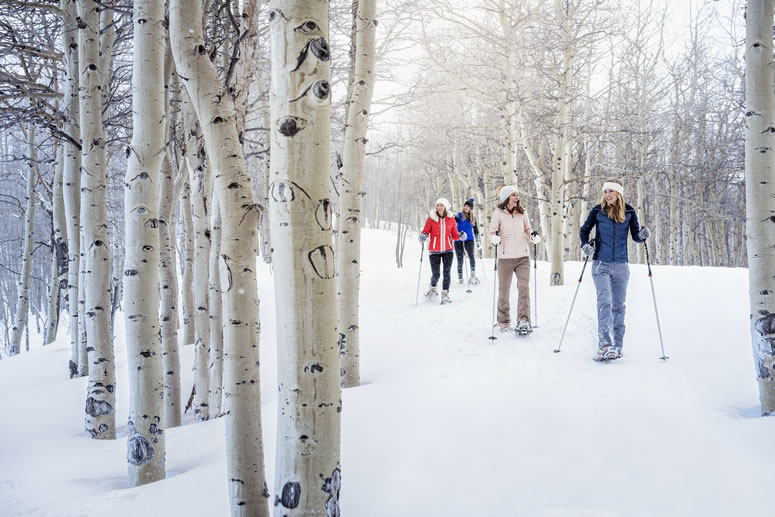 Park City Is Easy To Get To & Book
The best part about Park City is that it's only a 35 minute drive from Salt Lake City International Airport. You can also book your lift tickets and lessons online. That means more time to enjoy every moment of the Park City epic mountain experience.
Looking to get more out of your next vacation? Need some vacation inspiration?
Visit This Is What Epic Looks Like to explore all 8 Vail Resorts mountains and discover a collection of experiences in the snow you just won't want to miss.
*This is a sponsored conversation written by me on behalf of Vail Resorts. The opinions and text are all mine.