Better Living uses affiliate links. If you make a purchase through them, we may receive a small commission (for which we are deeply grateful) at no cost to you.
This Mother's Day gift guide is current as of 2023. These amazing gift ideas are in stock and many are ready to ship overnight.
Rudyard Kipling once wrote, "God could not be everywhere, and therefore he made mothers." Our moms do and sacrifice so much for us throughout our lives. What other job has you on the clock 24/7, 365 days a year?
There's plenty of time to show mom how much you love her throughout the year, but honoring mom with a gift on Mother's Day can be an extra special gesture. Of course, it's always the thought that counts.
Here's the trouble: While some moms tell us exactly what they want, others like to keep us guessing. So, if you're looking still looking for ideas for the perfect gift to honor mom with this year, we think you'll find something she'll love in this roundup.
Whether you want to pamper mom, help her enjoy the outdoors more, or give her something you know she'd love to use in the kitchen, there's a little something here for every type of mom and a variety of budgets. Don't forget about the grand-moms and step-moms in your life too!
Keep an eye out, because many of these gifts are available through Amazon Prime and can ship overnight. And be on the lookout for Mother's Day sales and coupon codes on the product pages. Prices are accurate at the time of publishing but can fluctuate.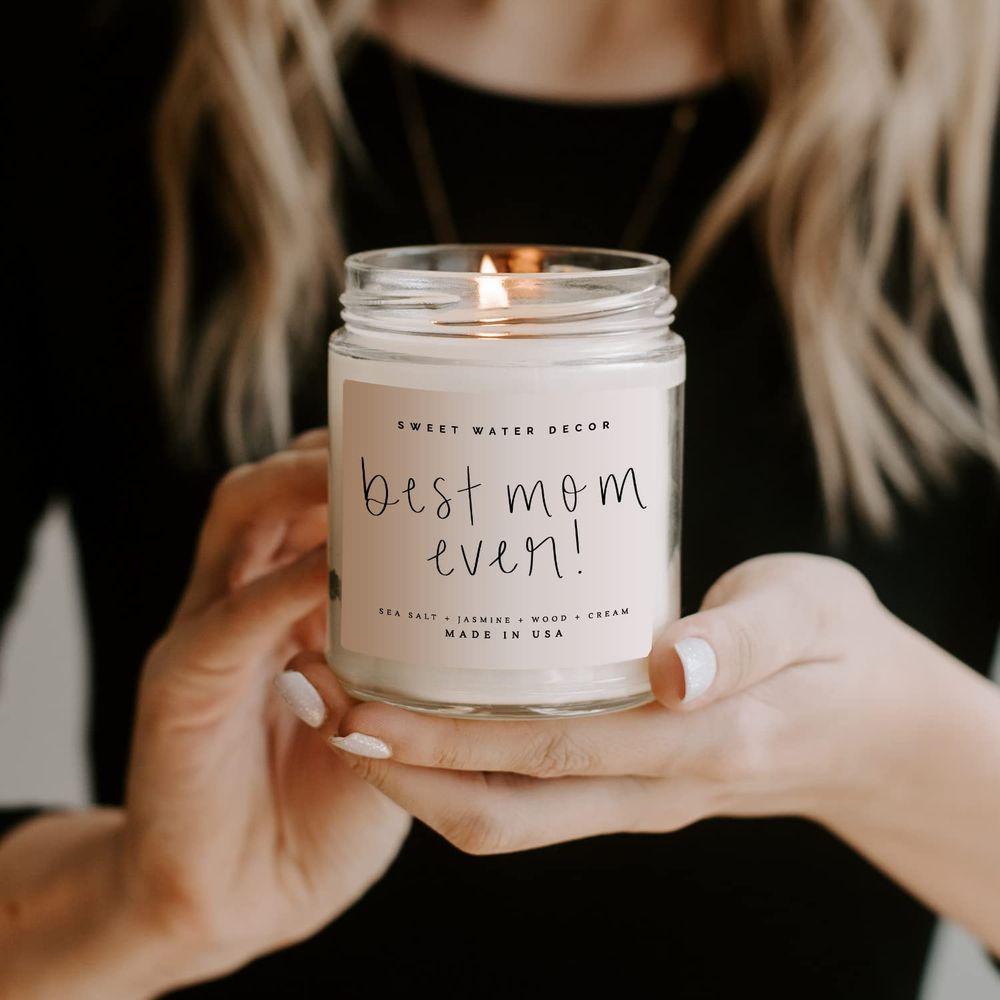 Product Description: You can't go wrong with this Best Mom Ever Candle. Made in the USA, this soy wax candle is not only adorable, but it's also cleaner and more environmentally than petroleum-derived paraffin candles. Mom will love the Spa Day scent with notes of sea salt, jasmine, cream, and wood, and with a 40-hour burn time, she'll be able to enjoy it for quite a while.
Happy Review: "I sent this to my mother-in-law and she loved it so much. She said it smelled amazing!"
Price: $20.00 (Amazon)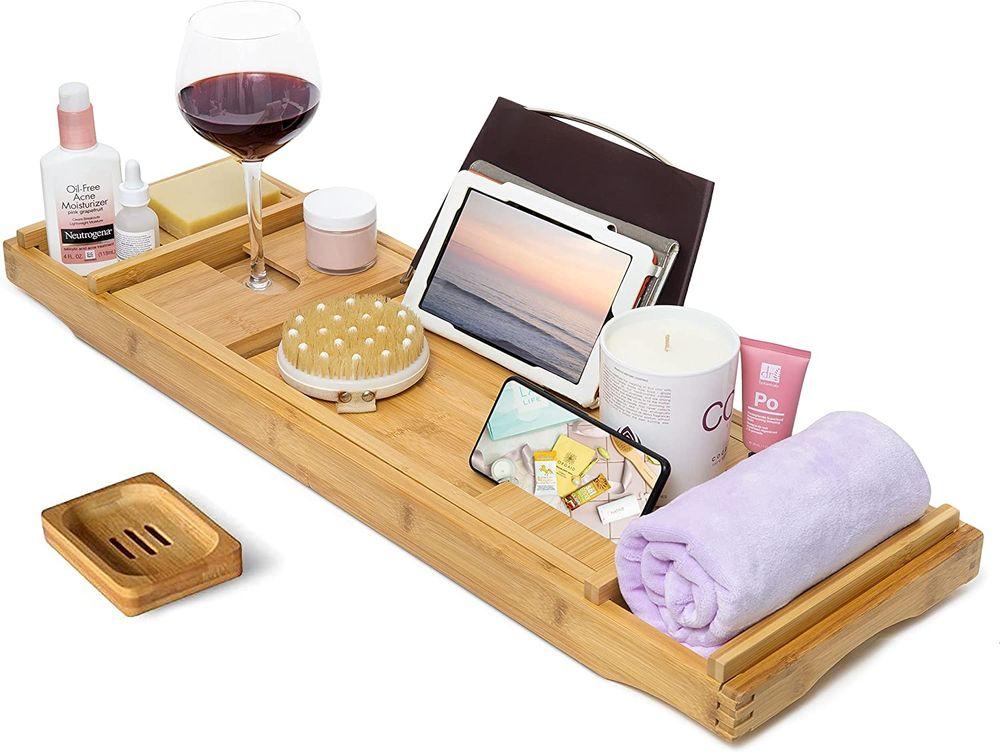 Product Description: Mom deserves some "me time." With this over-the-tub bath caddy, she can relax in the bath with a way to store all things she needs. With a water-resistant cover, this caddy also has a removable book/tablet holder, a smartphone holder, a spill-proof wine glass spot, and a multipurpose, detachable tray for soaps or a candle mom will have everything she needs to feel pampered.
Happy Review: "I absolutely LOVE this caddy tray. I use it 2-3xs a week when I'm soaking in my jetted tub and need to relax my body. I've used it to prop up my iPad, hold a glass of wine, water, soap, and bath bomb. It's durable and waterproof. Such an amazing addition to my relaxation routine."
Price: $34.99 (Amazon)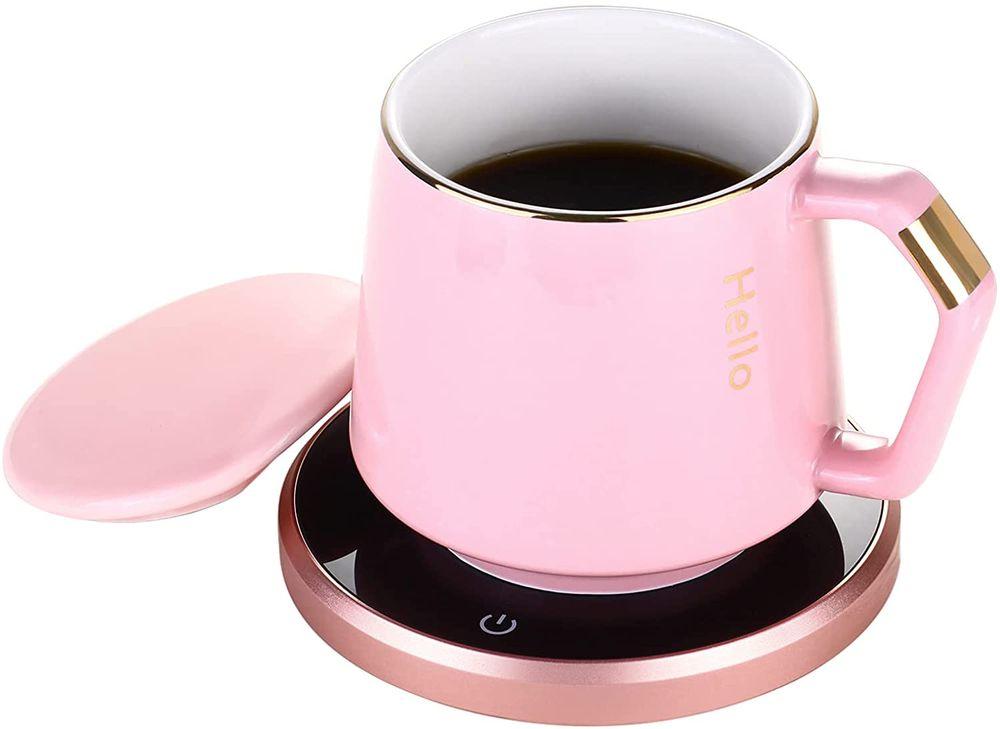 Product Description: If mom loves her coffee or tea, this smart mug makes a great desktop gift to keep her coffee hot while working through the week. It has two temperature settings and can also double as a candle warmer.
Happy Review: "Purchased for my desk at work. I would get busy with a project and then remember 15 minutes later, I had a cup of tea sitting there. it would still be hot, loved it."
Price: $34.99 (Amazon)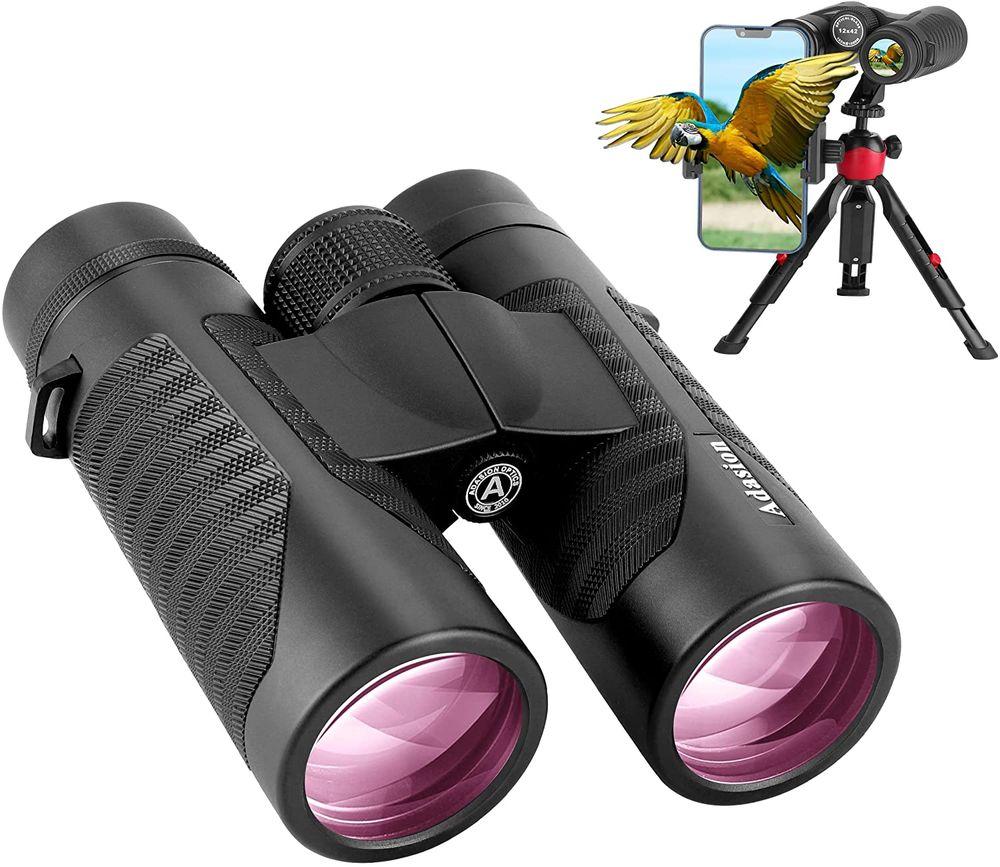 Product Description: These lightweight binoculars are perfect for when mom goes sightseeing, goes to the beach, hiking, sporting events, or simply wants to bird watch in the backyard. And with the phone adapter, tripod adapter, and tripod, she can take pictures of what her little eye spies.
Happy Review: "I love these binoculars. It comes with a high-quality lens and the weight is light. The phone adapter is easy to use and it fits my iPhone 11 perfectly. It can be used at both day and night time. I used it to observe moon at night and birds during the day. By using the phone, I can observe things together with my family and they really like it."
Price: $58.53 (Amazon)

Product Description: Get mom's sleep routine back on track and help her unwind with the Hatch Restore! It combines a soundscape machine, sunrise alarm, smart light, meditation app, and an alarm clock into one smart sleep assistant. She can also use it as a bedside reading lamp!
It has and has a variety of color options and settings, including a sunset menu for total relaxation. Read our full Hatch Restore review here.
Happy Review: "Love my Restore. I live in a northern Midwest state with long cold winters and dark mornings. Waking up to natural light is a game-changer for me. I wake up so much happier than from an alarm clock. Also, I'm loving my go-to sleep routine and light sounds at night. I'm sleeping so much better."
Price: 129.99 (Hatch.co)
Deal:  Get $15 OFF with code MOMS15)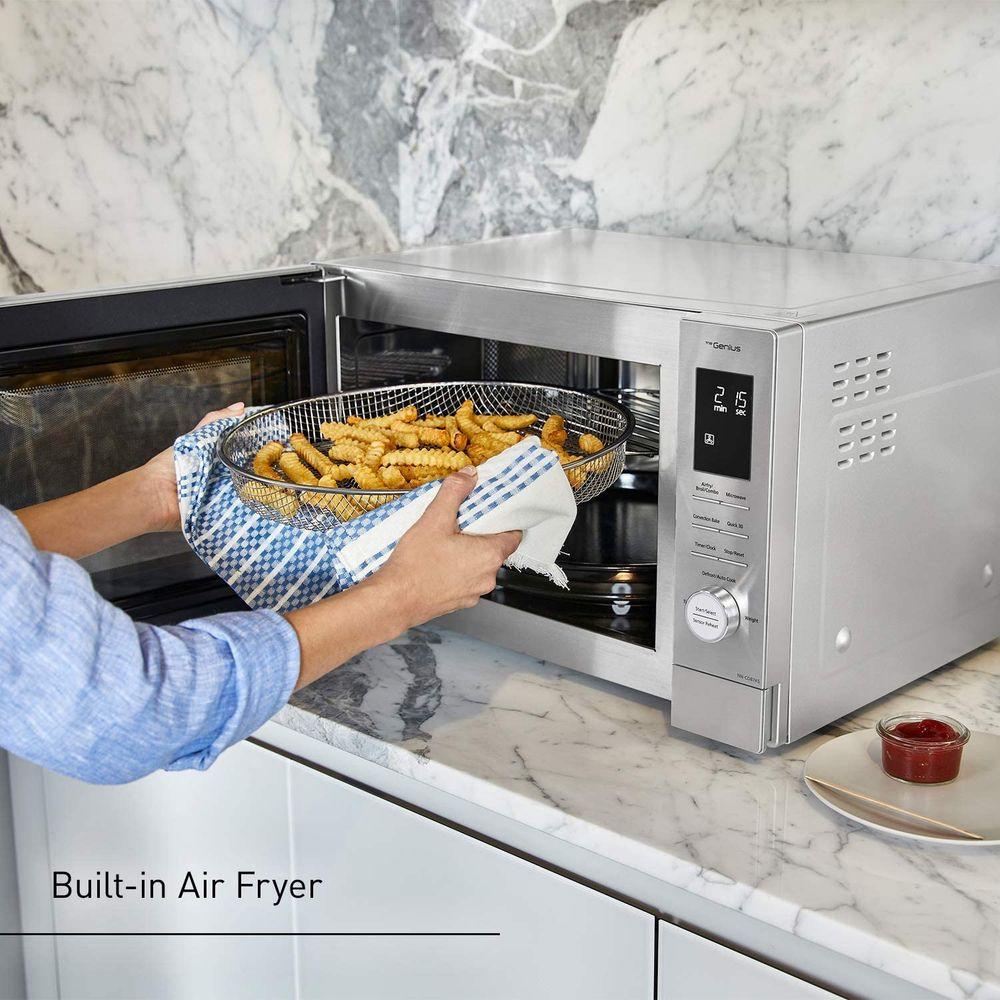 Product Description: The Home Chef is more than your average microwave. It's also an air-fryer, convection oven, and broiler that would make the ultimate space-saving gift for the gourmet mom. What's really cool is that it crisps and browns and there's no pre-heat required.
This one is a bit of a splurge but would be a great group gift to split with siblings.
Happy Review: "I LOVE THIS OVEN!!! I wish I'd known about it before I bought my double-oven 6-burner gas stove because I'd have gotten this oven and a regular gas stove! It's so versatile! I've used it as a microwave, an air fryer, to bake muffins, and to broil cheese on top of French onion soup! Absolutely would buy again!"
Price: $529.99 (Amazon)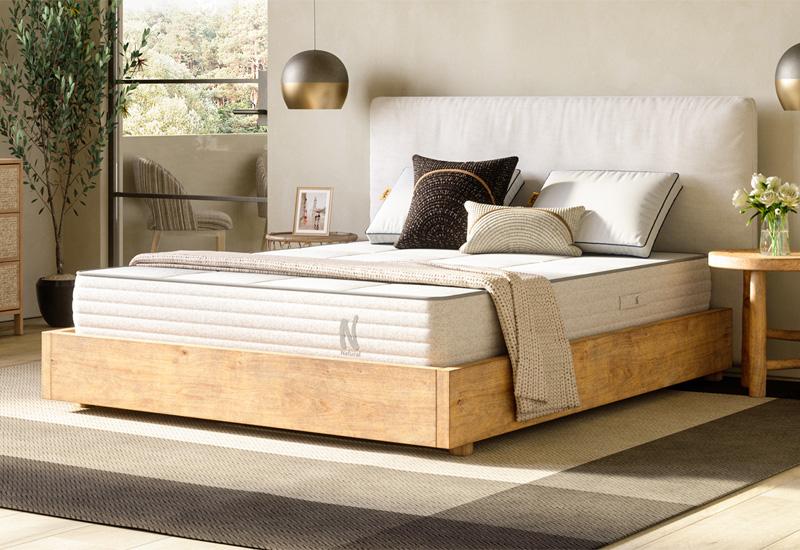 Product Description: Voted the 'Best Organic Mattress for Back Relief Pain' by Tom's Guide and both the 'Best Mattress for Allergies' + 'Best Organic Mattress' by the Sleep Foundation, the Nolah Mattress would make the perfect gift for mom.
The Nolah Natural 11″ mattress is highly supportive, eco-friendly, and hypoallergenic. And since it's medium-firm, it's perfect for most sleeping positions.
Plus, it's made of all-natural Talalay latex, which is renowned for its ability to counter to relieve pressure and pain on the body, while allowing maximum airflow for sleeping cool and comfortable year-round. It's also wrapped in a luxurious organic cotton cover made and layers of organic wool, and recycled steel coils and will give mom the sleep of her life for years to come.
Nolah is USA-made and mom can try it for 120 nights completely risk-free. Read our full Nolah Natural 11″ Mattress review here.
Happy Review: "Best sleep ever! This was so easy to purchase and the staff was so incredibly helpful during the entire process. I cannot remember the last time I slept so well or woke up with no aches or pain. If you have shoulder or back problems, this is the mattress for you!"
Price: $1199+ (Nolahmattress.com)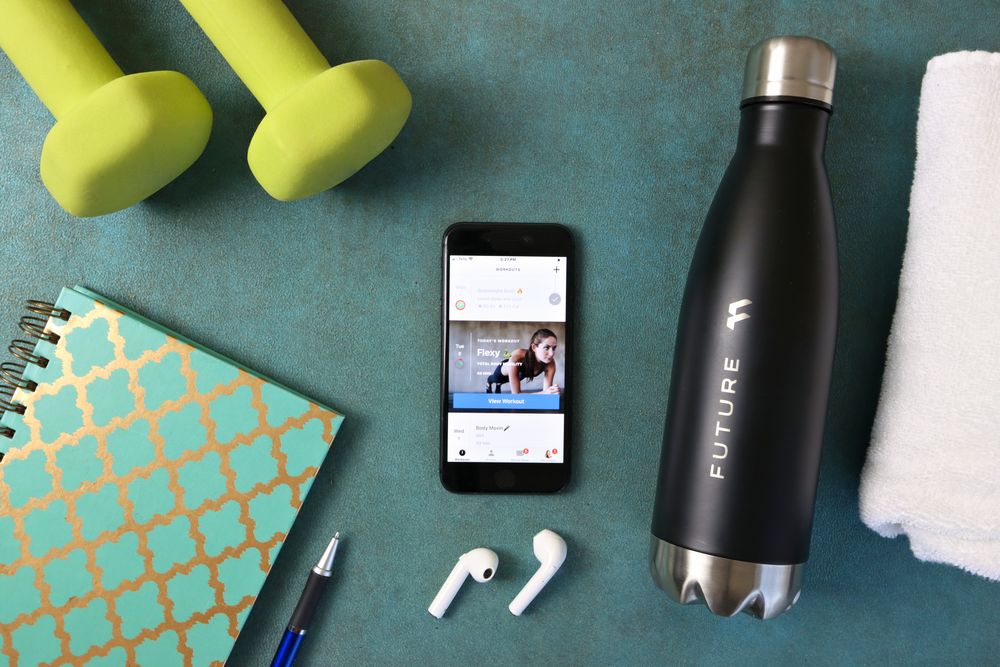 Product Description: Whether mom has been wanting to get active or already loves to work out, why not sign her up for a subscription to Future! It's a fitness app in the Apple store that will pair mom with her own certified elite personal trainer. Not only will her trainer message her daily to help keep her accountable so she can reach her health and wellness goals, but she can use it to get fit at home, take it to the gym or while away on vacation.
Happy Review: "…I struggle with consistency in my workouts—I travel a lot, and that means when I get back I've broken my schedule because I don't have access to my gym or classes. When you train, if you want results, the most important part is consistency, and Jasmine makes sure that I have all the tools to complete a workout anywhere. I was moving and had no equipment? No problem, she set me up with a workout using my own body weight. Now I have some home equipment, I work out with my weights. If I decide to go to the gym, she'll tailor a workout to that situation. All the workouts are tailored to my goals and are considerate of my injuries. Plus Future keeps track of all my workouts, and kind of gamifies your progress in the very beautifully designed app. And I see the progress in my body every day! Plus I can talk to Jasmine every day about what's working and what isn't, and she, the expert, figures out solutions for me! I love it! If you need the accountability and consistency a trainer provides, this app is for you."
Price: $149
Deal: GET 1 Month of Future for $19 (cancel anytime)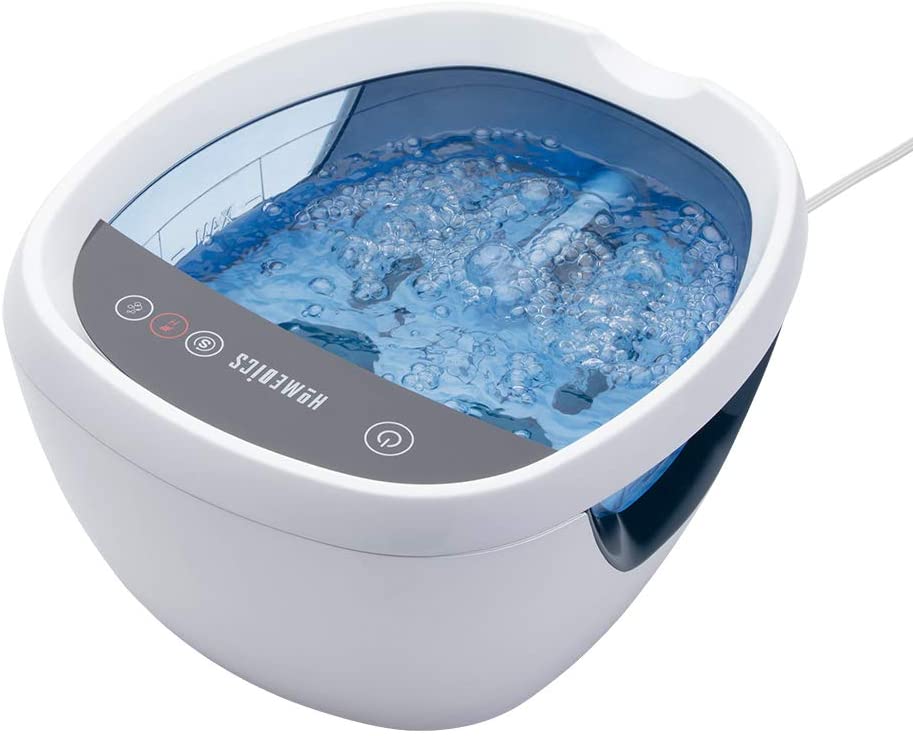 Product Description: Moms usually spend a lot of time on their feet. This footbath which quickly warms water will pamper mom's aching feet the way she deserves with a deep-kneading shiatsu massage combined with the benefits of hydrotherapy to help relieve the stress and tension.
Happy Review: AussiseGirlIngrid – "This actually works great. The heat feature is the perfect temp. If you start with warmer water, it will be ready to go. I liked the bubble effect to keep the bath salts I added mixed.
There is a safety timer on it in case you fall asleep from the wonderful effects. Heat works with the bubbles and/or Shiatsu on at the same time not individually, and the foot massager is marvelous! Best pedicure I have had since I left Ft. Lauderdale 4 years ago. The unit is heavier than another unit I have by Dr. Scholl's but this motor is doing more and quite well. The heater was most important and I am not disappointed. Great purchase for me."
Price: 129.99 (Amazon)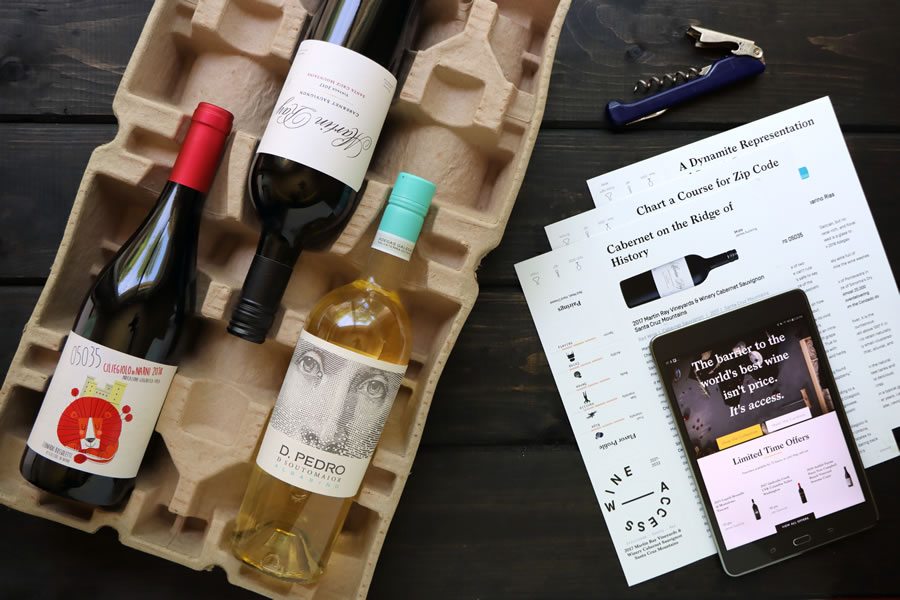 Product Description: If your mom loves wine, treat her to a wine subscription from Wine Access! Wine Access is an online wine club that uses the knowledge of a team of wine industry experts to find amazing hard-to-find wines from hidden cellars from around the world. They taste over 18,000 wines per year, but only 1 in 18 makes the cut. This means the wine is always going to be great, and it's offered at an amazing value. Read our full Wine Access Review here.
Choose from one of their amazing curated wine club subscription boxes, or order up a few bottles from their online shop from collections including "Wine Team Favorites," "Napa's Best For Less," and "MICHELIN Star Favorites." Gift cards are also available.
Price: Wines $13 and Up + Wine Club Subscription Boxes from $120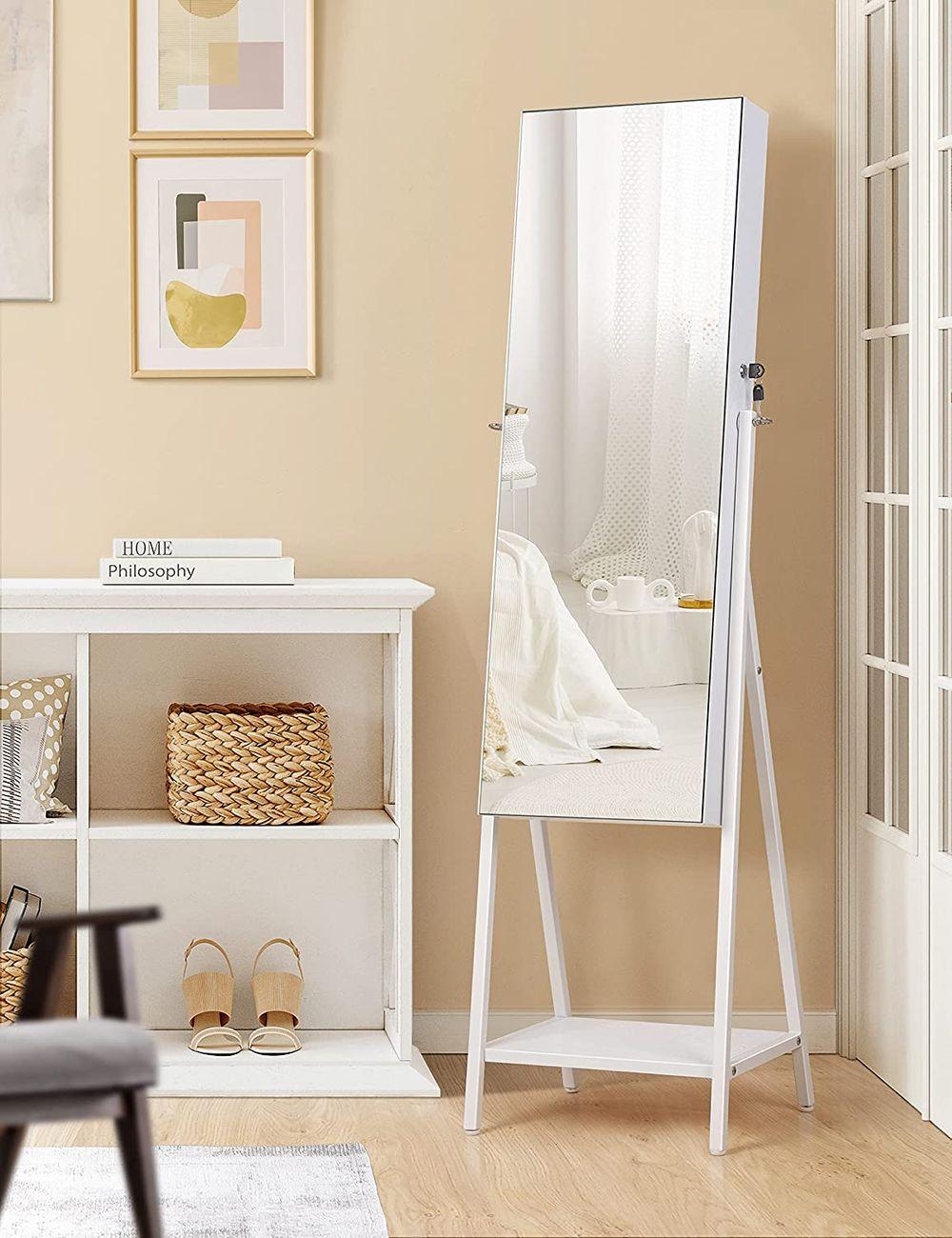 Product Description: This beautiful and chic leather jewelry cabinet is perfect for organizing and storing mom's bling, while the mirror can help her make sure every hair is in its place. There's even a light inside so she can see everything clearly.
Happy Review: MAGS – "Bought this for my granddaughter and she loves it! Lots a places for rings,post earrings,area for hanging earrings, there's 3 areas for necklaces sm,Med,Lg necklaces and 3 places for bracelet's. There are also slots for other jewelry or makeup. It can also be locked and has a bottom shelf which seems to help with stability."
Price: 139.99 (Amazon)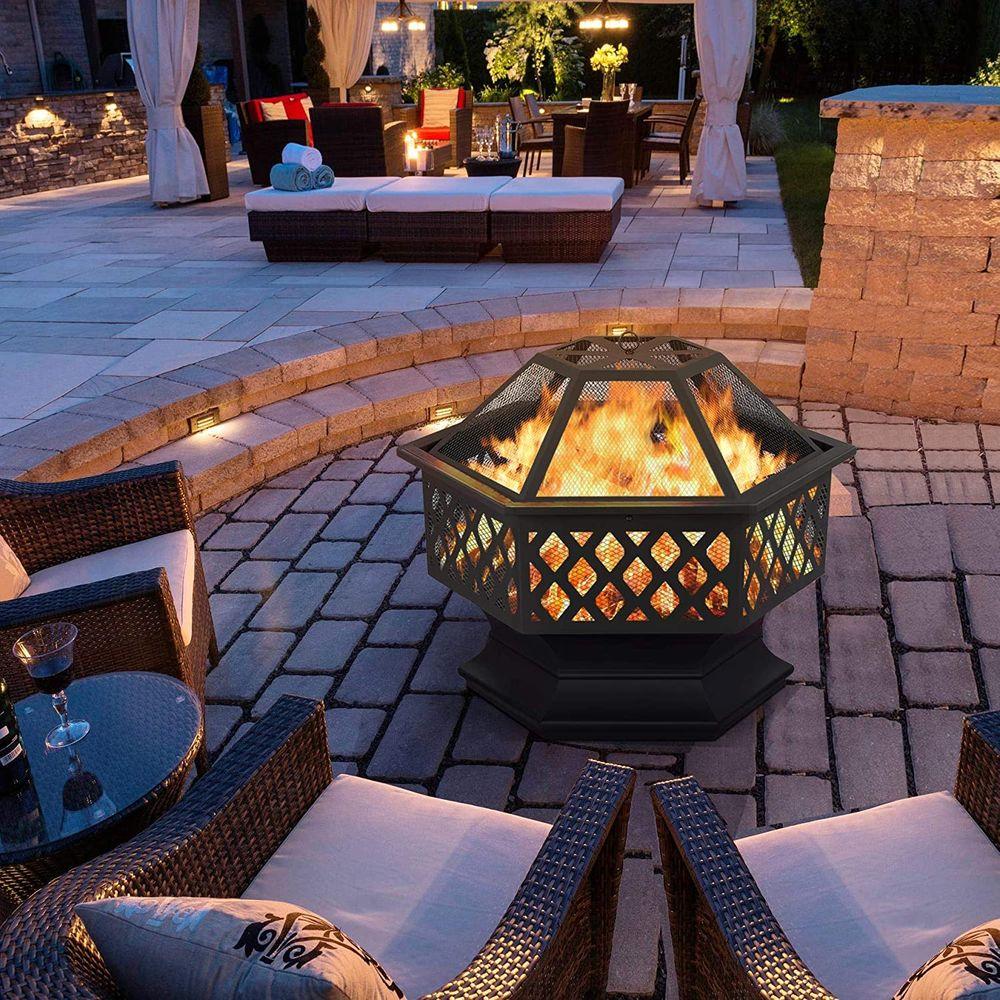 Product Description: Spruce up mom's yard game with this firepit bowl by Yaheetech. Not only is it beautifully designed, but the hexagonal shape provides the maximum ‌amount of warmth. It's also lightweight and would work great on a deck or camping.
Happy Review: Lois B. – "Very nice looking piece and it looks great in our backyard. We love sitting around the fire with friends and this fireplace fits the bill! I would definitely recommend this to a friend."
Price: $89.99 (Amazon)

Product Description: These premium plush microfiber robes with a soft French terry cloth interior are the best! Amazing resort and spa-quality and that mom can snuggle into right at home. They come in a variety of colors and feature a shawl collar, roomy front pockets, and a double belt loop. They're perfect for when mom steps out of the shower or hot tub, but also great poolside, or relaxing by the fire.
Happy Review: Natalie T. – "I first found this robe at a hotel in Boston and took a photo of the label so I could google it. To my surprise, I found it on Amazon. I'm obsessed with this robe, it's super soft and plush. I feel like I'm at a fancy spa at home. I'm 5'4 /135 lbs and I ordered the SMALL and it's perfect. A+++"
Price: $97.95 (Amazon)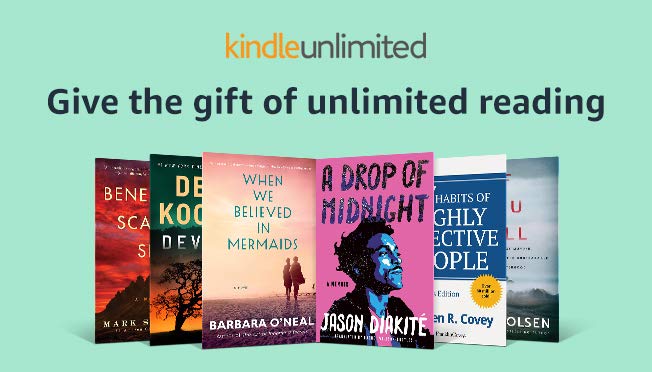 Product Description: If mom loves to read, gifting her an Amazon Kindle Unlimited Subscription is the way to go. Kindle Unlimited will give her access to over 1 million books and thousands of audiobooks. You can use it anytime with Kindle e-readers, Amazon Fire Tablet, or other devices and divide as long as you download the Kindle app for your smart device.
If you purchase a new Kindle Reader + a Kindle Unlimited Subscription, both you and your mom will get Kindle Unlimited access. Cancel anytime.
Price: $47.68 (6 Month Gift Subscription) or $9.99 per month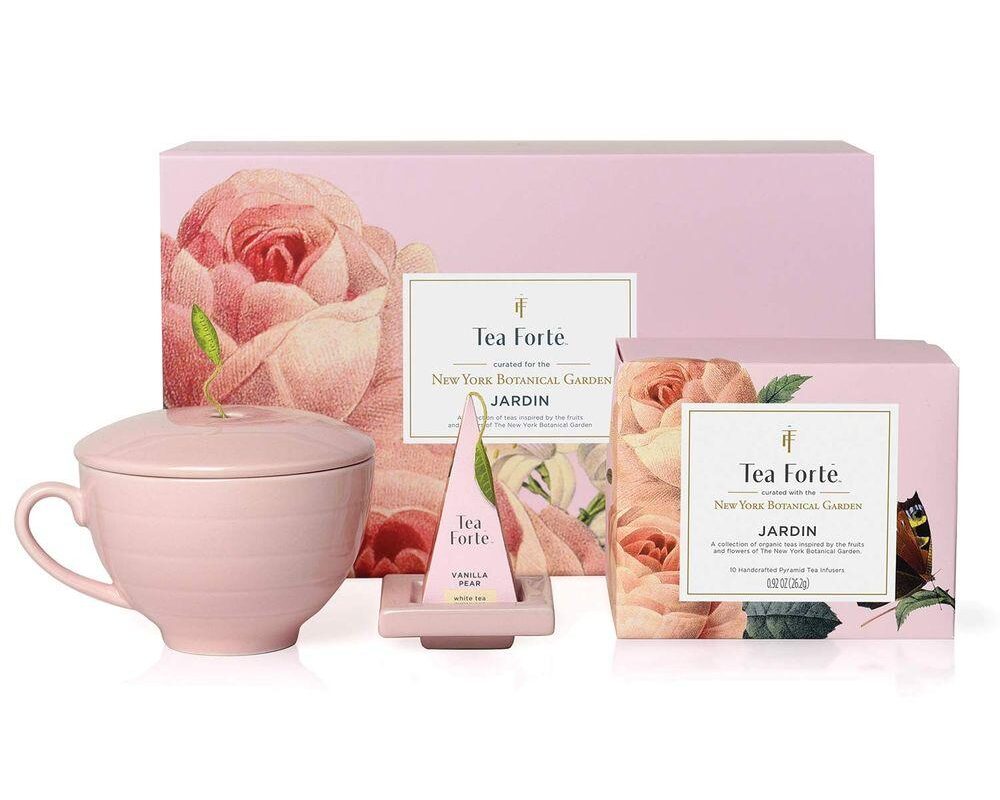 Product Description: This tea set is darling! And if mom loves tea, she'll love this luxuriously packaged tea gift from Tea Fort. Designed with rare floral Pierre-Joseph Redouté (1759-1840) prints from The New York Botanical Garden's library, this collection features five 10 infusers with 5 floral tea blends including Chamomile Citron, Chocolate Rose, and Strawberry Hibiscus. A portion of sales supports NYBG's work in plant research and conservation.
Happy Review: Erin Mayo – "I gave this to my grandmother. The presentation is wonderful and really looks like it costs a lot of money. The box is beautiful and can definitely be used to store things like tea bags once you take the mug out. I so impressed with it when she was opening it, I wanted to buy one for myself! Everything is tightly suspended in packaging within the box so nothing had shifted around."
Price: $44.00 (Amazon)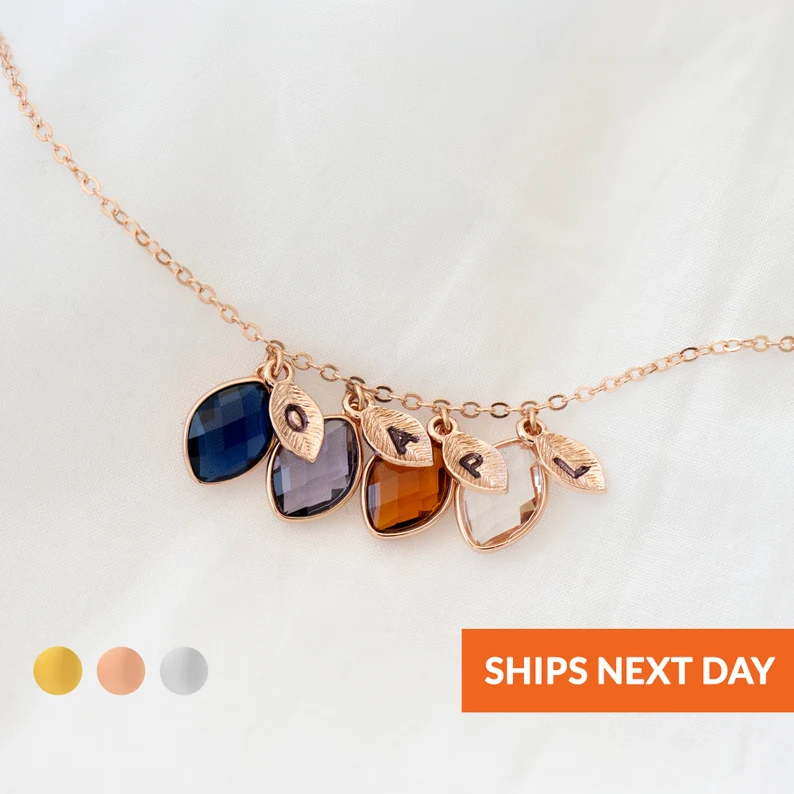 Product Description: This necklace is a really beautiful custom piece to gift for any of the moms, grandmamas, or step-moms in your life. Simply choose the initials and birthstones of children, siblings, or grandchildren you want her to celebrate. The necklace is 18 inches and you can choose from gold, rose gold, or silver.
Customer Review: Justine – "Better than I even imagined, and the Stepmom is thrilled with it. Absolutely gorgeous, ordering one for myself as well as a single birthstone necklace for each of my girls. Thank you so much!!"
Price: $45.00+ (geominimalist @ Etsy)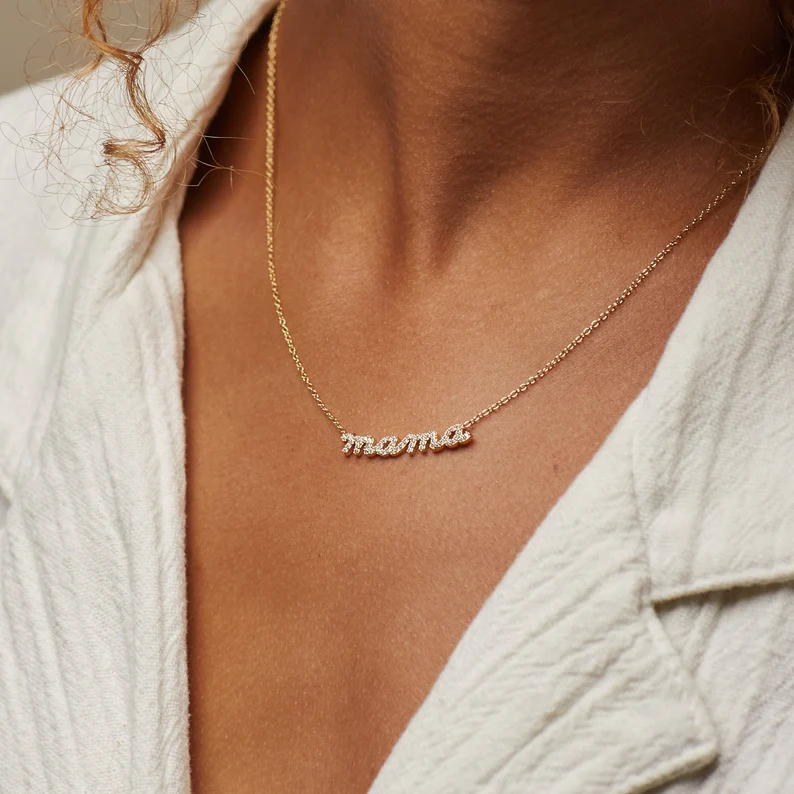 Product Description: This one says it all with something stylish and dainty with a little bling. Choose from a variety of fonts, metal finishes, and chain lengths. This ships next day!
Happy Review: Tori Sutton – "Absolutely stunning! Both necklaces from the shop and OBSESSED with everything including packaging!!! Forever only buying my jewelry from here ❤️"
Price: $26.88 (CaitlynMinimalist @ Etsy)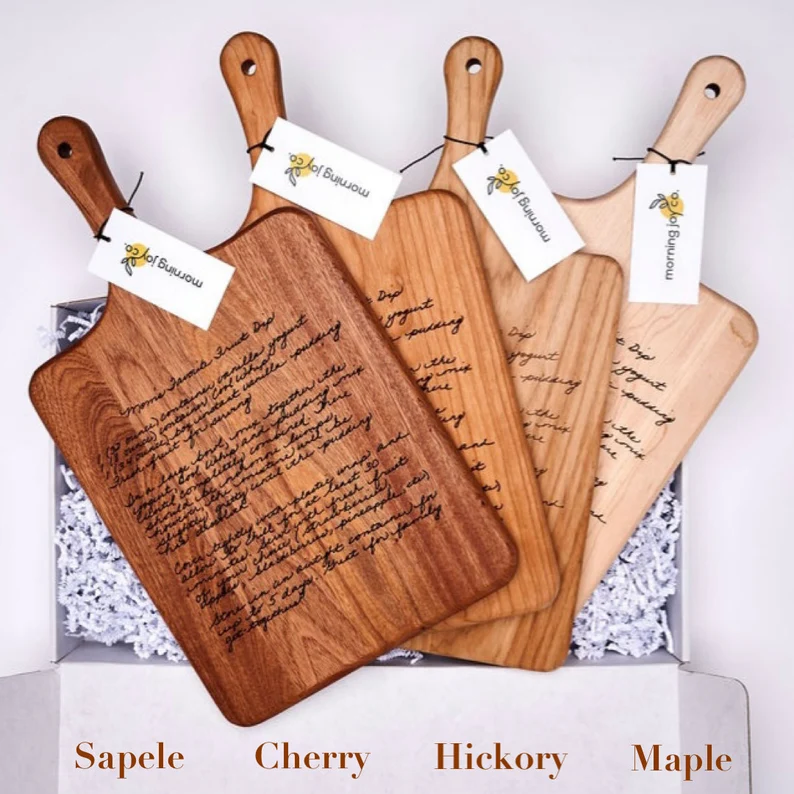 Product Description: This is such a lovely gift. Grab a copy of a mom's favorite special family recipe, family letter, or other written sentiment and have it engraved onto a cutting she can use or hang in her home.
Happy Review: michele davidson  – "Absolutely amazing!!!! Cutting board was perfect. Customer service was 10 stars. HIGHLY RECOMMEND"
Price: $49+ (MorningJoyCo @ Etsy)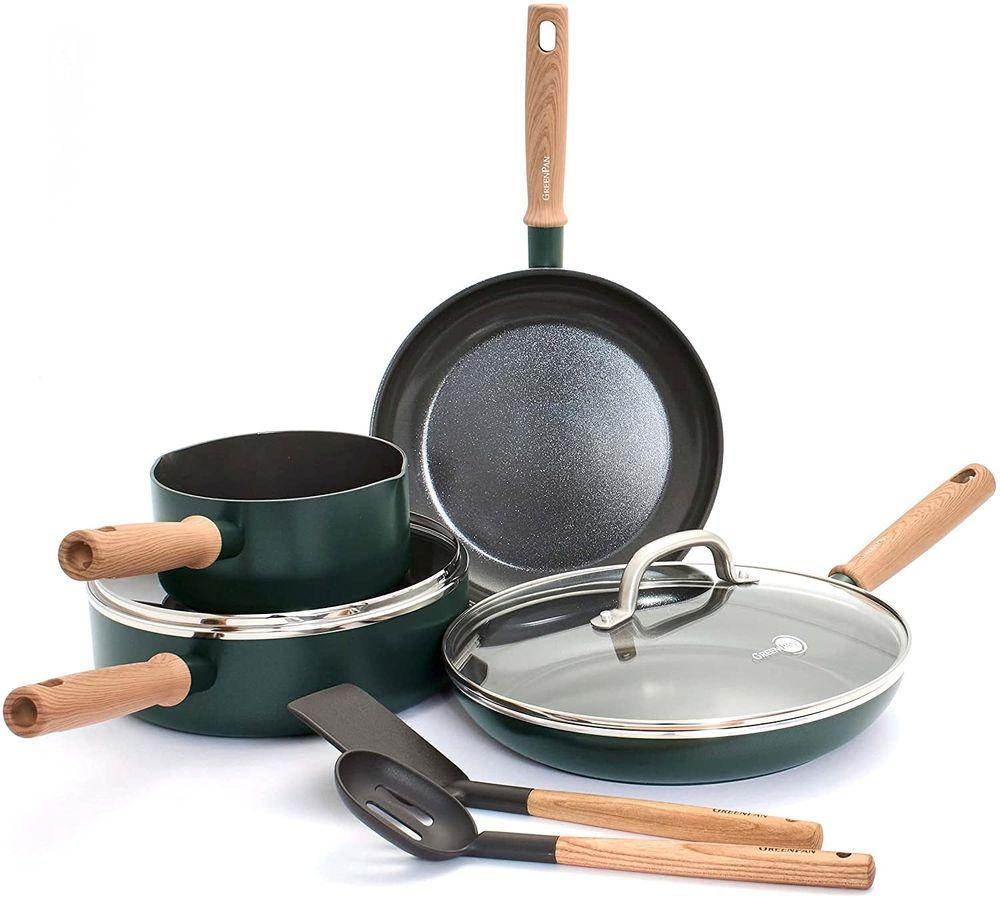 Product Description: This award-winning cookware is a clean toxin-free way to cook if you love the performance of non-stick, but without the toxins. Not only do these pans have a beautiful modern look, but all GreenPan pots and pans have a nonstick coating that is free of harmful chemicals including PFAS, PFOA, lead, and cadmium. Plus, they're scratch resistant and easily wipe clean.
Happy Review: LUVNCOOKN -"I am done with my old nonstick pans. This ceramic interior is really the best of both worlds…..easy to clean, and it browns beautifully. The blue is a coastal blue and looks great in my kitchen. I love the sizes of these three pans, because I use them most often. So far, super easy to clean and care for!"
Price: $149.99 (Amazon)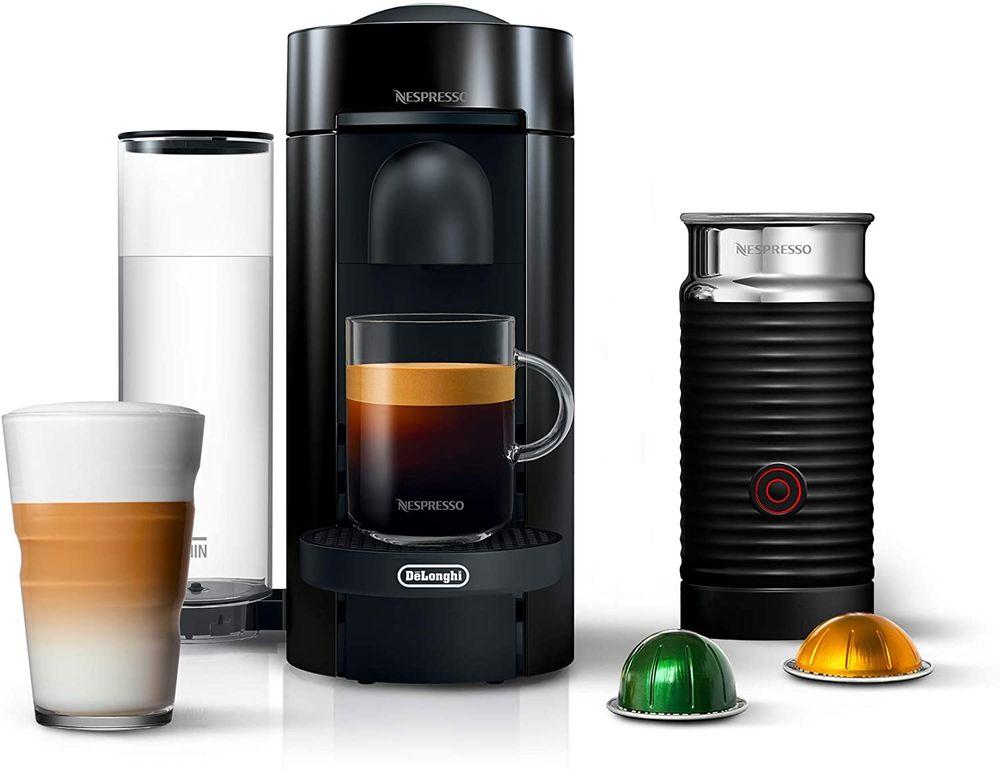 Product Description: Let mom skip the line at Starbucks and get her this espresso machine instead. For perfect espresso every time, this machine has 5 different espresso sizes including a large alto size, a double Espresso, and Gran Lungo. The Aeroccino milk frother can help mom turn that espresso into a delicious cappuccino or latte and it also comes with welcome set of espresso Vertuo capsules.
Happy Review: Danielle F – "We just got it delivered this evening and were so excited to try it out that we made a decaf latte with one of the included pods. We did a bit of research and returned a different machine before landing on this one, but this is a keeper. All of this is coming from a former barista! Pro tip, pick yourself up a bottle of Torani or other syrup, and add 1 or 2 oz to your drink!"
Price: $156.75 (Amazon – Ink Black color)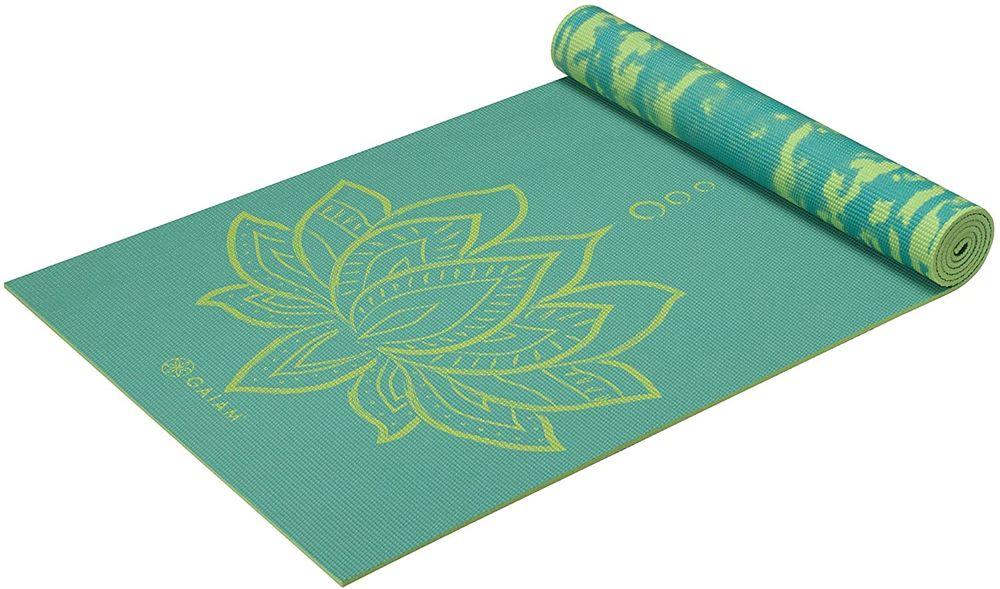 Product Description: If your mom loves yoga, these Gaiam non-slip mats are great and come in a variety of prints. Besides yoga, they're also great for pilates and floor exercises.
Happy Review: Valiant -"I'm the type of person who reads a lot of reviews and agonizes over every purchase. Plus I noticed some reviews said that they had problems with slippage on this mat so I was very hesitant but I needed a mat so I took a chance… It does not slip and has a nice grip to it. I have absolutely no complaints and am quite happy with it. Plus it's a bit thicker than regular mats which helps my aging body a lot on wood floors. It lies completely flat on the floor and the color is pretty and much like what my monitor depicted. Go ahead and buy it! :)"
Price: $34.95 (Amazon)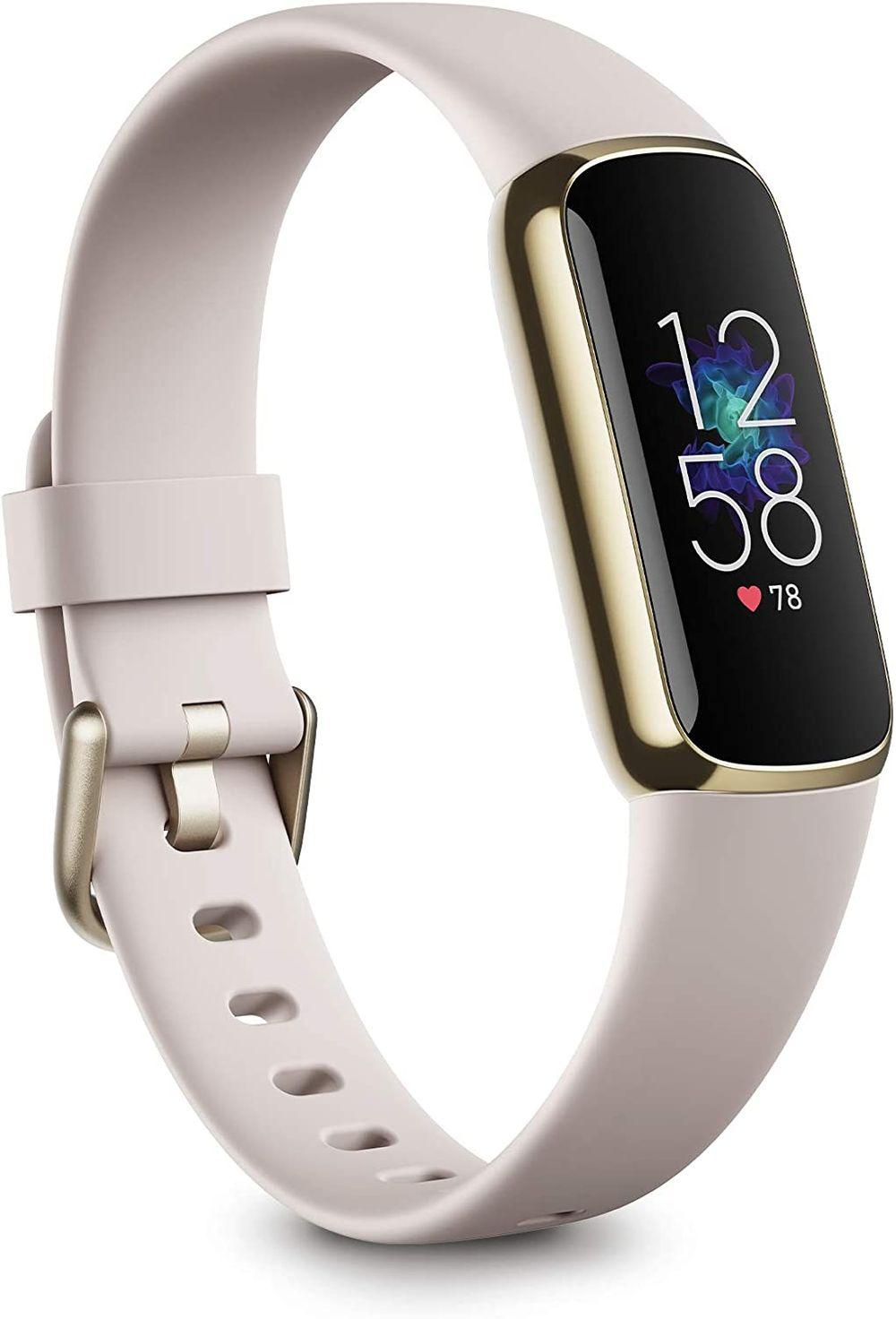 Product Description: A fitness tracker that looks like jewelry? Yes, please! This smartwatch will sync with mom's smartphone to track things like calories burned, steps, heart rate, sleep, distance, and more. A great way for mom to improve her wellness it also comes with a 6-month trial of Fitbit Premium for more personalized insights, guided programs, sleep and relaxation tools.
Happy Review: Jen -"I had a Fitbit Alta and the Luxe is an awesome upgrade from it! It's sleek-looking, waterproof, and is accurate with information. I've only had it a few days, but so far so good! 3 days in and battery only went down to 68%. Very happy with this purchase!"
Price: $99.99 (Amazon)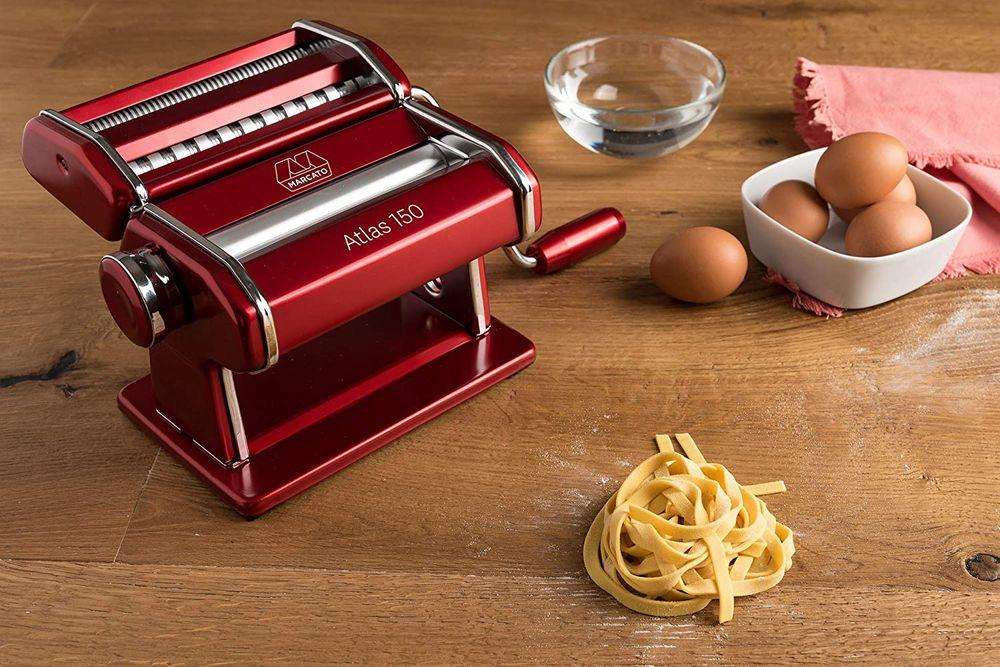 Product Description: Fresh pasta is the food of the gods. If your mom's a foodie, she'll love learning to make her own pasta with this pasta making machine made in Italy. A great way to spend time together this MARCATO Atlas 150 was called the "Ferrari of the pasta machine world" by Cook's Illustrated.
Happy Review: MFowers – "I got this for my wife for a Christmas present. She lived in Italy for a year and a half and absolutely loves pasta! We watch a lot of cooking shows and we would always comment how fun it would be to make our own pasta. After reading lots of reviews, I knew I couldn't go wrong with the Atlas. I was right, this thing is great! Sure it takes three times as long to make pasta doing it on your own, but the results are out of this world. A HUGE difference in the quality of pasta. It is much lighter than the pasta you get out of the box, and the flavor is amazing. Unless we are pressed for time, I don't see us using pasta you get from a box."
Price: 79.99+ (Amazon)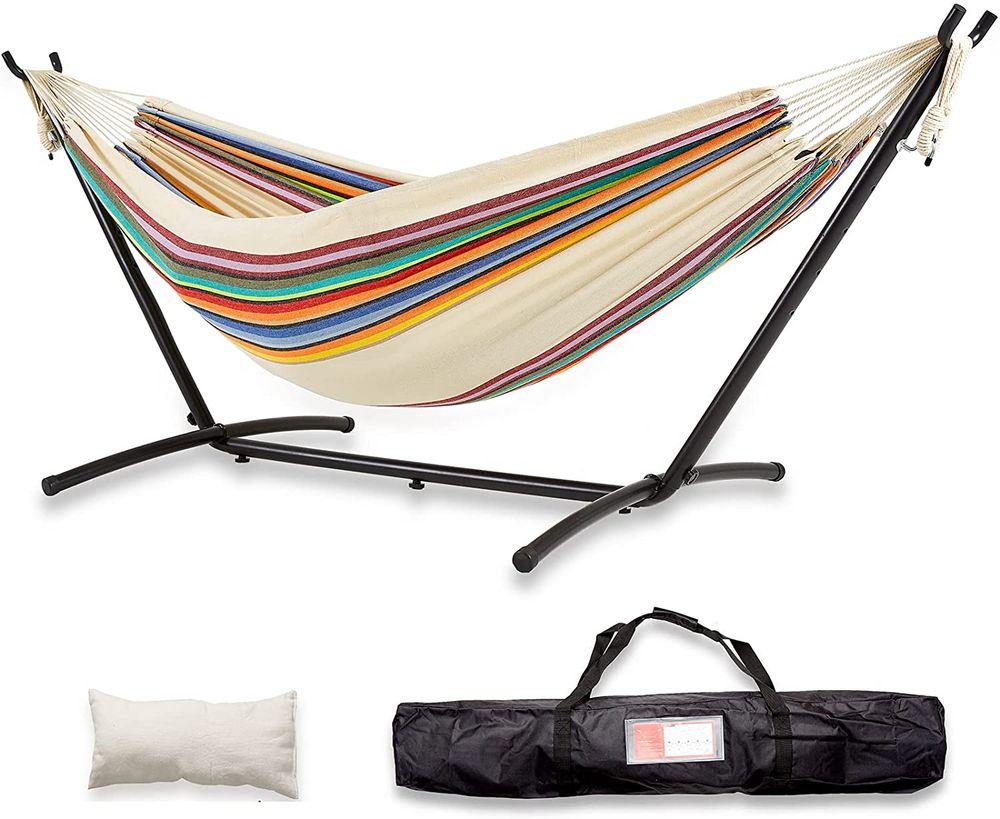 Product Description: For gravity-free relaxation, a hammock is such a lovely way to enjoy the outdoors. And it's the kind of thing mom would love but may not think about buying for herself. Perfect for the garden, deck, or patio.
Happy Review: Oliver – "This is a great hammock for my back deck I highly recommend it it was super easy to put together comes with a nice bag for storage and oh my God it is so comfortable. I'm almost tempted to replace my bed with it.
This hammock can't be beat I definitely recommend it and it even comes with a nice little pillow."
Price: $99.00 (Amazon)
SHOP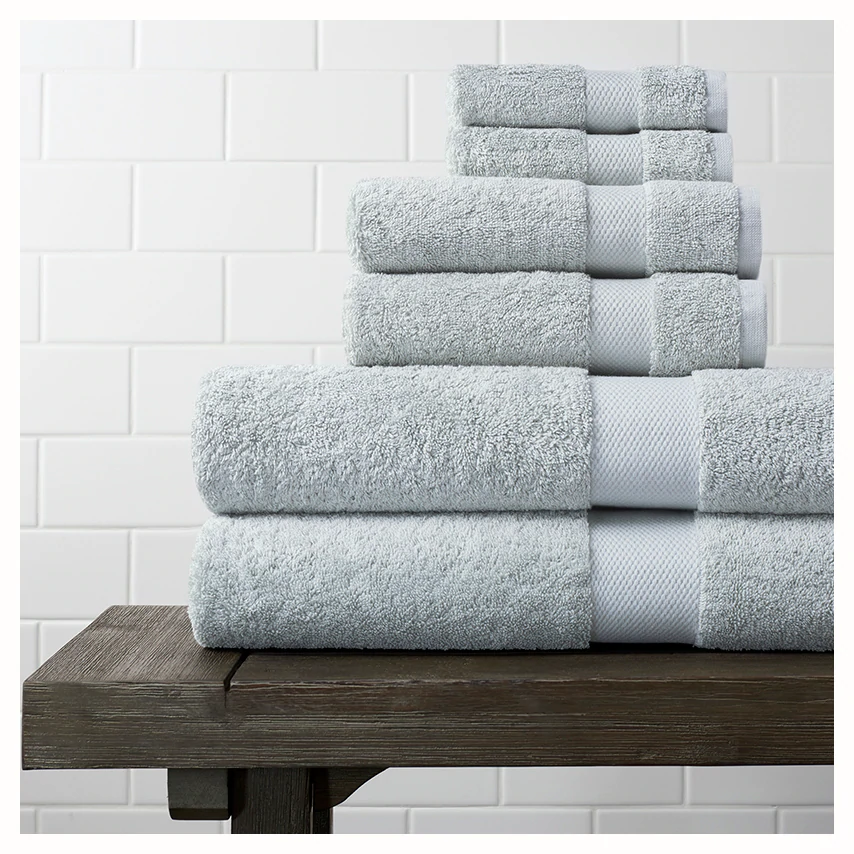 Product Description: These incredibly velvety and absorbent bath sheets are larger and more luxurious than your average towel. Made of 100% organic cotton yarn with a lovely thick high-pile, these towels will make mom feel like she's at a luxury resort year-round.
Happy Review: Dean B. – "Best Towel on the Planet! After years of searching for the perfect towel, we finally found it!"
 Price: $158.00 (Boll & Branch)
SHOP