Better Living uses affiliate links. If you make a purchase through them, we may receive a small commission (for which we are deeply grateful) at no cost to you.
If it's getting harder to find a comfortable position in bed at night and you're waking up stiff and achy, it may be time for a new mattress. And if your mattress has dips and lumps that don't even out with flips or rotations, speaking from experience, I can tell you it's not going to get better. 
Finding the right new mattress can be game changing when it comes to getting a restful night's sleep. It needs to be comfortable and supportive for your unique needs but with the right feel and firmness for your sleeping style (side, back or stomach).  
But the last time you went mattress shopping did you consider what your mattress is actually made of? Mattresses are one of those things we just assume are safe when we buy them. But if you've ever slept on a brand new mattress and noticed an odd smell, it's most likely chemicals.
And if you're trying to live a healthy and green lifestyle by removing as many toxins from your life as possible, your mattress is another piece to the puzzle. 
In fact, the mattress materials you sleep on are just as important as how comfortable it is while you're sleeping. And it's one of the most important non-toxic items you should be buying for the health of you and your home.
For the most part, the mattress industry has been unregulated, which means sometimes it can be anyone's guess what many of us are actually sleeping on.
Not only are most mattresses usually made with non-biodegradable materials that fill up landfills, but in the recent past they were treated with chemicals like chlorofluorocarbons (CFCs), which are blowing agents used when converting liquid to foam or polybrominated diphenyl ethers (PBDEs) as fire retardants. PBDEs were banned in the U.S. in 2004, but these chemicals which are neurotoxins and hormone disrupters still exist in our environment. And years after the ban, traces of this chemical can still be detected in our home's dust, as well as in the air, our soil and food. [1]  And CFCs which are still used by some companies contribute to depleting the ozone layer, which protects the Earth and us from ultraviolet rays.
Many of us have experienced something called "off-gassing" too. This is the odor we smell when we get a new mattress and is the initial release of manufacturing chemicals called VOC's (volatile organic compounds) into the air in our homes. And while the smell can dissipate to a point where we don't notice it anymore, they can continue to exist in our space and cause a variety of symptoms including headaches, dizziness, eye, nose, and throat irritation, asthma, nausea and over time liver, kidney and central nervous system (CNS) damage. [2]
They've also been linked to infertility, developmental delays in children, and some evidence even shows that VOCs can cause certain types of cancer. [3] What's even more concerning is that the negative effects of VOCs have been mostly studied individually. So we just don't know the compounding effects of being exposed to multiple VOC's over time. 
Other chemicals that have been found in mattresses include formaldehyde, petrochemicals, and pesticides. Recently one company has come under fire, after fiberglass was inside their mattresses and customers were experiencing severe eye, respiratory, and skin irritations for months. They are currently being sued.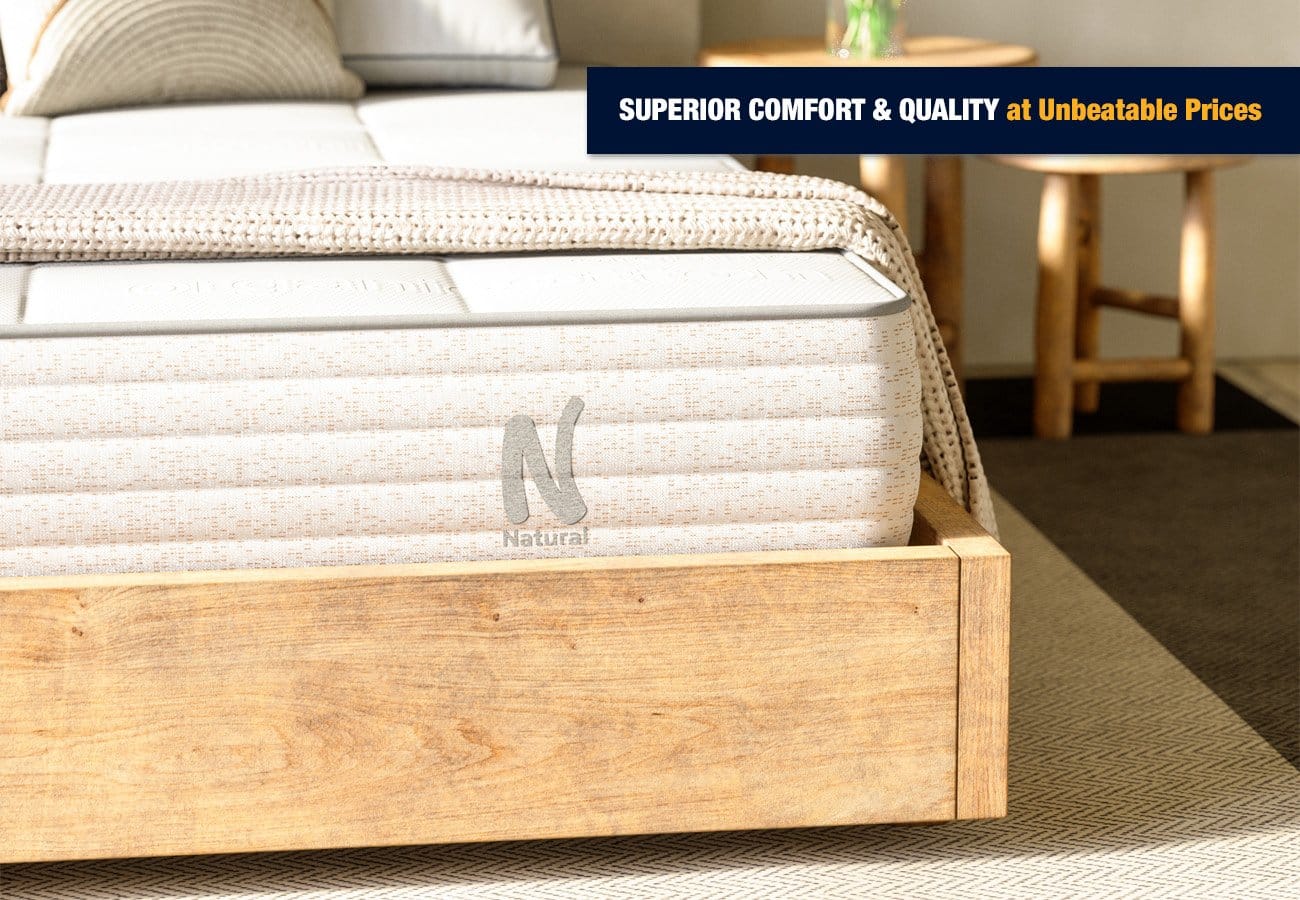 How To Know If Your Mattress Is Healthy?
Unfortunately many mattress makers aren't always transparent with what materials their mattresses are made and processed with. And none of us can tell if a mattress is non-toxic just by looking at it.
So how do you know if the mattress you're choosing is a healthy and non-toxic choice that's also eco-friendly?
STEP 1:  Start by seeking out mattresses that are made from 100% natural and/or organic materials. This can help minimize the amount of toxins you inhale while sleeping, and keep the air in your home cleaner. Plus the natural wicking and cooling effects of materials like cotton and wool are perfect for sleep. 
STEP 2: Even more important: Check to make sure the mattress has strict industry respected certifications. This is the only way to be sure the materials your mattress is made with are pure.
They are:
GOTS (Global Organic Textile Standard): This strict certification let's you know the outside cover of your mattress is cotton and certified organic. Textiles with this certification must also be sustainably and ethically produced.
Standard 100 by Oeko-Tex: This certification tests for over 100 toxins and guarantees there are no harmful chemicals present in your mattress materials. natural fiber was grown organically and processed sustainably. This is tested by third-party independent labs.
Eco-INSTITUT Certification: This globally respected 10 year old certification, verifies that the product has VOC emissions so you won't have to worry about that initial off-gassing smell.
Natural and organic materials with strict green certifications can assure you that the mattress you buy is healthy, safe and free from harmful chemicals.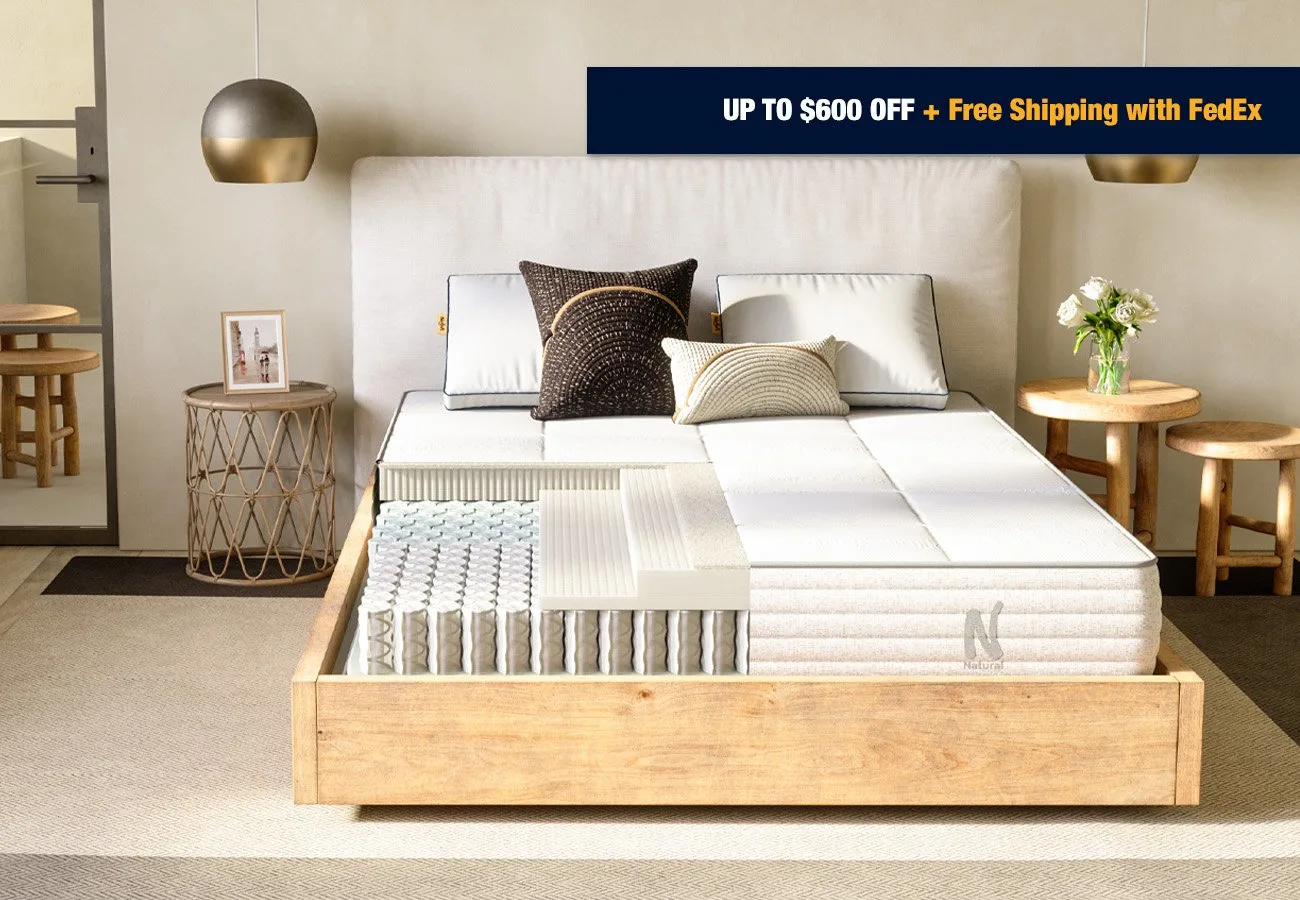 For An All-Natural Healthy Mattress, Try The Nolah Natural 11"
If you're looking for a new mattress that's non-toxic, made of natural and organic materials and green, with green certifications that can help you feel confident about what you're sleeping on, the Nolah Natural 11" Hybrid Mattress from Nolah is a great option.
It's made with materials like wool, organic cotton, and Talalay Latex, which is a softer, fluffier, and natural foam from the rubber tree that's manufactured in the USA.
Expertly crafted, the Nolah Natural 11″ hybrid mattress is an 11" deep mattress that features a combination of soft layers and proprietary spring coils to give you the best and healthiest sleep ever.
Available only online, this green and healthy "mattress-in-a-box" can be delivered right to your front door with free shipping!
What Are Hybrid Mattresses? Who Are They Best Suited For?
Hybrid mattresses like the Nolah Natural 11" are the perfect balance between the bounce and conformability you get from memory foam type mattresses, but they also provide that extra support you can only get from springs (coils). So if you like both, a hybrid mattress would be your best bet.
And since they combine the benefits of both springs/coils and foam layers, hybrid mattresses are the perfect solution for couples who have different sleep styles and mattress preferences when it comes to feel and firmness.
Hybrid mattresses also:
Are More Supportive than memory foam or latex alone

Can handle heavier weights than synthetic memory foam mattresses.

Offer better support for side and back sleepers 

Are some of the best mattresses for stomach sleepers 

Are more breathable than memory foam

Are more durable and longer lasting
So if you like firmer support and your significant other likes a softer feel, a hybrid mattress will give you the best of both worlds. 
And even though you get the feel of a spring mattress, a hybrid mattress like the Nolah Natural 11" Mattress, also reduces motion transfer. Which means you won't get woken up every time the person sleeping next to you decides to get out of bed.
Another benefit of hybrid mattresses is that they also provide more airflow than foam-only beds, which can help you sleep cooler and dryer if you tend to sleep hot.

How Firm Is The Nolah Natural Mattress?
Nolah calls the Nolah Natural 11"  a Luxury-Firm Mattress which is considered a medium firm mattress. It's an ideal choice for side, back, stomach, and combination sleepers.
On a firmness scale of 1-10 the Nolah Natural Mattress is about 6-6.5.
With a cloud-like feel the Nolah Natural Mattress has a unique buoyant feel that comes from it's Talalay latex. This helps relieve tension, relaxes muscles, and lifts away the pressures while you sleep.
And it's HDMax™️ Tri-Zone™️ ️ Support Coils are designed to support your back and spine while gently cushioning your hips and shoulders in a way you won't get from memory foam alone. 
You get maximum back support, perfect spinal alignment, and superior pressure point relief or help to reduce nightly pain and aches.
What Is The Nolah Natural 11" Mattress Made Of? 
The Nolah Natural 11" Mattress is made of all natural and eco-friendly materials like organic cotton, wool and Talalay latex. 
Plus, their zoned support coil system is made from recycled steel.
All of these are healthier than synthetic materials and they provide maximum sleep comfort at minimal cost to the environment.
What Is Talalay Latex? What Are Its Benefits?
The Nolah Natural 11" main component, Talalay latex, features natural and biodegradable ingredients that come from renewable sources and water-based raw materials: natural latex, air, and water. Talalay latex is made from the sap of the rubber tree, Talalay is a proprietary latex product made in the USA. 
100% natural Talalay Latex is a healthy material prized for its use as a sleeping material as a substitute for synthetic memory foam type materials.
There's many benefits of a mattress made with Talalay latex.
Talalay latex:
Breathes 7x times better than other types of foam and natural latex including Dunlop

Is Oeko-Tex class 1 certified (safe for babies) and like organic products is made without pesticides, herbicides, and chemicals.

Is hypoallergenic

Is virtually odor free

Is super durable 

Made in the USA (Connecticut)

Environmentally friendly and free of toxins
One of the disadvantages of natural latex is that it can cost a bit more than synthetic foam or latex. But on the flip side it can last a lot longer. Mattresses made with natural latex mattresses can last an average of 12 years. Some have been known to last up to 20 years. Learn more about Talalay Latex.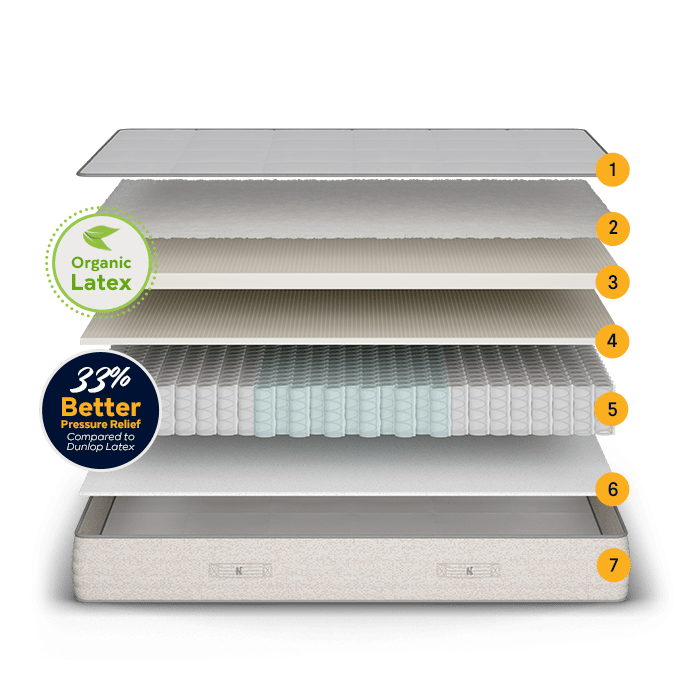 What's Inside The Nolah Natural Mattress? 
The Nolah Natural Mattress is constructed with only safe and comfortable materials that provide maximum breathability and cooling.
A totally green mattress, these are the layers and only materials you'll find in a Nolah Natural Mattress:
Top Layer #1: Organic Cotton Cover
Made with a GOTS-certified organic cotton, this naturally cooling cover is luxuriously soft to the touch. 
Hypoallergenic, the Nolah Natural organic cotton cover is also durable and sustainably produced without synthetic pesticides, insecticides, and herbicides.
A natural fiber cotton absorbs body moisture and wicks it to the surrounding air. This helps your body to stay cool and dry through the night.
Layer #2:  Added Wool Layer For Extra Cooling And Breathability
A soft layer of premium wool fibers add cooling and breathability while acting as a natural fire barrier.
Wool is naturally breathable, moisture-wicking and anti-bacterial. It's also temperature regulating, which means it can help cool you down when you're hot and warm you up when you're cold. Wool also repels dust-mites and defends against fungal spores. Both are common allergens who don't enjoy how dry wool's fibers are. 
Layers #3 & #4:  Pressure-Relieving Talalay Latex Layers For Comfort 
A 2″ layer of natural Talalay latex ensures total comfort relief for pain points and joints.  It provides 33% better pressure relief than synthetic foams and Dunlop latex. Another 1″ layer of natural Talalay latex offers deep and restorative full-body support. 
Layer #5: Nolah's Patented HDMax™️ Tri-Zone™️ Support Coil System
Made from recycled steel, Nolah's patented support coils give the Nolah Natural 11" Mattress structure and strength. 
With three targeted support zones and 25% more coils, it offers better support and comfort than most competing hybrid mattresses.
Layer 6: Organic Cotton/Wool Bottom Layer 
The support coils rest on an organic cotton/wool foundation layer. These help increase the stability and durability of the mattress.
Bottom Layer #7: Extra-Durable Organic Cotton Bottom Cover
To increase the mattress's lifespan, Nolah made the bottom mattress cover with the strongest GOTS-certified organic cotton fabric they could find. 
Sides Handles Are A Nice Touch!
My last mattress didn't have handles which made it a total pain to rotate. 
The Nolah Natural has handles on the side to make the mattress easier to carry and move when you're rotating or trying to clean.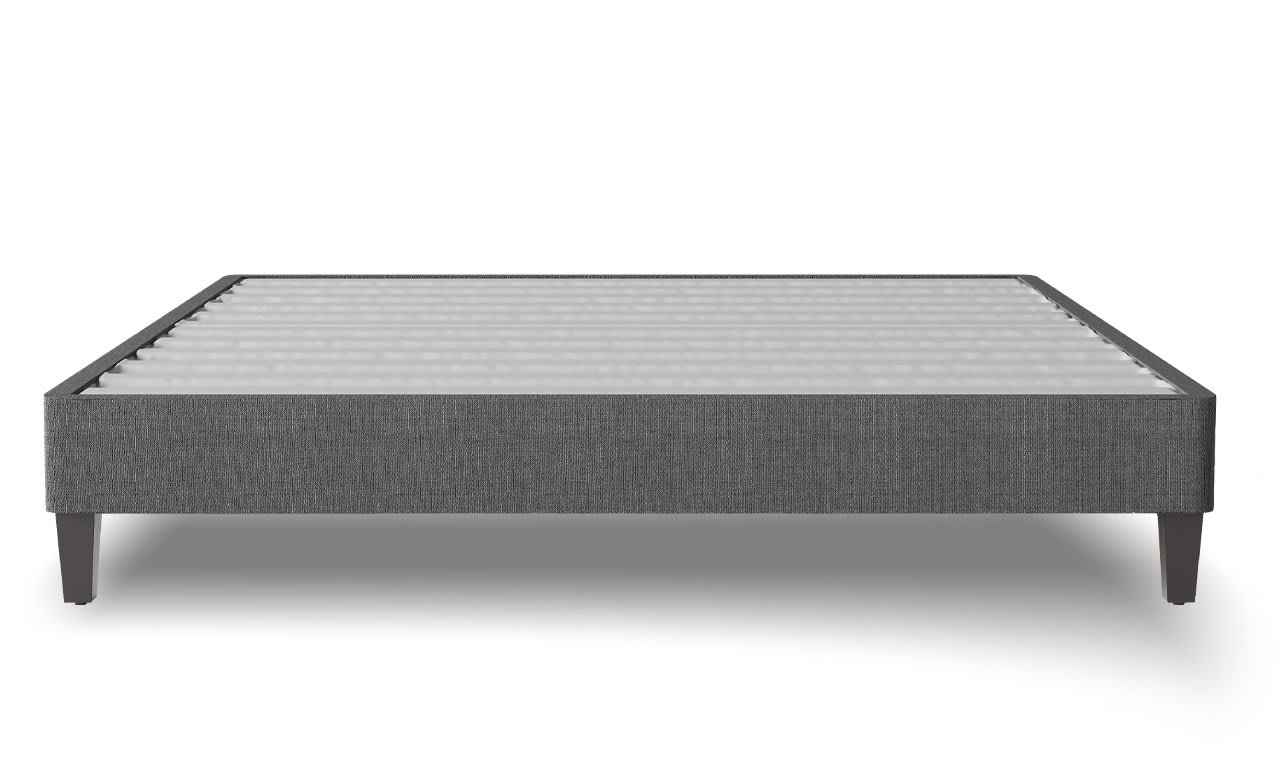 What Type Of Frame Do You Need For The Nolah Natural Mattress?
Here's some great news: You can use the Nolah Natural Mattress on any type of bed frame! 
The Nolah Natural Mattress works with box springs, platform, foundation, or adjustable bases. It works with slatted bases too!  For best support, Nolah does recommend the slats be a max of 4" apart. And a good base can help extend the life of your mattress.
If you need a base shop Nolah has some available in their online shop. We especially love their Nolah Platform Bed, which is designed For Nolah, but works with any mattress you throw at it. 
Made in America with American pine, the Nolah Platform Bed uses a solid wood structure and minimal modern design we love! 
The legs are 7 inches tall giving a clearance of about 7 inches from the floor to the bottom of the bed. The rails are 7.5 inches tall which would put the top of the bed, where you will place your mattress, 14.5 inches from the floor.
And once unpacked we were able to set it up in 15-20 minutes.
Get Up to $400 Off Adjustable Nolah Bases.
Get Up to $100 Off The Platform Bed during Nolah's Black Friday Sale!
Here's a Rundown Of What You Get With the Nolah Natural 11" Mattress:
Thickness: 11″ thick
Firmness: Luxury-Firm (Medium-Firm)
Motion transfer: Low
Body conforming: Medium
Pressure relief: Medium
Cooling: Ultra-High
Durability: Ultra-High
Flippable: No
Organic: Yes
Warranty: Lifetime!
Shipping and Returns: Free
How Do You Set Up the Nolah Natural 11" Mattress?
The Nolah Natural is a mattress-in-a-box style mattress which means it's compressed before shipping.  Once unpacked, just position it on your bed foundation or frame and unroll. It will take only a few minutes to fully inflate for absolute comfort and immediate sleep. You may need a helping hand though if you have trouble lifting heavy things.
What Are The Dimensions Of The Nolah Natural 11" Mattress?
The Nolah Natural comes in twin to king sizes. Here are their dimensions:
Twin: 38″x75″x11″
Twin XL: 38″x80″x11″
Full: 54″x75″x11″
Queen: 60″x80″x11″
King: 76″x80″x11″
Cal King: 72″x84″x11″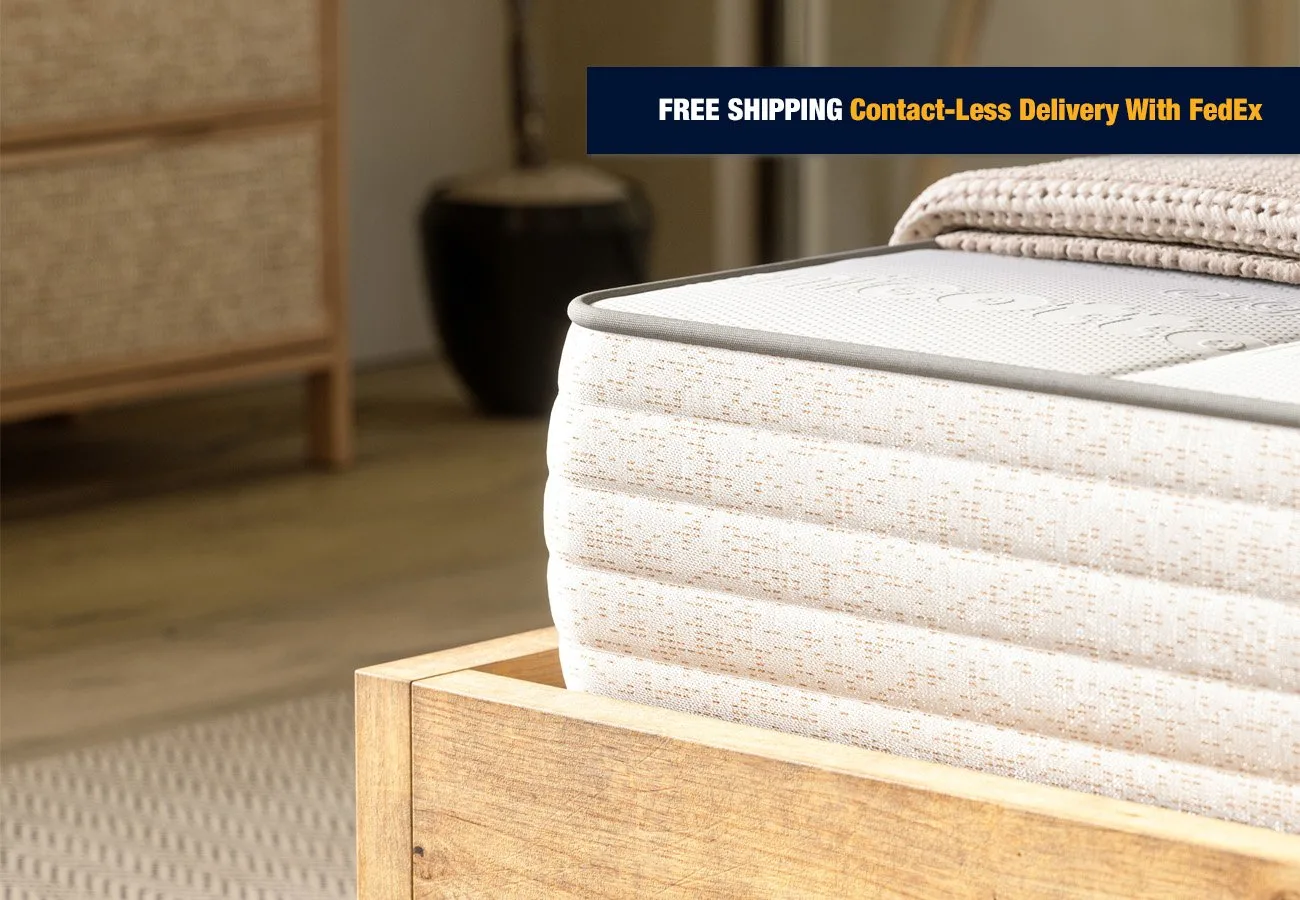 What About Durability? How Does The Nolah Natural Mattress Stack Up To Synthetic Mattress Materials?
Look, nobody wants to have to buy a mattress every couple of years. And with the Nolah you won't have to. Not only more sustainable, testing at Nolah found their mattress to be 300 times more durable than high-end memory foam products.
With the Nolah Natural Mattress You Can Fall Asleep With Peace Of Mind.
The Nolah Natural 11″ hybrid mattress is made with all organic and sustainable materials to minimize environmental impact. Plus you don't have to worry about unknown toxins and hidden chemicals.
You can sleep soundly knowing the Nolah Natural features hypoallergenic materials that are tested and certified free of harmful chemicals guaranteeing a safe and healthy sleep.
How Much Is The Nolah Natural 11" Mattress?
The Nolah Natural starts at $999 for a twin. Keep an eye out for sales and deals that they often have. Scroll down to get up to $600 off!
Try The Nolah Natural 11" Mattress Risk Free For 120 Nights + Free Shipping!
With Nolah, you get 120 nights to try your new mattress in the comfort of your own home.  Plus there's Free Shipping and Returns on all orders!
Nolah Mattress Coupons and Black Friday Deals
Get up to 30% OFF Mattresses and Bedding during Nolah's Black Friday Sale. 
Shop here to GET Up to $600 Off Natural 11″ Latex Mattress!