Better Living uses affiliate links. If you make a purchase through them, we may receive a small commission (for which we are deeply grateful) at no cost to you.
Looking for the best Mardi Gras recipes? We've got you covered! With a distinctive cuisine that is the very definition of soul food, and home to one of the most famous Mardi Gras celebrations in the U.S., the dishes of New Orleans are all the inspiration you need for your perfect party menu to celebrate Mardi Gras. Most well-known for its two major regional styles of food – Cajun and Creole – New Orleans is a city whose melting-pot of cultural influences including Native American, Spanish, French, Italian and African have come together to create a style of food you won't find anywhere else in the world.  We think you'll love these popular New Orleans inspired dishes so much that you'll want to celebrate with these Mardi Gras recipes all year long!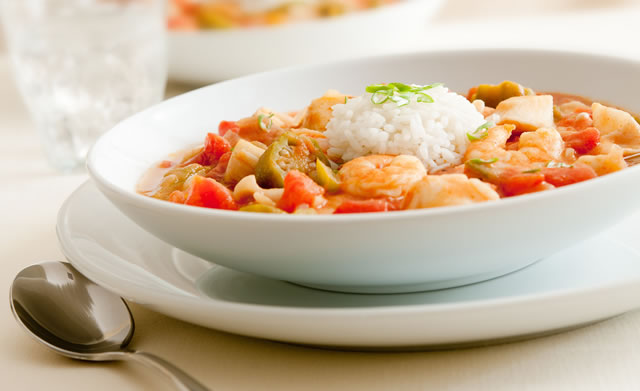 via Better Living
A thick stew, with French, African, and Native American influences, gumbo is a must-have Mardi Gras food for your Fat Tuesday party. Made with sautéed onions, peppers and celery, referred to as the "Holy Trinity" in Creole and Cajun cooking in Louisiana, Gumbos can include everything from just veggies in a version called gumbo z'herbes to andouille sausage, chicken, and seafood. The best part about gumbo is that no two taste alike.
GET THE RECIPE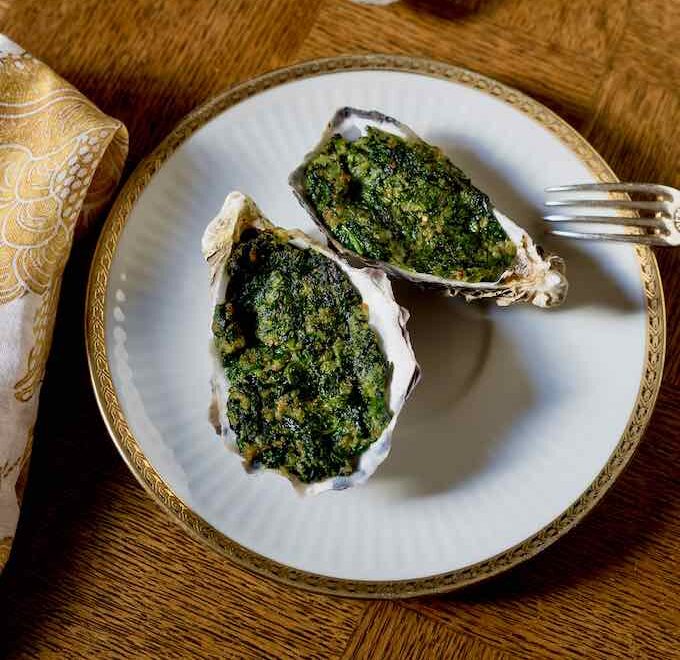 Invented in 1899 by Jules Alciatore the son of the founder of famed New Orleans restaurant Antoine's, this delectable New Orleans oyster appetizer is so rich it was named after oil tycoon John D. Rockefeller. The original recipe is a family secret, but one thing is certain, if you serve up these oysters they won't last long. Get this crowd-pleasing version from Caroline's Cooking.
GET THE RECIPE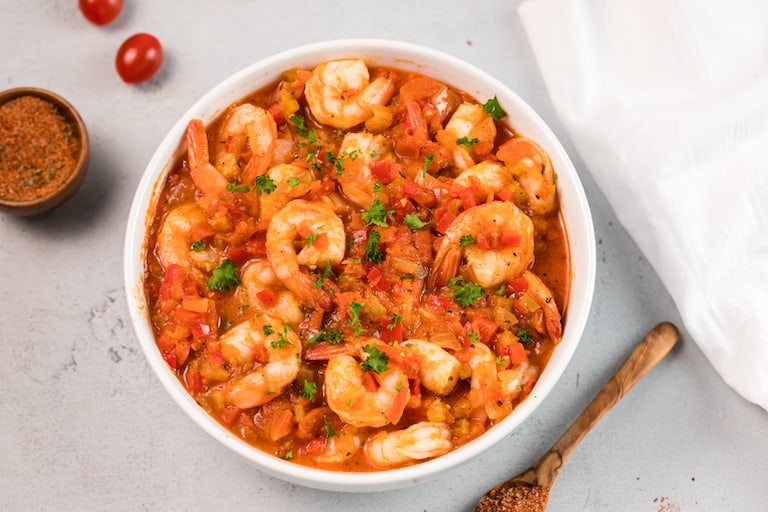 This classic Creole dish is a New Orleans favorite and perfect for any shrimp lover. Shrimp is sautéed with onions, peppers and garlic, herbs and seasonings and then simmered in a tomato based sauce. Try to use Gulf or Louisiana caught shrimp for best results and serve over rice. You'll be hooked! Get the recipe at Recipes From a Pantry.
GET THE RECIPE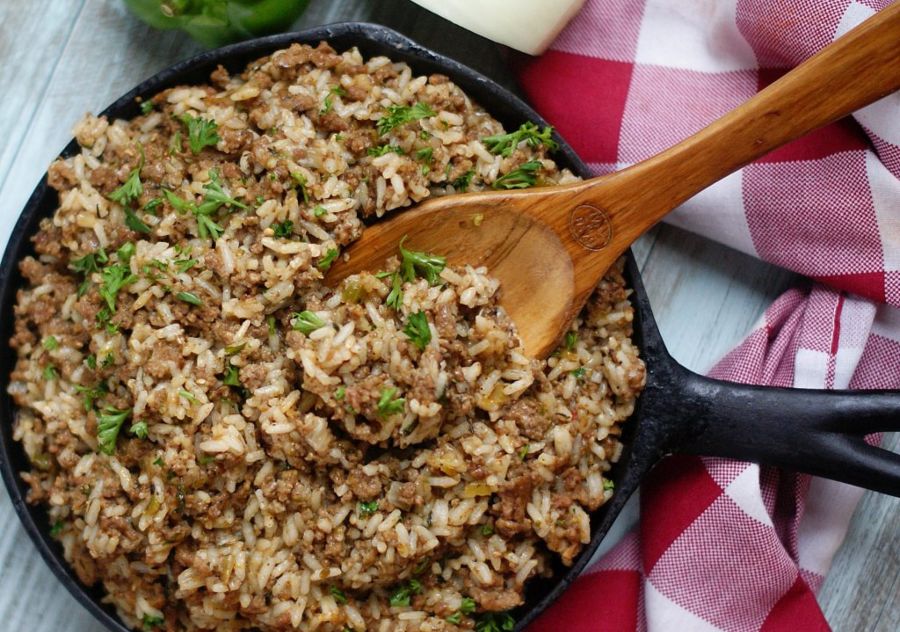 Dirty rice is a classic Cajun and New Orleans side dish that makes the perfect side to blacked fish, chicken or your other local favorites. While old recipes call cooking the rice with chicken livers (which gives it its characteristic color), we think this recipe from Southern Discourse is just as flavorful without.
GET THE RECIPE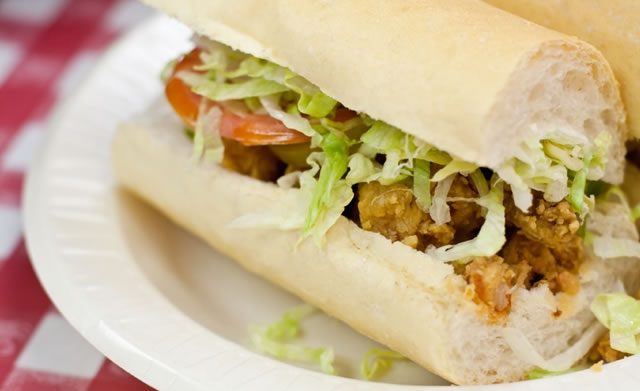 via Better Living
Po' Boys became a New Orleans staple back in 1929, when brothers Bennie and Clovis Martins decided to serve sandwiches on French bread free of charge to streetcar workers that were on strike from their French Quarter coffee shop. Martin is quoted as saying, "We fed those men free of charge until the strike ended. Whenever we saw one of the striking men coming, one of the guys would say, 'Here comes another poor boy.'" There's all kinds of po'boys in New Orleans today, but some of the most popular are of the seafood variety, with everything from shrimp, crawfish, fish and oysters to soft shell crabs. Try this cornmeal crusted Catfish Po'Boy dressed with lettuce, tomato and remoulade sauce.
GET THE RECIPE
via Jennifer Cooks
This is one of our favorite Mardi Gras recipes! Étouffée, (pronounced eh-too-fey) meaning 'smothered' in French is another favorite dish from New Orleans that is 100% comfort food. Made by sautéing seafood (often crawfish or shrimp) in a buttery roux based sauce with spices, celery, onions and garlic and then served over rice, étouffée can be considered both Cajun and Creole depending on how it's seasoned. If you can't find crawfish tails near you (believe or not Walmart often carries them) opt for shrimp instead. Try this simple to make but absolutely delicious version from Jennifer Cooks.
GET THE RECIPE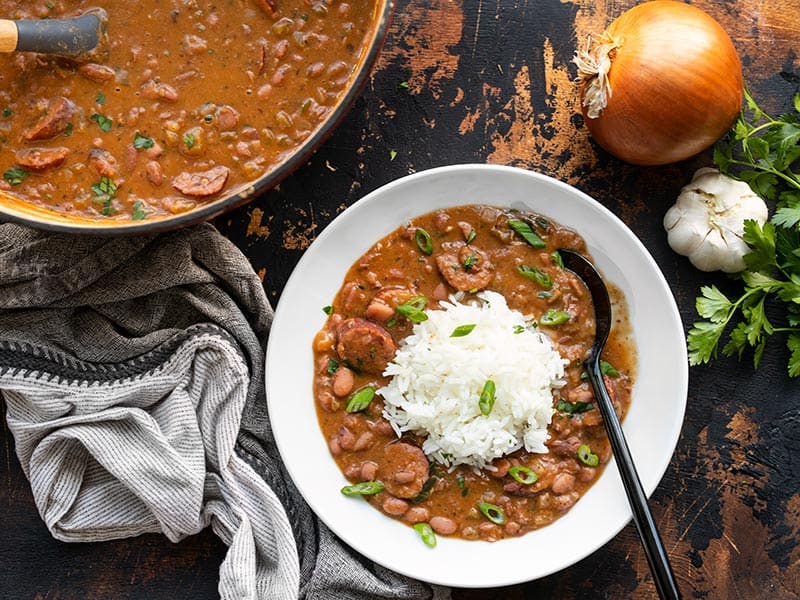 via Budget Bytes
Red Beans and Rice is one of those simple Louisianan Creole dishes that doesn't sound like much, but will definitely have you coming back for more. Traditionally served on Mondays as a way to use up pork bones left over from Sunday dinners, red beans (not kidney beans) are stewed with the 'Holy Trinity' (garlic, celery and bell pepper) and smoked meats like andouille sausage. Served over rice and with a little, or a lot of hot sauce and you have yourself one special dish. Try this delicious version from Budget Bytes.
GET THE RECIPE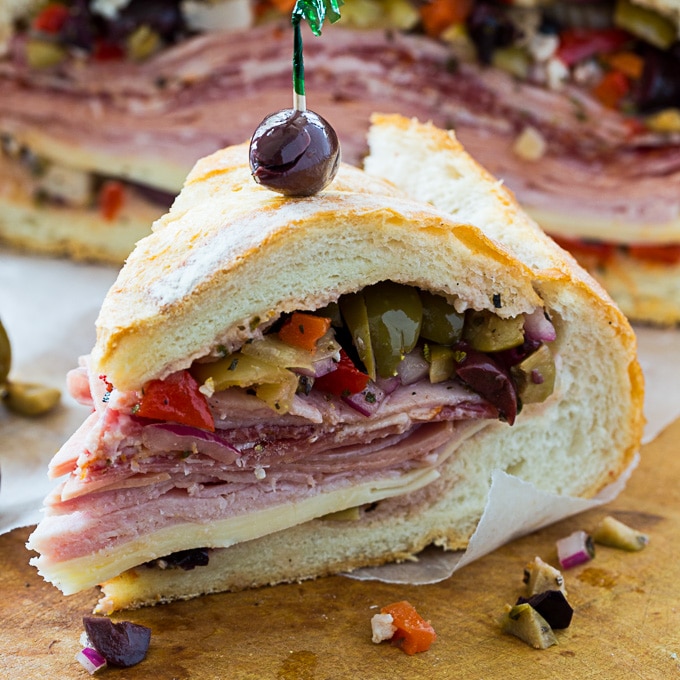 If you love Italian style cured meats then a New Orleans muffuletta is a must on your Mardi Gras food menu. Invented by Salvatore Lupo, a Sicilian immigrant who also founded the famous New Orleans Central Grocery (open since 1906) the original muffuletta is a sandwich of ham, salami, mortadella, swiss and provolone served on a rounded style loaf of Italian bread. But what sets the muffuletta apart is the olive salad – a mix of olives with pickled veggies that adds layer of salty, tangy flavor that makes for a perfect sandwich bite. If you want to try the original muffaleta and don't live in the New Orleans area, you can support small business and order muffalettas directly from Corner Grocery and have them shipped to your home. You can also make your very own with this yummy recipe from Spicy Southern Kitchen.
GET THE RECIPE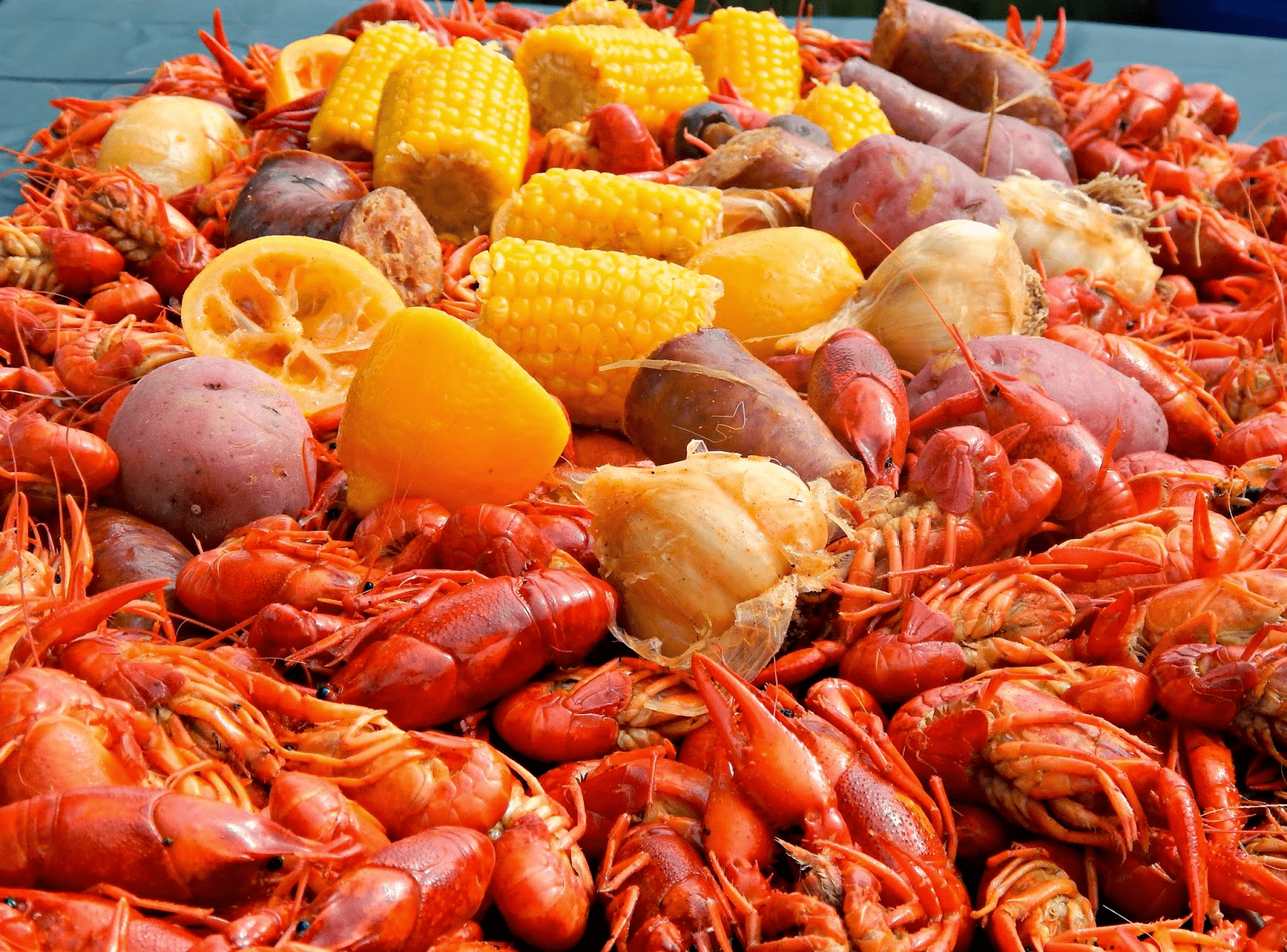 via This Ole Mom
Nothing says New Orleans and Louisiana more than a crawfish boil. Get your hands dirty while eating your crawfish boiled with Cajun spices, potatoes, corn, and smoked sausage. For such a simple dish it's such a flavorful treat! Get this recipe straight from a New Orleans native over at This Ole Mom.
GET THE RECIPE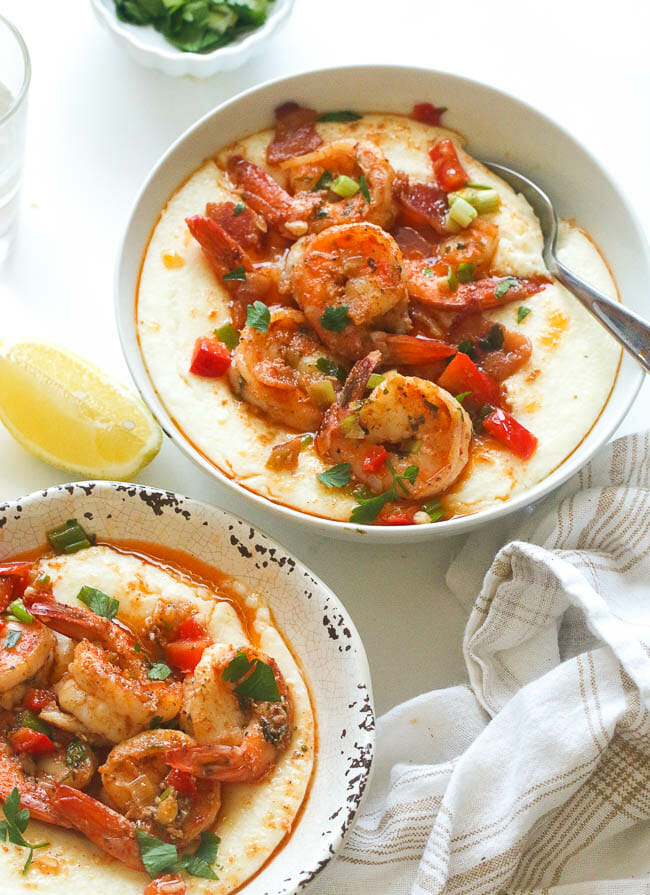 via African Bites
There are many wonderful Creole and Cajun rice based dishes from New Orleans. But if you haven't tried grits yet, you're missing out. A popular dish in the south, grits is a blend of fine cornmeal (and sometimes rice) that is simmered with rich ingredients like milk and cheese for the ultimate comfort food. A dish that pairs perfectly with a spicy companion, try this fantastic recipe for Cajun Shrimp and Grits from African Bites.
GET THE RECIPE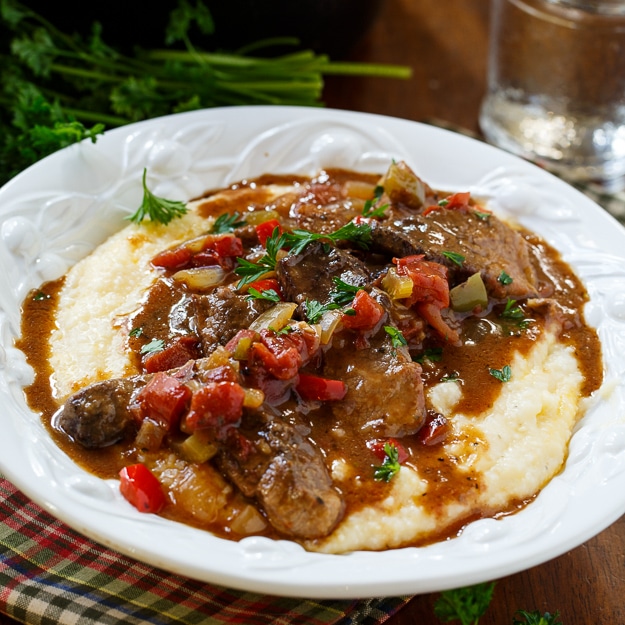 A popular brunch or breakfast Creole dish in NOLA served with eggs, Grillades and Grits (also known as Grits and Grillades) can just as easily be served for a satisfying dinner. Pronounced GREE-yahds, medallions of usually beef, pork, or veal are pan-fried and then simmered in a Creole seasoned tomato or brown sauce until simmered. This one tastes even better the next day.
GET THE RECIPE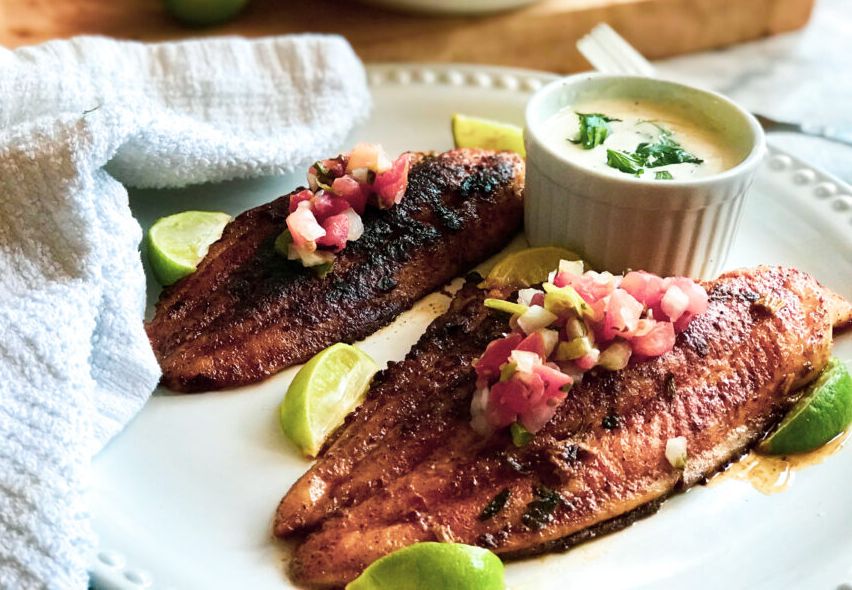 For a light but flavorful dish that's perfect for anyone who likes things spicy, try this Blackened Catfish recipe by A Girl Called Adri. Redfish is also popular in Louisiana and can be substituted for the catfish, as can flounder and trout. Make this one alongside Red Beans and Rice, or Jamabalaya.
GET THE RECIPE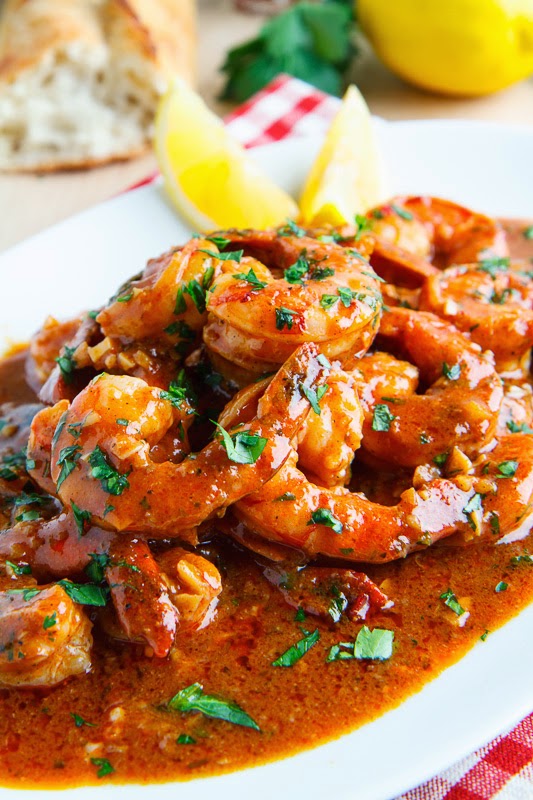 via Closet Cooking
There's no shortage of delicious shrimp dishes in New Orleans or in Louisiana for that matter. But the funny thing about New Orleans BBQ shrimp is that that they're not actually BBQed. Shrimp is sautéed in a spicy, tangy sauce that is buttery and absolutely addicting. Whip up this tasty recipe from Closet Cooking that's super easy and so so good.
GET THE RECIPE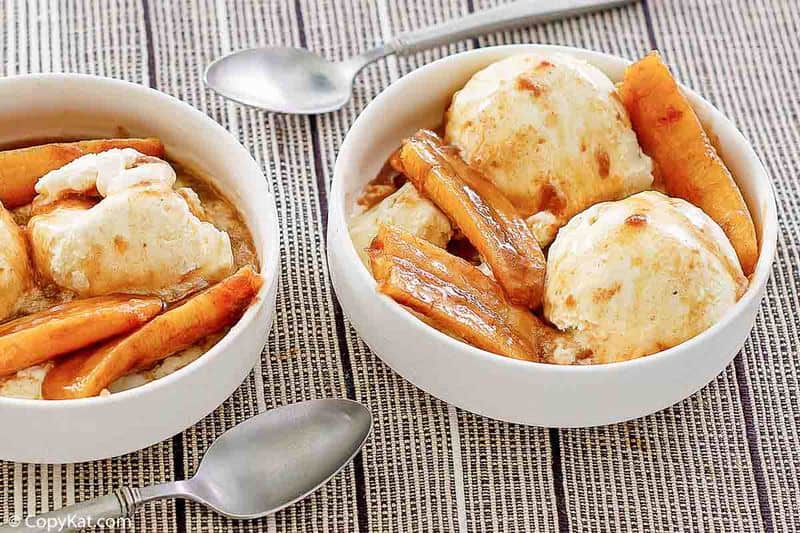 via CopyKat
If baking isn't your thing, this simple to prepare yet delicious dessert made with bananas flambéed with a banana liquer and rum-infused caramel sauce is a New Orleans delight that you can prepare quickly right on your stove-top. This recipe was created by Chef Paul Blangé who was challenged by Owen Brennan, owner of Brennan's Restaurant in New Orleans in 1951 to find a way to highlight one of New Orleans's biggest imports – the banana. Served with vanilla ice-cream this dessert continues to be one of Brennan's and New Orleans's most popular dishes.
GET THE RECIPE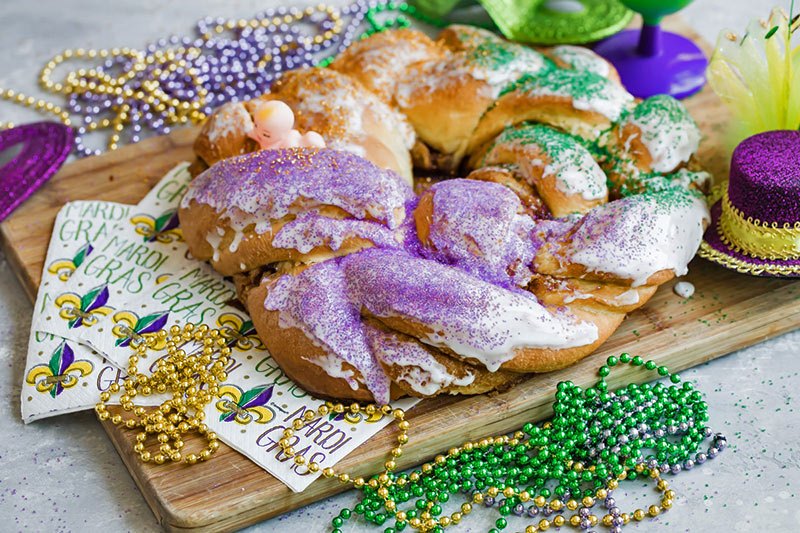 via Barbara Bakes
No Mardi Gras party is complete without a King Cake! It's a cake made from a rich sweet cinnamon stuffed dough, iced and then decorated with sugars in traditional eye catching Mardi Gras colors of green, gold, and purple. The tradition of King Cakes was introduced to New Orleans by French settlers around the 1870s and is a must-have Mardi Gras treat. Originally it was eaten on the Epiphany (Jan 6) otherwise known as Twelfth Night to mark the beginning of Carnival season. There are many styles of King Cake available, but one thing holds true – if you get the plastic baby (that represents the baby Jesus) baked inside in your slice, you're in charge of bringing the King Cake to the next Mardi Gras party. It's the rule! Try this popular recipe from Barbara Bakes.
GET THE RECIPE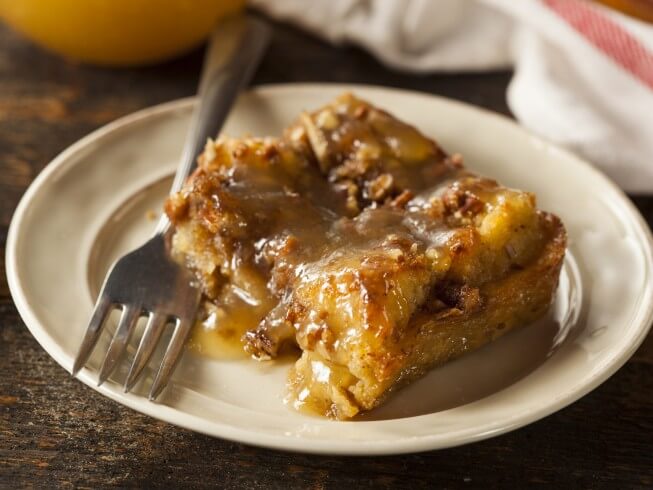 via CDK Kitchen
Bread Pudding is a New Orleans tradition that is just what you would expect from the food here – pure and simple comfort food with an understated elegance. Stale French bread is torn into small pieces, soaked in cream, eggs and vanilla, baked and then drizzled with a whiskey infused vanilla sauce. There are many versions and unique twists on Bread Pudding in the Big Easy, but one of the most popular versions in the city comes from Bon Ton Café. Get the official recipe linked below.
GET THE RECIPE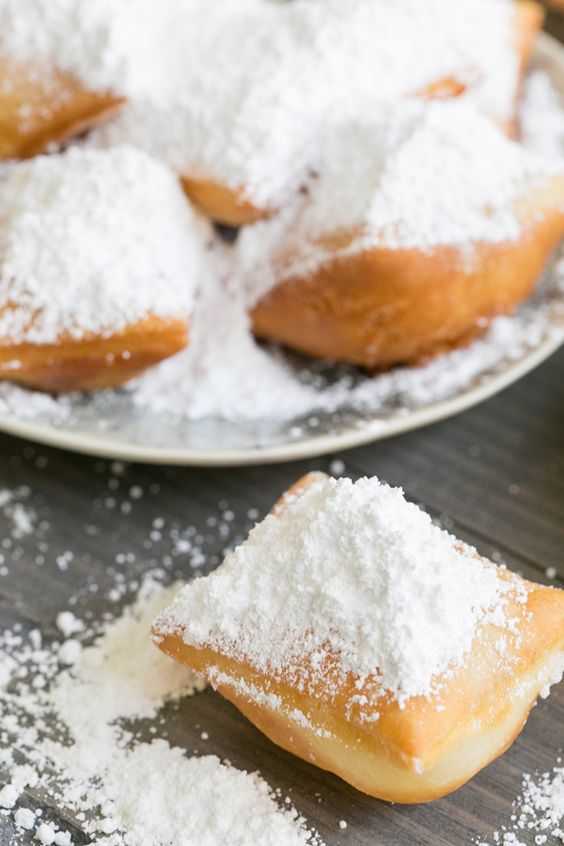 via Sugar and Charm
Wonderful for breakfast, dessert or an afternoon treat, this light and airy French-style square doughnut is most unique for not having a hole. Most famously served at the Café du Monde in the French Quarter with a generous dusting (or should we say mountain) of powdered sugar, these favorite New Orleans style donuts are best eaten served with a cafe au lait.
GET THE RECIPE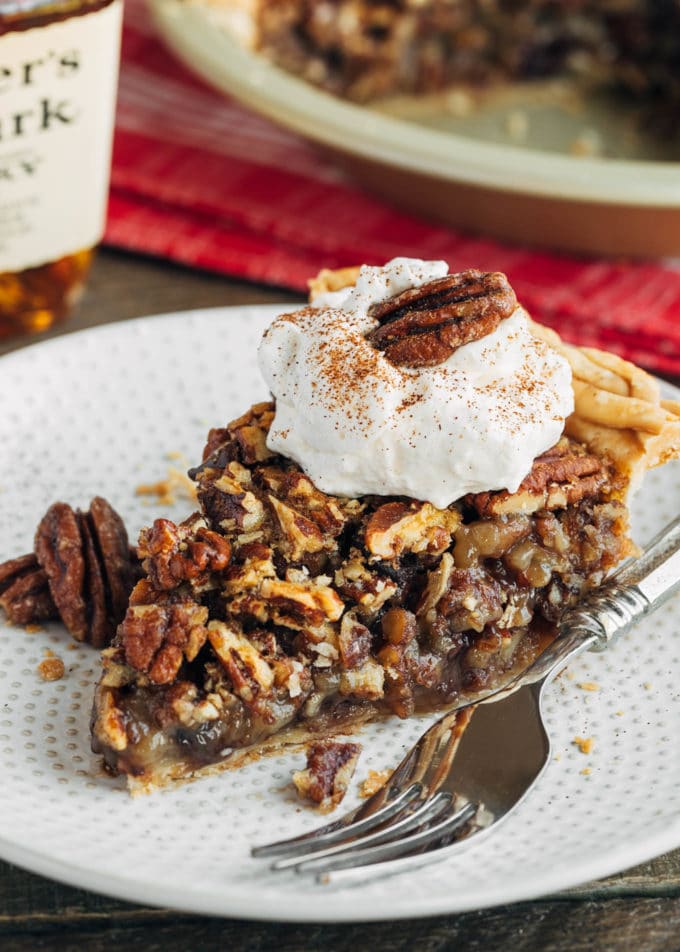 via Striped Spatula
Pecan pie is another favorite dessert you'll see on menus throughout the city of New Orleans. And there's as many versions of this sweet, gooey and nutty pie as there are places that serve it. We love this pecan pie from Striped Spatula that takes the flavor of this pie to a whole other heavenly level with the addition of chocolate and another New Orleans favorite – bourbon.
GET THE RECIPE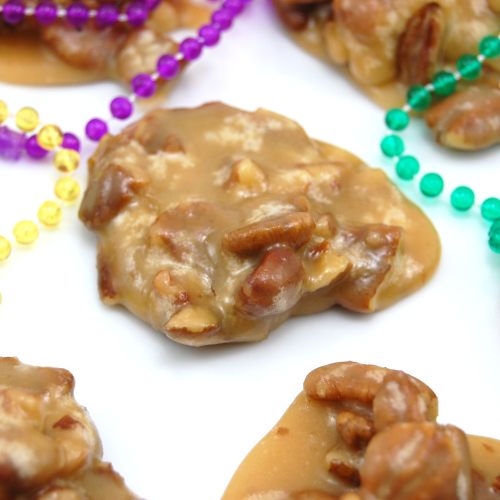 There's something about the sweet, buttery and nutty smell of a freshly made praline that is completely intoxicating. Pronounced prah-leen in Louisiana, you'll find these confections in shops all over New Orleans, but watching the artistry of them being made at one of the specialty candy shops is a treat in and of itself. Made of brown sugar or white sugar, cream, butter and pecans, you'll be surprised at how easy these candies are to make. You'll find one batch just isn't enough. Plus, they also happen to make great gifts!