Better Living uses affiliate links. If you make a purchase through them, we may receive a small commission (for which we are deeply grateful) at no cost to you.
*We partnered with Great Lakes Gelatin Co. to bring you this post. All the information and opinions presented here are our own.
Anyone who's ever had that internationally adored, chocolate hazelnut spread that we all know, can confirm how crazy delicious it is. Whether it's eaten right off the spoon, or spread over just about anything, it's a treat that most of us can't get enough of. But if you're following a keto or paleo-friendly diet or simply trying to eat clean, hazelnut spread, which is made of a whopping 55% of added sugar is a big no-no. 
In addition, the store bought brand has come under fire in recent years for using palm oil in their product, which has been linked to global deforestation. This results in an increase in greenhouse gas emissions which contributes to global warming and the loss of habitat for endangered species like the pygmy elephant, the Sumatran rhino, and the orangutan. 
That's why we've partnered with Great Lakes Gelatin Co. to share with you our recipe for delicious low-carb Keto Collagen Hazelnut Spread that's sugar-free, dairy-free, gluten-free, and keto and paleo-friendly.  Plus, we added beneficial ingredients like Vanilla Collagen and MCT Oil from Great Lakes Gelatin Co., which means you can have exactly what you crave with ingredients that will work for your body and your healthy lifestyle.  
And it tastes just as good, if not better than the original!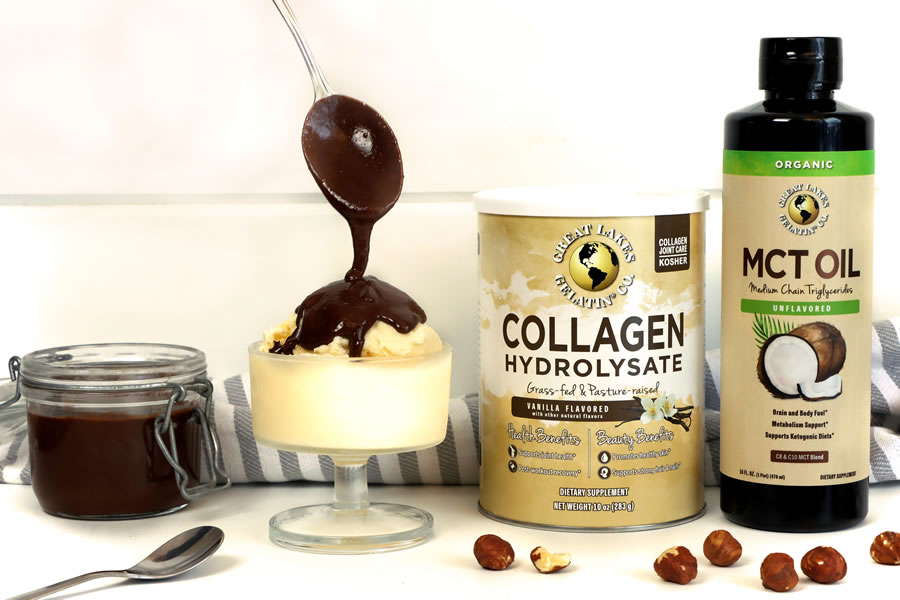 Two ingredients that get lots of buzz about their health benefits are collagen powder and MCT oil. And for good reason. Here are their awesome benefits and why we think they make this tasty treat even better:
Collagen is an important protein that is found throughout our body's connective tissues including cartilage, tendons, bones, and ligaments. It's also what gives our skin that gives its strength, smoothness, elasticity and youthful appearance. But as we age and are exposed to environmental toxins, collagen levels in our skin and body begin to drop leading to sagging dull skin, wrinkles and even sore stiff joints. 
That's why taking collagen daily is so important.
Studies have shown time and again that supplementing with collagen peptides can help promote healthy skin and support strong hair and nail growth. It may also support joint health, joint mobility.  
Collagen Hydrolysate like the one from Great Lakes Gelatin Co. is a broken-down form of collagen that is a more easily digested body-friendly form. It's especially rich in the amino acids glycine, proline, and hydroxyproline which can support the building and repair of connective tissue and cell function. It also provides cells with the nutritional building blocks necessary for exercise recovery and repair, supporting joint health and bone density. 
A 2014 German study with women ages 35 to 55 found that those who took 2.5 or 5 grams of collagen hydrolysate peptides daily for 8 weeks showed great improvement in skin hydration and elasticity. Another study found that after 12 weeks of taking 1 gram per day of a collagen supplement, women had better blood flow in the skin, 76% less skin dryness, 12% fewer visible wrinkles, and a 6% increase in collagen overall.
Also known as medium-chain triglycerides, MCTs are a type of beneficial saturated fatty acid found in a variety of foods, with coconuts being the richest natural source. 
Smaller in size than most of the fats we typically eat (long-chain triglycerides), MCTs provide a much more easily digested source of energy for the body called ketones. 
While on a ketogenic diet, MCT Oil can:
Help you prevent cravings and suppress your appetite between meals

Give a boost of energy

Add healthy fat to your diet easily

Support metabolism

Help with weight loss and weight maintenance
There are many cheap MCT oils out on the market, but are often processed using potentially harmful ingredients or methods.  To know you're getting the best possible product, choose an MCT oil that is cold-processed from coconuts only and without artificial ingredients added to change the taste or texture. For the highest quality MCT oils, look for certifications like USDA Organic or Non-GMO Project Verified products like the one from Great Lakes Gelatin Co.
Ingredients in This Low-Carb Collagen Hazelnut Spread
Hazelnuts: Although most well-known for their characteristic warm and distinctive earthy flavor, hazelnuts are healthy little nuts that serve as the base for this spread. An excellent source of manganese (87% of the RDI), hazelnuts are also good source of vitamin E (21% of the RDI), copper (24% of the RDI), magnesium (12% of the RDI) and thiamin (12% of the RDI) as well as, healthy fat, protein, and dietary fiber. They also supply vitamin B6, folate, phosphorus, potassium and zinc. 
One ounce of hazelnuts (about 20 whole kernels) contains:
Calories: 176

Total fat: 17 grams

Protein: 4.2 grams

Carbs: 4.7 grams

Fiber: 2.7 grams
Cocoa Powder:  Some spread recipes use melted chocolate, but to save on calories and make it dairy-free, a good quality cocoa powder does the trick. Look for cocoa powder that doesn't have any added ingredients. Considered a true superfood, cocoa powder is also packed with antioxidants one of the highest sources of magnesium in nature, full of antioxidants, calcium, zinc, copper and selenium. Cacao contains more antioxidants per gram than blueberries, goji berries, red wine, raisins, prunes and even pomegranates. 
Great Lakes Gelatin Co. Vanilla Collagen: For a delicious layer of vanilla flavor and the awesome health benefits of collagen, we use the Great Lakes Gelatin Co. Vanilla Collagen. Not only does it dissolve instantly and taste amazing, but formulated with a blend of stevia and monk fruit this is the ingredient that's also the source of the sweetness in this recipe. 
There are tons of collagen supplements on the market today, but Great Lakes Gelatin Co. pioneered the 'original' Collagen Hydrolysate. In business since 1922, their collagen is derived from grass-fed and pasture-raised bovine bones and is the highest quality and most affordable on the market. All their products are Kosher, Paleo-friendly and KETO certified. 
Some of my favorite ways to use their Vanilla Collagen is in smoothies, oatmeal, hot tea and even coffee. Two heaping scoops or about 12 g of collagen twice per day is generally recommended.
Great Lakes MCT Oil: MCT oil is completely neutral in taste and helps make this spread silky smooth.  We love Great Lakes Gelatin Co. MCT Oil because it is:
Made from cold-pressed coconuts and not palm, which contributes to deforestation and threatens endangered wildlife like the orangutan.
USDA Organic and never produced with the use of chemicals, solvents, preservatives, or additives.
Contains an optimal blend of C8 & C10 for easy digestion, increased energy and fat burning.

Non-GMO and Kosher
This high-quality healthy oil will provide satisfying fat which helps to keep us full while fueling our brains and bodies and preventing future cravings. You can get it here.
How To Make the Low-Carb Collagen Hazelnut Spread
1. First, Toast the Hazelnuts
Toasting the hazelnuts for this recipe can help intensify their nutty rich flavor. It also makes it easier to remove the skins of the hazelnuts, which can add a note of bitterness if too many get in the batch. 
Tip: If you can find whole blanched hazelnuts, you can save some time and a bit of mess as the skins have already been removed for you. Blanched whole hazelnuts may be a bit pricier than those with the skins.
To toast, spread the whole, raw nuts in a single layer on a baking sheet and bake at 325 degrees F for 10-15 minutes. Keep watch, because the nuts can over toast and then burn easily. To remove the skins, wrap warm hazelnuts in a folded dish towel and let them sit for 5 to 10 minutes. Then rub vigorously to loosen the hazelnut skins as they're caught in the towel. It's okay if you don't get every bit of hazelnut skin. Just get as many as you can.
2. Blend Ingredients in a Food Processor or Blender
To make the hazelnut spread, you'll need either a high speed blender or a food processor. Add the nuts and the MCT oil to the food processor (or blender) and process for a good five minutes. At first the nuts will get crumbly, then eventually the hazelnuts will thicken into what is essentially a hazelnut butter.  
Then after about 5 minutes, scrape the sides with a spatula down if needed and add the rest of the ingredients including the Great Lakes Gelatin Co. Vanilla Collagen Hydrolysate, the cocoa powder, and the salt. Process another 1 to 3 minutes to incorporate the rest of the ingredients. 
The longer you process the hazelnuts the smoother the spread will be. If you like a little nuttier texture go for just 1 or 2 additional minutes and if you like it smooth and silky go for 3 ( or more). The total length of blending time will depend on the power of the machine you're using.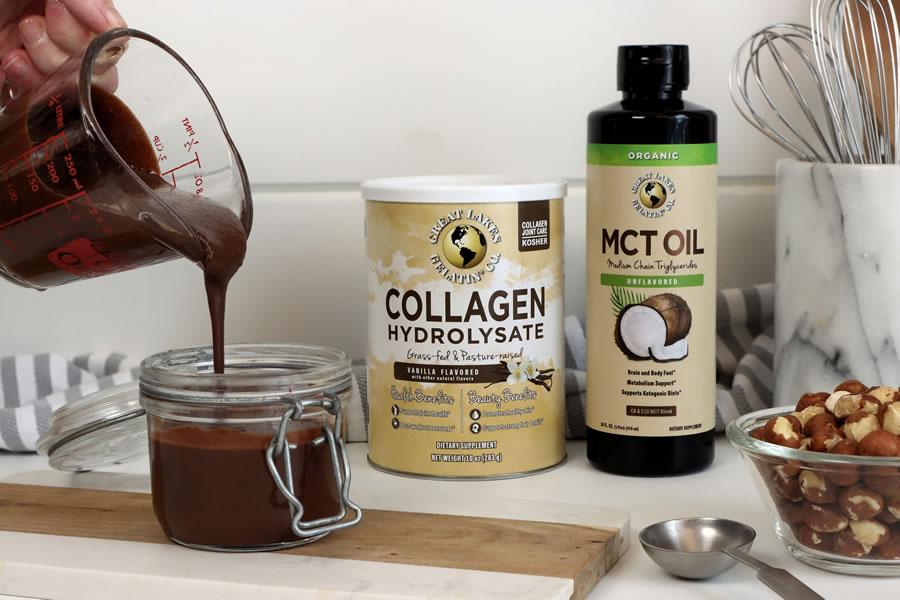 Serving and Storing The Hazelnut Spread
Once you're happy with the texture, transfer your yummy, sugar-free hazelnut spread to a clean jar or container. Just be aware that homemade hazelnut spread is not as thick as the grocery shelf versions initially. Allow it to settle and it will thicken up over time.
Tip: To make this spread even richer, try adding a few tablespoons of melted sugar-free, keto-friendly chocolate OR  low-sugar chocolate of choice. There's a lot of keto-friendly chocolate on the market now, but they can be a bit expensive. You can also use your favorite dark chocolate or other lower sugar chocolate variety. Unsweetened Baker's Chocolate is another option. Simply mix in an additional scoop or two of Vanilla Collagen to sweeten to taste.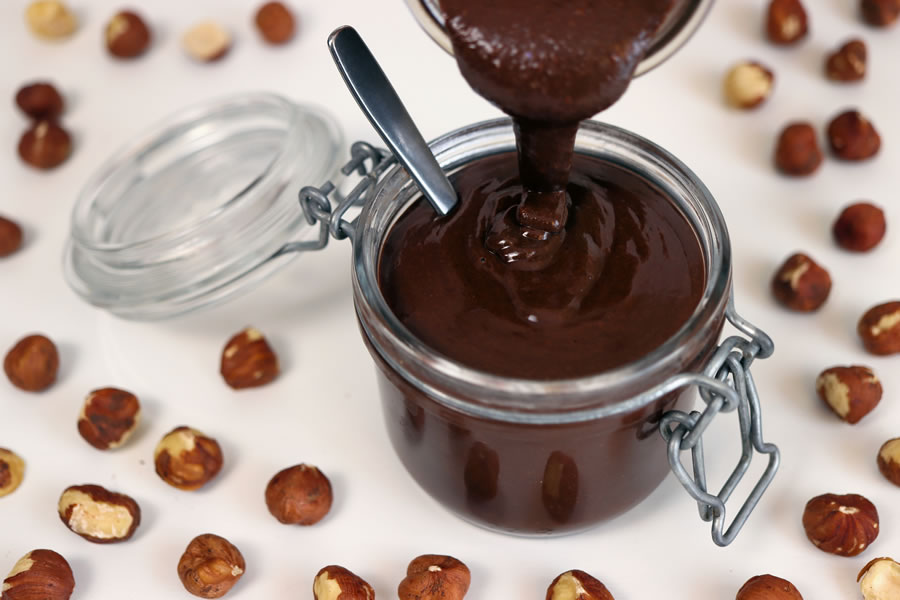 Not only is it delicious, but it's such a great way to get those healthy fats to help curb cravings in-between meals. Drizzle it over whatever you're craving. Berries, low-carb bread, or ice-cream and yes right off the spoon too. 
GET THE RECIPE!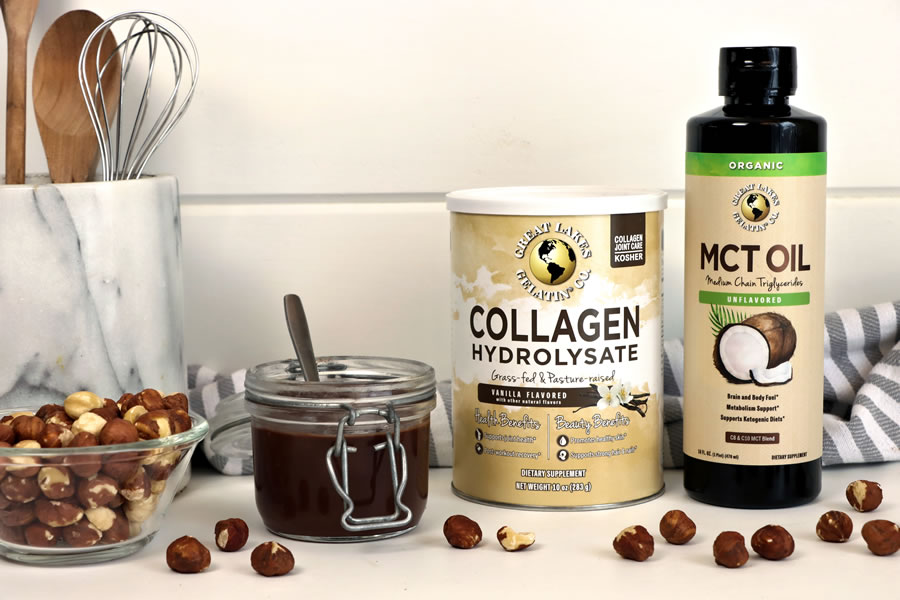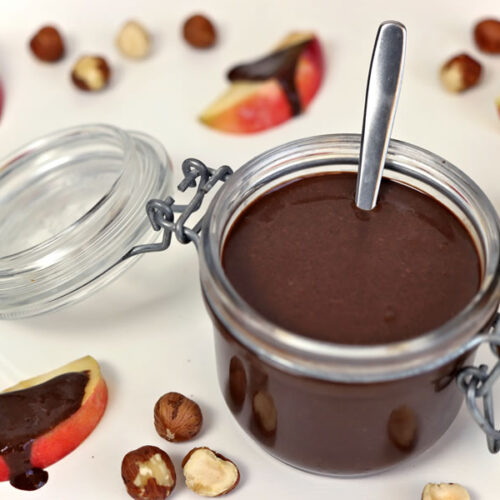 Keto Chocolate Hazelnut Spread
This easy to make keto-friendly hazelnut spread is just as delicious as everyone's favorite grocery store treat, but without all the sugar and palm oil. There's no doubt you'll be licking the spoon clean.
Equipment
Food processor or Blender

Baking Sheet
DIRECTIONS
Toast the Raw Hazelnuts (Filberts)
Preheat oven to 325°F (175° C). Spread hazelnuts out on a baking sheet in a single layer. Bake the hazelnuts 10-15 minutes or until the nuts begin to release their oils and are lightly browned. Some of the skins will begin to peel away as well. Be careful not to over-toast.

Note: Skip this step if you're using hazelnuts that are already toasted.
Remove the Hazelnut Skins
After removing the hazelnuts from the oven, wrap them in a kitchen towel, let sit about 5 minutes and then rub to loosen and remove skins. It's okay if not all the skins come off.
Making the Hazelnut Spread
Transfer the hazelnuts to the bowl of your food processor or blender (either will work). Blend for 5 minutes. After a few minutes it will go from a crumbly texture and begin to turn into a paste. Add the rest of the ingredients, scrape down the sides if needed and blend another 2 to 4 minutes. The longer you blend, the smoother the spread will be.

Transfer the spread to a sealable jar or air-tight container. Spread over your favorite healthy snacks, fruits, breads and desserts.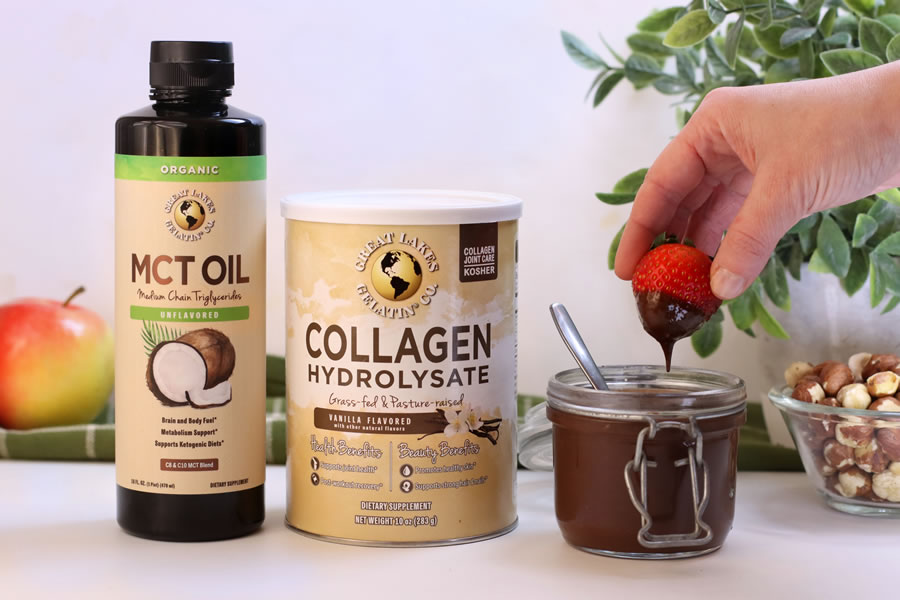 Visit greatlakesgelatin.com for high-quality collagen, MCT oil and more healthy keto-friendly recipes!