Better Living uses affiliate links. If you make a purchase through them, we may receive a small commission (for which we are deeply grateful) at no cost to you.
*This post is sponsored by Flora Health. For more information, please visit florahealth.com.
I hate getting sick. Who doesn't? But I have to say I'm particularly unpleasant to be around when I have the sniffles. So that's why I always have an arsenal of immune boosters on hand to keep germs at bay. Knock on wood, I haven't gotten sick in over three years. And two of my favorite immune-boosting superfoods to battle the cold and flu season are elderberries and acerola cherries. This season I thought I'd have a little fun with some of my favorite immune boosters and make some Immune Boosting Gummies! They taste great and is there anyone who doesn't love a chewy gummy bear?
What Are The Benefits Of Elderberries?
A member of the honeysuckle family, the elderberry bush, which is actually a small tree, can be found throughout the Northern United States, Canada, and Europe. Elderberries are small, dark-colored berries that grow in clusters with a juice so rich and dark it is almost black. Low in natural sugar, elderberries have a bright, tart, and honey-like flavor with fresh berries that can be used in foods like jams, jellies, and pies and even be used to make wine.
Elderberries are full of nutrients with anti-inflammatory and immune system benefits! A rich source of radical-scouring antioxidants, elderberries contain 87 percent of the daily value in vitamin C, along with high amounts of vitamin A, potassium, iron, vitamin B6, fiber, and beta-carotene.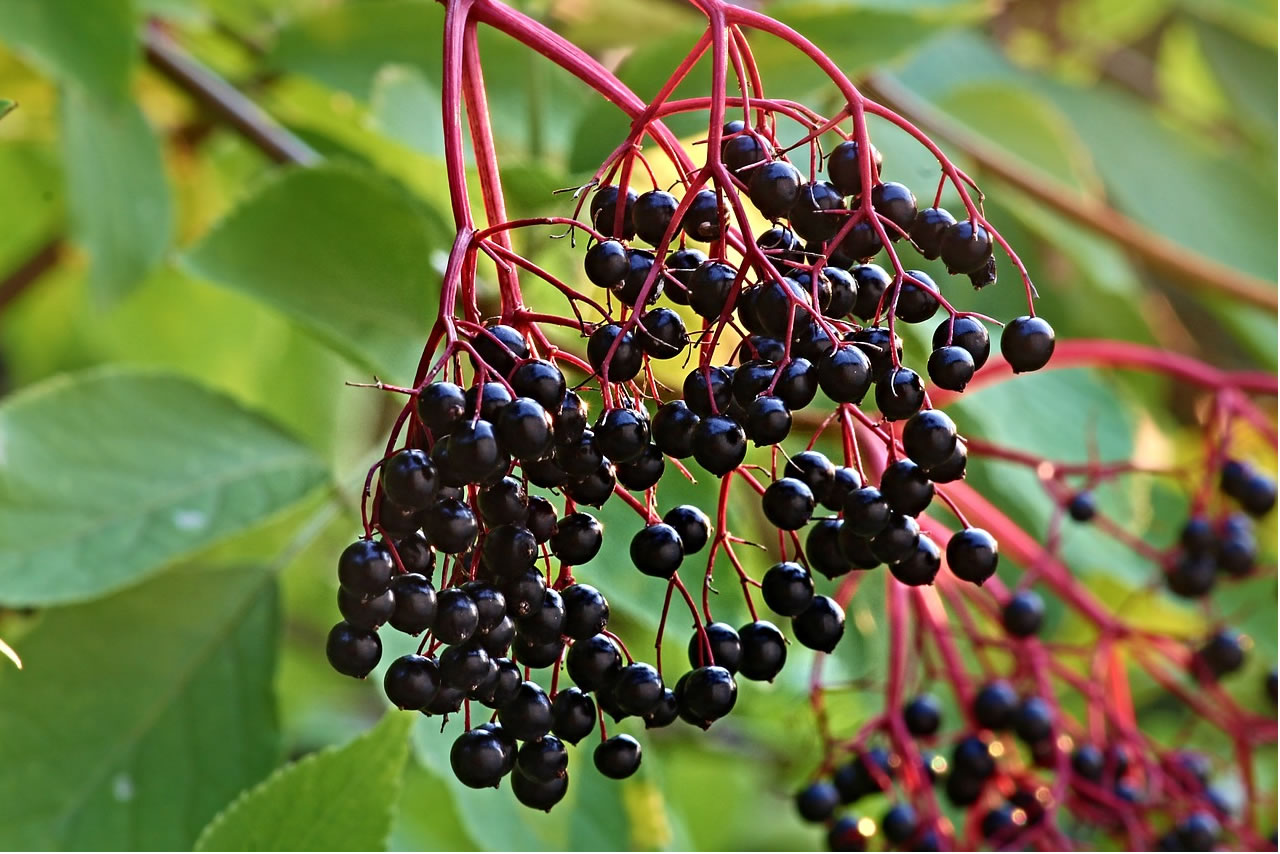 But what they've been most cherished for over the centuries in many traditional herbal and Native American folk remedies is their ability to boost the immune system by increasing the number of white blood cells and reducing the severity of cold and flu symptoms like sinusitis, congestion, and upset stomach. They can even promote detoxification.  (1)
In a Norwegian study, patients experiencing flu-like symptoms of less than 48 hours were dispensed either 15 mL of elderberry syrup four times a day or a placebo. Patients who were given the elderberry syrup reported their symptoms subsided four days before those given the placebo. They also required significantly less over-the-counter medication to relieve their symptoms overall. (3).
What About Acerola Cherries?
Acerola cherries are rich in plant-based nutrients like zinc, manganese, B vitamins and are a surprisingly good source of potassium. Topped only by the Amazonian berry camu camu, acerola cherries have one of the highest natural concentrations of vitamin C of any food on the planet!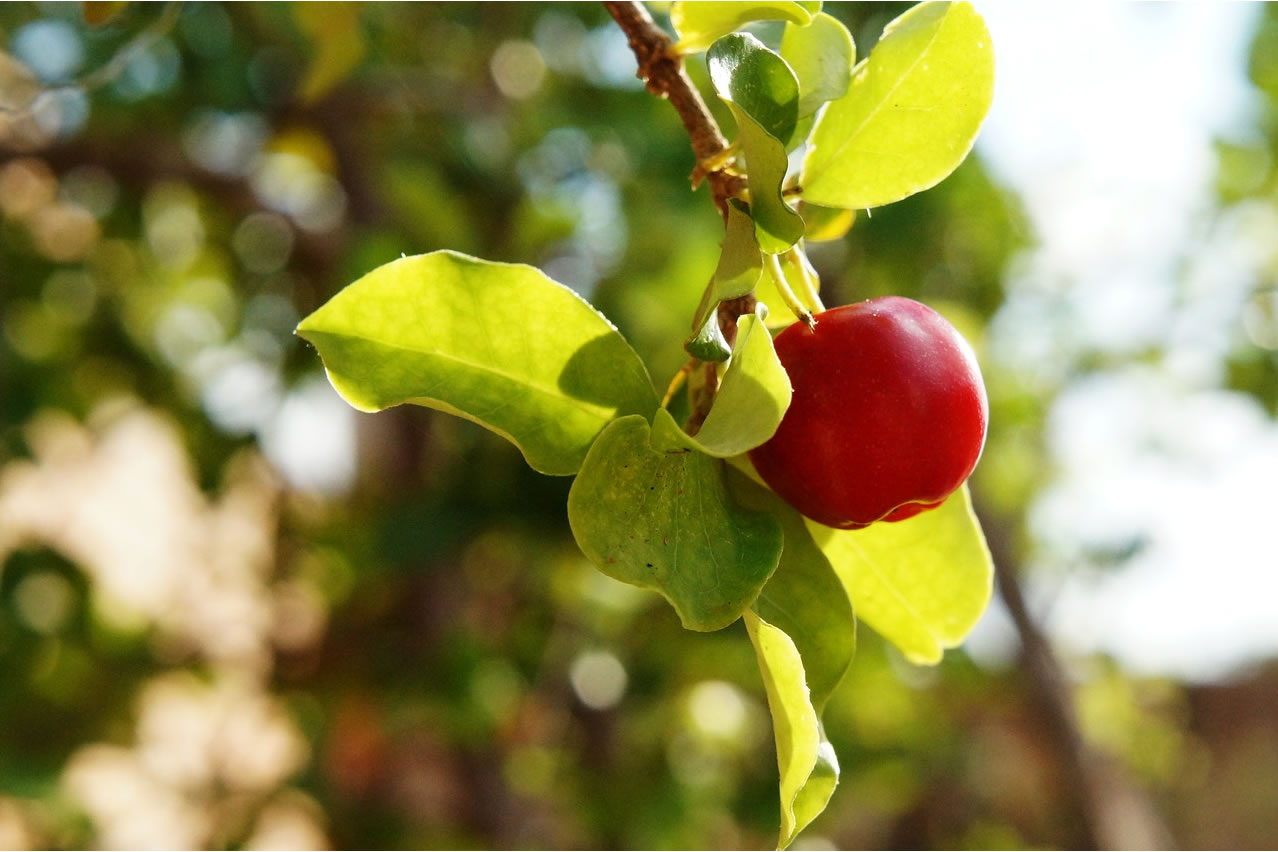 Vitamin C plays many roles in the body, but one of its major benefits is its ability to stimulate the production of white blood cells. This gives the body a strong line of defense against germs that want to make you ill. So the more vitamin C you get, the less chance of you have of getting sick. And getting your vitamin C from a food source will allow your body to use it more efficiently while giving you the most benefits.
The vitamin C contained in acerola cherries also protects your cells against the oxidative damage caused by free radicals. This damage can lead to cancer and disease in the body. Oh, and do you like the idea of keeping your skin gorgeous? Vitamin C plays an integral role in the synthesis of collagen in the body. Collagen, the "glue" that keeps your tissues together, is also what keeps your skin looking plump and supple. By ramping up your body's collagen production, you're able to heal, repair, and recover more quickly when faced with illness and look fabulous while you're at it.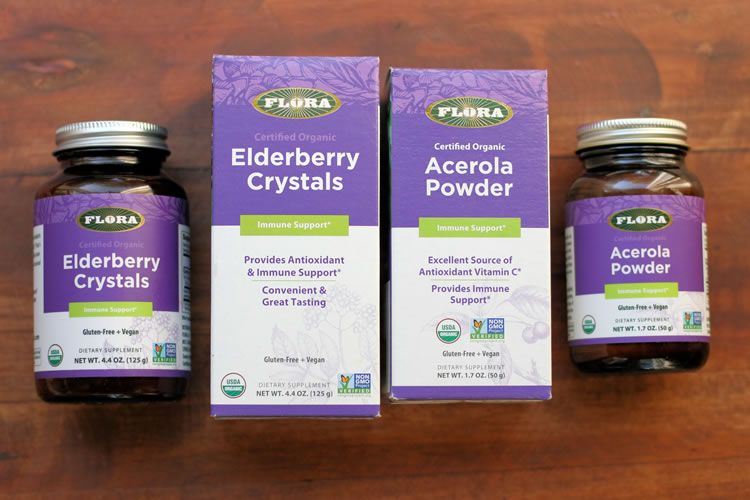 How To Get The Benefits Of Elderberries And Acerola?
To get the immune boosting benefits of both elderberries and acerola cherries this season, I thought it would be fun to make Immune Boosting Gummies in a bear shape made with the Elderberry Crystals and Acerola Powder from Flora Health! Not only are they absolutely adorable, but they also make boosting your immune system something you can look forward to. Who thought that was even a thing?
Making The Immune Gummies
Whipping up gummies is so much easier than you think and you only need a few simple ingredients most you may already have in your pantry. You'll just need some juice (preferably organic), a natural sweetener, some lemon juice and, to get that characteristic, irresistible, chewy, "gummy" texture, you'll need gelatin. Agar agar can be substituted if you're vegetarian, vegan or otherwise avoiding gelatin. For the ultimate immune-boosting punch, Flora's Elderberry Crystals and Flora's Acerola Powder are the perfect gummy bear ingredients. You can order them right from FloraHealth.com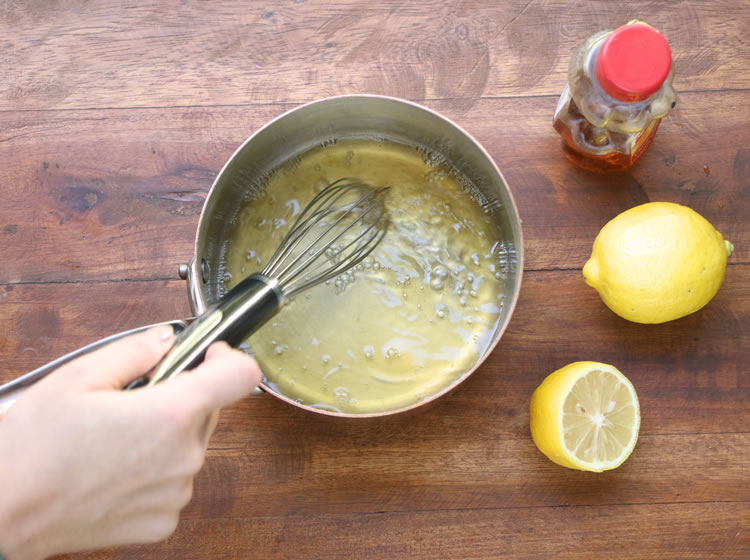 The elderberry powder lends its beautiful deep dark color and tart berry flavor with all its immune boosting goodness while the acerola powder is mostly tart and packed with tons of real food-based vitamin C. It gives the gummies that same tang you get when you buy the bagged candy versions. The best part is that it is real nourishing food and none of that artificial stuff.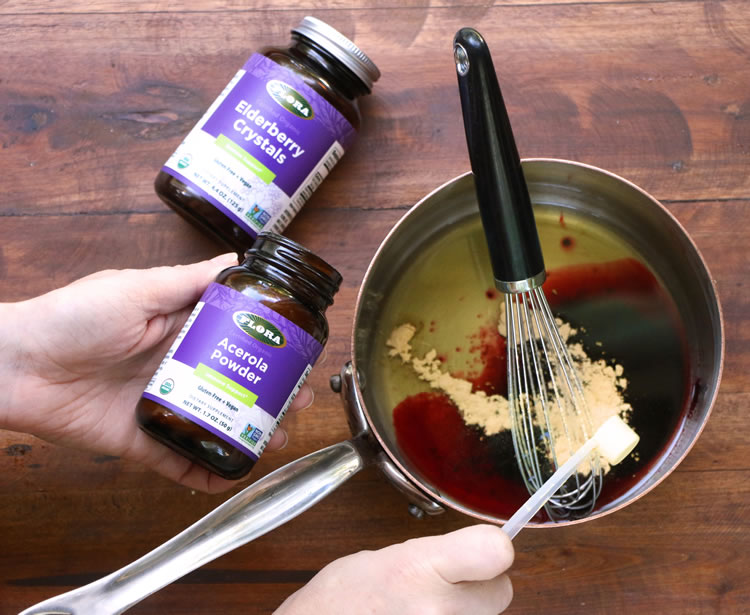 For a sweetener, I decided to use raw honey. Raw honey is a pure, unfiltered and unpasteurized honey that is rich in antioxidants and antibacterial properties. It can also help to improve digestion. Most of the stuff in the stores is pasteurized so be sure to check the label for the word "raw".  Manuka honey, another type of healing honey, would also be wonderful and would give these gummies even more immune-boosting power. You can also experiment with using stevia or other natural sweeteners of your choice.
Quite honestly this recipe couldn't be easier. On the stove, heat the juice of your choice until just about to simmer. I chose no-sugar-added apple juice, but pomegranate, cherry or cranberry would work just as well. Remove it from the heat and stir in the raw honey, lemon juice, the Elderberry Crystals, Acerola Powder and finally the gelatin. You'll need to whisk the mixture vigorously until the gelatin is completely dissolved.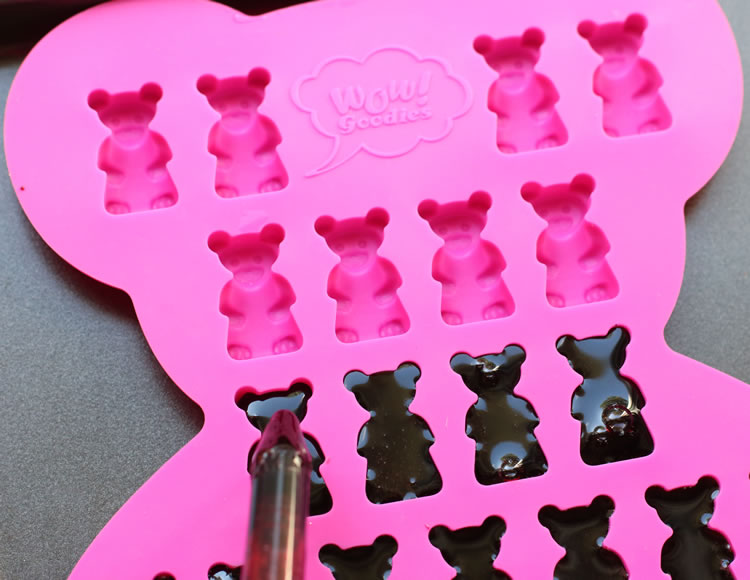 Note: Juices like pineapple, mango, papaya, kiwi, ginger and guava won't work in homemade gummy or gelatin recipes. They contain certain enzymes that react with the chemical bonds in gelatin that give it its characteristic gummy texture.
Here's where you need to work quickly: begin piping, or spooning the mixture into the molds of your choice. Gelatin wants to set as it cools so the quicker you work, the better. I used these adorable, large, gummy bear silicone molds I found on Amazon and we got about 34 large bears from our recipe. The recipe easily doubles and there are smaller versions of the gummy bear molds as well. There are also tons of other shapes to choose from like dinosaurs and worms. Did I mention you can also give these to your kids?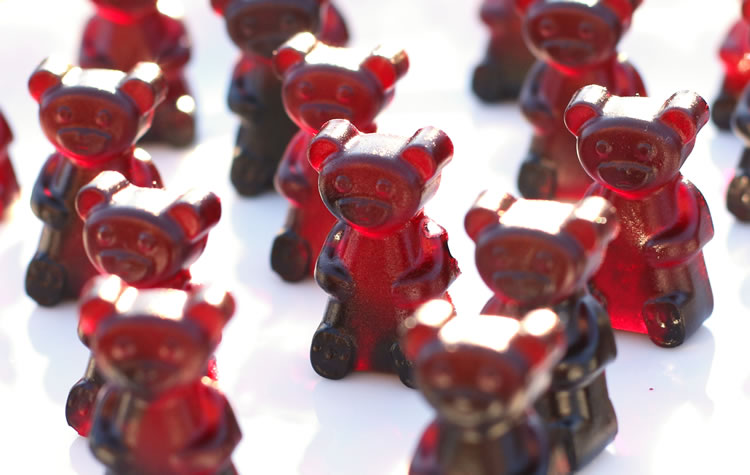 If you do order a gummy mold, they usually come with a reusable pipette to make distributing the gelatin mixture into the mold much easier. If you don't have a mold on hand, but still want to make the recipe, simply pour into a baking dish or pan and then cut into squares. You can also use a small cookie cutter or candy molds you may have on hand. Once all the mixture is in the molds, transfer them to the fridge for about 1 ½ to 2  hours to firm up.
Recipe Tip: You must lay the silicone molds on a baking sheet before piping the gelatin as they are pretty floppy. Otherwise, you will have a real mess on your hands when you try to move them. Set this up first before you begin the recipe.
Once they're set, pop your Immune Gummies out of the molds and store in an airtight container in the refrigerator for about a week to 10 days.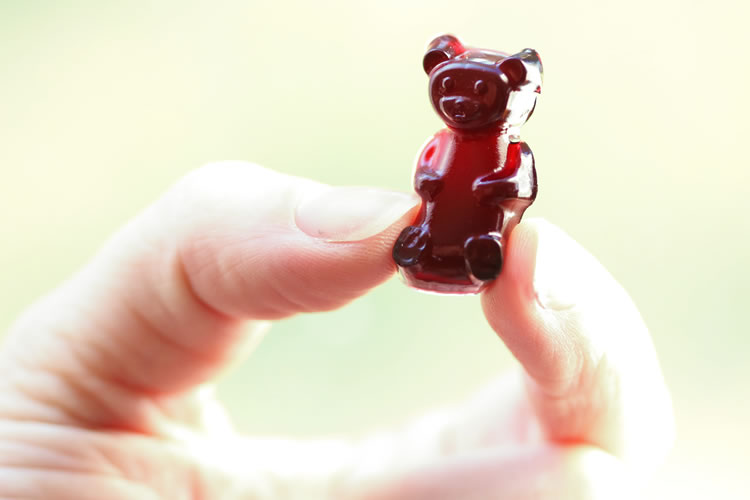 To calculate how much immune-boosting Vitamin C is in each single gummy simply count the number of scoops of powder you use and divide by the number of gummies you get from your mold.
For example:
With our mold, one batch made 34 large gummy bears. One scoop of Flora's Acerola Powder contains 944% of the daily requirement for Vitamin C and we used 3 scoops. So…
944% (Vitamin C per scoop) multiplied by 3 (scoops) = 2832% of total daily Vitamin C
2832% divided by 34 large gummy bears = 83.3% of Vitamin C
So each large gummy bear delivers 83.3% of your daily requirement for Vitamin C!
For a few different color and flavor variations, I made a few with just acerola powder (yellow), some with just a pinch of elderberry (pink) and some with both the acerola and elderberry (purple) powders. They taste super yummy and you have to try making your own!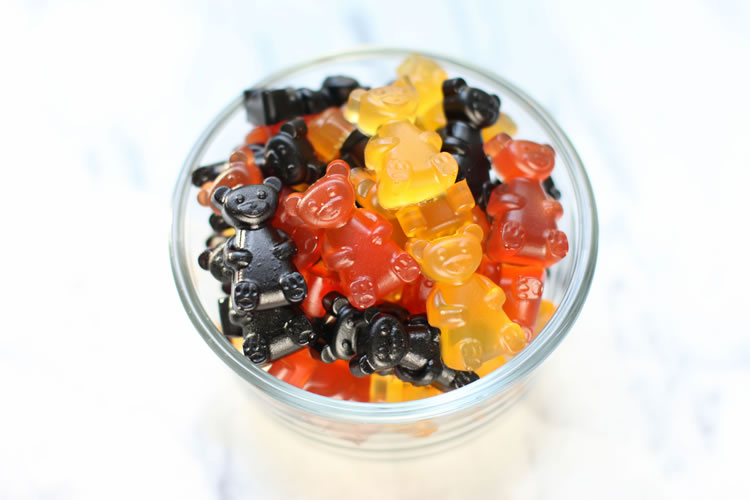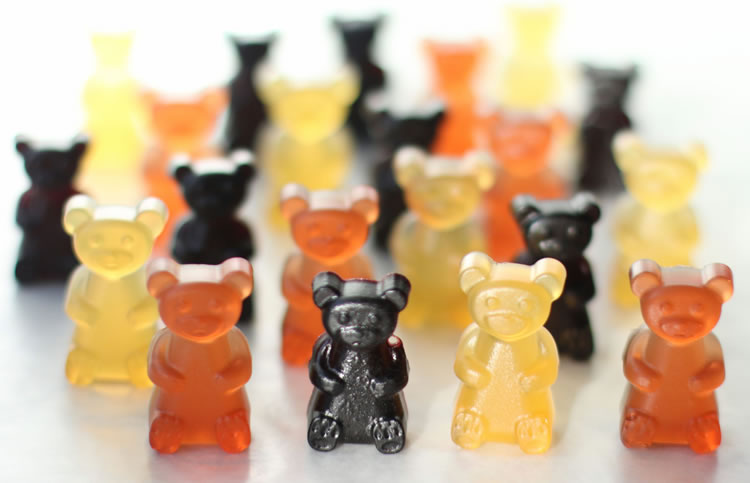 Get the recipe!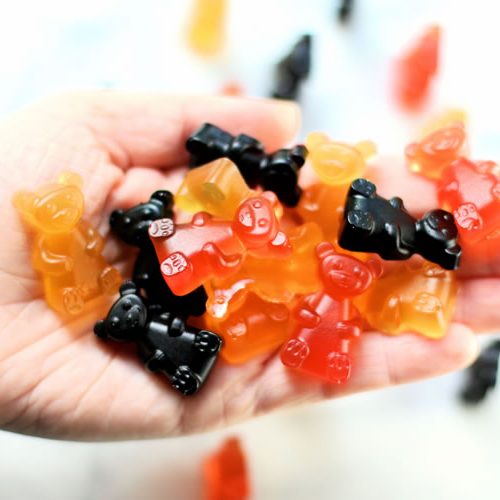 Immune Boosting Gummies
Get your immune system ready this year for the cold and flu season with these sweet and tart real food gummies made with elderberry and acerola powders!
Ingredients
FOR THE GUMMIES
1/2

cup

organic apple juice

11/2

tablespoons

raw honey

3

tablespoons

lemon juice

6

scoops

Flora's Elderberry Powder

3

scoops

Flora's Acerola Powder

2

tablespoons

gelatin
SPECIAL TOOLS NEEDED
silicon molds, candy molds or pan
DIRECTIONS
Put apple juice in a small saucepan over medium heat. When the juice begins to release a little steam add honey and lemon juice. Stir.

Turn off the heat. Then add the elderberry and acerola powders whisking until combined. Add the gelatin whisking until it is completely dissolved and there are no lumps present.

Distribute mixture to the mold of your choice and then chill for up to 2 hours. You can test the gummies after 90 minutes or so by tapping gently with your finger to see if they have set.

Remove gummies from the mold and store in an airtight container in the refrigerator for about up to a week.
Notes
For different color gummies, you can you use varying amounts of elderberry powder as the acerola is virtually colorless.
Purple = Elderberry + Acerola 
Pink = A Pinch Of Elderberry + Acerola 
Yellow = Acerola Only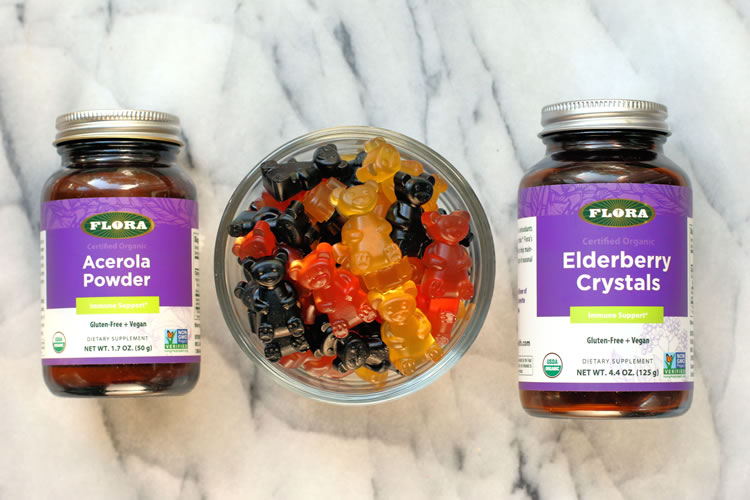 To stock up on immune-boosting Flora's Elderberry Crystals and Acerola Powder for this cold & flu season, please visit FloraHealth.com