Better Living uses affiliate links. If you make a purchase through them, we may receive a small commission (for which we are deeply grateful) at no cost to you.
1. The Kitchen Safe
Are you looking for a way to cut down or control your snacking? The Kitchen Safe is the gadget for you. Just place whatever you want to keep away from inside and set the timer.  The Kitchen Safe then locks and there are no overrides. It will only open when the timer is up.  It's also great if you want your family to have time away from cell phones, ipods or any small gadgets.

Get the Kitchen Safe: Time Locking Container here!!!
2. Tovolo Pancake Pen
The Tovolo Pancake pen is great! With the pancake pen you can easily create works of art or write messages with you pancake batter  Kids and adults will love it!

Get the Tovolo Pancake Pen here!!!
3. Jokari Hands Free Baggy Rack
The Jokari Hands Free Baggy Rack acts like an extra set of hands! It holds plastic bags open for easy filling. Its great when using marinades or freezing something saucy.  Simply place bags under clips and fill, it's that easy! It also has adjustable arms that can hold various size bags.

Get the Jokari Hands-Free Baggy Rack Storage Bag Holder here!!!
4. Talisman Designs Yolk Hero Egg Separator
The Talisman Designs Egg Yolk Separator does just what it says. Its super easy and perfect for recipes that call for just yolks or mornings when you only want whites in your omelette.

Get the Talisman Designs Yolk Hero Egg Separator here!!!
When you bake a cake, the smell can be so heavenly it makes you just want a little taste, right? But, you don't want to ruin your cake by picking out a little bite.  So the geniuses at Quirky thought, what if we include a spot in the baking pan for a taste test. And the Quirky Nibble Cake Pan was born. Makes me want to bake a cake right now!

Get the Quirky PNIB1-BK01 Nibble Cake Pan here!!!
6.  Bodum Universal Knife Block
Traditional knife blocks take up a lot of counter space and actually contribute to knife dulling. The Universal is only 3 inches wide and will allow you to actually store a lot more knives than in less space than a traditional block. You'll be surpised how sleek yet efficient the Bodum Universal Knife Block really is!

Get the Bodum Bistro Universal Knife Block Here!!!
7. SushiQuik
If you've ever tried to make sushi at home, you may know that it doesn't always turn out quite like the edible works of art at your favorite sushi restaurant. Too much rice, too little rice, rolls that fall apart or won't cut properly are common sushi at home mishaps. The answer? SushiQuik is an amazing little kitchen set that will solve all your at home sushi making woes. With the SushiQuik its perfect at sushi at home every time.

Get the Sushiquik Sushi Making Kit here!!!
8. Rinse and Chop Plus Cutting Board by Joseph Joseph
This unique and multifunctional kitchen gadget is a colander and cutting board combined in one. When in the flat position it is a perfect cutting surface. When in it's locked position, you can use it as a colander or safely guide food either into a bowl or pot. It's really as easy as chop, rinse and to the stove. How great is that?

Get the Rinse and Chop Cutting Board here!!!
9. Ice Ball Maker by Arctic Chill
These Arctic Chill slow melting ice sphere molds are the perfect gift for someone who lover to
entertain. With these sphere shaped ice cubes, drinks stay cold 10 times longer without getting watered down. These are perfect for hot weather drinks by the pool or for cocktails you want to stay cold and strong. They also look great in the glass and it comes with a lifetime guarantee!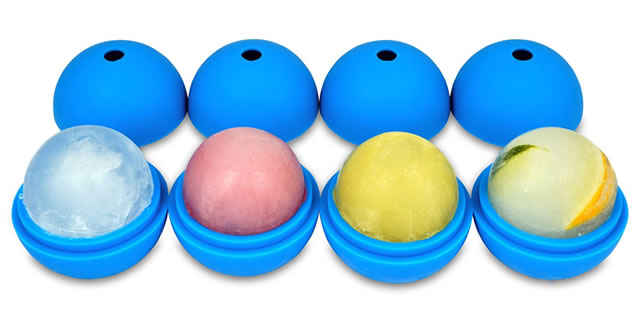 Get the Arctic Chill Ice Ball Maker Molds here!!!
10. Presto Pizzazz Plus Rotating Pizza Oven
Baking pizza at home can be troublesome. Its hard to get that perfect cripsy crust with perfectly baked toppings done at the same time with a traditional oven. Often the crust is still soggy or underdone while the cheese and toppings are on their way to burnt city. Whether your pizza is frozen, brought home from your favorite pizzaria or baked from scratch, the Presto Pizazz Pizza Oven is designed to help you make perfect pizzas at home every time. It has a top and bottom element which can be independently adjusted, so when you want that crust a little more well done, but the top is perfect, the presto has you covered. Also, the Presto great for cooking other foods like frozen jalapeno poppers or chicken nuggets and it cooks in half the time as a regular convection oven. One reviewer on amazon said "This is the greatest thing I have purchased for the kitchen. It does a lot more than frozen pizza. For the money i would say it's a must have."