Better Living uses affiliate links. If you make a purchase through them, we may receive a small commission (for which we are deeply grateful) at no cost to you.
It's already June and Father's Day is just around the corner. If you feel like you're in a bit of a rut when it comes to Father's Day gift-giving, and you haven't decided what you're going to get for Dad yet, we know just how you feel. Maybe you have one of those hard to shop for Dads, or you've already done the grilling, tool, or golf gifts way too many times. For a gift to show that you care, why not make up a gift basket for Dad with lots of treats that he can enjoy for the months to come. Plus you might just help him find some new favorites he would have never found without you. In this post, we have a couple of themed gift baskets ideas that any Dad will love and are easy to put together. To make things easy and convenient, all the products shown in this post can be ordered in just a few clicks through health and wellness online retailer iHerb.com. If you scroll down to the bottom there's a coupon code offer for all customers (new and returning) for a discount off your order with no minimum purchase needed.
Need Tips For Building a Gift Basket?
I can tell you from experience that a gift basket is always well received. To build one you start by finding yourself a cute basket or vessel to start. For Dads, something like a cooler or tool tote would be a super creative and fun idea. Then pick a theme and fill it with goodies he would like. Does he love to eat or maybe he's a health or coffee nut? Is he following a certain diet or maybe he could use an update in his personal care routine? After you've figured out the theme and direction you'd like to go in all that's left is getting the treats to put inside and wrapping it all up.
Keep reading for our Dad gift basket ideas or click through to our post linked here for even more tips and tricks on how to build the ultimate gift basket.
Father's Day Gift Basket Idea #1: A Personal Care Gift Basket For Dad
Why not introduce Dad to some new products for his clean personal care routine? Here we have some of our favorite manly products that Dad will love to use in the shower or at the bathroom sink. With fresh and masculine scents and effective formulas, Dad will want to use these for years to come.
SKIN & BODY CARE ITEMS FOR DAD
We absolutely love Bulldog Skincare For Men. And their products are perfect for your Father's Day Gift Basket. It's a vegan-friendly skincare brand certified by Cruelty-Free International that never adds any artificial colors or synthetic fragrances. It works for all skin types and will help Dad look and feel his best. Yes, guys need moisturizer too! This one absorbs quickly and won't leave a sticky feeling afterward. Perfect for normal skin-types this moisturizer nourishes skin with aloe vera, camelina oil, and green tea.
What's great about Bulldog Skincare products is they all have a light spa-like masculine scent that's super fresh. This Shave Gel is specially formulated with a blend of 8 essential oils and helps the razor glide over the skin so Dad can have a smooth and close shave. 
Perfect to amp up the shine of Dad's beard or mustache without making it look greasy, Bulldog Skincare For Men Original Beard Oil is a fast-absorbing beard oil that works to tame and condition the beard leaving it softer and less frizzy. It has a nice masculine, yet light and refreshing scent just like the other Bulldog Skincare products that smell great without being overpowering. A little dab of this stuff will do. 
Herban Cowboy After Shave Balm Moisturizer is perfect for keeping his skin soft and free of irritation after Dad's done shaving. Cruelty-free without any additives like parabens or phthalates, this balm is infused with carrot, cucumber, and rosemary leaf extracts. Great for sensitive skin, this has a light spicy scent.
You can never go wrong with Dove, the #1 dermatologist-recommended brand. With a convenient pump, it can be used for both face and body which is perfect for the guy that likes to keep things simple. It features what Dove calls their MICROMOISTURE technology. Activated when lathering, it helps to hydrate and protect dry and delicate skin. With a crisp, refreshing scent and specially formulated just for men, Dad will leave the shower feeling super fresh and he won't want to go without it.
This Dove Men+Care Clinical Protection Antiperspirant Deodorant goes perfectly with the Dove Men+Care Clean Comfort Body and Face Wash. Tough on sweat and gentle on skin with 48-hour powerful sweat and odor protection this formula is clinically proven to be non-irritating and can even help protect the skin. With the same Clean Comfort scent as the Body and Face Wash, the two make the perfect pair.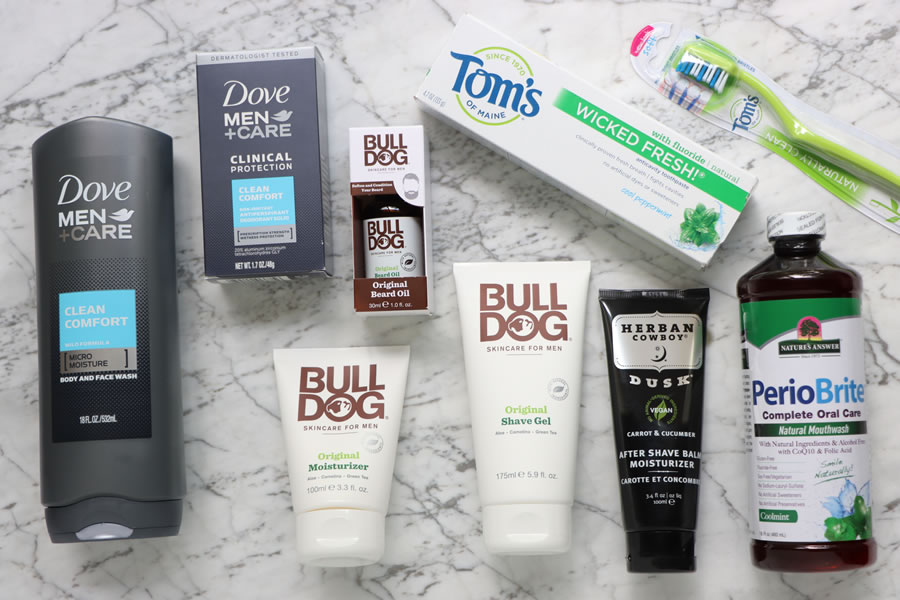 ORAL CARE PRODUCTS FOR DAD
To round out Dad's personal care basket a few goodies for oral care are just what he needs to complete his bathroom routine.
Tom's of Maine has been making natural and sustainable products since 1970. We love this super fresh peppermint-flavored toothpaste which is free of artificial sweeteners and dyes and is clinically proven to freshen breath and fight cavities. Pop one of their toothbrushes in there too for good measure.
My all-time favorite mouthwash and one I think any Dad will love too is this PerioBrite Natural mouthwash. Made with antioxidant Co-Q10, Folic Acid, and soothing organic herbal extracts, it's fluoride-free and has no sodium-lauryl-sulfate, artificial sweeteners or preservatives. This mouthwash refreshes and cleanses breath naturally while promoting healthy teeth and gums.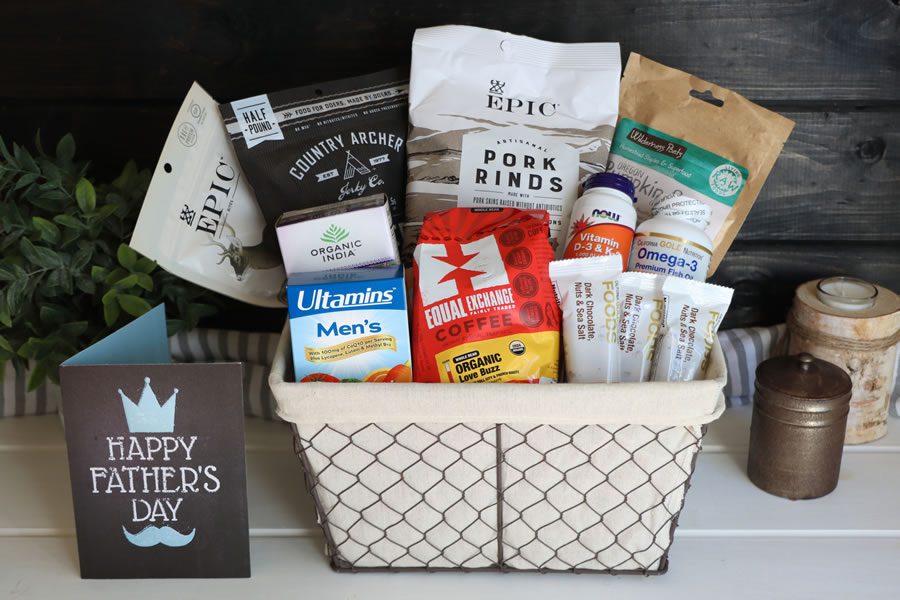 Father's Day Gift Basket Idea #2: Healthy Foods & Vitamins Gift Basket For Dad
What dad wouldn't want a gift basket full of tasty gourmet treats, coffees, teas, and snacks. If your Dad loves to eat this basket theme is your go-to. And to let him know you care about his health, there's no reason why you can't put a few healthy supplements and vitamins in there too.
HEALTHY AND YUMMY TREATS DAD WILL LOVE
What meat-eating Dad doesn't like jerky? And what Dad wouldn't appreciate some as a gift? Country Archer Jerky is perfectly seasoned, incredibly flavorful, and oh, so tender. Made with 100% grass-fed beef and 10 grams of protein per serving, Country Archer Jerky is free of MSG, nitrites/nitrates, and preservatives. We love the smoky, slightly sweet flavor of their Original, but they also offer other flavors like Crushed Red Pepper, Sriracha, Sweet Jalapeno, Teriyaki, and Mango Habanero.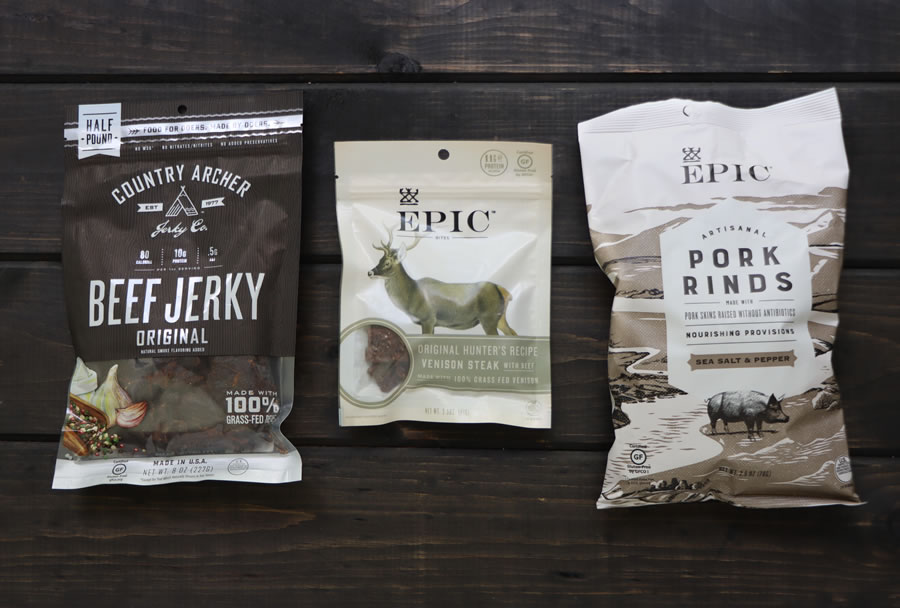 Does your Dad know that artisanal pork rinds are a thing? If he loves pork rinds he probably should. These pork rinds are light and crispy and seasoned just right with the perfect amount of salt, pepper, and spices. Dad would love munching on these with a beer in hand or anytime he's in the mood for a salty snack. Contrary to public opinion, pork rinds are actually a healthy snack. The fat content will keep Dad full longer and with zero carbs and 8 grams of protein per serving, they're Paleo and Keto diet-friendly. They're also a great source of collagen.
When your Dad is the adventurous or exotic meat-eating type, in addition to pork rinds, Epic Bar also makes jerky style venison and beef bites made with 100% grass-fed free-range venison. Certified gluten-free and keto and paleo diet-friendly, these bites clock in at 11 grams of protein per serving.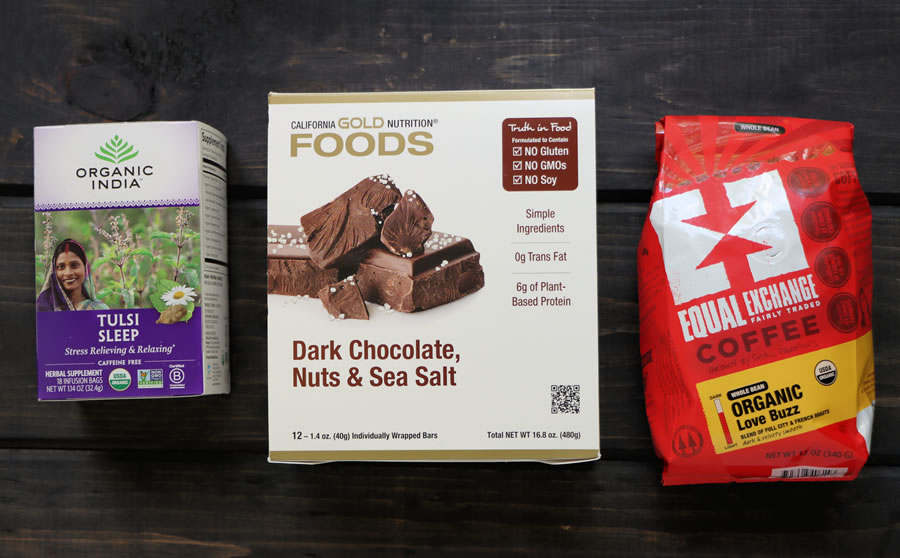 Coffee always makes a great gift. Include this organic whole bean coffee in Dad's basket from Equal Exchange so he can start the day right. With Medium-dark and smoky flavors of chocolate brownie, caramel corn, malt, and toffee, this fair-trade and small farmer grown coffee makes the perfect smooth cup of joe without any bitterness.
What's a gift basket without something sweet? The perfect thing to satisfy any sweet tooth, these California Gold Nutrition Foods Dark Chocolate Nuts & Sea Salt Bars work as a midday snack or even as a sweet enjoyed with coffee. Made with almonds, pecans, and walnuts and then drizzled in chocolate there's a lot to love. They come in boxes of 12 individually wrapped bars and come in more delicious flavors like Caramel Almond and Dark Chocolate Peanut Butter. Only available at iHerb, these bars are satisfying, delicious, and totally wholesome with no artificial colors, flavors, sweeteners, or preservatives.
Tea always makes a great presentation in a gift basket and Tulsi Tea is one of my favorites to promote restful sleep. Tulsi, otherwise known as Holy Basil is a sacred Indian herb belonging to the mint family and has been used in Ayurveda, the Indian system of medicine, for thousands of years. What makes Holy Basil so special is its adaptogenic properties which can elevate energy when you're tired, promote serenity when you feel anxious or are tired, and boost immunity when needed. It helps you adapt to exactly what you need at the moment. If your Dad works a lot or has trouble sleeping, this tea is just what he needs. It tastes really pleasant without any added sweetener too.
Our favorite fresh pumpkin seeds from Wilderness Poet deserve a spot in Dad's basket. Certified USDA Organic, Raw, Non-GMO, and gluten-free, these pumpkin seeds are an heirloom variety that is fruity, rich, and flavorful. Grown in the lush Willamette Valley in Oregon, these gorgeous little green seeds are mineral-rich, high in iron and an excellent source of protein, B Vitamins, and Omega-3 essential fatty acids.

SUPPLEMENTS DADS NEED TO STAY HEALTHY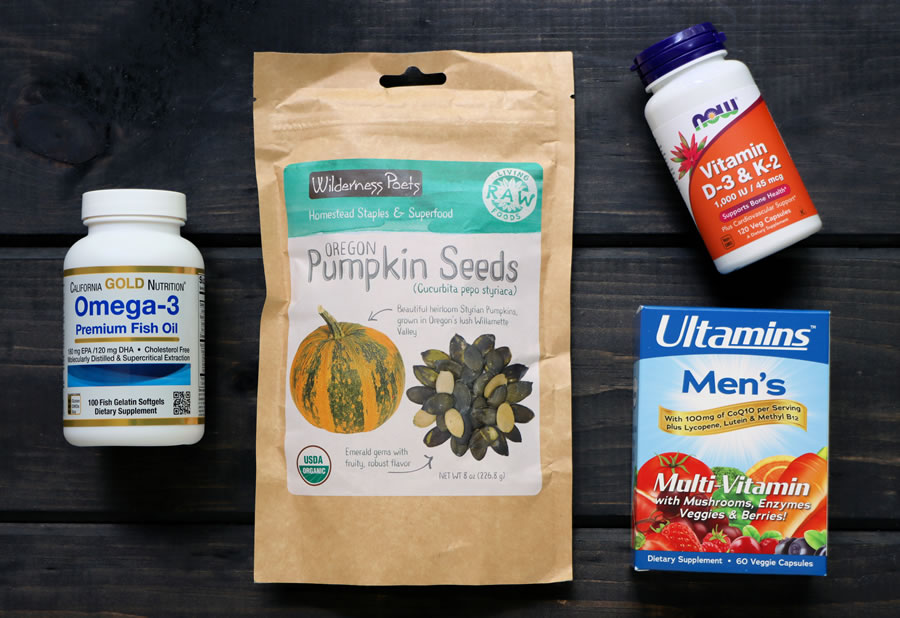 If your Dad doesn't eat as healthy as you think he should and could use a little nudge in the right direction, he might just take to these when presented with coffee, jerky, pork rinds, and chocolate. Ultamins Men's Multi-Vitamin is the ultimate multivitamin blend formulated just for guys with 100 mg of CoQ10 per serving plus lycopene, lutein, methyl B12 and mushrooms, veggies and berries. This enzyme blend helps with digestion and the absorption of nutrients and mushrooms promote healthy immunity. For Dad's over 50 choose the Ultamins Men's 50+ Multi-Vitamins instead, which has saw palmetto which has many benefits for older gents including increasing testosterone levels and prostate health, preventing hair loss, enhancing urinary tract function and reducing inflammation.
If you want to do something great for your Dad's health, throw some omega-3's in the basket! Found mostly in fatty fishes like salmon, tuna, sardines, and mackerel, omega-3 fatty acids have been shown in studies to reduce inflammation and promote healthy cholesterol levels, blood pressure, and liver function. It's also been shown to be an effective aid for depression. California Gold Nutrition, iHerb's house brand is a super affordable way to keep premium Omega-3 rich fish oil in your Dad's nutritional arsenal.
If Dad spends a lot of time indoors, you might want to help him get the Vitamin D he needs and is the only vitamin that the body needs sunlight to manufacture. Known as the "sunshine vitamin", Vitamin D is an important fat-soluble vitamin that's important for our immune system and the maintenance of healthy bones with the help of calcium and Vitamin K. While some foods are considered good sources of vitamin D like salmon, shrimp, oysters, and egg yolks, it can be difficult to get all you need from food alone. And if Dad's been stuck inside from the coronavirus quarantine he may be on the low side. To make sure Dad's immune system is getting all the Vitamin D it needs a supplement is highly recommended. Now Foods makes an awesome and affordable D-3 supplement with Vitamin K that's a total balanced formula. 
Gift Giving Tip: Don't have time to get a basket? Just pack your goodies in this Extra Large iHerb Goods Grocery Tote Bag, add a card, a bow and you're good to go.
Did you know…???
We love shopping atiHerb! Their prices are amazing, they ship quickly and you can even earn rewards!
Get a discount OFF your iHerb order (no minimum purchase) by –> clicking here.
Give Dad The Gift of Sleep!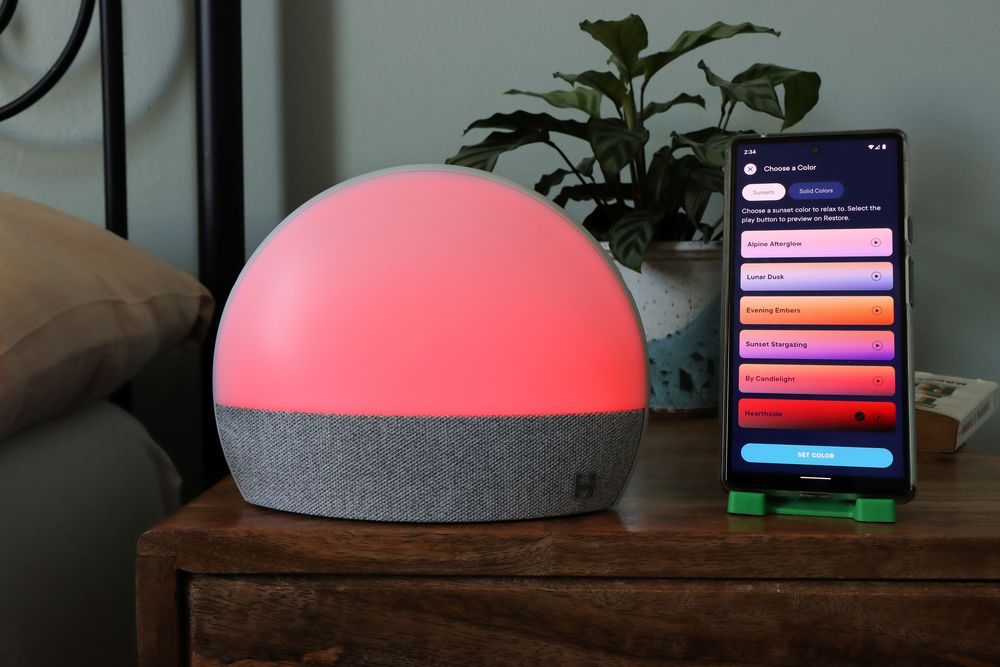 Another great gift idea for dad is Hatch Restore. It's is a "Smart Sleep Assistant" that can help dad unwind and create a super-relaxing sleep routine. 
Hatch Restore Can:
Help dad establish a calming pre-sleep bedtime routine

Help dad maintain a regular sleep-wake schedule

Act as an alarm clock, sound machine, Bluetooth speaker, bedside multi-color lamp, and nightlight

Simulate a sunrise to help you wake naturally
➡ See our full Hatch Restore review to learn more!