Better Living uses affiliate links. If you make a purchase through them, we may receive a small commission (for which we are deeply grateful) at no cost to you.
* This post is sponsored by Rio Luna Organic Peppers. The information and content presented here is all ours.
Who doesn't love an at-home tailgate party? Whether you're a diehard football fan or just in it for the fun, one of the best parts of the football season is the food. When I think of great tailgating food or game day eats, I think of cheesy meaty bites that are super satisfying that you can eat with your hands. And if they have a nice spicy kick to them, even better. One of my favorite game day appetizers combines the best of two of my favorite things to eat – potato skins and green chile cheeseburgers. This recipe for Green Chile Cheeseburger Potato Skins is everything you'd want in a gameday app. It's spicy, meaty, cheesy and you can eat it with your hands. Plus, they're shaped like little footballs. Score!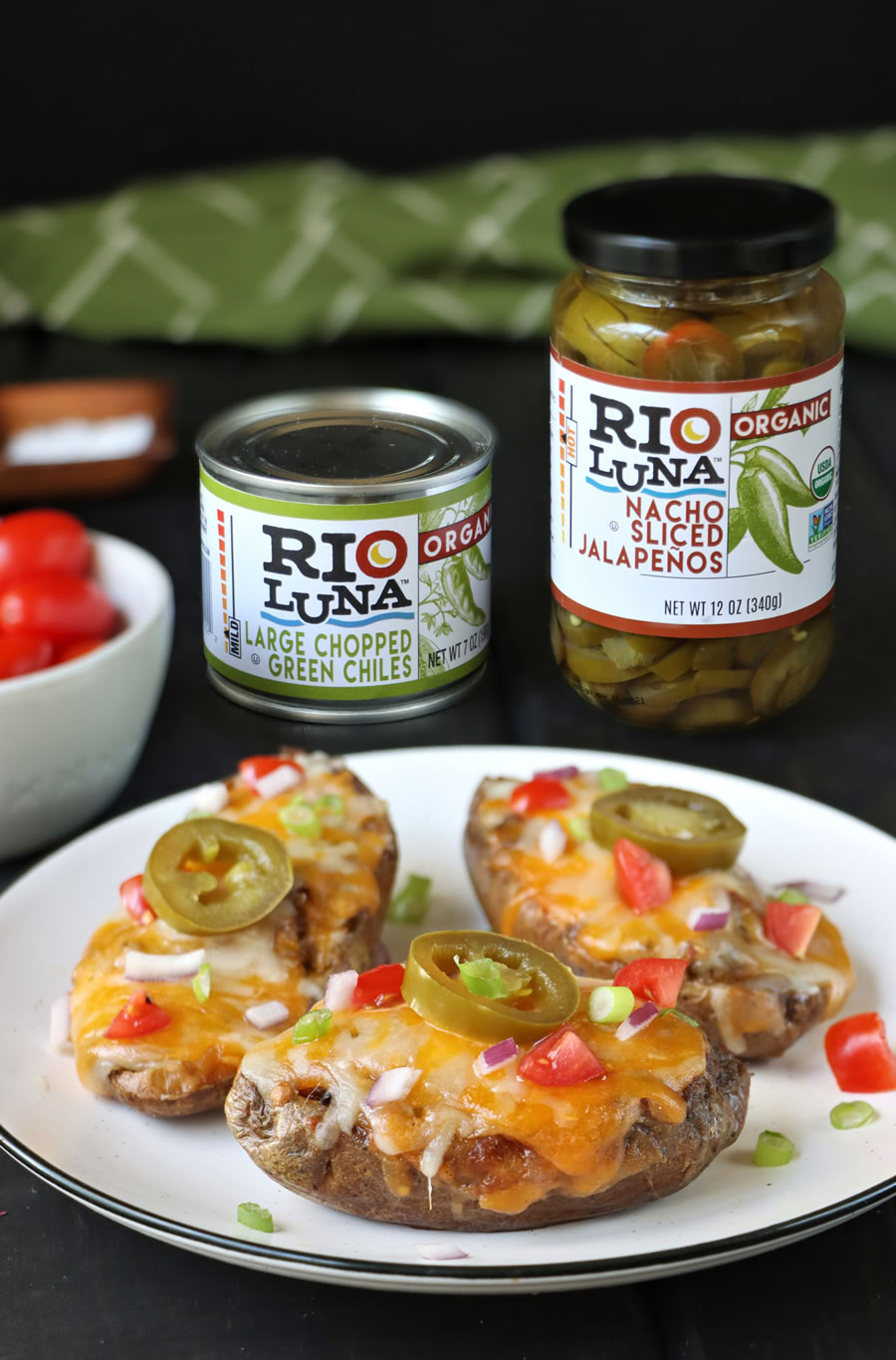 Making The Green Chile Cheeseburger Filling
For the Green Chile Cheeseburger part of these potato skins, we start by browning lean ground beef with a small diced onion and spices like chili powder, garlic powder, pepper and a sprinkling of salt. But a Green Chile Cheeseburger filling needs heat, right? And that means some delicious green chiles. For that, Rio Luna Organic Large Diced Green Chiles are the way to go. Once the beef is browned, add a can of Rio Luna Organic Large Diced Green Chiles and give it a stir. The chiles give the beef mixture a nice tang and a touch of nice mild heat.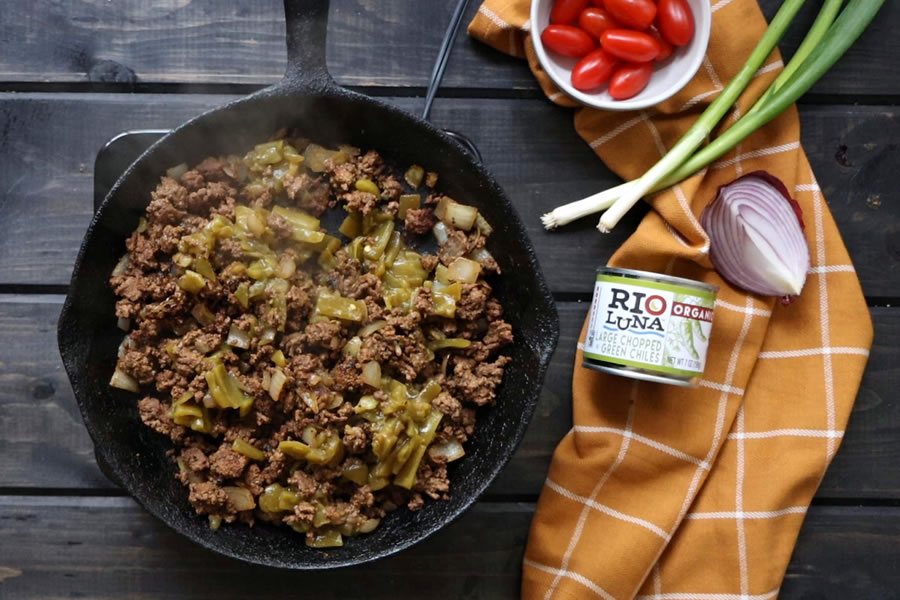 If you live in New Mexico where green chilis and the green chili cheeseburger reigns supreme, fresh green chiles are pretty accessible, so you can easily roast some up yourself anytime you want. But for the rest of us, the canned variety is the most convenient way to have that green chile goodness without getting on a plane. And I love keeping them on hand to add to anything from chili, soups, stews, nachos to eggs and dips or anytime a dish needs some kick. I've tasted my fair share of canned chiles and the flavor of Rio Luna Organic  is among the best (I'm obsessed with their pickled jalapenos too!). NO B.S. Not only are they certified organic and GMO-free but they're also fat-free, super low-calorie, cholesterol-free, and kosher! They're also an environmentally conscious company that uses sustainable practices like recycling, drip irrigation and crop rotation to grow their chiles in the most responsible way possible. That is something I can totally get behind. Way to go Rio Luna!
Rio Luna Organic Peppers and Chiles are available for purchase at Whole Foods nationwide, and for my Dallas followers you can also visit Kroger.
Chili Cooking Tip: Cooking for guests that can't handle the heat? Just check the Rio Luna can labels for the heat index meter on the side to show you exactly what heat level you're working with. 
For the cheese in the green chile beef filling there are two ways to go about it. Sometimes I'll make go the homemade route. But if I'm in a hurry I'll simply use a prepared cheese sauce or queso dip. If you want to make a delicious homemade cheese dip from scratch instead, I've included a recipe for that below. For a lighter version of these potato skins you can omit it all-together and simply sprinkle cheese on top.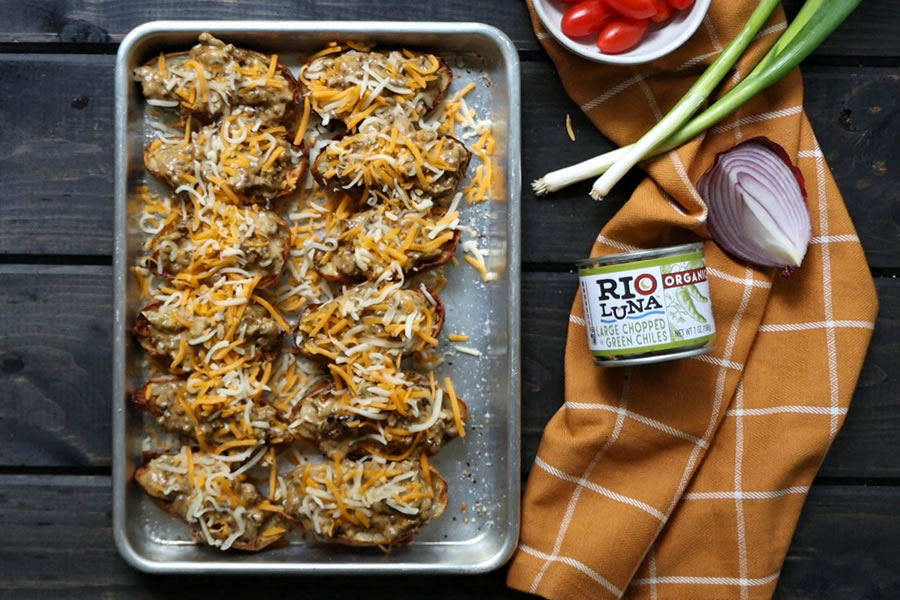 Prepping The Potato Skins
After the potatoes are done baking, allow them to let them to cool. They're easier to scoop this way.  Slice each potato in half longways and CAREFULLY, without tearing the skin, begin to scoop leaving about ¼ inch of potato on the inside skin. Then pop the skins back in the oven for a bit to crisp up the edges. They're now ready to stuff!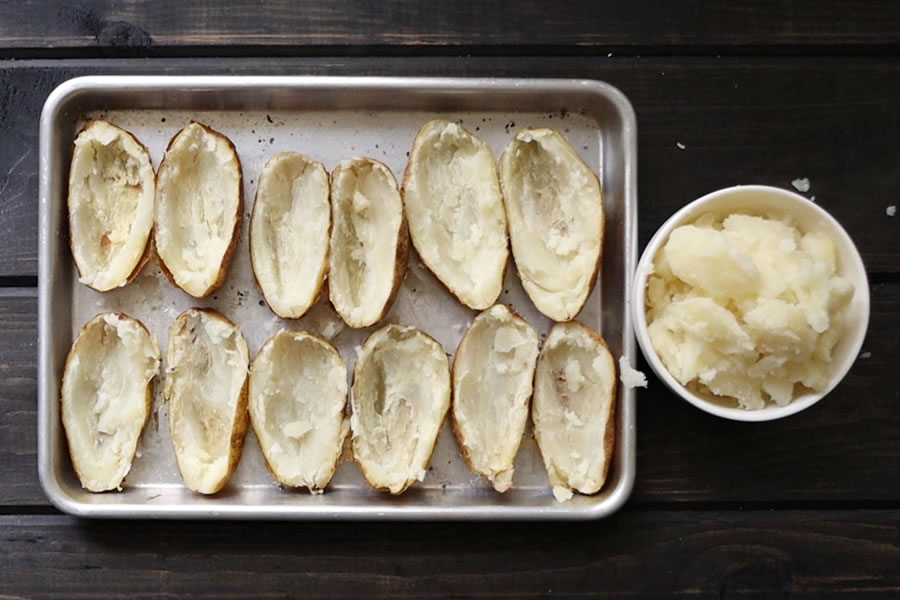 Assembling The Potato Skins
Spoon and fill each crispy potato skin with about ¼ cup of cheesy green chile beef mixture. This will depend on the size of your potatoes. Pack it down gently to create a cheeseburger layer on the inside of the potato skin and when you're done filling all your skins, sprinkle on a little more cheese, and broil until melted or slightly browned (depending on how you like it). You're now ready to plate!
Potato Skin Tip: Save the leftover potato flesh you scooped from the inside of the potato skin for making mashed potatoes, shepherd's pie, potato pancakes, adding to soups, omelets or casseroles.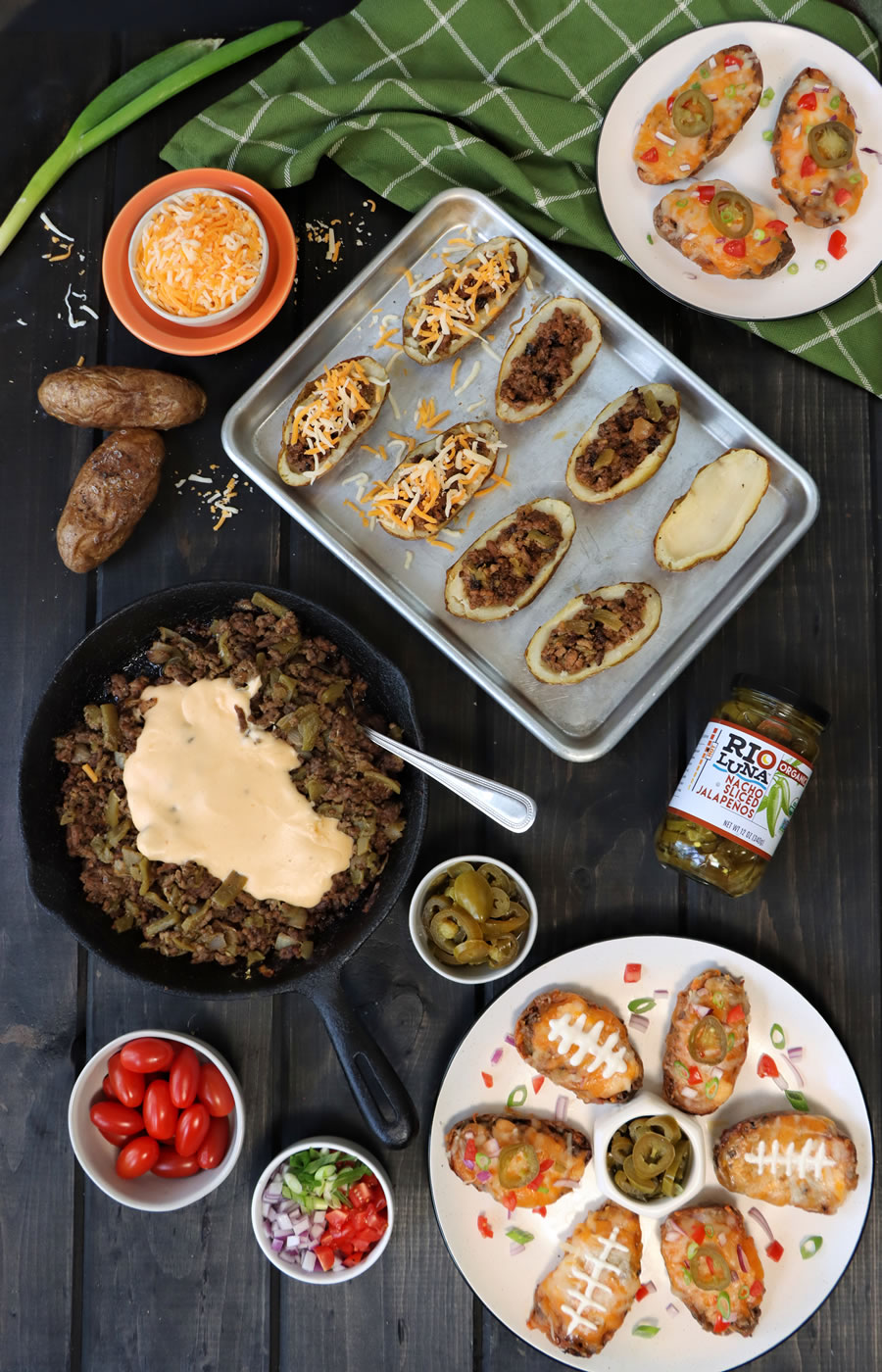 Serving The Green Chile Cheeseburger Potato Skins
Before serving these super yummy Green Chile Cheeseburger Potato Skins I like to garnish them with a little red onion, diced tomato and scallion. For an extra bit of zip, a pickled Rio Luna Organic Nacho Sliced Jalapenos on each skin brings it all home for a touchdown. They're so so good. You can even draw little football laces on some with sour cream.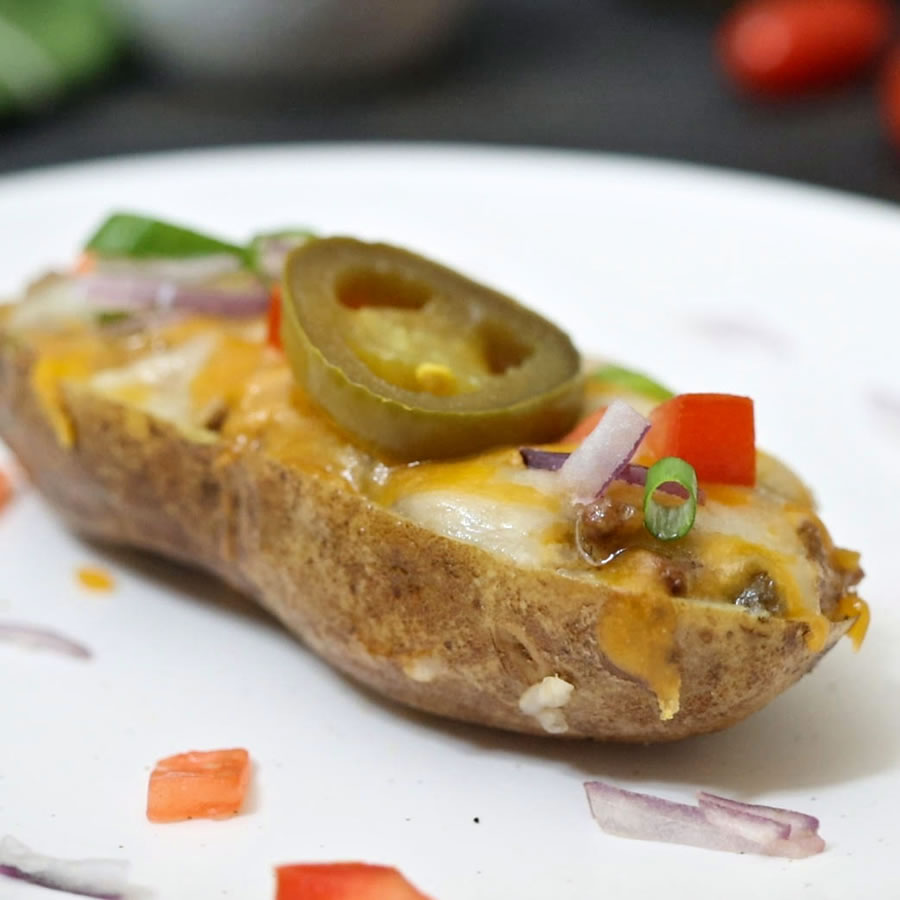 Once you serve these Green Chile Cheeseburger Potato Skins at your next tailgating party I guarantee they'll be gone before you know it.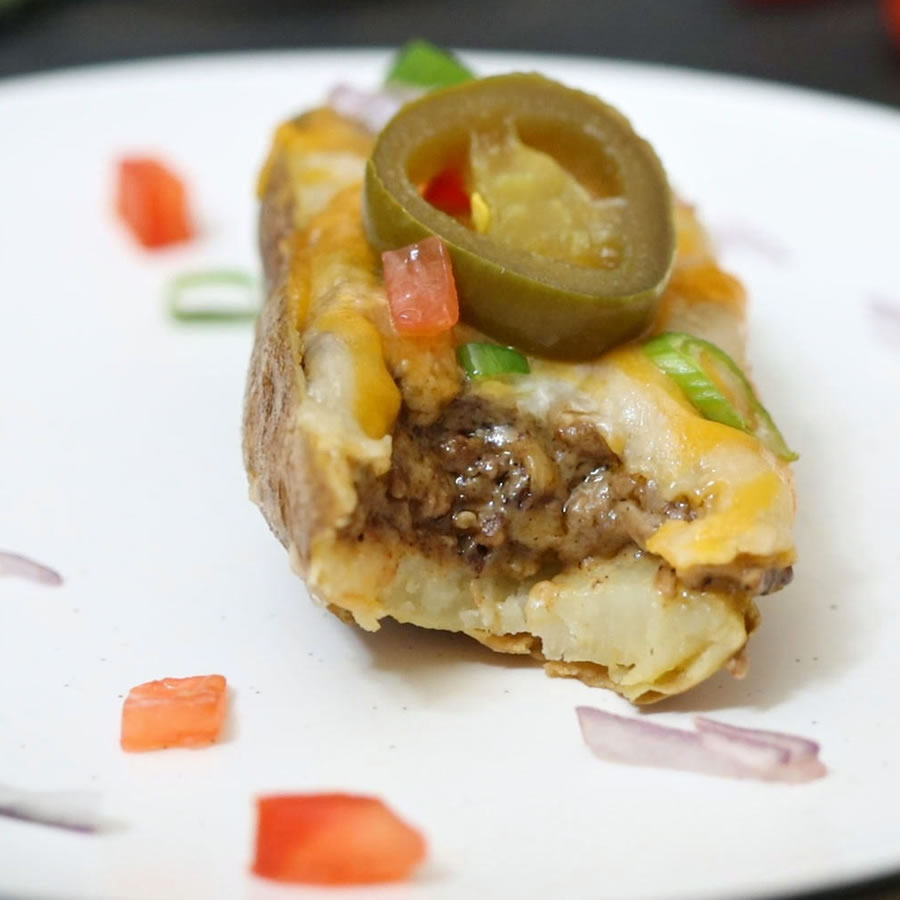 GET THE RECIPE!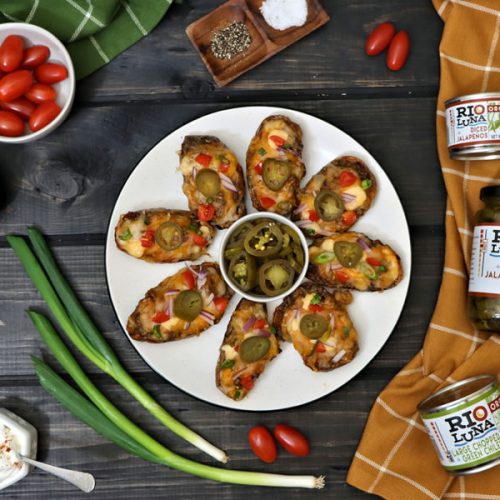 Green Chile Cheeseburger Stuffed Potato Skins
Equipment
Whisk

Spatula

Measuring Cup

Skillet

Baking Pan

Spoon
Ingredients
FOR THE POTATO SKINS
10

medium russet potatoes

olive oil

salt & pepper
FOR THE GREEN CHILI CHEESEBURGER FILLING
1

tbs

olive oil

1

lb

lean ground beef

1

small onion, chopped

1

tbsp

chili powder

1

tsp

salt & pepper

1

7 oz. can

Rio Luna Organics Large Diced Green Chiles

1

cup

prepared queso or cheese dip

see below for a homemade version

8

oz

Colby-Jack cheese, shredded
GARNISHES
Rio Luna Nacho Sliced Jalapeños

red onion

scallion

diced tomato
DIRECTIONS
PREPARING THE POTATO SKINS
Preheat oven to 400°F (200° F). Rub the potatoes with olive oil, season with salt and pepper and poke each with a fork on each side. Place on a baking sheet and bake for 45 minutes or until fork-tender. Remove from oven and allow to cool. While the potatoes are baking make the chili cheeseburger stuffing.

When the potatoes are cool enough to handle, slice them in half carefully without tearing the skin. Scoop out the potato meat with a small spoon leaving about 1/4 inch along the bottom of each skin. Place them back in the oven for 15 minutes or until lightly browned along the edges. Set aside until ready to stuff.
MAKING THE GREEN CHILE CHEESEBURGER MIXTURE
Heat a large skillet on medium-high heat. Add the oil to the pan with the ground beef and onion and spices, turning and breaking up the meat with a spatula as you go (about 6-8 minutes). Once the beef is browned add the green chiles and then the cheese dip. Thoroughly mix. Turn heat off and begin stuffing potato skins.
STUFFING THE POTATO SKINS
Spoon a small amount of the beef mixture into each of the potato skins packing down gently. Sprinkle with shredded Colby-Jack cheese and broil for 3 to 5 minutes or until cheese is melted and slightly brown. Remove from the oven and add garnishes. Enjoy!
Video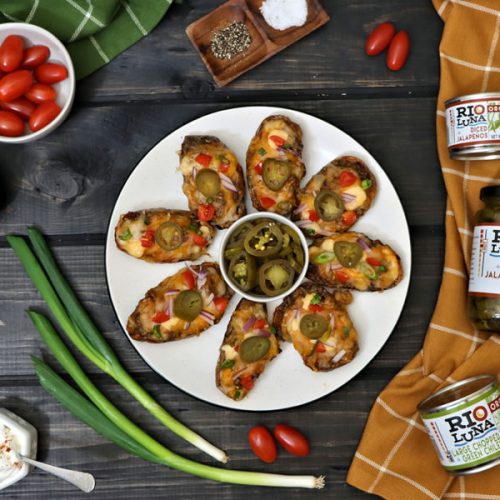 Hot Cheese Dip
Ingredients
2

tbsp

butter

2

tbsp

flour

3/4

cup

half & half or milk

4

oz

cream cheese

4

oz

Colby-Jack cheese, shredded

4

oz

American Cheese, torn in quarters

salt to taste
DIRECTIONS
MAKING THE CHEESE DIP
In a small saucepan on medium heat, melt the butter. Add the flour and whisk together until a paste also known as a roux forms. Continually whisking, add the half & half, and the cream cheese. Lower the heat if it begins to bubble. Once the cream cheese is incorporated, add the rest of the cheese and whisk until it is all melted, smooth and combined. Taste and season with salt if needed. Your cheese dip is ready!
Notes
I like to blend cheeses but Colby-Jack or American cheese are both delicious on  their own in this recipe. Monterrey Jack and Cheddar work great too!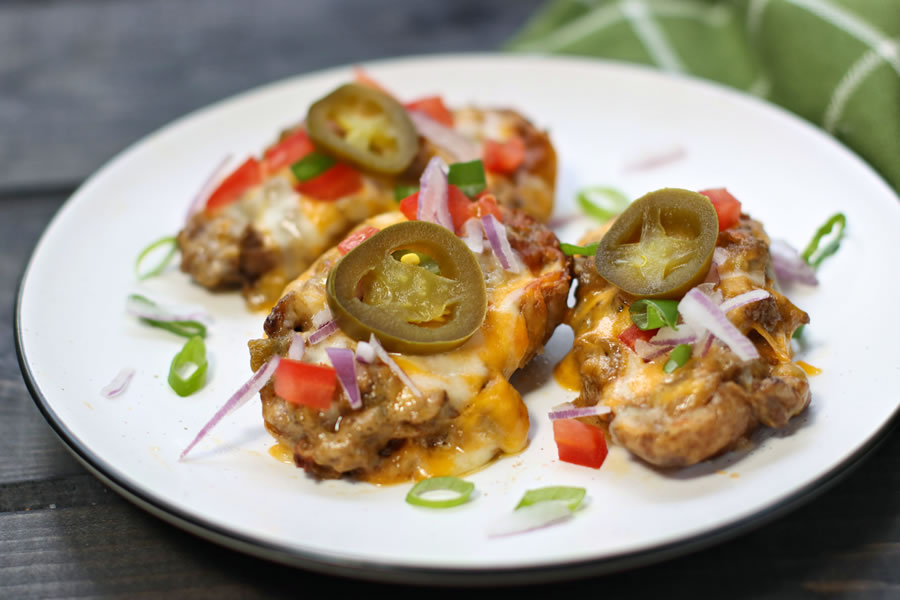 Want to "Unlock the Power of Peppers" in your next Tailgating or game day recipe?
For more great pepper recipes and tailgate party entertaining tips, follow Rio Luna Organic Peppers on Facebook and Instagram
To learn more about Rio Luna Organic products visit riolunapeppers.com