Better Living uses affiliate links. If you make a purchase through them, we may receive a small commission (for which we are deeply grateful) at no cost to you.
I love to eat Greek yogurt as a healthy and satisfying afternoon snack with some walnuts and a little drizzle of honey or fresh fruit. But Greek yogurt isn't just a quick tasty snack or easy breakfast. It's also a versatile and healthy powerhouse pantry staple. Not only can you add it in place of other ingredients to your favorite dishes but it's also packed with protein and healthy probiotics that may give your gut health a boost. Today we've partnered with Delta® Greek Yogurt, a delicious and authentic Greek yogurt just introduced to the U.S., to bring you a recipe that uses Greek yogurt in a way that you may not have thought of before – mac & cheese! Combining the flavors of mac & cheese, spinach and artichoke dip, and the creamy richness of Greek yogurt, this Greek Yogurt Spinach and Artichoke Mac & Cheese recipe is so satisfying and easy to prepare. Definitely give it a try!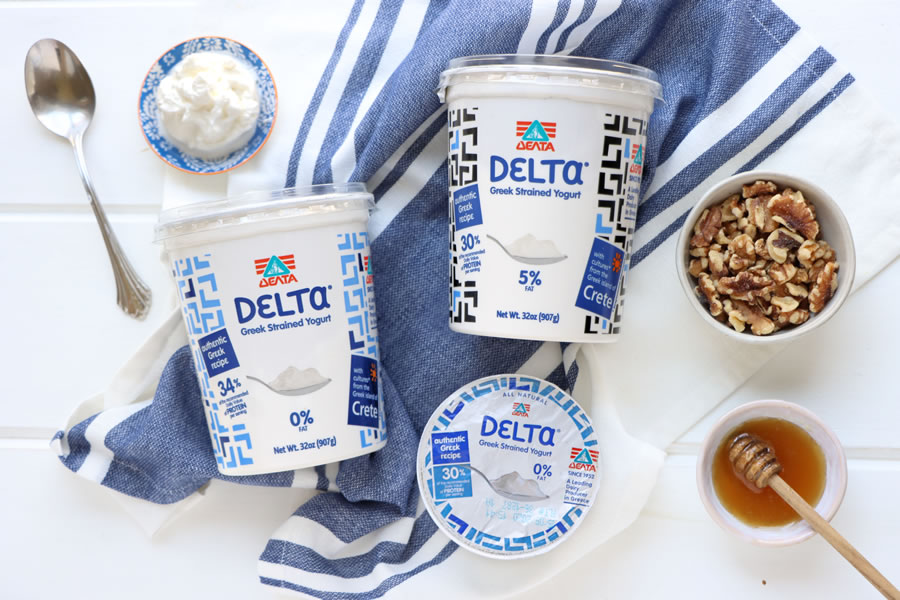 And call me crazy but, if I'm eating Greek yogurt and using it in my cooking I want to know that I'm eating the real stuff. Delta has been making yogurt in Greece for nearly 70 years, and now they are making it in the US.  Delta® Greek Yogurt only uses cultures (the good bacteria that turn milk into yogurt) from Greece's largest island, Crete.  Greek families have been using these cultures to make yogurt for hundreds of years. The result is a rich and creamy all-natural probiotic-rich yogurt that's absolutely delicious and authentically Greek through and through. For me, it was love at first bite. It also doesn't have that unpleasant sourness you might have tasted in other Greek yogurts. It's just smooth with a super pleasant tang.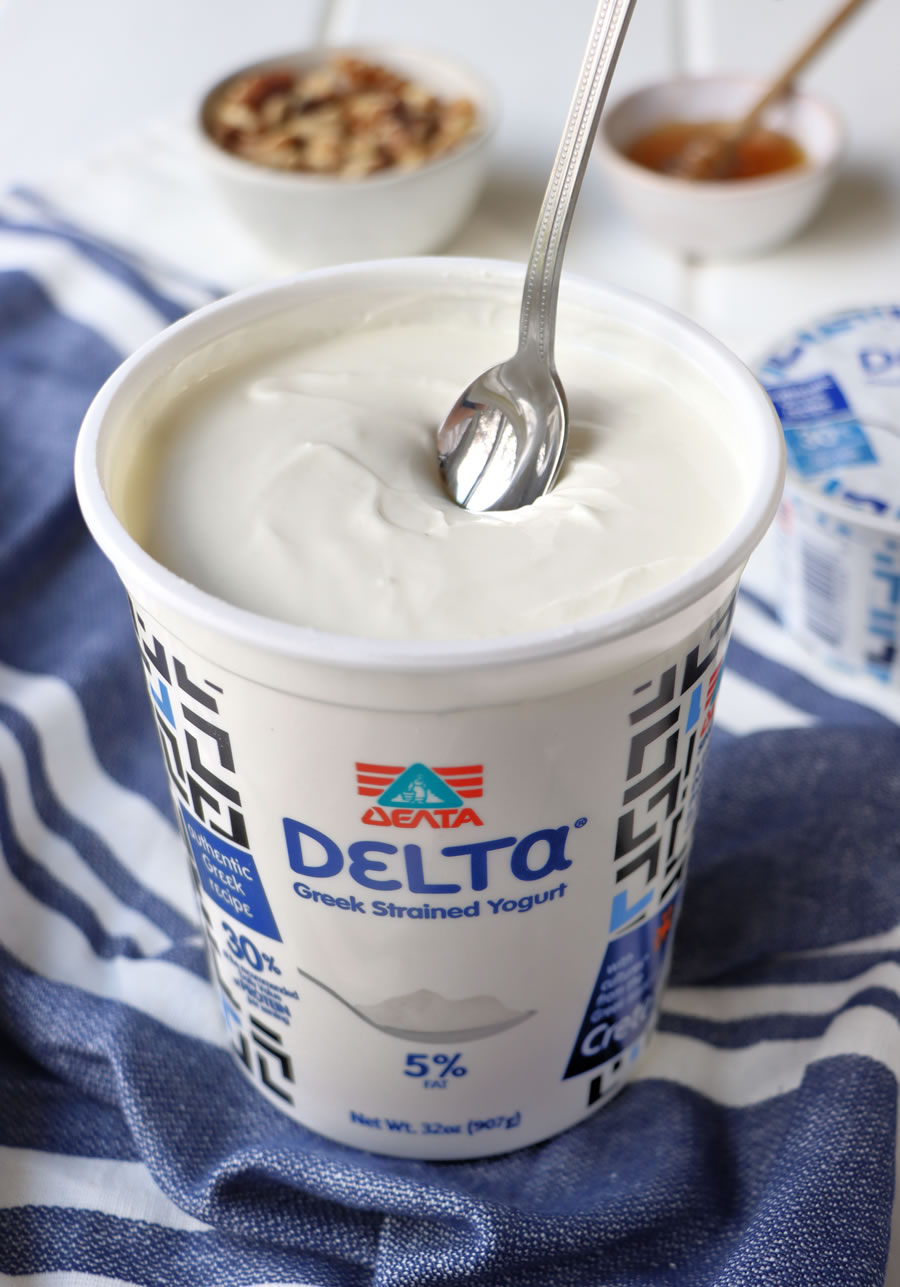 What Makes Greek Yogurt So Thick?
You may have noticed that one of the things that makes Greek yogurt different from other types of yogurt is how dense and thick it is. Traditional Greek yogurt is made thick by a straining process that removes its whey, a milk protein and liquid byproduct of yogurt making. Whey also contains lactose, a type of sugar found in milk. Straining to remove the whey not only reduces the amount of sugar in the yogurt, but it's what gives it that thick richness you don't see in other yogurts.
But just like everything else, not all Greek yogurt is made equally. Lots of popular so-called Greek yogurt brands skip this step and add thickening agents instead, usually in the form of guar gum, milk protein concentrate, starches from corn or tapioca. Start checking labels you might just be surprised who's trying to pull a fast one.
But if you're into real food, you will appreciate that Delta® double strains their yogurt the traditional way to remove whey instead of taking short cuts with thickening agents.
We also love that Delta® Greek Yogurt is:
Non-GMO

High in protein and beneficial probiotics

Free of preservatives, sweeteners and artificial flavors

No artificial growth hormones

Gluten-free

Such a versatile healthy ingredient!
You really have to try it to taste the difference.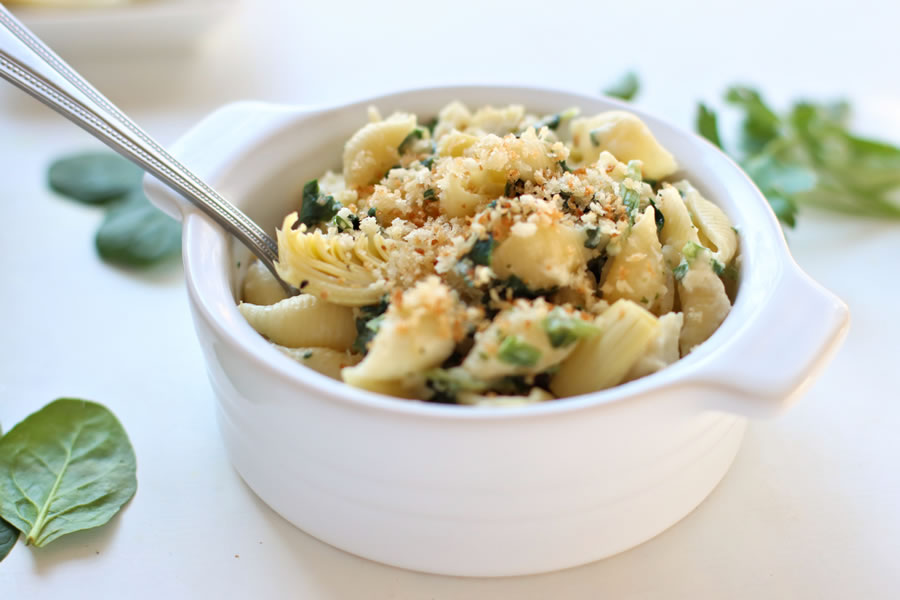 There's Lots Of Ways To Use Greek Yogurt In The Kitchen!
Greek yogurt is delicious with fruit or honey and makes an amazing base ingredient for dips (Hello tzatziki!). But you can also use Greek yogurt anywhere you use thick and creamy ingredients like sour cream, mayonnaise or whipped cream.
You can also use Greek yogurt to:
Thicken and add extra protein and fat to smoothies

Top chili instead of sour cream

Use in baked goods and frostings

Add to salad dressings

Use in sandwich salads like chicken, tuna, or egg

Add a dollop to soups when cooking or before serving 
And also use Greek yogurt to:
Add extra creaminess and protein to pasta dishes like mac & cheese. Which brings us to our recipe!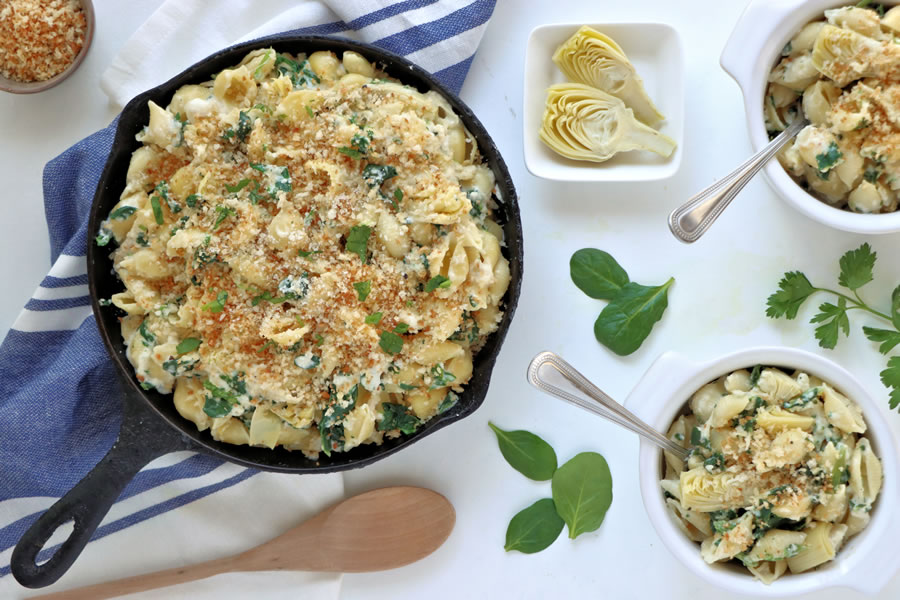 Let's Make Some Mac & Cheese!
One of the creamiest and most satisfying dishes out there is everyone's favorite comfort food, mac & cheese! And right now I think we could all use a little comfort.
This recipe for Greek Yogurt Spinach and Artichoke Mac & Cheese combines the flavors of mac and cheese with the flavors of spinach and artichoke dip. Greek Yogurt adds an extra layer of creamy comfort and extra protein to boot. 
The ingredients for this recipe shouldn't be too hard to get a hold of and you may have most of them in your pantry already.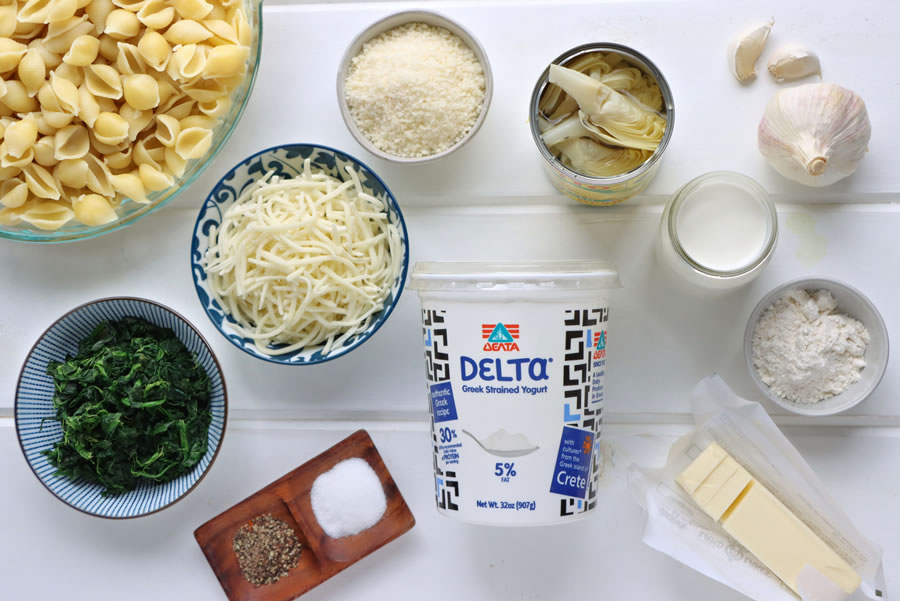 Some of the ingredients you'll need are:
Greek Yogurt – Delta® Greek Yogurt comes in 5% or 0% fat. I like the 5% but 0% is a good option if you're looking to cut down on fat.
Spinach – We used frozen spinach that's been thawed. Be sure to drain completely and squeeze out as much water as possible.
Artichokes – Canned artichokes work great in this recipe. If they're whole, cut them into quarters. Marinated jarred artichokes would also work well and add even more flavor.
Cheese – We used a combo of grated Parmesan cheese and Monterrey Jack.
Garlic – Fresh cloves will do, but garlic powder is nice too!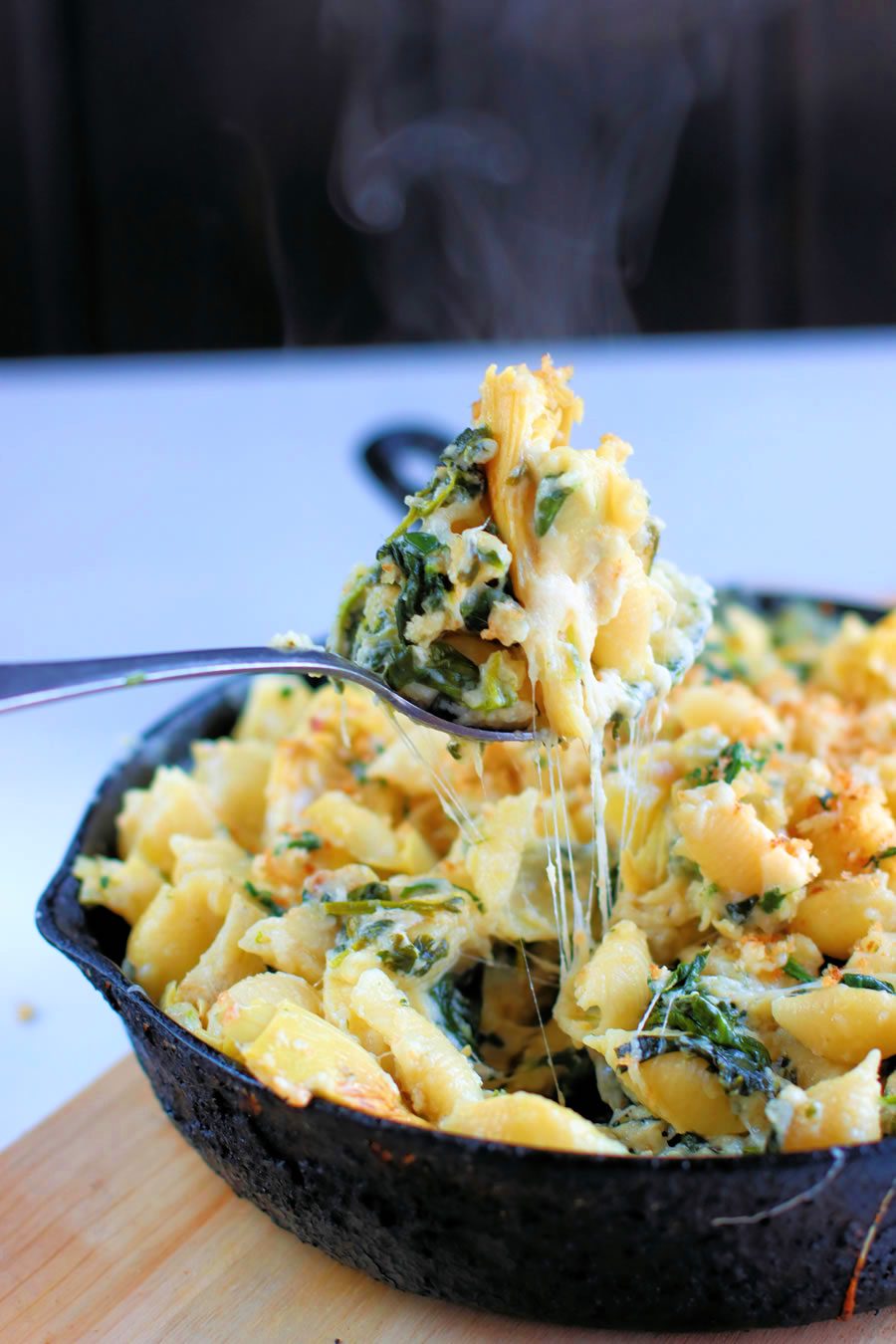 GET THE RECIPE!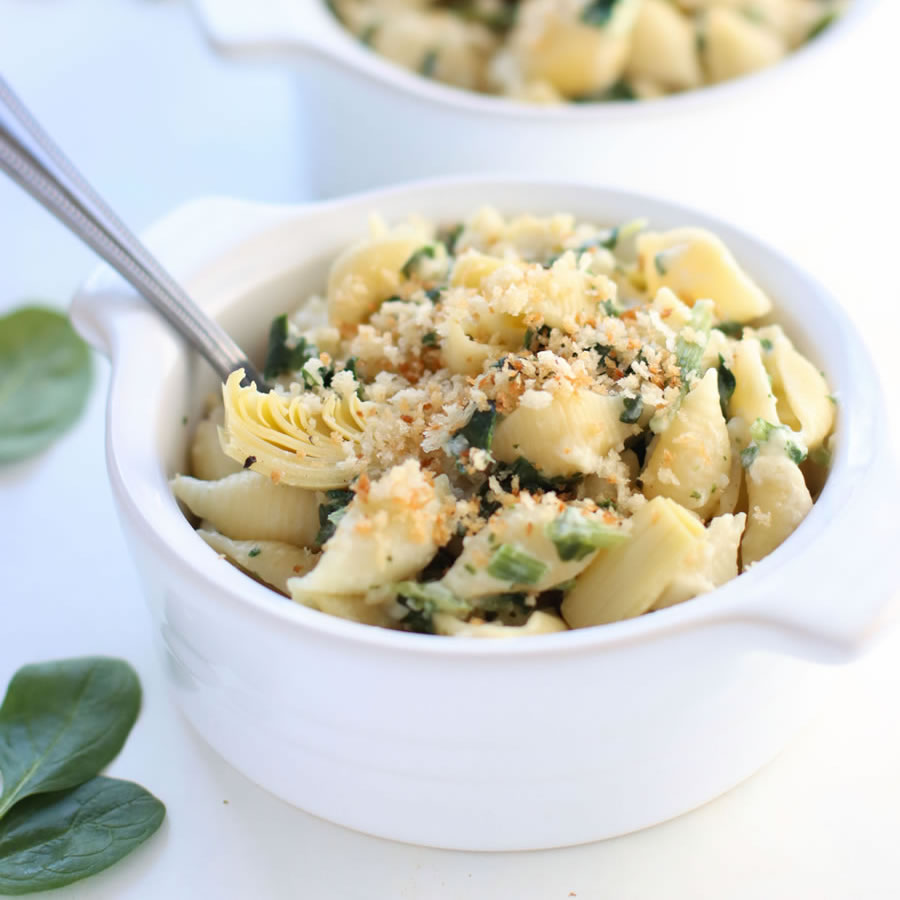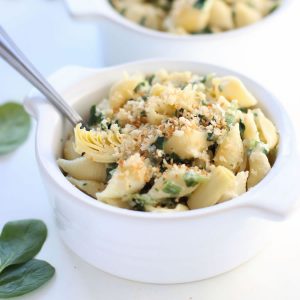 Greek Yogurt Spinach & Artichoke Mac & Cheese
Healthy Greek yogurt adds a creamy richness to this comforting mac and cheese that made even better with the addition of spinach and artichokes!
Ingredients
Mac & Cheese Ingredients
2

tablespoons

olive oil

1-14

ounce can

artichoke hearts, quartered and drained (may use marinated)

3

tablespoons

butter

2

tablespoons

flour

3

cloves

garlic

minced

1 1 /2

cups

milk

1 1/2

cups

Delta Greek Yogurt

2

teaspoons

hot sauce

2

teaspoons

onion powder

1-10 oz

package

frozen spinach, thawed and drained

¾

cup

Parmesan cheese, grated

2

cups

shredded Monterrey Jack cheese

divided

8

oz

shells or elbow macaroni, cooked

salt and pepper to taste
Crispy Panko Topping
1/3

cup

panko

3

tablespoons

butter
DIRECTIONS
Making The Spinach Mac & Cheese
Add olive oil to a large heavy bottomed pan on medium heat. Add artichokes and saute until brown on each side (about 2 minutes per side). Remove from pan.

Next add butter to the pan, allow to melt and add flour. Whisk together and then add garlic. Allow garlic to cook for one minute. Then add the milk, Greek yogurt, hot sauce, onion powder and cheeses. Stir to combine and than add the spinach and artichokes.

Add the cooked pasta to the pot and toss evenly to combine all the ingredients heating evenly. Serve with the buttered Panko Topping sprinkled on top.
Crispy Buttered Panko Topping
Melt butter in a pan over medium heat. Add panko and stir into butter coating evenly. Lower heat and allow panko to toast turning a light brown. Remove from heat and set aside.
* This is a sponsored post written by me on behalf of Delta® Greek Yogurt.