Better Living uses affiliate links. If you make a purchase through them, we may receive a small commission (for which we are deeply grateful) at no cost to you.
* This is a sponsored post written by me on behalf of Delta® Greek Yogurt.
Super delicious, thick, and oh so creamy, Greek yogurt is one of my favorite ingredients to use in the kitchen. It's the kind of thing that's healthy but tastes like you're eating something way more decadent and naughty. It's great in smoothies, parfaits, dressings, dips, or swirled into soups, but you can also use it to add creaminess and body to recipes like mac and cheese or as a substitute for sour cream on baked potatoes. But for a healthy-ish person like me, who balances eating clean with chowing down on comfort food too, Greek yogurt is one of my favorite ingredients that allows me to do both. And it especially shines in dessert recipes like this tangy and refreshing Greek Yogurt and Lemon Cream Pie recipe at the end of this post. A lightened up version of a typical cream pie, Greek yogurt adds a creaminess that is simply perfect. Keep reading to learn how to spot real Greek yogurt on your next grocery run. Here's what to know:
Many of the Greek yogurts on the grocery store shelves aren't real Greek yogurt.
Just read the label. If thickening agents like guar gum, milk protein concentrate, corn, or tapioca starch appear in the ingredient list on the label  – it's not real Greek yogurt. Step away. Companies who use these "fillers" are trying to save time and money by passing off something that isn't the real deal, but quite honestly most of us wouldn't know the difference. Sneaky, sneaky.
Authentic Greek Yogurt is made by a special process.
Ever notice how beautifully thick Greek yogurt is? For centuries yogurt made in Greece has been strained to remove its whey. This lactose-containing milk protein and the same watery liquid that forms on top of yogurt needs to be strained properly to remove it. When the whey is properly removed the traditional way you get Greek yogurt that's super-rich and creamy, with less sugar and more protein.
So where do you get the real stuff? Delta® Greek Yogurt is a company that has been making yogurt in Greece for over 70 years. Recently they brought their techniques to the US to bring us real authentic Greek yogurt. And it tastes incredible. Made with yogurt cultures directly from the largest Greek island of Crete, their yogurt is milder and way less sour with a creamy, feather-light texture that I haven't tasted in other Greek yogurt products. They also double strain their yogurt which means there's never any need for thickeners unlike some of the other guys in the biz. All their yogurt has all-natural ingredients and is free of artificial growth hormones, flavors, sweeteners, and preservatives, and is gluten-free and non-GMO.
It's absolutely delicious and now we can all get some!
Greek Yogurt has health benefits!
Greek yogurt is rich in protein and is a good source of vitamins B12, calcium, iodine, and potassium. It's also chock full of the beneficial gut and immune-supporting probiotics that most of us just don't get enough of and can be negatively affected by things like stress, sickness, poor diet, and prescription drugs. Adding a little Greek yogurt to your daily routine can do your body good. One 5.3oz cup of plain Delta® Greek Yogurt can supply 30% of an adult's daily protein needs for the day!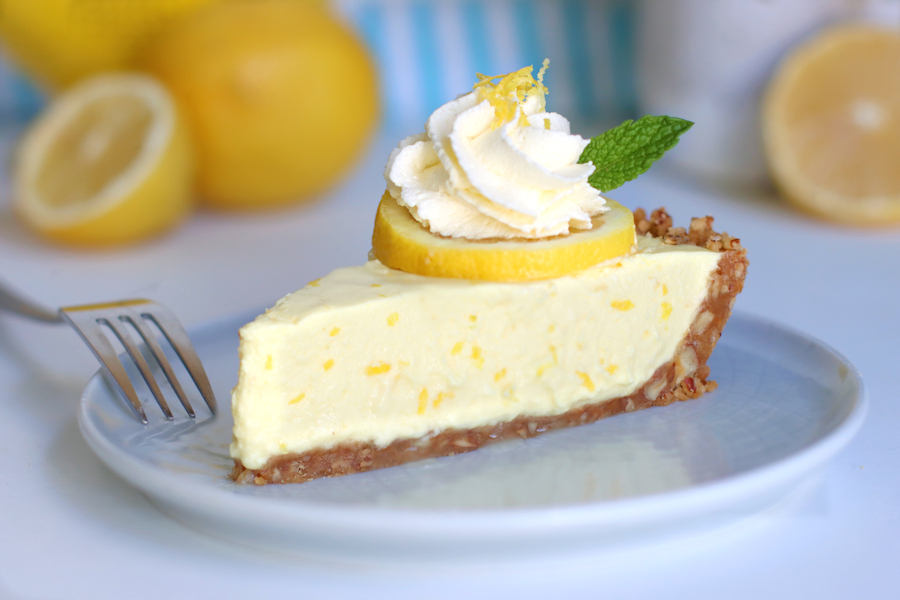 Now on to the Greek Yogurt Lemon Cream Pie!
If you haven't thought about using Greek yogurt in your healthy-ish desserts, it's time you start. We blended 0% Fat, Plain, Delta Greek Yogurt with prepared lemon curd, lemon juice, and folded it with whipped cream. This tangy lemon filling then gets poured into a graham cracker crust and chilled for a couple of hours. Before serving top with a few dollops of whipped cream and lemon wedges for a cool and refreshing dessert where Greek yogurt is the star.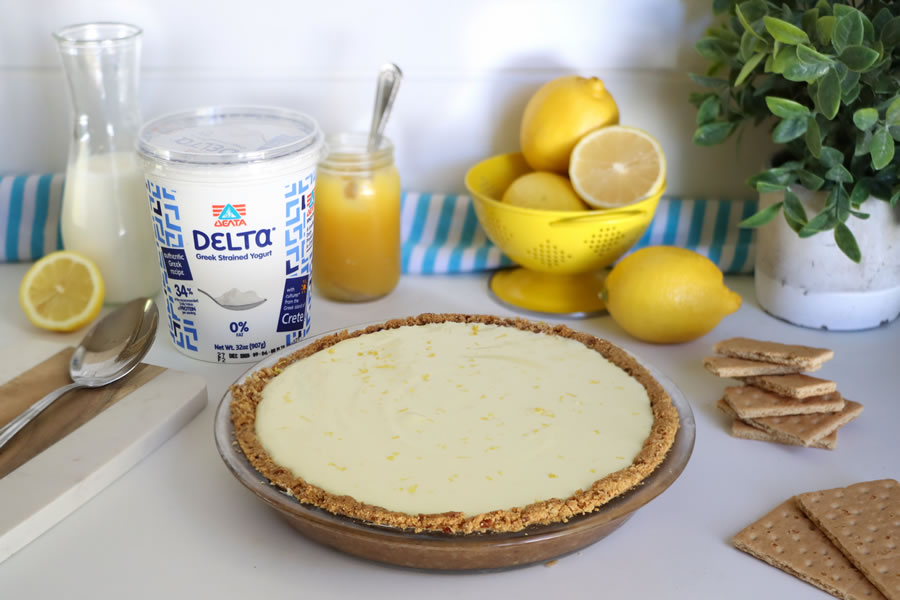 Things you'll need:
Graham Cracker Crust – To make things easy use a prepared crust or simply follow the recipe to make your own. You'll need graham crackers, brown sugar, and melted butter.
Delta® Greek Yogurt – We used 0% Fat Plain Delta Greek Yogurt. It's so delicious you won't miss the fat or calories.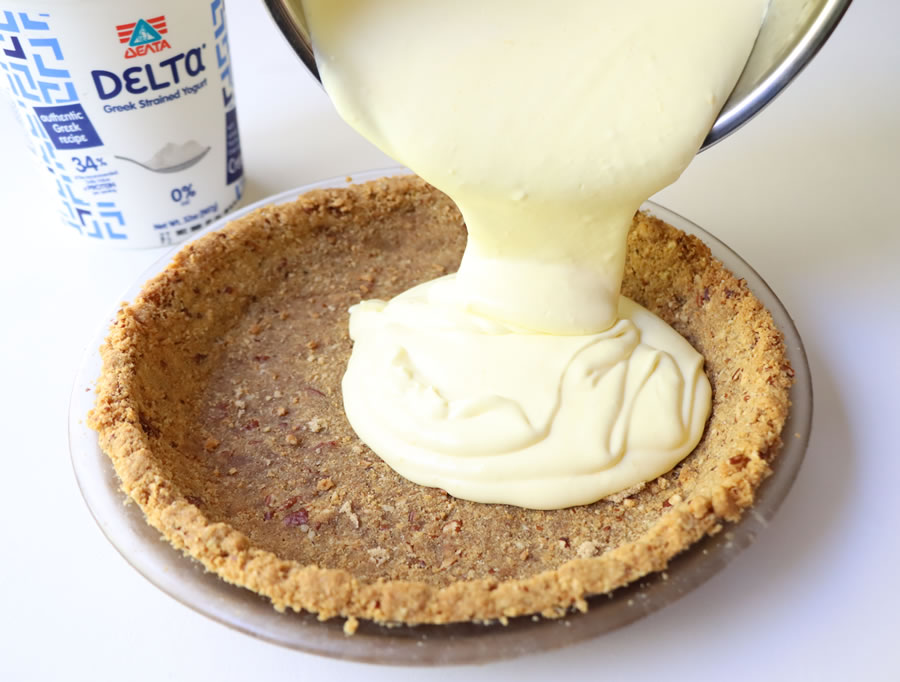 Prepared Lemon Curd – You can always prepare your own, but there's really no need. Just grab one off the shelf.
Lemons – For extra tang and concentrated lemon flavor we added some fresh lemon juice and lemon zest. Wedges can be used to decorate the pie before serving.
Powdered Gelatin – This helps the pie to set. Substitute one envelope if that's what you have on hand.
Heavy Cream – It's a cream pie, so whipped cream is a must. It's simple to make, but there are a few alternatives. You can substitute prepared whipped topping. For healthier versions look for non-dairy alternatives.
GET THE RECIPE!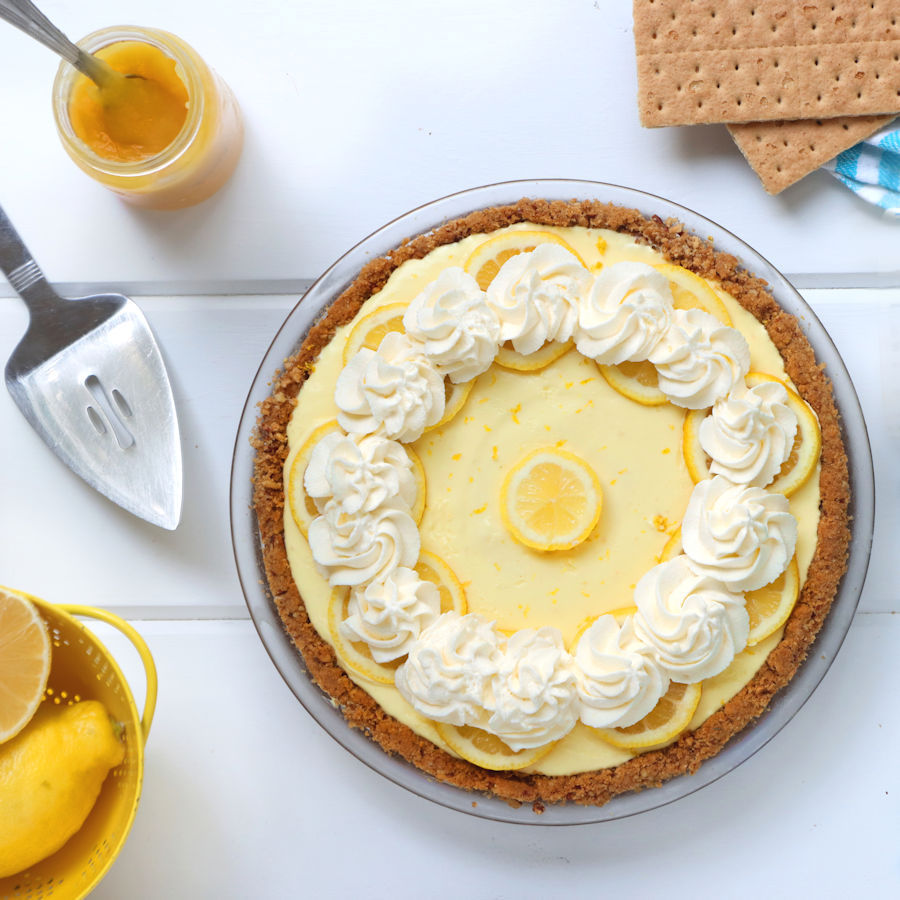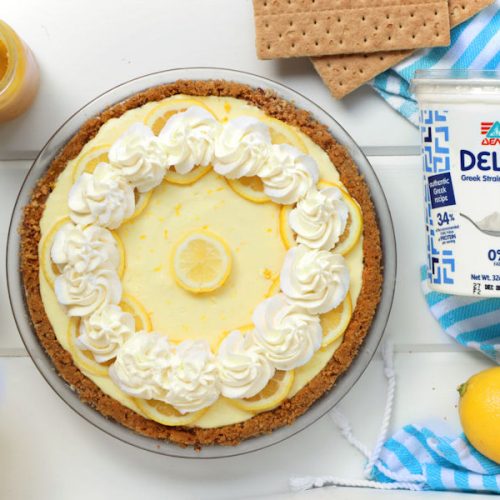 Greek Yogurt Lemon Cream Pie
This creamy pie made with rich and creamy Delta Greek Yogurt is a little bit tangy, a little bit sweet and super refreshing. We used 0% fat Greek Yogurt to keep things lighter, but 5% will do just fine. To speed things up, use a prepared graham cracker crust and prepared whipped topping instead of homemade whipped cream.
Ingredients
Graham Cracker Crust
1 1/2

cups

graham cracker crumbs

7

tbsp

melted butter

2

tbsp

brown sugar

1/8

tsp

salt
Pie Filling
1

cup

cold heavy cream

2

tbsp

powdered sugar

1 1/2

cups

Delta Greek yogurt

3/4

cup

prepared lemon curd

2

tbsp

lemon juice

2

tbsp

lemon zest

2

teaspoons

powdered gelatin
Pie Topping
1

cup

heavy cream

2

tbsp

powdered sugar

1

tsp

vanilla

lemon wedges
DIRECTIONS
Making the Graham Cracker Crust
Preheat oven to 325 degrees. Place graham cracker crust ingredients in a food processor and process until the crackers are crushed into a fine crumb. Add remaining ingrediants and then press into a greased 9-inch pie pan. You can used the bottom of a glass to get an evenly pressed bottom. Bake for 12 minutes or until lightly golden brown. Cool completely before filling
Making the Pie Filling
In a large bowl combine Greek yogurt, lemon curd and lemon zest. Set aside.

Sprinkle gelatin over 3 tablespoons of cool water in a microwavable bowl and allow to "bloom" for 5 minutes.

In the bowl of a stand mixer with the whisk attachment, whisk 1 cup heavy cream on high until stiff peaks form on high. Set aside in the refrigerator.

Next, heat gelatin and water in the microwave for 20 seconds. Add the lemon juice and whisk until completely dissolved. Let cool for 2 minutes and then whisk into the yogurt mixture.

Lightly fold in whipped cream until completely combined. Pour filling into prepared pie crust. Smooth evenly with a spatula and chill for a minimum of 3 hours or overnight. Setting it in the freezer can speed up setting time.
Pie Serving Suggestion
Beat 1/2 cup heavy cream on high with 2 tablespoons of powdered sugar and 1 tsp. of vanilla. Spread over pie or transfer to a piping bag to decorate and add lemon slices if desired. Enjoy!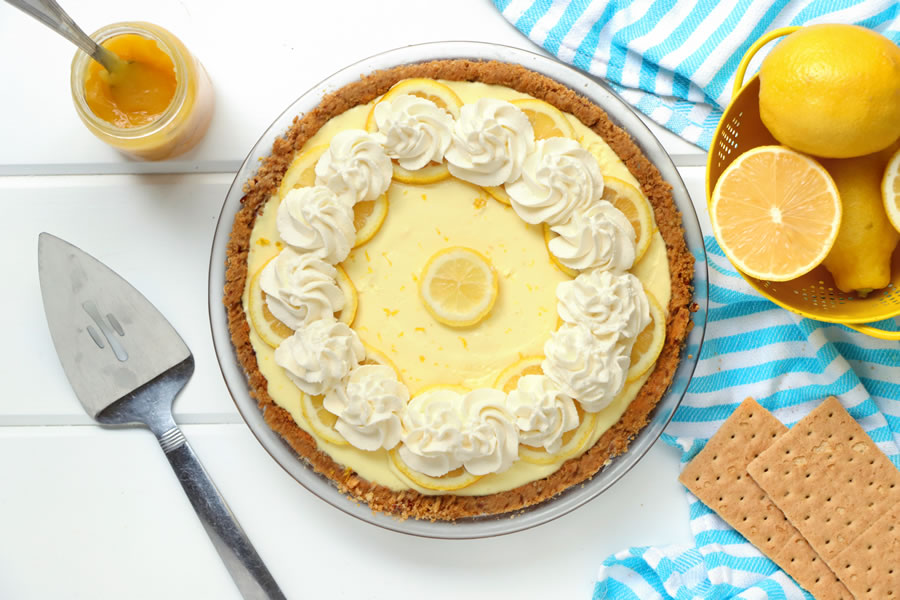 * This is a sponsored post written by me on behalf of Delta® Greek Yogurt.