Better Living uses affiliate links. If you make a purchase through them, we may receive a small commission (for which we are deeply grateful) at no cost to you.
*This recipe is sponsored by Smithfield® Marinated Fresh Pork. The opinions and text are all mine.
Summer's weather is certainly upon us. Today, the temperature was already in the 90's.  My car's thermometer actually read 100 degrees at one point and I thought I was hallucinating. As someone who prefers winter boots to sandals, I can say I was not a happy camper. And I certainly didn't want to slave in the kitchen cooking dinner.  For a hot weeknight dinner, I wanted something beyond easy to prepare with summery and refreshing flavors like lemon and fresh herbs.
Since Greek food is one of my favorite things to eat in the summer, I thought why not make a twist on traditional pork souvlaki. With traditional Greek pork souvlaki, pork loin (different from tenderloin) is marinated with lots of lemons, garlic, black pepper, and herbs cut into cubes, skewered and then grilled. Absolutely delicious, but I didn't want all the work. Not in this heat. I wanted real flavor, real fast.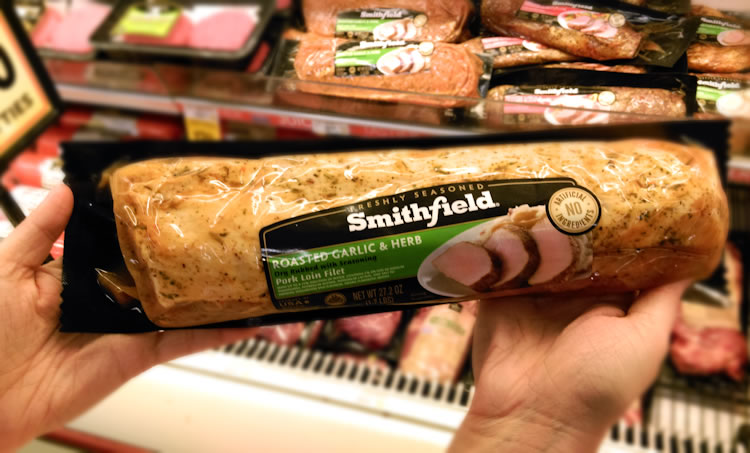 So I decided to make a quick and simple summer recipe with Smithfield Marinated Fresh Pork Loin Filet. I headed over to our local Safeway food store and chose Smithfield's Roasted Garlic and Herb flavor. The pork is already marinated with great flavors, so including a little fresh lemon, thyme and oregano is all I would need to add to make it a souvlaki in disguise.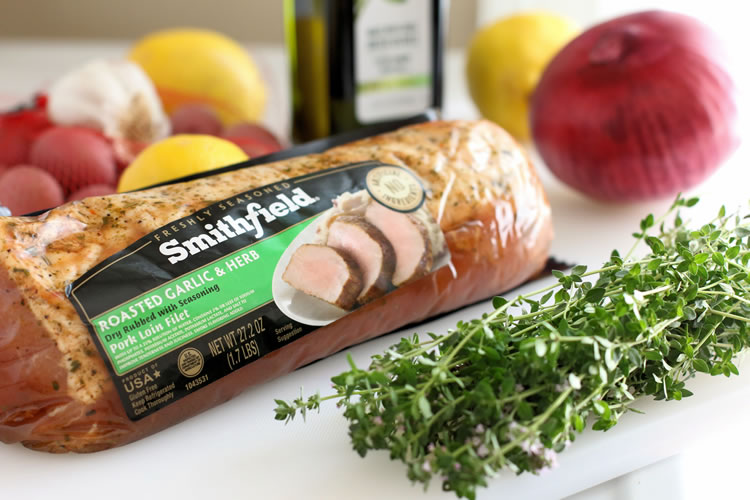 These marinated Smithfield's marinated pork products are great to have on hand for when you want dinner on the fly.  Plus they come in a variety of yummy flavors like Sweet Teriyaki, Slow Smoked Mesquite, Slow Roasted Golden Rotisserie and Applewood Bacon. You can cook them as is for dinner in a flash. Grill, oven or pan. It's your choice.
This Greek Style Pork Loin Filet recipe is really easy. Like I really don't have to measure anything easy. One of the best ways to cook a pork filet is by searing first and then finishing in the oven. This doesn't take long. Get a pan (ideally one like an iron skillet that can go right in the oven) and heat with oil on medium high and then sear the tenderloin on both sides until nicely browned (about 2-3 minutes each). This will give you a nice brown crust on the outside while staying moist and tender on the inside.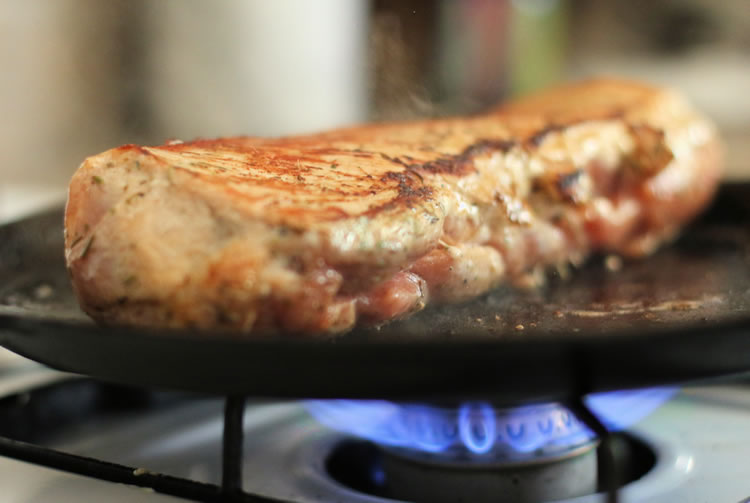 Before moving the pork to the oven I squeezed the juice of a large lemon. If your lemons are small use 2 or more. I also moved it to a baking pan with slightly higher sides than my skillet. This is completely unnecessary. Don't do what I did! I for some reason thought the juices would overflow, which they did not. Save time and a dish to wash!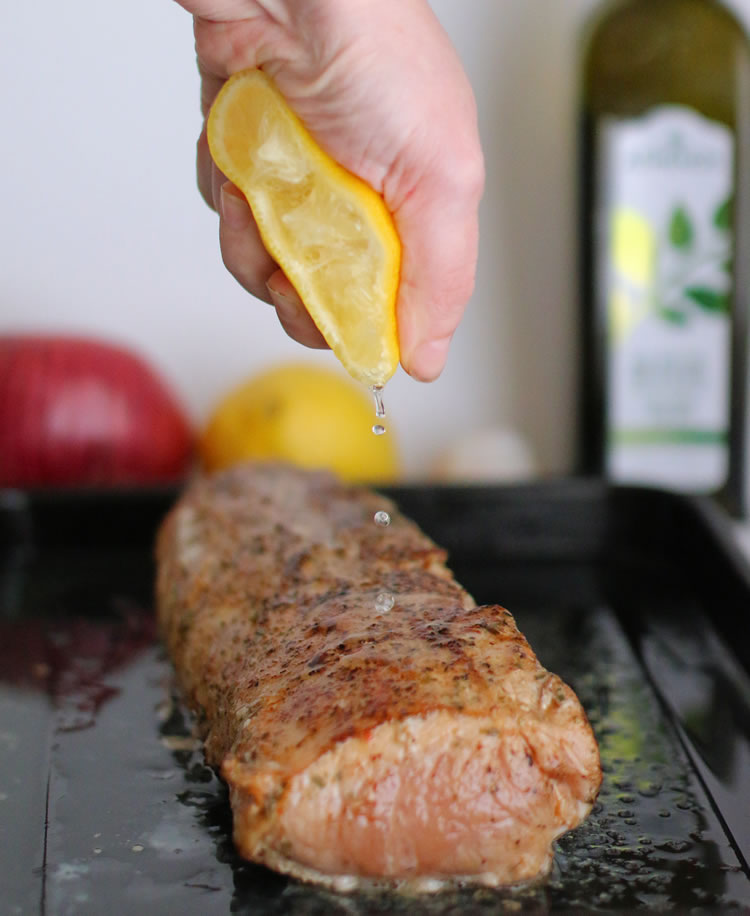 If you like a strong garlic flavor, this would be the best time to add it. Garlic powder or minced garlic will both do.  I then added some freshly chopped herbs for a little summer flavor…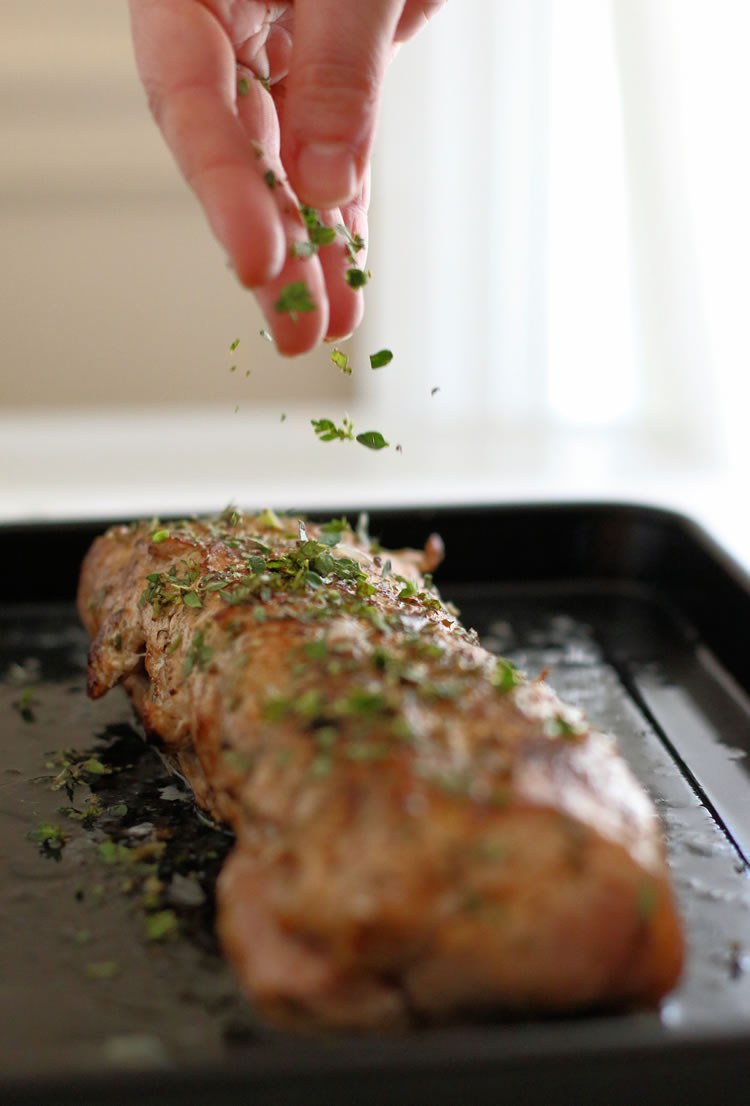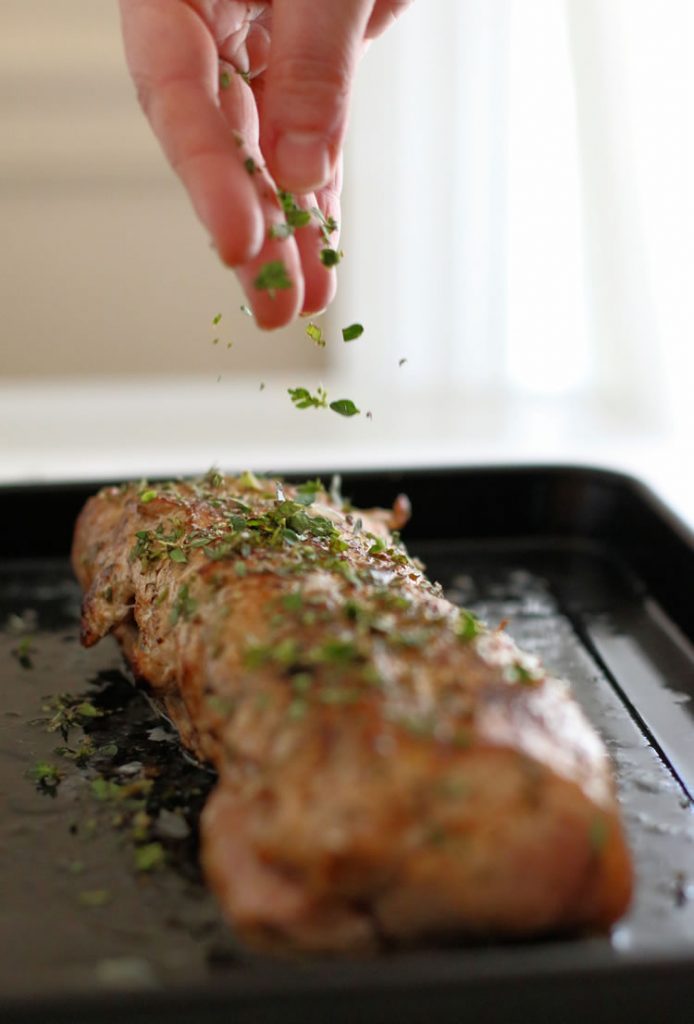 A little drizzle of olive oil to keep it moist and into the oven, it went for about 14 minutes at 350 degrees.  Be careful when cooking pork loin as it can overcook very easily. Tent with foil after removing from the oven to let the meat rest and reabsorb its juices. It will continue to cook internally even out of the oven.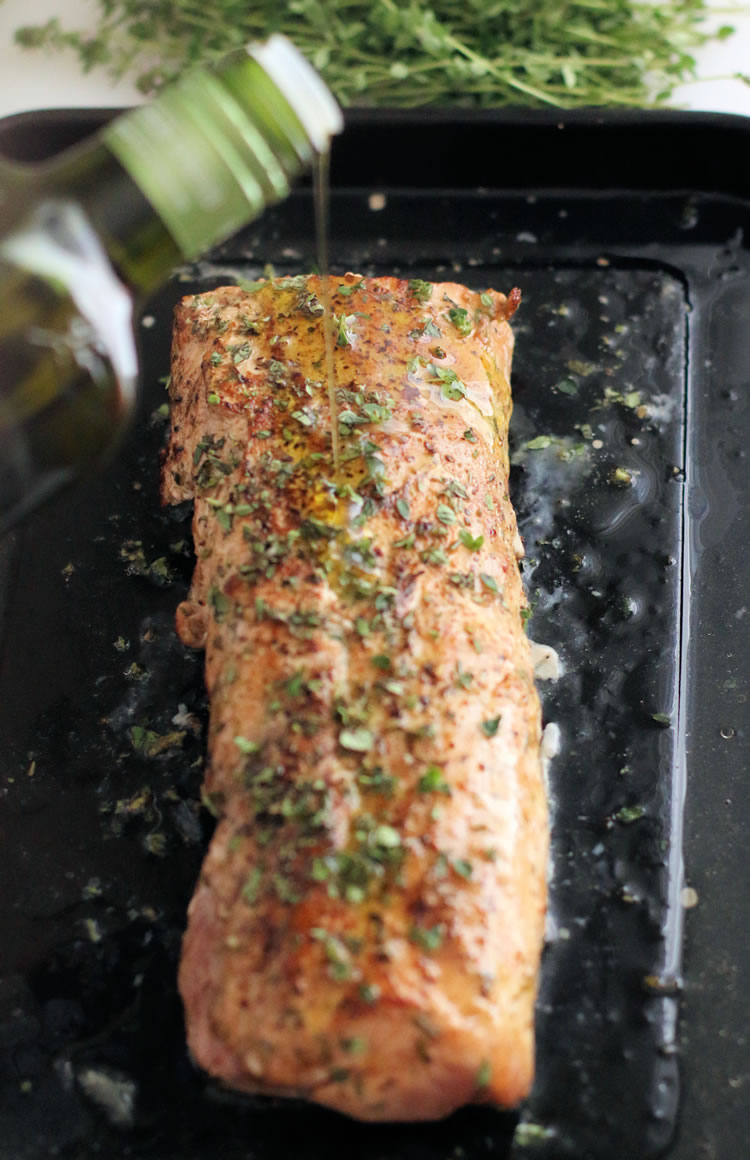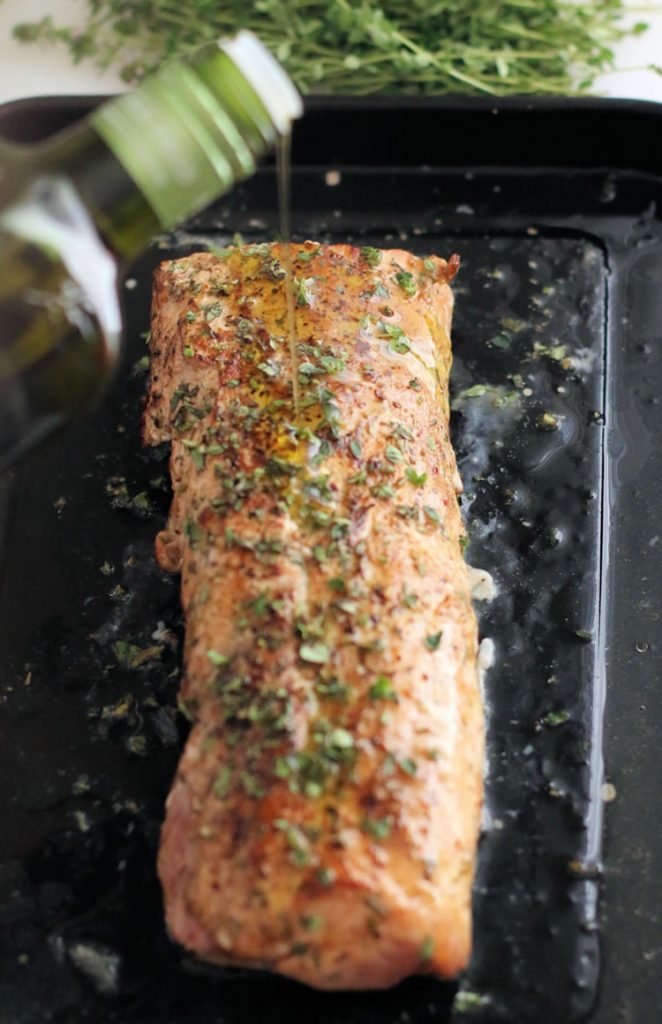 While the pork loin was cooking, I quickly got the Lemon Garlic Potatoes ready. I parboiled the potatoes for 5 minutes in salted water to make them cook faster in the pan.  These potatoes are perfectly bite sized. I threw them into the skillet, drizzled with olive oil, seasoned with salt, pepper, and began to pan roast them over medium high heat. When they were nicely browned I squeezed the juice of a large lemon and sprinkled some freshly chopped herbs into the pan, tossed to coat and cooked another 2 minutes to let the potatoes soak up all that lemony herby goodness.  To add another layer of richness, you could also add a little butter.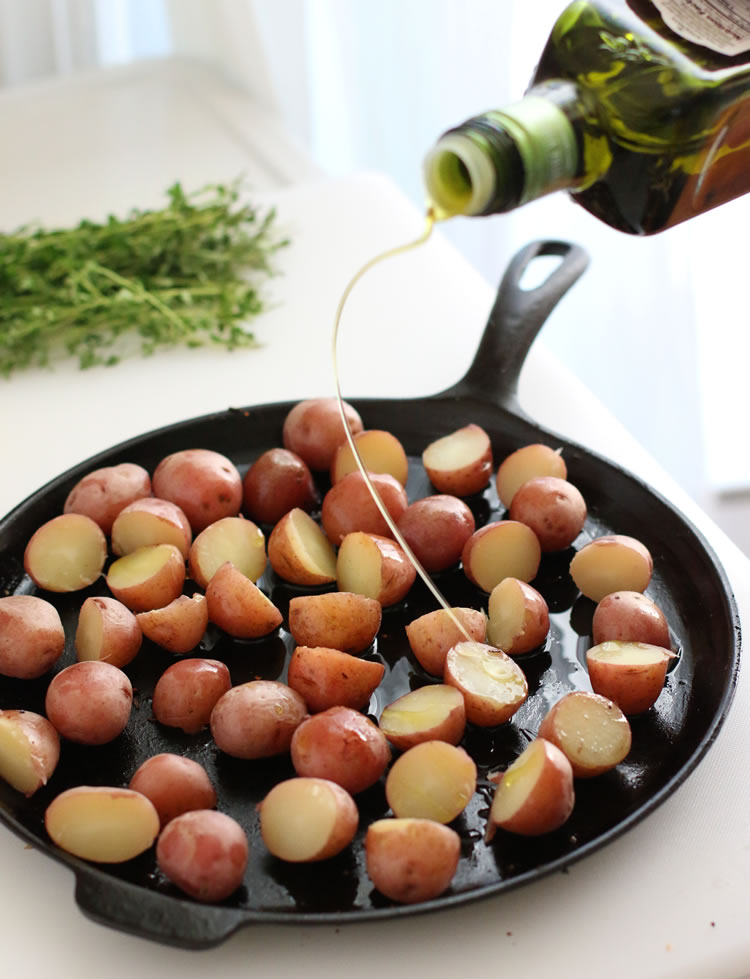 When everything was finished cooking I thought the pork loin would like to have some company and served it in the pan alongside the potatoes. I drizzled both with the pan drippings from the pork.  The lemon and herb flavors were delicious. The pork was moist and super tender. And the potatoes were little bites of goodness. A fresh summer meal with tons of flavor in a flash.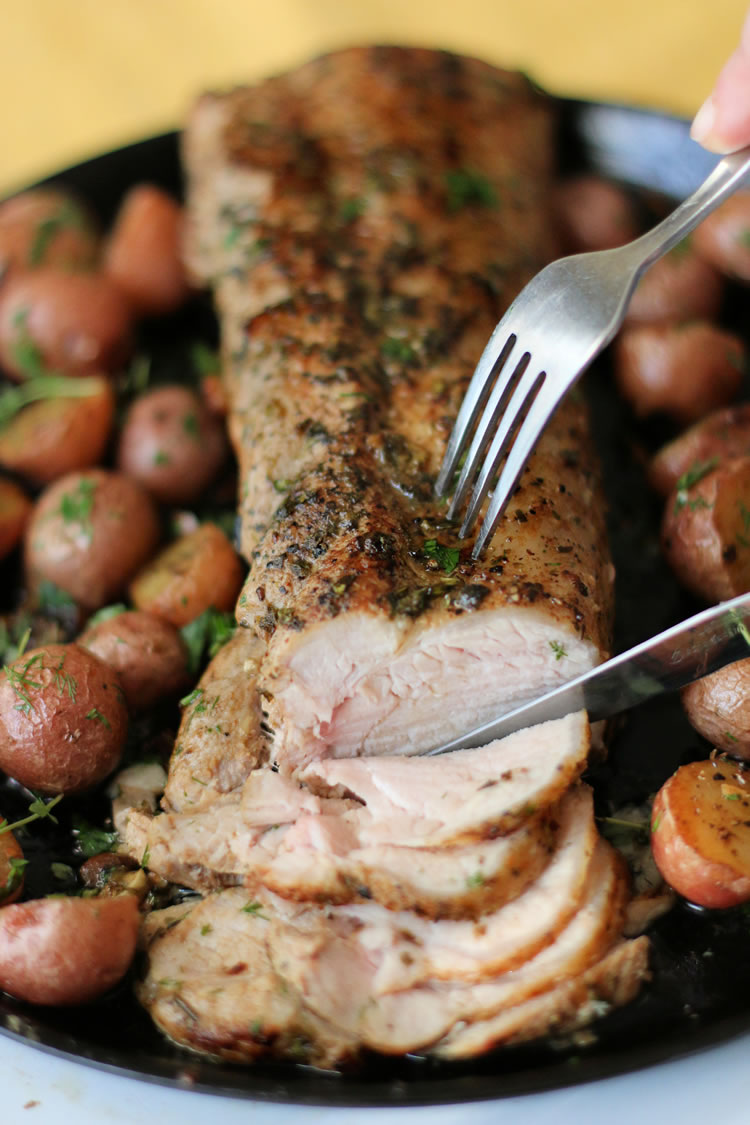 Want a complete Greek inspired summer dinner? Serve this Greek Style Pork Loin Filet and ? Lemon Roasted Potatoes along with traditional Greek salad, Tzatziki sauce and warmed pita bread. Enjoy!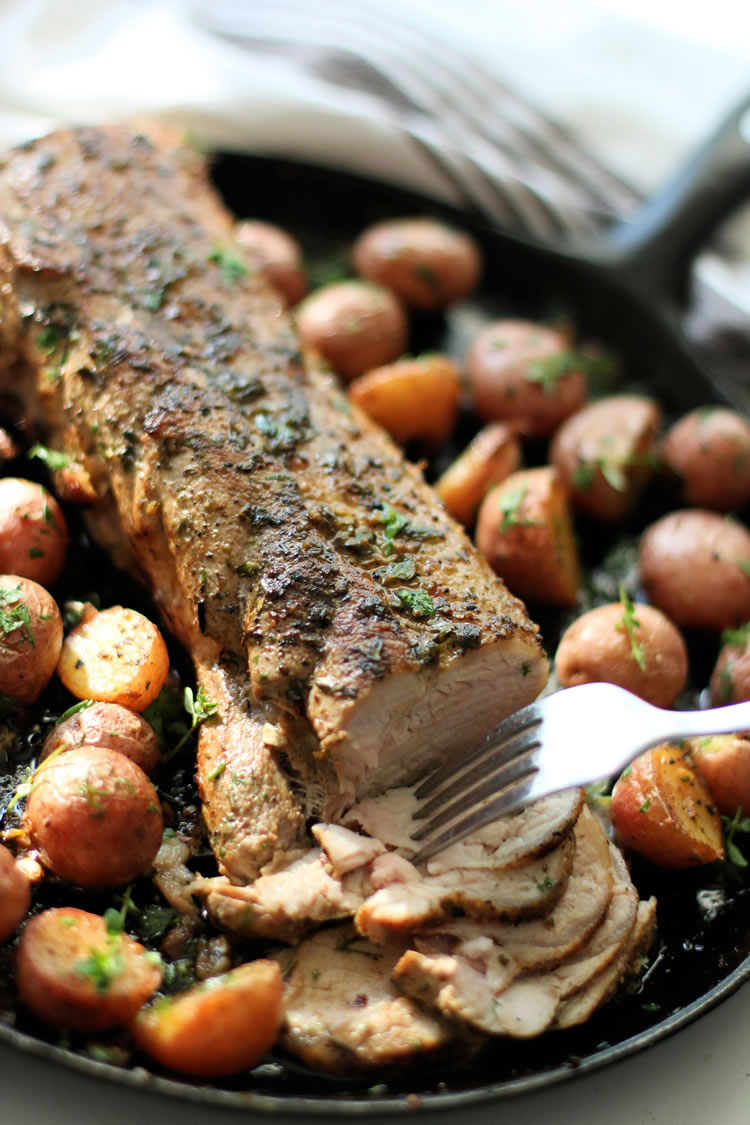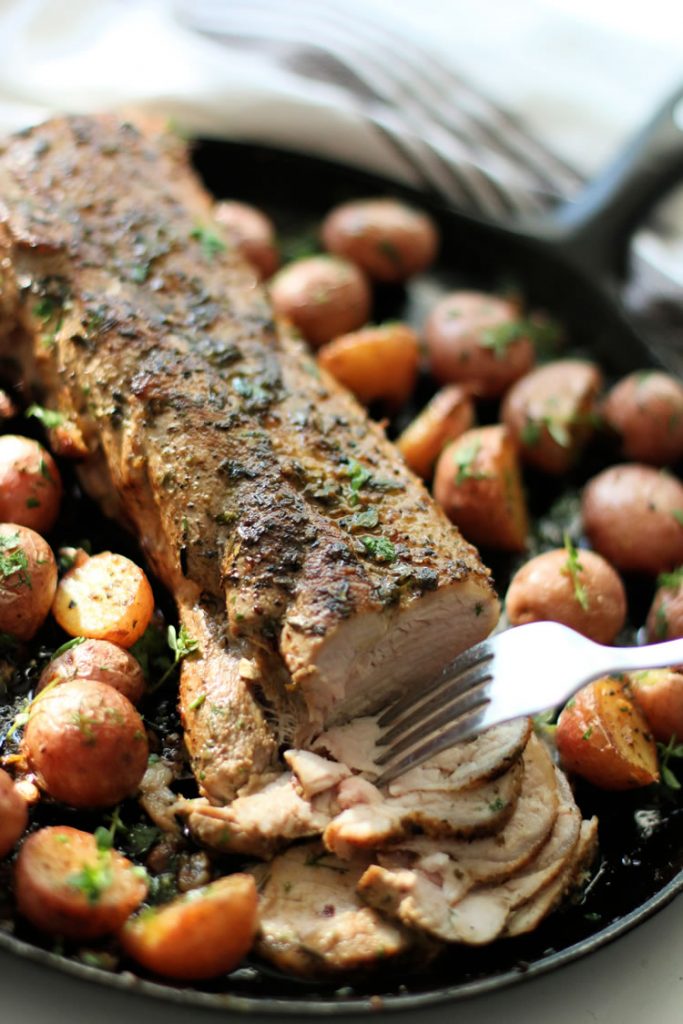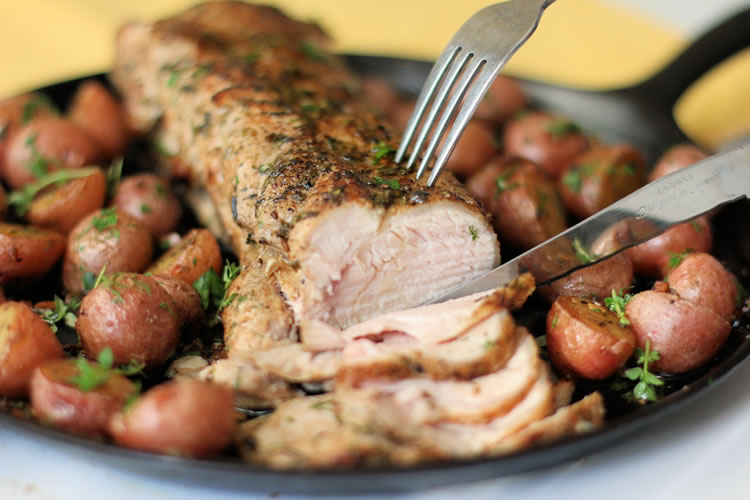 Greek Style Pork Loin Filet With Lemon Roasted Potatoes
A roasted garlic and herb marinated pork loin filet is baked with fresh lemon, thyme, oregano and served with lemon roasted potatoes perfect for a quick and delicious weekday dinner in less than 30 minutes.
Ingredients
For The Pork Tenderloin
1

Smithfield Roasted Garlic & Herb Marinated Pork Loin Filet

olive oil

1

large

lemon

1

tablespoon each

chopped oregano and thyme

salt & pepper
Lemon Garlic Potatoes
1

pound

potatoes (we used mini reds)

1

tablespoon

olive oil

1/4

teaspoon

cayenne pepper (optional and only if you want heat)

3-4

cloves

garlic, finely chopped

salt & pepper to taste

1

lemon

2

tablespoons

fresh herbs, chopped (oregano, thyme, dill)
DIRECTIONS
Making The Pork Loin Filet
Preheat oven to 350. At the same time heat a heavy bottomed pan or skillet on medium high. Remove the pork from its packaging and drain any liquid. Drizzle the pan with olive oil. When the oil is hot and glistening add the pork loin filet and sear for about 3 minutes on each side until nicely browned. Once seared, drizzle with a little more olive oil, the lemon juice and fresh chopped herbs. Add garlic powder if desired. Place in the preheated oven and bake for 12-14 minutes. You'll know the pork is done when the inside of the meat thermometer reads 145. Remove from the oven and tent with foil to rest while potatoes are cooking.
Making The Potatoes
Parboil the potatoes for 5 minutes in salted water. After 5 minutes, drain and let all the water evaporate. Toss with olive oil, garlic, pepper and salt and pan roast on medium high heat until fork-tender and nicely browned (about 8 minutes). Then add fresh lemon juice and chopped fresh herbs and toss to coat. Cook for 1 more minute and serve.

NOTES: Cooking time of the potatoes will depend on the size and type of potatoes. Cut potatoes that seem much larger than others to ensure they are not undercooked. For large potatoes cut them into wedges. For a quicker cooking option boil the potatoes until just about done, drain and then pan roast them instead of putting them in the oven.
To Serve
Slice the pork loin filet on a platter with the potatoes and serve. Garnish with more fresh herbs if desired. Enjoy with a Greek salad and warmed pita for a complete dinner!
? Want to take the Smithfield challenge "What Can You Do With 30?"
Smithfield is having a meal and cooking tips contest! They want to see how you would get real flavor real fast in ⏰ 30 minutes or less using their Marinated Fresh Pork.
For more 30-minute meal preparation ideas, and to submit your original recipe for a chance to win ? great prizes, zip over to www.SmithfieldRealFlavorRealFast.com.