Better Living uses affiliate links. If you make a purchase through them, we may receive a small commission (for which we are deeply grateful) at no cost to you.
*We would like to thank our friends at Tervis for sponsoring this post. The opinions and information presented here is our own.
While we're silently crying inside, and on the outside actually, that Game Of Thrones is soon coming to an end. But, we're also ecstatic that the final season of the most iconic show ever will be airing on April 14. If you're obsessed with all things Game Of Thrones like we are, then you've been probably been counting down the minutes to the new season by watching clips of pivotal scenes on Youtube and feverishly googling Game Of Thrones fan theories trying to figure out who will end up on the Iron Throne. We're also gearing up for the Game Of Thrones premiere by planning our watch party and shopping for some seriously awesome merch. And we found some!
With exclusive designs you won't find elsewhere, this Game of Thrones™ Collection from Tervis is what every GOT fan needs in their life. Fill these awesome Game of Thrones stainless steel tumblers with wine, water or ale, and they'll be sure to stay as cold as a White Walker for up to 24 hours, or as hot as the breath of Dany's dragons for up to eight. These renowned double-walled tumblers from Tervis are specially designed to keep your beverage super hot and/or cold, while resisting condensation and are also offered with some sweet designs.
While you might get one or two (or three) tumblers to designate as your Game Of Thrones watching cup, we think you'll find yourself using it every single day like we do. In fact, you won't be able to resist. We love them for everything from our morning brew to sipping our filtered water throughout the day while we plan world domination. If a cocktail somehow makes it inside, we wouldn't hate that either.
Here are a few of the exclusive designs from the Game of Thrones™ X Tervis Collection: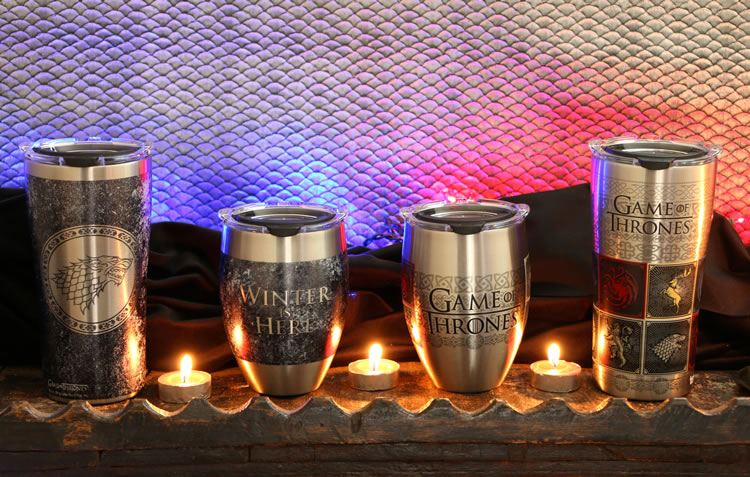 'House Sigils' Stainless Steel Tumblers
Which house do you align with? House Targaryen? House Lannister? See the sigils of all the houses united on this cool tumbler design. Test yourself to see if you really are the ultimate fan and see if you can name them all. It comes in 30 ounce, 20 ounce or 12 ounce sizes.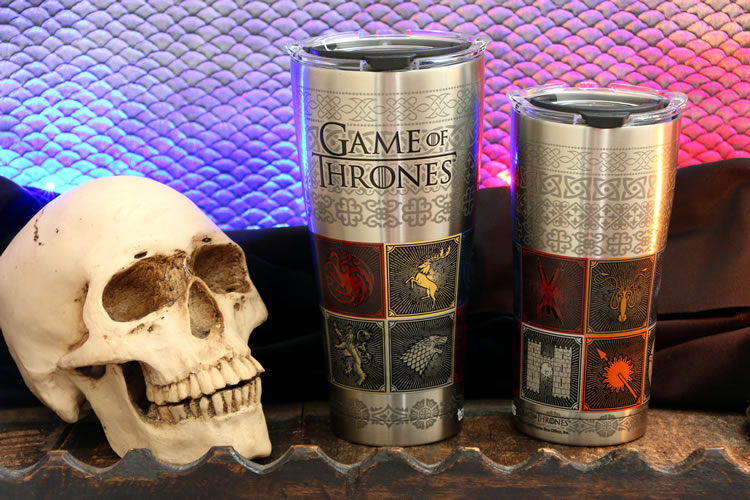 The design wraps around the back with the sigils of all the great houses of Westeros included.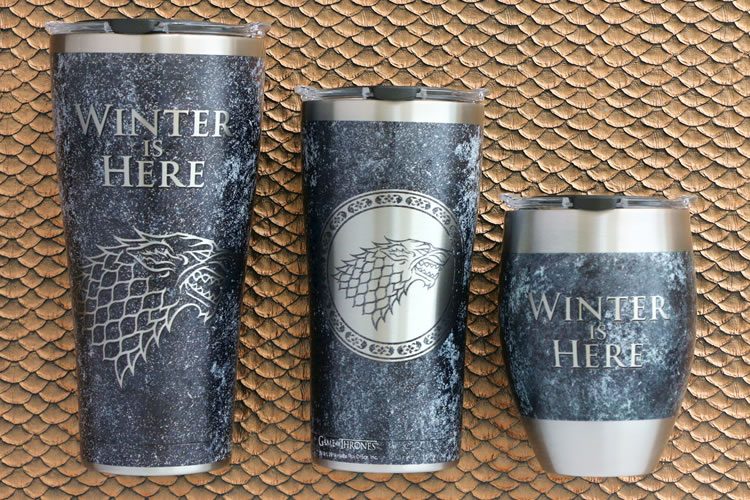 'Winter Is Here' Stainless Steel Tumblers
After seven long and glorious seasons of Game of Thrones, winter is finally here. Keep in mind, 'The North Remembers.' Show your loyalty to House Stark and the fine folks of Winterfell with this awesome 'Winter Is Here' Stainless Tumbler from Tervis bearing the dire wolf sigil of this great house. It's available in 3 sizes – 30 ounce, 20 ounce or 12 ounce sizes.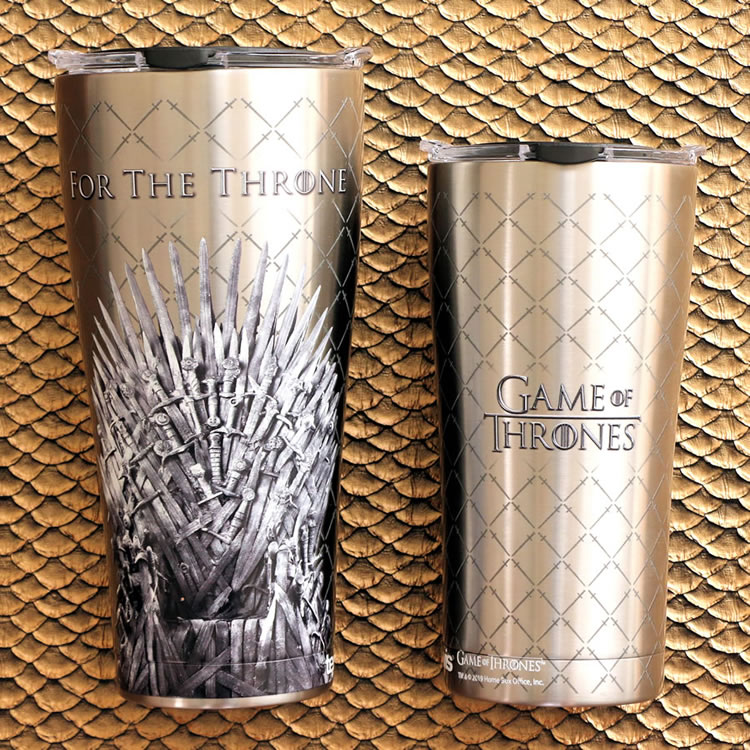 'For The Throne' Stainless Steel Tumblers
Many have battled, been betrayed and have died in the quest for the Iron Throne. Made from the blades of a thousand swords, who do you believe is the rightful heir? Do you know exactly what you would do for the throne? You may need some time to figure it out. For now you can score this awesome tumbler with an intricate design of the intimidating seat for the ruler of all the Seven Kingdoms. Available in 20 ounce and 30 ounce sizes.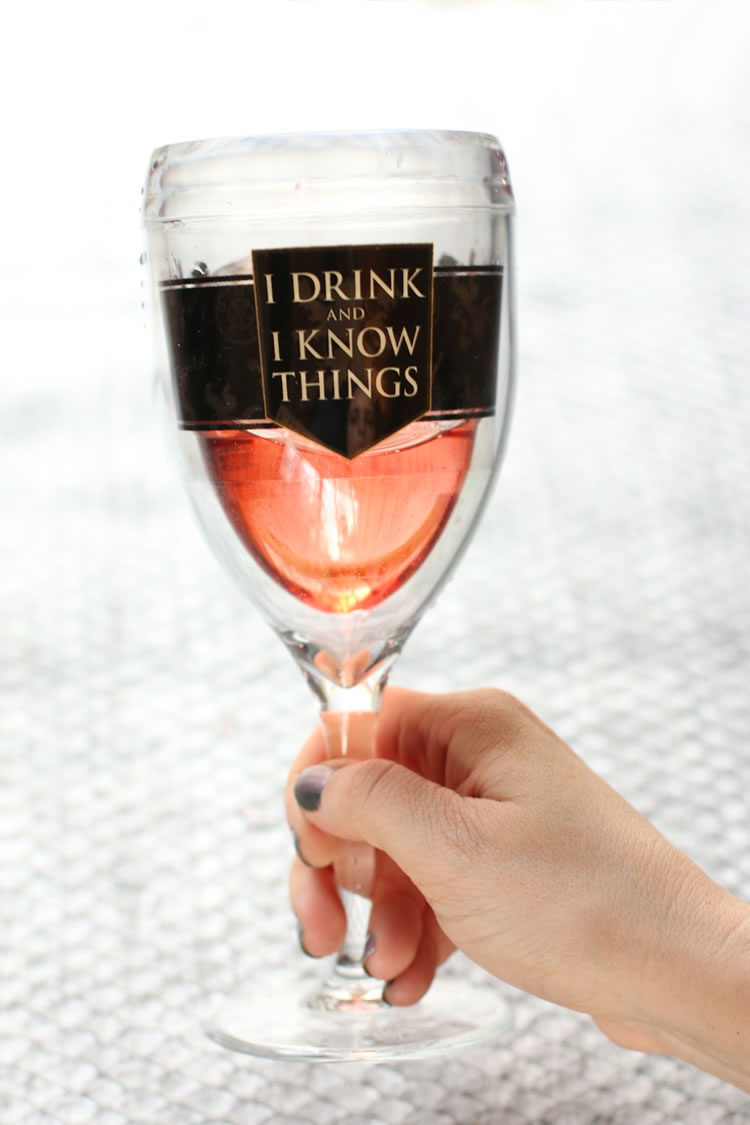 'House Lannister' Wine Tumblers
Once uttered by the wise and witty Tyrion Lannister, "Everything is better with some wine in the belly." We'd have to agree. Where does this wisdom stem from? Books? Deep conversations with the maesters?  "I drink and I know things" Tyrion explains. Ah, that's it. To keep the wine and wisdom flowing, keep it pouring with these double-walled stemmed and stemless 9 ounce wine tumblers from Tervis. Then tell us all you know.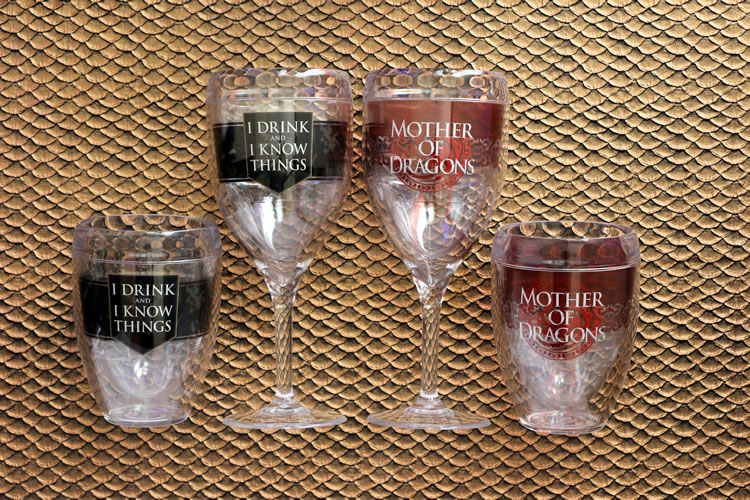 'Mother Of Dragons' Wine Tumblers
What do you buy for the wine loving Mother Of Dragons or the Queen's Hand that has everything? Shown in the photo above on the left, the 9 ounce stemmed and stemless wine tumblers from Tervis are just the thing. A fun design that will speak to the Mother of Dragons inside you, this tumbler is also available in more sizes to fit your chain-breaking, unburnt lifestyle. In addition to the wine glass and stemless wine tumbler, choose from a 16 ounce tumbler, 24 ounce tumbler or 24 oz water bottle.
Are you the ultimate Game Of Thrones fan? Maybe you need a gift for one?
Visit tervis.com to shop their exclusive Game of Thrones Collection!