Better Living uses affiliate links. If you make a purchase through them, we may receive a small commission (for which we are deeply grateful) at no cost to you.
Made with only a few ingredients, this recipe for fresh basil pesto packs a ton of flavor that adds a burst of vibrant, herbal brightness to whatever dish you add it to. Pesto is a salsa-like sauce made with basil, pine nuts, and olive oil that originated in Genoa, Italy. It's not only healthy, but it's also a super versatile way to punch up the flavor of pasta dishes, salads, pizzas, dips, sandwiches, grilled meats and seafood. You can even drizzle pesto on bread and over cheeses, like goat and fresh mozzarella. It stores well and if you have a big summer bounty of basil from your garden, you can even make this pesto and freeze it so you can have fresh pesto anytime.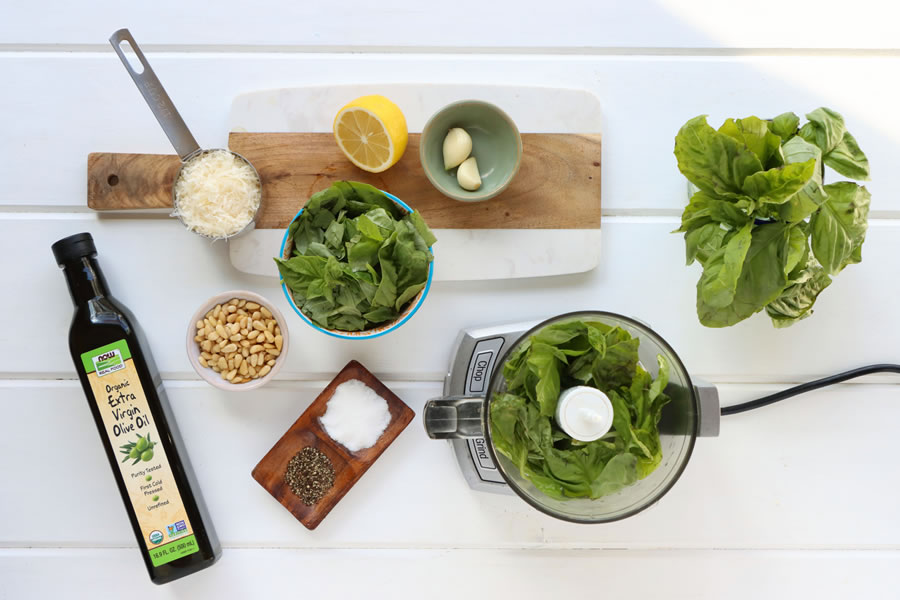 Here are the ingredients you'll need:
BASIL – You'll need about 2 cups of packed fresh basil for this recipe. A green leafy herb from the mint family, basil provides a rich source of vitamin K, vitamin A and minerals like zinc, calcium, magnesium, and potassium. It contains very little calories. 
OLIVE OIL – This anti-inflammatory powerhouse and a key ingredient in the Mediterranean diet provides a rich source of heart-healthy monounsaturated fats and age-fighting antioxidants. Olive oil is what gives pesto its smooth buttery consistency. 
PINE NUTS –  Pine nuts are traditional to pesto and be sure to lightly toast them before adding them to the pesto to enhance their nutty flavor.  You'll need ½ cup of lightly toasted pine nuts for this pesto recipe. If you don't have pine nuts, try substituting walnuts or almonds. For a nut-free pesto, hemp seed is a great stand-in. It's also 
GARLIC – We like 2 cloves of garlic in our pesto recipe, but feel free to add more if you can't get enough of the stuff.
PARMESAN CHEESE – You'll need about ½ cup of finely grated cheese for this pesto. Pecorino Romano cheese may be substituted or try a combo of half Parmesan and half Romano. For a vegan pesto substitute the cheese with nutritional yeast.
LEMON JUICE – You don't absolutely need to add lemon juice, but a little balances the flavors nicely in this pesto. High in vitamin C, lemons, and healthy plant compounds, lemons can improve heart health, digestion as well as aid in increasing immunity. They also offer vitamin B6, thiamin (B1), iron, copper and calcium.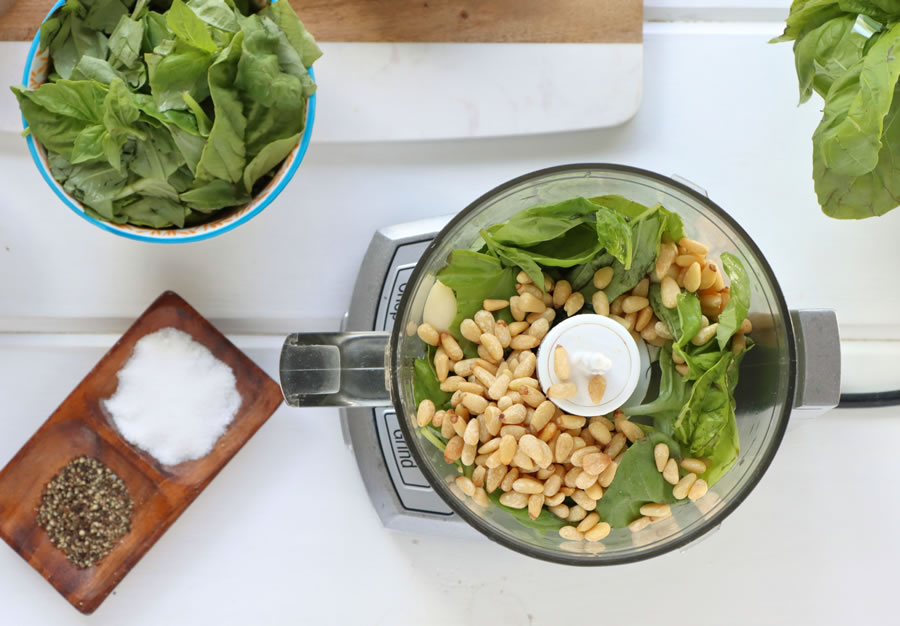 STORING THE PESTO
Leftover pesto can be stored in an airtight container or jar in the refrigerator. Adding an extra layer of olive oil over the top of the pesto while storing will help to preserve the freshness and color of the pesto. It can last up to 3 weeks in the refrigerator.
You can also opt to freeze your pesto. A neat trick is to spoon it into ice-cube trays, freeze and then pop them out into a freezer bag or jar. Grab one or two cubes anytime you want to punch up a sauce or dressing with some fresh flavor.

SHOP THE INGREDIENTS
Click the links below to shop for some of the ingredients you'll need for this pesto recipe from DailyVita. It's one of our favorite go-to online shops for healthy pantry staples shipped right to your door:
This tasty olive oil will make your pesto nice and smooth:
Organic Extra Virgin Olive Oil
These are pine nuts are super fresh and so delicious right out of the bag:
Raw Organic Pine Nuts 
Use hemp seed instead of pine nuts for a nut-free pesto:
Organic Hemp Seed Hearts
GET THE RECIPE!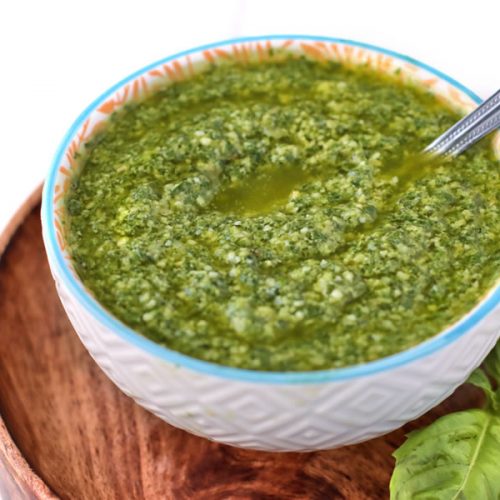 Easy Fresh Basil Pesto
Delicious, healthy, and super versatile, this fresh basil pesto is a wonderful way to add vibrant herbal flavor to pasta, fish, chicken, pizza and more. It's so easy to make too! Get the recipe now!
Equipment
Food Processor

Cheese Grater

Knife

Citrus Squeezer or Reamer
Ingredients
2

cups

fresh basil, packed

1/2

cup

Parmesan cheese, grated (Pecorino Romano works great too)

1/2

cup

pine nuts. lightly toasted

1/2

cup

olive oil

2

cloves

garlic

lemon, to taste

salt, to taste
DIRECTIONS
MAKING THE PESTO
Place all ingredients in a food processor and blend until smooth and just combined. If making the pesto ahead of time place in an airtight container and cover the top with a thin layer of olive oil to help preserve the color and freshness. Makes about 1 1/4 cups.

Tip: This pesto should last up to 3 weeks in the refrigerator. To preserve it even longer spoon small portions into an ice-cube tray, freeze and then pop out and store in a container for pesto any time.
Notes
To toast the pine nuts, p

lace them on a small baking sheet spread out and bake in a  350° degrees F oven for 3 to 5 minutes or until lightly browned. They can easily burn so be sure to watch them! 
Making pesto? Get our delicious recipe for Gluten-Free Chicken Pesto Pasta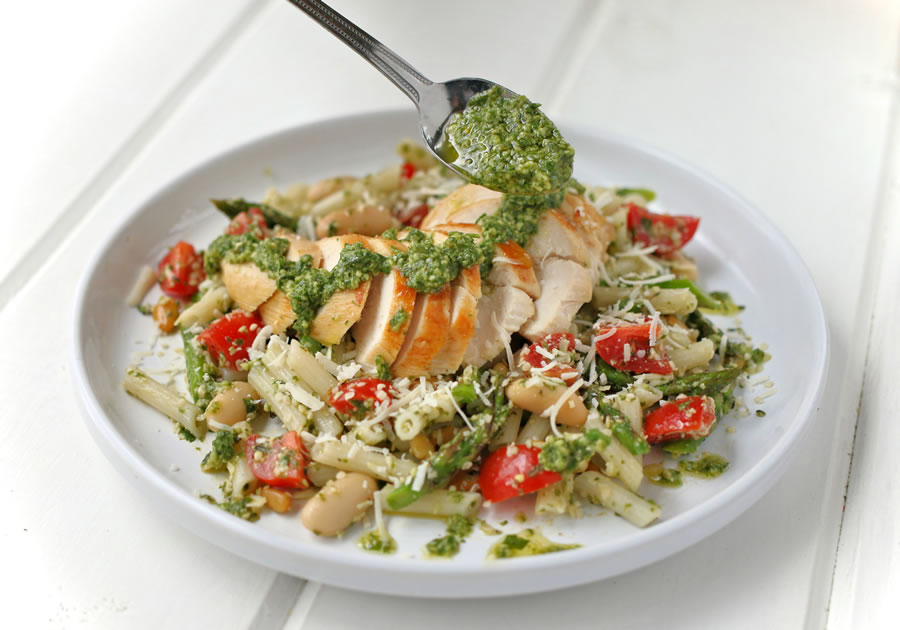 Created by OnBetterLiving.com