Better Living uses affiliate links. If you make a purchase through them, we may receive a small commission (for which we are deeply grateful) at no cost to you.

Coconut oil is truly an amazing food. It doesn't just taste good, but has a multitude of benefits for the body on the inside and out. It can help to burn fat, speed up the metabolism, suppress appetite, lower cholesterol and can heal our guts. It's also antibacterial, antiviral and antifungal. But coconut oil also has many other uses that you may not be aware of. Here we present 14 ways you can use coconut oil to improve your health, beauty, and home. Many of these tricks will not only save you money from buying unnecessary products but will help you to eliminate toxic chemicals you may be using in your home.
When using coconut oil just be aware that it comes in a few different forms. Coconut oil in its purest form is solid at room temperature but melts easily when slightly warmed. For some applications like for homemade bug repellent, we've suggested using coconut oil that comes in a liquefied form. This makes it easier to use and you don't have to worry about it solidifying at room temperature when you want to use it on the go. Nature's Way offers all of these types of coconut oil for your health and home through iHerb.com. Let's get started!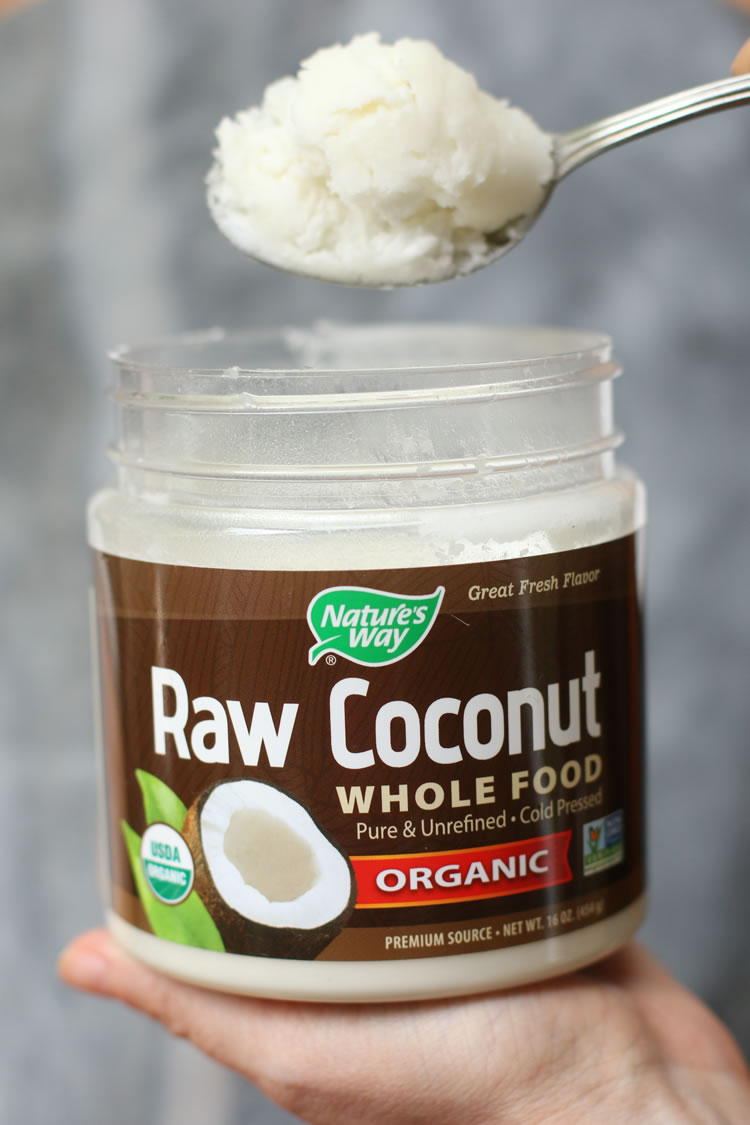 1. Use Coconut Oil As A Natural Energy Booster
Coconut oil is rich in medium chain triglycerides (MCTs), a type of fatty acid that is easily absorbed by the body and doesn't have to be broken down by the body for energy. That means it's ready to go energy for your body, brain and cells! It For times when you could use a quick and healthy pick me up that doesn't involve caffeine, try mixing 1 tablespoon coconut MCT oil with ½ tablespoon of chia seeds. It's perfect for late afternoons or even after a workout. You can eat it straight from the spoon or blend it into your smoothie.
If you're looking to kick the coffee creamer habit you can even add a spoonful of coconut oil or raw coconut whole food to your coffee with your favorite natural sweetener for a boost of energy without the high-calorie high sugar versions from the store. Put it in the blender for an unbelievably super creamy texture!
Recommended Products:
Nature's Way Coconut MCT Oil From Coconut
Nature's Way Organic Raw Coconut Whole Food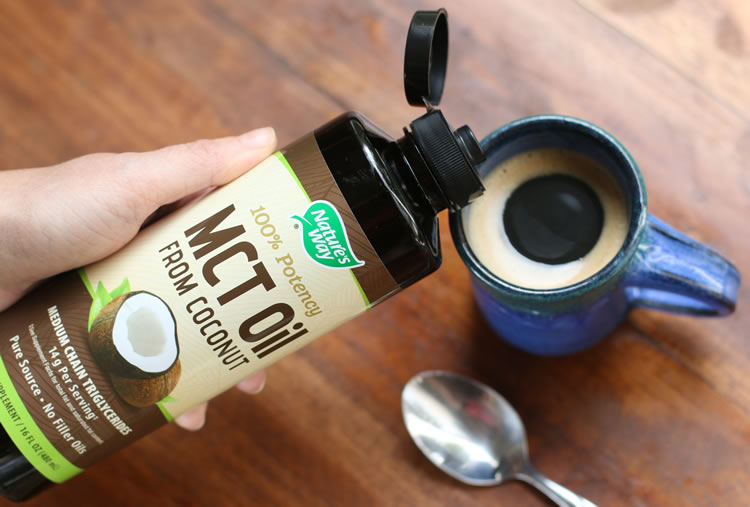 2. Make Homemade Movie Theater Style Popcorn   
There's just something about the smell of fresh popcorn in a movie theater that is simply irresistible. And let's not forget that it's pretty delicious too. But while movie theater popcorn smells like something out of a dream the stuff you get from the concession stand is more like a nightmare. And the butter? It's not butter at all, but partially hydrogenated soybean oil (most likely GMO) that is filled with chemicals, preservatives and artificial flavor. No thanks! So next time you're having a movie night make your own healthier version of movie theater style popcorn right at home. All you need is coconut oil, popcorn kernels (preferably organic), salt and butter.
Coconut Oil Movie Theater Popcorn Recipe: Add 3 tablespoons of coconut oil to a heavy bottomed pot with a lid and heat on medium-high. When the coconut oil has melted add 1 kernel of the popcorn to the pot to test the heat. Once that kernel pops add ½ cup of the popcorn kernels to the pot and gently swirl the pot to ensure all the kernels get coated with the coconut oil. Put the lid on the pot and gently keep it moving back and forth over the heat to ensure the kernels don't burn. When you hear the popping of the kernels begin to slowly turn the heat off and vent the lid slightly to release steam. When all the kernels have popped spread out thinly over a baking sheet. Using a cheese grater, grate ¼ cup cold butter evenly over the popcorn. Bake for 12-15 minutes in a 275 ℉, degree oven tossing after about 8 minutes to ensure all the popcorn is covered with butter. Season with salt to taste and enjoy!
Recommended Product: Nature's Way Organic Extra Virgin Coconut Oil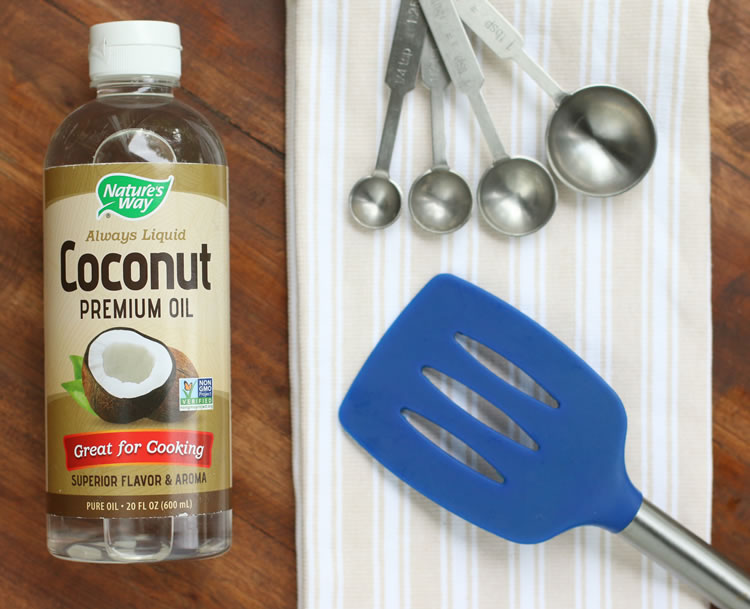 3. Use Coconut Oil When Sauteeing or Baking
Coconut oil has a smoke point of about 350℉ making it a great cooking oil for when you're sauteing on the stove top. Try using it when making dishes like scrambled eggs, stir-fries, curries or french toast. You can even replace it for butter or vegetable oil in your favorite baked goods recipes like quick breads, muffins, brownies and cakes. It works wonderfully in recipes with chocolate as it brings out the flavor.
Recommended Product: Nature's Way Premium Liquid Coconut
4. Use Coconut Oil For Dental And Oral Health
As strange as it may sound, coconut oil is actually amazing for the health of your teeth and gums. Coconut oil has antibacterial properties and is especially effective in killing Streptococcus mutans a bacteria found in the mouth that can cause plaque, cavities and gum disease.  Oil pulling, an Ayurvedic dental technique where oil is swished around the mouth is believed to draw out toxins, remove plaque, fight bacteria, reduce tooth decay, bad breath and gum disease (gingivitis) can be successfully done with coconut oil.
While more scientific studies on oil pulling need to be done, there are thousands of anecdotal reports online from "oil pullers" who have reported tons of benefits including an increase in energy, improved skin conditions, disappearance of headaches, hormone balancing and more. And since good oral health has been linked to a healthy body it's important to keep your dental and oral health in tip-top shape.
Oil pulling is easy so if you want to try here's what to do: On an empty stomach first thing in the morning after you brush put 1 tablespoon of coconut oil in your mouth. Once the oil has melted swish the oil gently around your mouth for 10 to 20 minutes. Spit it into a lined garbage can so you don't clog your drain. Rinse with a natural mouthwash or lightly salted water and go about your day.
Make Your Own Toothpaste
If you're not into oil pulling but still want the benefits of coconut oil in your dental care routine try making up your own natural homemade toothpaste. With just a few inexpensive ingredients you can make up a healthy coconut oil toothpaste recipe that can be used alone or can be alternated with your favorite toothpaste. This DIY coconut oil toothpaste recipe also includes activated coconut charcoal.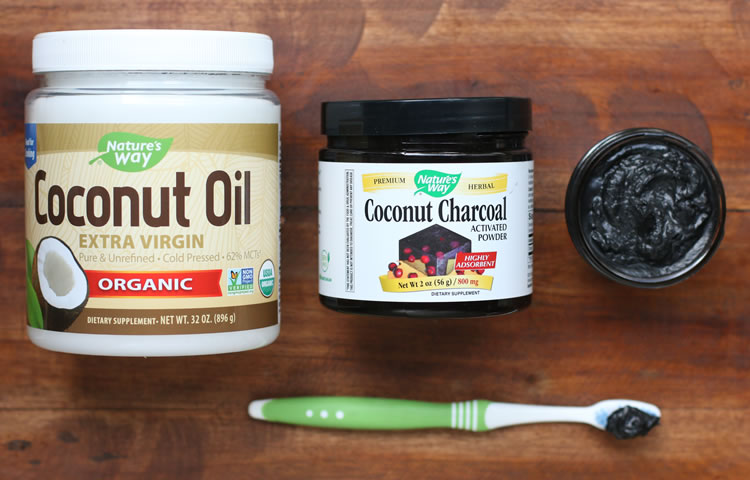 Ingredients
1/3 cup coconut oil
1 tablespoon baking soda
1/2 teaspoon activated coconut charcoal
1/8 teaspoon fine sea salt
8-10 drops peppermint or clove essential oil
2 drops liquid stevia (optional)
Directions
Warm the coconut oil lightly on the stovetop until just melted. In a bowl combine with the rest of the ingredients and store in an airtight jar. Brush as usual.
Recommended Products:
Nature's Way Organic Extra Virgin Coconut Oil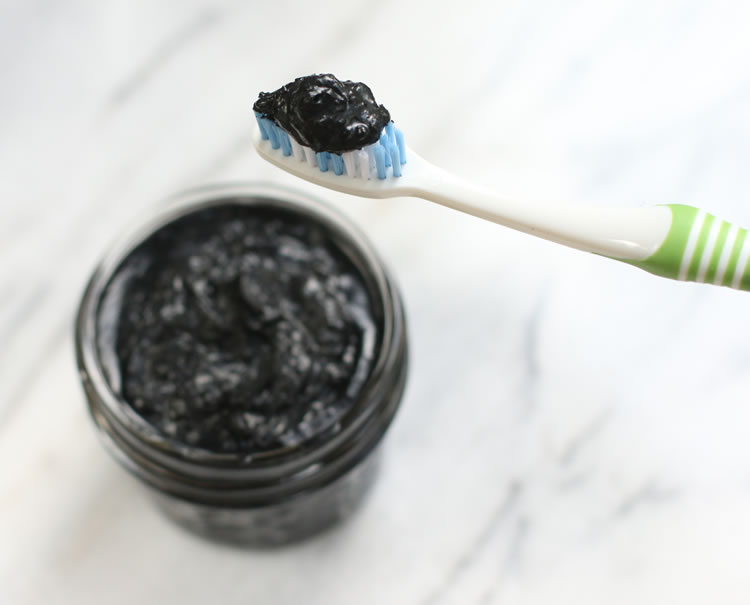 5. Use Coconut Oil As A Makeup Remover
It's no picnic washing off a face full of makeup only to look in the mirror and see streaks of mascara and splotches of eyeshadow that just won't seem to budge no matter how much scrubbing you do. That's where coconut oil comes to the rescue. It can break down and solubilize the tough and resistant ingredients in eyeshadow and mascara. seven remove waterproof mascara! Simply put a little coconut oil on a cotton ball or pad and gently wiping it on and around your eyelids. Once the makeup is gone, wash your face as usual. The coconut oil will not only quickly remove tough makeup stains but will leave your skin feeling smooth and hydrated. Plus it's healthy, cost-effective and won't leave your skin dry like those makeup removers at the drugstore.
Recommended Product: Nature's Way Organic Extra Virgin Coconut Oil
6. Coconut Oil Makes A Lovely Massage Oil
There's no need to buy expensive massages oils filled with artificial fragrances. Since coconut oil is wonderful for your skin to make your own custom massage oil by simply adding fractionated or liquid coconut oil to a clean empty bottle with a few drops of your favorite soothing essential oils. We love essential oil scents like lavender, frankincense, eucalyptus and sandalwood.
Recommended Product: Nature's Way Premium Liquid Coconut Oil
7. Use Coconut Oil In Place of Shaving Cream
Have you run out of shaving cream? Coconut oil is a great substitute for chemical laden shaving creams that line the shelves. Simply apply it to the skin you want to shave. It will leave your skin moisturized and feeling super soft and smooth for a nice clean shave. Its antibacterial qualities will treat and protect any nicks or cuts from infection.
Recommended Product: Nature's Way Organic Extra Virgin Coconut Oil
8. Use In Place of Over The Counter Antifungal Cream
Since coconut oil is antifungal and antibacterial it can be used topically to treat those itchy annoying spots caused by athlete's foot and skin fungus. To treat simply rub some coconut oil onto the affected area and allow it to soak in. Reapply as needed.
Recommended Product: Nature's Way Organic Extra Virgin Coconut Oil
8. Balance Your Hormones And Support Your Thyroid
Feeling like your hormones are out of balance? Coconut oil can help. It's rich in healthy fats that can support the thyroid and adrenal glands and lower cortisol to naturally balance your hormones. It can also transform cholesterol into pregnenolone, an essential building blocks for thyroid hormone-creation and increase basal body temperature. This is extremely important for anyone with low thyroid function. Coconut oil also has anti-inflammatory properties and can help to support a healthy metabolism, two things that are essential for balanced hormones.
A convenient way to get your coconut oil when you're on the go is in the form of capsules. Nature's Way makes coconut oil in 1000mg soft-gels that you can take any time of day and keep with you in your bag so you can stay on track with your health goals even when you're short on time.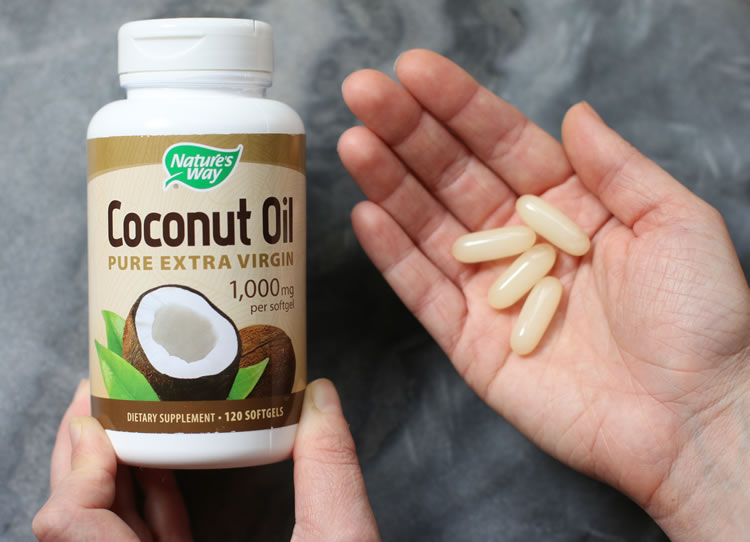 Recommended Product: Nature's Way 1000 mg Pure Extra Virgin Coconut Oil Softgels
Soothe Dry Chapped Lips
Coconut oil is amazing skin moisturizer with anti-inflammatory properties. Plus it's edible! That makes it perfect for soothing lips that are dry, cracked, sore, chapped or irritated. Take it one step further and combine your coconut oil with dehydrated strawberry, cherry, or raspberry powder for a homemade lip balm with a hint of color and natural yummy flavor. It goes on super smooth and will even provide some protection from the sun as coconut oil is naturally SPF 7.
Recommended Product: Nature's Way Organic Extra Virgin Coconut Oil
Tame Frizzy Hair And Flyaways
Having a bad hair day? Coconut oil can help. Just put a very small amount on your fingertips and massage into the ends of hair or spots where you're experiencing frizziness. The coconut oil will leave your strands looking smooth, sleek, shiny and frizz-free.
Recommended Product: Nature's Way Organic Extra Virgin Coconut Oil
Make A Safe Insect Repellent
Many insect repellents on the market are made with ingredients like DEET that while effective are toxic to your body and the environment. To repel bugs safely make your own natural insect repellent. Mix a tablespoon of coconut oil with a couple of drops of peppermint, citronella, eucalyptus, rosemary and tea tree essential oils and rub into exposed areas of skin. It's safe for skin and you don't have to worry about washing it off when you get home. Make more than you need and store in a spray bottle for future use.
Recommended Product: Nature's Way Premium Liquid Coconut
Condition And Shine Wood Furniture
Commercial wood and furniture cleaners might be effective, but they contain a lot of toxic ingredients and strong synthetic fragrances that can pollute the air of your home. So next time you're cleaning your furniture try using coconut oil to keep your wood furniture looking shiny and beautiful. Coconut oil not only brings out the natural grain of the wood and has a nice aroma, but also acts as a dust repellent. Simply mix 2 parts softened or melted coconut oil with 1 part lemon juice and 1 part white vinegar. Apply to a soft rag and rub on wood furniture with the grain of the wood. Wipe off any excess and enjoy your gorgeous wood!
Recommended Product: Nature's Way Premium Liquid Coconut Oil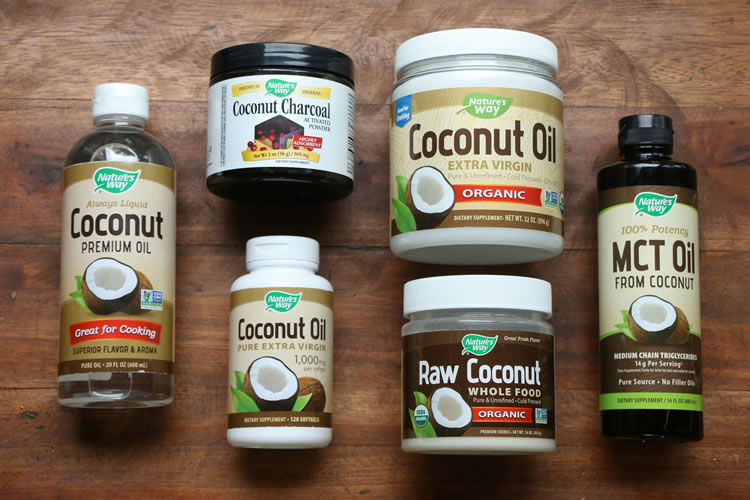 ? iHerb Fun Facts! Did you know….???
iHerb carries over 400 of Nature's Way's awesome products!
iHerb sells over 30,000 products and ships to over 160 countries!
iHerb is a Google Trusted Store and their customer service team provides support in 10 different languages!
We love shopping at iHerb! Their prices are amazing and they ship quickly. Shopping with iHerb is such a breeze!
? Want To Stock Up On Coconut Oil? Here's A Special iHerb & Nature's Way Offer!!!
 ALL Customers will get a special discount OFF their order of Nature's Way products!!!
NEW iHerb customers will get an additional $5 OFF their $40 order!!! Click here to apply the code!