Better Living uses affiliate links. If you make a purchase through them, we may receive a small commission (for which we are deeply grateful) at no cost to you.
On any typical day, with its historic cobblestone streets, elegant mansions, Victorian townhomes, and a quaint walkable shopping row, Chestnut Hill, PA  is pretty charming. But what most people don't know is that nine miles northwest of Center City, Philadelphia, this picture-perfect "Garden District" quietly transforms itself into a Hallmark worthy Christmas village for its "Holidays on the Hill" event each year. 
With festive events running through the end of December, you'll find many holiday themed things to see and do in Philly's safest neighborhood.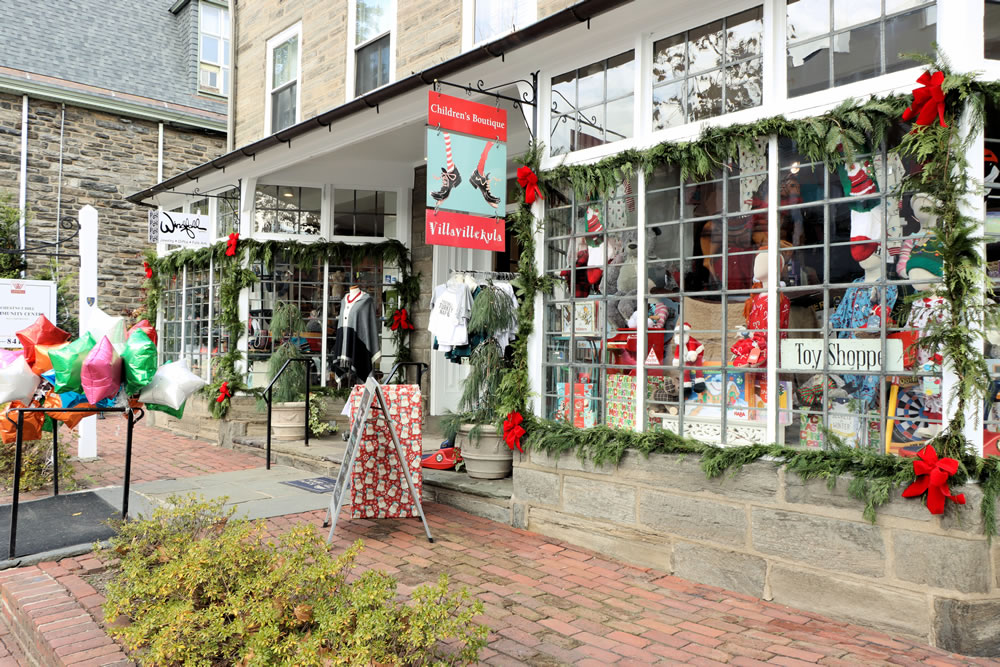 See twinkling lights, festive decorations, and creative window displays while shopping at over 60 unique boutiques in celebration of the season. When you get hungry, there's a variety of restaurants, cafes and bakeries in Chestnut Hill that provide indoor and heated outdoor seating options, whether you're looking for a full satisfying meal or just a snack. 
On Wednesdays in December don't miss their beloved "Stag & Doe Nights," when shops in Chestnut Hill offer special sales, free refreshments and late holiday shopping hours. There's also a chance to meet Santa as he strolls up and down Germantown Ave, take a horse-drawn carriage ride, or see performances by traveling Victorian carolers as well as a brass quartet turning out some favorite holiday tunes.
Chestnut Hill is overflowing with so much holiday magic that even the grumpiest of Grinches will get into the spirit of the season. Here's some of what you can experience during the Chestnut Hill "Holidays on the Hill" event this season!
See The Holiday Garden Railway At Morris Arboretum
Morris Arboretum

100 E Northwestern Ave, Philadelphia, PA 19118
www.morrisarboretum.org
If you love nature and exploring the outdoors, then make a point to visit the Morris Arboretum. Located in the northern part of Chestnut Hill and dating back to 1887, this former Victorian 92 acre-summer sprawling estate was originally owned and designed by Quaker siblings John Morris and Lydia Thompson Morris who wanted the landscape to reflect their love of nature. Now part of the University of Pennsylvania, this arboretum is one of Philly's most beloved places for escaping the city. Guests here can explore unique and beautiful sculpture gardens, scenic meadows, and enjoy a variety of events and exhibits throughout the year.
But it's their "Holiday Garden Railway" exhibit that has become one of their most popular and cherished attractions during the holiday season. Fun for all ages, this whimsical model train installation zigs and zags on a quarter mile of tracks laid between winter greenery, water features, twinkling lights and holiday village buildings that are one-of-a-kind replicas of Philadelphia's most prominent historical landmarks.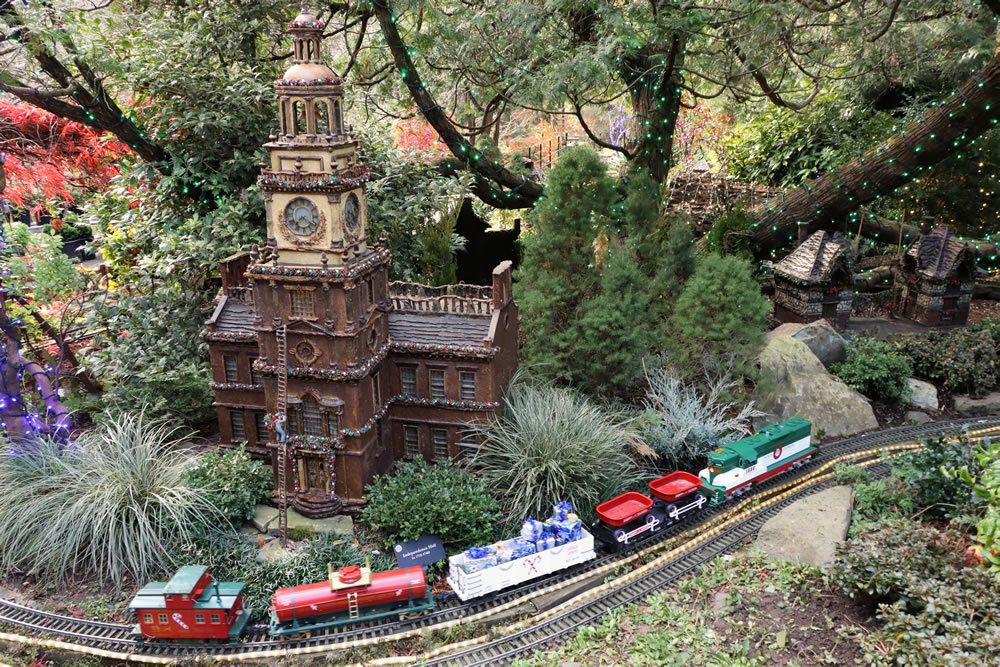 There are 15 different rail lines, 7 loops and tunnels, 9 bridges, 2 cable cars, and even a trestle bridge you can walk under with adorable model trains (many of which are carrying presents) traveling in all directions.
Fun for all ages, many families come to see the trains as a yearly tradition. Daytime admission is free, but if you want to experience the trains lit up at night, tickets are required in advance with their weekend viewings. Don't wait because tickets sell out quickly.
When to Visit:  November 26th 2021 – January 2nd 2022
10:00am – 4:00pm or at night on weekends.
Take Home A Gingerbread House Kit From Bredenbeck's Bakery & Ice Cream Parlor
Bredenbeck's Bakery & Ice Cream Parlor 

8126 Germantown Avenue
(215) 247-7374
bredenbecks.com
Established in 1889 and a Chestnut Hill resident for more than 35 years, Bredenbeck's is a local favorite bakery that carries a variety of delicious baked goods, including cakes, cookies, pies, pound cakes as well as ice-cream. But around the holidays it's their impressive gingerbread window displays and delicious freshly baked gingerbread "people" that attract visitors from far and wide.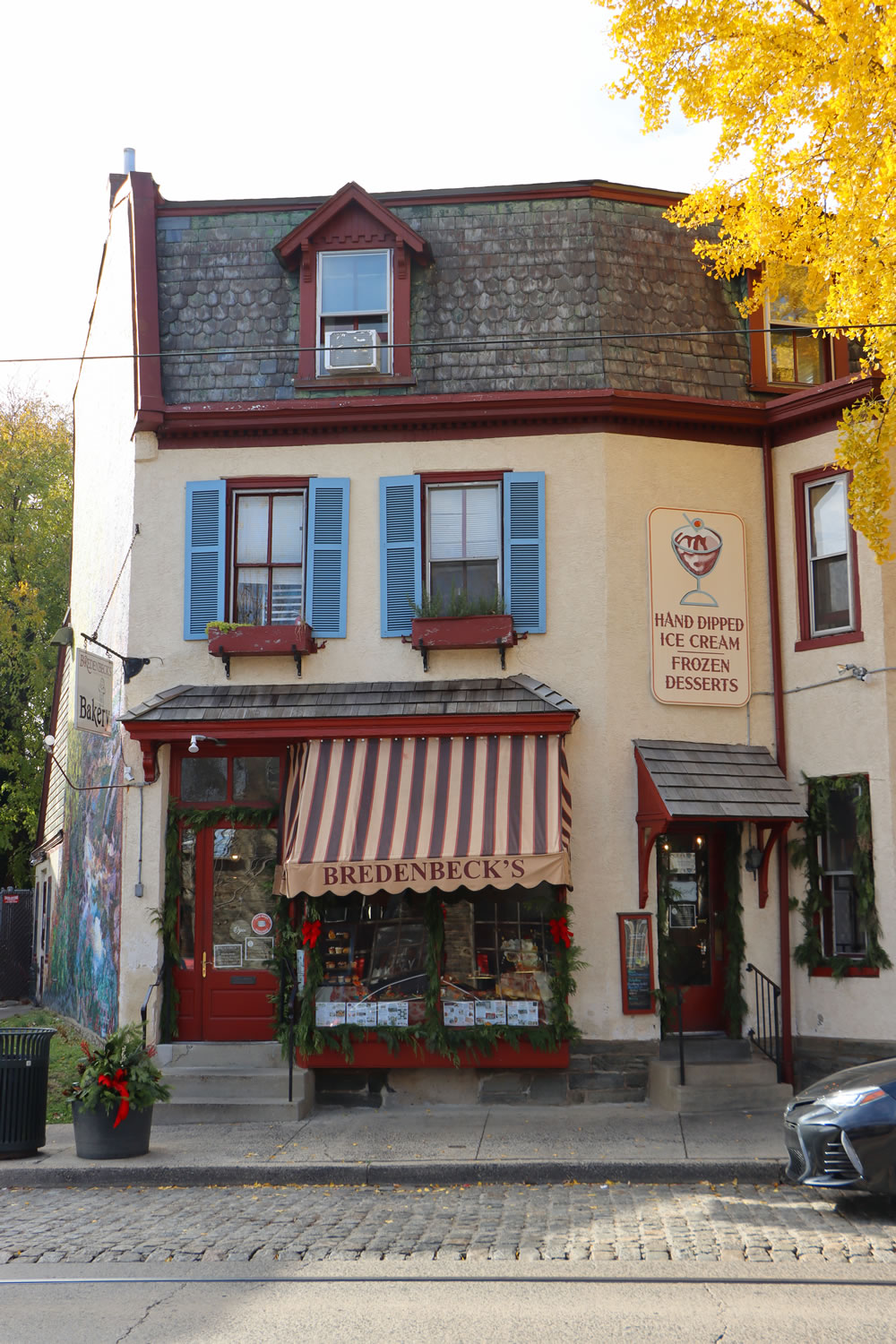 In the past, Bredenbeck's has offered their popular gingerbread house making classes letting customers get in on the fun. Due to COVID, classes are currently on hold, but instead they have a variety of gingerbread house kits that you can DIY at home complete with an instructional video on their website to help guide you through the process. If you love gingerbread houses, but don't think you'll have the time to build your own, you can also order a custom made gingerbread house decked out with candy and ready-to-go.  Check out their gingerbread offerings here or visit their website for more info.
Make Holiday Crafts And Memories At A.R. Workshop
AR Workshop Chestnut Hill

8607 Germantown Ave Chestnut Hill, PA 19118
215-544-1116
arworkshop.com/chestnuthill
Many of us love the idea of crafting, but it can be difficult to squeeze into our busy schedules. That's what makes A.R. Workshop in Chestnut Hill is such a special place. In this boutique DIY studio you can take a variety of workshops to create your very own custom home décor piece as you spend time with family and friends.  
Great for kids and adults, A.R. Workshop offers a selection of fun crafts to create including painted wooden signs, trays, pillow covers, and blanket ladders. Their current holiday themed projects make a great gift or piece you can display year after year.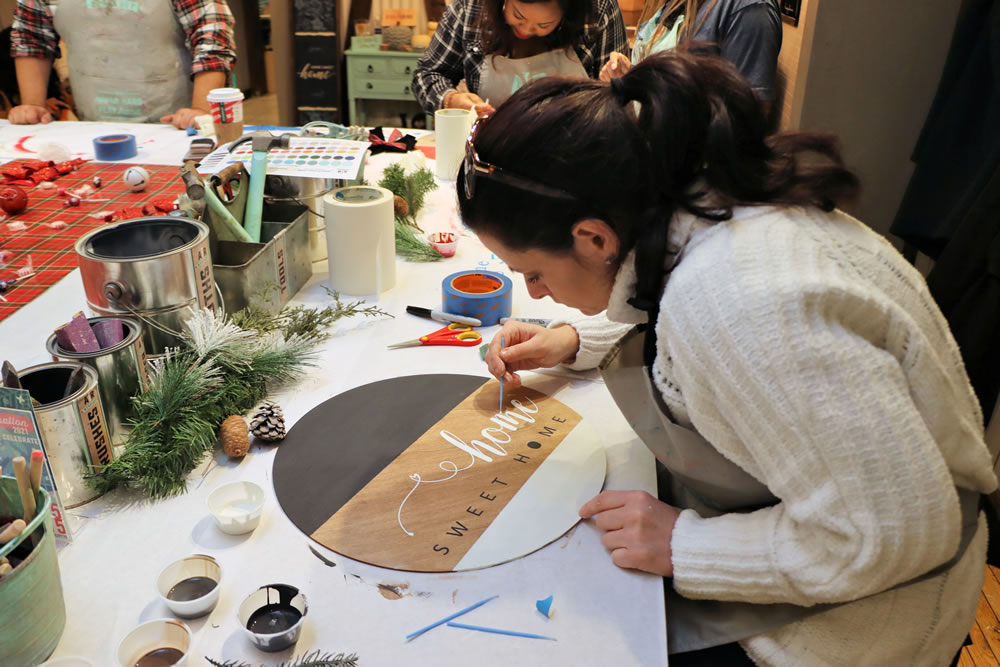 The instructors here are so patient, super friendly, and supply you with all the tools you need. The best part is you don't need any experience. Check out their current class calendar, but A.R. Workshop also hosts private events as well. For some crafting fun you can take home, grab one of their DIY-TO-GO kits which happen to make a great gift.  Advanced registration is required or stop in to shop their selection of ready made goods.
For A Special Gift Have Something Personalized At Threadwell
Threadwell

8432 Germantown Avenue
Philadelphia, PA 19118
(267) 385-5206
https://threadwell.net
With over 60 boutiques in Chestnut Hill carrying everything from clothing, accessories and jewelry, to home and pet goods, art, and books you'll have no trouble finding some great gifts. For a gift with a personal touch, head to Threadwell where they can personalize and monogram everyday essentials like tote bags, pillow covers, sweatshirts, and frames and with a variety of colors and fonts for the most thoughtful gift ever. If you need help with color choices or designing the perfect piece, the friendly staff here is happy to help. They also provide BYO monogramming which is perfect for when you find something else in town you want to put a special touch on.
Book A Boutique Stay At The Historic Chestnut Hill Hotel
The Chestnut Hill Hotel

8229 Germantown Ave, Philadelphia, PA 19118
(215) 242-5905
chestnuthillhotel.com
To give yourself some time to relax in Chestnut Hill after a day of shopping and holiday adventures, book a night or two in the historic and charming Chestnut Hill Hotel. Perfectly located in the center of Chestnut Hill, this recently renovated boutique hotel dates back to 1894 and rests on the site of an even older inn that was built back in 1772. And it's just steps to all Chestnut Hill has to offer.
Each of the 36 rooms here are unique and elegantly decorated, with marble detailed bathrooms, ultra-comfy beds, robes, and L'Occitane toiletries. They also have flat-screen televisions, mini-fridges, free WiFi, and work desks.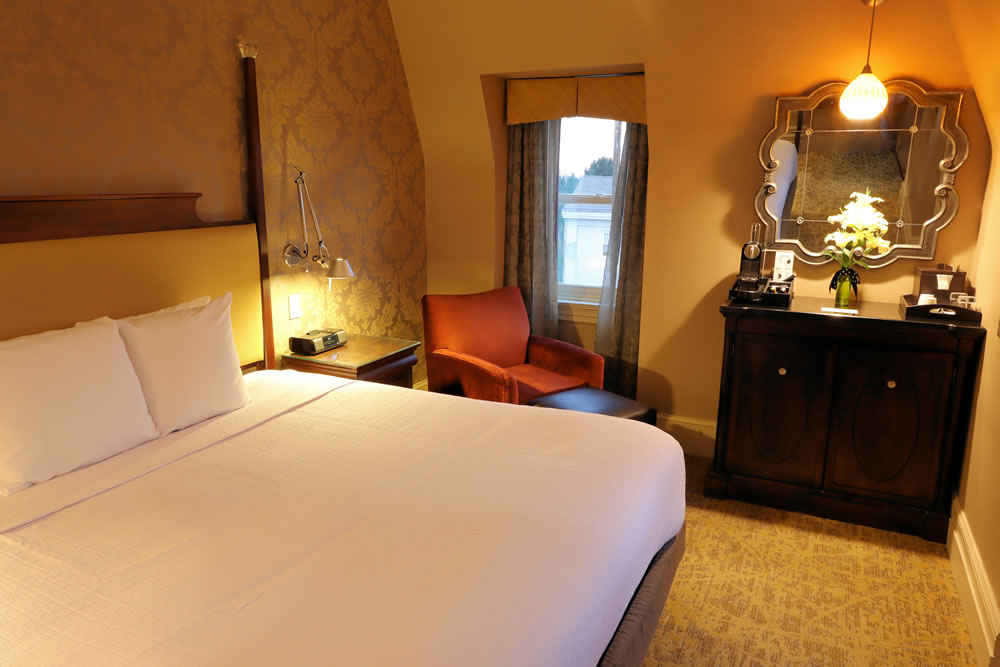 Each morning guests are treated to a continental breakfast with coffee and delicious freshly baked pastries. Nespresso machines provided in the rooms are perfect for when you need a caffeine boost later in the day. For longer stays or when you want cozier vibes, book one of their rooms complete with kitchenette or fireplaces. Explore all their room types here.
The Chestnut Hill Hotel also has a fitness center, a 24-hour business center, and 24-hour super friendly reception which can give you helpful Chestnut Hill tips and complimentary water. They're dog-friendly too and there's free parking just behind the hotel.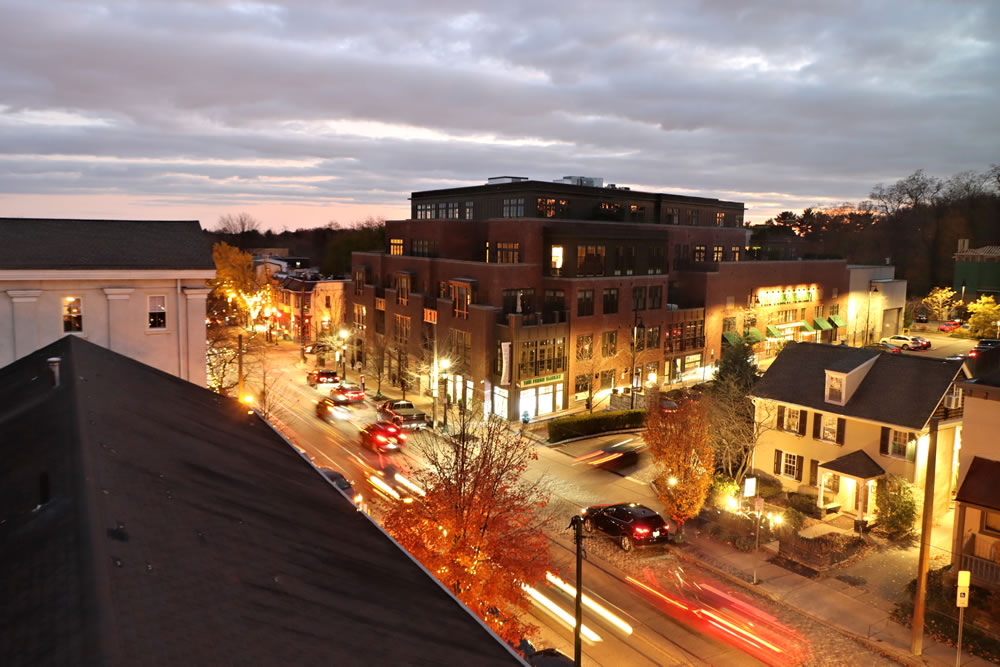 When you're hungry but don't want to wander far, head to the Chestnut Hill Grill and Sidewalk Cafe inside the hotel or stroll behind the hotel to the Market at the Fareway to the rear. This modern mini Reading Terminal style Market that originally served as the hotel's carriage house and stables is now home to over a dozen food stalls where you can find international delights like sushi, Tibetan dumplings, sticky buns, gourmet coffee and the Chestnut Hill Brewing Company. 
Eat One Of Philly's Most Famous Sandwiches At McNally's Tavern
McNally's Tavern

8634 Germantown Avenue, Philadelphia, PA 19118
(215) 247-9736
https://www.mcnallys.com
For some great beer and made-from-scratch food in a warm and cozy setting, head over to McNally's Tavern. Founded by Rose McNally back in 1921, McNally's has been a favorite of Chestnut Hill locals for almost a century. Today Rose's great granddaughters Anne and Meg continue to run the tavern carrying on the family tradition of hospitality offering a menu of fresh and flavorful comfort food that includes delicious homemade soups, salads, stacked sandwiches, and rotating daily specials. 
But there's one craveworthy sandwich here with a cult following you shouldn't miss: The Schmitter®. Named as one of "Philly's Best Sandwiches" and served at McNally's for over 50 years, The Schmitter® is topped with a unique combo of tender hot grilled beef, sauteed onions, cooked salami (not Genoa), tomatoes, and creamy cheese. It's finished with "Schmitter" sauce,  a play on Russian dressing and then served on a locally made Kaiser roll. The combination may seem unusual, but trust us when we say it's really, really good. We recently tried one and didn't leave a crumb.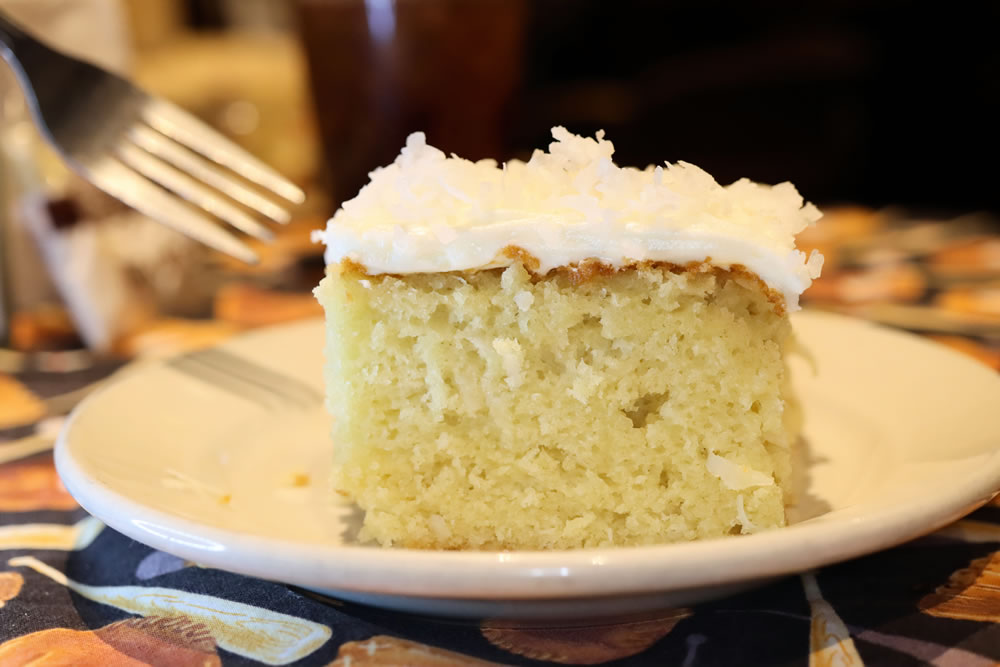 Stop into McNally's in Chestnut Hill to enjoy a Schmitter and a pint from one of their 13 rotating taps. Don't leave without one of Meg's super moist delicious cakes in flavors like chocolate, carrot, and coconut. Open for lunch and dinner, McNally's also offers outdoor patio dining with heaters along Germantown Avenue.
Get Delicious Bistro-Style Eats And Late-Night Drinks At The Chestnut Hill Grill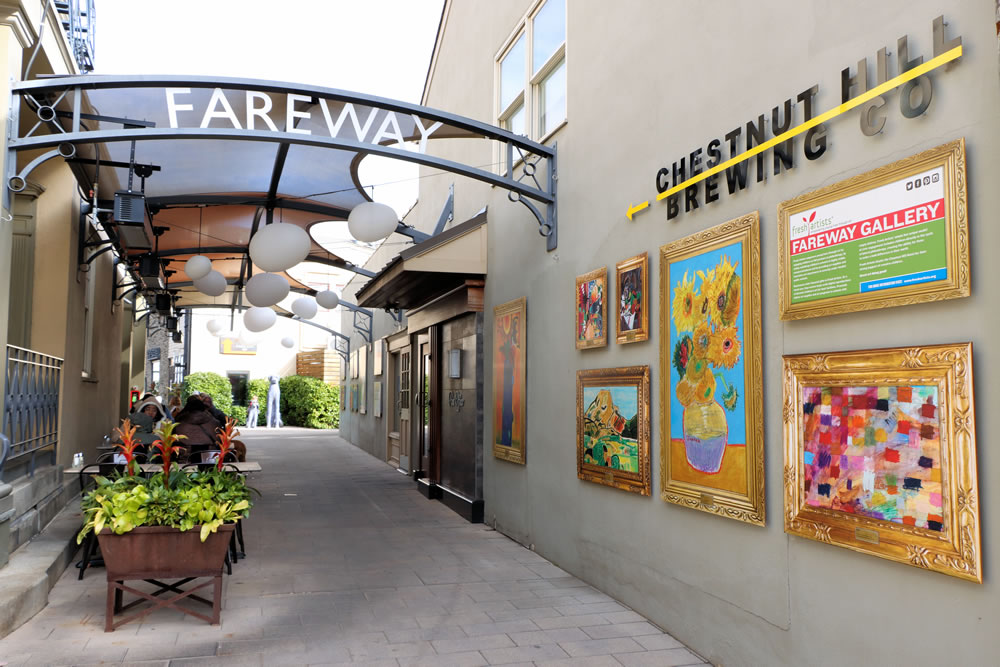 Chestnut Hill Grill & Sidewalk Cafe

8229 Germantown Ave, Philadelphia, PA 19118
(215) 247-7570
www.chestnuthillgrill.com
If you're staying at the Chestnut Hill Hotel, make a point to eat at the Chestnut Hill Sidewalk Cafe & Grill which is located just inside and serves up delicious American inspired Bistro cuisine in a relaxed and casual atmosphere. 
We loved their perfectly cooked Grilled Petite Lamb Chops appetizer served over greens and drizzled with a touch of balsamic and as well as their creamy Shrimp Risotto for dinner.  If you love mussels, go for their Mussels in White Wine and Garlic Sauce appetizer which is generous enough to be enjoyed as a light main dish. Here's a tip: order fries on the side and you have yourself a perfect "moules frites."  For an incredible finish go with the warmed Tollhouse Pie for dessert. Essentially a chocolate chip cookie baked into a pie and topped with a scoop of rich vanilla ice-cream, this is a treat you won't want to miss.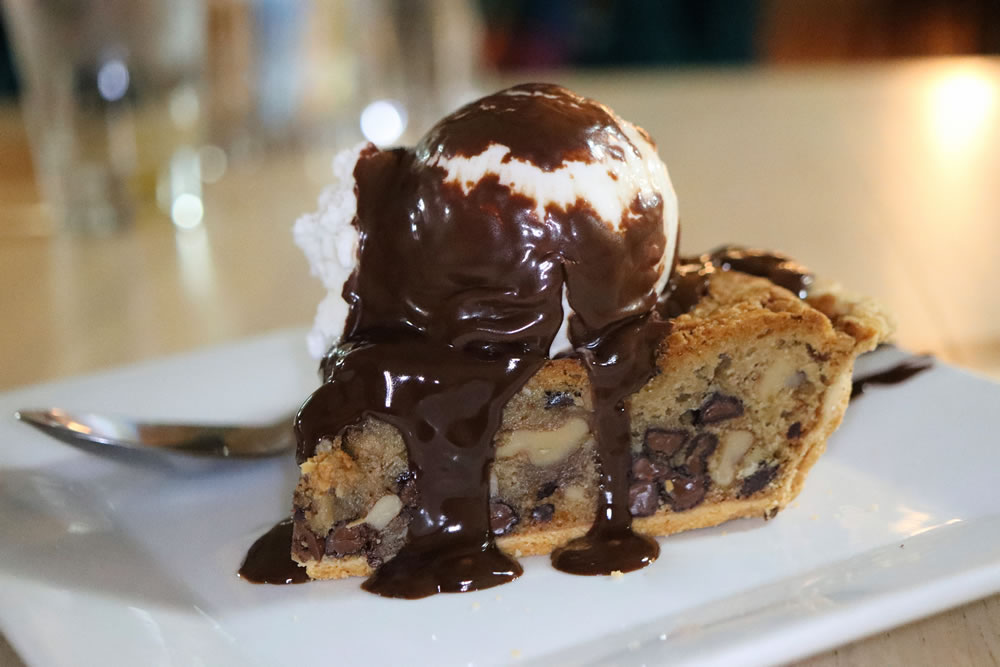 The cafe is open for lunch, dinner and late-night drinks with both indoor as well as outdoor seating along the hotel's steps and breezeway. In the afternoon, pop in for their Happy Hour specials and follow the outdoor gallery next to the Chestnut Hill Hotel to find the entrance. 
Enjoy Local Craft Beers And Wood Fired Pizza Chestnut Hill Brewing Company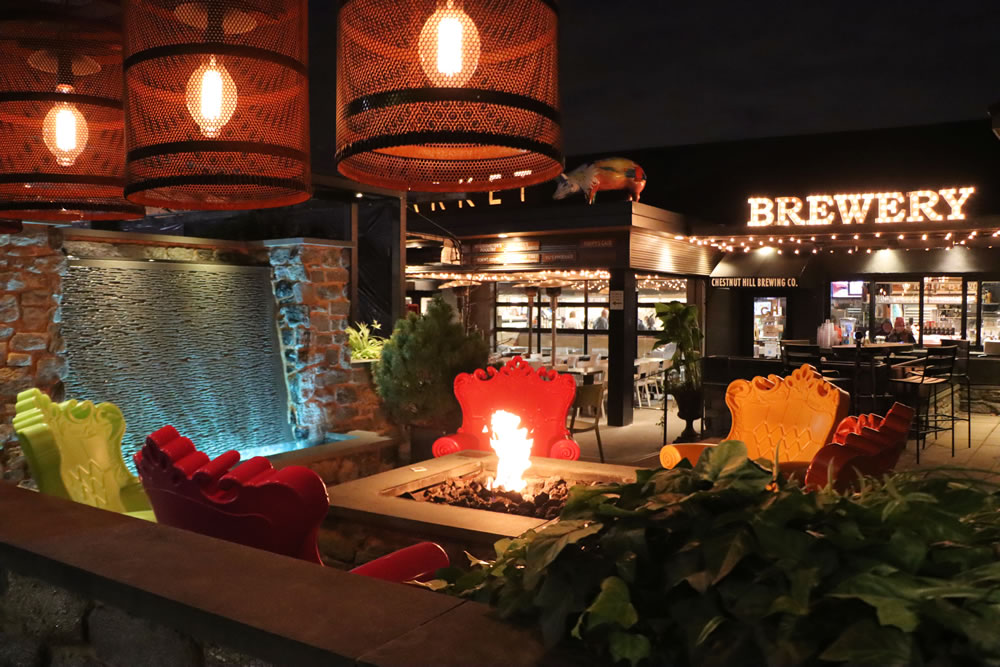 Chestnut Hill Brewing Company

8221 & 8231 Germantown Avenue
(215) 247-0300
chestnuthillbrewingcompany.com
When you're in Chestnut Hill and want locally made craft beer, the Chestnut Hill Brewing Company is the spot to go.
Located directly behind the Chestnut Hill Hotel at the Market at the Fareway, they offer a rotating menu of their delicious brews along with wood fired Neapolitan pizzas as well as fresh salads, sandwiches and small bites, like soft pretzels and buffalo cauliflower in a friendly modern rustic atmosphere that's hard to beat. Also, many of the items on their menu are vegan friendly.
With both an indoor taproom and heated outdoor seating area complete with a fire pit it's a great place to wind down. If you love dogs, it's also the most dog-friendly spot to puppy watch on "The Hill," where locals love to bring their pooches and enjoy a delicious craft brew outside.
The beer here is small batch, so options can come and go. But we love their FIDDLER (5.1%), a crisp and refreshing single malt pilsner with a yeasty finish, and a fan favorite called CATHERINE'S ANCHOR (9.1%), a heavy Russian imperial stout with roasted chocolate notes. If beer isn't your thing they also offer cocktails, cider, local wine from Penns Woods Winery as well as non-alcoholic drinks.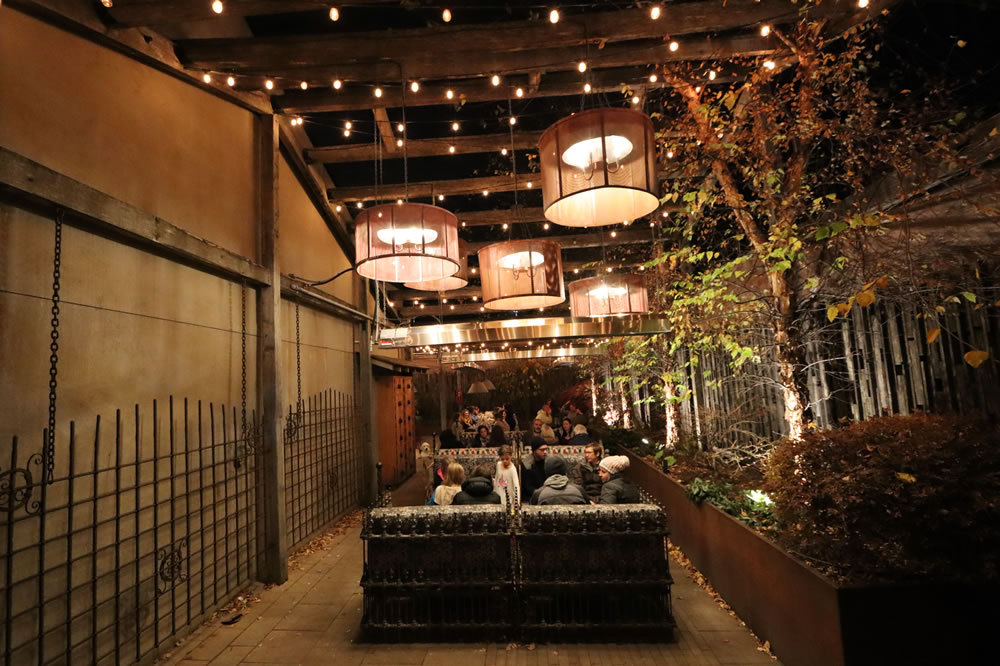 It gets busy here at traditional eating hours, so if you know you're coming in advance, they do accept reservations. Free parking is available behind the Chestnut Hill Hotel, and growlers, crowlers and 4-packs are available to-go.
Enjoy South Of The Border Flavors While Dining In A Heated Igloo at El Poquito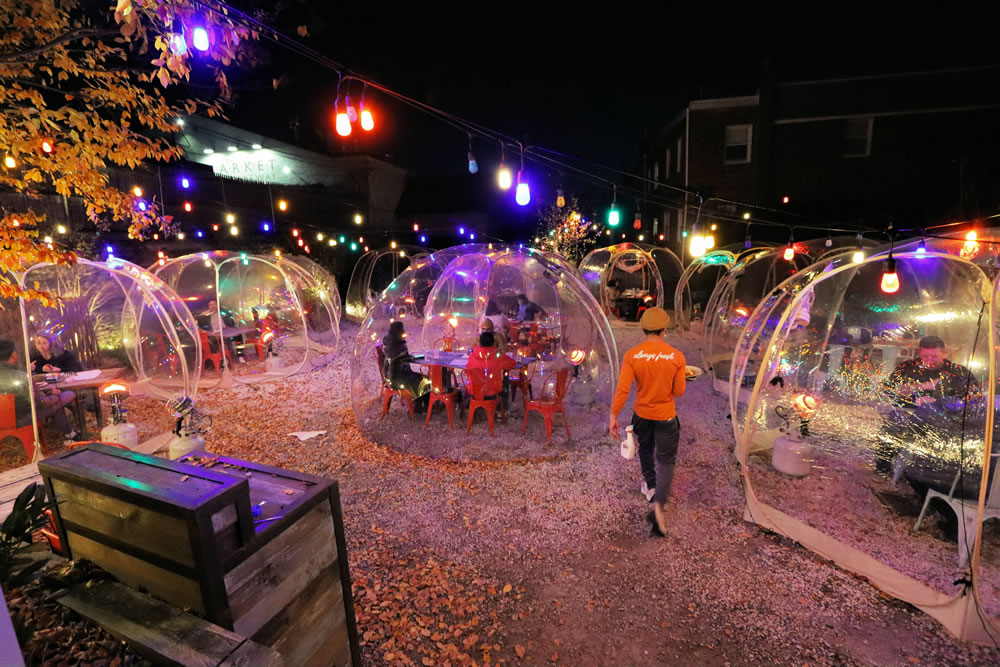 El Poquito

8201 Germantown Avenue
(267) 766-5372
elpoquito.com
To spice things up in Chestnut Hill with flavors from south of the border, head to El Poquito. A casual yet modern "beach inspired" cantina and tequila bar, El Poquito, meaning "the little one" in Spanish, serves up Mexican favorites including enchiladas, fajitas, quesadillas, nachos, tacos and bowls. They even have some nice veggie friendly options like their Curry Cauliflower or Impossible Chorizo flavored Tacos.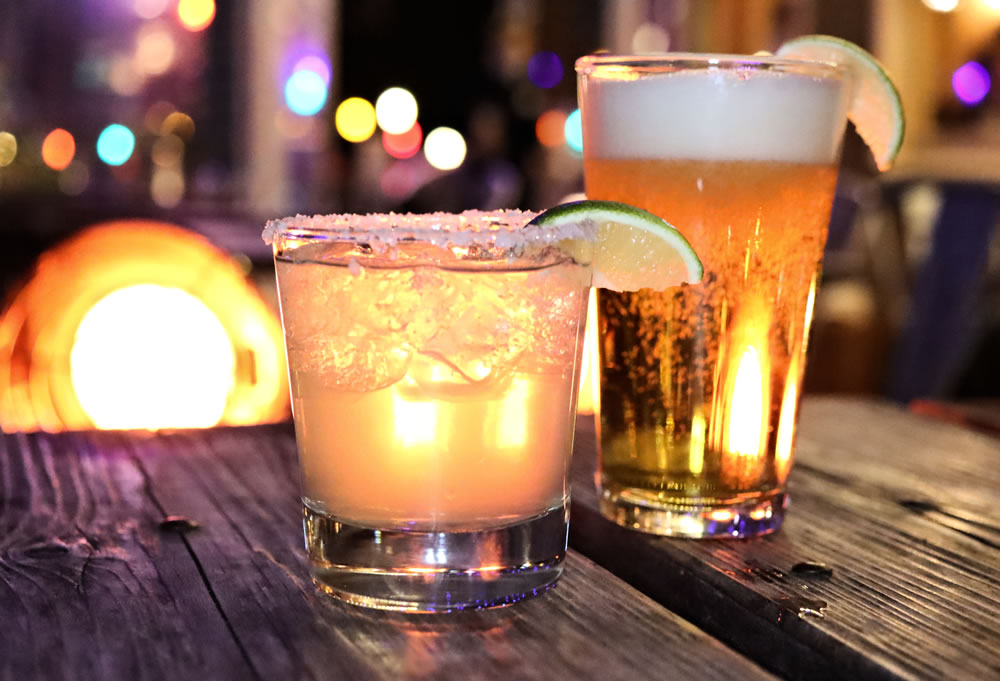 Their popular margaritas are a must here and can be made either fresh, frozen and flavored with fresh-juices like blood orange, passionfruit or strawberry. If you're not into tequila, you can't go wrong with their house-made sangria or one or their draft beers like Modelo Especial or Tecate.
For a super fun eating experience head to their heated outdoor courtyard decorated with colorful twinkling lights to dine in a heated igloo. Call or visit the El Poquito website to make reservations to reserve an igloo.
LOOK OUT FOR THESE CHESTNUT HILL HOLIDAY EVENTS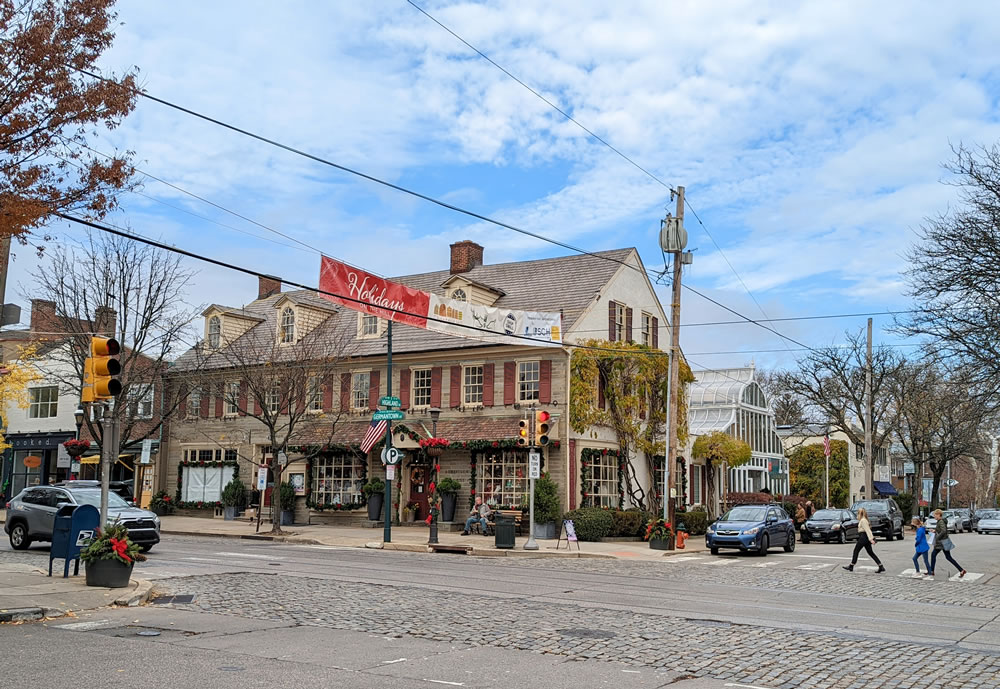 Here are some of the main Holiday on the Hills events coming up. Visit chestnuthillpa.com for more details.
Santa at MARKET at the Fareway
Saturdays, December 4, 11, 18 from 12:00-2:00 p.m. 
Stag & Doe Nights
Wednesdays December 1, 8, 15, 22
Chestnut Hill Holiday Parade
Saturday, December 18th 9 a.m.  Top of the Hill to MARKET at the Fareway.
Small Business Shopping Specials & Extended Hours
Find unique and one-of-a-kind gifts and holiday specials while supporting small businesses. Most Chestnut Hill shops are open until 7:00pm or later Wednesdays through Saturdays during the holiday season.  
Visit chestnuthillpa.com for a full list of Chestnut Hill boutiques and restaurants.
GETTING TO CHESTNUT HILL
Chestnut Hill is easy to get to by train, bus and car. Click here for directions.
PARKING IN CHESTNUT HILL
For the holidays, the Chestnut Hill Parking Foundation is offering free 24 hour parking in its six public lots every Wednesday from November 10th through Christmas. Click here for a map of the parking lots.
STAYING HEALTHY IN CHESTNUT HILL DURING COVID
While visiting Chestnut Hill restaurants and businesses are doing everything they can to keep everyone celebrating safely. Masks are required and be prepared to show proof of immunization if asked