Better Living uses affiliate links. If you make a purchase through them, we may receive a small commission (for which we are deeply grateful) at no cost to you.
You celebrate St. Patrick's day and Cinco de Mayo every year, but do you celebrate Bastille day? If not you're missing out. And that means you're missing out on some seriously delicious foods. French foods. And that's not okay.
What is Bastille Day?
Bastille Day is the French national holiday celebrated on July 14th of every year. On July 14, 1789, at least 8,000 men and women stormed the Bastille, a prison fortress in Paris demanding the release of the political prisoners and weapons being held there. This charge on the Bastille was the spark that set off the French Revolution and in turn changed the history of France. Similar to our 4th of July celebrations, Bastille Day or Fête Nationale, is celebrated in France with fireworks festivities, fun and … FOOD!!! Yes, delicious French foods. Major U.S, cities like New York, New Orleans and Philadelphia have big events celebrating Bastille day every year. It seems to be gaining popularity and I'm not hating it.
How To Celebrate Bastille Day
If you're geographically blessed, there may be some local Bastille Day festivities for you to join in on. It's also not too late to book that flight to France if you want to celebrate Bastille Day in the land of its dedication. But you don't have to pack your bags just yet. Save your money and travel frustrations. Why not just have a French wine and cheese themed tasting party at home? For the true French experience, gather some French wines and cheeses, and maybe ask guests to bring a French wine or dish. Or simply pack everything up for a French-themed picnic and enjoy the beautiful summer weather with some family and friends, great wine and delicious foods.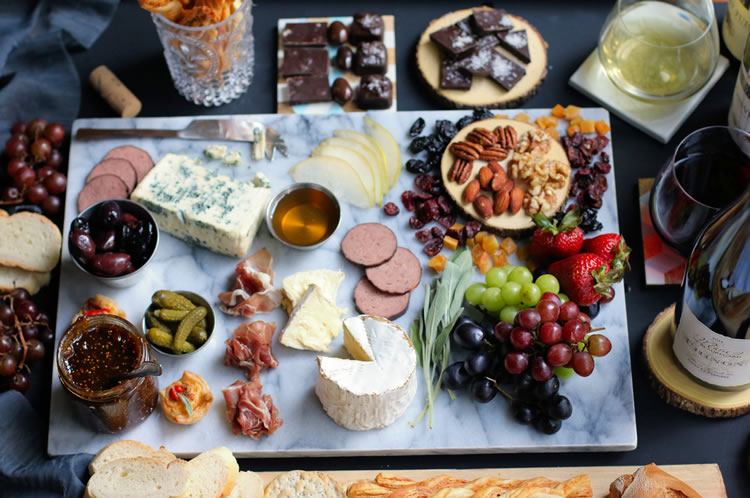 If there's one thing I learned on my trip to Paris almost a decade ago, it's that the French know how to enjoy life. They take the time to enjoy their food, savor their wine and they understand that it's the little things in life like a pretty tablecloth or vase of fresh flowers that can set the mood. Wherever or however you decide to celebrate Bastille Day, do like the French do and celebrate in style.
What Should You Serve?
Why all things made in France of course. Once you start shopping for ingredients you'll be pleasantly surprised at what you can find. Everything we served was really affordable and more importantly so delicious. Imported French cheeses can be found in grocery stores all over the U.S. like Whole Foods, Wegmans, Trader Joe's, Winn-Dixie and more. Here's what we're serving:
The French Cheeses
This Bastille Day we're serving St. André (a triple-cream similar to brie) and St. Agur, a sweet and oh so mild French Blue. For your party, you could also do goat, brie, gruyere, etc.
St. Agur Blue Cheese
St. Agur (pronounced sehnt ah-GOOR) is a French blue cheese made in Auvergne, France using pasteurized cow's milk. With 60% butterfat St. Agur qualifies as a double-creme. This blue is sweet, mild rich and salty.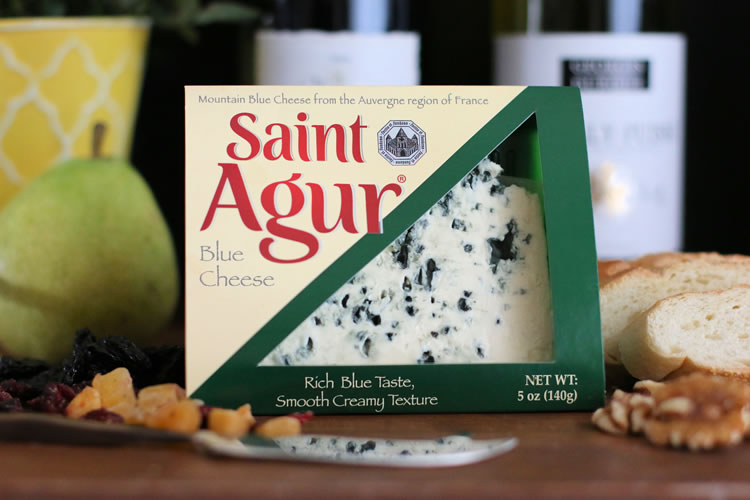 Often I find blues can be a bit overwhelming. Like one or two bites and I'm good. This one I kept going back for again and again. And again.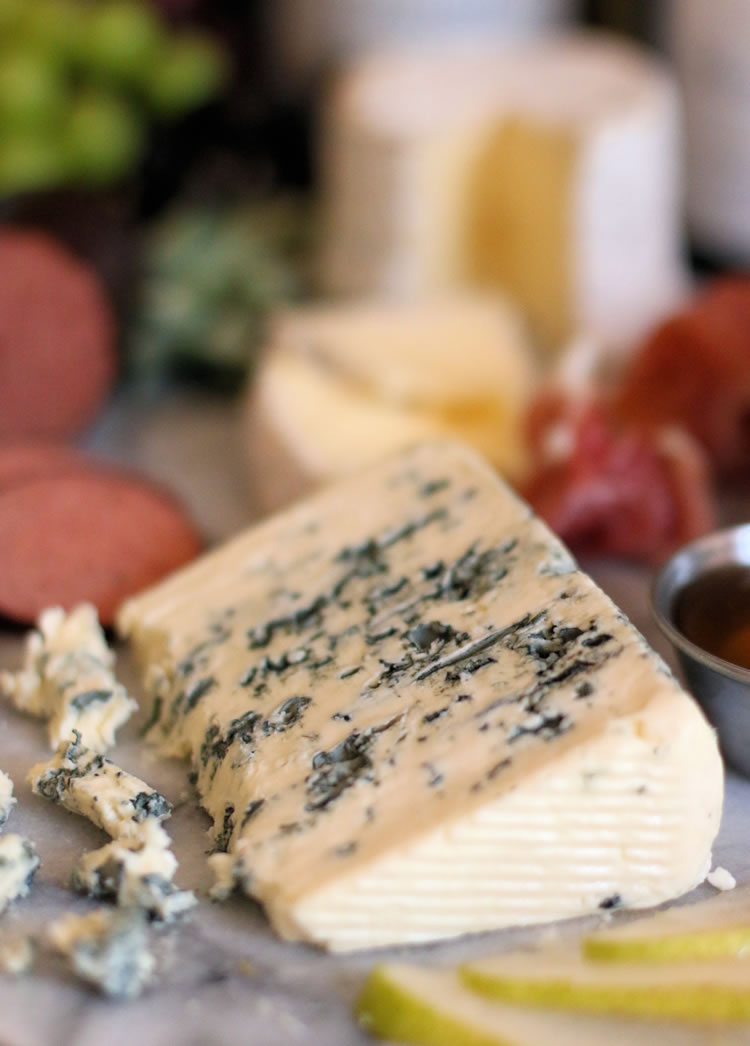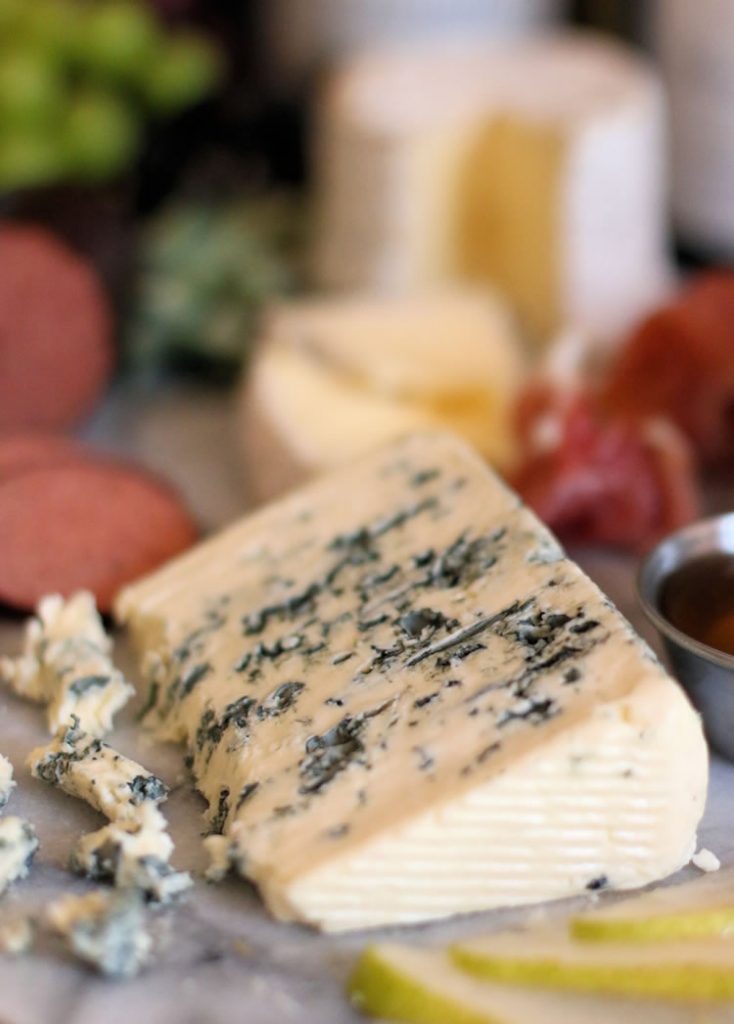 Common blue cheese pairings include sliced pear, walnuts, figs (fresh or dried), fruity jams, and nuts. Aside from the usual combos, this blue is also excellent with chocolate. It's true! Note to self: this cheese in a dip. Or in a steak sauce. Or any recipe where cheese is involved. OMG…with bacon!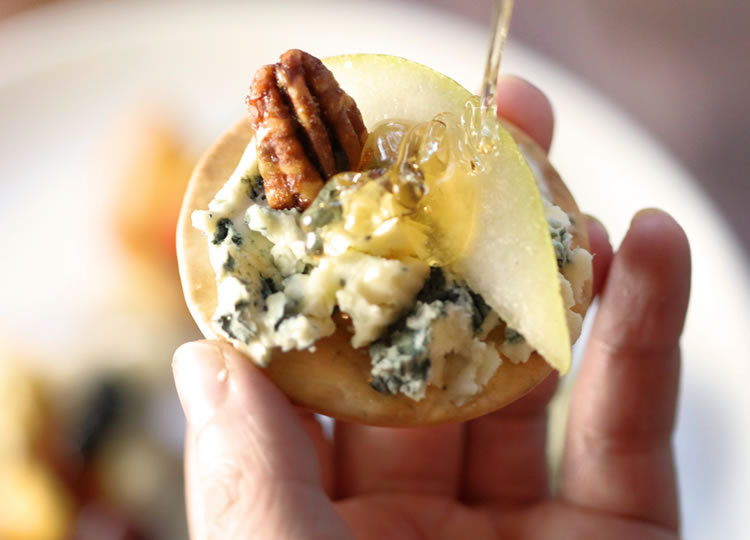 We spread some of this delicious blue cheese on a water cracker with fresh pear and drizzled it with honey. So so good.
 💡 Tip: For an easy party appetizer stuff a fresh date with St Agur blue cheese and a walnut.
St. André
This French cheese is the queen of all cheeses. Believe me. It doesn't get much more decadent than St.André. Similar in style to brie or camembert, André is a triple-creme cheese made from cow's milk. It's creamy, slightly tangy and oh so buttery. The perfect cheese for special occasions. I love this one so much I'm going to start finding more reasons to celebrate. Oh, it's a Tuesday? Bring out the St. André!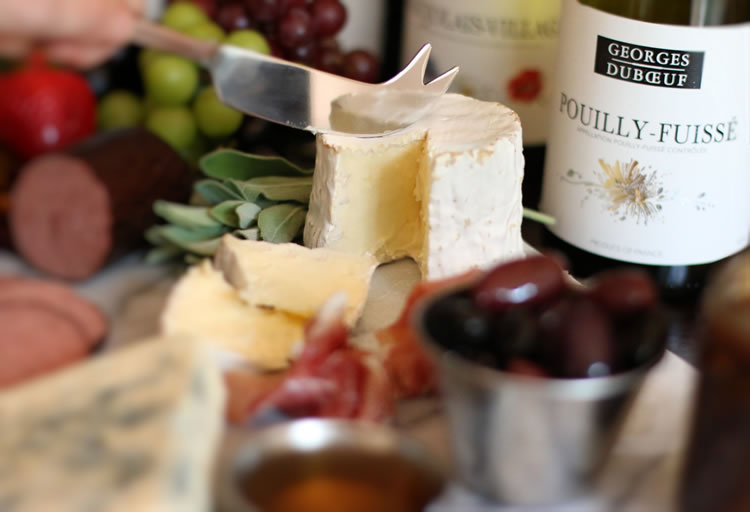 So why is St. André so incredibly creamy? The high fat (75%) content of course! Heavy cream is added just before it's aged for 30 days on the northwestern coast of France. It's even believed that the milk from the cows who graze along the coastal pastures lends a salty tangy flavor that only the ocean air could provide.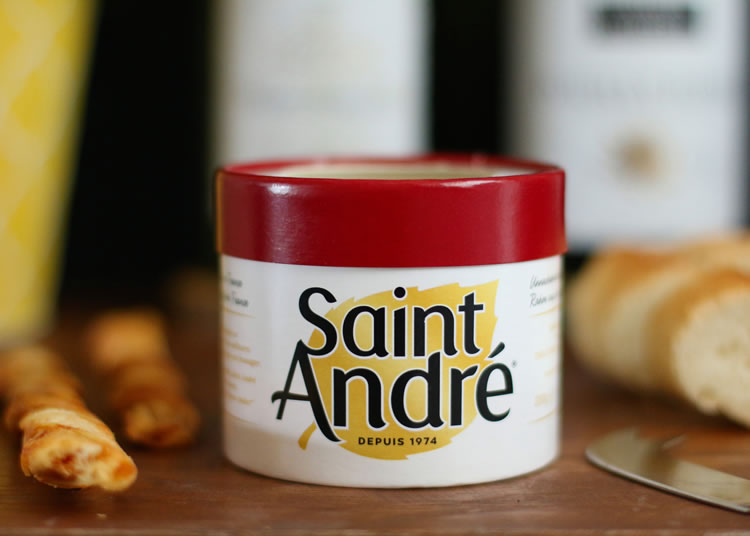 St. André comes in an adorable little and package and is wrapped up like a little muffin. Makes you want to take a great big bite right out of the package. That wouldn't be appropriate though, right?  Just before serving St. André, give it a few minutes to rest. Magical things happen when it comes close to room temperature and the creamy inside becomes even creamier. It will spread on your baguette like something out of a buttery dream.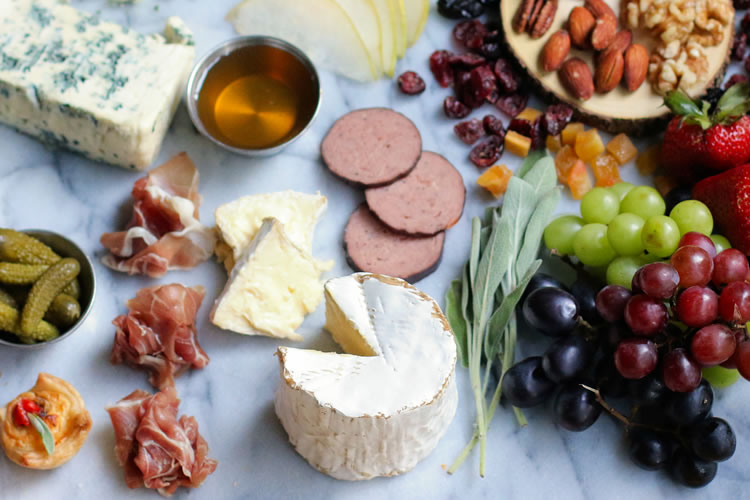 And it's not just the inside that's yummy. St. André's powdery white rind is perfectly edible. Do yourself a favor, try the rind. It spreads perfectly with the cheese and adds a bit of contrasting texture and tangy flavor. It may just change your mind about eating the rind. It changed mine.
St. André is easy to pair food with.  We had fig preserves, but this cheese works with almost any fruit jam or spread. Fresh or roasted fruits like pears and apples are a great match. Candied nuts like walnuts or pecans.  Water crackers are lovely. If nothing else a fresh crusty baguette is an absolute must. I think it's the law.
Bites On The Side
Here's what to serve along with your oh so yummy cheeses:
The Sweet: A combination of fresh fruits like grapes, pears, and berries. Apples and figs are also invited. Fruit jams or preserves are lovely with the cheese. We served a fig spread that was amazing. Honey is a lovely addition. If you're having a lot of guests serve a few varieties of each to keep the flavors fresh and your guests coming back for more. We also served up a few types of chocolates because… wine, cheese, and chocolate. Need I say more.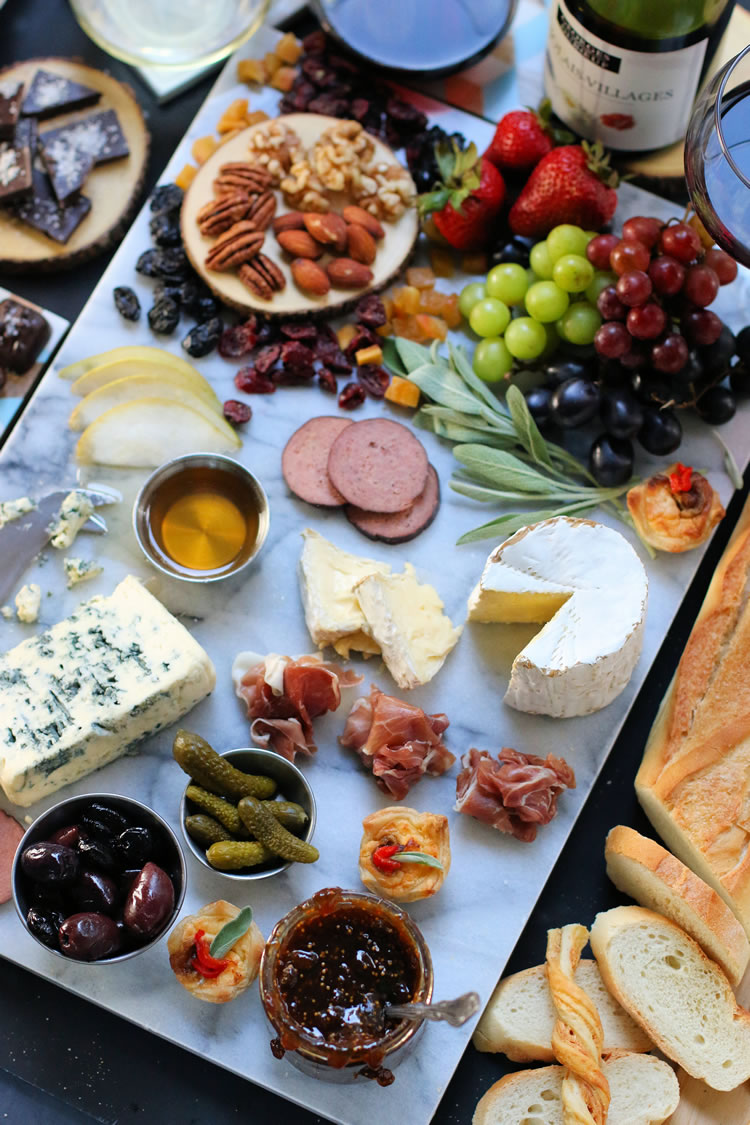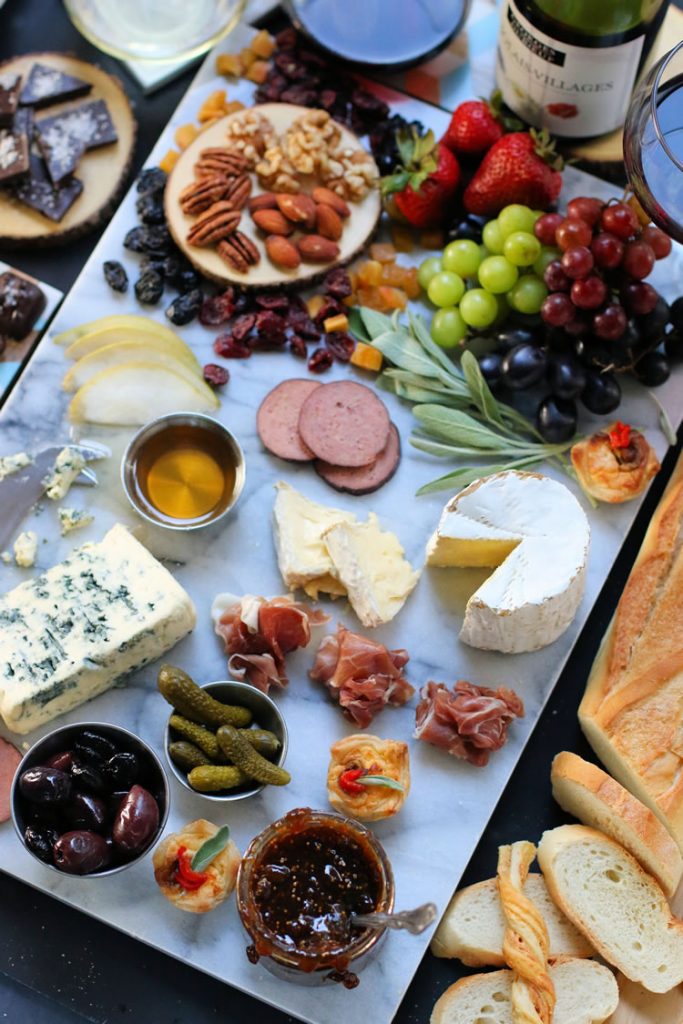 The Salty: A mix of olives, little pickles like French cornichons, and cured meats like dried sausage or Jambon de Bayonne the French's answer to prosciutto. You can sub the Italian version in a pinch. Next time I would include a pâté. And not just for meat eaters. There are some yummy veggie based pâtés made with ingredients like mushrooms, lentils, and herbs. I also served two types of French sea salts (a gray and a white) from the French salt company Baleine. Sustainably hand-harvested in Guerande, the flavor of the salt is pure and will enhance any food it is sprinkled upon.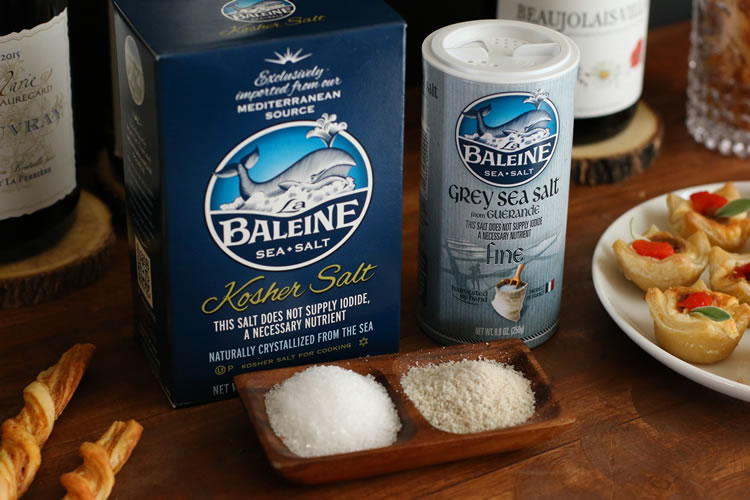 And sometimes you just need a little salt. Just ask these chocolates.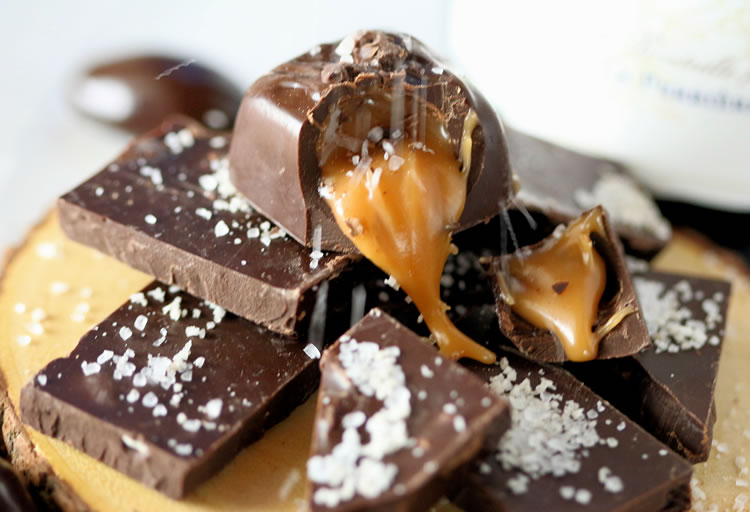 The Baked: Slices of fresh baked French baguette. I think the obvious police are about to come get me. Also water crackers and crispy cheese sticks. Because there's never enough cheese.  You could also serve a dark, earthy loaf with raisins. I know I wouldn't complain. Also, quiche. I just tried these mini little French cheese tarts with caramelized onions from Trader Joe's. To die for.
The Wines
No party on this earth could call itself French without some fantastic wine. Just be aware that French wines are labeled by wine region and not by grape variety. Here are the wines we're having. All great value (between $9.99 and $24.99) and all fantastically French:
Saget la Perriere Marie de Beauregard Chinon 2015
Grape Variety: Cabernet Franc from Vouvray, Touraine, Loire, France
Smooth & Supple – Medium bodied red that goes down easy
Barrel aged for 9 months, Marie de Beauregard Chinon is a beautiful garnet color with purple reflections. With aromas of blackberry and cassis, it tastes of stewed sweet spices, highlighted with a hint of vanilla. Very easy to drink. Too Easy. A perfect party wine.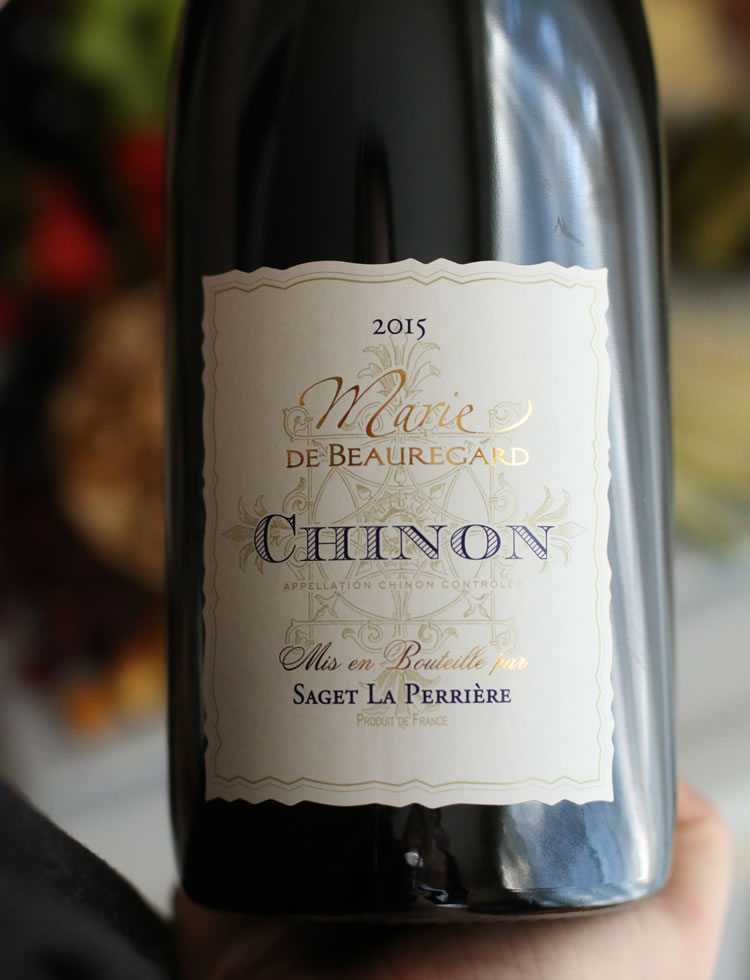 Saget la Perriere Vouvray Marie de Beauregard 2015
Grape Variety: Chenin Blanc from Vouvray, Touraine, Loire, France
Fruity & Smooth: Light to medium bodied white wine with lots of juicy fruit
This wine is fruity and smooth and would be considered light to medium bodied. I tend to prefer red wines, but with this white I find myself coming back for more. It tastes of ripe pear, acacia honey, candied fruits, and lemon. It's equal parts fresh, sweet and silky complemented the cheeses nicely. A perfect summer white wine for any occasion that even a novice wine drinker would truly appreciate.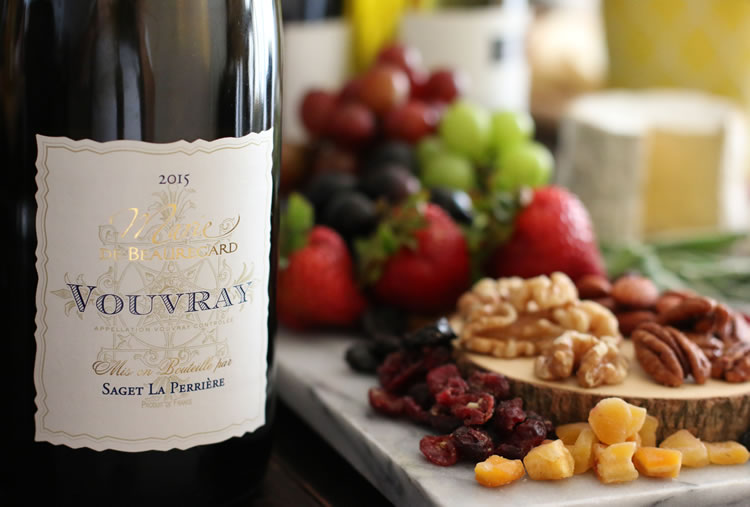 Georges Duboeuf Beaujolais-Villages 2015
Grape Variety: Gamay from Beaujolais, Burgundy, France
Light & Fruity – Red wines that are more fruit-forward
Made from Gamay grapes this Beaujolais (pronounced boh–zhuh–ley) is a wine for celebrations. Wines made with Gamay grapes are light-bodied reds similar in taste to Pinot Noirs.  This wine has notes of bright juicy cherries and raspberries. Beaujolais-Villages is great for pairing with cheese and charcuterie, burgers, grilled chicken or even roast salmon.
Every year, fans of Georges Duboeuf Beaujolais look forward to the wine's fun newly designed label to mark the year's new vintage.
Beaujolais Facts: Did you know that Beaujolais is the only wine with its own special day? Wine lovers around the world celebrate the third Thursday of November when they welcome the newest vintage of Beaujolais wine. Beaujolais must also come from the Beaujolais region, in the Southern part of the Burgundy region of France.
 💡 Tip: Although Beaujolais is a red wine, it is best served slightly chilled. 15 minutes in the fridge will do.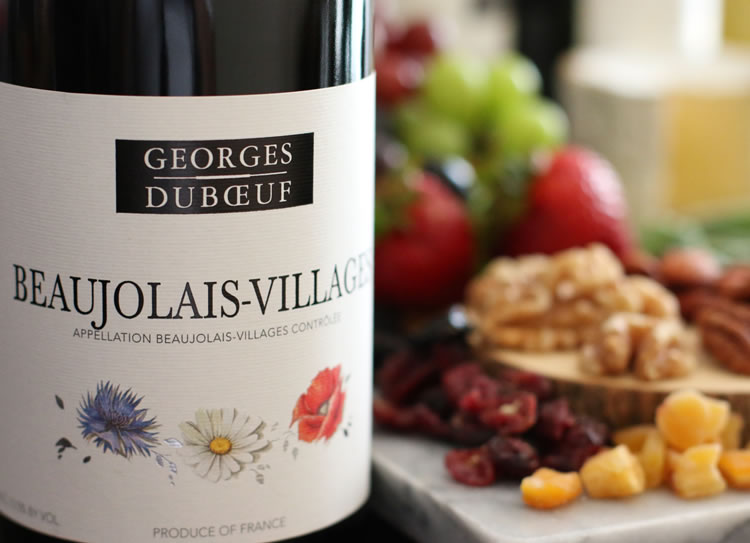 Georges Duboeuf Pouilly-Fuisse 2015
Grape Variety: Chardonnay from Beaujolais, Burgundy, France
Fruity & Smooth – Light to medium bodied wine with lots of juicy fruit, medium acidity medium oak.
Made from 100% Chardonnay grapes in the southern part of Burgundy, Pouilly-Fuissé (pronounced poo-yee-fwee–sey), as a region is famous for offering white wines that offer incredible value compared to pricier white Burgundies. Very food-friendly but also great to enjoy on its own. This wine has aromas of white blossom, almond, peach, and pear with flavors of dried fruit and figs. A food friendly wine for celebrating all things, French.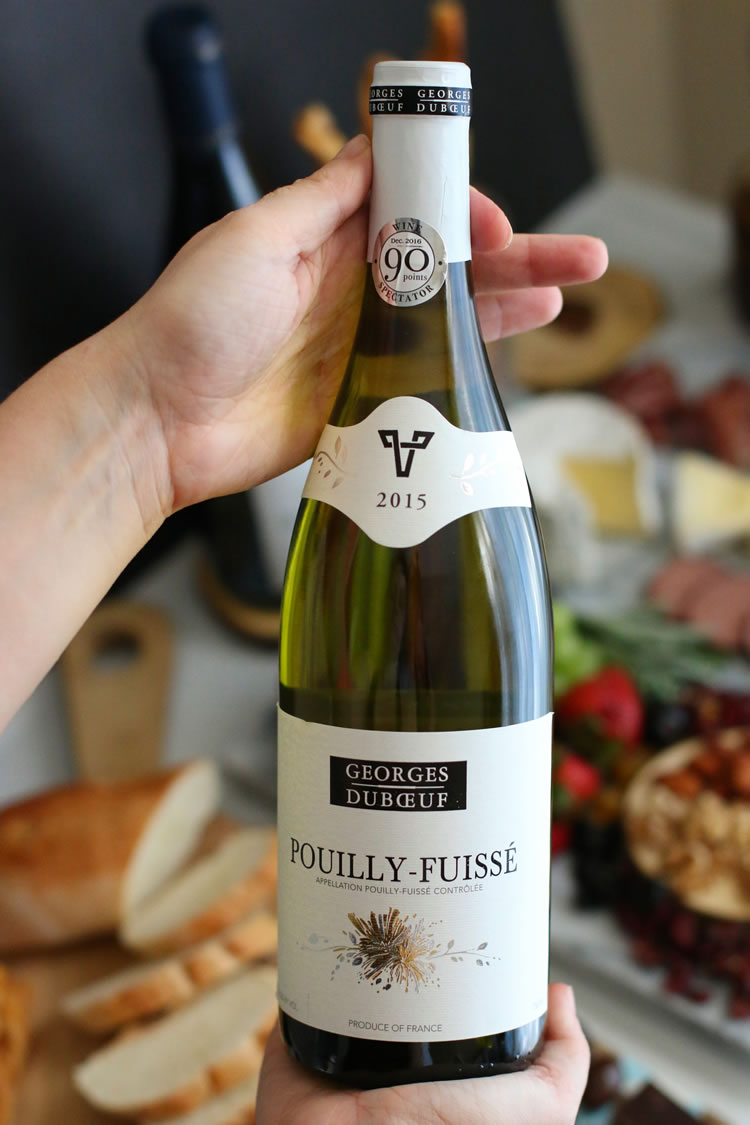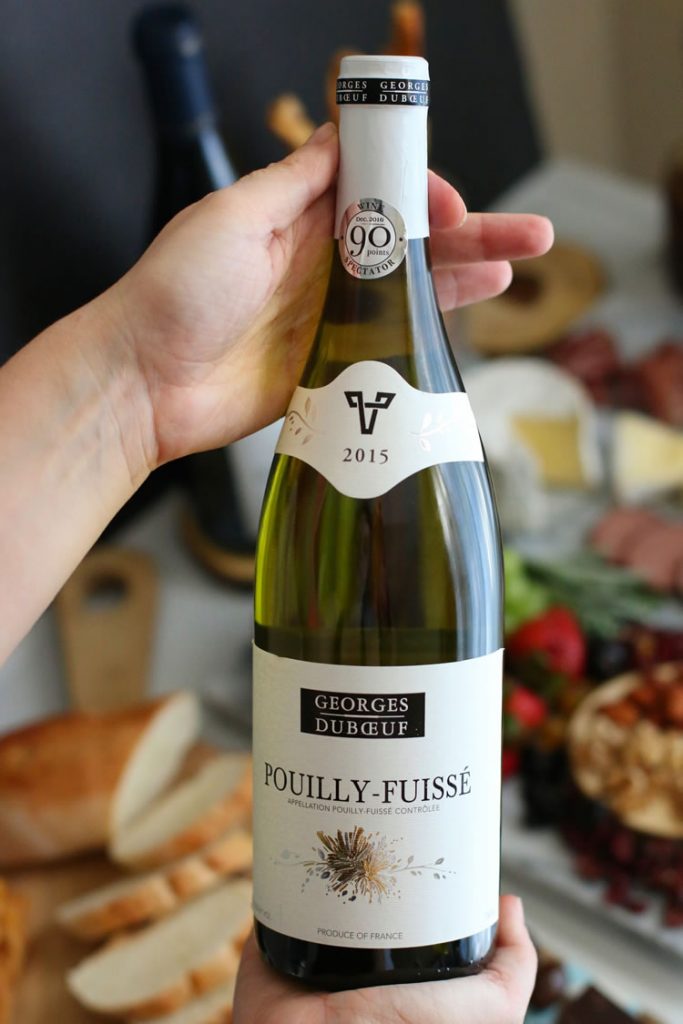 Final Notes
A French themed wine and cheese party is not only fun but incredibly delicious. Use it as an opportunity to discover new foods you may not have thought to try before. If inviting guests, ask them to bring a ?French wine or dish of their choosing. However you celebrate Bastille Day on July 14th, make sure to eat what you love and drink what you love as long as it's #MadeInFrance.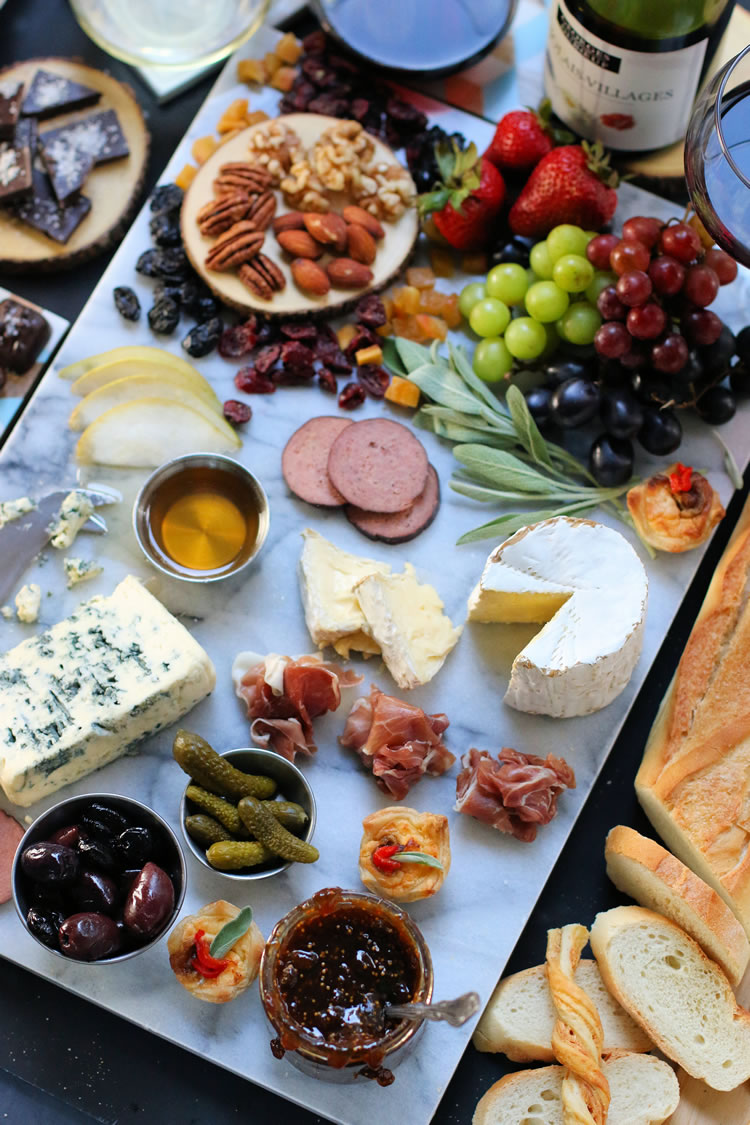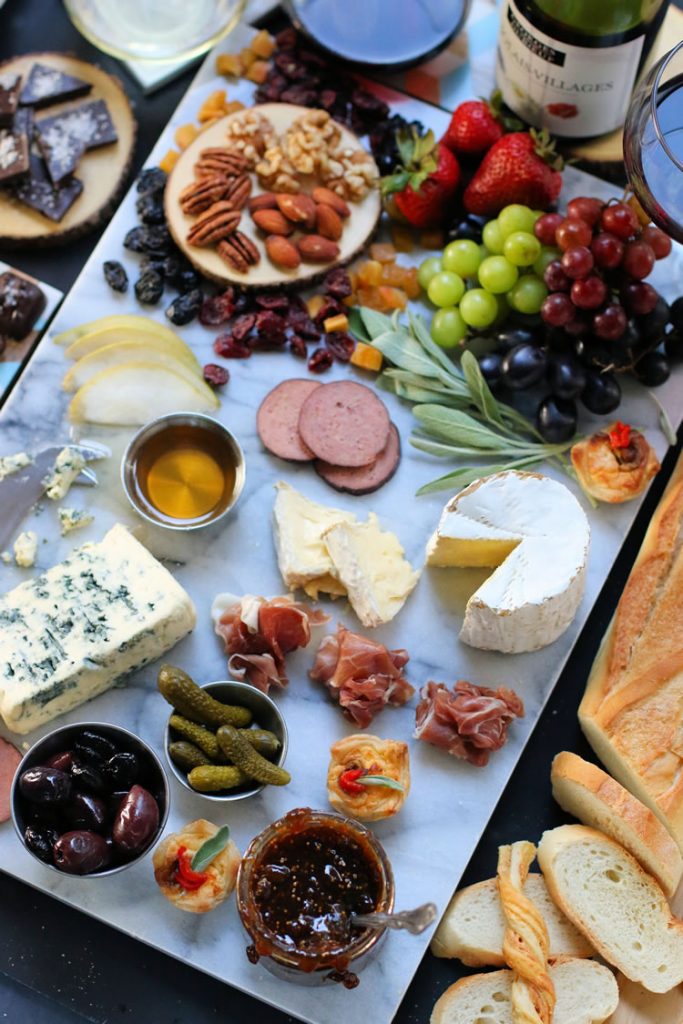 Visit The Links Below To Learn More About The Products Mentioned
Georges Duboef:  Instagram & Facebook | Beaujolais & Pouilly-Fuissé wines.
Saget La Perriere – Maker of Vouvray & Chinon wines.
Ile De France Cheese– Maker of St. Agur and St. Andre cheeses.
La Baleine  – Environmentally-friendly and sustainable French salts.