Better Living uses affiliate links. If you make a purchase through them, we may receive a small commission (for which we are deeply grateful) at no cost to you.
This post is sponsored by JustCBD. The opinions and information presented are all ours and should not be considered medical advice. We recommend you check with your doctor before starting any new supplement.
Once only available in dispensaries, cannabis products have suddenly become mainstream. You may have heard about CBD oil, which has been widely reported to have major health benefits as a pain reliever, stress reducer, and mood booster – all without the psychoactive effects of marijuana. That's right. CBD products will not get you high, they're non-addictive, and they're now perfectly legal in all 50 states. They're also ideal natural supplements that may support relaxation and sports recovery.
What is CBD?
CBD (short for cannabidiol) is one of more than 100 compounds called cannabinoids found in cannabis. Extracted from the seeds and stalk of the cannabis plant, CBD is a natural botanical concentrate that contains less than 0.3% THC and will not make users "high." Similar in structure to endocannabinoids, cannabis-like substances which are produced naturally by the body, cannabinoids help the body maintain stability, health, and a sense of well being.
Recently, a growing number of fitness enthusiasts consider CBD a key part of their recovery regimen.  Even professional athletes are supplementing with CBD oil to help reduce chronic pains and inflammation, improve sleep quality, and ease competition-related stress.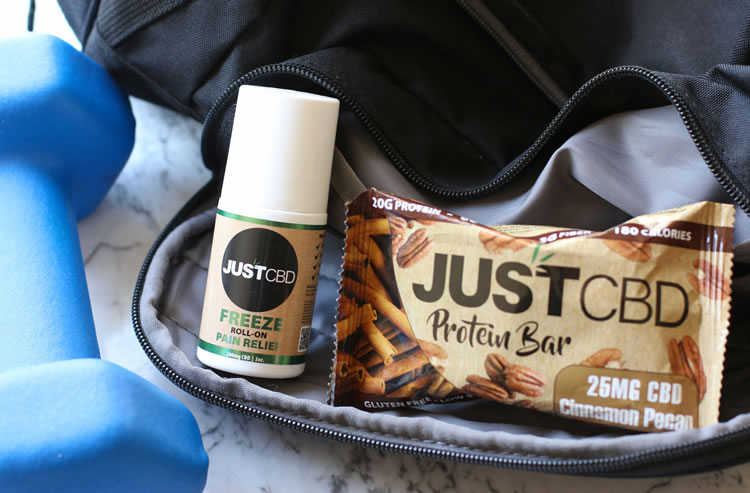 What Are the Benefits of Using CBD for Sports Recovery?
Sleep and Relaxation: CBD is known to support healthy sleep cycles without causing drowsiness. Enjoying quality sleep each night is one of the most important aspects of recovery. During sleep is when your body repairs, recharges, balances hormones, and even drops fat.
Reduce Inflammation: Recent studies suggest that CBD may reduce pre and post exercise inflammation. These anti-inflammatory benefits can help you recover faster, improve your training, and avoid delayed muscle soreness.
Pain Relief: Cannabis is an analgesic, which helps to relieve pain both during and after exercise. Many athletes use CBD post-workout to help manage pain from muscle aches, to sore joints, and older injuries.
It's Anti-Catabolic:  Research has shown that CBD has anti-catabolic properties, which means that it can help reduce the breakdown of lean muscle tissue and even help to build more muscle mass. CBD has been shown to decrease the number of catabolic hormones in the body and regulate the stress hormone cortisol, which breaks down muscle tissue to supply the body with blood sugar.
Decreasing Nausea:  Intense workouts cause blood flow to be diverted from the stomach which may result in nausea. The anti-emetic effect of CBD helps reduce nausea during and after exercise.
Reduction of Muscle Spasms: Dehydration, muscle sprains, and nerve damage are just a few causes of muscle spasms. Cannabinoids are known to have antispasmodic properties and supplementing with CBD oil may help you reduce these spasms.
Increasing Appetite: Intense workouts require additional calories for optimal recovery and CBD oil may help you to stimulate your appetite in a healthy way.
Cardiovascular Support:  With its ability to lower blood pressure and reduce inflammation, CBD is currently being researched as a therapeutic solution for cardiovascular diseases.
How Can I Get Started With CBD?
Including CBD supplements to your post-workout and sports recovery routine is easy and you can find everything you need to get started at JustCBDstore.com! CBD can be taken in a variety of ways, from smoking and vaping, to consuming it in edibles, and even applying it directly to the skin. One of the most popular ways, especially for those trying CBD for the first time, is through a tincture.
What Is A CBD Tincture?
A CBD tincture is a highly concentrated form of cannabidiol liquid that can be taken in convenient doses with a small, ml dropper.  Don't worry. Taking too much will not cause an overdose or get you high. The additional amounts are simply unnecessary. Since pure CBD can be quite bitter, it's commonly blended with oils, flavorings, and even honey for taste.  Many people add a few drops to food and beverages such as tea, coffee, soups, dressings, oatmeal, and smoothies. It can also be taken sublingually with a few drops under the tongue. Research suggests that substances taken sublingually are absorbed faster by the body.  Just be sure to hold the tincture drops under your tongue for at least one minute to allow it to absorb before swallowing. The effects of carefree relaxation should occur in about 15 minutes.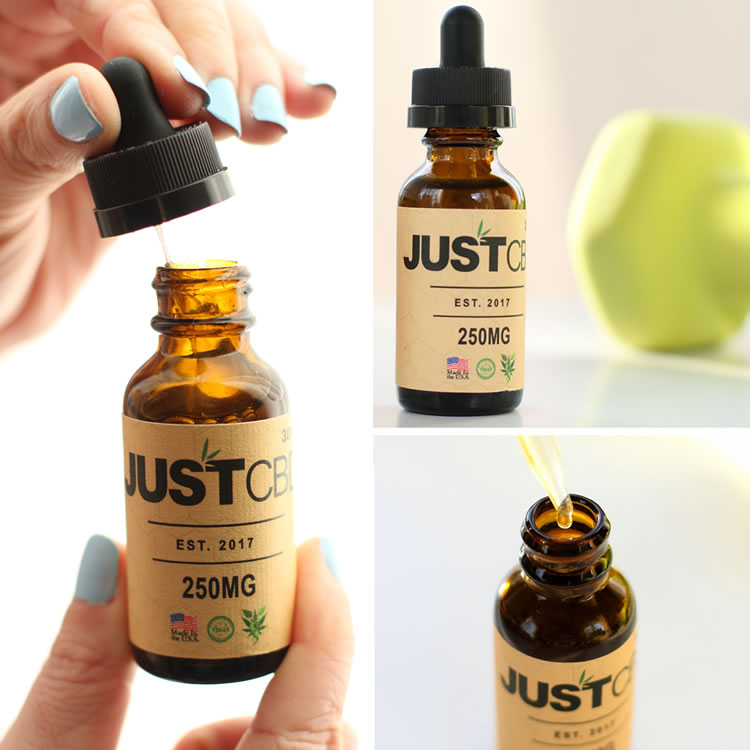 Recommended Product:  JustCBD Liquid CBD Honey Tincture 250mg
JustCBD tinctures have been carefully formulated to bring you the fast relief, great taste, and high-quality experience JustCBD strives to provide. This unique, pure honey and CBD blend tastes wonderful and is designed to be taken by droplet under the tongue. It comes in a convenient travel sized bottle, ensuring that relaxation is never more than a drop away.
CBD Infused Protein Bars
After an intense workout, a CBD-infused protein bar can help you recover faster and feel more relaxed without any psychoactive effects.  Just CBD Protein Bars are packed with protein and include a 25mg serving of CBD. They're the perfect recovery snack after your workout or for just unwinding after a busy day.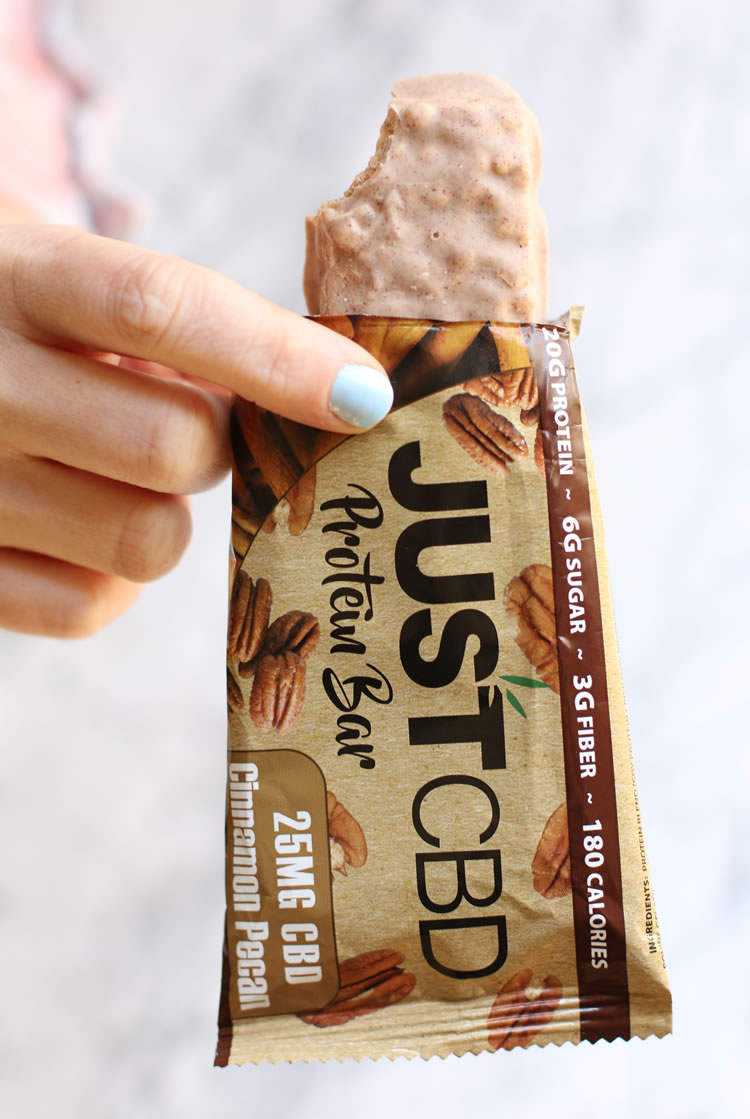 Recommended Product:  JustCBD Cinnamon Pecan Protein Bar
The JustCBD Cinnamon Pecan protein bar is 180 calories and contains 20 g Protein and 25 mg of CBD with only 6 g of sugar. This bar has a delicious cinnamon flavor that's light, crunchy and not too sweet. It's also great on the go and fits perfectly in your gym bag.
Other JustCBD protein bar flavors include S'mores, Peanut Butter, and Caramel Almond. Yum!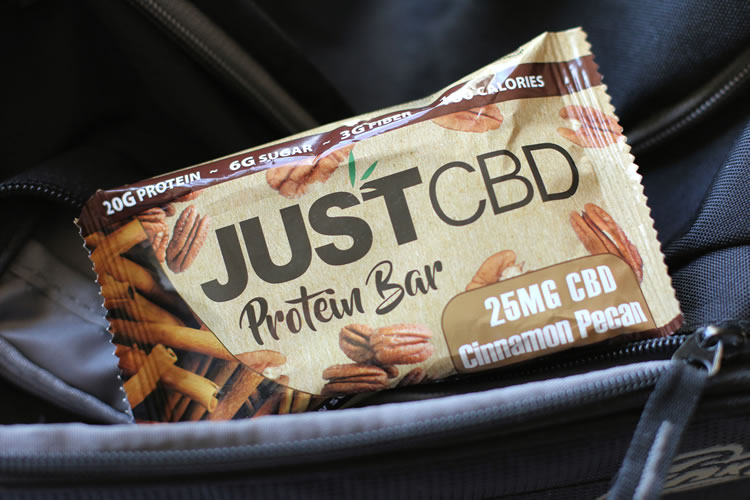 Topical CBD
Not all CBD has to be ingested to experience its benefits, and that's where topical CBD comes in.
Whether you're experiencing chronic pain or just common aches and pains through daily activity, topical CBD can be applied directly to the skin as needed.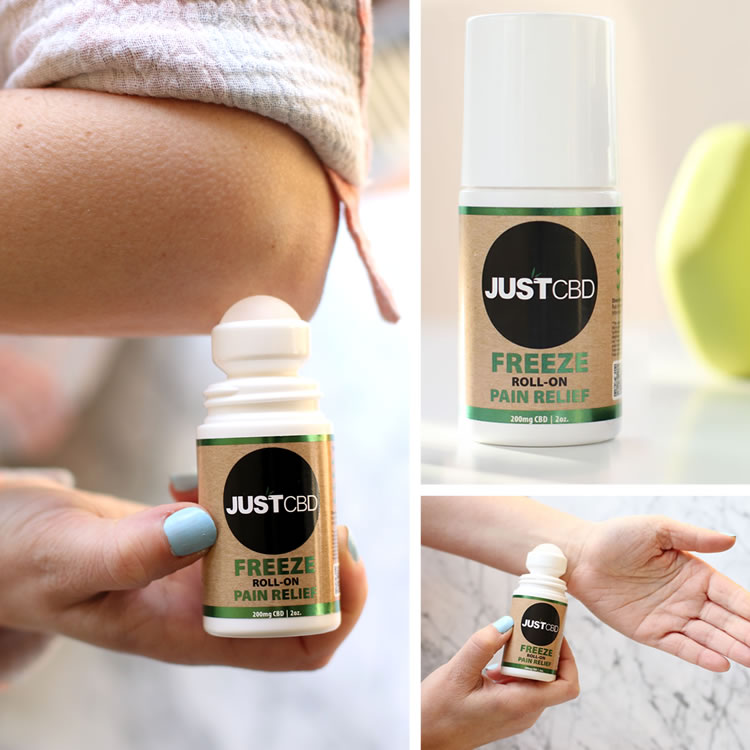 Recommended Product: JUSTCBD Freeze Roll On Pain Relief
You may not feel muscle soreness during an intense workout, but your body might be aching when wake up in the morning. To help relieve sore and inflamed muscles, JUSTCBD Freeze Roll On Pain Relief contains 200 mg of CBD and 3.9% of soothing natural menthol to get you through the day.
Simply apply a thin layer over the affected area and you'll begin to feel it working in a matter of minutes. It's a cool, numbing sensation that eases painful muscles and relaxes the mind, making post-workout recovery incredibly easy.
If you suffer from joint or muscle pain, the anti-inflammatory properties of CBD makes it an ideal solution for pain management.  CBD doesn't cause side effects, it's not addictive, and it provides pain relief fast.
Why JustCBD?
JustCBD offers a variety of convenient products and methods for adding CBD supplements into your daily sports recovery routine, allowing you to enjoy the many restorative benefits of CBD. Just CBD was founded on the basis that CBD is nature's secret miracle. They believe that you have the right to know exactly what is inside your CBD products. It's their mission and promise to never misrepresent the content of their products and use world class labs to test their product line. Just CBD is confident that every customer's order is made with industry leading quality, honesty, and love.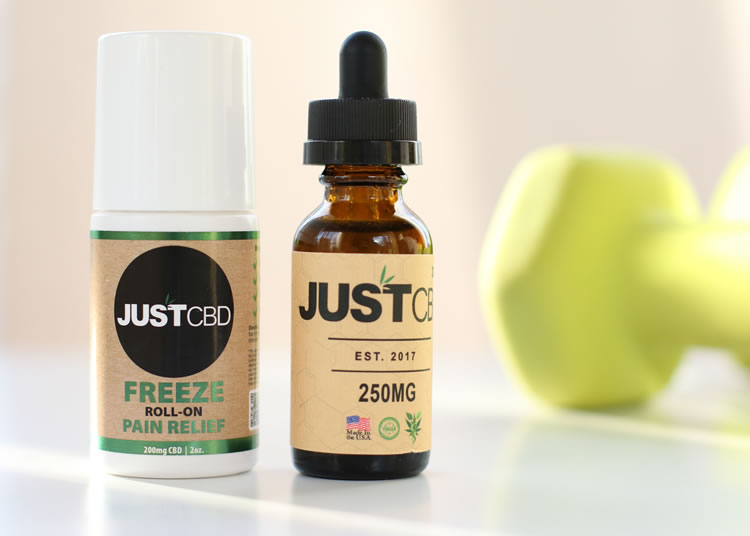 Start a CBD Regimen Today
Ready to start incorporating CBD supplements into your recovery routine?
Learn more about CBD and its incredible health benefits on the JustCBD blog!
Visit JustCBDStore.com to see their entire product selection and to place your order.