Better Living uses affiliate links. If you make a purchase through them, we may receive a small commission (for which we are deeply grateful) at no cost to you.
*We partnered with Great Lakes Gelatin Co. to bring you this post. All the information and opinions presented here are our own.
Just because you're on a keto diet doesn't mean you're not craving some of your favorite foods. And for us, that means waffles! If you love waffles as much as we do, then check out our keto-friendly and low-carb recipe for Keto Raspberry Lemon Waffles. These gently sweetened and lemony waffles topped with fresh raspberries are made with almond flour and blended with MCT powder from Great Lakes Gelatin Co. for a healthy dose of fats.
If you're on a keto diet you've probably heard of MCT oil (Medium-Chain Triglycerides) and may even have it in your pantry. You probably also know adding this popular keto-friendly ingredient to your diet can help you curb cravings, stay full longer, and give your body a boost of ketogenic fuel that can help promote more fat loss and give you more energy. But you can get your MCT's with a powder too! With a super creamy texture, we love how the MCT powder blends perfectly into things like smoothies, coffee, and baked goods like these waffles. 
Keep reading to learn what the differences between MCT oil and MCT powder are to see which one is best for you.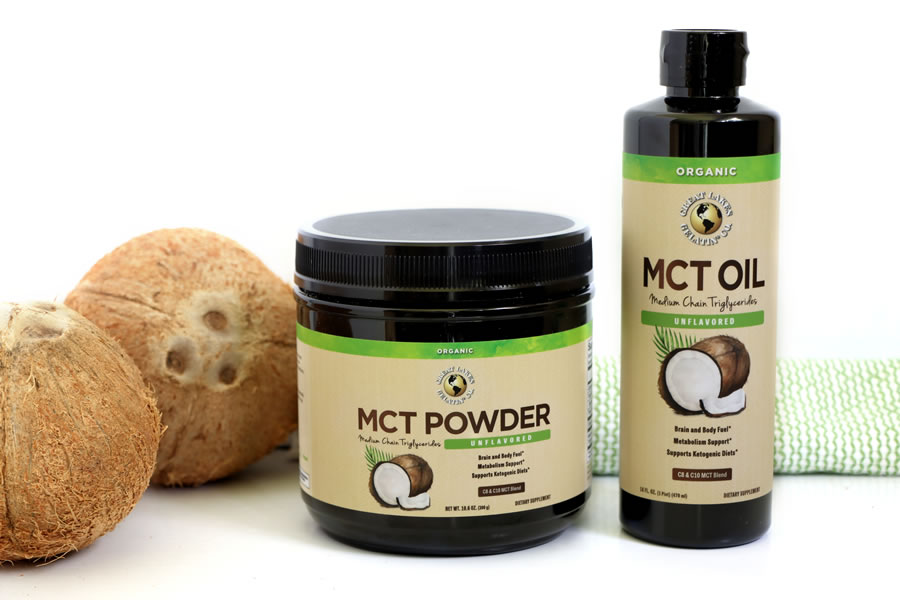 Which is Better? MCT Powder or MCT Oil?
Spoiler alert: As of today, there's no research showing that one is more beneficial than the other as far as health benefits go. Both have the same health benefits and are unflavored. This makes them both easy to add to shakes and other recipes without affecting the way they taste. While it is a personal preference there are a few differences.
Feel Great From The Beginning 
Because MCT powder is typically about 70% MCT vs. MCT oil at 100%, this is why on a per dose basis MCT powder is easier on the stomach for some.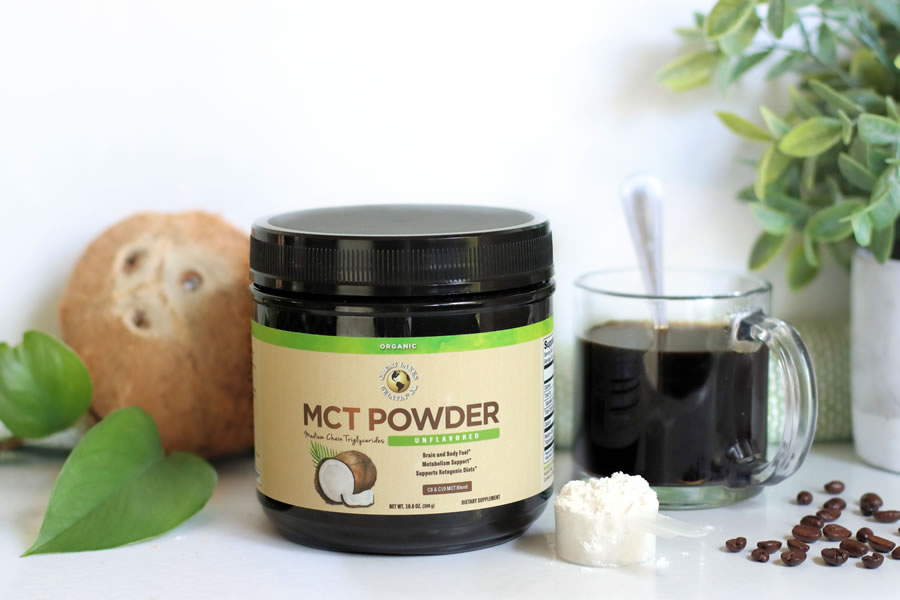 MCT Powder May Have a Better Texture for Your Needs
MCT oil has a lot of great uses. It's great to add to things like protein shakes and smoothies or drizzled over salad. We love it in our recipe for these delicious Mint Chocolate Fat Bombs. One of the most popular ways to use MCT Oil on a keto diet is to add it to a cup of morning coffee to fuel the brain and body. It also offers metabolism support while on the Ketogenic diet. That's why MCT powder is a great alternative. MCT powder will stir right in like a creamer adding all the same health benefits of the oil. MCT powder is also a healthy way to thicken things like shakes, dressings, dips, and soups (after cooking). We loved how creamy it made the batter for our raspberry lemon waffle recipe below.
What Should You Look For In an MCT Oil Powder? 
To know you're getting the best possible product, choose an MCT powder that is cold-processed from coconuts only and without artificial ingredients added to change the taste or texture. For the highest quality MCT products, look for certifications like USDA Organic or Non-GMO Project Verified products.
This is why we love Great Lakes Gelatin Co. MCT Powder!
Great Lakes Gelatin Company's Organic MCT powder is: 
Made from cold-pressed coconuts and not palm, which contributes to deforestation and threatens endangered wildlife like the orangutan.

USDA Organic and never produced with the use of chemicals, solvents, preservatives, or additives.

An optimal blend of C8 & C10 making it easily digestible and absorbed by the liver for increased energy and fat burning.

Flavorless for easy integration into your favorite recipes like coffee, smoothies, shakes, fat-bombs, and baked goods.

Non-GMO 

Kosher
Each scoop (10 grams) of Great Lakes Gelatin Co. Organic MCT oil provides 7 grams of medium-chain-triglycerides.
You can buy Great Lakes Gelatin Co. MCT Powder here!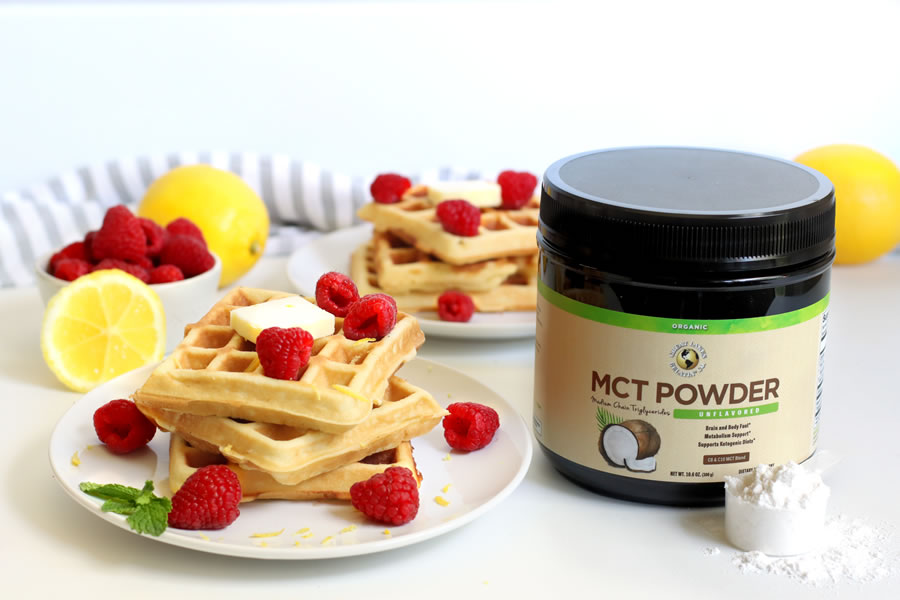 How to Make These Low-Carb, Keto Lemon Raspberry Waffles 
Ingredients You'll Need:
Almond flour

– We used blanched super-fine.  

Great Lakes MCT Powder

– This high-quality healthy powder will provide satisfying fat which helps to keep us full while fueling our brains and bodies. If your batter is a little thin, try adding another scoop to thicken.

Almond milk

– you can also sub coconut or your other favorite milk. 

Lemon juice and zest –

Lemons and their zest give these waffles such an amazingly fresh taste. We add a little extra sweetener than we would in plain waffle recipes to balance out this addition of acid. 

Butter, melted 

– You may sub coconut oil or ghee if you prefer.

Liquid Stevia sweetener OR erythritol

– When testing this recipe we used an erythritol sweetener. If you don't have that on hand, simply substitute with your favorite keto-friendly-sugar substitute to taste. Erythritol is 20% less sweet than sugar, so if you're using a sugar substitute that measures one-to-one for sugar, use only 2 or 3 tablespoons.

Baking Powder & Salt
Xanthan Gum

– This one's optional but help can give the waffles a bit more structure.

Vanilla and almond extract –

The almond is optional but adds a lovely note of flavor. Don't skip on the vanilla.

Raspberries – After some test runs, we found that our waffle maker was burning the raspberries before the waffles were done. So serving them on top is just as delicious. Bring on the whipped cream!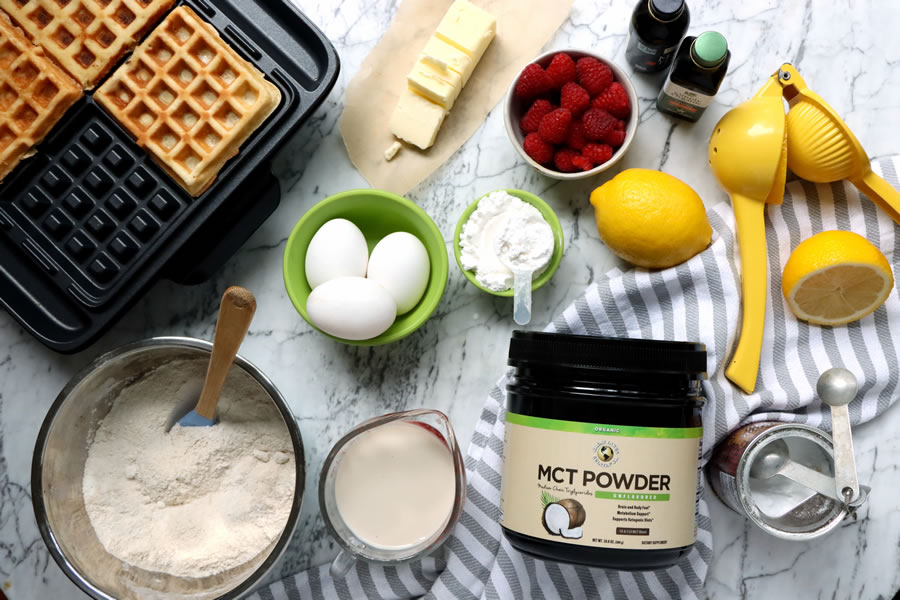 Special Tools You'll Need for These Keto Waffles:
Blender  – To make prep for this recipe easy, we just pop all the ingredients into the blender. A hand blender will be just fine too. Just make sure to mix it for a good 2 minutes to ensure a nice fluffy,  smooth batter.
Waffle Maker or Waffle Iron – Can't make waffles without one of these. Depending on your waffle maker the serving for this recipe may change. We estimate this recipe will make about 6 standard-sized waffles.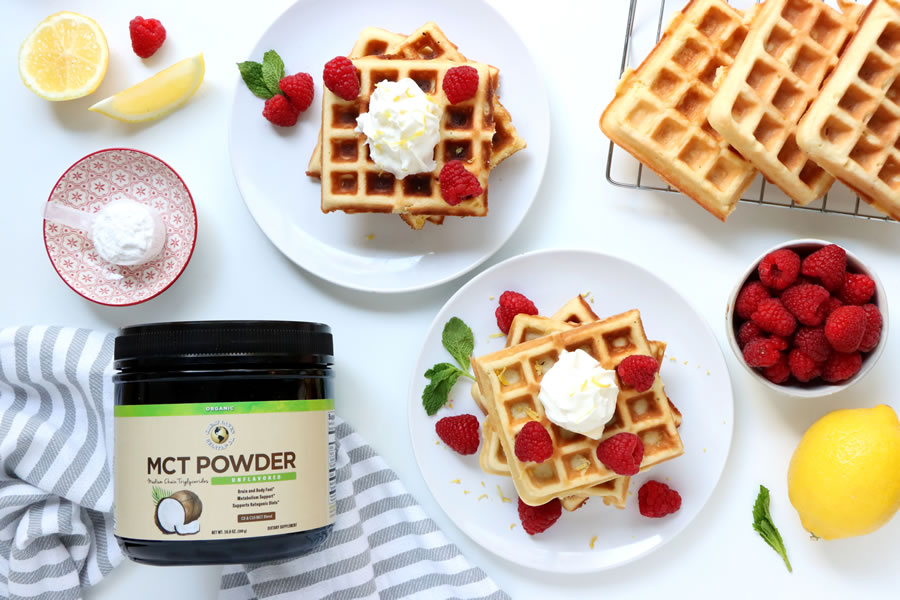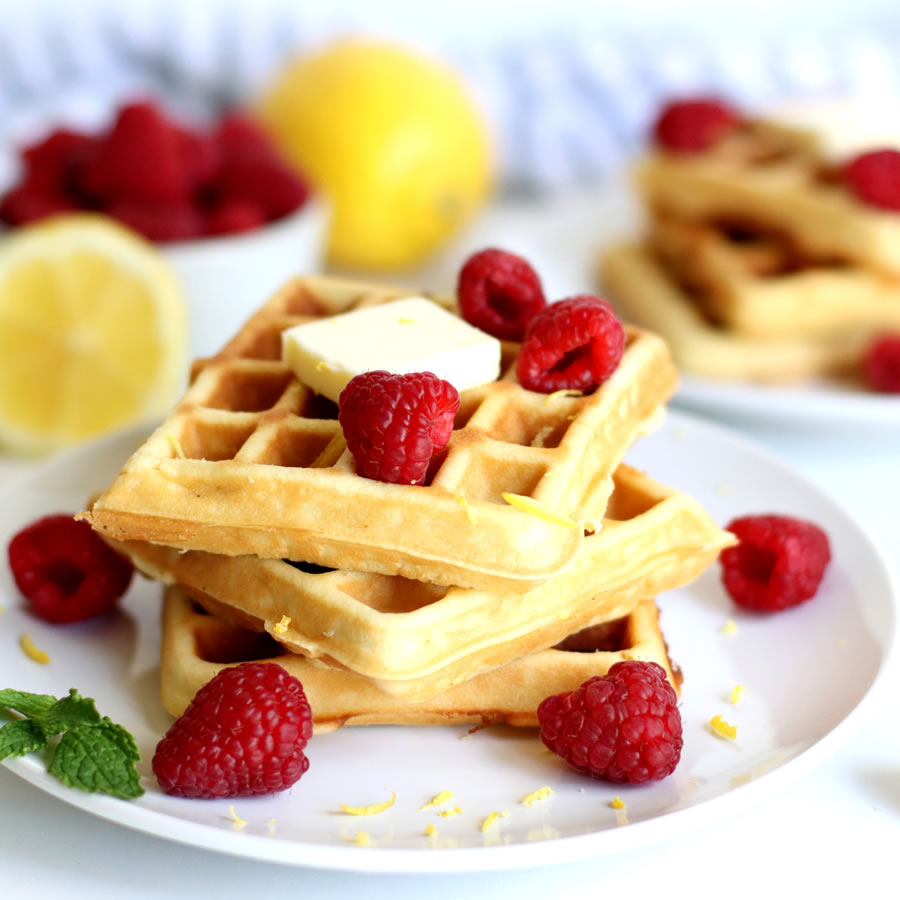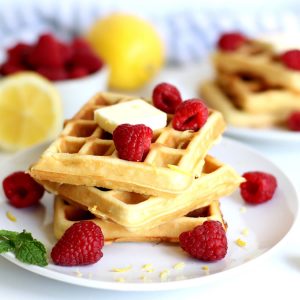 Keto Raspberry Lemon Waffles Recipe ( Low-Carb, Gluten-free, MCT Powder)
If you're eating low-carb and miss your morning be sure to give these keto waffles a try! These guys are made with almond flour and flavored lots of lemon, while Great Lakes Gelatin Co. MCT Powder adds a dose of easily digested keto-friendly healthy fat to boost your energy and keep your fat burning.
Ingredients
1/2

teaspoon

pure vanilla extract
For The Waffle Batter
1 1/3

cup

almond flour

3

eggs

1/2

cup

almond or coconut milk

5

tbsp

butter or coconut oil, melted

4

tbsp

erythritol (or other keto approved sweetene, to taste)

4

tablespoons

fresh lemon juice or as needed

2

lemons, zested

optional

3

scoops

Great Lakes Gelatin Co. MCT Powder

11/2

tsp

baking powder

1/2

tsp

xanthan gum (optional)

1/4

tsp

salt
DIRECTIONS
Place all ingredients in a blender and blend for 2 minutes until a cake-like batter has formed. The batter should be pourable but not too thin or runny. If it's too thin add a little more almond flour and blend again. If its too thick add another splash of milk.

Spray the inside of your waffle iron or maker with non-stick spray or baste with a little coconut oil or butter. Pour batter into the center of the waffle iron. Close the lid and cook for 3-5 minutes or until the waffles are a light golden brown.

Serve with your choice of butter, low-carb whipped cream, sugar-free syrup and garnish with fresh raspberries on top.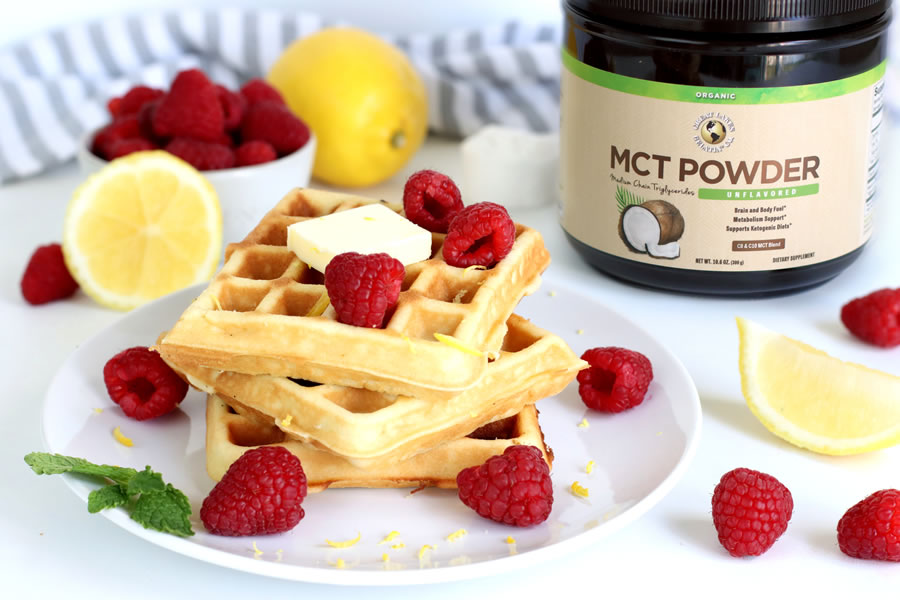 On a ketogenic lifestyle journey? Great Lakes Gelatin Co. MCT Powder is an all-natural way to manage your weight, help curb cravings and keep you keto!
Visit Great Lakes Gelatin Co. for more info, recipes and tips on using MCTs in your routine!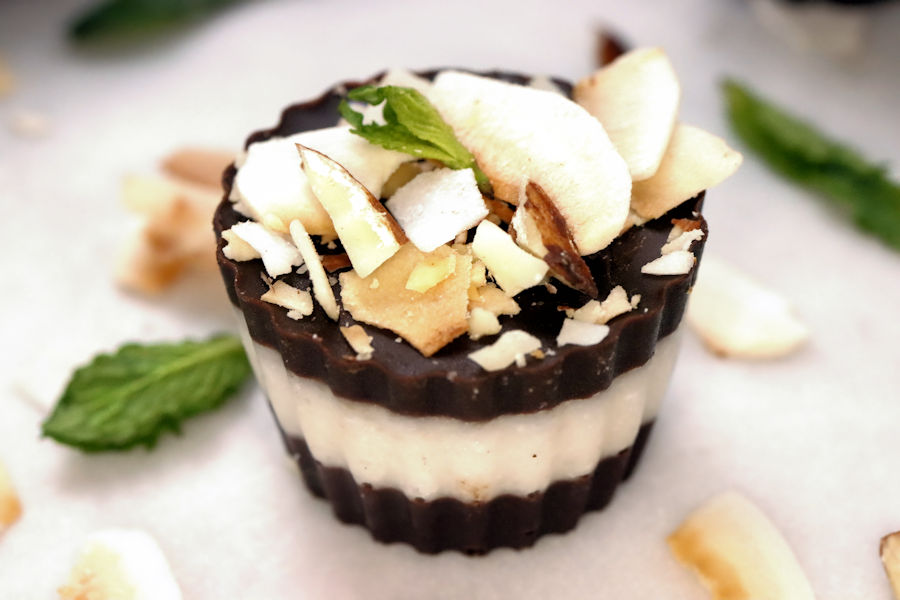 Looking for more keto-friendly MCT recipes? 
Perfect for curbing cravings with a boost of healthy fat, check out these super yummy and easy to make Mint Chocolate Fat Bombs made with MCT oil!