Better Living uses affiliate links. If you make a purchase through them, we may receive a small commission (for which we are deeply grateful) at no cost to you.
If you're looking to get in shape for summer fast, then your best plan of action would be weight training mixed with cardio, while also maintaining a healthy diet. Probably not what you wanted to hear, right?  Unfortunately, there are no shortcuts.  However, including supplements into your daily workout routine will not only enhance your progress, but they'll keep you feeling great and help you to stay motivated.
If your goal is to lose fat and gain muscle, then stacking your supplements will provide a wealth of benefits. A stack is a group of products with varying benefits, that when taken on a daily schedule, will help you achieve your fitness goals faster and more effectively.
Recently, we were asked by Vitamin Shoppe to try a stack from their high-quality line of BodyTech products.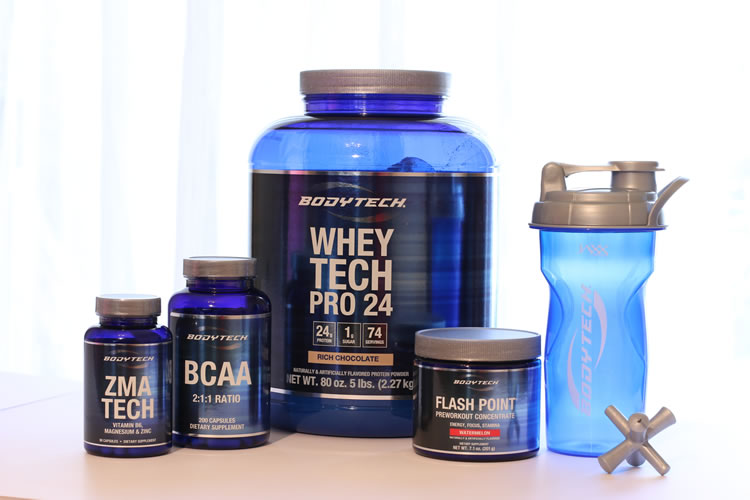 BodyTech is the house brand of Vitamin Shoppe, a publicly traded company that's been one of the most trusted names in health and wellness for 39 years.  But, don't let the idea of a "house brand" fool you. These are not cheap or generic products.  With BodyTech, you'll get the highest quality supplements at a fraction of the price because there's no middleman.  That's right. With BodyTech, you're buying direct, and that just means more savings for you. Here's our recommended stack to enhance your weight training and cardio results using BodyTech products.
Before I hit the weights or jump into cardio, I like to take a pre-workout supplement. Preworkouts provide the energy that I need to stay focused through my training. They also help me recover faster and achieve better results. For this week's pre-workout stack, I tried Flash Point Preworkout Concentrate (Watermelon Flavor), BCAA's, and Creatine all from BodyTech.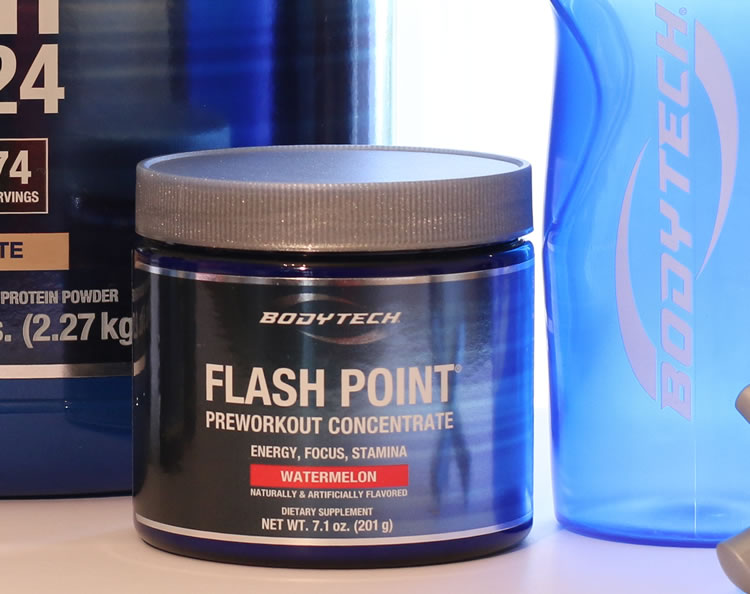 BodyTech Flash Point mixed extremely well in water and had a surprisingly accurate watermelon flavor.  It truly tasted good! Along with the 1 scoop of Flash Point, I also took 3 caps of BCAA's and 1 teaspoon of Creatine. I felt the energy rush of Flash Point within about 20 minutes, and it powered me through a solid 45 minutes of weight training.   Keep in mind, Flash Point has 250mg of caffeine and other energy enhancers, so I was fully prepared for some killer energy.  If you're sensitive to caffeine, maybe try ½ a scoop or less to start and see how you feel.
I like to add BCAA's and Creatine to my pre-workout drink.  BCAA's stand for Branch Chain Amino Acids. Supplementing with BCAAs before and during your workouts can reduce muscle soreness and help you recover faster. They may also improve your mental and physical performance, especially if you train while fasting. Adding Creatine is beneficial because research has shown it can improve performance, increase muscle growth, and help control blood sugar levels.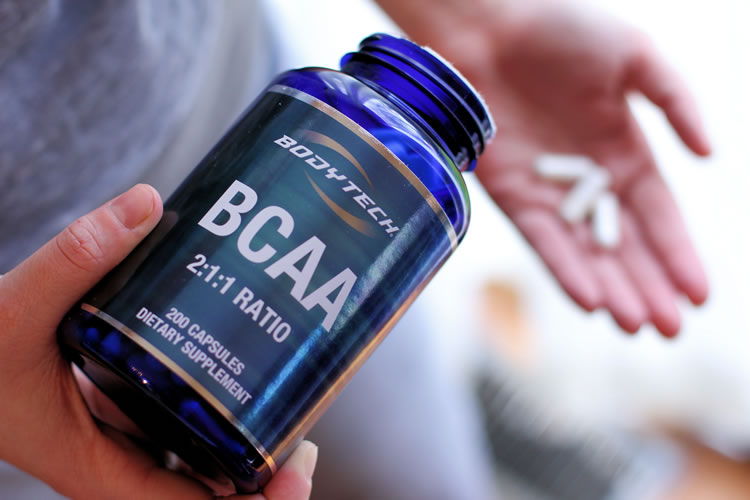 For a pre-workout drink with Creatine already blended in, Pre-Effect Watermelon from BodyTech is another great choice with a similar flavor.
Whether you're lifting weights or doing cardio, definitely try including a pre-workout supplement like Flash Point prior to training. Trust me. It will take your workout to the next level.
After weight training, it's important to replenish your body with some high quality protein.  The amino acids found in protein are the building blocks of muscle. So, it's essential to get the right amount of protein after a workout so your muscles can quickly recover.  To make sure you're getting enough protein, it makes sense to include a high quality protein powder into your nutrition plan.  For this, I tried Why Tech Pro 24, Rich Chocolate Flavor from BodyTech.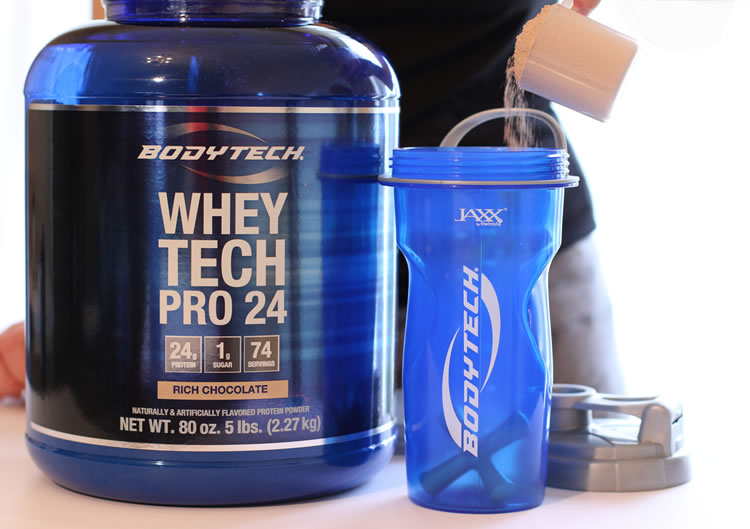 Whey Tech Pro 24 – Rich Chocolate has one of the better chocolate flavors that I've tried, and it mixed extremely well using a Jaxx shaker bottle.  Many protein powders that I've tried do not mix well and leave you with huge clumps stuck to the bottom of your bottle.  No clumping with Whey Tech Pro 24 at all!  Just smooth,  shake all the way through.  Whey Tech Pro 24 provides 24 grams of protein per scoop, so it's a great value too. Most importantly, Whey Tech 24 digested great. No feelings of nausea or discomfort at all, which can happen with many protein powders out there.  To make digestion even easier, Whey Tech Pro 24 is enhanced with lactase as well as Aminogen, a patented protein enzyme blend. This grouping of enzymes may help aid in the absorption and digestion of protein. Definitely give this one a try!
Later in the day, I like to supplement with L-Arginine. L-Arginine helps support endurance and may boost nitric oxide production for overall cardiovascular health. L-Arginine also helps regulate blood pressure and blood sugar levels, while supporting your immune system and brain health.  For men looking for even more increased stamina, Longjax MHT With Arginine by BodyTech is a great option as well.
At night I supplement with Zinc, Magnesium Aspartate, and Vitamin B6 right before bedtime. BodyTech combines these three valuable nutrients in one supplement called ZMA Tech.  Research has shown that increasing ZMA in your system may build muscle, increase strength, speed recovery, and give you a more restful night's sleep. Perfect.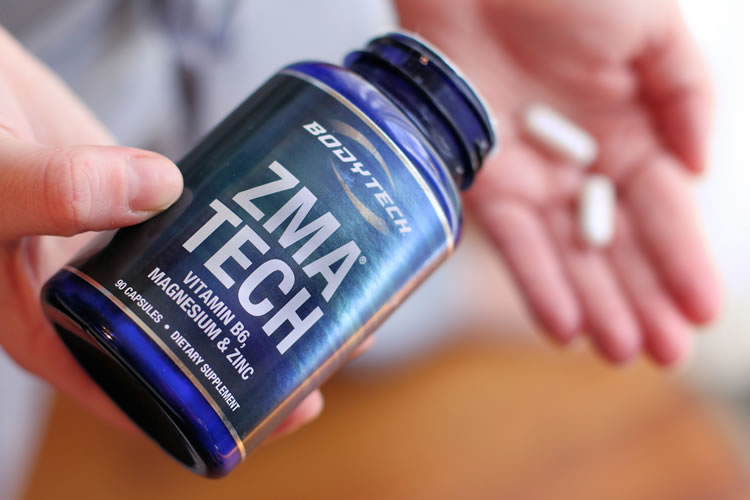 Here's what my BodyTech stack schedule looks like…
Before Workout:  Flash Point Preworkout Concentrate, BCAA's, and Creatine
Post Workout:   Shake with Whey Tech Pro 24, Rich Chocolate Flavor
In The Evening:   L-Arginine
Before Bed:   ZMA Tech
So there you have it! A simple BodyTech stack that's both high-quality and affordable, thanks to our friends at Vitamin Shoppe. As with any supplement regimen, it's best to start slowly.
If you would like to learn more about how BodyTech by Vitamin Shoppe can help you reach your fitness goals or you check out some of their supplements you can visit them @ vitaminshoppe.com/bodytech
So what's your favorite stack? Have you tried any of the products mentioned here? Let us know in the comments what has worked for you and your workouts.
*This is sponsored content for BodyTech and Vitamin Shoppe. The opinions and text are mine.