Better Living uses affiliate links. If you make a purchase through them, we may receive a small commission (for which we are deeply grateful) at no cost to you.

While beets are best known for their beautiful deep red color and sweet earthy flavor, beets should be on your radar for a whole lot more. Beets are one of nature's healthiest foods with some amazing benefits. Read on to see why beets should be a part of your diet and the easiest way to get them.
1. Beets Are Packed With Nutrients
There's no denying beets are super healthy. Not only are beets a good source of minerals like iron, potassium, magnesium, and manganese, but beets also provide a healthy dose of immune-boosting vitamin C, as well as antioxidants and nitrates. Beets also have one of the highest vegetable contents of the B vitamin folic acid (vitamin B9) which is important in helping to prevent birth defects, while protecting against cancer and cardiovascular disease.
2. Beets Are High In Antioxidants & Fight Inflammation
Antioxidants are molecules that neutralize free radicals. These unstable molecules that can cause damage to cells and can then cause premature aging, inflammation, and disease. Exposure to external factors like alcohol, cigarette smoke, pollution, radiation, drugs, and pesticides can increase the free radical load within the body. This is where the beet and its rich concentration of antioxidants called betalains step in.
This new class of powerful disease-fighting antioxidants gives beets their beautiful color. They also have anti-inflammatory properties. Beet juice can also increase the body's production of glutathione, also known as "the mother of all antioxidants" and a crucially important nutrient to our health.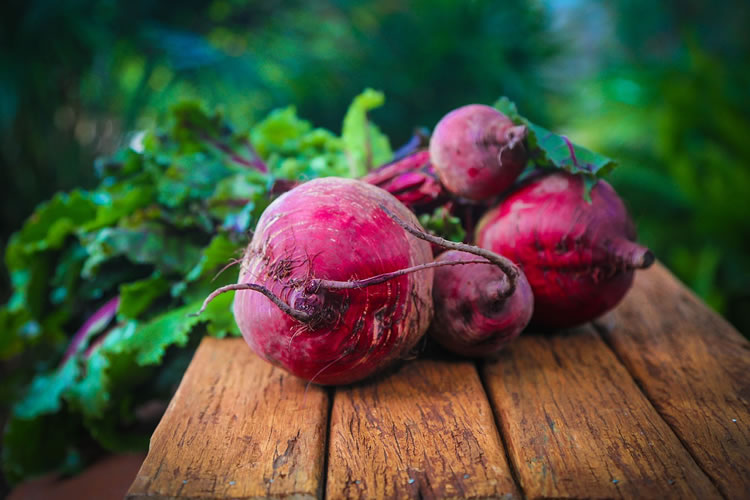 3. Beets Can Help Cleanse & Support Your Liver
While your liver is the organ in charge of cleaning your blood and "detoxing" your body, you can give it a little help by adding beets to your diet. Beets are rich in cell cleansing nutrients which can help the liver cells remove toxins more efficiently and encourage the detoxification process.
These phytonutrients called betalains (we mentioned those before) support detoxification through the important second phase of the liver's detox process. It's at this step when broken-down toxins get bound to other molecules and are then sent be excreted from the body. Quick and efficient removal of these toxins makes for a healthier liver and a healthier you. Positive benefits include balanced hormones, keeping cholesterol in check and managing energy levels.
4. Beets Can Help Boost Your Energy Levels and Increase Athletic Performance
Beets have become quite popular with athletes and have been shown in studies to boost endurance and stamina. Research published in the journal, Medicine and Science in Sports and Exercise, showed cyclists who drank 500 mL of beetroot juice before their ride were able to go 20 percent longer and boost their overall performance by up to 15 percent.
So why can beets give your body a boost? Beets are a rich dietary source of nitrates. When ingested, the nitrate in beets is reduced to nitrite, which then becomes nitric oxide or (NO). Nitric oxide then sends signals to the body to keep the blood vessels open and relaxed and then your cells enjoy more oxygen, more nutrients, and more energy. The American Heart Association President once called the discovery of nitric oxide and its functions one of the most important in the history of cardiovascularmedicine.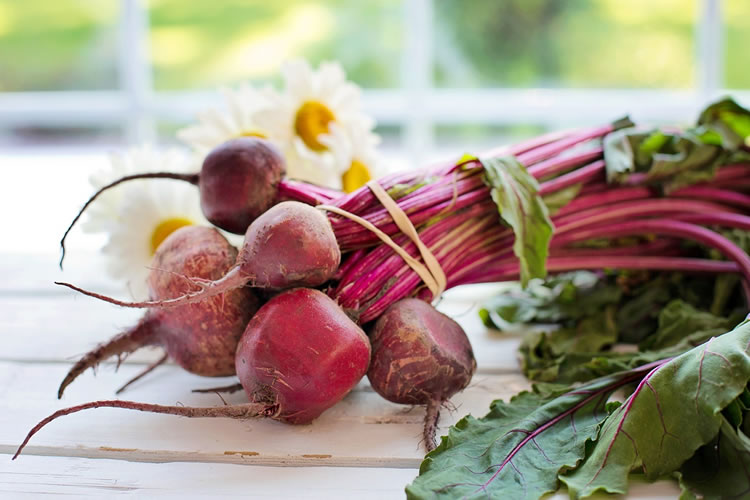 5. Beets May Help To Boost Brain Function
There is some evidence that beetroot powder benefits brain health and may help protect against age-related mental and cognitive conditions. In fact, a published study found that giving elderly adults a diet high in nitrates helped increase blood flow to certain areas of the brain involved in executive functioning which include the ability to plan, focus, remember instructions, and handle multiple tasks with ease.
6. Beets Can Lower Blood Pressure & Support Cardiovascular Health
The American Heart Association estimates that about 44 percent of all Americans will suffer from some form of heart disease by the year 2030. How do we fight this epidemic? One step would be to increase our dietary intake of beets. One of the most wonderful benefits of beets is their effect on heart health.  First, beets are a rich source of super beneficial nitrates. In the body, nitrates get reduced to the molecule nitric oxide and then act as vasodilators helping to improve blood flow and reduce blood pressure. One study in the British Journal of Nutrition found that beet juice helped to significantly lower blood pressure in only 24 hours. Another study found that beetroot juice helped lower levels of bad LDL cholesterol in people with high blood pressure.
To boost your nitric oxide levels, look for concentrated beet products like beet crystals or powders to help increase your dietary levels faster.  It's also a more convenient and affordable way to fit beets into a busy lifestyle.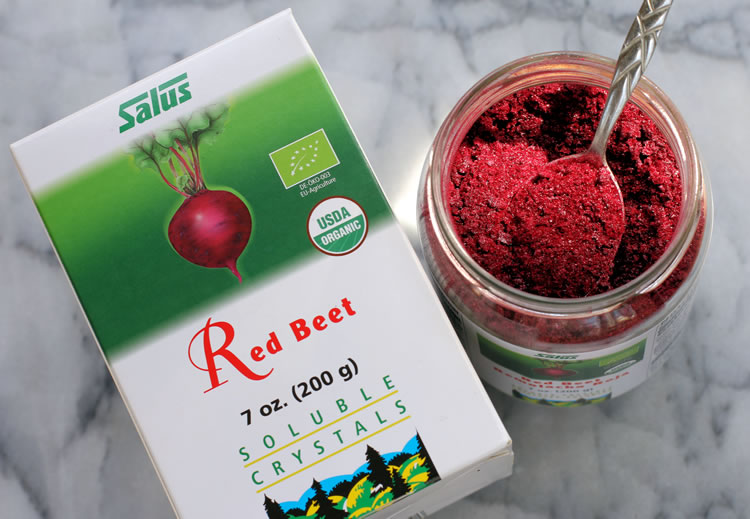 The Easiest Way To Get Your Daily Serving Of Beets
While I love some freshly roasted beets, I don't love preparing them all the time. If you would like to get more beets into your daily diet but are not big on the preparation, I found a much easier way. Salus® Red Beet Crystals are 100 percent natural and soluble crystals made from organic red beets that contain all the nutritious and beneficial parts of the plant. How are they made? Organic beets are pressed within a few hours of harvesting and then turned into crystals using a unique extraction process that does not use heat or solvents. The crystals are naturally sweet, a little tangy and have no sugar added. Very yummy.
My favorite thing about these nutritious and tasty Salus Red Beet Crystals is how versatile they are. While you can easily add them to a glass of water, juice, shake or smoothie there's so much more you can use them for. Red Beet Crystals can be sprinkled on top of cakes, muffins, yogurt, oatmeal and other desserts. They're even great to stir into soups, salad dressings, sprinkled onto veggies, pita chips or soft cheeses. The options are endless. You can even eat them right from the jar.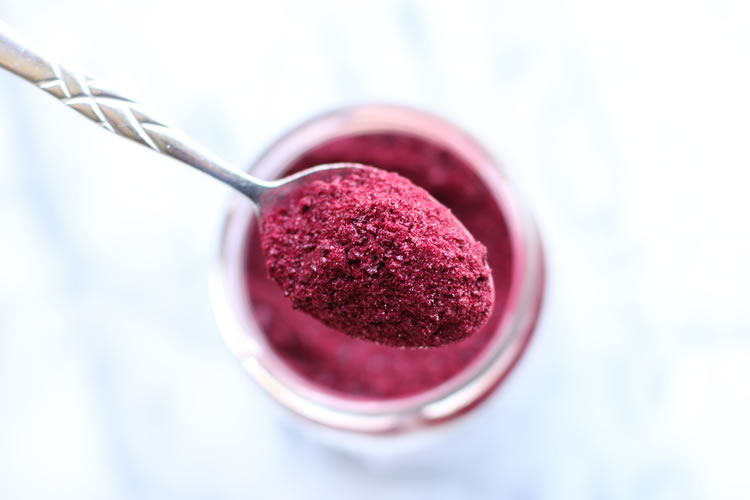 Want to have some fun? Just stir in a teaspoon or two of beet crystals into you or your kiddo's cereal bowl. They'll not only add a hint of sweetness and a boost of nutrition, but the milk will then be a fun shade of pink. Try them in this Vegan Pink Pancake recipe. There are so many amazing uses for these flavorful and nutritious little beet crystals. And my personal favorite: using them as a natural red food dye.
Beet Crystals Are A Natural & Nutritious Red Food Dye
I've been on the search for an organic, natural, safe and nutritious red food dye, and these beet crystals fit the bill. They easily dissolve and will work perfectly in any of your frostings, icings and creamy desserts for when you want to avoid the artificial stuff. And their mild sweetness and subtle flavor won't overpower. The only thing I will mention is that exposure to high heat like baking will cause the beet crystals to lose their vibrant gorgeous color. I attempted to bake a batch of muffins which resulted in more of an ombre effect than a red muffin throughout. Nice if you're going for that look but not if you want something like a red velvet cake. The beet crystals are great for cool, low or quickly heated recipes; otherwise, be aware you may lose some color.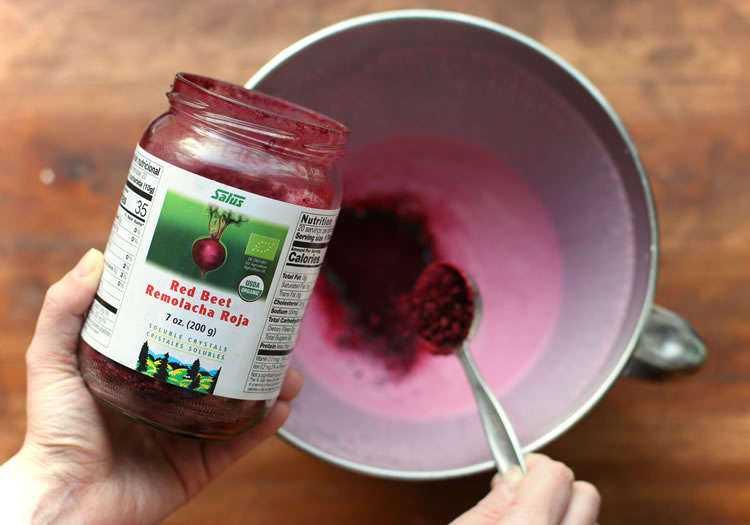 For a fun and colorful dessert recipe, I decided to add the Salus Beet Crystals to a fresh whipped cream frosting to top some cupcakes. These Chocolate Cupcakes with Beet Crystal Whipped Cream are not only delicious, but they're pretty too! Beets also pair beautifully with chocolate since they both have an earthy richness. The beet crystals add just a hint of sweetness and make the whipped cream cupcake topping a gorgeous shade of deep pink.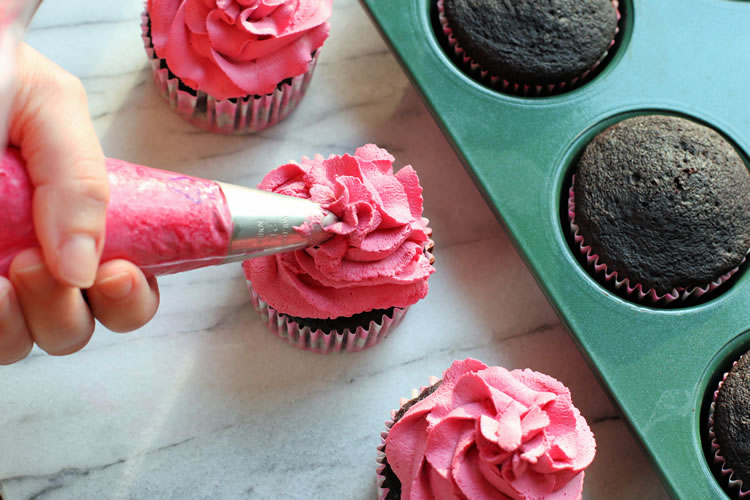 If you're looking for a deeper, richer and redder color for your frosting, simply add more Beet Crystals. I found adding the Beet Crystals to the cream before whipping and letting it sit in the refrigerator for a little while allowed the crystals to fully dissolve and the color to fully develop.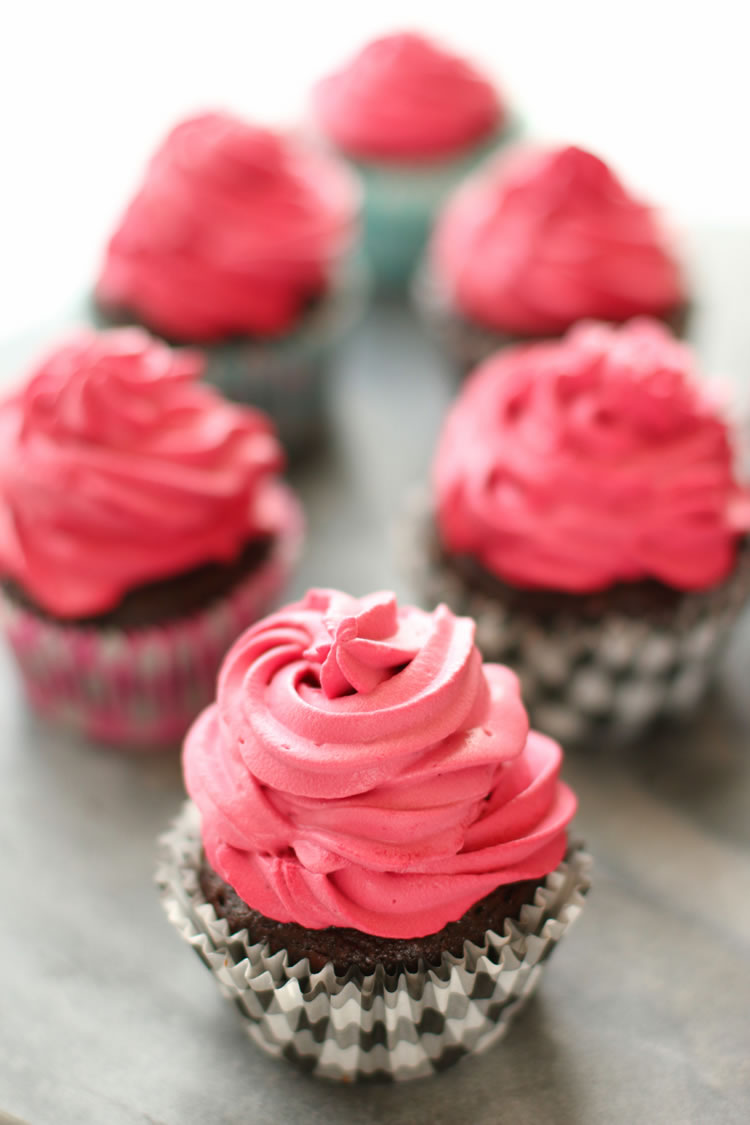 If you're just looking for a light shade of pink a few tablespoons of beet crystals will do.
Even after adding up to ten tablespoons of beet crystals in one batch I found it was still only mildly sweet. And the color…. stunning!!! Perfect if you're looking for deep gorgeous red color without too much sweetness or added sugar.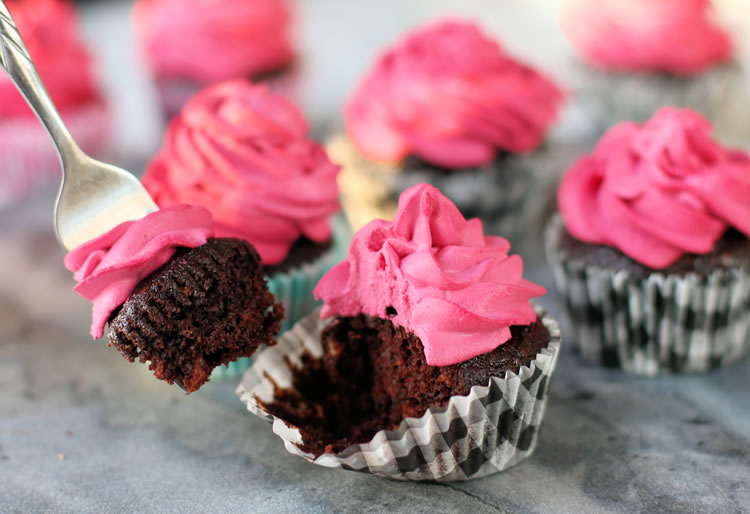 In this recipe the beet flavor is subtle. Just a hint. So if you're looking to add the beet crystals to some of your other icings, frostings or glaze recipes for a pop of color, it would work wonderfully with other flavors.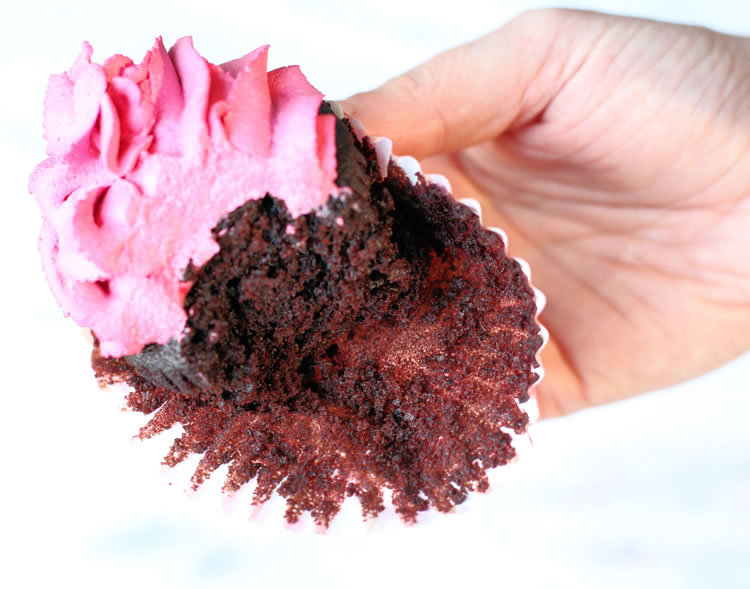 Get the recipe for Chocolate Cupcakes With Salus Beet Crystal Whipped Cream!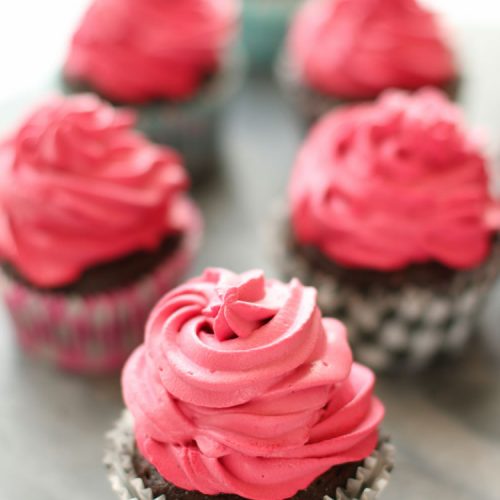 Chocolate Cupcakes With A Beet Crystal Whipped Cream
The flavors of beets and chocolate collide in the delicious cupcake recipe. A moist and chocolatey vegan chocolate is topped with a fresh and creamy beet whipped cream lightly sweetened with Salus Beet Crystals. The beet crystals add a hint of sweetness, the subtle flavor of beets and a gorgeous color to the whipped cream.
Ingredients
CUPCAKE INGREDIENTS
1

cup

milk of choice (almond, coconut, cashew, etc.)

1

tsp

apple cider vinegar

1/3

cup

oil (coconut, avocado or light olive oil are best)

2/3

cup

sugar

2

tbsp

brown sugar

2

tsp

vanilla extract

1

cup

all-purpose flour

1/3

cup

cocoa powder

1/2

tsp

baking powder

3/4

tsp

baking soda

1/2

tsp

salt
MAKING THE BEET CRYSTAL WHIPPED CREAM FROSTING
16

oz

heavy cream (well chilled)

6

tbsp

Salus Beet Crystals*

1/2

tsp

vanilla extract

1

pinch

cream of tartar
DIRECTIONS
BAKING THE CUPCAKES
Preheat oven to 350 F (175 C). Then line a cupcake pan with 12 liners.

In a large mixing bowl beat the milk with apple cider vinegar. Next, add the sugars, vanilla, and oil. Beat until well combined. Let stand for 5 minutes to allow the sugars to dissolve a bit and then mix well again.

Sift together flour, cocoa, baking powder, baking soda, and salt in a bowl.

Slowly add the flour/dry ingredient mixture into the wet. Alternate between adding a little flour and then mixing well. Repeat about 3 times or until or the flour is incorporated. Stir well until the batter is smooth.

Spoon the cupcake batter into the liners evenly. Each should be about 3/4 full. Bake for 17-19 minutes or until a toothpick inserted comes out clean. Remove from the oven and allow to cool completely before icing with whipped cream.
MAKING THE WHIPPED CREAM
Place your bowl and the mixing blades (if using a hand mixer) or balloon whisk (if using your stand mixer) In the freezer or refrigerator to cool.

Pour the heavy cream into the chilled bowl and then add the beet crystals and vanilla. Stir with a spoon until beet crystals are completely dissolved. You may want to place the cream, beet crystal and vanilla mixture in the fridge for 5-10 minutes to fully allow the beet crystals to dissolve and see the color that develops.

For a deeper color add more beet crystals.

Add the cream of tartar then beat the mixture on high until the peaks are stiffly beaten - about 1-2 minutes. When ready the whipped cream should stand in firm peaks and adhere to the beaters when lifted.

Spoon the Beet Crystal Whipped Cream into a piping bag with a decorative tip and swirl onto cupcakes or simply spoon on. Leftover whipped cream can be spooned onto pie, muffins, coffee or hot chocolate. Enjoy!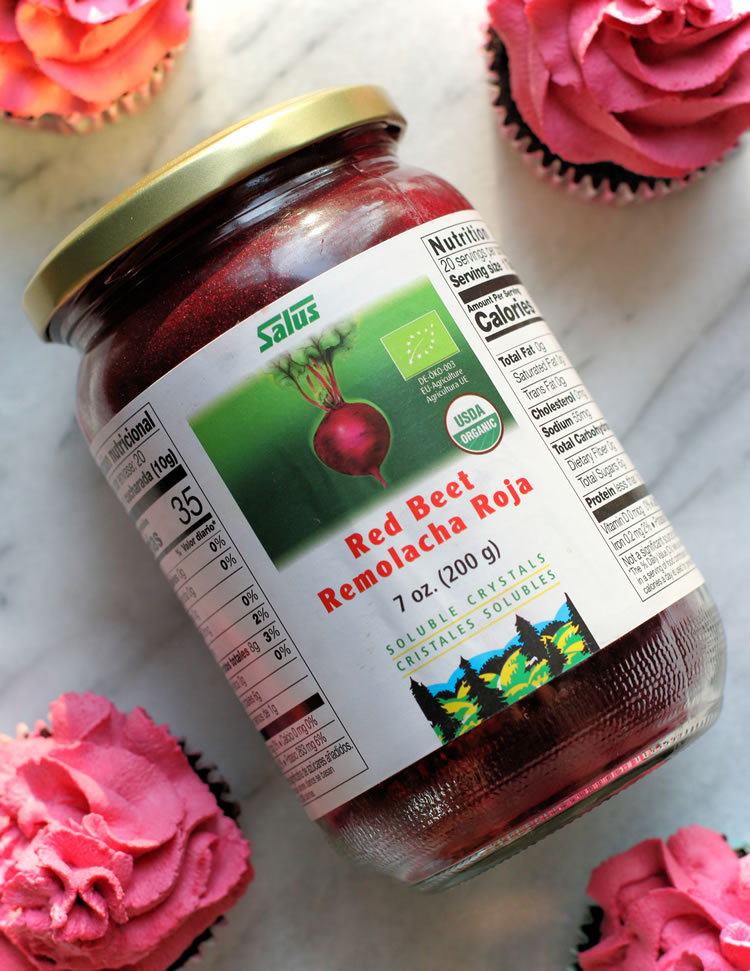 If you would like to give Salus® Red Beet Crystals a try, visit florahealth.com to order Red Beet Crystals for your home and health or for more information.