Better Living uses affiliate links. If you make a purchase through them, we may receive a small commission (for which we are deeply grateful) at no cost to you.
Located in the middle of a lava field in Grindavik on the Reykjanes Peninsula, The Blue Lagoon is Iceland's most popular tourist attraction. With temperatures of around 100° , the lagoon's geothermal waters which are rich in algae, silica, sulphur,  and other minerals, are coveted for their skin healing properties. Its actually the high silica content of the waters combined with reflecting sunlight that provide the lagoon with its stunning blue color.
Fun Facts About The Blue Lagoon
1 – Although Iceland is full of natural hot springs, The Blue Lagoon is not one of them. The lagoon is the result of water runoff from a local geothermal plant. What a happy accident!
2 – From the Blue Lagoon Website:
"The geothermal water originates 2,000 metres below the surface, where freshwater and seawater combine at extreme temperatures. It is then harnessed via drilling holes at a nearby geothermal power plant, Svartsengi, to create electricity and hot water for nearby communities."
3 – The lagoon contains a whopping 6 million litres, of self cleansing water, that renews itself every 40 hours.
4 – The Blue Lagoon is situated approximately 20 minutes drive from the Keflavik International Airport and 40 minutes from the capital city of Reykjavik.
5 – All of the Blue Lagoon's bathers are are required to shower before entering due to Iceland's strict hygiene policy. Thank you Iceland!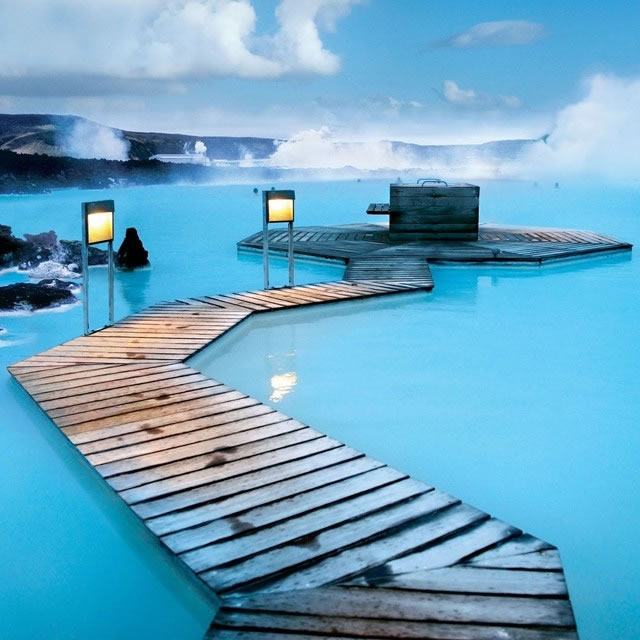 Images Via Wikipedia Creative Commons