*This is a sponsored post written by me on behalf of Smithfield. The information and opinions herein are mine.

It's hard to believe but it's already back-to-school season! But no matter how busy you and your family get there's no reason not to start the day off with a yummy well-balanced, protein-packed breakfast. And studies show that breakfast is powerful stuff. Studies have shown that when students have a nutritious and wholesome breakfast in the morning, they're more likely to do better in school. In fact, according to No Kid Hungry, when students don't get the food they need, 76% of teachers see poor academic performance and 80% see the students lose the ability to concentrate. In other words, a healthy breakfast means more A's in school.
Did you know 1 in 6 American children struggle with hunger? Smithfield is helping to change that.
Having breakfast before school can be essential for a child to do well. Smithfield is partnering with the No Kid Hungry for the second year in a row and has doubled their donation to 2 million meals to support the organization's in-school breakfast programs. They want to ensure that children struggling with hunger can have to opportunity to nourish their bodies and minds and so they can do well in school. No child deserves to go hungry. Every child deserves an education
If you're looking for a quick and easy breakfast idea that's different from your typical plate of bacon and eggs then check out our recipe for Ham & Egg Chilaquiles. It's a super satisfying breakfast that you can have ready in less than 20 minutes. It's so easy for busy mornings and has tons of flavor!
Chilaquiles (pronounced chee-lah-Kee-lehs) is a classic Mexican breakfast dish. Traditionally it's made by frying tortillas by hand, then sautéing them with a homemade salsa (red or green). The chilaquiles are then topped with things like cheese, Crema (Mexican style sour cream), onion, and cilantro. It's usually served alongside eggs and beans and sometimes eggs are cooked into the dish. We like our chilaquiles served with fried eggs and for some hammy goodness we also include some delicious, super convenient, and my personal favorite Smithfield Anytime Favorites Diced Ham. Just tell your kids or whoever you're cooking for it's kind of like nachos for breakfast. They'll love it.
To cut down on cooking time we won't be frying our own tortillas or making our own salsa. Save that stuff for the weekends. In this recipe we use our favorite prepared salsa verde (green salsa) instead of homemade. Instead of frying tortillas by hand we use bagged restaurant style corn tortilla chips. If you prefer red salsa to green simply substitute your favorite. It's equally delicious and will work deliciously with the ham. Maybe you have some leftover homemade salsa you're looking to use up? This recipe is the way to do just that.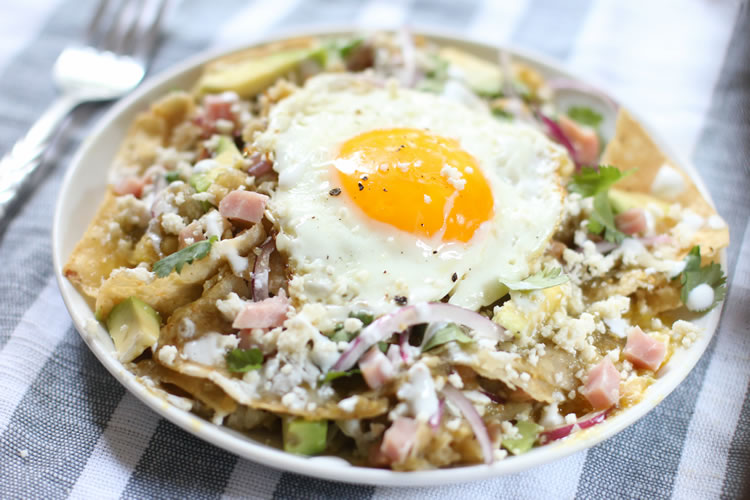 Busy Morning Tip: Smithfield Anytime Favorites ham comes in pre-diced, cubed or sliced varieties for the perfect addition to your morning eggs, muffins, or as a side to your toast. You can choose from 20 different cuts of ham including sliced, diced, chops and steaks. They're great to have on hand for when you want to add some extra protein to your favorite breakfast recipes on the fly! Find them right at your local grocery store.
Get the recipe for Ham & Egg Chilaquiles!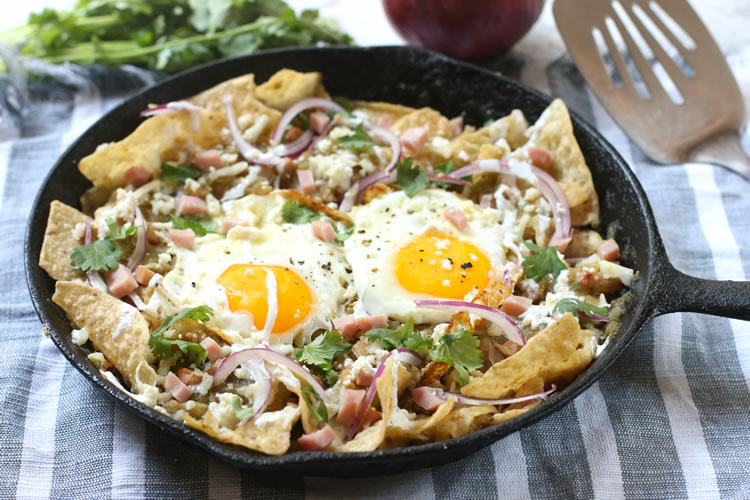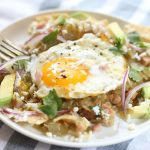 Ham & Egg Chilaquiles
Looking for a unique and tasty breakfast for a busy morning? Start the day right with these tasty chilaquiles that can be ready in under 20 minutes.
Ingredients
2

tablespoons

olive oil

1/4

cup

onions, diced

4

ounces

Smithfield Anytime Diced Ham (about 1/2 package)

16

ounce jar

prepared green salsa (substitute red if you prefer)

3-4

cups

tortilla chips

1/2

cup

Monterey Jack Cheese

2-4

eggs, fried
Garnishes (optional)
1

tablespoon

cilantro

1/4

cup

queso fresco

1/4

cup

diced avocado

2

tablespoons

red onion, thinly sliced

2

tablespoons

Mexican crema or Sour Cream thinned with lime juice or water
Instructions
Heat a heavy bottomed pan over medium heat. Add olive oil and saute onions for 3 minutes or until almost translucent. Add ham and cook until lightly crisped. Give it a stir.

Add salsa and bring up to a simmer. Cook for about 2 minutes more and then add tortilla chips breaking in pieces if necessary. Toss to coat tortilla chips in the salsa sauce.

Heat chips through for about a minute. To serve top with fried eggs, Monterey Jack cheese, a drizzle of crema or sour cream, queso fresco, red onion and cilantro.
Want to help Smithfield provide 2 million meals to hungry kids in need? Here's how:
Step 1 – Make a breakfast with any Smithfield product.
Step 2 –  Snap a pic and share it on Facebook, Instagram and/or Twitter with the #BreakfastPower
Step 3 –  Encourage others to get involved too!!!
For more easy & delicious back-to-school breakfast recipes visit Smithfield.com!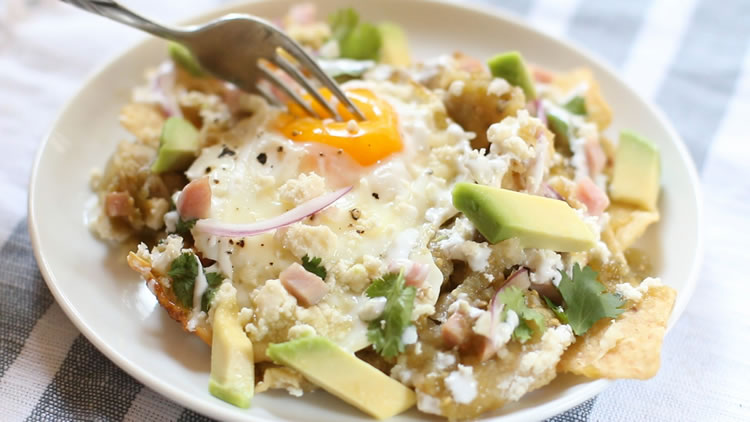 *This is a sponsored post written by me on behalf of Smithfield. The information and opinions herein are all mine.