There's nothing like eating fresh sweet corn in the summer! I think for most of us we usually steam or grill our corn, slather on a little (or a lot) of butter, a dash of salt and pepper maybe and we're good to go. Fresh corn, simple and delicious.
But, in Mexico street vendors have been serving up corn in a super delicious way, only just catching on here in the states. Hot ears of boiled or grilled corn known as elotes are basted with butter,  mayonnaise, cotija cheese, a dusting of chiles or a hot sauce and finished with fresh lime.  Seasoned just to your liking. Corn perfection.
After hearing about these treats I just knew I needed to make them. Immediately. I realized I'd stumbled onto something good when my hubby to be asked, "Why haven't you been making me corn like this forever?"  Umm… Good question.
Now, if you read the word mayonnaise and thought this has to be a typo like I did the first time,  I can assure you it is not. And if you're still skeptical like I was, I ask you to just try it.  You might just be hooked.   I was. I now am.  And you don't have to make a big batch. Do one or two ears for a sample. These guys couldn't be easier to make. A sprinkle of this a dash of that and your done. Besides the fresh corn and the Cotija Cheese, these ingredients are easily pantry staples. And the Cotija Cheese being a salty crumbling type of cow's milk cheese can be successfully substituted for Parmesan, Feta or Romano cheeses. See? No excuses.
For the dusting of chile cayenne pepper works perfectly. Try getting creative if you have some other types of chiles in your spice cabinet. I used 50/50 split of cayenne and ancho chile. I also used a few dashes of Tajin. Tajin is one of my favorite Mexican seasonings. Its an all natural mild chile lime salt that packs a ton of lime and chile flavor. Its typically used to sprinkle on top of fresh veggies and fruits, rim cocktail glasses or simply add flavor to any food that needs a little kick. You can check it out here. Its very addicting.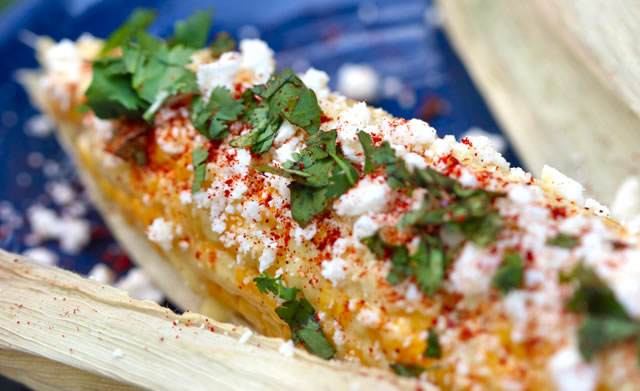 As for the mayonnaise, everyone's favorite store bought variety is perfectly fine and what most of the vendors are using. But, if you're feeling adventurous and would like to make your own, by all means do so. Here's a great recipe to get you on your way to a fantastic batch of homemade mayo.  I blended mine with a bit of melted butter simply because butter makes everything better. Fact.
So here's the recipe for Mexican Style Street Vendor Corn. No passport required!
Mexican Style Street Vendor Corn
Serves: 4-6
Ingredients
4- 6 ears of corn, steamed or grilled
3 tablespoons butter, melted
1/3 cup mayonnaise
3 limes, cut in wedges for squeezing
3/4 cup cotija cheese grated (sub Parmesan, Romano, Anejo or Feta)
1 TBS Chile powder like Cayenne Pepper ( try ancho if you have it or blend the 2 like I did)
salt
small handful cilantro chopped (optional)
Directions
1 – Boil or grill your corn. Your choice. I cooked mine in a 350 degree oven for 30 minutes with the husks on. The corn steams inside the husk and it can then be pulled back and used as a handle.
2 – Mix the mayo with the melted butter.  Set aside.
3 – Take each ear of corn and evenly sprinkle with lime and a little salt making sure to cover the entire ear of corn. Then spread the corn with the mayonnaise butter mixture. You want it completely covered so every bite is seasoned.
4-Over a plate, sprinkle the corn with the cheese, again coating the entire ear evenly.
5- Finish with a dusting of the chile powder and with the fresh cilantro if you have it.  Don't add too much chile if you are sensitive to spice.
6-Enjoy! or as they say in Mexico, ¡Buen Provecho!