Better Living uses affiliate links. If you make a purchase through them, we may receive a small commission (for which we are deeply grateful) at no cost to you.
If you've been eating anything and everything during the pandemic because you're now working from home and thought no one would ever have to see you again, we get it. Maybe you've tried on some spring and summer clothes anticipating the warm weather and realized you went a little overboard with all those late-night snacks and delivery pizzas? We're right there with you. To start losing some extra weight and eating healthy, a plant-based diet can be a great way to go. In 2016 a study from Harvard University found that plant-based dieters lost more weight than non-vegetarians after 18 weeks. Vegan dieters lost five pounds more than non-vegetarians, while vegetarians lost a total of three more pounds. 
So, if you love the idea of a plant-based diet but don't know where to start, the Weight Loss Meal Plan from Veestro, the #1 vegan plant-based meal plan delivery makes it incredibly easy. They're made with 96% organic ingredients too. Keep reading to see the reviews of the dishes we tried, and grab our Veestro COUPON CODES at the bottom of this post!
Who is the Veestro Weight Loss Meal Plan Right For?
The Veestro weight loss plan is perfect for anyone looking to shed some pounds with a plant-based meal plan but doesn't want the hassle of shopping, prepping, and meal-planning. If you're busy or don't even want to cook, the Veestro weight loss plan is great. Not only does it save, but it takes all the stress out of eating plant-based if you're just starting out.
If you want to lose some weight with healthy, plant-based meals made with organic ingredients all portioned out and ready to go, this plan is for you. You'll also enjoy the most success on your weight loss journey when you have meals already prepared, so you won't be tempted to eat junk instead of healthy stuff when you get hangry.
Veestro is also great if you're just looking to supplement your current diet with more plant-based dishes or you want to try vegan dishes.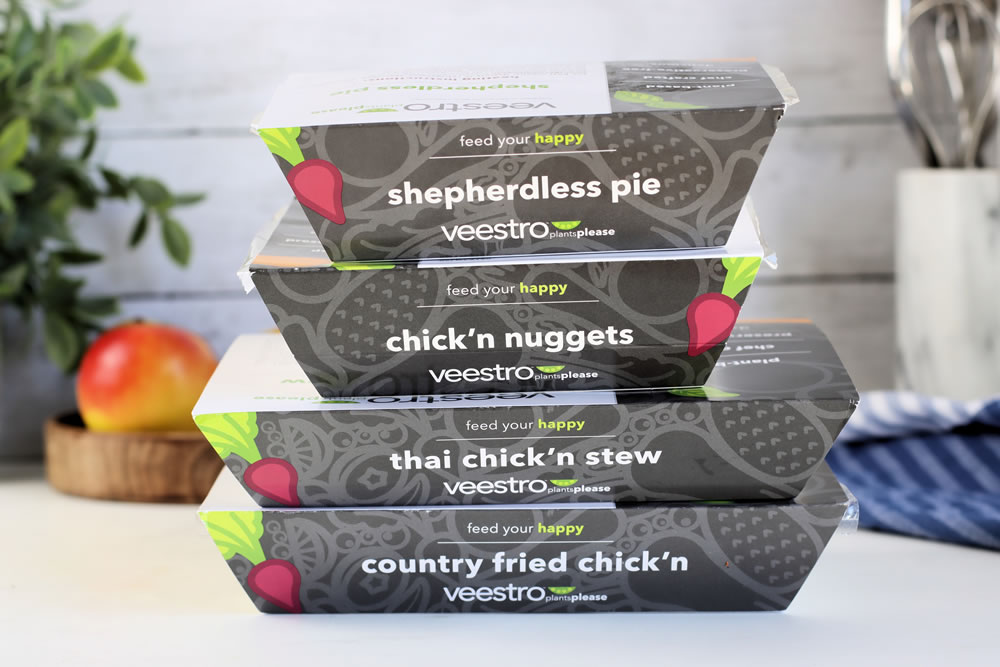 How Does the Veestro Weight Loss Plan Work?
First, start by choosing either a 5 or 7-day meal plan. Each day will include 3 vegan plant-based meals totaling around 12oo calories.
5 Day Plans = 15 meals
7 Day Plans = 21 meals
Next, is my favorite part! Scroll through Veestro's menu, pick out all the dishes you want, and add them to your cart.
Veestro has over 35 vegan breakfast, lunch, and dinner options with everything from breakfast burritos, to plant-based twists on classic and international dishes like chicken and gravy and chilaquiles. You can view the current Veestro Weight Loss Menu here.
Then, simply place your order and wait for your Veestro to arrive!
What are the Benefits of the Veestro Weight Loss Plan?
Losing weight and getting back into shape can be hard. If you're trying to shed a few pounds, but don't know where to start, Veestro's Weight Loss Plan is the perfect option.
With the Veestro Weight Loss meal plan you can:
Get perfectly portioned organic meals totaling about 1200 calories/day

Easily get more plants in your diet even if you're not vegan

Save time shopping, prepping, and cleaning up

Eat in as little as 5 minutes

Customize, pause, or cancel your subscription at any time
Here's Our Review of Our Favorite Meals on the Veestro Weight Loss Plan
All of Veestro's vegan meals are organic, non-GMO, and preservative-free and free of meat, chicken, fish, dairy, eggs, and honey.
Gluten-free, soy-free, kosher, nut-free, and high-protein menu options are also available. Here are some of our favorites:
Chilaquiles – We love all of the Mexican-inspired dishes we've tried from Veestro and these chilaquiles are no different. This classic layered Mexican breakfast dish is made with corn tortillas, pinto beans, vegan egg and cheese, and healthy veggies like green and red bell peppers. Smothered in a tangy green tomatillo salsa, this dish is the perfect way to start your day if you love south of the border flavors.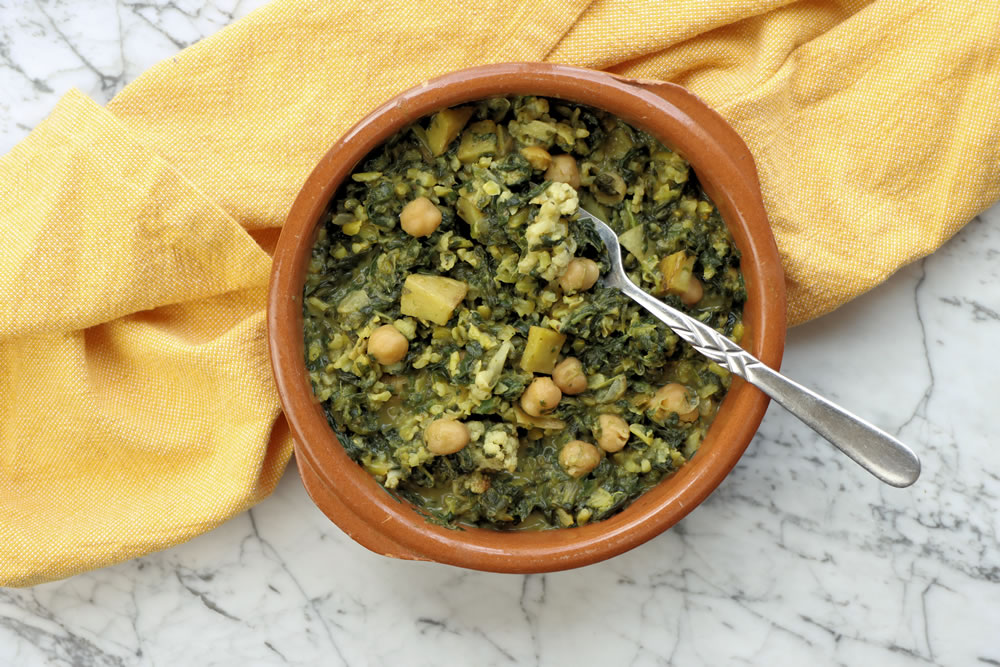 Creamed Spinach Bombay – This new dish from Veestro is packed with healthy spinach, chickpeas, cauliflower, and lightly seasoned with Indian spices. With only 250 calories for the whole serving, this one makes a great side dish or meal on its own.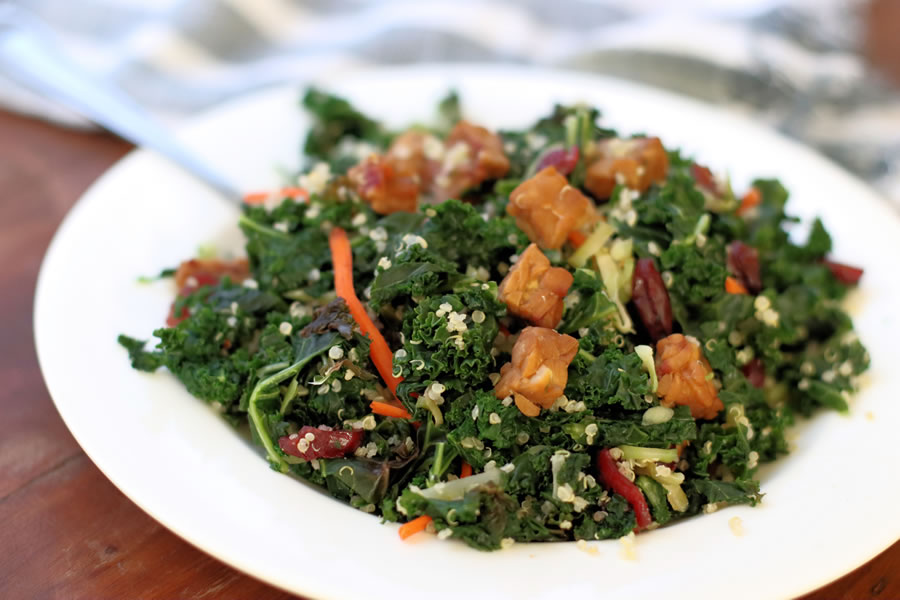 Kale Salad– Who knew you can freeze kale, defrost it in the fridge, drizzle it with some dressing and you're good to go? I didn't until I tried Veestro's delicious kale salad tossed with quinoa, dried cranberries, broccoli shreds, and marinated tempeh bits. The tahini-based dressing on this salad is positively addicting and I can see myself eating this salad regularly. If you forget to take it out of the freezer, a few hours on the counter will defrost it. It even tastes great gently warmed.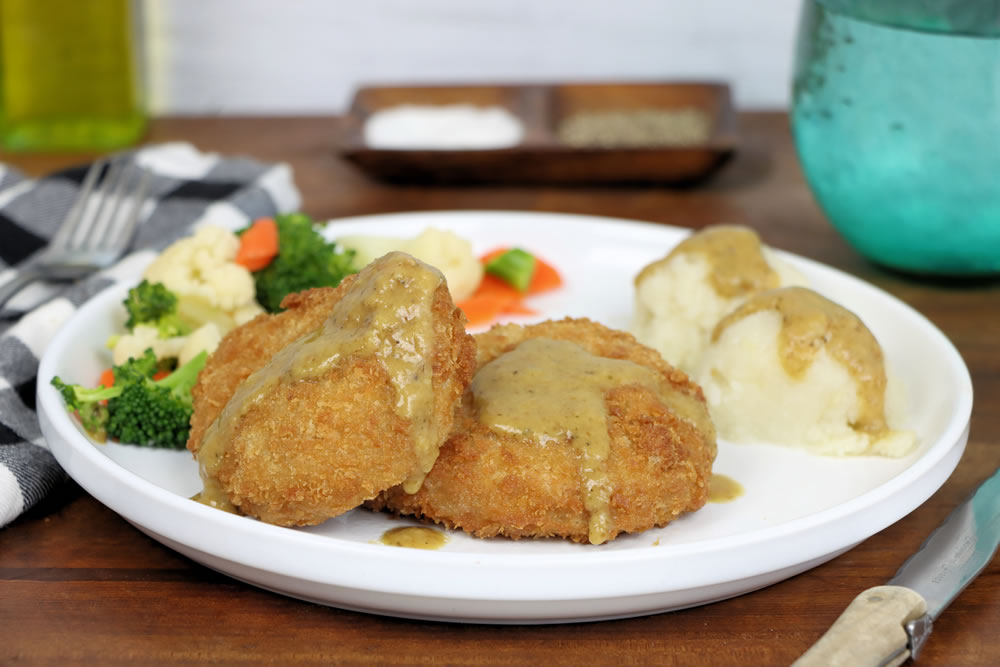 Country Fried Chick'n –  Who thought you can have fried chicken on a weight loss plan? Well, Veestro made it happen. In this dish, two meatless "chicken" patties, come with fresh veggies and mashed potatoes. This healthy twist on the classic comfort food comes with a delicious gravy that you won't believe is vegan.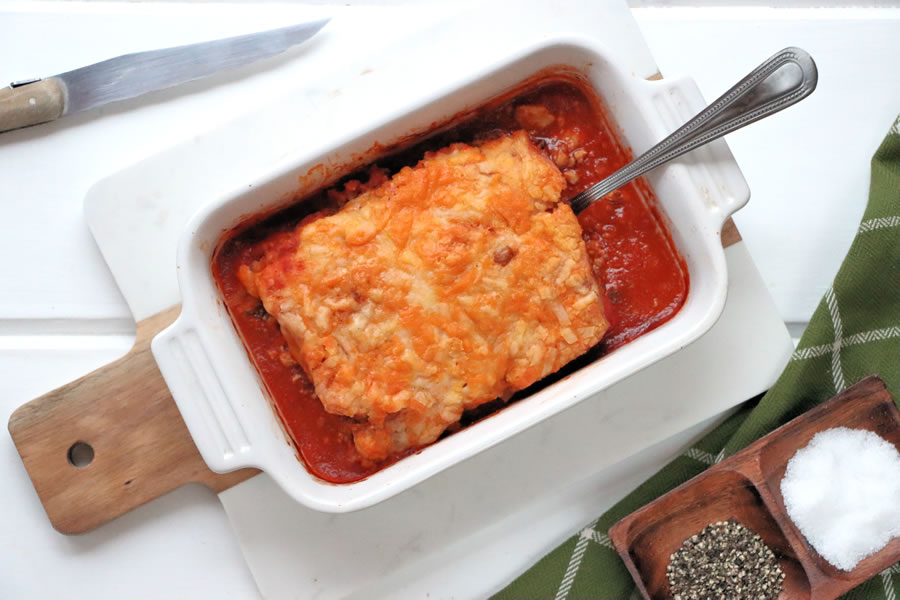 Enchilada Casserole – One of our favorite Veestro dishes! Veggies like red & green bell peppers and onions are sautéed with crumbled tofu and layered between corn tortillas, topped with vegan cheese, and served with a hearty enchilada sauce. This dish is full of flavor and like most of the Veestro meals, a generous portion. With only 250 calories, 19 total net carbs, and 13 grams of protein this is a great waist-friendly option.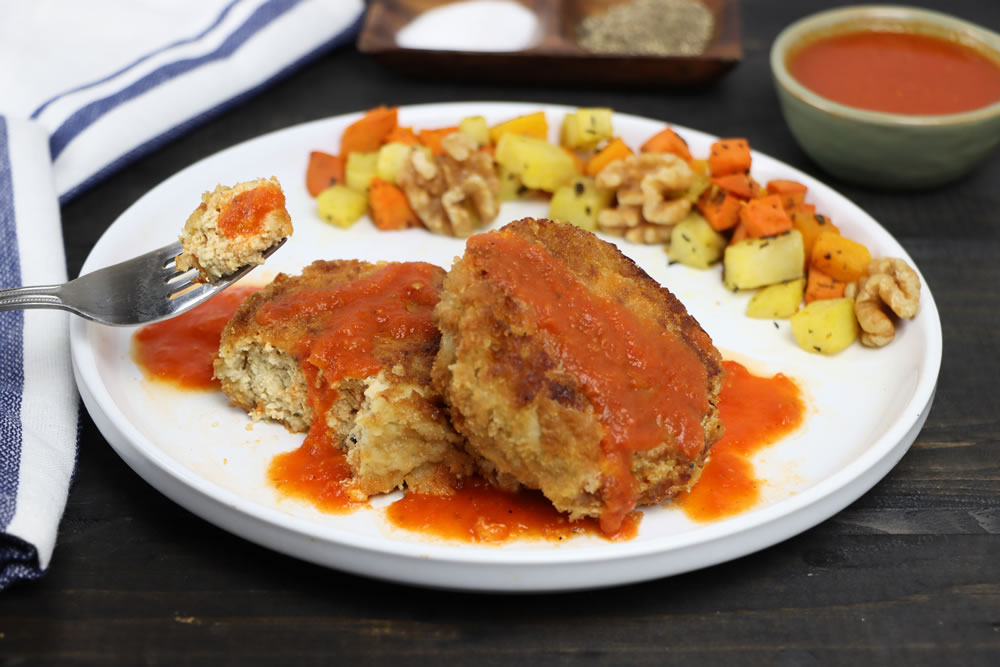 Savory Croquettes – Crunchy on the outside, soft and creamy on the inside, these savory croquettes are filled with tofu and fresh veggies. Served up with a side of flavorful red dipping sauce we absolutely loved, this satisfying dish is a delicious vegan treat that works for breakfast, lunch, and dinner. One of Veestro's most popular dishes, be sure to give this one a try!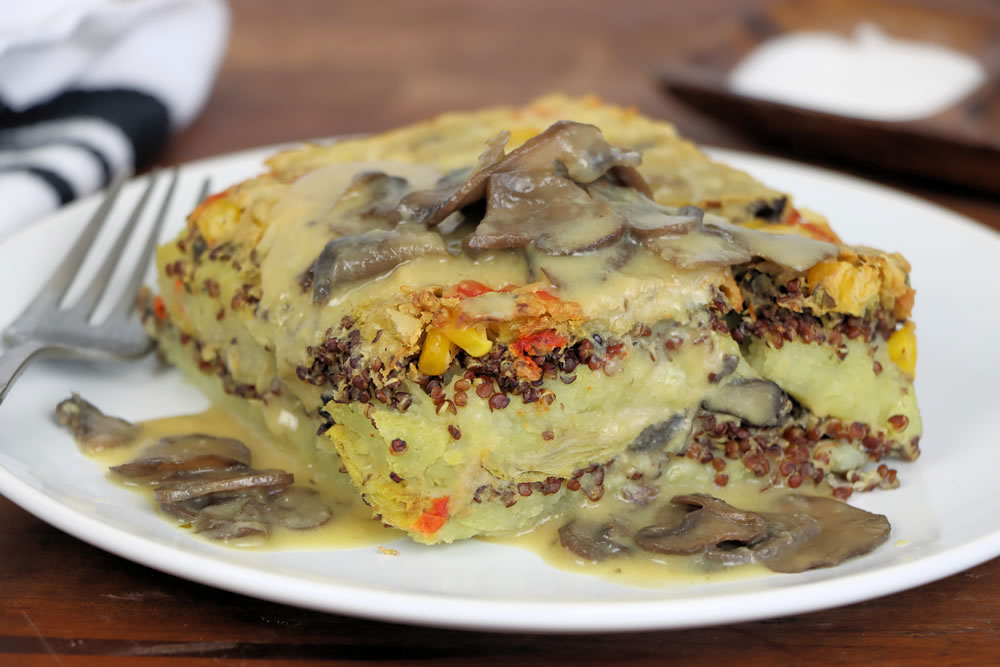 Shepherdless Pie – We didn't know what to expect from Veestro's meatless take on a shepherd's pie, but we were really surprised by how delicious this was. Layered with deliciously seasoned veggies like potatoes, red quinoa, corn, artichoke hearts, cremini mushrooms, red peppers, and kale and then topped with super delicious mushroom gravy.  This one will surely fill you up and we would gladly order this one again.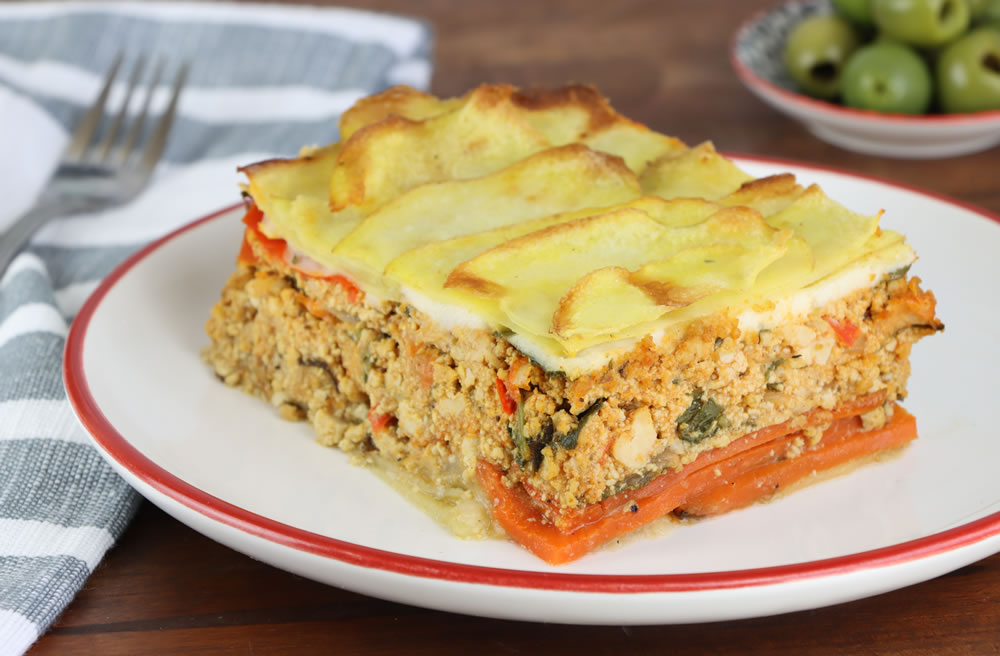 Spanish Torta – Taking flavor inspirations from Spain, this filling breakfast style casserole starts with layers of roasted veggies like red bell peppers, carrots , zucchini, yellow squash, and vegan cheese and is then topped with delicate layers of potatoes. It also comes with a delicious black bean sauce on the side. Although this is on Veestro's breakfast menu, this one could easily work as a lunch or dinner too.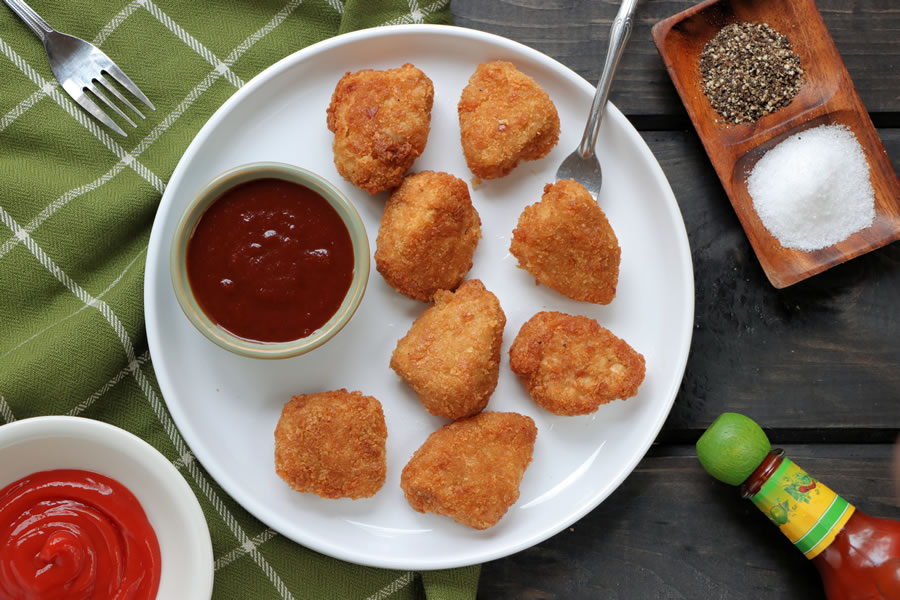 Chick'n Nuggets – Who doesn't love a nugget? These vegan chicken nuggets make a great snack when you're in the mood for something crispy and savory. They come with a tangy BBQ sauce and heat up nicely in the toaster oven. Believe us, you won't miss the chicken.
Veestro Menu Tip!
Veestro changes up its menu from time to time and is always adding new seasonal options. Check out their current weight loss menu here!
What About The Nutritional Information?
Veestro is completely transparent about the ingredients they use and you can see it all right on the label of every meal. You can also see all the nutritional information on a specific dish before you order with a full listing of the ingredients. 
How Much Does the Veestro Weight Loss Plan Cost?
With the weight loss plan you can choose from a 5 or 7 day meal plan. 
Here's how the cost of each meal plan works out:
5 Day Plan (15 total meals) = 11.70/meal
7 Day Plan (21 total meals) = 10.80/meal
Be sure to check out some exclusive Veestro coupon codes at the end of this post.
Start losing weight with healthy, delicious, and organic plant-based dishes delivered right to your door!
Save $ on Veestro with these Coupon Codes
 Sign up here to start on the Veestro weight-loss plan!
See our other Veestro meal reviews here.