Better Living uses affiliate links. If you make a purchase through them, we may receive a small commission (for which we are deeply grateful) at no cost to you.
Dying to see the Northern Lights, but don't have a U.S. passport to get yourself to places like Iceland, Finland or Norway? Maybe you don't want to go to places like Iceland, Finland or Norway? The secret is out: you don't need to. Head to Alaska instead.
While the aurora borealis AKA the Northern Lights can be spotted throughout Alaska, Alaska's second-largest city Fairbanks is considered one of the world's best places to behold the Northern Lights phenomenon for yourself. A former gold-rush town Fairbanks lies under the Auroral Oval—the area that hovers over the North Pole where auroras can usually be seen.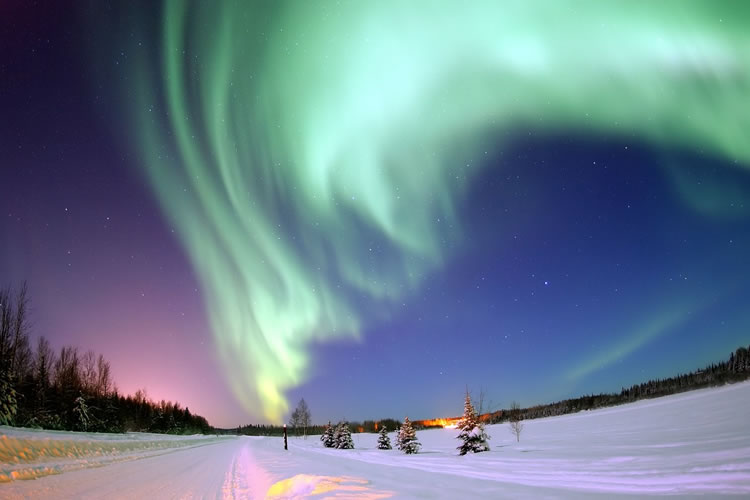 No matter what you call them—Northern Lights or aurora borealis—these color waves of green, yellow, blue and sometimes red lights in the sky are seriously cool to see. How does amazing display occur you ask? The lights are made up of solar particles that have blown into the earth's magnetic field more than 60 miles above the earth's surface. They're so magical that Alaska Natives believed the lights had mystical powers and were made up of the dancing spirits of their ancestors.
View this post on Instagram
If you're planning to see the lights, peak viewing season is right smack in the dead of winter when temps can go way below freezing and nights are at their darkest. If you dream of seeing this out of this world phenomenon but are not loving the idea of freezing your booty off in an Alaskan winter just to see it, not to worry. Aurora Borealis season runs from August 21 through April 21. So you can plan your travels around keeping your buns warm.
For a really cool and unique experience, check out the Alaska Railroad Aurora trip. This weeklong trip to Fairbanks leaving from Anchorage lets you see the wonders of winter in Alaska in the comfort of a train car while exploring some of Alaska's most charming towns along the way. You'll even enjoy Alaskan traditions like a sled dog tour and a trip to Chenna Hot Springs where you can take a hot soak at night under the dazzling lights of the aurora borealis. Sounds magical! Tours start at $1479 and you can visit here more info.
Who's in?