Better Living uses affiliate links. If you make a purchase through them, we may receive a small commission (for which we are deeply grateful) at no cost to you.
Sometimes life can get a little serious. Between work, families, keeping up with our homes, finances, things going on in the news, Whew!!! It can all be a bit much. Here are 18 colorful dessert recipes filled with rainbows, sprinkles and unicorn themes that remind us life doesn't have to always be so serious.  They say you can't buy happiness, but I'm pretty sure you can bake it.
1. Fairy Bites via Pink Piccadilly Pastries
These little yummy bites are a whimsical take on a traditional shortbread. Plus they're bite size and they're pretty. Reason enough.  You can visit Pink Piccadilly Pastries for all things tea party related. Get the recipe —> here!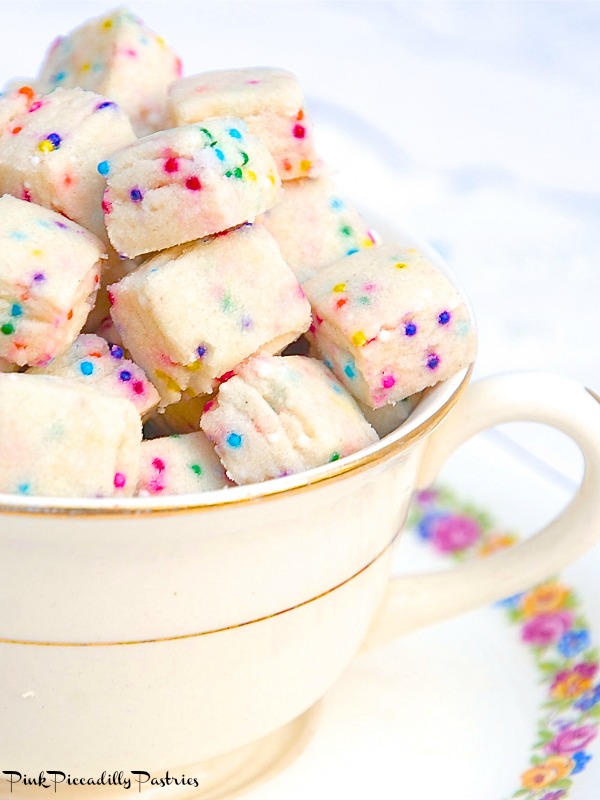 photo via Pink Piccadilly Pastries
I think it's pretty hard to resist anything with frosting and sprinkles, especially if it's on top of a soft baked sugar cookie.  If you're a fan of Lofthouse style cookies, but would like to try a make a batch at home, you can visit Life Made Sweeter.  Get the recipe —> here!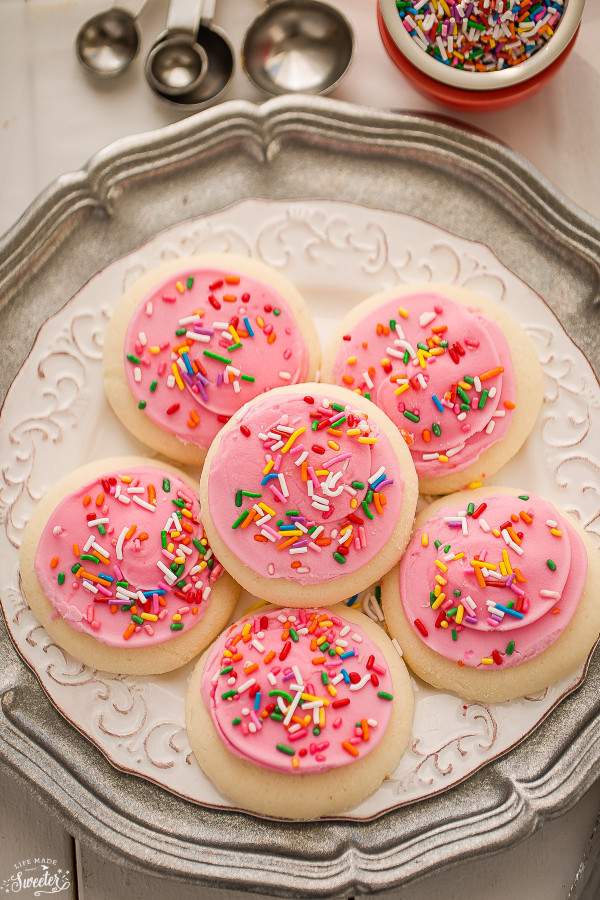 photo via Life Made Sweeter
Do you ever grow out of loving animal cracker cookies? I don't think it's possible. They're fun in a bite…or three… Oh who am I kidding? I'd eat the whole plate.  If you haven't cracked the code on how to make you're own you can head over to Cooking Classy.  Get the recipe —> here!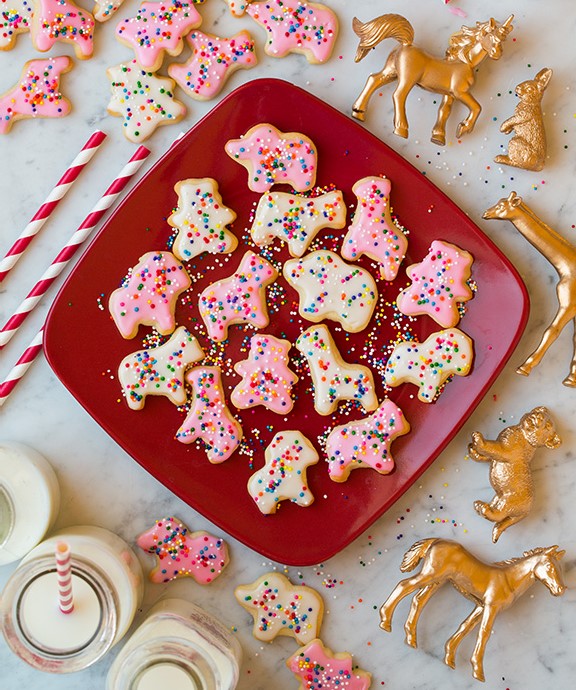 photo via Cooking Classy
We can all thank the Earl of Sandwich for inventing… you guessed it. The sandwich! But who was the genius to take it a step further and say to themselves "forget regular bread, I'm going to use cookies"?  Let us know if you find out.  If you're looking for a little cookie sandwich that's a delight to behold and perfect for parties, Tastes of Lizzy T's has just what you need. Get the recipe —> here!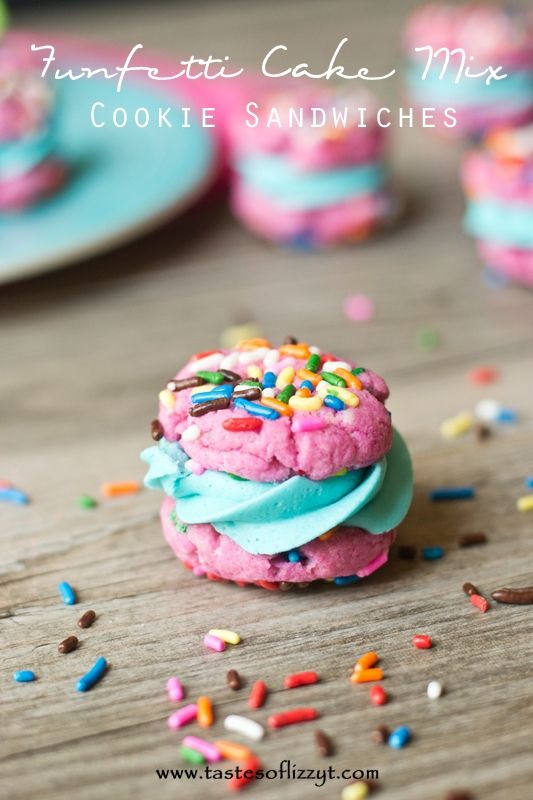 photo via tastesoflizzyt
Yes, unicorn poop recipes are a thing now.  Apparently when unicorns poop it's as magical as they are. All rainbow colors and infinite possibilities.   I'm not sure if I like eating things with poop in the name. I might make an exception because it involves unicorns. Either way, these cupcake cones look fabulous. I literally can't stop looking at them.  For the recipe, Mom Dot's got you covered. Get the recipe —> here!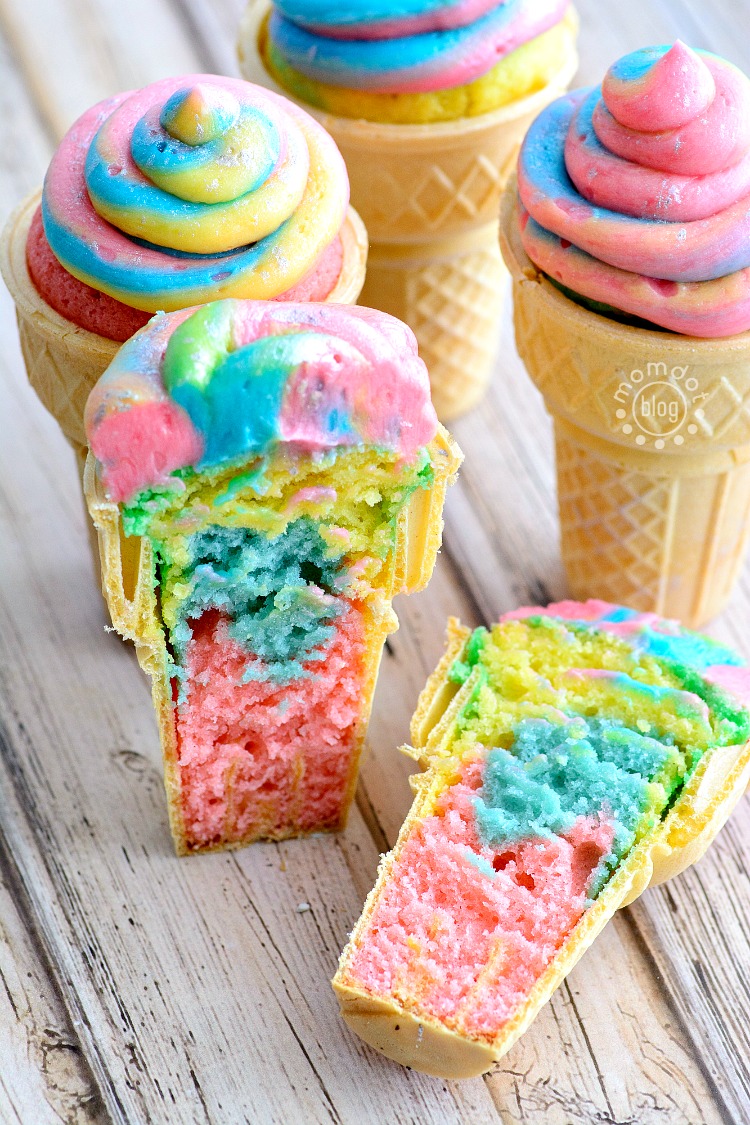 photo via Mom Dot
Cupcakes are simply irresistible. If you combine cupcakes with a unicorn theme and stuff them with Nerds, then you have these magical and happy little treats. Visit Jenny @ Dapper House for her recipe.  Get the recipe —> here!
photo via Jenny @ Dapper House
This Unicorn Candy Bark is a feast for the eyes. And seriously, how fun? Kids will of course love this, but you'll catch adults not being able to help themselves either.  Ingredients include rainbow everything. This recipe can be found over at Hello, Wonderful. Get the recipe —> here!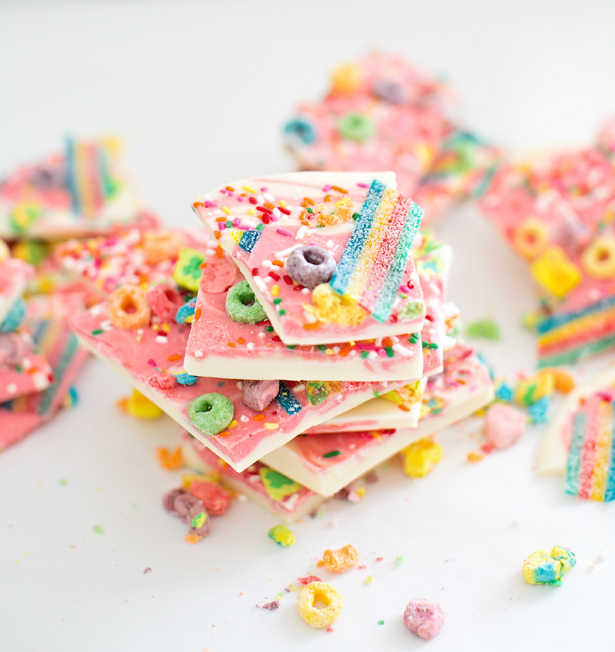 photo via Hello, Wonderful
These Rainbow Unicorn Cookies are stunning! Almost too pretty to eat. I said almost.  And they're not that hard to make.  Grab your favorite sugar cookie recipe, some white icing and some assorted candies for decoration and you're good to go. Oh, and you might need a unicorn cookie cutter.  You can get one –> here.  Scoot over to Miss Blueberry Muffin to see how she made hers. Get the recipe —> here!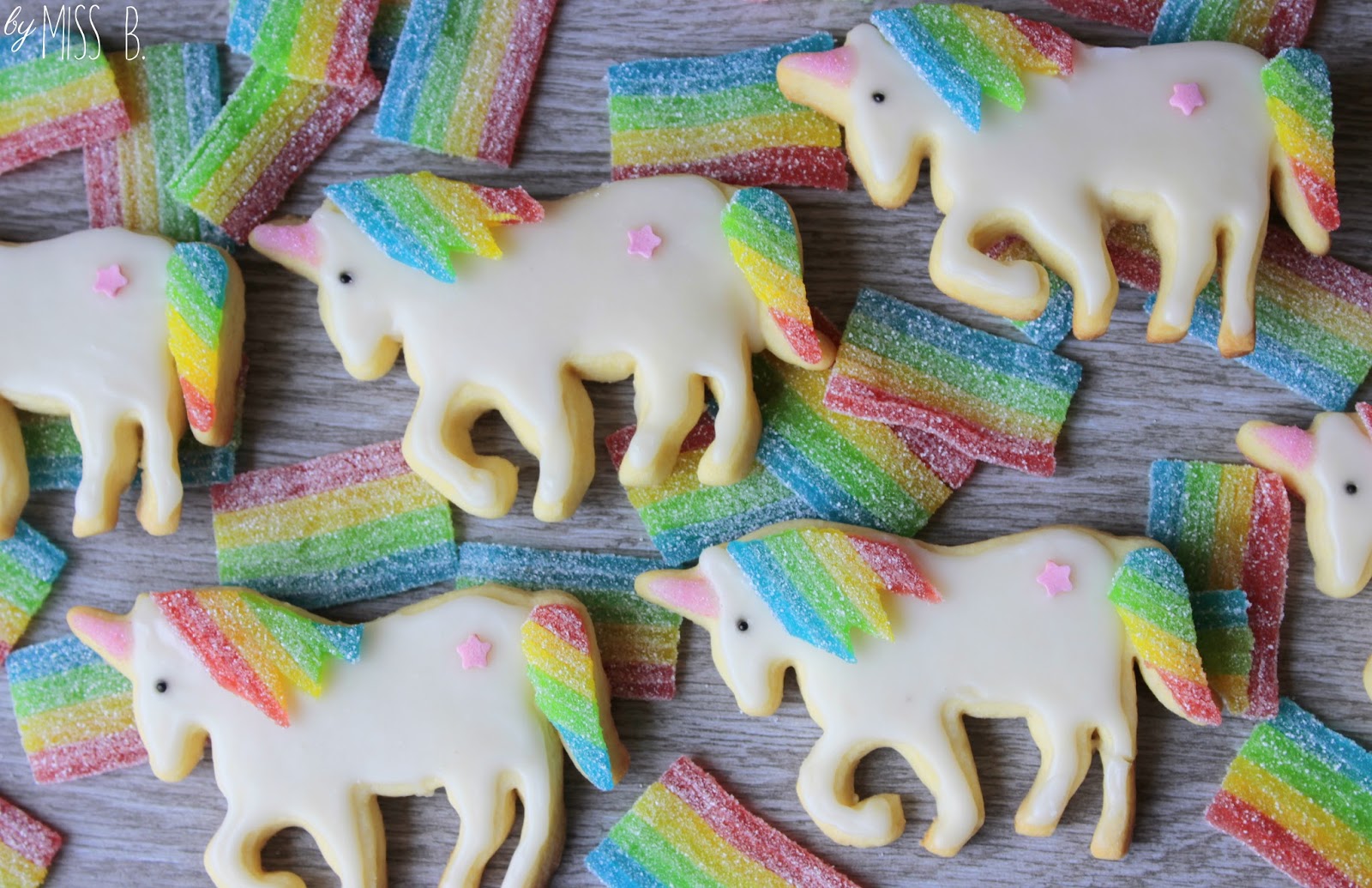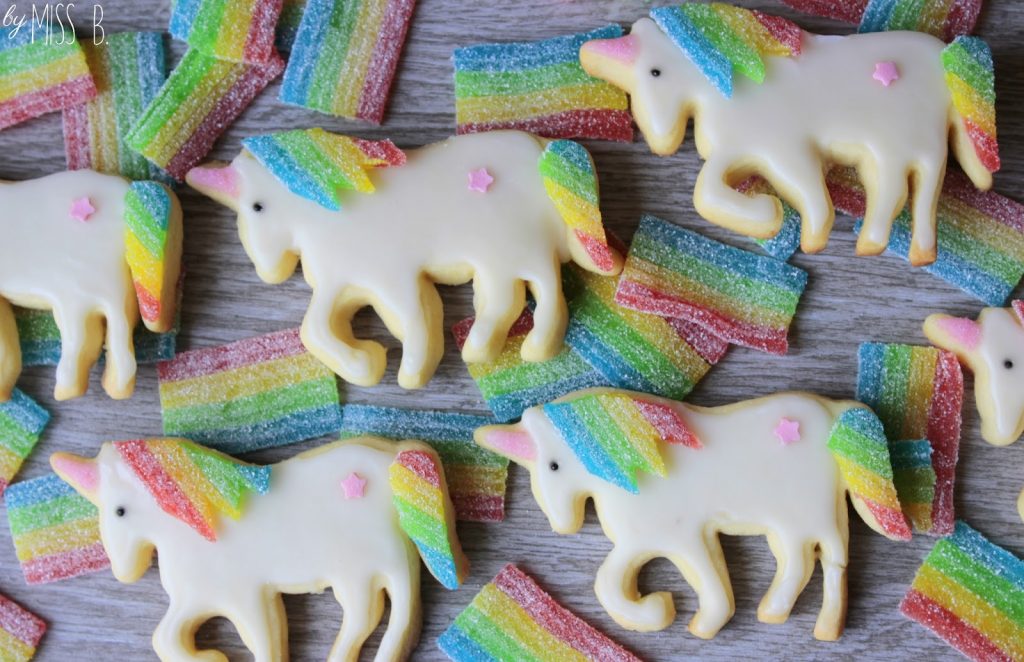 photo via Miss Blueberry Muffin
Aren't these purty? These were made for a fabulous unicorn themes birthday party. Want to see how it was done? Kara's Party Ideas has you covered. Get the recipe —> here!
photo via Kara's Party Ideas
What makes this gorgeous unicorn ice-cream cake skinny? Less sugar added and some lower fat ingredients. You can eat this dreamy cake and not feel any guilt at all.  Visit The Skinny Fork for the lowdown.  Get the recipe —> here!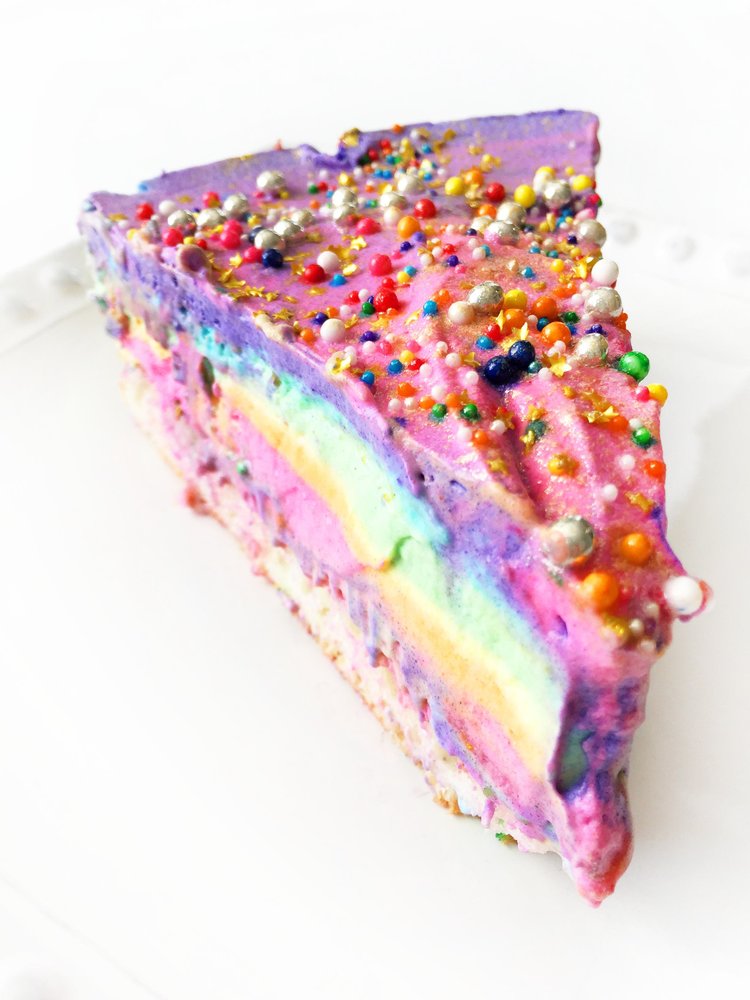 photo via The Skinny Fork
Don't these Strawberry Milk Ice-pops look divine? Come summer these will be amazing.  If you're dairy free I would substitute coconut, almond or cashew milk for these instead of the skim and heavy cream blend used in this recipe. You can find the original recipe @ Sprinkle Bakes.   Get the recipe —> here!
photo via Sprinkle Bakes
Don't these look like something out of a dream? And only 15 minutes to make! We can do this and we have to! Head over to Sweetapolita for her tricks of the trade.  Get the recipe —> here!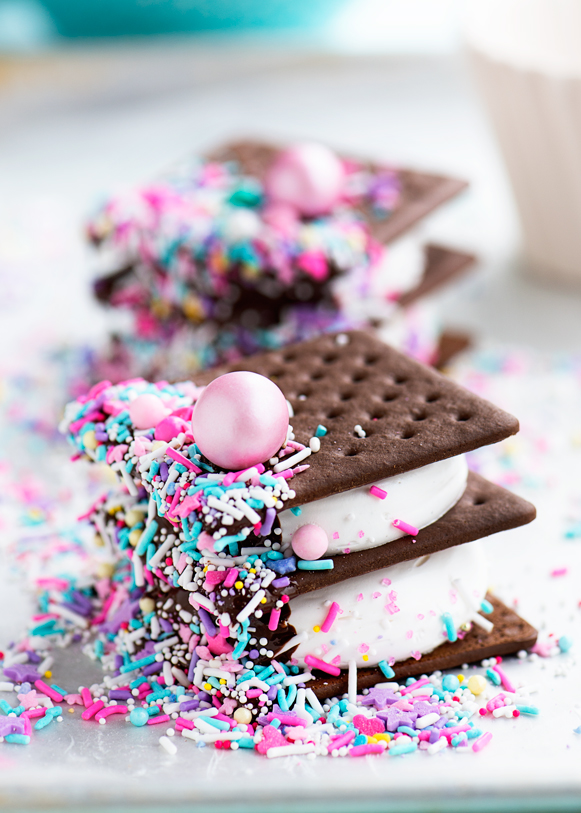 photo via Sweetapolita
It's a gloomy day over here and I think these Unicorn Bars would do me a bit of good. These cookie bars, but with a unicorn twist are rainbow-mazing.  You won't be able to eat just one. And frankly why would you want to? Get the recipe —> here!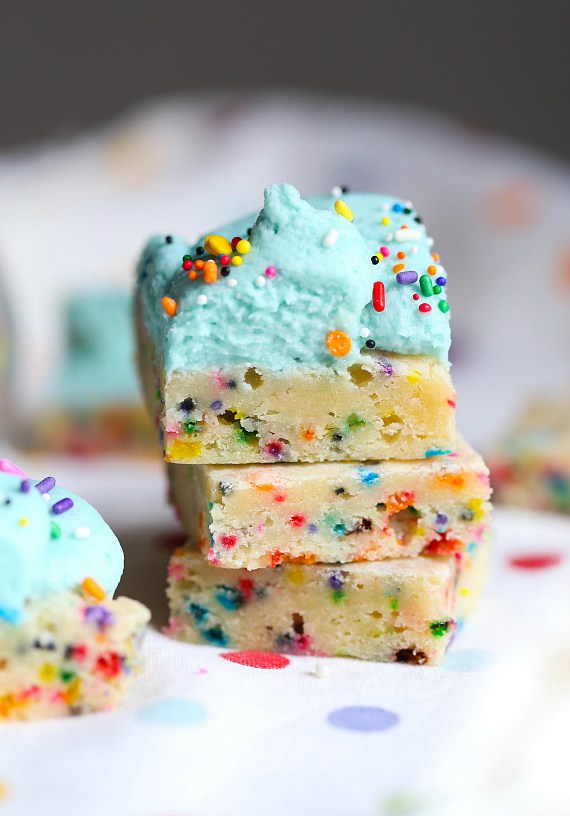 photo via Cookies & Cups
I never even knew what funfetti was until this past summer.  I have surely been missing out. These made from scratch Softbake Funfetti Cookies from Averie Cooks are just the thing to cheer up just about anyone.  Get the recipe —> here!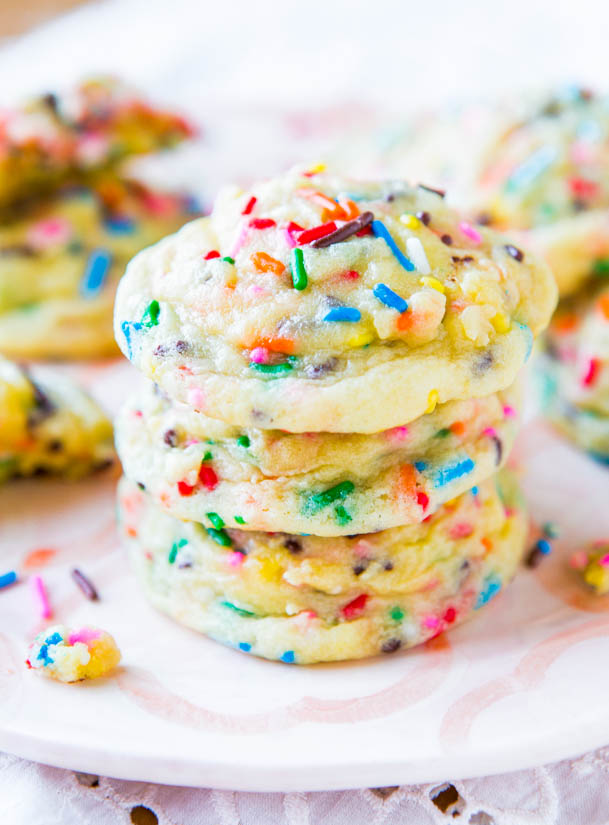 photo via Averie Cooks
Donuts are one of my many downfalls. And now I've found these donuts and they have rainbows on them. So anything seems possible.  The First Year knows just what a recipe for happiness is.  Get the recipe —> here!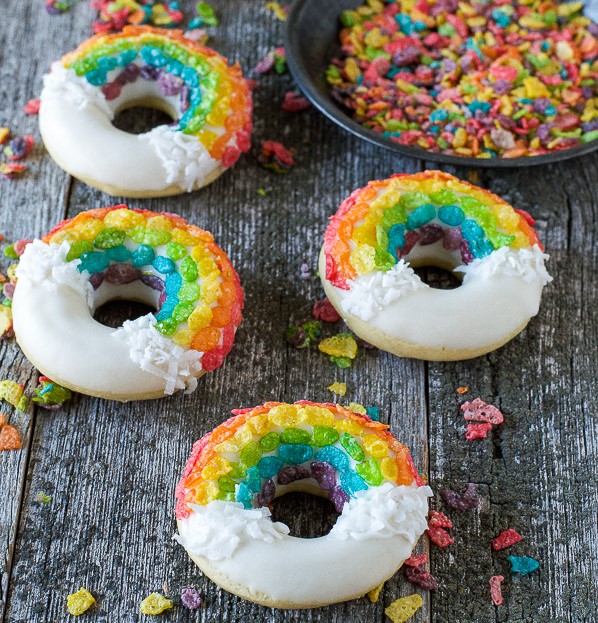 photo via The First Year
This monkey bread is glorious. With cinnamon sugar, a cream cheese glaze and all the rainbow sprinkles you can handle, this twist on the traditional monkey bread is a real winner. Get the recipe —> here!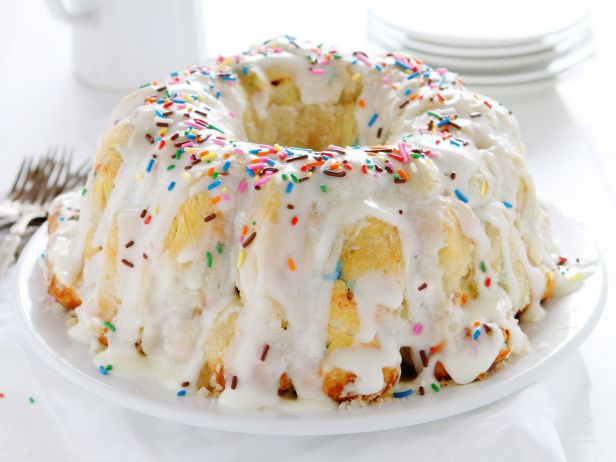 photo via i am Baker
Although there's some mystery surrounding the origin of the pinata, we can all agree they're just plain fun. Plus, there are few opportunities in life where you can beat the bejeezus out of something and come out the other side with a reward. For those times when you would like to do a little less beating and a little more eating, these Party Pinata Cupcakes are just right. Get the recipe —> here!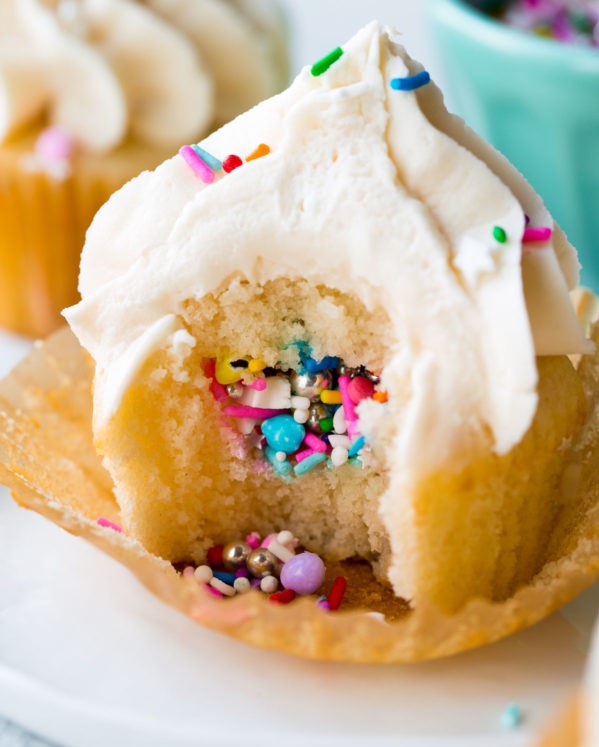 photo via Sally's Baking Addiction
Have you ever imagined hot chocolate could look like this? I sure didn't.  White chocolate sauce, a mountain of whipped cream, clusters of marshmallows and a flurry of rainbow sprinkles. It's a happy childhood in a mug. Love & Oil shares the secrets of this magnificent creation. Get the recipe —> here!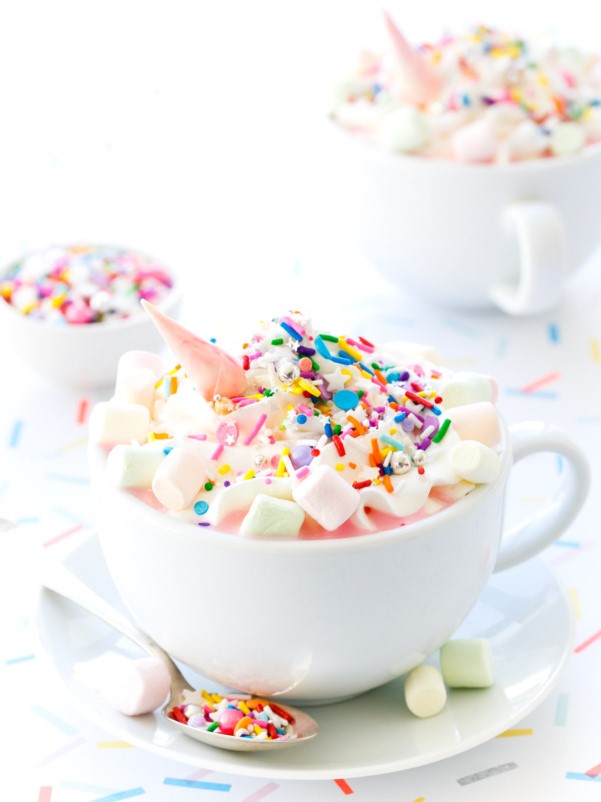 photo via Love & Olive Oil