Better Living uses affiliate links. If you make a purchase through them, we may receive a small commission (for which we are deeply grateful) at no cost to you.
*We would like to thank our friends at Tervis for sponsoring this post. The opinions and information presented here is our own.
We all know that person who is always with a cup of coffee or bottle of water in hand. So if you're looking for a great gift this holiday season that's fun and practical, a Tervis Tumbler might just be the perfect thing. Tervis tumblers are specially designed to keep your beverages super hot and/or cold while resisting the formation of condensation on the outside. They're great for taking in the car, to school, the office, job site, yoga studio or anywhere you'd like to have a nice beverage beside you. And who wouldn't love their own fun personal cup?
Tervis's classic double-walled plastic tumblers are made in the USA, BPA free and are also dishwasher and microwave safe. Tervis also carries premium double-wall vacuum insulated copper lined stainless steel tumblers with splash-resistant, shatter-resistant lids that are really easy to open and close.
And the coolest part (no pun intended)? These stainless tumblers can keep your drink ice-cold for 24 hours or hot for up to 8 hours! I left mine in my hot car one day during a heat wave while shopping and came back to water that was so cold I just couldn't believe it was real. Trust me, they're pretty amazing. Plus they:
Work great for both cold and hot drinks.

Come in lots of different sizes and styles in addition to tumblers including mugs, wine glasses, beer mugs, and water bottles.

Reduce water bottle waste

Fit most cup holders

Have an

awesome guarantee

!
The fun part about Tervis Tumblers is that they come in thousands of designs, so there really is a cup for everyone. Design themes include sports teams, movies, Disney, destinations, mermaids, fishing, birds, lifestyles, flowers, animals, funny little sayings, fun prints and so much more! Just name something and Tervis most likely has a design for it. And if you're looking for something even more unique, you can even customize your own with your photos and words. You can click here to start designing!
Check out some of our favorite Tervis cups, mugs, and tumbler designs that we think would make great gifts this holiday season and all year round:
For The Movie Fanatic
Who doesn't love movies? Tervis carries tumblers with licensed designs from favorite flicks including Star Wars, Harry Potter, Marvel's Avengers, The Nightmare Before Christmas and Jurassic Park. We're totally digging this Jason tumbler from Friday The 13th that's perfect for the classic horror movie lover in your life.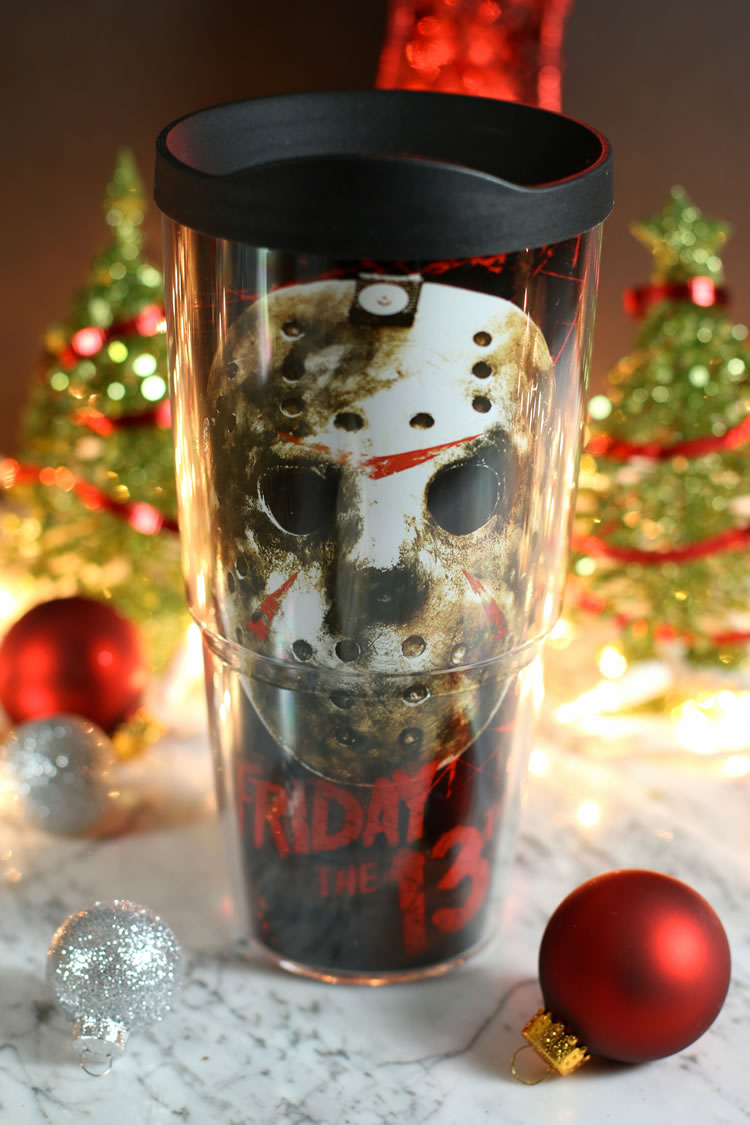 Buy Now> Scary Movie Collection Friday the 13th Limited Edition (24 oz)
For The Comic Book & Superhero Lover
It's not too hard to understand why great storytelling combined with really interesting characters are just some of the reasons people love their comic books and keep coming back for more. And luckily now we all get to enjoy them on the big screen as well as on TV series we can binge watch through the weekend. Tervis has partnered with Marvel to offer some really cool designs for some of our all-time favorite superhero characters including Deadpool, Ant-Man and the Avengers, Black Panther, Spider-Man and one of our personal favorites – The Punisher.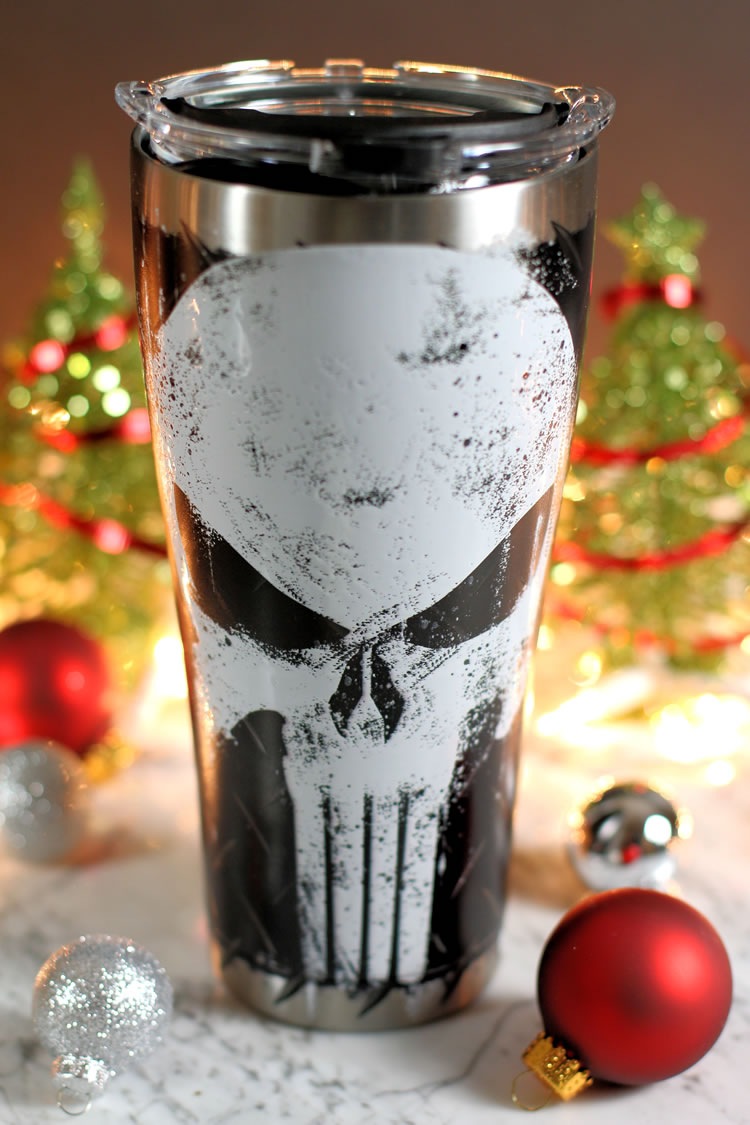 Buy Now > Marvel®Punisher Stainless Steel Tumbler (30 oz)
For The Sports Fan
Real sports fans can be super crazy dedicated to their teams. They'll love showing their support with a Tervis Tumbler featuring their team's favorite logo. Tervis has tumblers sporting logos from all your favorite sports and college teams including designs for sports like the NFL®, MLB®, NBA®, NHL® & MLS®, U.S. Open, NASCAR®, Indy 500®, Kentucky Derby® and more!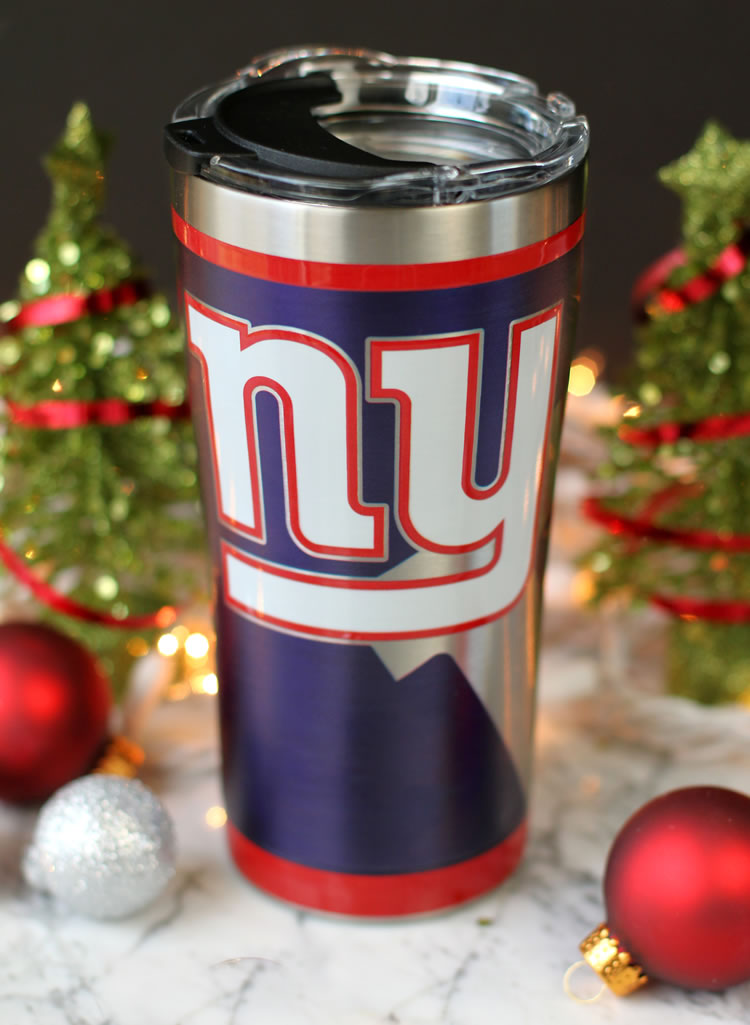 Buy Now > NFL® New York Giants Stainless Steel Tumbler (20 oz)
For The Beer Nut
If you love your beer, then you want it cold, right? An insulated 16 ounce Tervis Beer Mug is the perfect gift to keep your beer lover's brews cold and frosty. And the really cool part is that unlike most mugs, this one doesn't sweat at all! We're in love with this Old Time Nautical Beer mug with its vintage seaworthy designs. It will make you feel like you're on the deck of schooner sailing out to sea.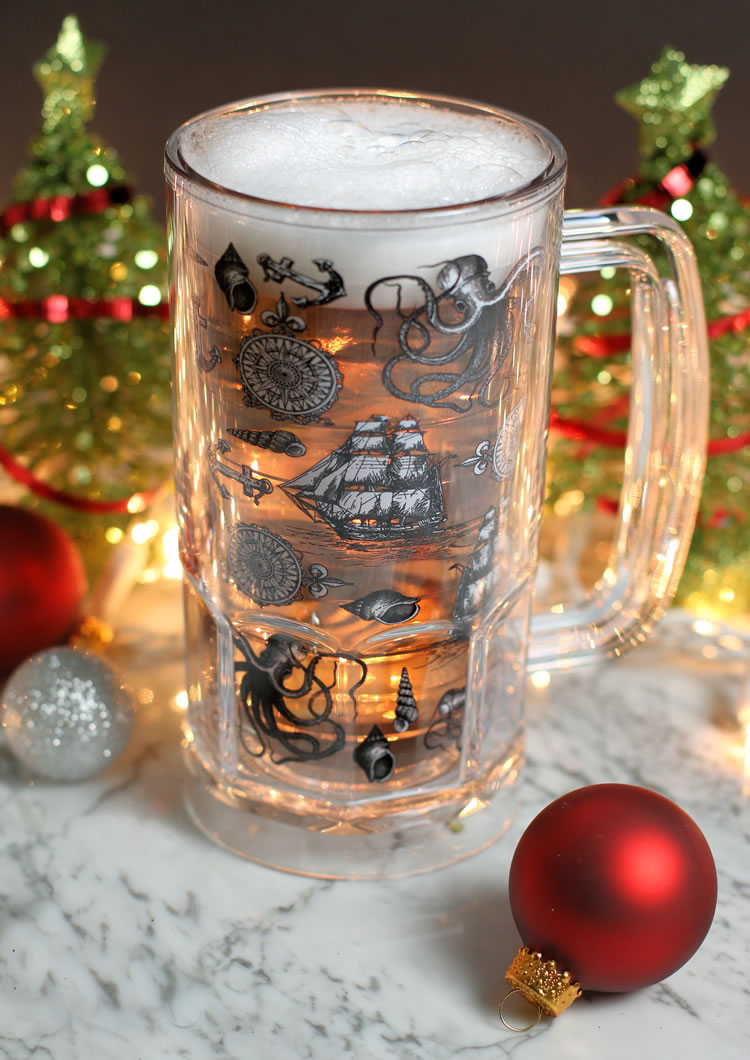 Buy Now > Old Time Nautical Beer Mug (16 oz)
For The Nature Lover
If it's a nature lover that you need to find a gift for, a Tervis mug or tumbler is ideal. Tervis has some great nature and animal-inspired designs in a variety of tumbler sizes and styles including stainless, mugs, water bottles. Who wouldn't love sipping their hot cocoa or morning coffee from these gorgeous designs?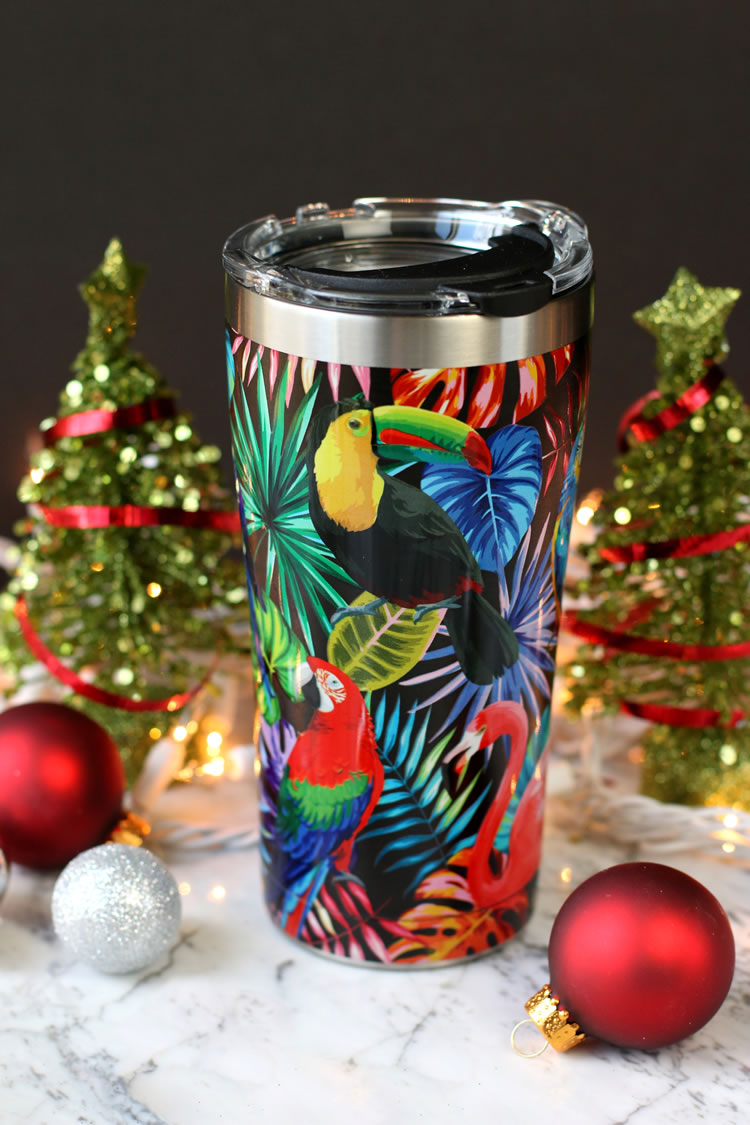 Buy Now > Tropical Birds Collection Stainless Steel Tumbler (20 oz)
This vibrant and colorful stainless Dragonfly Mandala Tumbler is one of Tervis's most beloved designs. And we can see why. It's available in 12 oz, 20 oz, 30 oz tumbler, or a 24 oz water bottle.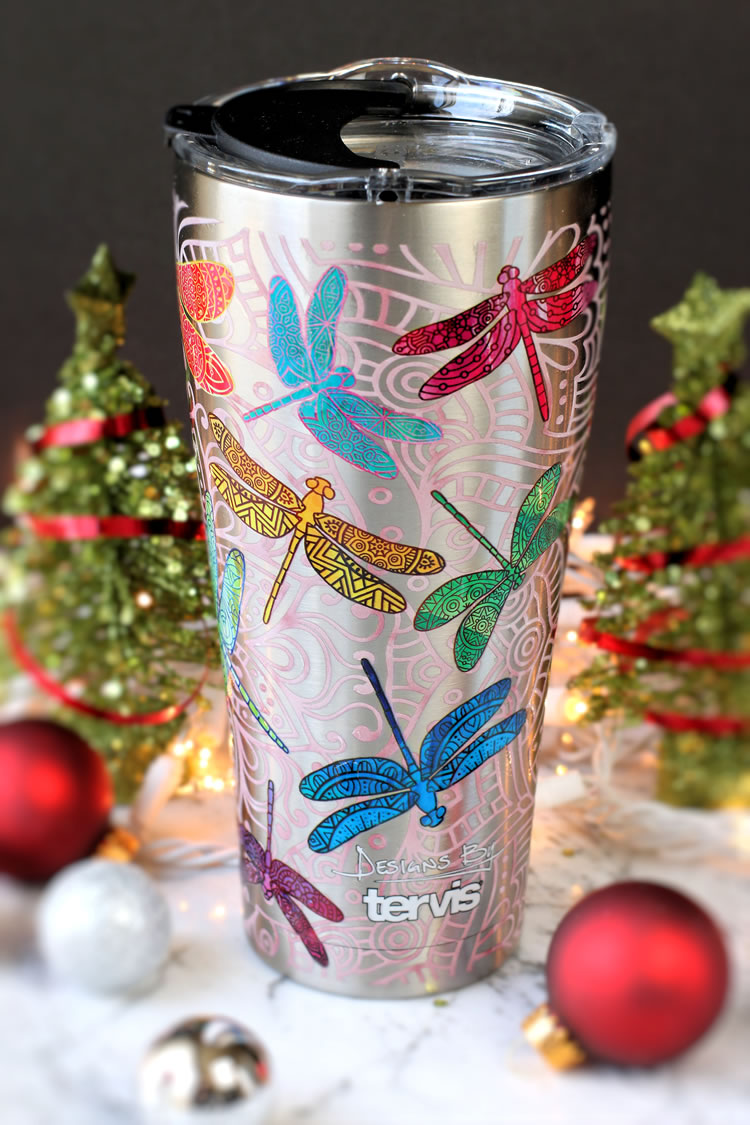 Buy Now > Stainless Steel Dragonfly Mandala Tumbler (30 oz)
This gorgeous cardinal adorned mug comes in a variety of sizes and colors like emerald green, purple, red and blue.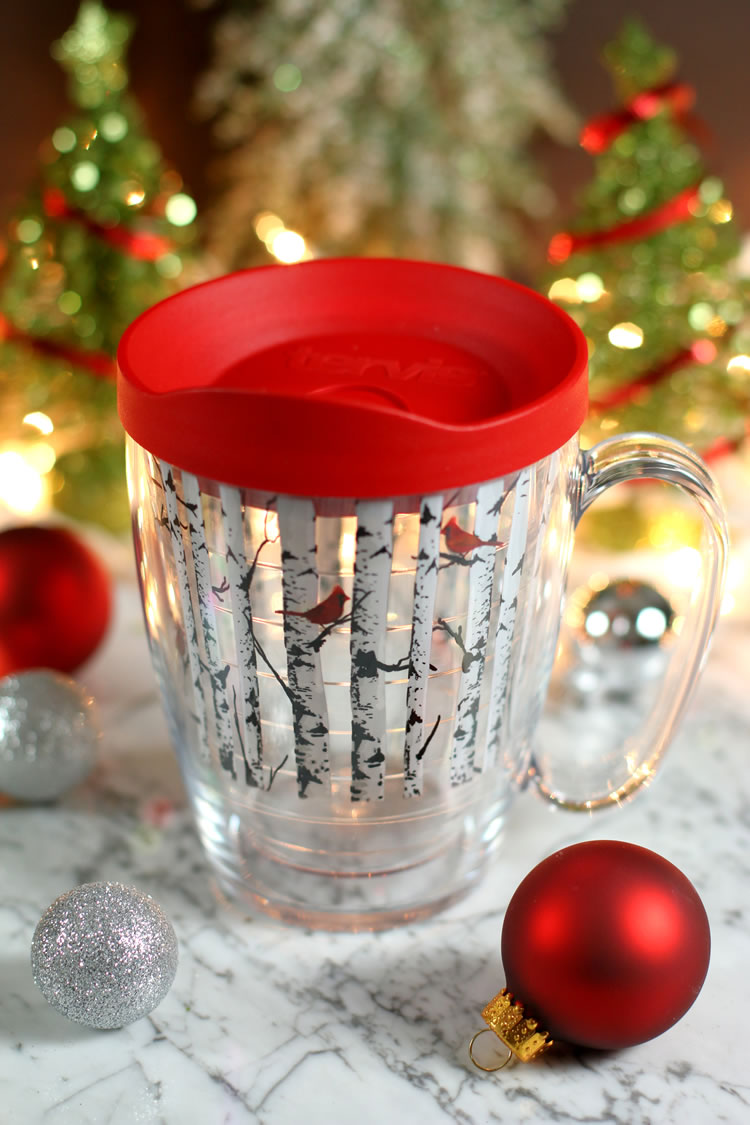 Buy Now > Aspen Trees With Cardinals Mug (16 oz)
For The Playful Person With A Sense of Humor
Looking for a great gift that can keep a morning cup of tea hot and bring a smile to your loved one's face too? Tervis has lots of fun and silly designs, but this "Nope Not Today" mug with an adorable little sloth has us obsessed with all its cuteness. It's also available in a 16 oz and 24 oz tumbler.
Buy Now > Sloth "Nope Not Today" Mug (16oz)
For the perfect holiday gift that will be loved all year round, visit tervis.com to start choosing the perfect tumblers for the people in your life!  
Through 12/18, GET 20% OFF your order AND free shipping. Plus, you'll also receive a free mystery gift! Reveal your deal!