Better Living uses affiliate links. If you make a purchase through them, we may receive a small commission (for which we are deeply grateful) at no cost to you.
*This sponsored post written by me on behalf of Smithfield® Marinated Fresh Pork. The opinions and text are all mine.
Like most of us, I'm pretty busy during the week. So the thought of cooking a big meal can be a little bit of a drag. But, as much as I love eating out or ordering takeout, I can appreciate that eating at home as much as possible is great for my waistline as well as my wallet. So I'm always on the hunt for quick and healthy meals to cook at home that won't have me washing dishes into the wee hours of the night.
And that's why I love Smithfield's Marinated Fresh Pork. It's great to have on hand when you want a delicious dinner in 30 minutes or less. It comes in a variety of yummy flavors and cuts like Slow Smoked Mesquite Flavor Pork Loin Filet, Roasted Garlic & Herb Pork Sirloin, and Applewood Bacon Pork Loin Filet to name a few. Just cook one up for those weeknight dinners when you don't want to fuss over dinner. You can grill, saute or pan roast it. It's your choice. It's even great in the slow cooker. And who doesn't love it when their dinner is waiting for them?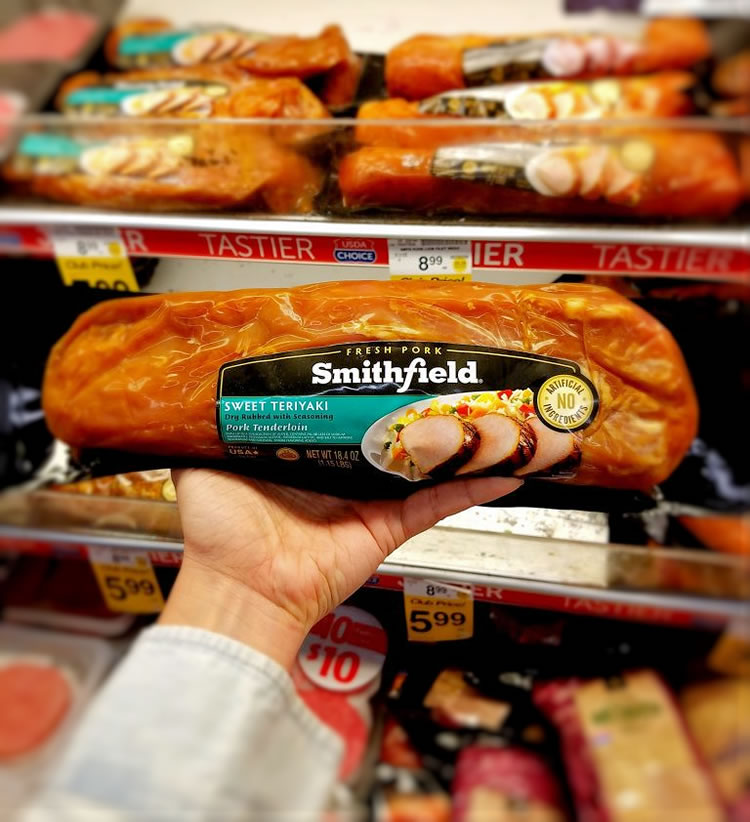 I thought the Smithfield Sweet Teriyaki Marinated Pork Tenderloin would be perfect in a Japanese style dinner bowl.  A Teriyaki Pork Tenderloin Bowl for a weekday dinner is not only fast and healthy, but it will keep you from spending a crazy amount of money at your local Japanese restaurant. It's a Japanese inspired dinner in 30 minutes or less. Real flavor real fast. You can do this. You should do this.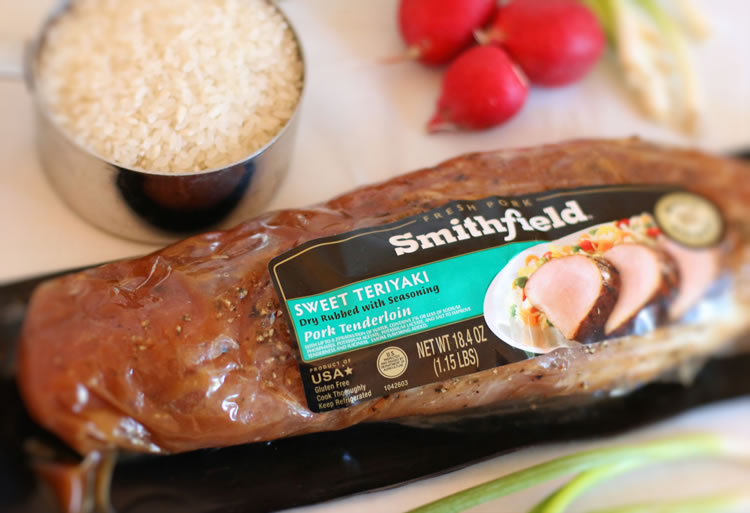 For this recipe, I took Smithfield's Sweet Teriyaki Marinated Pork Tenderloin that I bought at Safeway in the fresh meat section, seasoned it with salt and pepper and simply gave it a quick sear in my cast iron skillet. Then I stuck it right in a preheated oven. Giving the meat a good sear gives the pork tenderloin a beautiful crust on the outside while locking in moisture. The pork then finished roasting in the oven while I prepared the rice and veggies.
? Pro Tip: Before moving the pork to the oven add 1 small slice white onion,  1/4 cup of white wine, 2 tablespoons of soy sauce, 1 tablespoon of honey and 1 tablespoon each of fresh garlic and ginger to the pan for more of that amazing teriyaki flavor.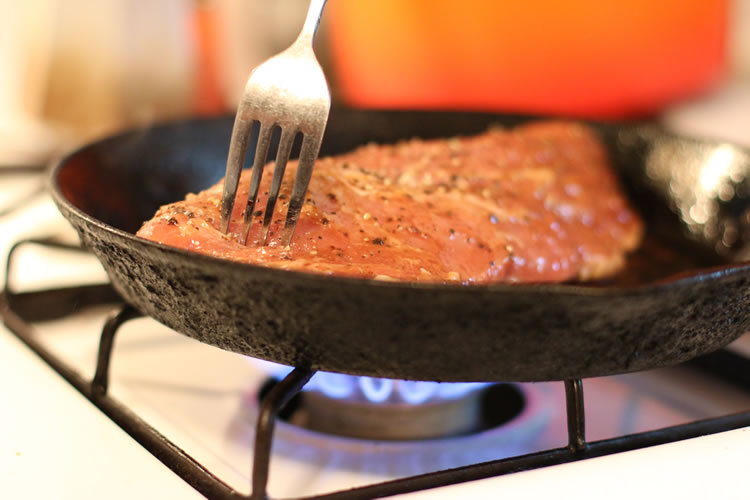 To sear your pork you'll want to heat your pan to medium-high, add about 2 tablespoons of oil and then let the pork sear until there is a nice brown crust formed. About 3 minutes per side. If you don't have a pan that can transfer right into the oven, just remove the pork tenderloin from the pan and place it on a baking sheet greased with a drizzle of oil. Then into the oven, it can go.
Here's a quick video on how to sear meat like a pro:
Once the pork tenderloin finished cooking I sliced it super thin and delicately layered it over a bowl of Japanese style hot steaming rice.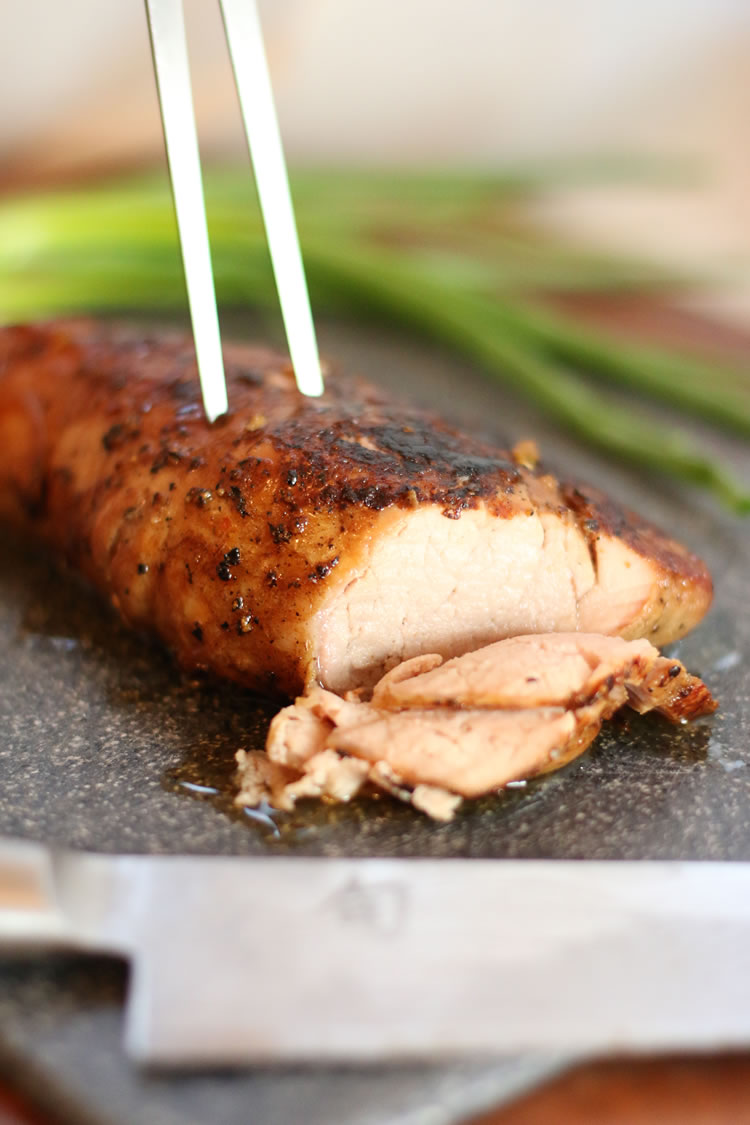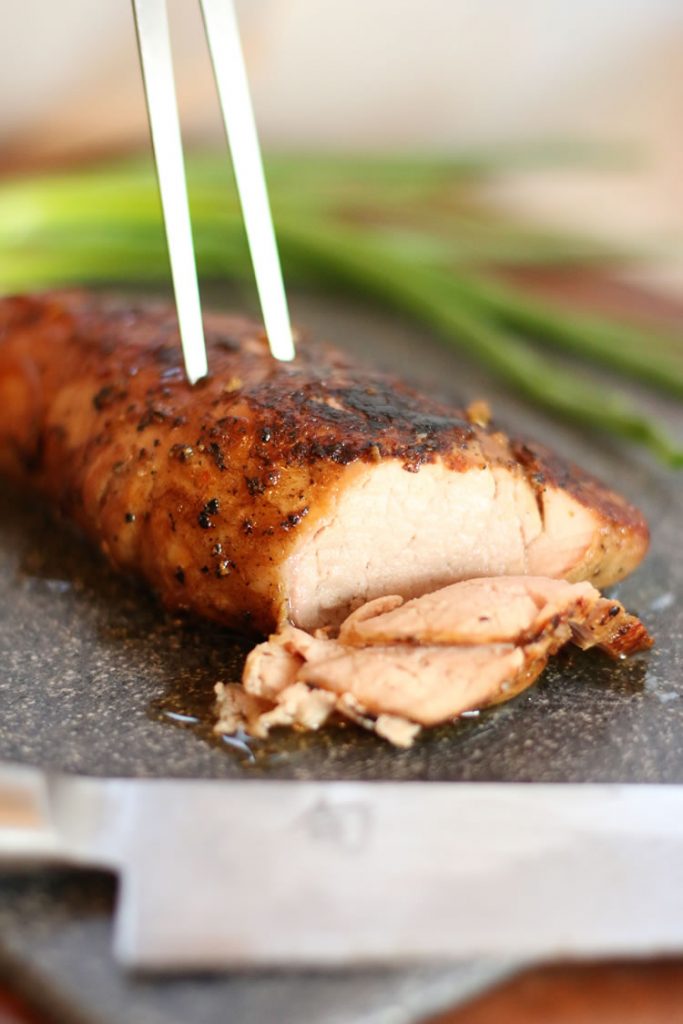 I used Calrose style rice for my bowl. It's that quintessential sticky white Asian rice. First introduced to California by Asian immigrants during the Gold Rush, Calrose rice is famously known for its white pearl-like grains and delightfully sticky texture. And it's perfect served with grilled or roasted meats and vegetables. Pure comfort food. If you don't have Calrose rice, as always just substitute what you have on hand.  Jasmine rice, Basmati, brown, white, whatever. This dinner recipe is meant to be completely stress-free so just use whatever you have on hand. Oh and wine. Don't forget to pour yourself some wine.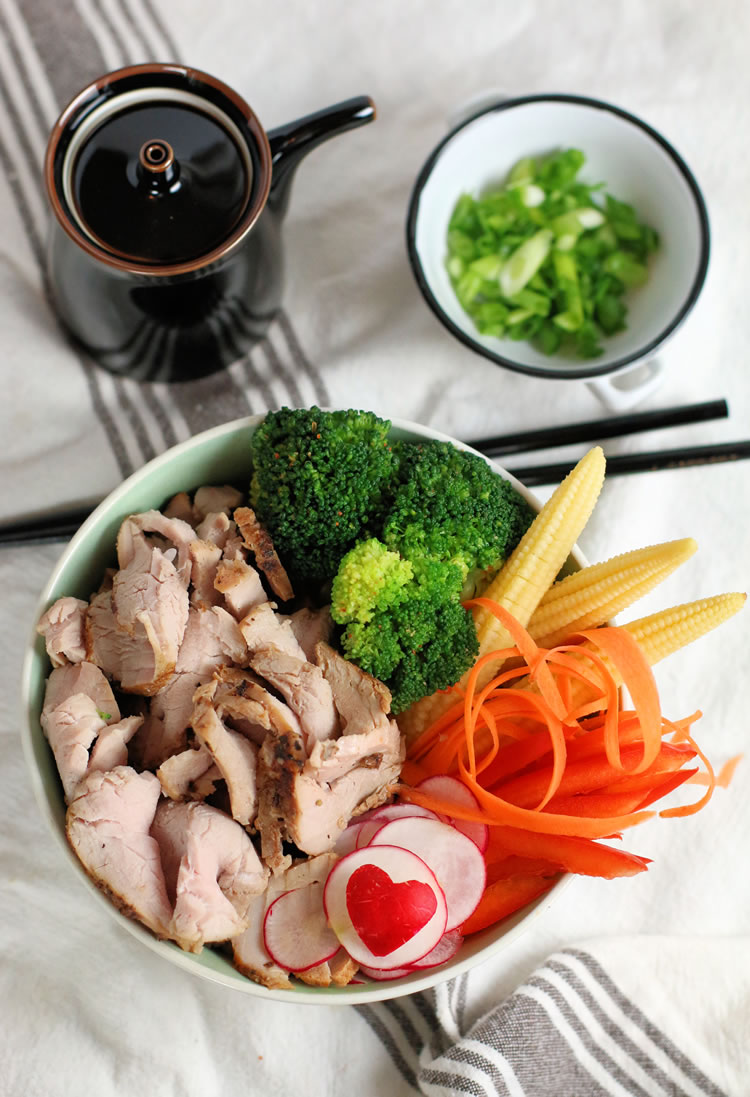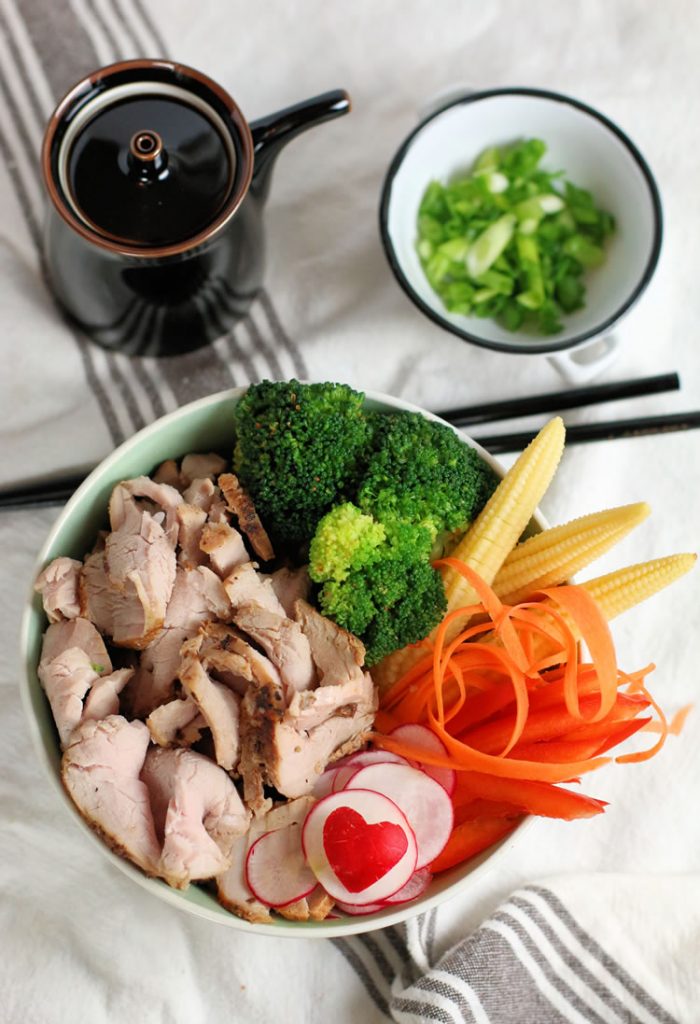 Crisp and colorful veggies are added because we all need lots of beautiful veggies in our life. I used steamed broccoli, raw shaved carrots, sliced red peppers, and a little radish to keep. These bowls would also be amazing with some sauteéd shitake mushrooms. Next time! I think roasted asparagus, bok choy, bell peppers, and zucchini would also go wonderfully.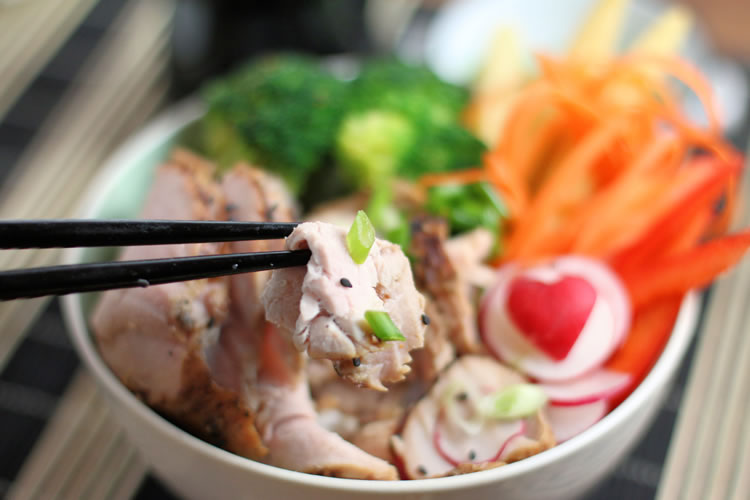 To serve the Teriyaki Pork Tenderloin Bowls, scoop some rice into the bottom of a nice sized soup bowl, add a serving of the pork, some steamed or sauteéd broccoli and other veggies of choice. Before diving, sprinkle, the bowls with a little soy sauce or hot sauce and you have yourself a quick dish that is not only delicious to eat but pretty to look at. Enjoy!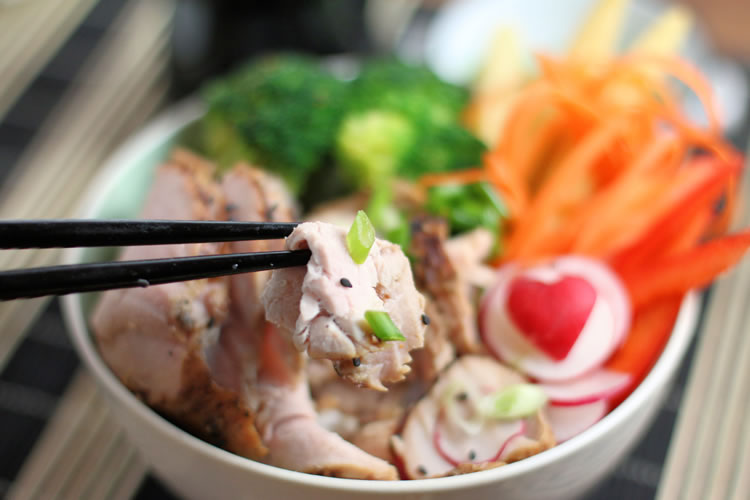 Recipe: Teriyaki Tenderloin Pork Bowls
For a quick weeknight dinner in under 30 minutes, these Teriyaki Tenderloin Pork Bowls will do just the trick to satisfy a craving for Japanese takeout. Quick roasted Smithfield Sweet Teriyaki Marinated Pork Tenderloin is baked and then sliced over a bowl of sticky Asian style rice and loaded with veggies.
Ingredients
1

Smithfield Sweet Teriyaki Marinated Pork Tenderloin

3

cloves

garlic, minced

1

tablespoon

fresh ginger, finely grated

2

tablespoons

grapeseed or canola oil

3

cups

prepared rice (Calrose, Jasmine, basmati, etc.)

3

cups

broccoli, steamed or sauteéd

1/4

cup

scallion, chopped (optional)

2

cups

sliced fresh veggies of choice-peppes, carrots, radish, cucumber, etc.
DIRECTIONS
Preheat oven to 400 degrees F. Then on the stovetop place an oven-safe pan ( stainless steel or cast iron) over medium-high heat until hot.

Season both sides of the Smithfield Teriyaki Pork Tenderloin with salt and pepper. Evenly top with minced ginger and garlic if desired. When the pan is hot add 2 tablespoons of oil. Swirl around the pan and then add the pork tenderloin. Sear both sides of the tenderloin for approximately 2-3 minutes per side to a nice golden brown.


When searing is done transfer to the oven and cook until it reaches an internal temperature of 145 degrees. About 20 minutes. Rest for at least 5 minutes before slicing.

While the pork is in the oven prepare the broccoli. You can either steam the broccoli or sauté it. For sauteed broccoli see recipe notes. To serve the Pork Teriyaki Bowls place a few scoops of rice in each bowl and then top with servings of the pork, broccoli, and other veggies if desired. Keep them compartmentalized for a beautiful visual effect. Garnish with scallion and season with soy sauce and/or hot sauce if you like. Enjoy!
Notes
For Sauteéd Broccoli:  Heat a pan over medium-high heat. Add 2 tablespoon of grapeseed or olive oil, 1 tablespoon of sesame oil, 2 cloves of garlic, 1 tablespoon of soy sauce and sauté broccoli until fork tender. Be sure to season with salt and pepper to taste.
? Want to take the Smithfield challenge "What Can You Do With 30?"
Smithfield is having a meal and cooking tips contest! They want to see how you would get Real flavor real fast in ⏰ 30 minutes or less using their Marinated Fresh Pork.
For more 30-minute meal preparation ideas, and to submit your original recipe for a chance to win ? great prizes, zip over to www.SmithfieldRealFlavorRealFast.com.