Better Living uses affiliate links. If you make a purchase through them, we may receive a small commission (for which we are deeply grateful) at no cost to you.
We've partnered with ACME Markets to bring you this post. The opinions and information presented here are all ours.
The weather's been absolutely beautiful outside recently and after months of quarantine and doing more cooking than I've ever done in my life, I thought it was time for a break. So when ACME challenged us to do a "Signature® Summer Grocery Haul" focusing on their exclusive Signature line of products found at ACME Markets I was all in.
With a budget of $100 not only was I excited to be able to discover some new products, but I also wanted to focus on picking up products that would make getting meals on the table as quickly as possible. Since my overall goal for this haul was to buy things that would have me spending as little time in the kitchen as possible, I thought why not use that extra free time to enjoy the early summer weather and go on a picnic. And what's a summer picnic without a potato salad? We were in the mood for my Warm & Tangy German Potato Salad, so I was sure to put the ingredients for that on our list as well. You can find the recipe for that shared below along with some of the meal ideas we created from our $100-dollar haul.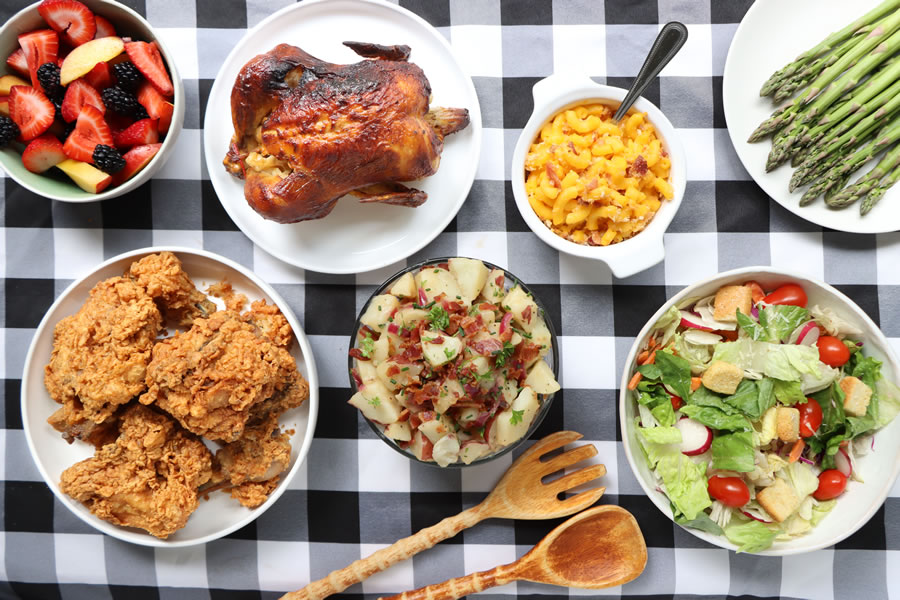 If you're not totally familiar with ACME's Signature line, as an exclusive private-label brand these products are on par with national brands and offer high-quality and total value. They include:
Signature Cafe®– If you're looking to make meal-time super fast, this is ACME's own line of chef-inspired ready-to-eat, ready-to-heat, and ready-to-cook meals and sides found in the deli section. One of my favorites in this line is their Signature Cafe® Whole Roasted Chickens which are cooked in-store and ready to go. They're so versatile I always grab 2.
Signature SELECT™ – These products you can find in just about every aisle of ACME and cover a wide range of goods with everything from pasta to canned and jarred foods, to drink mixers and my personal favorite – their flavored seltzers called Soleil. I didn't pick up any on this haul since I was already stocked, but their Cucumber-Melon, Blood-Orange, and Grapefruit seltzer flavors are so delicious.
Signature Farms® – These super fresh products can be found in the meat and produce sections of ACME. On this trip, we grabbed their Signature Farms® Cut Super Greens Kale, Signature Farms®Garden Salad, Signature Farms® Grape Tomatoes and Signature Farms® Peeled Baby-Cut Carrots for making salads and smoothies really fast during the week.
Signature RESERVE™ – This is ACME's ultra-premium product line made with extraordinary, expertly sourced flavors and ingredients that are absolutely delicious. I've tried many products in this line including some of their teas and coffees and everything has been top-notch. We love their pasta sauce which we picked up on this haul as well.
TIP: All the Signature® products I picked up on this haul I found at my local ACME, but they can also be found exclusively at the Albertsons Companies family of stores, including Albertsons, Safeway, Jewel-Osco, Vons, Pavilions, Randalls, Tom Thumb, Shaw's, Star Market, United Supermarkets and Carrs/Safeway.The Albertsons Company family of stores are your one-stop, meal solution destinations delivering quality, authentic flavors from fresh departments and every aisle in between.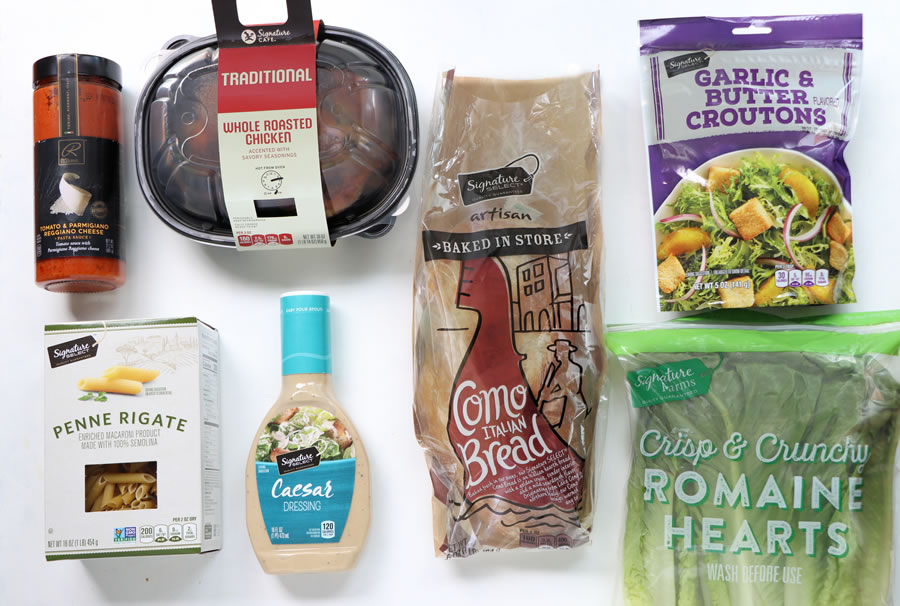 What We Scored On Our Haul 
You can check out the video below to see everything we scored on our Signature Summer Grocery Haul, but I wanted to share some of the highlights and easy meals we were able to put together with what we brought home.
One of the first things I always get when I go to ACME is their Signature Café Whole Roasted Chickens. Hot and ready to go, these chickens are great on their own paired with some roasted veggies or a salad. They're also a total time saver when it comes to making recipes that call for chicken.  I use them for making quick chicken salads, sandwiches, pasta dishes, soups, tacos, burritos, or even enchiladas. There are many uses for these chickens and it's a quick and easy meal in minutes. These are a must-have in my house and we absolutely love these!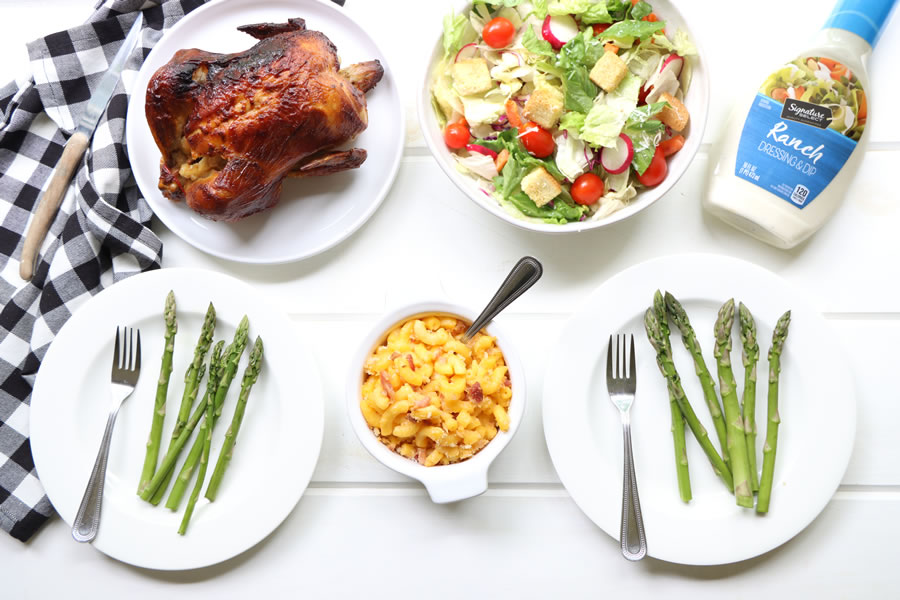 As a side dish for the roasted chicken, we also picked up a fantastic buy 1 get one free deal ACME was having on fresh asparagus. I'll also be roasting these up throughout the week or adding them to omelets, but they're great in stir-frys too. They cook up in minutes, which is perfect for getting meals on the table fast.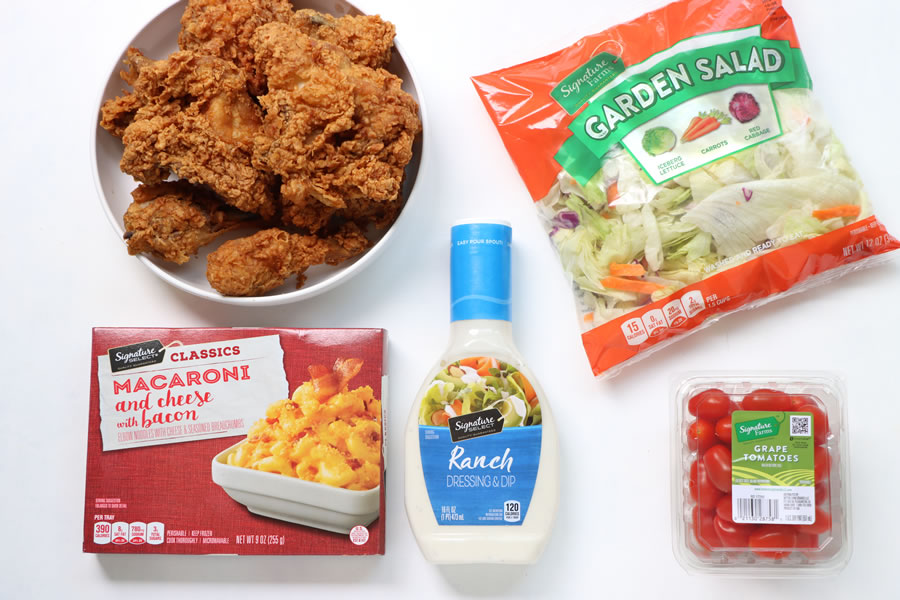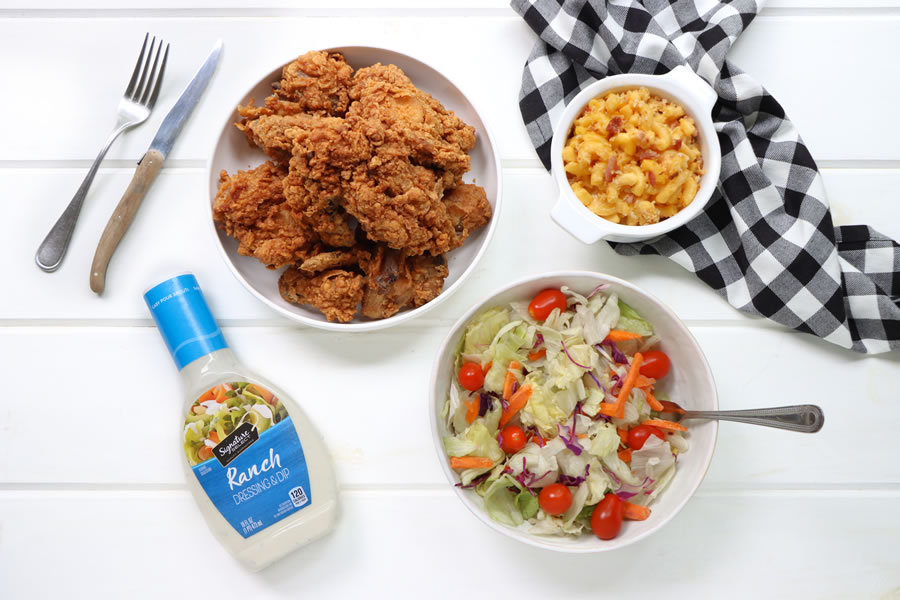 Another thing I love from ACME is their fried chicken. They make it fresh in-store several times per day and it goes perfectly with their Signature Select Mac & Cheese with Bacon. Just add some salad and a veggie and you have a really quick meal that's hot and ready to go and perfect to take on a picnic.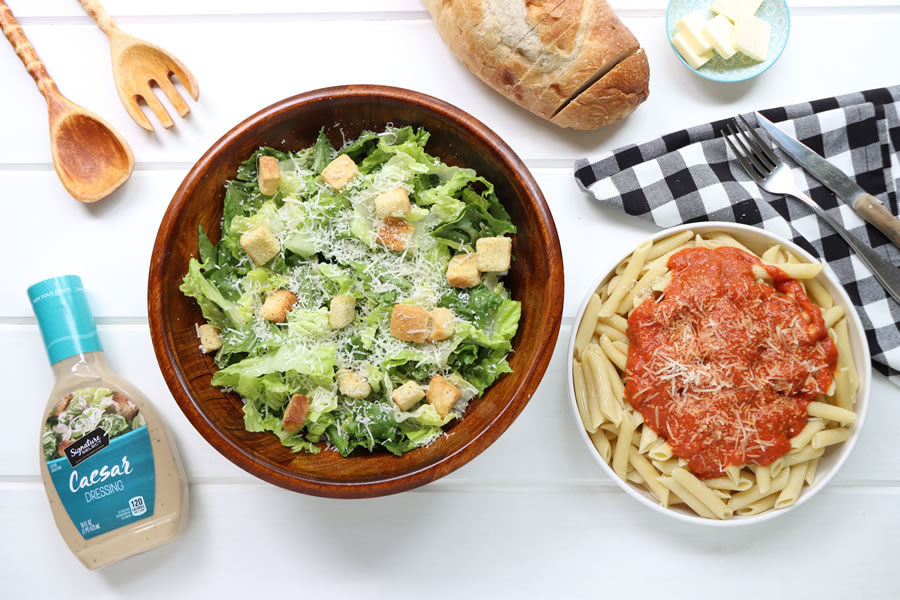 For a quick and easy pasta night, Signature Select offers a really nice variety. I picked up Penne and Thin Spaghetti, and we topped it with ACME's really delicious premium Signature Reserve Tomato and Parmesan Reggiano pasta sauce. Coming from an Italian family, I usually always make my own sauce, but this one passes the prepared sauce test for me by a mile. It's really authentic tasting and you would never know it came out of a jar. There's a lot of other flavors too like Tomato Basil and Arrabiata, so if you're looking for a great jarred sauce to keep in the house this one is it. We paired this with a Caesar Salad made with Signature Crisp & Crunchy Romaine, Signature Caesar dressing and their Signature Garlic & Butter Croutons. Super easy and really tasty. If you aren't a fan of Caesar salad, Signature Farms Garden Salad is super convenient and ready to eat too and they have other salad varieties as well.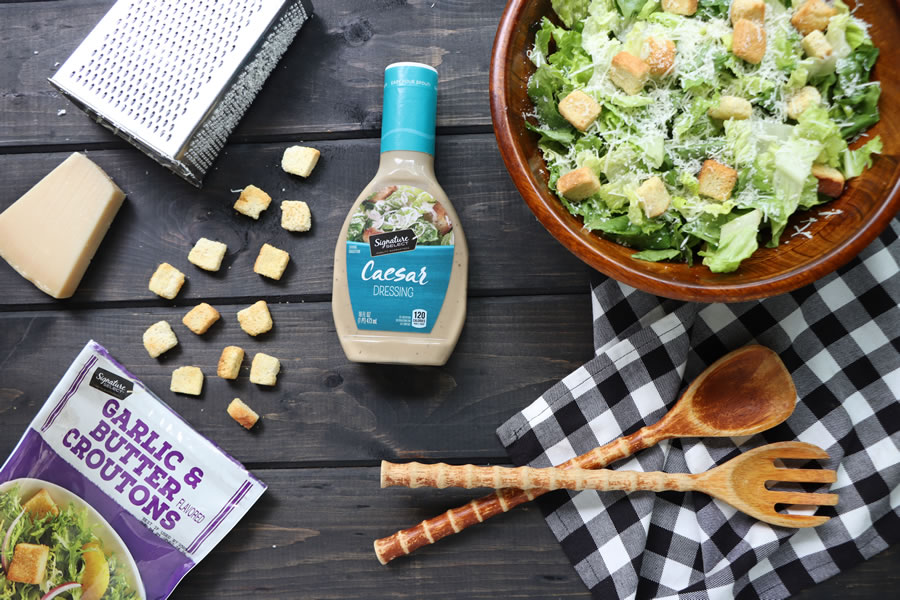 ACME also has a wonderful bakery, so I picked up their Signature Select Artisan Como Italian Bread and a loaf of Artisan French Bread. These go great with meals, sliced up for toast in the morning, or for sandwiches. I usually keep one loaf in my freezer and pull it out as needed.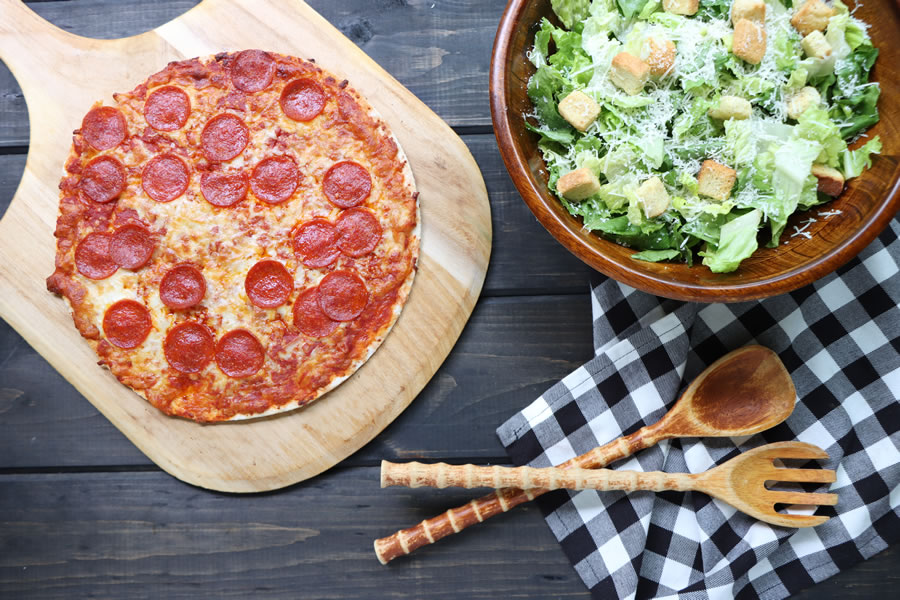 Pizza is always a good idea and for nights when you don't feel like cooking or leaving the house.These Signature Select Thin & Crispy Pizzas are awesome. We grabbed Pepperoni and Plain Cheese but there are other flavors to choose from as well. These heat up in 10 minutes, they're really tasty and the size is really generous too. Pair them up with a salad and it's a great meal on the fly.
Also just a tip – If you're shopping at ACME and not using their app, you're really missing out on some serious savings. Not only can you get access to digital coupons, but you can also earn rewards for free products and money off your bill. We got $5 off our total this trip which was pretty awesome. So be sure to download that before your next visit.
I absolutely love that we were able to get everything we needed on this Signature Summer Grocery Haul for a week of super quick family meals combined with pantry staples all for less than $100. Eating this week was a total breeze!
Keep reading to get our favorite Warm German Potato Salad recipe.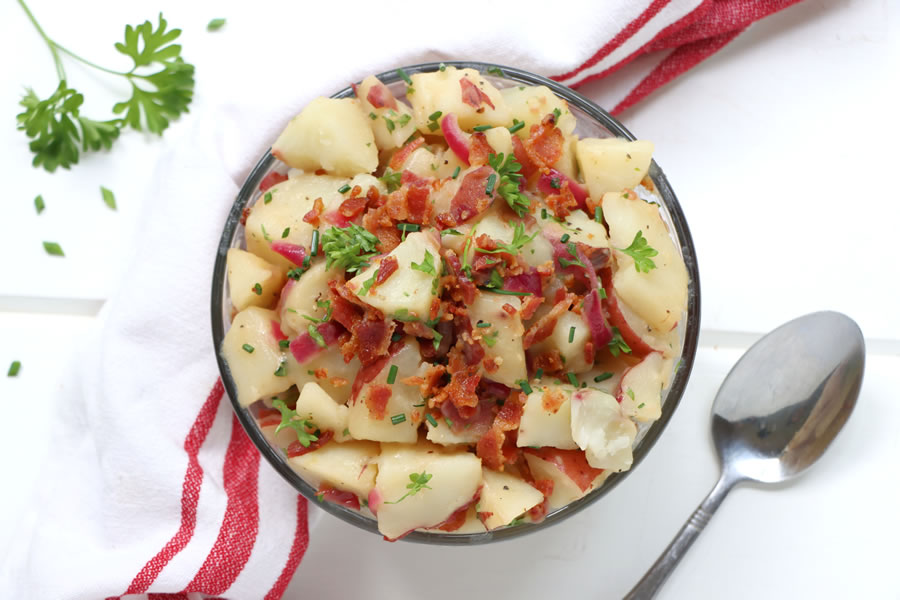 GET THE RECIPE 
If you're looking for a great summer salad recipe perfect for a picnic try this Warm German Potato Salad we made with the Signature Red potatoes, Apple Cider Vinegar, and Signature Select Hickory Smoked Bacon we picked up on our haul. We like our German Potato salad extra tangy and not too sweet. If you like a sweeter salad just add a little more sugar to the dressing to taste before tossing with the potatoes. And if you can't find chives, green onions work just as well in this recipe. Enjoy!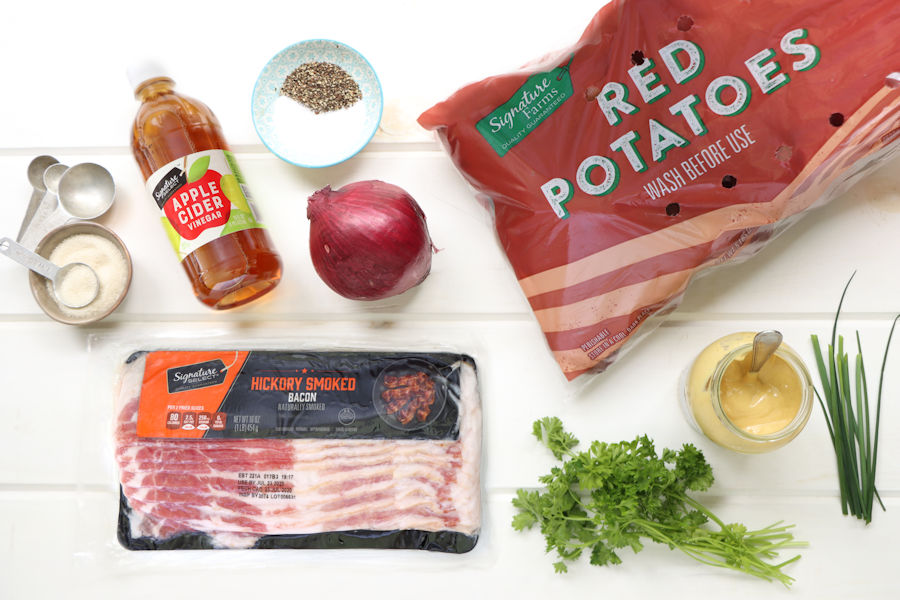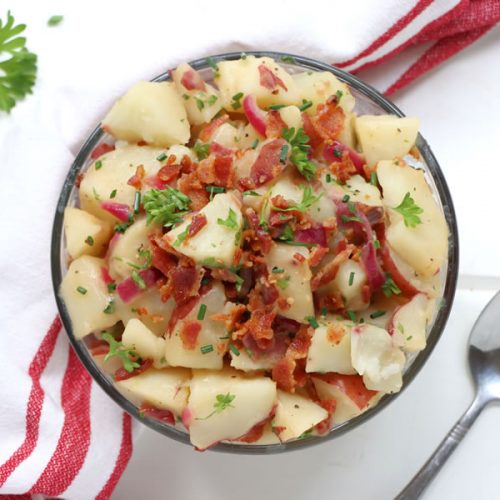 Warm & Tangy German Potato Salad
Heather LaCorte

Perfect for summer, this delicious potato salad is made with diced red potatoes, and tossed with a tangy warm bacon dressing, fresh herbs and then topped with crunchy bacon to serve.
Ingredients
6 medium red potatoes (about 2 lbs)
5 slices bacon (use 7 if thin cut)
1 cup red onion, finely chopped
2/3 cup apple cider vinegar
2 tbsp sugar
1 heaping tbsp dijon mustard
salt & pepper, to taste
3 tbsp parsley, finely chopped
3 tbsp chives (may substitute 4 green onions), finely chopped
DIRECTIONS
If your potatoes are larger, you may cut them in half to reduce cooking time. Place potatoes into a large pot, and add enough water to cover. Add a teaspoon of salt to the water. Bring the water to a boil, and cook for about 10 minutes, or until tender and easily pierced with a fork. Drain and when they're cool to the touch cut the potatoes into about 1inch cubes and set aside.

While the potatoes are cooking, add the bacon to a large pan and cook on medium until cripsy. Remove with a slotted spoon to a dish or rack lined with paper towels to drain and set aside leaving 1/4 cup of the bacon fat in the pan.

On medium head add the onions saute on untiljust about transluent (4-5 minutes).Then turn the heat off and whisk in the vinegar, sugar, dijon mustard, and 1/2 teaspoon each of salt and pepper

Stir well and then pour the warm dressing over the potatoes along with 2 tablespoons of each of the herbs and 3 slices of the bacon crumbled. Toss gently and evenly to coat. Taste and adjust seasoning if needed.

To serve, add the warm potato salad to a bowl of your choice and garnish with the rest of the bacon crumbled on top along with the rest of the fresh herbs. Enjoy!
Notes
We like to leave the skins on the potatoes, but if you prefer you can peel half or all of them.
We suggest chives and parsley here, dill is also delicious! Add it along with the other herbs or substitute it for the chives, with green onions instead.
Spices like caraway or celery seed would make a great addition. Try adding a half teaspoon when you're tossing the potatoes with the dressing.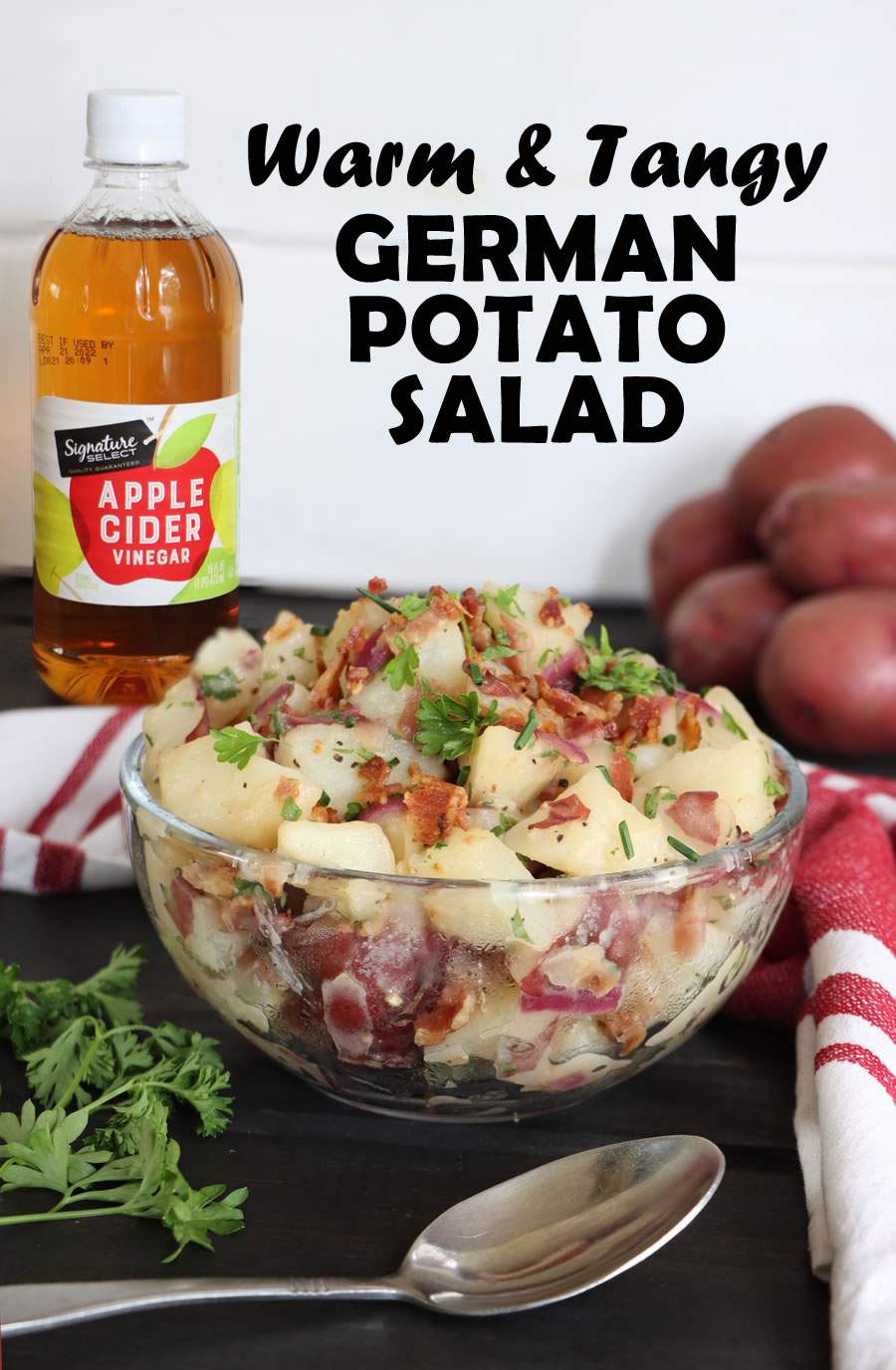 To make mealtime a cinch, be sure to shop Signature products at your neighborhood ACME Markets in-store and online! 
To check out delivery and pick-up options in your area or to find a store near you visit ACMEMarkets.com
For even more recipes, meal-planning tips, and inspiration be sure to visit the ACME Market's social channels linked here at Facebook, Pinterest, Twitter, or Instagram!