Better Living uses affiliate links. If you make a purchase through them, we may receive a small commission (for which we are deeply grateful) at no cost to you.
*This post is sponsored by our friends at Powerizer. The information and opinions presented are here are all ours.
After a cold dreary winter, there's nothing like cleaning, organizing and freshening up your house for the sunny and warm summer months ahead. And with more daylight hours on the horizon, those little dust bunnies that you have been successfully hiding are going to be pretty hard to ignore. That means it's time for a spring cleaning. But unless you're one of those extraordinary people like my mom who actually enjoys the act of cleaning, making a spring cleaning checklist can be a big undertaking. It might take a little gearing up for and planning, but it's so worth it in the end. Getting rid of winter dust, dirt, and clutter are not only good for your physical health but it can also help reduce the effects of seasonal allergies and improve your mental health as well. Doesn't it just feel amazing to have a sparkly clean home?  Here are some easy spring cleaning tips and tricks to freshen your home without losing your mind. Plus, we're featuring our favorite green cleaner, Powerizer Complete, which can replace just about every product in your cabinet.
1. PICK YOUR SPRING CLEANING STYLE
While I like to do a blitz and spring clean my house all at once,  that might be next to impossible for busier households or those with large homes. It also takes a good amount of energy to get it all done. Do it all in one day or schedule a few tasks each time you know you have spare time on the weekends or evenings.  If you need some motivation to get it done, maybe throw a little spring party or host a holiday like Easter or Memorial Day to give yourself a cutoff date.
2. MAKE A SPRING CLEANING PLAN 
The most efficient way to spring clean your home is to make a plan. Personally I like to start upstairs in the bedrooms and bathrooms, then work my way down to the living areas. I usually do the kitchen last because this seems to be the main spot for bringing dirty things down to clean. How long it takes you will depend on the size of your home and how dirty your house is.  If you feel overwhelmed and don't know where to start, begin by making a list of all the rooms in your house and tackle one at a time. Tasks, like freshening bed linens and soaking drapes can be done for multiple rooms at the same time. If you have more than one bathroom, try grouping the cleaning tasks for those at the same time to help keep you focused on what you're doing. I like to do major organizational tasks like closets or draws last as they can take up a lot of time and interfere with busy cleaning work like vacuuming making the cleaning process feel like it will never end.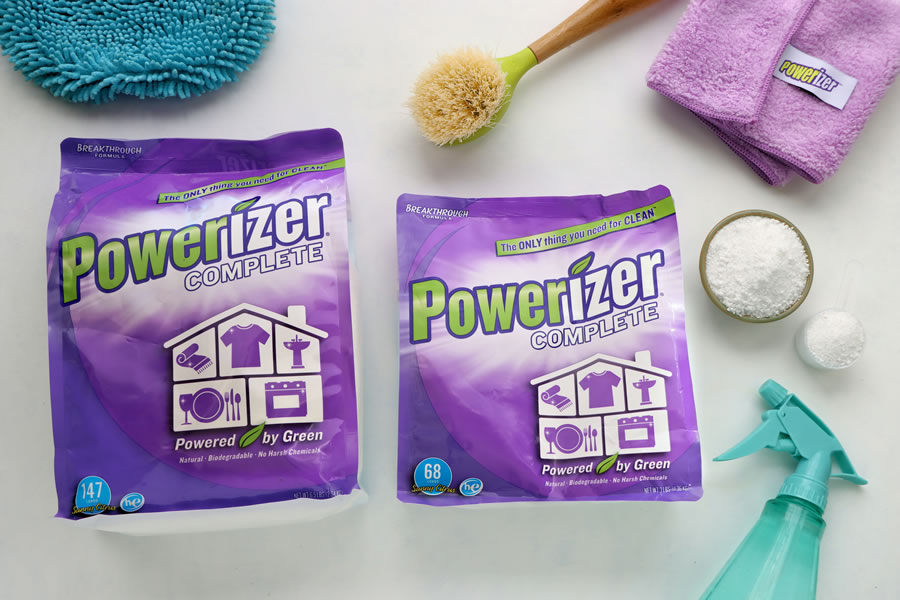 3. GATHER YOUR SPRING CLEANING SUPPLIES (Hint: YOU ONLY NEED ONE CLEANER)
One of the keys to successful spring cleaning is effective cleaning tools. I like to keep cleaning supplies to a minimum in my house. With entire aisles lined with cleaning products with a cleaner for this and separate cleaning solution for that, not only do cleaning supplies end up costing a lot of money, but most of them are filled with toxic ingredients that are not only harmful to people and pets in our house but also to the life in our oceans after they get washed down the drain. And honestly, most of them don't even work that great. This is why one of our favorite green product finds is Powerizer Complete, a new and super-concentrated green cleaning product from the inventor of Orange Glo and OxiClean. Powerizer uses the green cleaning power of plant and mineral-based ingredients, with just one small scoop to remove film, dirt, build-up, soap scum, stains, and other residues that the other cleaners leave behind. Not only can it replace just about every cleaning product in your home saving you lots of money, but Powerizer is also:
non-toxic and hypoallergenic
made of naturally derived ingredients, biodegradable and eco-friendly
free of harsh perfumes and dyes
made in the USA
None of the ingredients are tested on animals 
It also has a super clean fresh scent that I'm kind of addicted to. Powerizer is gentle enough for anyone with skin sensitivities and allergies, and to use it, all you do is add 1 scoop to warm water. It's the ultimate spring cleaning hack!
Quick Tip: Soak sponges in a solution of Powerizer and then put them in the microwave on high for one to two minutes to kill germs and deodorize.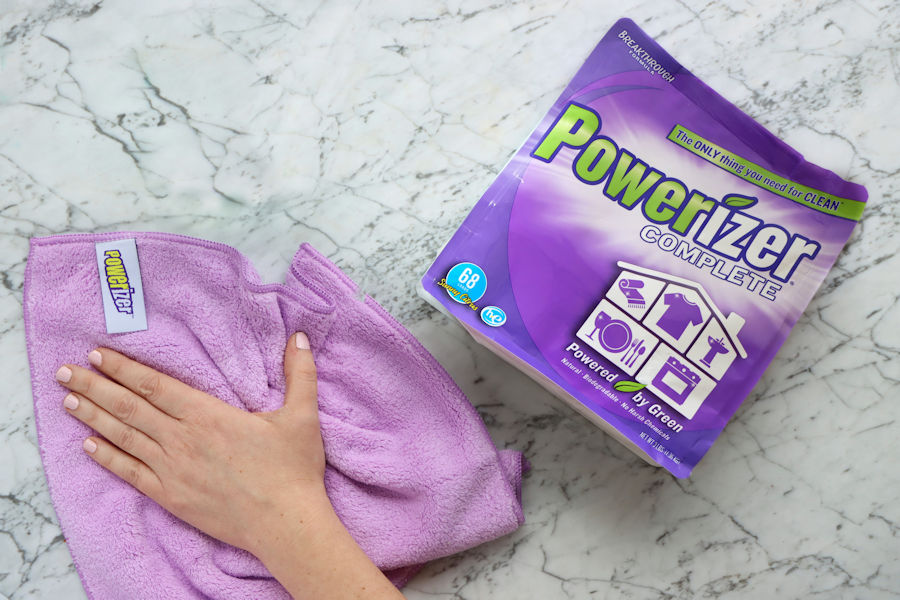 4. START OR FINISH WITH THE KITCHEN 
The kitchen is the heart of our house so making it fresh and clean is a wonderful thing. Since Powerizer is an all-purpose cleaner it works to not only clean grit and grime but also deodorizes. This makes it perfect to use in every inch of your kitchen including your countertops, backsplash, inside and outside of the fridge, the microwave, the stove-top, and inside your oven.
Here's your spring cleaning checklist for what to clean in the kitchen with Powerizer:
The Refrigerator

(inside, outside, on top, and behind if you're brave) – Get rid of old food, clean drips, and stains, and reorganize if needed.

Wipe Down Counters (Safe For Marble & Granite)

– Get rid of smudges, grime, and crumbs. Use one scoop of Powerizer dissolved in one gallon of warm water. 

Backsplashes

– Wipe down to clean splashes of food, gunk or stains.

Cabinets

– Wipe down cabinets inside and out, throw out old or expired food. Powerizer cuts through that gunk build-up on easily.  

The Garbage Can

– This is a big place for odors and germs to accumulate. Scrub out with a Powerizer solution and dry outside upside down if needed.

Tile Floors

– Let Powerizer sit on tile and grout to whiten and deodorize.

Freshen The Garbage Disposal –

Sprinkle some down the disposal to break up grime and freshen.

Shine The Sink And Faucet

– With Powerizer, metallic or chrome fixtures like the sink faucet will sparkle like you can't believe. This is true in the bathroom too. I cleaned mine and couldn't believe how gorgeous it looked.

The Dishwasher– Get rid of mineral and soap scum buildup along with dank dishwasher smells from stagnant water by using Powerizer.
Walls– Wipe away areas of dust accumulation or splashes of food or drink.
Glassware – Add dusty vases and to the dishwasher or soak in the sink for crystal and glass that shines.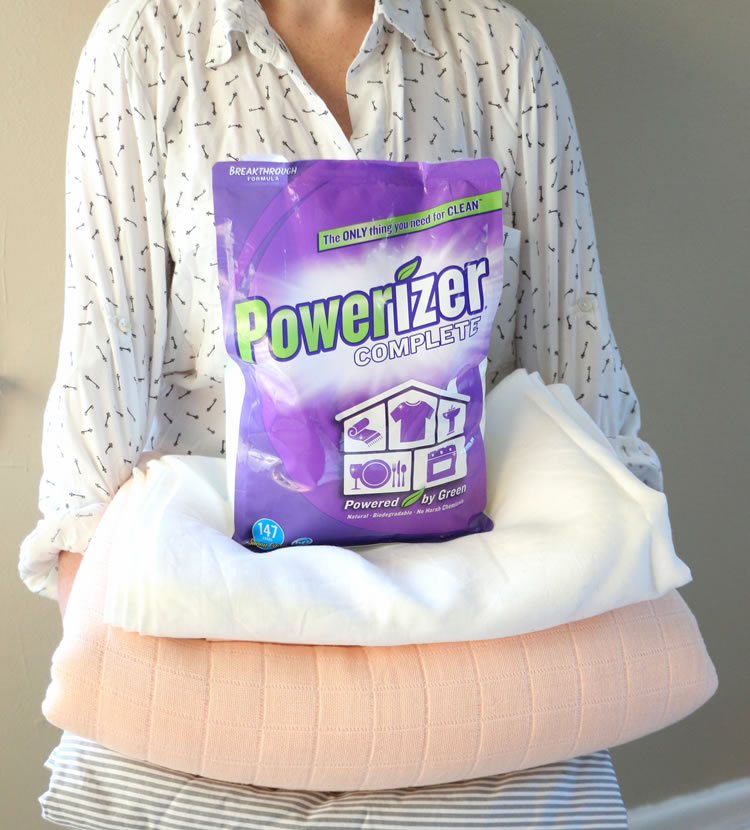 5. CLEAN ALL YOUR BEDDING, LINENS, PILLOWS & TOWELS
In your spring cleaning mode, be sure to change all the bedding and linens. Spring is a time for brighter and more cheerful colors, so if you tend to use darker bedding this can be your excuse to switch that out. If you have guest rooms with clean sheets that no one is sleeping in, just freshen them in the dryer with a dryer ball scented with a few drops of your favorite essential oil. If weather permits and you have space you can also hang them outside for the most eco-friendly way to freshen any linen.
Powerizer contains a color-safe bleach that helps to brighten the colors on your bedding and clothes and remove super tough stains. It's also safe for all washing machines, including HE and works in all water temperatures. For a normal wash add 1 scoop of Powerizer to the drum and then follow with all your laundry.
To stain treat and clean comforters, soak them in your bathtub with hot water and a few scoops of Powerizer. Allow them to soak for at least 30 minutes. The stain lifting ingredients in Powerizer stay active for up to 6 hours in case you need it to sit longer. Once the stains and/or oils lift from the fabric, you should see them floating on the top of the water forming a ring around the tub. Rinse everything thoroughly or transfer to your washing machine to run a rinse/spin cycle. Don't forget your pillows! Give your pillows a ride in the washing machine with a scoop of Powerizer to clean, freshen and deodorize. Dry completely before putting the pillowcases back on.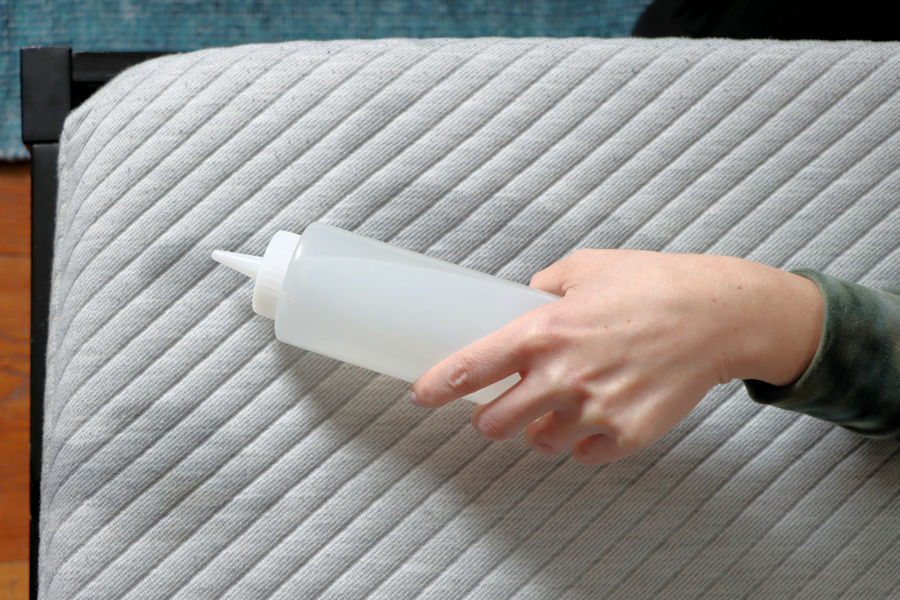 6. DEEP CLEAN, SANITIZE AND DEODORIZE YOUR MATTRESS
After you strip your sheets it's healthy to sanitize and deodorize your mattress. You do spend ⅓ of your life there after all.  If your mattress looks less like it just came out of a showroom and more like something you'd see in laying in the back of an alley, a deep clean might be in order. Things like sweat stains, urine stains from kids or pets, and blood can really ruin the look and smell of a perfectly good mattress. And bacteria, viruses, fungi, and dust mites can pass through mattress covers to the inside of your mattress causing allergies, sneezing, headaches, sinus infections, and poor sleep.
Begin by vacuuming your mattress with the upholstery tool. If deep cleaning or stain removal is needed, dissolve 1-2 scoop of Powerizer in a squeeze bottle of hot water. Spot treat for small stains and allow to sit for up to 6 hours for really stubborn stains. For a truly deep clean use a steam cleaning vacuum to extract the dirt and sweat stains. A rinse is needed to pick up all of the residues.  Pour plain water on the stain and blot area until all off the residue is gone. When done, allow it to dry. This may be a good time to flip or rotate your mattress if needed. Allow the mattress to dry completely before putting linens back on the bed.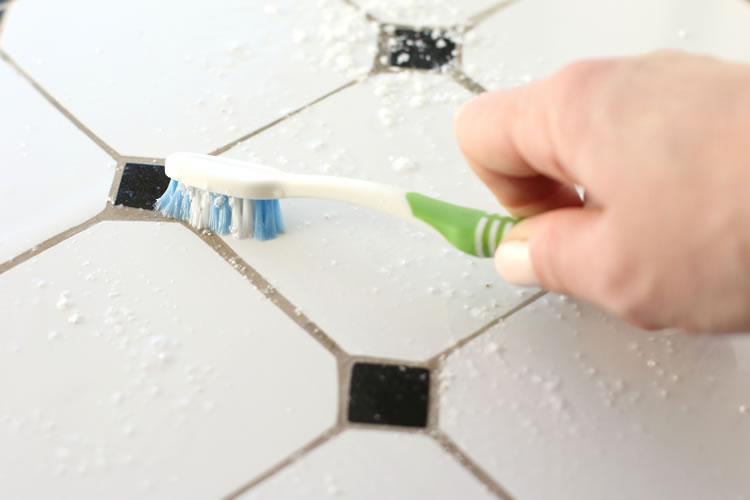 7. MAKE YOUR BATHROOM SPARKLE FROM TOP TO BOTTOM
Powerizer is a warrior in the bathroom! The sink, tub, and the toilet are the usual suspects we know to clean in the bathroom but don't forget glass surfaces your guests will notice, like mirrors and shower doors. Powerizer and a microfiber cleaning cloth left my mirrors 100% streak-free.  For areas that need a little more love like grimy tubs, tiles, and toilets, let Powerizer soaks on their surfaces while you do other tasks. A scrub brush or old toothbrush can help Powerizer whiten old moldy grout. Let it sit and soak in first to make the job super easy.
8. DISINFECT AND SHINE SHOWER HEADS WITH THE BAGGIE METHOD
Your showerhead can accumulate mineral deposits, water stains, mold, and bacteria. If your shower head isn't clean then either are you.  Soak your shower head in a solution of Powerizer and hot water placed in a plastic baggie and tie it around the showerhead to soak for 30 minutes to an hour. They'll get super clean and will shine like you won't believe. Recycle your baggie or soak the showerhead in a bucket instead if it has a detachable handle to prevent the use of plastic.
9. FRESHEN STALE DRAPES WITH A SOAK IN THE TUB
For drapes that can use a freshening, fill your bathtub up with warm water (first check the label) and then add 1-2 scoops of Powerizer. Spot treat for stains and soak for 1 to 2 hours. Wring out gently and then hang back up to dry. If your drapery fabric is more resilient, put in the washing machine on a spin cycle to remove extra water. Always check the label and follow laundering directions to prevent any damage.
10. RUN YOUR SHOWER CURTAIN AND LINER IN THE WASHING MACHINE TO REMOVE SOAP SCUM AND WATER STAINS
Yup, your shower curtain is probably filthy too!  Pop it in the washing machine with a scoop of Powerizer and it will smell amazing and look super fresh and new. Powerizer will also remove soap scum off shower doors. For caked-on soap scum, a soak and scrub may be needed, submerge the curtain in hot water with 1-2 scoops in the tub and let it soak.
Quick Tip: Add a little Powerizer to a squeeze bottle with some warm water and then shake it up until it dissolves. It's perfect to keep handy for when an unexpected mess or stain happens, including spills on sofas, messy food on counters, dreaded wine mishaps or pet accidents on the carpet. Keep a few stashed around the house for when you need to clean on the fly.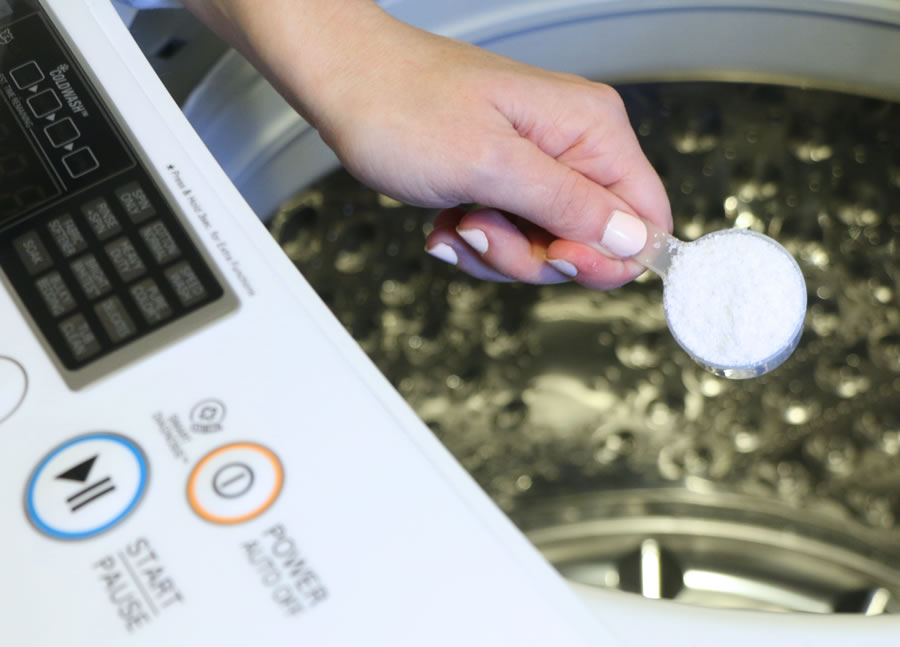 11. DEEP CLEAN THE INSIDE OF YOUR WASHING MACHINE AND DISHWASHER
Our cleaning appliances need cleaning too! If you're using Powerizer for your laundry and dishes already, you can probably skip this step since Powerizer works to break down soap and hard water buildup leaving your appliance spic and span. While some may notice a cloudy buildup inside their dishwasher after using Powerizer for the first time, it's most likely due to an accumulation of soap and scum build-up in the lines that Powerzier is working to break down. Just run another load with another scoop of Powerizer again and everything will be sterilized and sparkling clean.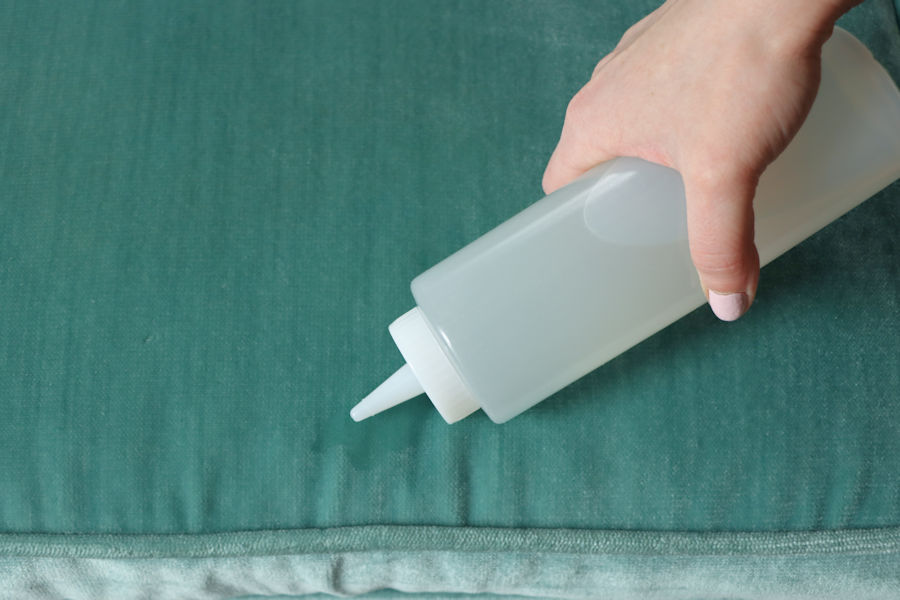 12. VACUUM AND SPOT TREAT FABRIC COVERED SOFAS & CHAIRS
The couch is a spot that gets a lot of traffic. Giving it the spring clean treatment can make it look and smell showroom new. Begin by vacuuming it to remove dust, dust mites, pet hair, food bits, and crumbs. Then give your sofa a once over to see if there are any pesky stains that need to be spot treated.  Spot treat upholstery stains with a Powerizer solution of 1 scoop in a 16 oz squeeze bottle of warm water. Remember to check the cleaning instructions on your furniture first and when in doubt test in a hidden spot before continuing in case of discoloration. Squirt Powerizer on the stain and allow it to sit.
13. WIPE DOWN DUST COVERED CEILING FANS
Ceiling fans can attract a lot of dust and grime which can be easy to overlook in the winter when they don't get much use. To clean ceiling fans easily, try the pillowcase method. Grab a ladder and a pillowcase. Wrap the fan blade inside a pillowcase and swipe the fan blade with the case towards you to collect dust without it going all over furniture or beds. Then wipe down with a cloth misted with Powerizer to get rid of any leftover dirt or grit.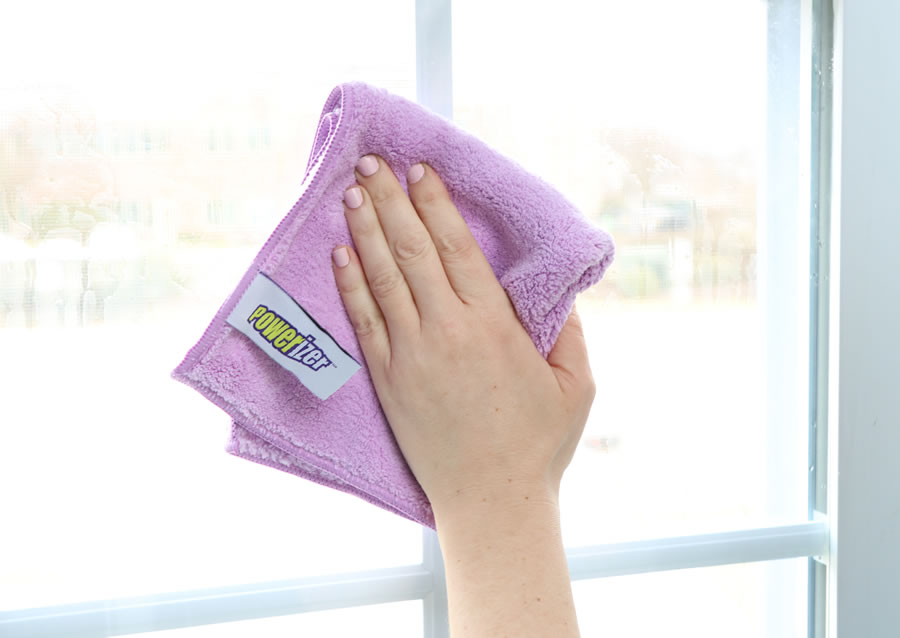 14. CLEAN WINDOWS, WINDOW TRACKS, AND BLINDS
Windows inside and out can get really dirty over the winter. But Powerizer can make windows shine! Use a light solution of Powerizer and clean windows with a rag or microfiber cloth as you normally would and you'll instantly see them start to sparkle. For the pesky window, tracks add a solution of Powerizer to a squeeze bottle and squirt into the tracks. Let sit to bust the grime and then wipe out with a moistened sponge. You might have to do this a few times to get all the dirt. For blinds that aren't too dusty simply wipe down with a microfiber cloth misted with Powerizer. If your blinds are very dusty try wrapping microfiber cloths around both sides of a pair of tongs and then slide the tongs in between the blind slats to get dust and dirt in hard to reach places.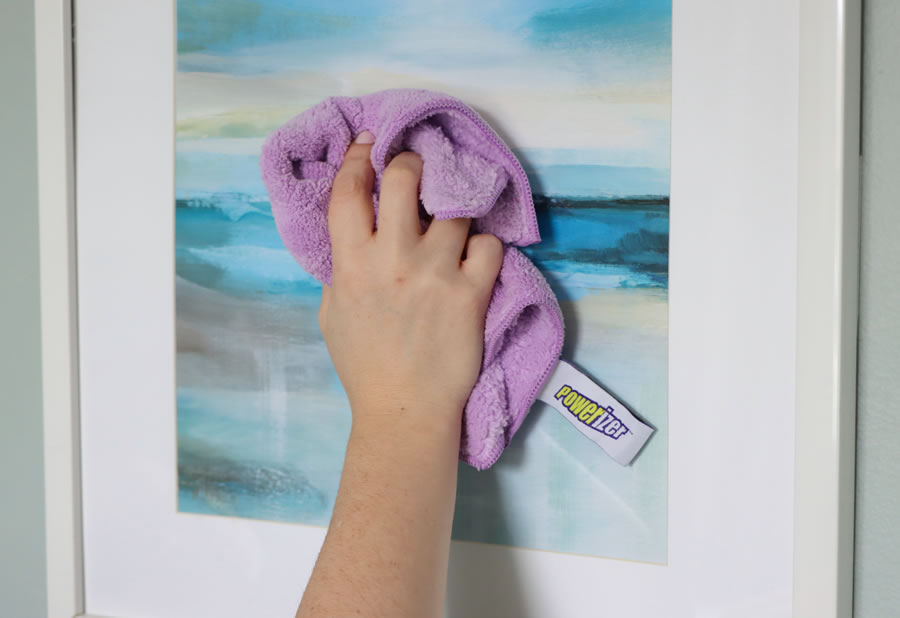 15. DON'T FORGET MIRRORS, GLASS PICTURE FRAMES, AND LIGHT FIXTURES
Add a little Powerizer from a squirt bottle with water on mirrors and picture frame glass to remove dust and smudges. These microfiber cloths are the best I've ever used to clean glass of any kind.
16. SCRUB LIGHT SWITCHES, DOOR KNOBS, MOLDING, VENTS & BASEBOARDS 
These are the spots in our homes that often get forgotten. Powerizer can disinfect doorknobs while cleaning stains on walls and molding. Use a dry microfiber cloth to wipe the tops of baseboards and vacuum dust particles off of vents. You may have to unscrew vents off the wall for even deeper cleaning to remove stubborn dust.  To get deep-set grime out of detailed molding and the crevices of light switches dip a toothbrush in a solution of Powerizer and warm water and give a light scrub to release it.
17. CLEAN YOUR OVEN RANGE, STOVE-TOP, AND HOOD 
If your oven gets a lot of use, spring is a good time to give it a deep clean. That includes your stove-top, hood and filters which can build-up with grease and grime like you won't believe. Powerizer is here to help! For tough spots create a paste with Powerizer and a few drops of water and a sponge with a scouring pad scrubber. Let your hood filter sit in a sink full of hot water and a scoop of Powerizer. Then wipe down with a sponge to clean.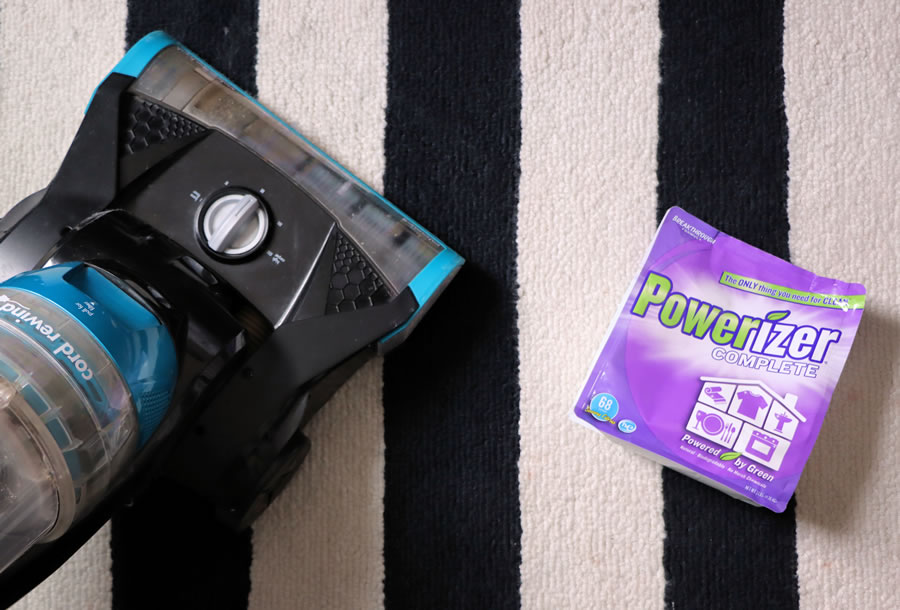 18. FRESHEN AND SPOT CLEAN RUGS AND CARPETS. VACUUM AND MOP HARD FLOORS
Stains on your rugs and carpets can make even the cleanest room look kind of dingy. First vacuum and then spot treat your rug or carpet with a solution of Powerizer and let it sit to break up the stain.  If you have hard floor surfaces in your house after vacuuming, mop with a solution of 1 scoop of Powerizer to one gallon of water. It works on not only carpet, but also tile, laminate, and hardwood to clean and deodorize all the floors throughout your home.
19. USE A LINT ROLLER TO CLEAN DUSTY LAMPSHADES
This is such a cool trick!  Simply roll the sticky side of a lint roller on the outside of your lampshades to remove any built-up dust. You'll be surprised how easily the dust will come off and your lamp shades will look cleaner and brighter.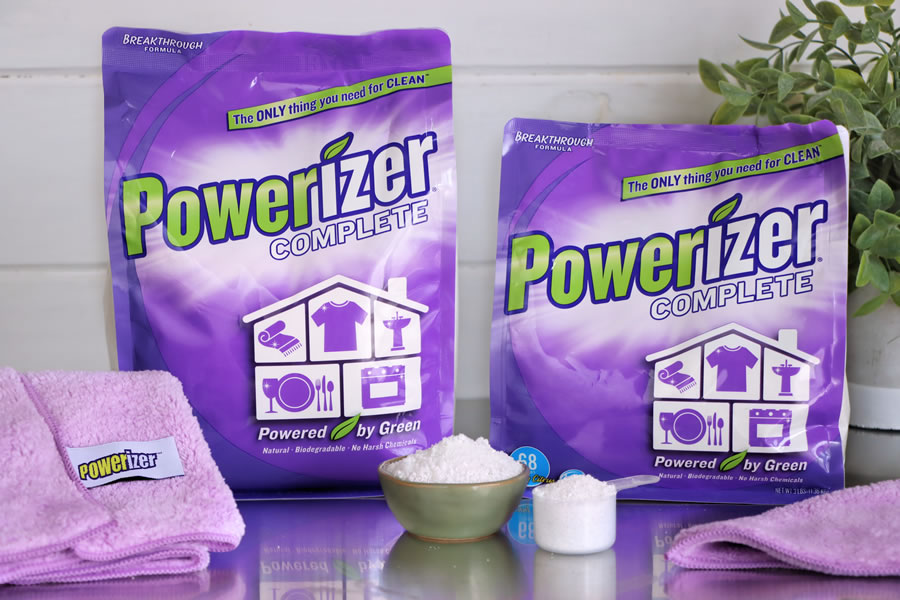 Want to simplify your green spring cleaning routine with an all-in-one, non-toxic, eco-friendly product?
Powerizer is plant & mineral-based so, unlike other harsh cleaners, it's safe for pets and children.
Here are all the products Powerizer can replace in your cleaning caddy and cabinet:
Glass Cleaner

Laundry Detergent, Bleach, Stain Remover, Color Booster, Fabric Softener, Machine Cleaner & Dryer Sheets

Dishwashing Detergent, Rinse Aid & Machine Cleaner

Tile & Grout Cleaner

Toilet Bowl Cleaner

Bathroom Cleaner

All-Purpose Cleaner

Carpet & Upholstery Cleaner

Stainless Steel Cleaner

Window Cleaner

Oven Cleaner

Floor Cleaner
Give Powerizer a try! Just think how much you can SAVE when using just ONE product to clean EVERYTHING. We think you'll love it as much as we do!
Visit PowerizerClean.com to see how you can get your home sparkling for spring with the cleaning power of green!