Better Living uses affiliate links. If you make a purchase through them, we may receive a small commission (for which we are deeply grateful) at no cost to you.
As you've probably heard, Bone Broth has been proven to be a powerhouse of nutrition that offers a wealth of benefits for your health. People have used it for centuries to help alleviate joint pain, support their immune system, restore gut health, and much more. Each nourishing cup contains collagen, essential amino acids, and vital minerals. But, did you know that it's also high in protein? That's right; one serving can deliver around 20 grams of protein! This also makes it the perfect post-workout drink too.
Traditionally, bone broth is made by boiling the bones for several hours, sometimes even days, to break down the collagen and release all their savory nutrients. Today, many people simply don't have the time to correctly prepare it, including myself.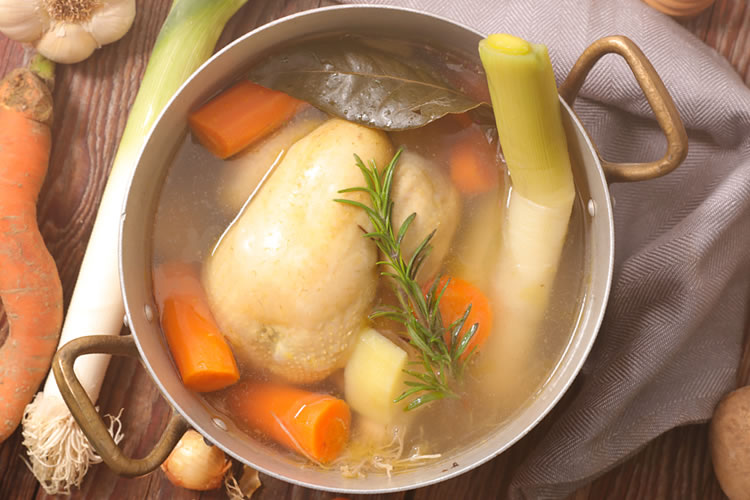 So, I was delighted to learn that Sports Research offers pure, bone broth sourced from free range chickens in a convenient powder form. I reached out to them and was invited to try their line of bone broth powders.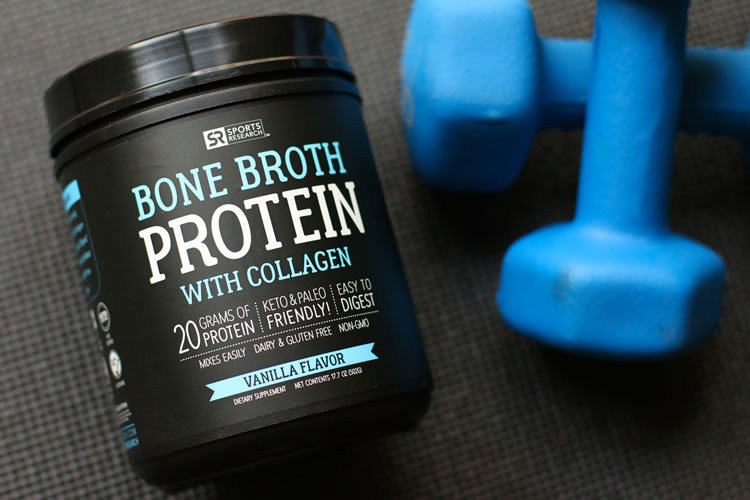 Sports Research Bone Broth Protein with Collagen is an easily digestible, gut-friendly source of protein made from the broth of certified free-range chickens. It's rich in amino acids and contains naturally occurring collagen, glucosamine, chondroitin, hyaluronic acid and minerals, which may help support:
Muscle Growth & Recovery
Bone and Joint Health
Hair, Skin and Nails
Digestive Health
Sports Research Bone Broth Protein with Collagen mixed very easily in a shaker bottle and had a mild, pleasant taste. It's considerably different than what you would expect with whey or other protein powders, but I do enjoy it. Where most protein powders taste like a dessert, bone broth is more on the savory side with a hint of sweetness.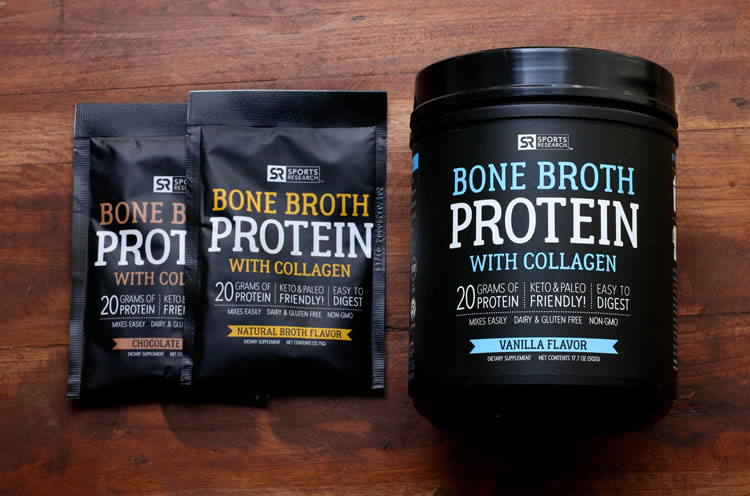 I sampled all 3 flavors – Vanilla, Chocolate, and Natural. Chocolate was my clear favorite, as it had the perfect blend of sweet and savory for my taste. Vanilla was pleasant, and slightly more on the sweet side. And, Natural is just that. It tastes like a high quality chicken stock without any salt or seasoning. I typically enjoy savory flavors over sweet, so I like it. If you choose Natural, I'd suggest drinking it warm in a mug or adding it to your recipes for extra protein.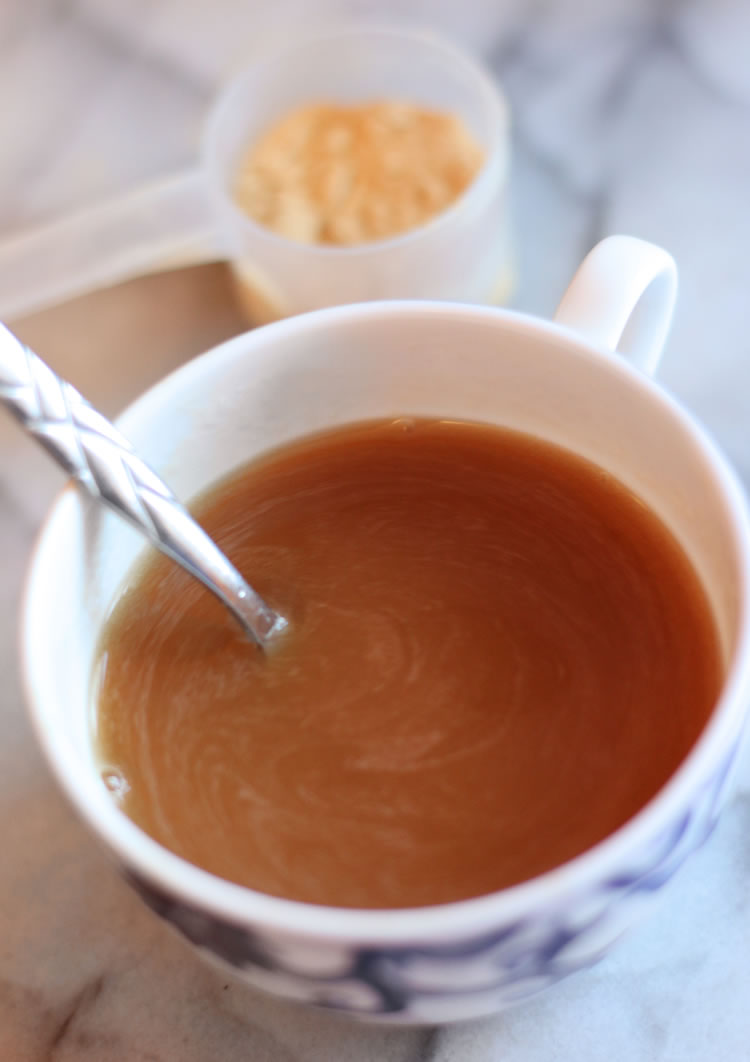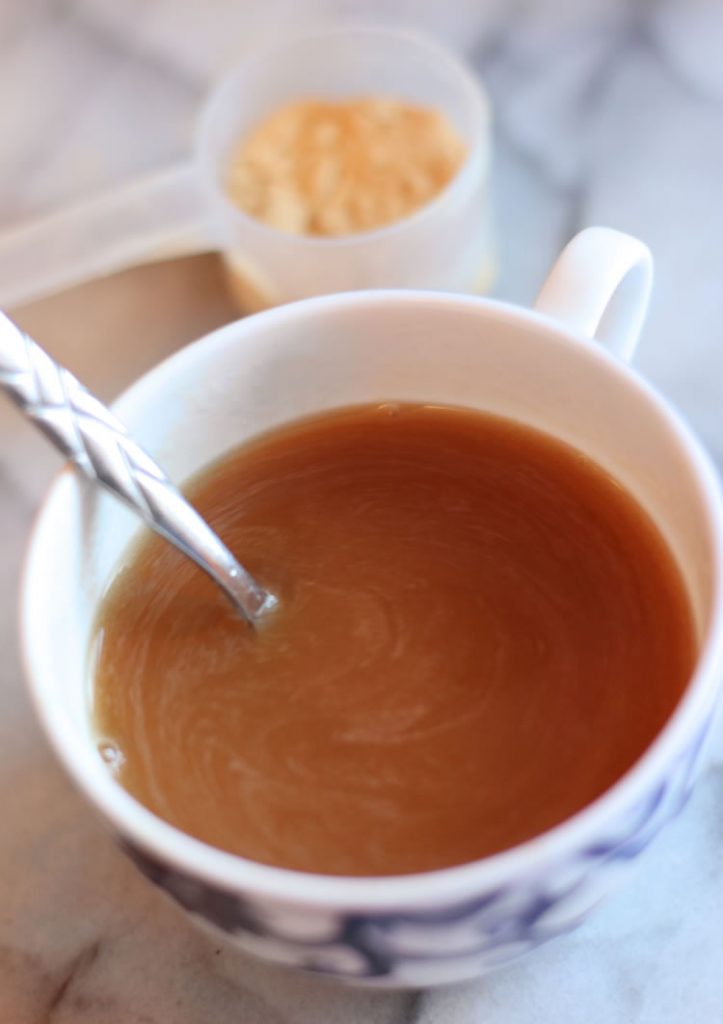 The greatest benefit I've noticed so far is its digestibility. It's REALLY easy on the stomach, in fact, it's beneficial. I also love that it's sweetened with stevia instead of artificial sweeteners. If you have any digestive issues at all, especially after using whey powders, definitely give this a try.
Each serving of Sports Research Bone Broth Protein delivers 20g of protein and contains Type I & III Collagen. You get 20 servings in each 16oz tub. The individual serving packets are convenient too, and fit easily into my gym bag.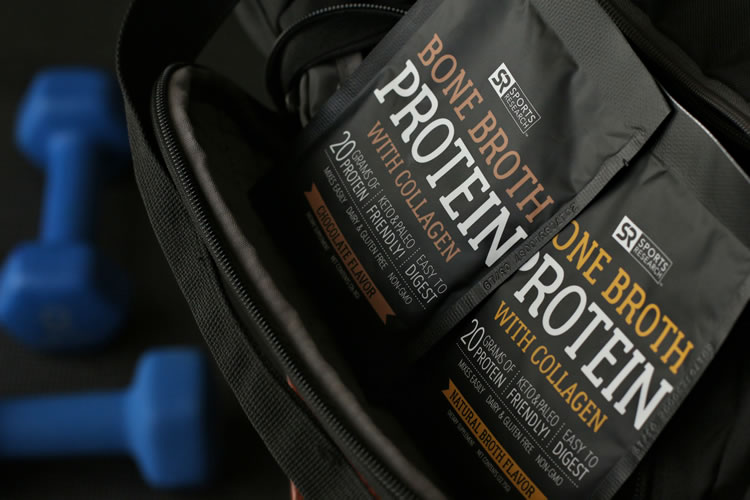 Sports Research Bone Broth is also Paleo friendly, Keto Certified, and free of dairy, gluten, and GMOS. Awesome!
To start enjoying the convenience and benefits of Sports Research Bone Broth with Collagen, visit them now at http://SportsResearch.com