Better Living uses affiliate links. If you make a purchase through them, we may receive a small commission (for which we are deeply grateful) at no cost to you.
If you love cocktails with a little kick of heat, than this Spicy Jalapeno Margarita recipe might just become your new favorite. The sweet and tangy citrus flavors of lime and orange in this margarita pairs perfectly with the fresh flavor and the touch of from the jalapeno.
To infuse that lovely jalapeno flavor into this margarita, we've included a jalapeno simple syrup in this recipe. If you can boil water you can make this (or any) simple syrup and the leftovers can be used anytime you want a sweet kick of heat (ice-teas, lemonades, etc.) as it will keep in the refrigerator for up to a month.
While you don't need to spend big bucks on an expensive tequila, pass over the cheap stuff for a bottle that is labeled 100% agave for best results. We prefer silver tequila in a margarita, but use whatever your favorite may be.
Since we believe no margarita is complete without a salted rim, we've also include a simple recipe for you to mix up your own chili lime salt. It's the perfect final touch that will not only decorate your margarita glass, but also add another layer of flavor to these margaritas.
Making chili lime salt is super easy to do. But if spicy cocktails are your thing, than you might want to keep one of our all-time favorite salty-limey-chili blends on hand called Tajín Clásico Seasoning which you can use to rim your margarita glass in place of the homemade chili salt in this recipe.
Mild on the heat scale, Tajin is a super yummy chili lime salt from Mexico that you can use to not only rim your cocktail glasses (it's delicious served on a Bloody Mary glass), but it can also be sprinkled on fresh fruit and veggies, chips, popcorn, guacamole, dips or even chicken, shrimp and steak. It's tangy with a little zip and it's crazy good. Give it a try we think you'll love it. Better yet, we know you'll love it. Besides the traditional shaker bottles, it's also available in a convenient glass rimming container. Genius!
Now for the Spicy Jalapeno Margarita…
Get The Recipe!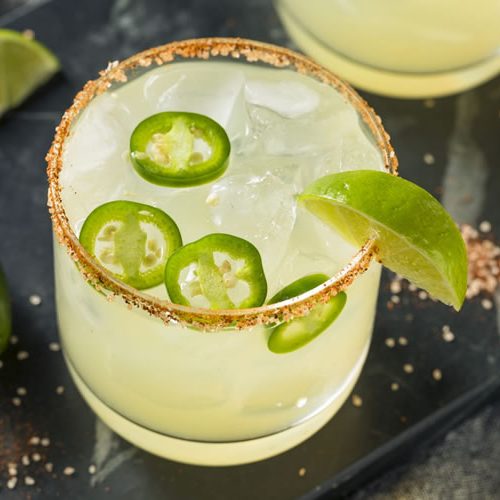 Spicy Jalapeno Margarita
Try this margarita recipe next time you want a cocktail with a little zip. With flavors of citrus like lime and orange you'll feel like you're relaxing on a beautiful Mexican beach.
Ingredients
2

ounces

silver tequila (100% agave is best)

2

ounces

lime juice (fresh, zest the limes for the chili salt)

2

ounces

orange juice, fresh

1/2

ounce

jalapeno simple syrup (or more to taste)

1

jalapeno, thinly sliced for garnish
Ingredients For The Jalapeno Simple Syrup
1

large

jalapeno, seeds removed and halved

wear gloves!

1

cup

sugar

1

cup

water
Ingredients For The Chili Salt
1/4

cup

sea salt

2

tablespoons

chile powder

2

teaspoons

lime zest
DIRECTIONS
MAKING THE JALAPENO SIMPLE SYRUP
Place the water and sugar and in a small saucepan and bring to a low boil. Give it a stir to help dissolve the sugar. Once all the sugar is dissolved add the jalapeno and

simmer for 10 more minutes. Turn the heat off, and allow the jalapeno to steep for 10 to 30 minutes. The longer you steep the spicier the syrup will be. Taste and when you're happy with the flavor, allow to cool and then strain into a glass jar and put in the refrigerator to cool. If you need it immediately put some in the freezer and take it out once its cool. It can be kept refrigerated for 3-4 weeks.
MAKING THE CHILI SALT
Mix all the ingredients for the chili salt in a small bowl. Then spoon on a small flat plate in a circle about the size of your margarita glasses. Store the leftovers in a and sprinkle over tortilla chips, popcorn, pizza or eggs.
MAKING THE MARGARITAS
Rub a slice of lime around the rim of the margarita glass to moisten. Then turn it face down onto the plate with the chili lime salt mixture to coat the rim.

Place all the margarita ingredients in a cocktail shaker with ice. Shake well. Pour into a margarita glass with ice and the rim salted (use chili salt recipe). Add a few slices of jalapeno for garnish. Enjoy!



Notes
Note: Tajín Clásico Seasoning, a delicious mild chili lime flavored salt makes a great substitute to coat the rims of the glasses when you don't want to make your own. It's salty and tangy with a little hint of heat. It's incredibly versatile and once you try it is sure to become a household staple.