Better Living uses affiliate links. If you make a purchase through them, we may receive a small commission (for which we are deeply grateful) at no cost to you.
Got a backyard BBQ coming up? Maybe you're planning a Mardi Gras? These succulent Cajun Style BBQ Ribs are the perfect thing to make ahead for your upcoming party.  Seasoned and rubbed with Cajun spices, and then basted with a  store-bought BBQ sauce we turn up the flavor on, these ribs have a nice kick that you and your guests will love. The best part about this recipe is that everything can be prepped up to 2 days before and then all you have to do is throw these babies on the grill or in the oven just before you're ready to serve.
For this easy BBQ rib recipe, we use a little BBQ secret known for making a deliciously flavorful and tender rib. A  technique commonly used for making ribs is boiling them first and then putting them on the grill. This is an okay way to do it and it will get the job done. But cooking ribs this way can remove a lot of the fat and flavor essential to the ultimate in rib perfection. Instead, making these ribs is simple: oven bake them low and slow at 250 degrees Fahrenheit. The meat will be juicy, tender and retain all its delicious flavor. To finish them off you have the choice of finishing them in the oven or the grill. There are directions included in both ways and the choice is yours.
Note: This recipe makes use of prepared Cajun Seasoning mixes you can find at your local grocery store. If you make your own or yours doesn't have salt, be sure to season your ribs with salt.
So, if you're looking for an easy Cajun Rubbed BBQ Rib recipe that will have you and your guest licking your fingers and asking for more than try these easy Cajun Style BBQ ribs.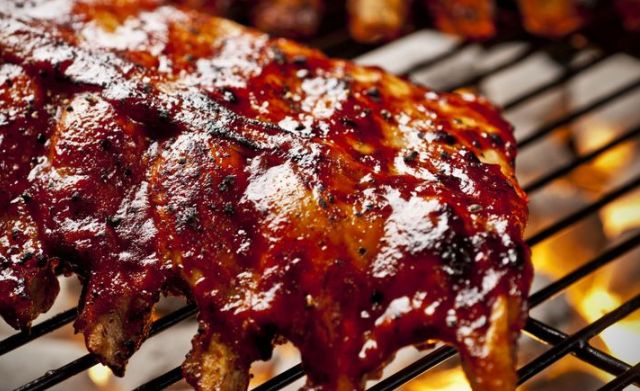 Easy Cajun Style BBQ Ribs
Got a backyard BBQ coming up? Maybe you're planning a Mardi Gras? These succulent Cajun Style BBQ Ribs are the perfect thing to make ahead for your upcoming party
Ingredients
4

lbs

pork baby back ribs

4

tablespoons

Cajun seasoning

1/2

cup

butter

1

onion

 minced

3

cloves

garlic, minced

2 1/2

cups

Bull's Eye Barbecue Sauce

1/3

cup

honey

1/8

cup

apple cider vinegar
DIRECTIONS
START BY BAKING THE RIBS
Preheat oven to 250° F (160° C). With your fingers remove the thin fibrous membrane along the bony side of the ribs if your butcher did not already do so. Rub the ribs all over with cajun seasoning. Coat evenly, tightly wrap the ribs with foil (shiny side out) and place in a large roasting pan or baking sheet.

Place ribs in the oven and bake for 2 hours or until fork-tender. Remove from the oven and allow to rest and cool. Drain any excess fat. The rib sauce can be prepared while the ribs are in the oven. Place ribs in the refrigerator for up to 2 days if you're making ahead of time for an event. Continue following the directions otherwise.
MAKING THE RIB SAUCE
Add the butter and the onions to a medium saucepan on medium heat. Saute onions until just about translucent. If the onions start to brown at any point lower the heat. Add the garlic, BBQ sauce, apple cider vinegar, honey, and black pepper. Whisk to combine and taste and season with salt if needed. Simmer for 5 minutes and then remove from heat. If making ahead of time, cool and then store in the refrigerator until you are ready to use.
FINISHING THE RIBS
Baking Method: Preheat (or raise) the oven heat to 350° F. Baste the ribs on both sides with BBQ Sauce and place it on a baking sheet bone-side down with the foil open. Bake for 10 minutes and then baste the meaty side of the ribs with more BBQ sauce. Repeat every 10 minutes. After 50 minutes of total cooking time remove from the oven and serve.


Grilling Method: Heat your grill and place the ribs, bone side down on the grill, baste with BBQ sauce and grill for 3 minutes. Flip the ribs over to the other side, baste with more BBQ sauce and grill another 3 minutes. Repeating the basting process on both sides for a total of about 12 minutes. The ribs should reach 165°F in the center when they're done and the meat should easily fall off the bone but not be burnt.
HOW TO SERVE
When finished cooking, slice the rib racks into 1 or 2 rib portions and serve with a side of warmed BBQ sauce. Enjoy!