Better Living uses affiliate links. If you make a purchase through them, we may receive a small commission (for which we are deeply grateful) at no cost to you.
* We partnered with iherb.com to bring you this post. All information and opinions presented here are our own. With amazing prices and fast shipping across the globe visit iherb.com for all your health and wellness needs!
Fall is here! That means pumpkin, pumpkin and… more pumpkin. If you love pumpkin spice and everything nice, but want a healthier way to indulge than the usual muffins, breads and pies then we have just the healthy recipes for you! In fact, while these protein-packed pumpkin recipes are super satisfying and delicious any time of day, they're also perfect for a pre or post-workout snack. Today we've partnered with iHerb, our favorite online health, and wellness store to give you these fall flavor inspired healthy recipes that you can enjoy whenever you like and feel good about. You can find all our ingredient recommendations linked throughout the post stocked at iHerb for purchase.
Why Getting Enough Protein Is So Important
Whether you exercise a little or a lot, getting enough protein is super important to your health! Not only is protein an important building block needed to synthesize hair, nails and skin, enzymes, tissues, blood, and hormones, but it also helps your muscles repair and rebuild more quickly after exercise. Protein can also help minimize the risk of exercise injury which can be brought on by a lack of amino acids (the building blocks of protein) in your diet.
In fact, strength-building exercises like weight lifting actually create tiny tears in your muscle fibers. The body then repairs the muscle from the protein you get in your diet. So make sure you're getting all of your protein requirements for the day.  
Fit Foodie Tip: Feeling kind of low energy? Especially after exercising? You may not be getting enough protein. For a quick boost and an easy way to up your intake, try incorporating a protein powder like CGN Whey or Plant-Based Proteins into your routine. And if you love the flavors of fall, definitely try the recipes below!
Now onto the recipes!!!
Healthy Pumpkin Recipe #1: Pumpkin Pie Protein Shake
If you love smoothies and shakes this Pumpkin Pie Protein Shake is perfect for fall and tastes just like pumpkin pie without all the extra carbs. And it's perfect for a post work-out snack. If you're looking to get more of a meal out of it, just add your favorite fat (coconut oil, almond butter, etc) and another scoop of protein. Since this Pumpkin Pie Shake can be made in less than 5 minutes there's no reason not to try it! 
For this shake, we start with ingredients like pumpkin puree (canned is fine), almond milk, almond butter, half a small frozen banana and a handful of ice. For a little fiber and a daily dose of plant-based omega 3's we added 2 tablespoons of California Gold Nutrition Organic 3-Seed Blend, which is a tasty combo of chia, flax, and hemp hearts that helps give the shake a bit of body and some added nutrition. 
This shake gets a boost of 20 grams of protein from a scoop of California Gold Nutrition Vanilla Plant Protein. I've tried many, many protein powders and I really love this one. It's lightly sweetened and smells like cake mix with no strange aftertaste I've noticed with other powders. It's smooth with absolutely no grittiness. This one blends incredibly well and it's vegan too!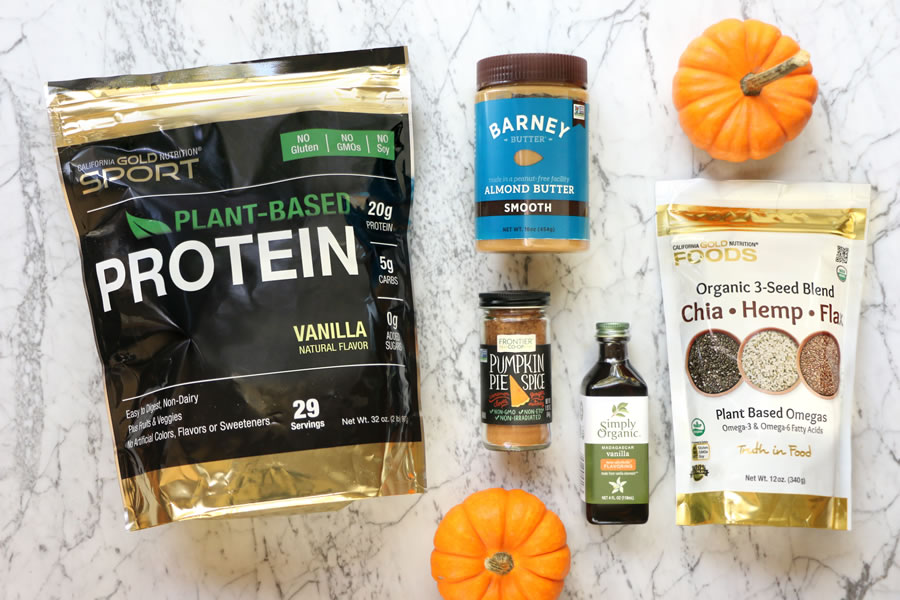 20 g Protein | 5 g Carbs | 2 g Fiber (in each serving)

A Vegan Pea & Brown Rice Proteins +  Fruits, Veggies, Flax & Chia 

A Digestive Enzyme Blend

No Dairy, No Gluten, No GMOs  and No Soy

No Artificial Colors, Flavors or Fillers

2 lb (32 oz.) and 29 Servings
To give this shake the true flavor of a pumpkin pie we finished it with a non-alcoholic Madagascar vanilla flavoring (perfect if you don't want to taste extract) by Simply Organic and a bit of pumpkin pie spice to finish. We used the pumpkin pie spice by Frontier Natural Products, which I found has a lovely balance of flavors. 
This shake tastes so much like Pumpkin Pie you won't believe your taste buds. Feel free to substitute with any type of milk you enjoy.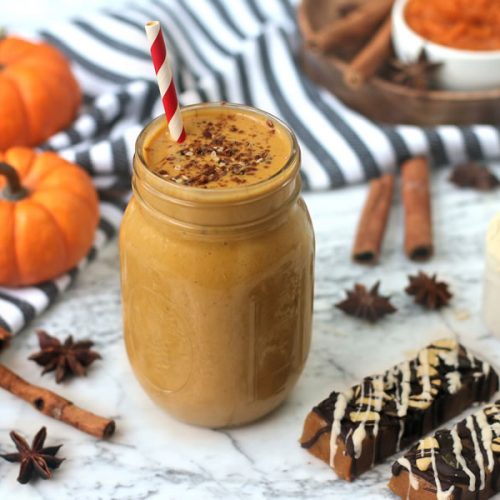 Pumpkin Pie Protein Shake
Heather LaCorte
This shake tastes so much like Pumpkin Pie you won't believe your taste buds. Feel free to substitute with any type of milk you enjoy. If you're cutting out sugar, omit the frozen banana and add 2 tablespoons of psyllium with a handful of ice to keep it thick.
Ingredients
3/4 cup unsweetened almond milk or your choice
1/2 cup pumpkin puree not pie filling
1 California Gold Nutrition Vanilla Plant-Based Protein
1/2 small frozen banana (optional)
1/8 teaspoon pumpkin spice
½ teaspoon vanilla
***maple syrup or stevia to taste (not needed if using banana) not needed if using banana
DIRECTIONS
Place all ingredients in a blender and process until smooth. Pour into your favorite and enjoy!
Recommended Shake Ingredients/Products:
VEGAN PROTEIN:  California Gold Nutrition Vanilla Plant-Based Protein
SEED BLEND: California Gold Nutrition Organic 3-Seed Blend
VANILLA: Simply Organic Madagascar Vanilla
PUMPKIN PIE SPICE: Frontier Natural Products Pumpkin Pie Spice
Healthy Pumpkin Recipe #2: No-Bake Pumpkin Protein Bars
For our second recipe, we went with something you can take a bite out of. This recipe for Pumpkin Protein Bars is chewy, full of healthy ingredients and so easy to make. Plus, there's no heat required. 
With the perfect ratio of protein, carbs and good fats, these No-Bake Pumpkin Protein Bars are perfect for a pre-workout snack that will give you enough energy to power you through your workout. They're also great for a post-workout snack for when you're on the go or need a pick me up.
Here we start by taking our pumpkin puree and mixing it in a bowl with other wet ingredients like almond butter, melted coconut oil, and our Madagascar vanilla. Once that is all nice and blended we add in the California Gold Nutrition Very Vanilla Whey Protein Isolate powder and almond flour and pumpkin spice. 
Why we love California Gold Nutrition Very Vanilla Whey Protein? 
Not only is it made with single-source ultra-low lactose whey from Grade A Wisconsin milk, but it's also fast-absorbing and easy to digest. It's also a good source of naturally occurring BCAAs (Branched Chain Amino Acids) which can help support muscle growth during your workouts, can reduce muscle soreness, and help you recover faster. They may also improve your mental and physical performance, especially if you train while fasting. A plus if you weightlift! Other benefits include:
27g Protein + 5.5g BCAAs per serving

Ultra-Low Lactose 

rBST Free

Is Naturally Flavored & Sweetened (6g added sugars)

Has No Gluten, No GMOs and No Soy
After you've added your dry ingredients this is where you want to dig your hands into the mixture and start kneading it together until it forms a solid dough. Once you have a dense solid form mold it into the bottom of a small pan or for freeform and try to create a rectangular shape about 1 1/2 deep. Place on a baking sheet and put into the freezer for 10 minutes to harden. Once they feel hard to the touch you can cut them into bar shapes.
To finish off these bars we drizzled them with white and dark chocolates and sprinkled them with our favorite fresh pumpkin seeds from Wilderness Poet.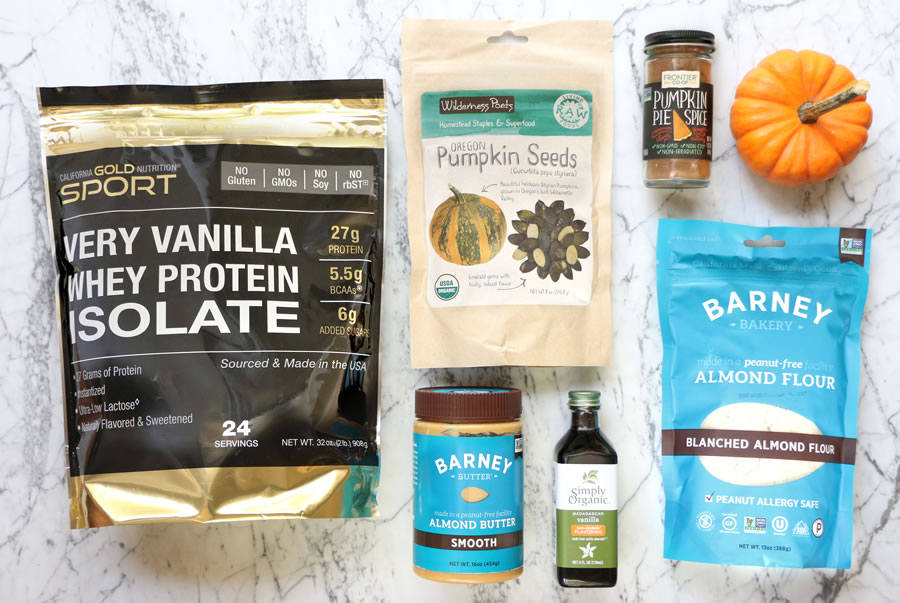 RECIPE NOTE: This recipe may turn have different results if you're using a different pumpkin puree or almond butter brand than we did. Some pumpkin purees contain more water and some almond butter varieties naturally have more oil than the Barney Butter variety we used, which is the same consistency of traditional style peanut butter. If your almond butter is oily, omit the coconut oil altogether. If the pumpkin protein bar dough is still too wet after mixing add in another ¼ cup of almond flour and a scoop of protein until you have a fully formed dough. It should feel thick and dense.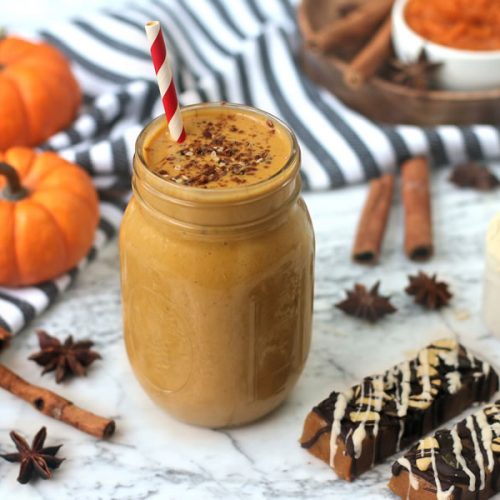 No-Bake Pumpkin Protein Bars
These bars are the perfect way to get those fall flavors into a protein-packed snack that's perfect on the go.
DIRECTIONS
Place all the wet ingredients (pumpkin puree, almond butter, coconut oil, vanilla) along with the pumpkin spice in a medium mixing bowl and stir until thoroughly combined.

Next, add in the whey protein powder and almond flour. Stir until combined and then with your hands knead until a stiff dough forms. If your dough is too loose, add in another scoop of protein and another ¼ cup of almond flour until you achieve and dense dough.

Pat into the bottom of a small square or loaf pan until you've achieved a bar that is about 1 inch deep.

Place in the refrigerator to harden for an hour or in the freezer for 10 minutes.

Cut the dough into bar shapes. Drizzle with melted chocolate and top with fresh pumpkin seeds. Allow chocolate to harden (you can pop them back in the freezer for 5 minutes) and enjoy!

Store these in the refrigerator for up to a week. These can also be frozen.
Recommended Ingredients Used In This Pumpkin Bar Recipe:
WHEY PROTEIN:  California Gold Nutrition Very Vanilla Whey Protein Isolate
ALMOND BUTTER: Barney Butter Almond Butter
ALMOND FLOUR: Barney Butter Blanched Almond Flour
COCONUT OIL: Nature's Way Organic Extra Virgin Coconut Oil
VANILLA (Non-Alcoholic): Simply Organic Madagascar Vanilla
PUMPKIN PIE SPICE: Frontier Natural Products Pumpkin Pie Spice
PUMPKIN SEEDS: Wilderness Poets Oregon Pumpkin Seeds

Did you know…???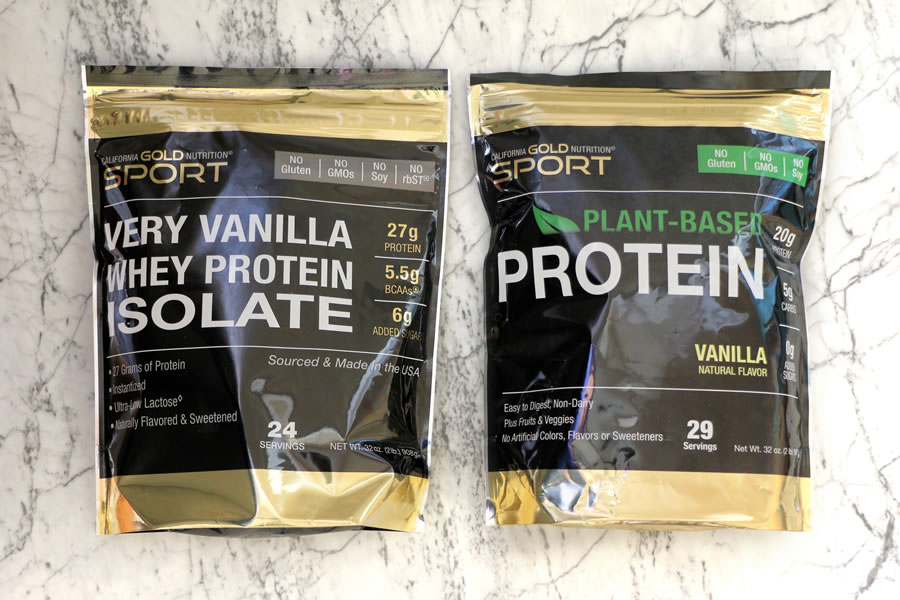 We love shopping at iHerb! Their prices are amazing, they ship quickly and you can even earn rewards!
NEW Customers will get a 10% discount OFF their first iHerb order with no minimum purchase by –> clicking here.
Created by OnBetterLiving.com