Better Living uses affiliate links. If you make a purchase through them, we may receive a small commission (for which we are deeply grateful) at no cost to you.
In the world of whisky, the island of Islay (pronounced "EYE-luh") just off the coast of Western Scotland is world-renowned for producing peaty whiskies. This small island is just 25 miles long and is home to 9 whisky distilleries, with more on the way. With a population of only about 3000, whisky is weaved into the history, culture, and tapestry of life on Islay. 
Similar to how Champagne can only be labeled as such if it comes from the Champagne region of France, Islay has its own similar special designation. For a whisky to be labeled with the designation of 'Islay' on the bottle, Scotch Whisky Regulations mandate that it must only be distilled on the island of Islay. That means with a little clever marketing, that whisky you're used to drinking may not be as "Islay" as you think. But one distillery on the island,  established in 1881, Bruichladdich is redefining what it means to be an Islay Scotch whisky.
A progressive distillery that is rooted in a commitment to authenticity and passion for their product and their community,  Bruichladdich believes that "an Islay whisky should be as islay as possible." While the other guys are just distilling on the island to get their designation, Bruichladdich is infusing the island into every step of the process making the provenance of Islay matter and not just smokey, peaty, and marine-like flavor whisky flavor profiles it's associated with. Not only does Bruichladdich use Islay spring water and 100% Scottish barley, but their whisky is also Islay distilled, Islay matured, and Islay bottled. No other distillery on the island can make these claims, who outsource most of the stages of the whisky-making process to the mainland to mature and bottle in undisclosed facilities. 
Bruichladdich's Port Charlotte 10 Is The Ultimate Approachable Islay-Style Whisky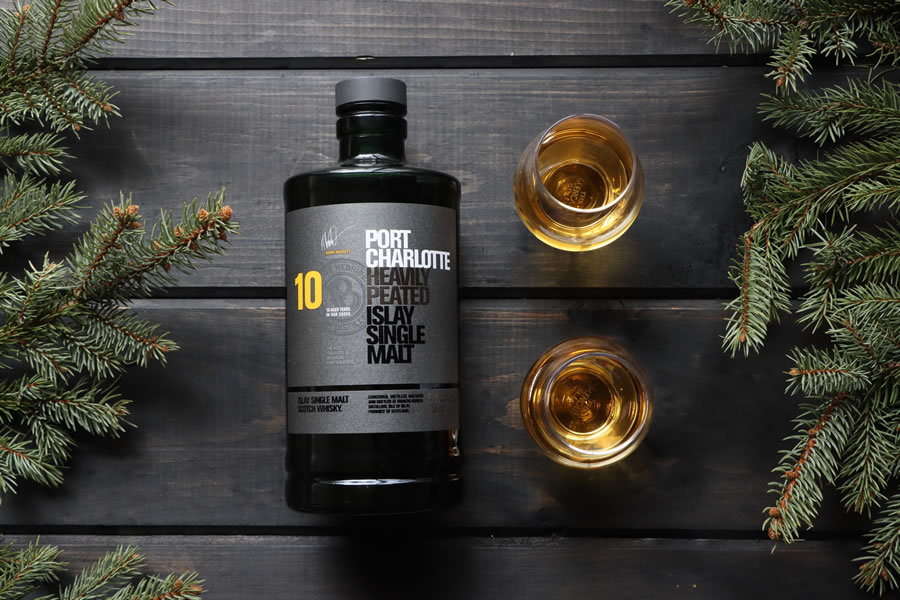 While Bruichladdich's Port Charlotte 10 Single Malt Scotch Whisky, named for a town on the island of Islay, and aged for 10 years, is less well known in the US than other heavily peated Islay whiskies, it's beginning to make waves. Although considered heavily peated with a phenol measurement of 40 PPM (heavily peated is anything over 30 parts per million) that quantifies how much peat smoke flavor has been imparted into the whisky, Port Charlotte has a subtle sweetness and soft smokiness that is superior to others produced on the island. Not all peaty whiskeys taste as strong as they score, and this is the case with Port Charlotte 10.  Mellow yet complex, both newbies and connoisseurs to peaty style whiskies will enjoy this bottle. 
What To Expect From The Flavor Of Port Charlotte 10 Islay Whisky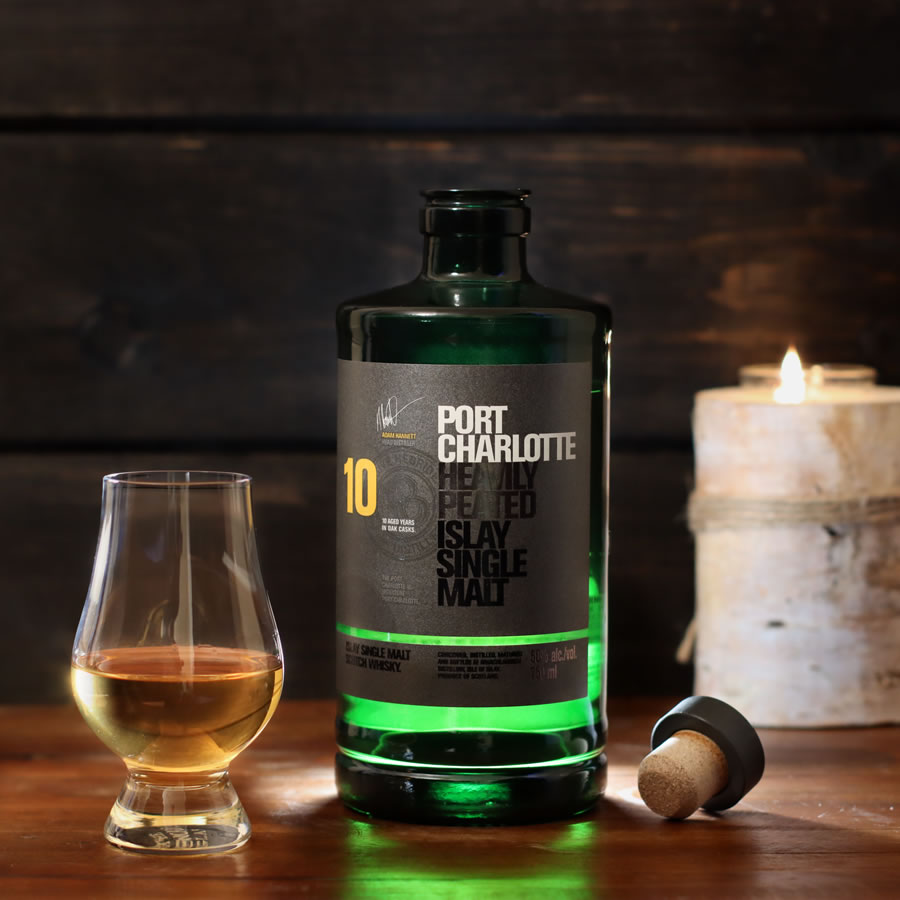 Everything from the peated Scottish barley and Islay spring water, to the dry rugged salty coastal climate, to being aged in American oak whisky and French wine casks, contributes to the flavor of Port Charlotte 10 making a special whisky you'll want to definitely add to your collection. Artificial coloring is never added to their whiskey.
A little bit sweet savory and salty, here are some of the flavors and notes you can expect in Port Charlotte 10:
Port Charlotte 10: Islay single malt. Aged 10 years, 50% ABV. 
Barley Provenance: 100% Scottish Barley from Inverness 
Bottling: Bottled onsite with Islay spring water, No artificial color added (ever), un-chillfiltered 
Peatiness: Peated to 40 
Barrels:. 65% first-fill "American whiskey" casks, 10% second-fill "American whiskey" casks, 25% second-fill French wine casks. Note:  First-fill casks will impart the most prominent flavor characteristics from the previous liquid into the whisky.
Color: Citrine
How To Serve:  A copita whisky glass 
On the Nose: Slight ocean mist aroma, oak, subtle smoke with waves of golden caramel, fudge, vanilla custard, with hints of sea salt, ginger, nutmeg, clove.
On the Palate: Sweet honey finish and a soft texture with light citrus flavors, apple, chocolate, and vanilla, smoked malt, and dark toffee. 
The Finish: Malted barley, fudge, orange, mango, banoffee pie, and a hint of oak. Subtle smoke with notes of ripe apple and apricot.
Price (U.S): $55-$75 depending on area and availability.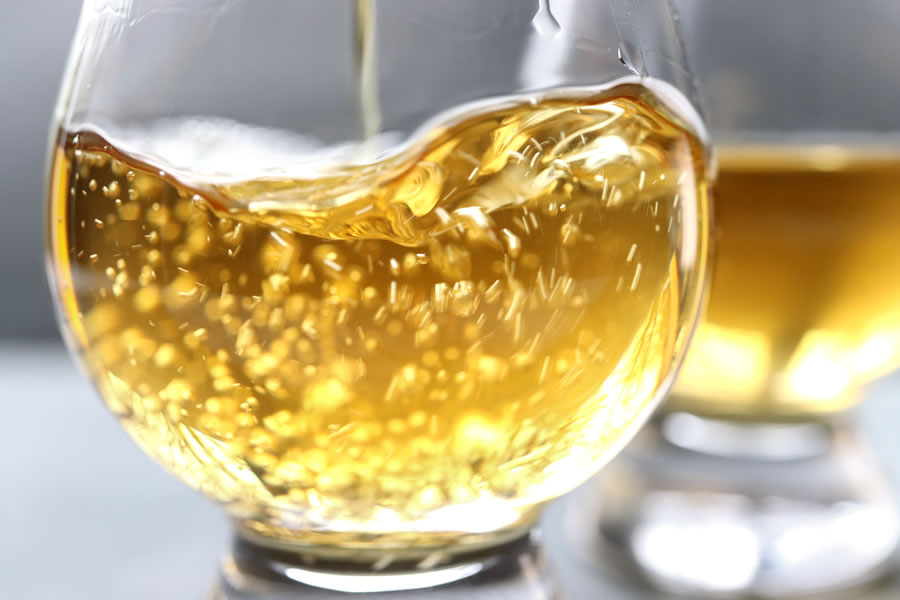 What Foods To Pair With Port Charlotte 10
If you love things like smoked meats, BBQ, and oysters Port Charlotte is undoubtedly worth your time and your glass. While many whisky aficionados prefer drinking whisky on its own, the foodie in me just loves experimenting with pairing anything with food.  Adding a splash of water to your dram just before enjoying can help the Scotch open and make it more food-friendly. These food pairings are simply recommendations and in the end, if you enjoy it, it's right. 
Try Pairing These Foods With Port Charlotte 10BBQ, Grilled, Smoked and Roasted Meats
The smokiness of the whisky pairs beautifully with the same smokiness found in BBQ'd foods and roasted meats. Lamb is especially lovely. They should be subtly seasoned and not laden with sweet sauces. I tried it with a perfectly roasted rotisserie chicken and it was really quite delicious. Avoid garlic as it doesn't play nicely with whisky in general. Try adding a few splashes to your marinade before grilling.
Seafood: Oysters, Salmon and Sushi
With its marine-like qualities, citrus notes, and subtle smokiness Port Charlotte 10 makes a wonderful partner to grilled salmon and oysters (raw or grilled). Try adding a few drops to the oyster shell before sipping the brine. Or, sip the brine, then the whisky, then eat the oyster and finish with another sip. Also, give it a try on your next sushi night. Pairing it with an unagi (broiled freshwater eel) roll is a sure win.
Dark Chocolate
Whiskies are known for pairing well with chocolate. When pairing Port Charlotte 10, opt for dark and semi-sweet chocolate. Flourless chocolate cake and dark fudgy brownies would be great dessert options.
Bold Blue Cheeses
It's best to pair a smoky whisky like Port Charlotte 10 with a bolder tasting cheese. Try a bold blue variety like Roquefort or Stilton whose salty bite can balance the smokiness of the whisky on your palate. Gorgonzola would also be a great choice.
Roasted Nuts
For a crunchy snack, try roasted almonds or pistachios. For a little variety and contrast of flavor try a lightly smoked almond.
Watch the Documentary: 'Scotch: A Golden Dream'!
Watch the 2018 documentary film Scotch: A Golden Dream for a true understanding of the passion, hard work, culture, and tradition that goes into producing Scotch Whisky from barley to bottle.
Bruichladdich's whisky superpower is their commitment to transparency and the incredible passion and pride they put into their product. But it's what you sip from their bottles that will have you coming back for more. With a lovely approachability for beginners and a sophisticated complexity that connoisseurs will love, grab a bottle of Port Charlotte 10 before it sells out.
Visit Bruichladdich to learn more about their process and where you can find their Classic Laddie Scotch Whisky.
See our post Exploring the Finest Scotch Whiskeys with Bruichladdich and try our recipe for Scottish Coffee!