Better Living uses affiliate links. If you make a purchase through them, we may receive a small commission (for which we are deeply grateful) at no cost to you.
This post is brought to you by Plant Therapy, the essential oil experts. The opinions and info presented here are completely our own.
Have you ever smelled something that instantly makes you feel all warm and fuzzy inside? It's no secret that scents and the way we respond to them is a powerful thing. They can energize us, help us to focus or feel relaxed, comfort us and even affect our emotions. And what about the way a scent can instantly connect us to a memory as if it were yesterday? For me, the smell of freshly baked apple pie can instantly transport me back to my grandmother's kitchen, while the salty sea air is an eternal reminder of my childhood home on the water. So, how is it we're so deeply connected to scent? It all has to do with our brains.
While senses like sight, hearing, touch and taste are processed in the "thinking" part of our brain, scent molecules are sent to the olfactory bulb instead. The olfactory bulb happens to also be directly linked to the part of the brain that stores memories and processes emotions. But the real power these scents hold over us lies within our brain's ability to connect scents to the memories stored there. When we're repeatedly exposed to a specific scent along with a meaningful person, place, thing or experience that our brain creates these scent paired memories that can be strikingly vivid. Referred to as conditioned learning, it's the same reason why the smell of apple pie fondly reminds me of my grandmother or the smell of a the salty sea air can instantly transport me back to my childhood home on the water where I would spend my summers swimming, boating and fishing.
It's this incredible emotional connection we have with scents that inspired Plant Therapy to design an all natural fragrance collection designed to keep us feeling good as we rock though our day. With six different scents in two different sets appropriately named 'Evoke,' these powerful fragrances are each specially formulated to inspire or evoke a different positive emotion (scroll down for descriptions). When diffused or worn over time, Evoke's uplifting fragrances can even help you (and those around you) form those amazing vivid emotional memories connecting with your life's most special moments or people.
What do they smell like? Here are the Evoke fragrance collection descriptions and the emotions they 'Evoke':
CELEBRATE Collection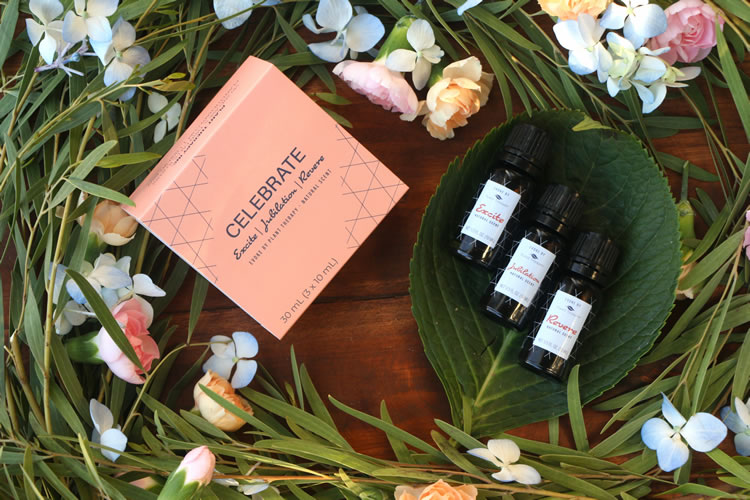 Emotion: Bubbly Enthusiasm
Scent Profile:  Woody and fresh, with notes of tangerine, peppered rose, green foliage, and warm woods. Hints of black pepper and tea tree round this blend out.
Emotion: Love And Admiration
Scent Profile: Floral and spicy with notes of apple blossoms and citrus, rose absolute, dewy greens, and soft musks. Spice up your collection with this seductive blend.
Emotion: Pure Joy
Scent Profile: Fresh and floral with notes of lush berries and crushed peppercorn, Grandiflora rose and luminous musks, this essential oil blend is complex and beautiful.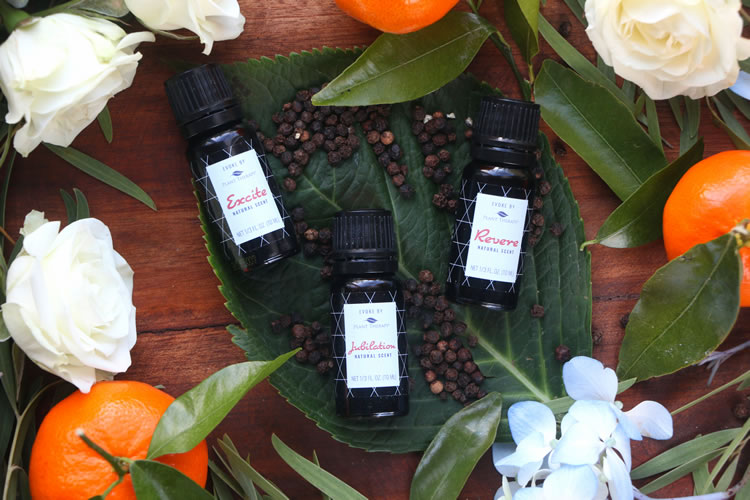 THRIVE Collection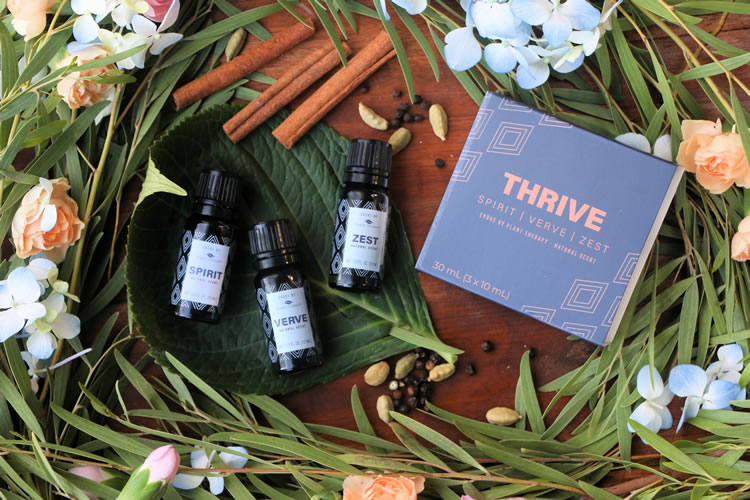 Emotion: High And Uplifted
Scent Profile: Notes of caramelized sugar, bourbon whiskey, clove, nutmeg, and vanilla balsam. Hints of lemon bitters, cinnamon leaf, and cedarwood make this a warm and sweet smelling blend. Wonderful to diffuse during the holidays or on rainy days.
Emotion: Sweet Sensuality
Scent Profile: Sweet with warm sultry woods, notes of lemon fizz, cardamom, sweet tobacco, and a hint of vanilla and amber. This blend is a sexy, warm, and sweet.
Emotion: Vivaciousness
Scent Profile: Lively, fresh and spicy. Zest has notes of peppercorn, juniper berry, and aquatic florals mixed with lime zest, lemon peel, and ambery musk tones.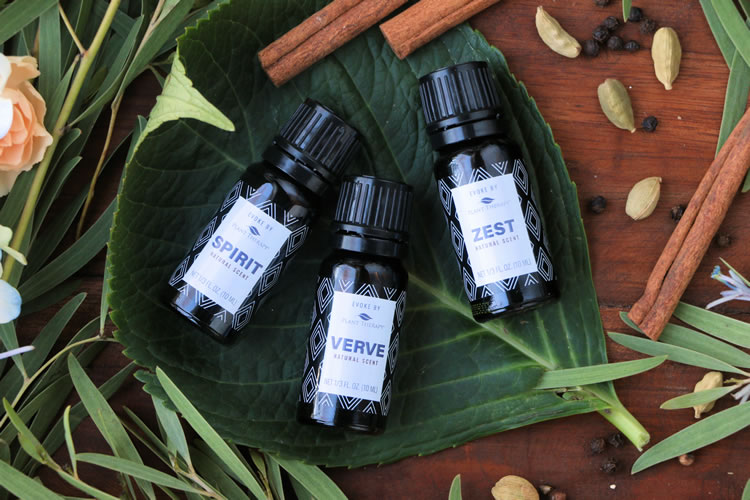 What Are Evoke Natural Fragrances Made Of?
While all of the Evoke fragrances are naturally derived from plants, they're not technically essential oils. Huh? Let me explain. They're formulated with the natural aromatic compounds in essential oils called isolates. What's the difference? Each essential oil has a specific scent which is made up of a few or several isolates. The easiest way to think about isolates is by thinking about an apple pie (yes, I love apple pie). The smell of an apple pie is the combination of the baked apples, the spicy cinnamon, the caramelized sugars and the toasty pie crust. Each of these ingredients contribute their own aroma to the scent of the pie and could be compared to the isolates in essential oil. These isolates can be individually extracted from essential oils in the same way the oils are extracted from the plants.
Why not just use essential oils instead? By using isolates, Plant Therapy was able to create more complex and unique scents without synthetic ingredients. They also carry many of the same beneficial properties of the essential oils from which they come. Experiment with Evoke fragrances and you might just find more uses for them in your aromatherapy arsenal than you thought possible.
How To Use
Evoke Scents To Intentionally Create Deep Connections In Your Daily Life
Simple. Use an Evoke fragrance anytime you want to create good vibes and spark those powerful scent paired memory connections in you or your loved ones brain. In other words use them when you want to set a mood and have it be remembered warmly. They're perfect for times like when you're getting ready for a special date, dabbing behind your ears before your significant other leaves on a trip, diffusing while entertaining friends at your home for dinner or celebrating something special like a holiday with family. Or maybe you just simply want to friends and visitors to feel happy when they enter your home. Use Evoke just about anytime you want to create a powerfully positive memory for you or your loved ones.
Here's how to use Evoke in your home and life:
Diffuse to set a happy, fun, warm, sultry or bright mood.

Dab on your wrists or behind the ears to wear as perfume.

Wear with your favorite aromatherapy jewelry.

Use in your favorite homemade soap and lotion recipes.

Add a few dabs to a birthday card or love note to pair your intention with a scent.
As you grow to love each of the scents you'll probably find more and more uses for them and more intentional ways to use them throughout the day.
Collect Both Evoke Fragrance Sets Or Get Singles  
Both Evoke sets are packaged adorably, and at $39.95 they make a lovely mindful gift for the essential oil lover or a nice treat for yourself!
If you're more of a dabbler, single Evoke fragrance blends can also be purchased alone for $14.95 each.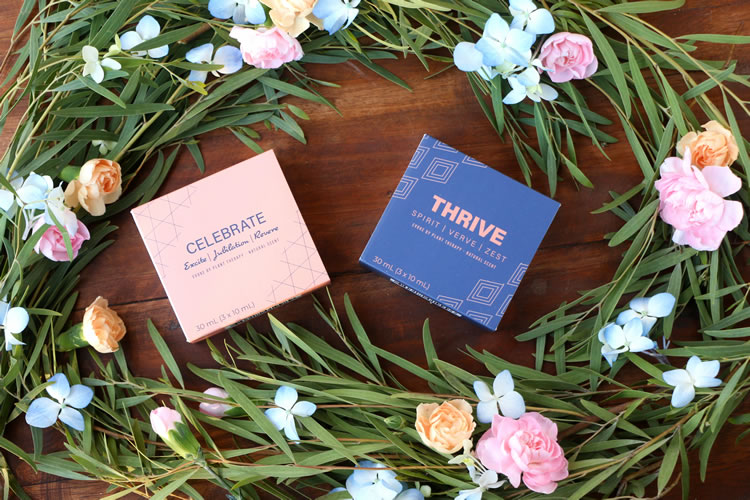 Save More On Plant Therapy And Evoke…
Visit PlantTherapy.com to get the Evoke collection and start bringing more positive emotions and lasting memories into your life.
Get a FREE Evoke blend with your order when you use coupon code EVOKEME and spend $40.
About Plant Therapy
PlantTherapy.com is the premier destination for the highest quality pure essential oils, KidSafe blends, carrier oils, hydrosols and more!