Better Living uses affiliate links. If you make a purchase through them, we may receive a small commission (for which we are deeply grateful) at no cost to you.
Thank you Travelpro for sponsoring this post. Get the Upgrade with Travelpro! 
While most of us love to travel, getting ready for a trip can be a bit stressful. And for me packing is the worst part of all. Here are six tips to get you packing like a pro for your next trip:
Make A Packing List And Check It Twice
There's nothing worse than forgetting to pack something you really need for your trip or staying up the night before your trip worrying that you were sure to pack something you needed. Been there done that. Avoid the stress factor of packing and start simply by making a list of what you need to pack. Making a list will also allow you to see just what you need and narrow down things that might be extra. The list will also be handy when shopping for your trip and keep you from forgetting the things you need the most. Forgetting simple things can end up costing you lots of money when replacing them while traveling abroad. Going somewhere sunny? I've seen the same sunscreen brands available in just about every drug or grocery store in the U.S. cost more than triple at some Caribbean resorts.
Folding, Shmolding: Roll Your Clothing To Fit More
When putting your clothing into your suitcase or bag, expert travelers agree: you can fit more if you roll your clothing. Simply begin by placing all the heaviest pieces of rolled clothing like jeans and sweaters on the bottom and working your way to the lightest pieces, like socks. Rolling will also help you avoid wrinkles or creases as opposed to folding, which can leave things like shirts and blouses looking like a hot mess.
That being said, try to pack clothing with fabrics that aren't prone to wrinkling. Fabrics like rayon are not your travel friend. And just because you can fit more try to leave as much as possible at home. This will give you extra room for clothing and other items like souvenirs you might buy while traveling.
Never Check Your Most Essential Items
When flying, this might seem obvious but I'll say it anyway: never ever pack your most important and valuable items in your checked luggage. This includes your passport and license, money/credit cards, wallet, electronics like your cell phone or tablet, expensive sunglasses, jewelry or anything else you would freak out if they were lost or stolen. If you have any medications or supplements that you need to take, make sure to keep those on you as well. It also helps to keep these things organized within your bag so you can access them whenever you need them. 
Be Careful With Liquids
Whether you're checking luggage or not when flying, it's important to know what liquids or other items you are allowed to bring in your carry-on bags. This is especially true if you're only bringing a carry-on. The rule is, when bringing a carry-on, you are allowed to bring a quart-sized bag of liquids, aerosols, gels, creams, and pastes in your bag. These are limited to travel-sized containers that are 3.4 ounces (100 milliliters) or less per item. You don't want TSA confiscating that expensive foundation or hair product, so check sizes before you pack. Even food items you think might be safe like peanut butter or honey will end up being confiscated. So it's also important to be mindful of what souvenirs you pack in your carry-on. You could always bring an empty duffle bag along and check it on the way home or ship items back to yourself before you leave for home.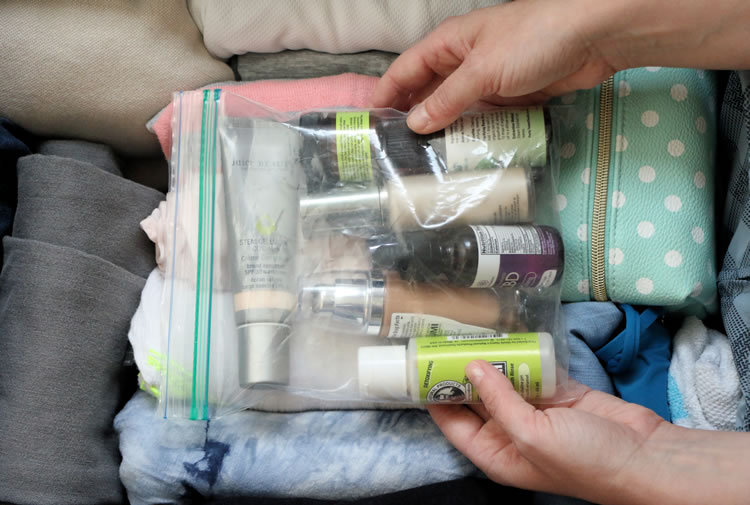 Layers Aren't Just For Cake
We've all done it. Packed way too many clothes for a trip to only end up wearing the same few pieces. I know I've done it. Then I ask myself, "Why the heck did I bring all this stuff?" The key is packing multipurpose clothing in a neutral palette that you can wear in layers. This way you can mix and match and be comfortable without all the extra bulk in your luggage. This is especially true if you're going to a place where the weather or temperature can change drastically throughout the day. I love traveling with a cardigan that will not only keep me warm but can be dressed up or down depending on where I'm headed.
Don't Be Shy: Use Your Hotel's Cleaning Service
I think a lot of people check into a hotel and see that laundry bag and think it's just something people on a business trip do. But let me tell you, it can be an awesome service to take advantage of. Staying somewhere with onsite DIY laundry? Even better. There have been trips I've gone home with a suitcase filled with 100% clean clothes. Who wants to be doing tons of laundry after traveling? Not me. Plus you can pack less and stay prepared.
And while I know laundry service at some hotels can get a little expensive you have a couple of options if you really need clean clothes. To save, pick out a few key pieces you know you'll need and have the hotel clean those items. You can also seek out a local full-service laundromat or dry cleaner for pricing that's easier on the wallet. I've even washed clothes out in the bathroom tub or sink and just hung them up to dry in the shower or on my room's balcony.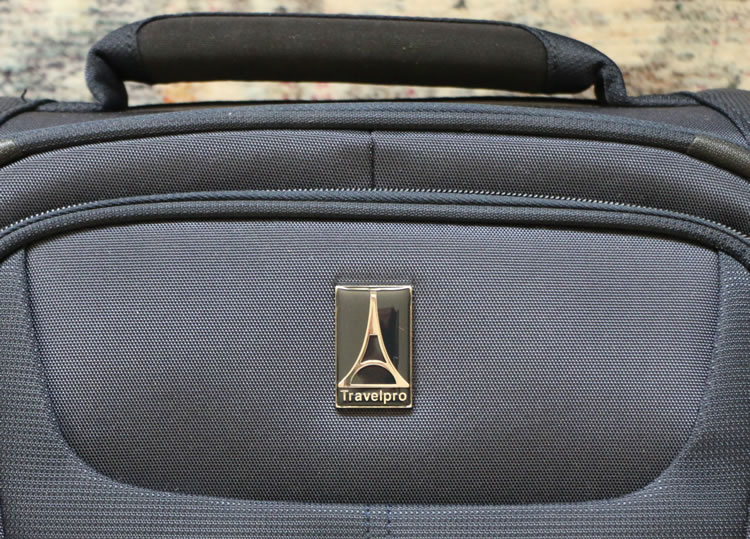 It All Starts With The Right Luggage
I've traveled quite a bit over the years and I can tell you that your luggage can make or break a trip. Keep your trip moving smoothly with high-quality and well-designed luggage that helps you organize all your things. Also, I hate to be weighed down so the lighter the better. We love Travelpro®'s Maxlite line of luggage. Maxlite® is Travelpro®'s lightest-weight line while still being super durable and stylish. It's made of a Polyester fabric with DuraGuard® coating that resists water and stains. So they'll be looking great even when there's a downpour or it's getting thrown down the baggage carousel at the airport. It will happen. The Maxlite® collection is available in five great colors including Dusty Rose, Azure Blue, Slate, Midnight Blue and Black so you can coordinate your luggage according to your personal style. And my favorite part? They roll like a dream.
A few of our favorite pieces:
Travelpro® Maxlite 5 21" Expandable Carry-On Spinner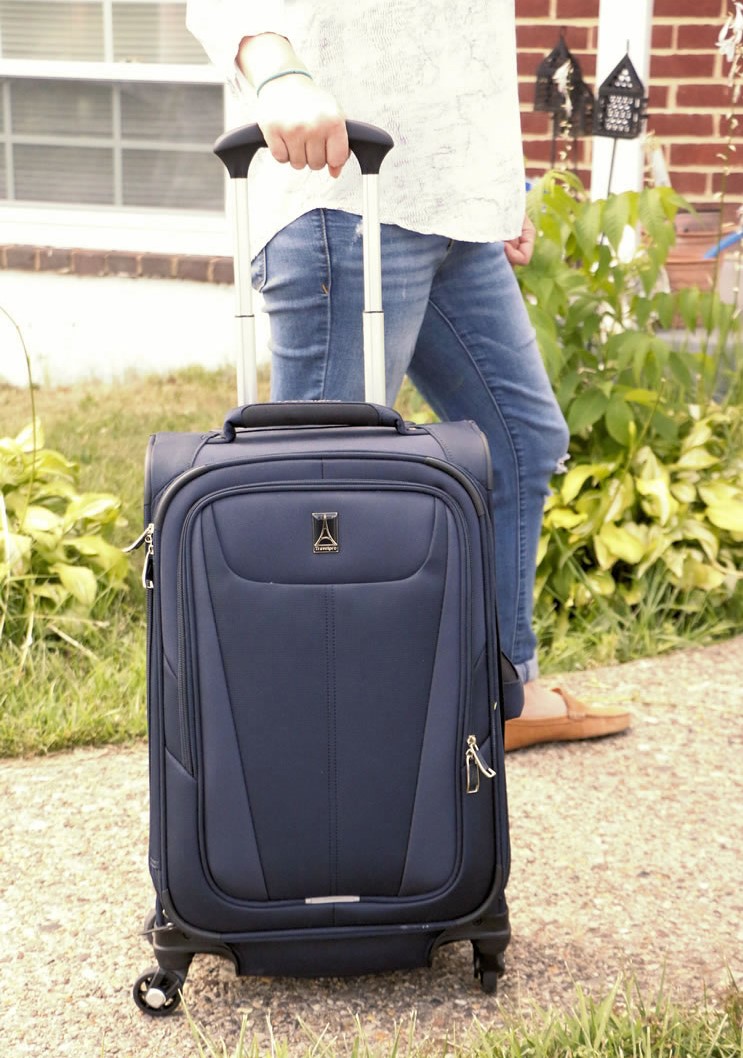 Although it looks small this one can actually fit a lot. Perfect for a weekend getaway it has a zipper that helps it expand for even more room. Straps help keep your things in place while extra pockets help you organize. And the best part? No need to drag this little guy behind you. With wheels that roll as smooth as silk all you have to do is gently push it alongside you. It does all the hard work for you. I'm smitten with this bag! Here's the inside: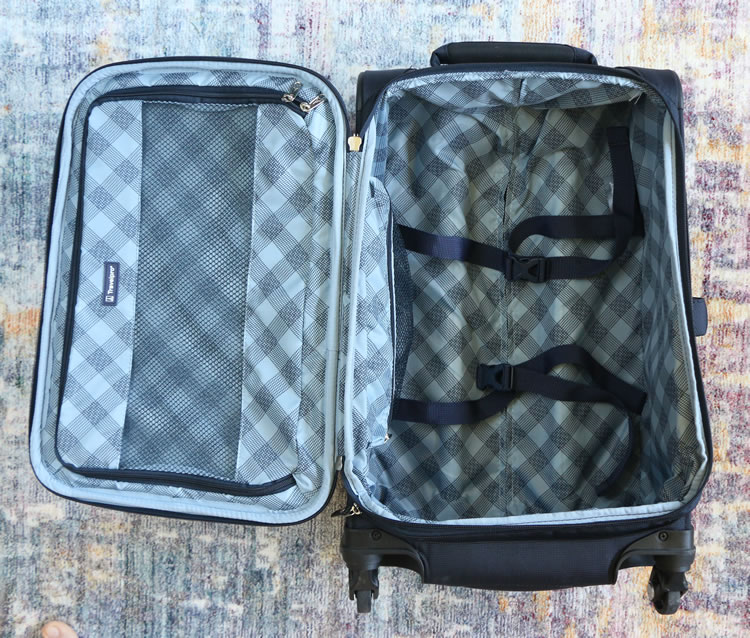 Travelpro® Maxlite 5 Carry-On Rolling Duffle
Boy, do I love a rolling duffle. This one makes a great overnight bag as well as a carry-on and has deep outer pockets that help you protect the things you need most while allowing access to them on-the-fly.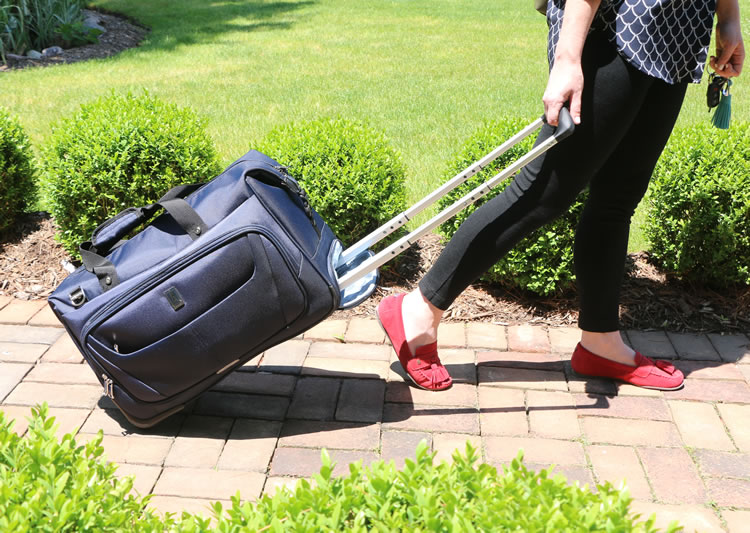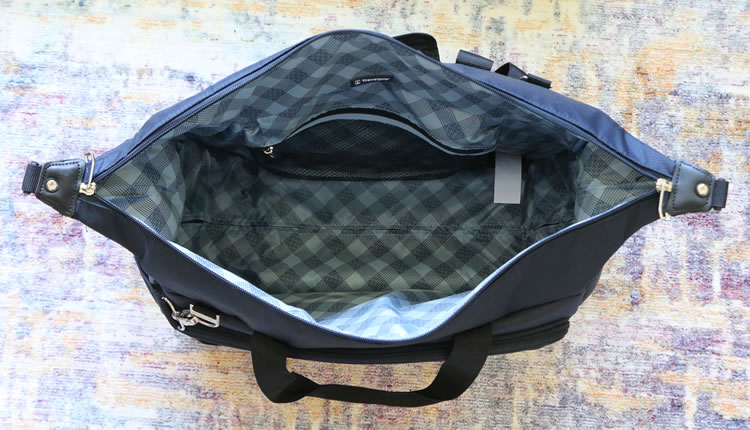 I'm pretty hard on my luggage so I need bags that are super durable and withstand anything you throw at them. I love that Travelpro® does extensive testing on all of its luggage to make sure they're up to the rigors of travel. No one wants to find out the hard way. Travelpro® also designs its luggage to help you pack more efficiently, making travel easier and less stressful. This leaves you more time to enjoy your trip to focus on what really matters: a fantastic travel experience.
I was selected for this opportunity as a member of CLEVER and the content and opinions expressed here are all my own.