Better Living uses affiliate links. If you make a purchase through them, we may receive a small commission (for which we are deeply grateful) at no cost to you.
*Noodles & Company has partnered with us to bring you this post. The opinions and information presented here are completely our own. 
I'm convinced that in the future people will look back to the beginning of the 21st century as the "Era of a Thousand Diets."  There's vegetarian, vegan, gluten-free, dairy-free, grain-free, sugar-free, paleo, keto, low carb, Mediterranean, and the list goes on. Okay, maybe there's not a thousand. But as I'm writing this I'm realizing that I've just about tried more than my fair share in the hopes of either shedding a few pounds, relieving unwanted symptoms or just maintaining good health so I can actually peel myself out of bed in the morning. I'm still working on that last one.
But no matter what my "food philosophy of the moment" is I generally try to eat clean most of the time. But eating clean isn't always easy for me. Between hormones, stress, and my general love of great food, things can go south pretty quickly. Ever go out running errands and try to grab something quick and healthy? Sometimes it can seem impossible. This is one of the major reasons I love Noodles & Company. No matter what diet wave I'm riding, I know I can pop into a Noodles and find something on the menu that will fit my needs. And who doesn't love noodles of some form or another?
Right now you're thinking how could a restaurant with noodles in the name possibly help you stick to a diet? I'm not going to tell you that Noodles & Company doesn't have some sinfully delicious traditional noodle-based dishes that may have more carbs or calories than your diet or conscience will allow. On the days you're looking to indulge they definitely have those dishes. And they're darn good. But for the days you're committed to staying clean and eating more green Noodles & Company also has an awesome selection of menu options that can fit into just about any healthy eating plan or lifestyle. If you're into something weird like exotic meat, then you may have to look elsewhere. But if you're into healthy delicious food with global flavors that can be prepared for your specific diet needs no matter what you're into, then you need to head over to Noodles & Company. And yay – it's healthy food you don't have to cook yourself. I'm always down for that!
And now Noodles & Company has just expanded their menu with even more veggie power. Building on the clout of their famous Zoodles (100% zucchini noodles that are gluten-free, vegan, vegetarian, low-carb), Noodles & Company now has a cauliflower-infused rigatoni pasta called "Caulifloodles." With the cutest name ever, caulifloodles have the same taste and bite as traditional pasta, but fork over a full serving of veggies in any regular-sized bowl. Noodles & Company has also introduced a gluten-friendly pasta option for those sensitive to that tricky protein and whole wheat options as well.
Some of the new Noodles & Company dishes include: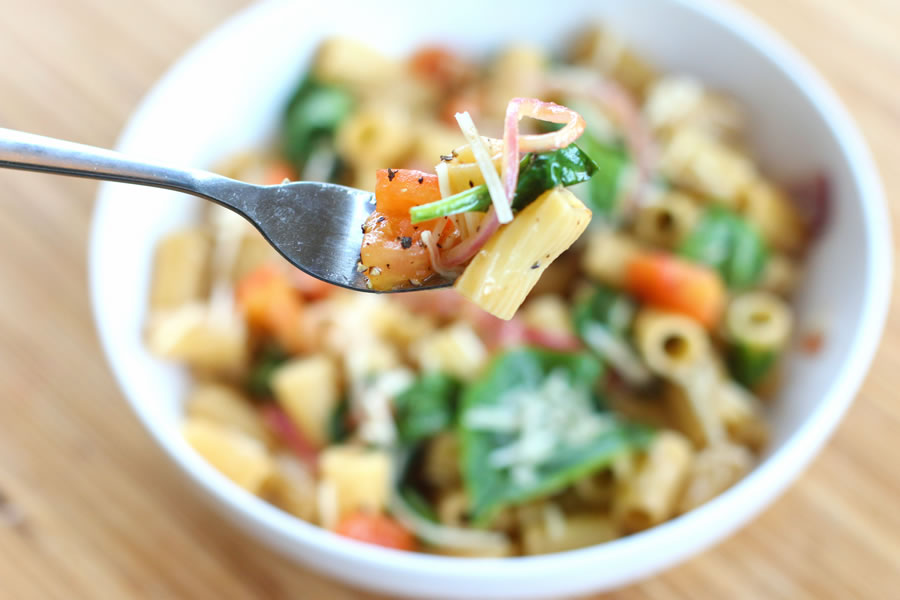 Pasta Fresca With Cauliflower 
(Savory, light, full serving of veggies per bowl, Italian inspired)
Cauliflower-infused rigatoni sautéed with shrimp, balsamic vinaigrette, olive oil, roasted garlic, red onion, tomato, and spinach, then topped with Parmesan.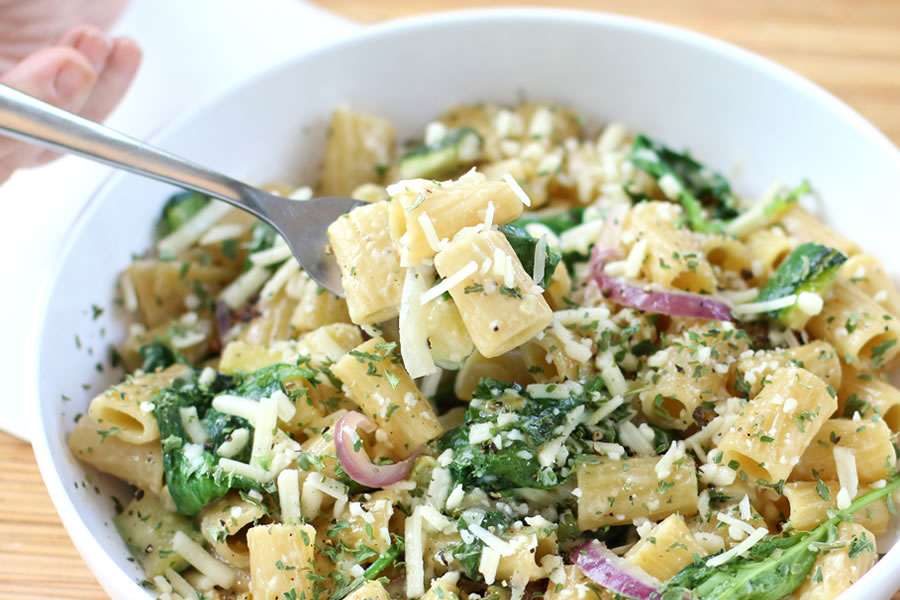 Cauliflower Rigatoni With Light Onion Cream Sauce
(Meatless, savory, creamy, full serving of veggies per bowl, crunchy)
Caulifloodles in a light onion cream sauce with roasted zucchini, mushrooms, and spinach, finished with MontAmoré cheese and parsley.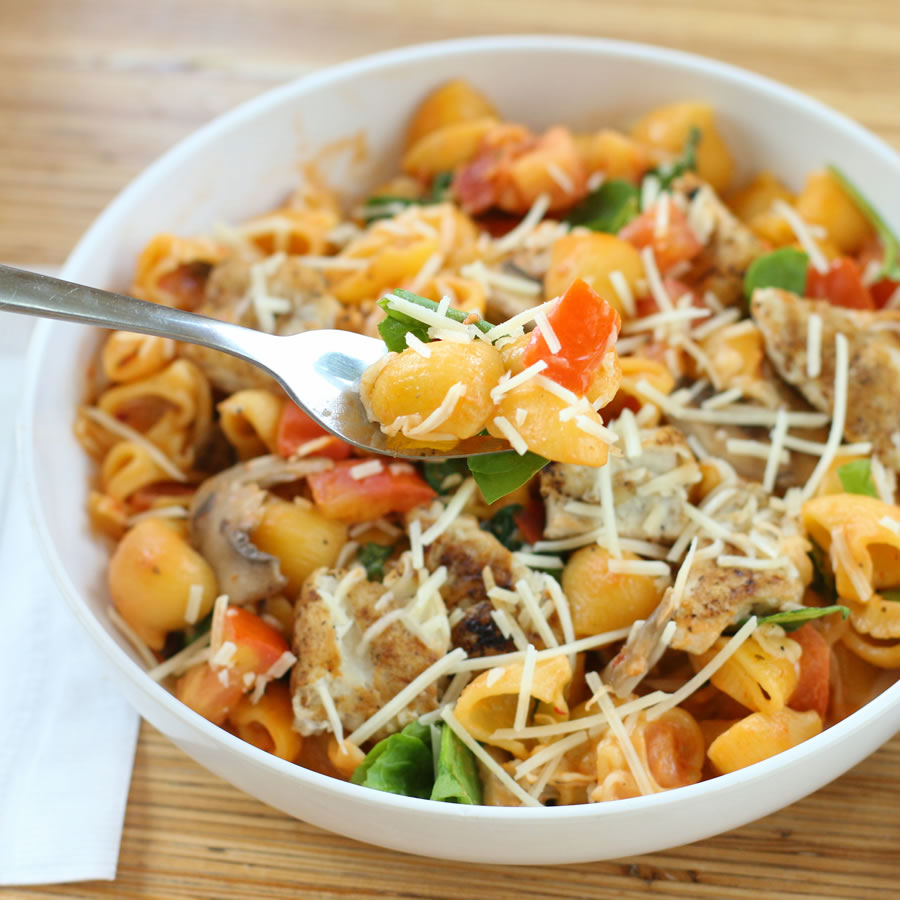 Gluten-Friendly Pipette Rosa with Grilled Chicken 
(Italian, gluten-friendly, lower sodium, spicy, creamy)
Noodles & Company's brand new Gluten-Friendly noodles in a spicy tomato cream sauce, pipette shells, grilled chicken, mushrooms, tomato, spinach, and Parmesan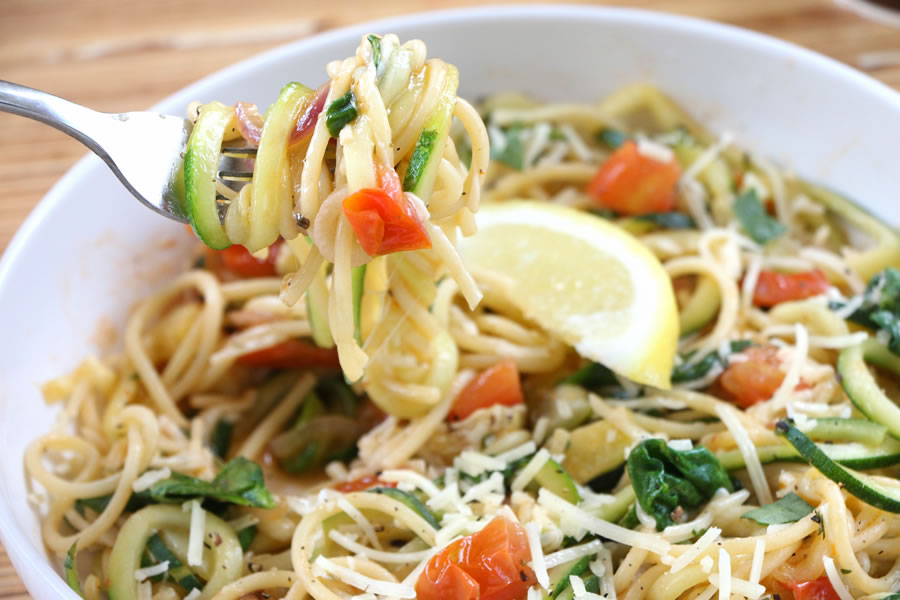 Zucchetti Garlic & Wine Sauce with Balsamic Chicken 
(Veggie packed, Mediterranean, lower in sugar)
Zucchini noodles and spaghetti tossed in white wine garlic sauce and topped with balsamic chicken, roasted zucchini, Roma tomato, spinach, onion, and basil. Finished with Parmesan and a squeeze of lemon.
If you see a noodle you like on the menu, but it's not paired up with the dish you want, just ask for it when you order. Simple as that. Noodles & Company also offers calorie information on their menu for all their dishes. But if you like to keep track of your nutritional info more closely, you can check out Noodles & Company's new dietary calculator at noodles.mymenuhd.com for more detailed information.
So whether you follow a strict low-carb diet, you're trying to go vegan or gluten-free, looking to get more veggies, or you're just super hungry, stop into Noodles & Company where there's a place at the table for everyone. I bet you never thought you could feel good about putting noodles in your meal plans again! #NoodlesForAll