Better Living uses affiliate links. If you make a purchase through them, we may receive a small commission (for which we are deeply grateful) at no cost to you.
There's nothing quite like food that's fresh off the grill. It's that smoky charred flavor that comes from fire, charcoal, and wood that you really can't replicate by other cooking methods like roasting, pan searing or frying.
Last summer when we first reviewed the Ninja Foodie Grill, Ninja's latest indoor appliance that brings the convenience of grilling indoors (it also air crisps, dehydrates, bakes and roasts), we were immediately impressed by its ability to grill food quickly and conveniently leaving it super moist, flavorful, and complete with gorgeous grill marks. Yes, I still love traditionally BBQ'd food on an outdoor grill. Who wouldn't? But the Ninja Foodie Grill is perfect for those times you don't want the hassle of dealing with an outdoor BBQ, but still want to be able to grill. It's also a fantastic solution for small space or urban living where you may not have access to an outdoor living space that would accommodate a BBQ.
You can read our original review of the Foodie Ninja Grill linked here.


BUY → Ninja Foodi 5-in-1 4-Qt. Air Fryer, Roast, Bake, Dehydrate Indoor Electric Grill

While we love how incredibly well the Ninja Foodi Grill grills for an indoor appliance, the only thing missing is that lovely infusion smokey flavor that you get only get by cooking on an outdoor BBQ. So we decided to do a little experiment to see if we could really get that same wood-smoked flavor when using the Ninja Foodi Grill.
Through a little research, I found that wood chips are your best bet when dealing with an outdoor electric grill so I decided these would work best with the Ninja. You can easily find them pretty inexpensively at the grocery store, home improvement, or hardware store in a variety of different wood types. For this little experiment, I picked up some pecan wood since it pairs well with a variety of different meats like pork and chicken. Other woods that I would like to give a try in the future are applewood, mesquite, and hickory.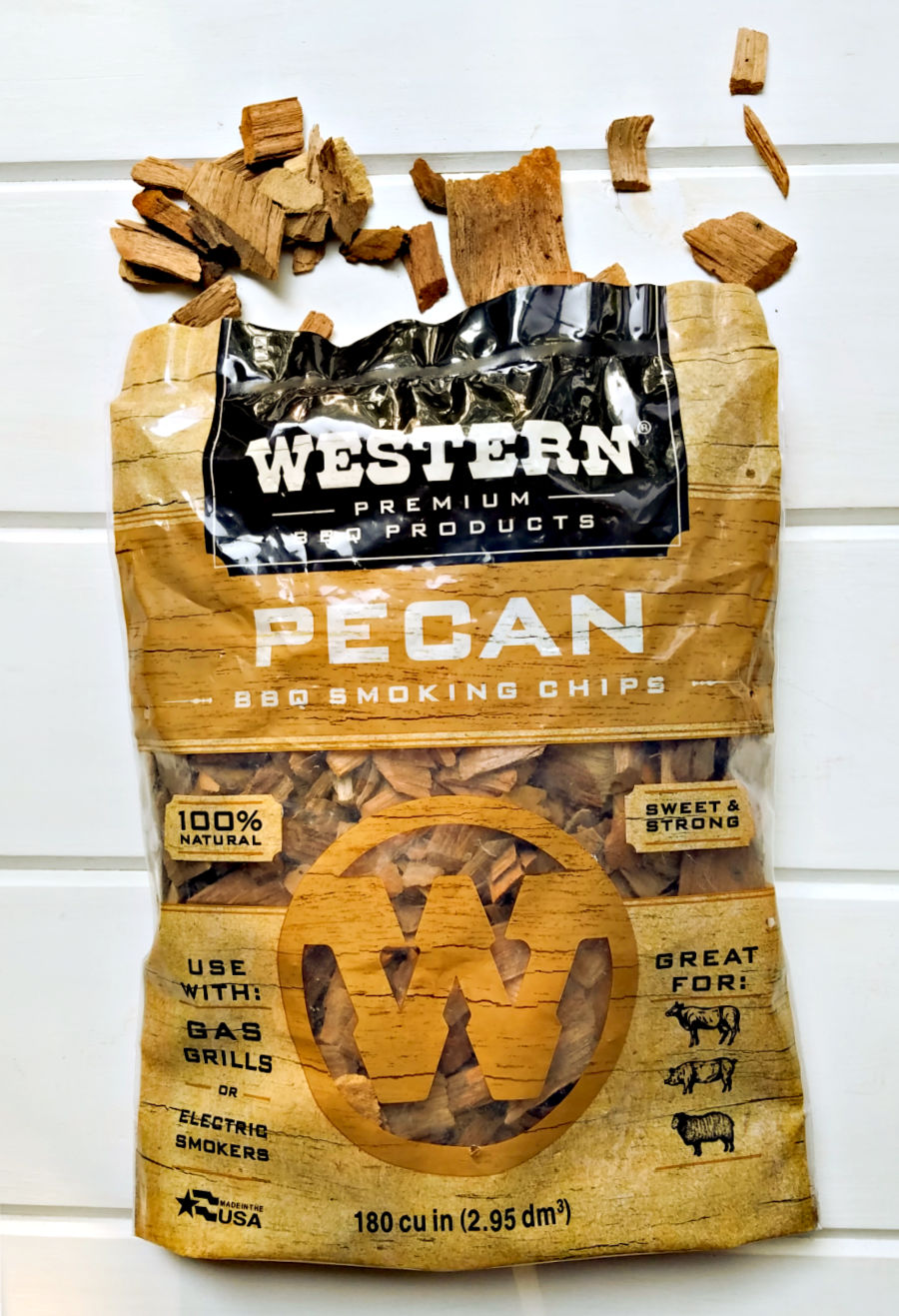 Something to Consider if You Want to Use Wood Chips in Your Ninja Foodi Grill
Here's a warning coming for you. The Ninja Foodi Grill does not make any mention of using wood chips in their instructional guide and it is not designed to wood smoke. We can't predict how this will turn out in your own Ninja Foodi Grill, so take this into consideration if you decide to try this at home.
To Soak or Not Soak?
Many pit masters recommend not soaking wood blocks or wood chips before using them in a traditional BBQ since the wood doesn't absorb much water at all and prevents burning. Researching oven smoking, almost every guide recommended soaking. We tried it both ways and soaking the chips did seem to make a slight difference flavor. If soaking your chips, be sure to soak for at least an hour in warm to hot water and drain the water before adding to the basket.
Where Do The Wood Chips Go?
The Ninja Foodi Grill's lower insert basket that catches any drippings easily fits a few handfuls of wood chips. I originally made a little foil basket for them, but after inserting the grill grate it just got flattened underneath. Keep it simple and just toss enough in the basket so they just cover the bottom.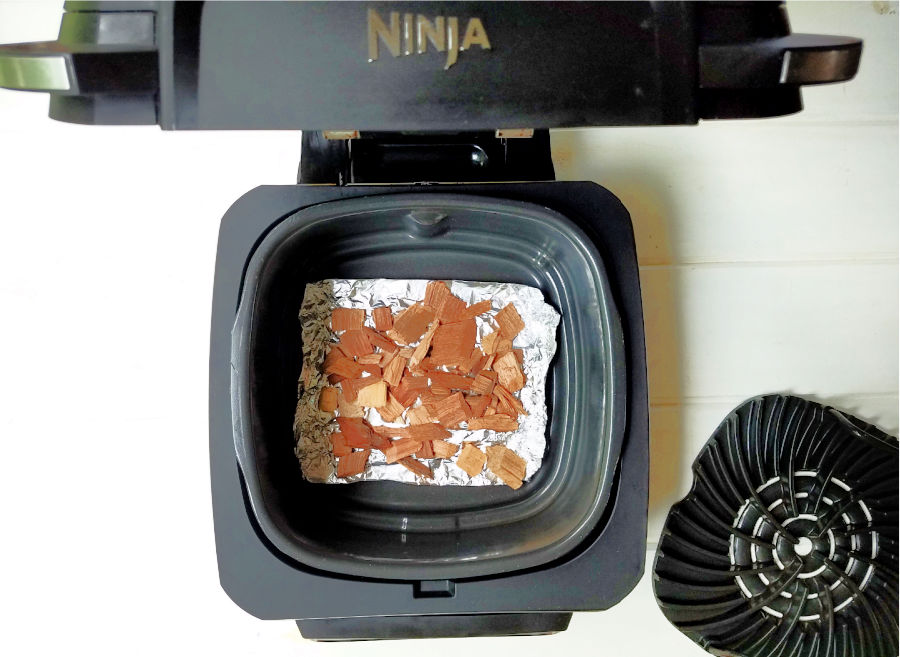 Start By Pre-Heating The Ninja Foodi Grill on The MAX Grill Setting
To give the wood chips the best chance of releasing their woody essence, we heat the Ninja Foodi Grill on the highest heat grill setting labeled as MAX (500 degrees F). Once the grill is finished preheating just lower the heat setting to your desired temp as much of the heat will be released once you open the hood to add your food.
Try Lowering Cooking Temperatures and Cooking Longer
Cooking with the Ninja Foodi Grill even once will tell you that it cooks food quickly. To get a good amount of woody flavor I recommend cooking temperatures should be cut by 25-50 degrees to lengthen the cooking time to let your food have a better shot of absorbing that woody essence. Use a meat thermometer to make sure your food has safely just come to temperature and be sure not to over-cook.
You're Going To Need An Open Window
Even though we're not dealing with fire here I suspected the wood chips might give off some smoke when heated at over 500 degrees. Just in case I dragged mine over my screened sliding back doors and set it on a small table. Sure enough, even with the door open my nearest smoke alarm was set off. When using wood chips in your Ninja Foodi Grill be sure to have some sort of ventilation in play. Bring your unit over to an open window, near a screen door, on a balcony, or even outside to your patio. If you have a good hood over your stove that can help as can a fan to blow the air towards an open window.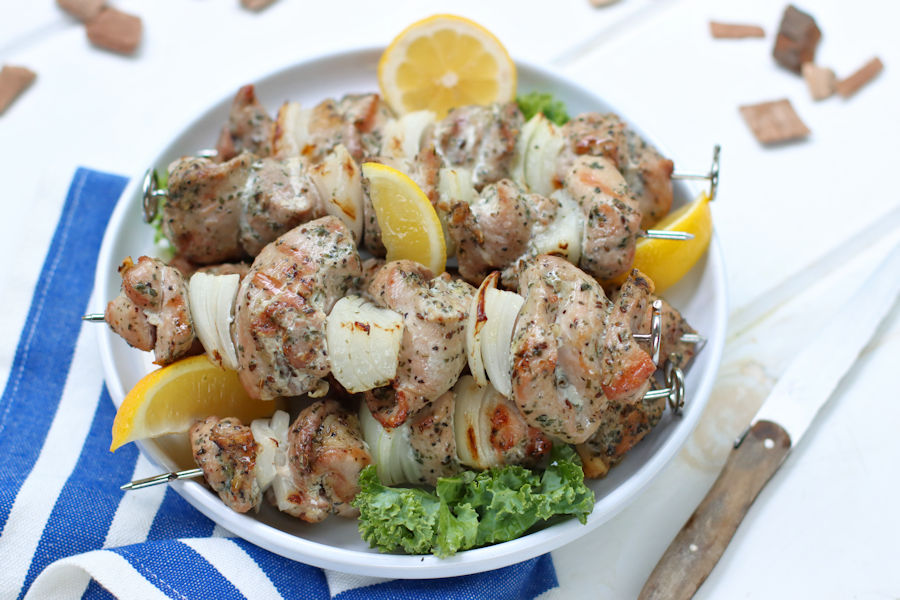 How Did It All Work Out?
Using the wood chips in the Ninja Foodi Grill definitely resulted in a noticeable and pleasant infusion of woody flavor. During the tests, I cooked both marinated pork kebabs seasoned with garlic, lemon, oregano, salt, and pepper and also chicken tandoori the following day each with cooking times of at least 20 minutes. Remember longer cooking times will allow for more wood flavor to penetrate. While there are a lot of pro recommendations for not soaking wood chips in use with outdoor BBQs, my cooking tests found the soaked wood chips gave a little more flavor. This was most likely the result of the steam from the soaked chips when pre-heating.
So all in all, the answer is yes! Yes, you can use wood chips in your Ninja Foodi Grill to enhance the flavor of your food. Just be sure to use fresh wood chips as they can lose flavor over time.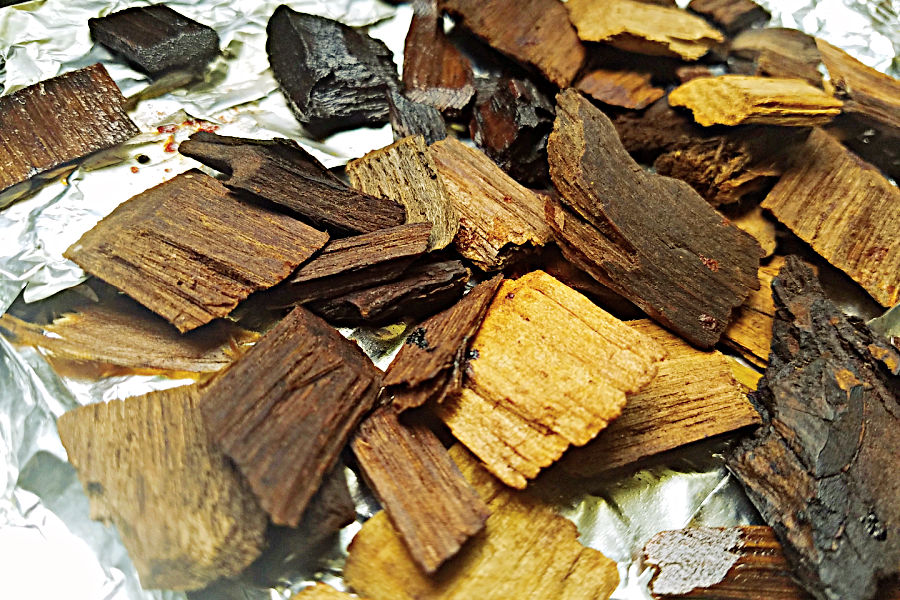 Here's How To Use Wood Chips in Your Ninja Foodi Grill
Step 1: Soak 3-4 handfuls of wood chips in a bowl in warm water for 1 hour. It should be enough to cover the bottom of the basket insert. While the wood chips are soaking, set up your Ninja Foodi Grill near a screened window, door, patio or another area with ventilation.
Step 2: After 1-hour drain the soaked wood chips and add to the bottom insert of the Foodi Ninja Grill. You can line it with foil for easier cleanup with fattier foods if you like but it's not required. Put the grill insert in next.
Step 3: Pre-heat the Ninja Foodi Grill on the Max Grill Setting to heat the wood chips. Once it is ready lower the temperature to your preferred food cooking temperature. We recommend lowering it at least 25 degrees F below what you would normally do to allow for longer cooking times so the food can have a chance to absorb the woody essence. Use with a meat thermometer to make sure food is cooked comes to a safe and proper temp.
Step 4: Cook your meat or veggies of choice as usual. When you're done cooking throw the wood chips away. Enjoy!
I'm excited to continue trying different woods and wood products with this method. Besides the pecan wood we used, there's also apple, hickory, mesquite, cherry, oak, and alder wood to choose from. Variety packs like this one from Western, Zorestar, or Jack Daniels are a fun option to experiment with to see which woods you like best. You can also mix and match and create your own blends.

BUY → Western Premium BBQ Smoking Chips Variety Pack
BUY → Zorestar Oak |Alder |Cherry | Apple Wood Chips Pack
For something a little extra, try these whiskey barrel smoking chips from Jack Daniels.
BUY → Jack Daniel's Tennessee Whiskey Barrel Smoking Chips
Woody Alternatives to Wood Chips  
Cedar planks are great for grilling fish and would be an alternative to wood chips.
BUY → Premium Cedar Planks for Grilling

These cedar grilling wraps pictured below are another great option and can be wrapped around the food as it's grilling for yummy little wood flavored packets.

Just note that both the cedar planks and wraps will most definitely need to be soaked before you start cooking. Just follow the directions on the package.
How To Get That Smokey Wood Flavor in The Ninja Food Grill With Minimal Hassle
If you're looking for that wood-smoked flavor infused into your Ninja Foodi Grill cooked food without possibly having to set your smoke alarms off, liquid smoke is your best bet. This flavoring is quite literally the concentrated essence of wood smoke in a little bottle. It's made by burning wood which is then captured through a steam distillation process. They even come in a variety of wood-like flavors like hickory, mesquite, and applewood. This stuff is pretty strong so all you need is just a few drops added to your marinade or brush lightly onto your meat and veggies before grilling.
Liquid smoke can usually be found in the same section of the grocery store as the BBQ sauces. We've also linked to a few below of the many that are available on Amazon.
BUY → Wright's Liquid Smoke in Applewood, Hickory & Mesquite
There used to be a concern that liquid smoke was harmful to our health since smoke is known to contain carcinogens. But liquid smoke products are usually filtered and distilled to remove the majority of these types of compounds. You're certainly getting exposed to these types of compounds with fire-grilled foods cooked on a traditional outdoor BBQ, so liquid smoke may even be a healthier option. They are even believed to have anti-microbial properties.
BUY → Colgin Assorted Liquid Smoke Gift Box
Some other ingredients often added to liquid smoke products include molasses, vinegar, caramel color, and salt. If you want a purer product where you can have complete control over the flavor going onto your food, look for liquid smokes made only with water and smoke concentrate included like the one made by Lazy Kettle.
BUY → Lazy Kettle Brand All-Natural Concentrated Hickory Liquid Smoke

And last, but certainly not least is the option to use dehydrated smoke flavor. This is a product made from condensed wood smoke that is then dehydrated into a powder similar to a ground spice. This stuff if very strong and a teensy tiny bit is all you need to get a powerful punch of smoke flavor. This option gives you the most bang for your buck versatility wise. Like liquid smoke, it can also be added to things like marinades, pasta or veggie salads, salad dressings, baked beans, gravy, ketchup, sauces, and the list goes on. But since this is a dry product it can also be added to rubs and spice mixes you can toss with things like trail mixes, crackers, popcorn, nuts, and chips.
It also comes in a variety of wood flavors. With its simplicity and ease of use you might just be sorry you haven't been using it all along. You can find dehydrated smoke products at really good spice shops or linked below on Amazon.
BUY → Hoosier Hill Farm Mesquite Smoke Powder
BUY → Spice Jungle Dehydrated Hickory Smoke Flavor
→ Do you or have you ever used wood chips in your Ninja Foodi Grill? Did you think it was worth it?
Let us know in the comments what's your favorite way is to add smokey flavor to your Ninja Foodi Grill food!

BUY → Ninja Foodi 5-in-1 4-Qt. Air Fryer, Roast, Bake, Dehydrate Indoor Electric Grill