Better Living uses affiliate links. If you make a purchase through them, we may receive a small commission (for which we are deeply grateful) at no cost to you.
*Noodles & Company has partnered with us to bring you this post. The opinions and information presented here are completely our own. 
There's no denying that mac & cheese can soothe the soul. If it's one of your favorite comfort foods (it's definitely one of mine) then there's something really great to look forward to this month, my friends. Put July 14th on your calendar, because it's officially National Mac & Cheese Day! And to help all of us celebrate, Noodles & Company, the world-famous mac and cheese experts, are giving away free mac & cheese! That's right. They're turning National Mac & Cheese Day into a four-day-long celebration from July 14th through July 17th. I'm pretty sure we all need this right now. 
Here's how it works:
On July 14th, customers will get a free small Wisconsin Mac & Cheese with the purchase of a regular-sized any entrée. Then from July 15th through the 17th, if you purchase any regular-sized entrée and you'll receive a Noodles Reward for a free small specialty Mac to use on your next visit. Pretty sweet! Each day of the celebration Noodles will reward a different small specialty Mac. Here's the schedule:
July 14th: Get a free small Wisconsin Mac & Cheese with the purchase of a regular-sized entree.
July 15th: Earn a BBQ Pork Mac & Cheese reward.
July 16th: Earn a Buffalo Chicken Mac & Cheese reward.
July 17th: Earn a Ham & Gruyère Mac & Cheese reward.
If you love trying new things, Noodles & Co.'s brand new Ham & Gruyère Mac & Cheese dish is launching on July 17th. With applewood smoked ham, creamy Gruyère cheese, thinly sliced green onions, and toasty breadcrumbs, we can't wait to give this yummy dish a try. Yay for a new mac & cheese!
To get your free, small mac you'll need to sign up for a Noodles Rewards account either online or on their app. You can find the links for that down below.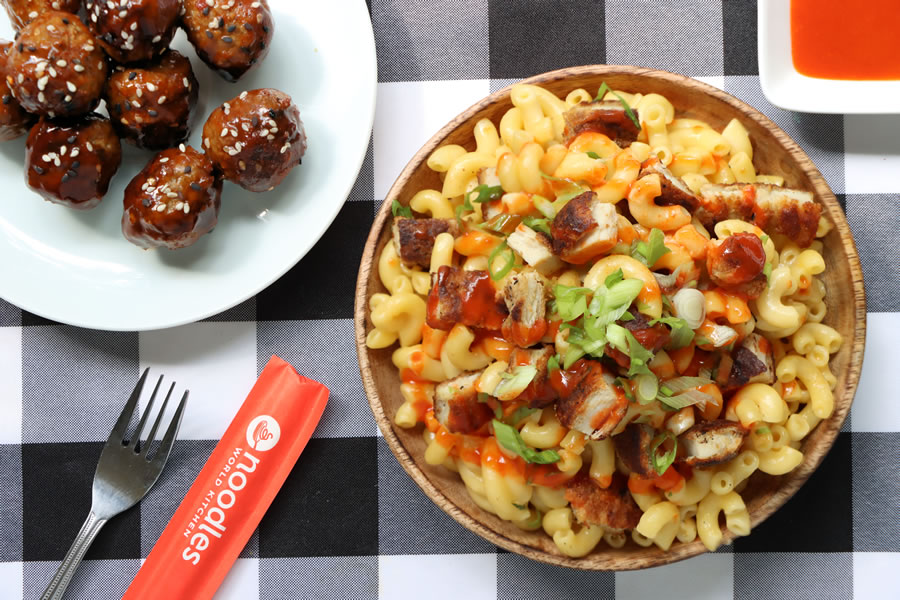 Why We Love Noodles & Company's Mac & Cheese
Customization is one of my favorite things about ordering from Noodles & Company and there is a mac & cheese option for just about everyone. Stay classic and try their delicious world-famous Wisconsin Mac & Cheese, or go for one of their awesome specialty dishes like Buffalo Mac & Cheese, with parmesan chicken, Frank's RedHot® Buffalo Wings Sauce, parmesan cheese and green onions or their BBQ Pork Mac with tender, slow-braised pork, crispy jalapenos, and tangy barbeque sauce. Have an idea for your own personal ultimate mac & cheese flavor? Then just customize your own with any of their proteins, sauces, and add-ins.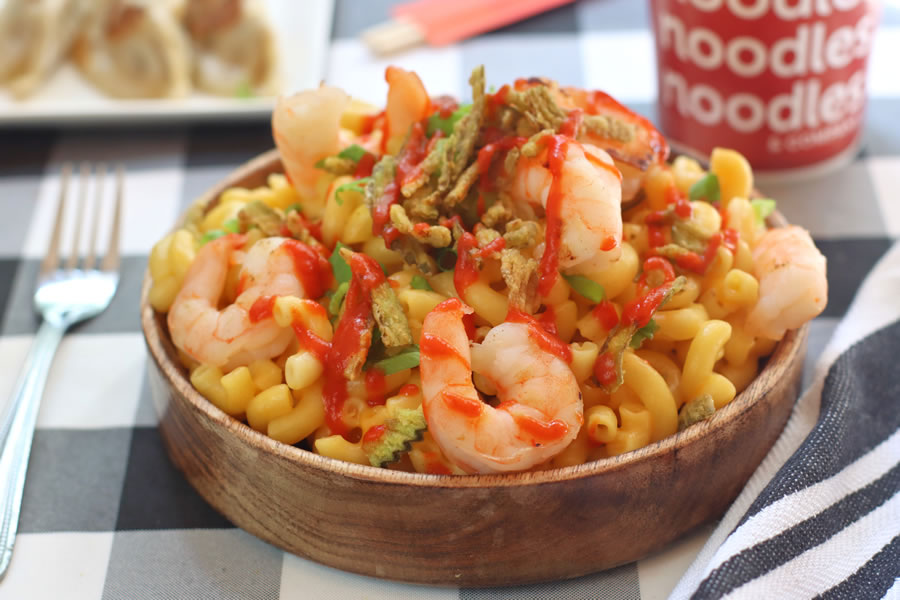 We created a Spicy Shrimp Mac & Cheese and customized it with fried jalapenos, green onion, and a drizzle of sriracha. Totally yummy!
They even have noodles that can work with most lifestyles. Gluten-free noodles, zucchini noodles and their veggie-infused caulifloodles (we can all use more veggies) can be subbed in for any of their dishes. We love their Zucchini Truffle Mac & Cheese. Made with their famous cheese sauce, black truffle, roasted mushrooms, parmesan cheese and a sprinkle of toasted breadcrumbs, this is the perfect dish if you're staying low-carb. But, you need to act fast, because today is the last day  Zucchini Truffle Mac & Cheese will be on the menu.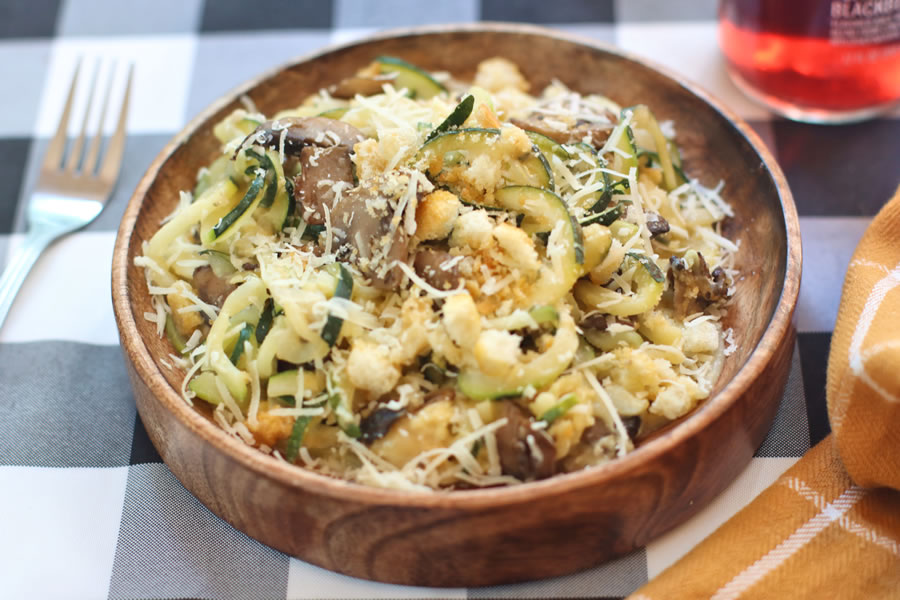 For an extra punch of protein on any of your mac & cheeses, there's plenty of options like grilled chicken, parmesan-crusted chicken, oven-roasted meatballs, naturally raised pork, marinated steak, sauteed shrimp or seasoned tofu.
Even if you're trying to stay safe and you're not heading out of the house much these days, there's no reason why you can't join in on the fun. Noodles & Company has instituted a variety of safety measures in their restaurants to keep their customers and staff safe. There's always a quick in-store food pickup option available, but you can also choose to use their contactless curbside pickup or free delivery service offered through specific participating locations. Ordering is super easy through their website and on their app.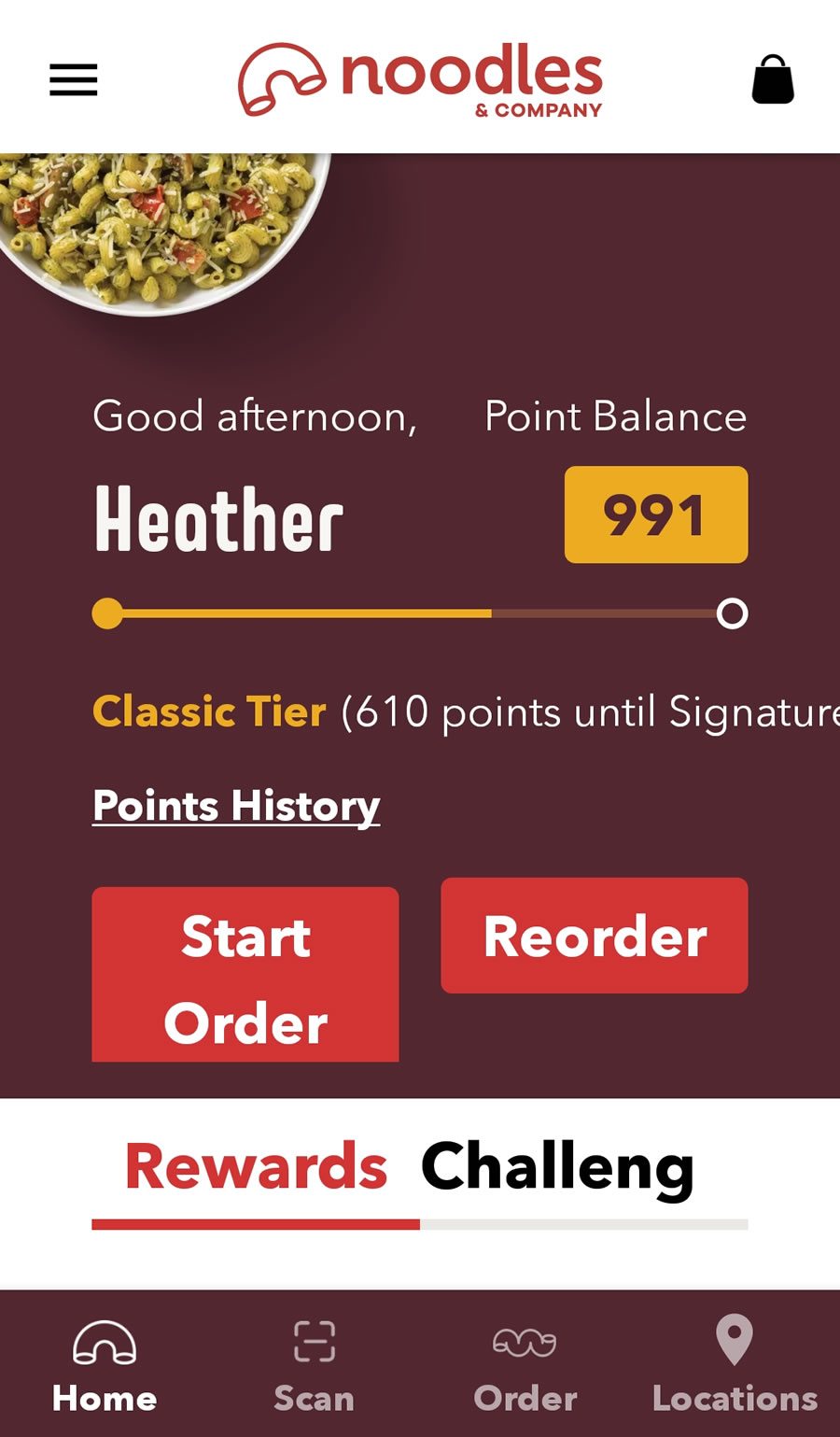 Here's How To Score Your Free Mac & Cheese
To get your free Mac & Cheese, be sure to join the Noodles & Company Noodles Rewards Program before you head to Noodles & Company on National Mac & Cheese Day! Once you're a member, you'll be rewarded with a free small specialty mac with the purchase of one regular-sized entree.
To join you can sign up here, or for even more convenience and freebies, we suggest you download their app too. 
With the Noodles & Company Rewards app you can:
Earn freebies!
Redeem reward points for free stuff like drinks, shareables, entrees, sides, and desserts
Order your food ahead of the line for pick-up, contactless curbside or delivery

Save your favorite orders for even quicker future ordering

Keep track of your reward points

Find local restaurants
Just look for your special offers in the Noodles Rewards app or when you sign-in to your account online.
You can be sure I'll be celebrating this year right from the comfort of my cozy bed. Explanation? It's 2020.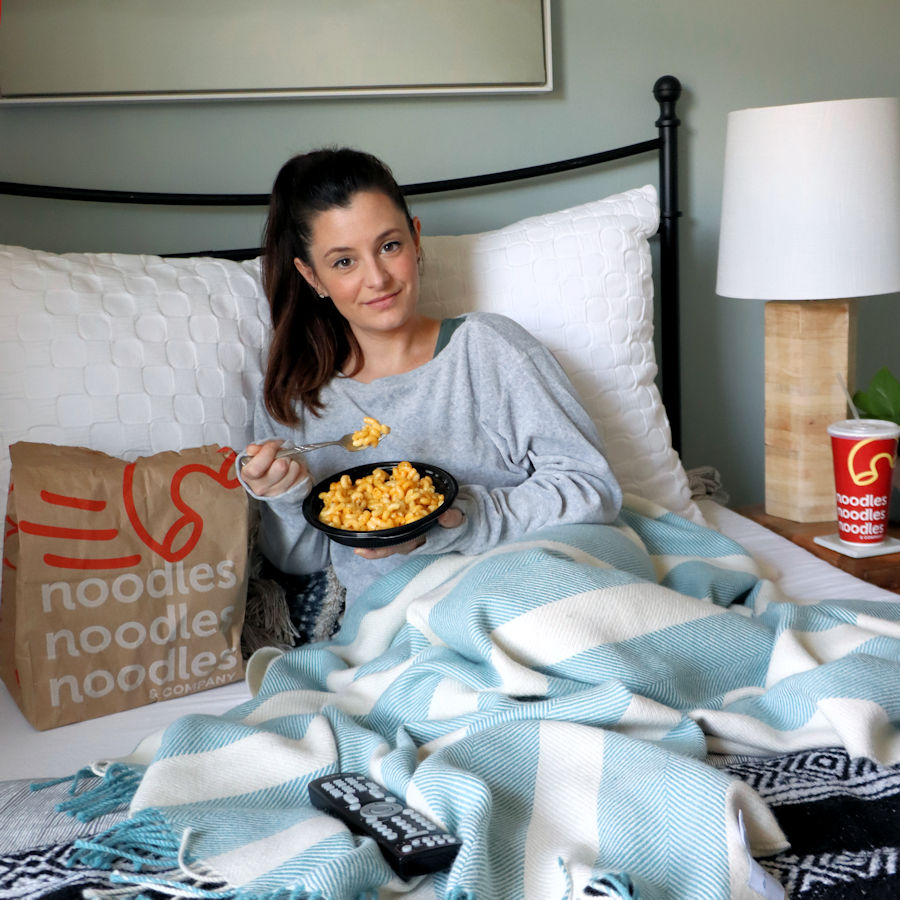 Don't Forget To Join The Noodles Rewards Program! 
OR