Better Living uses affiliate links. If you make a purchase through them, we may receive a small commission (for which we are deeply grateful) at no cost to you.
This is a sponsored post written by me on behalf of Premier Protein. All opinions are 100% mine.
Fall is officially here, which means it's that pumpkin spice time of year again. If you love pumpkin spice like we do, but are also looking for delicious and healthy ways to get more protein into your diet, don't miss out on Premier Protein's limited-edition Pumpkin Spice Protein Shake!
Since Premier Protein has won the American Masters of Taste Gold Medal for SUPERIOR TASTING ready-to-drink protein beverages every year since 2015, we think they kind of know what they're doing. We've tried them, they taste like rich pumpkin spice heaven, and now we're officially in love.
What's in Premier Protein Pumpkin Spice Shakes?
Not only are they super delicious, low-calorie, and low-carb, but these Premier Protein Pumpkin Spice Shakes are packed with protein. That means even though they taste dessert-like, you can indulge in your favorite fall flavor all season without having to feel one fallen acorn of guilt. Just be aware these do contain dairy if you're eating dairy-free.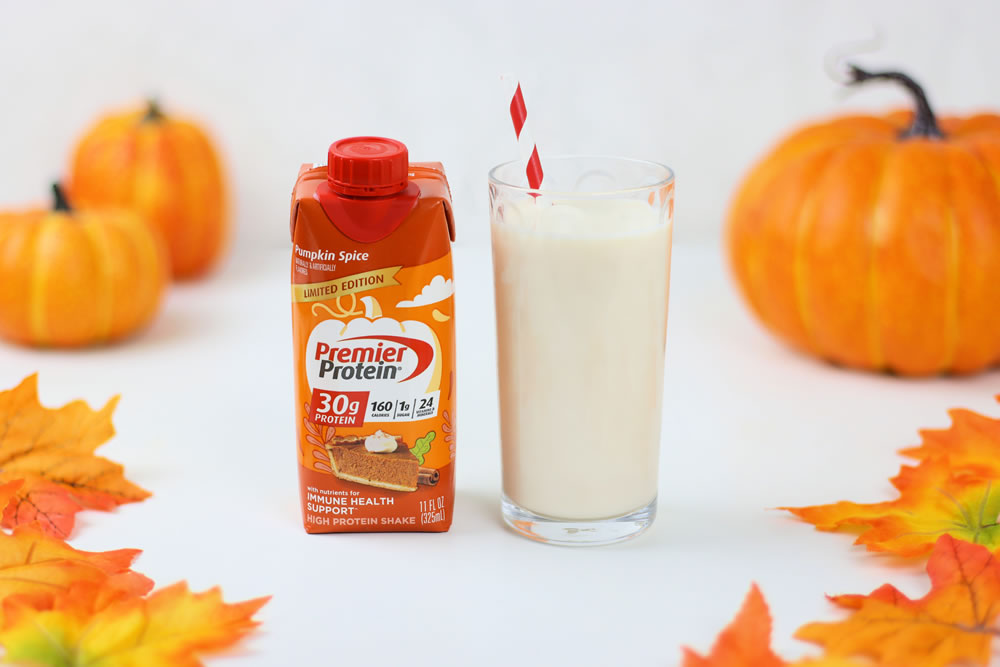 Here's What's in a Premier Protein Pumpkin Spice Shakes (11 oz.):
30g Of Protein:

Not eating enough protein can cause a variety of health issues like low energy, sugar cravings, as well as muscle weakness, bloating, and weight gain. If you find it hard to get enough each day, these shakes are the perfect way to help you meet your daily protein goals, especially on the go.

2 Net Carbs and 1g of Sugar:

Whether You're on a low carb diet or just watching your sugar intake you don't have to worry about calorie-laden carbs. 

160 Calories:

With only 160 calories, pumpkin spice never tasted so good!

24 Vitamins & Minerals to Support  Immunity and Health:

Unlike other protein shakes available, Premier Protein Shakes include a variety of important essential nutrients and antioxidants that can support your immune system and help give your body the nutrients it needs. Along with B vitamins like biotin, folate, B6, and B12, these shakes also contain Vitamins A, C, E, and K, as well as minerals like zinc, selenium,  phosphorus, magnesium, manganese, and molybdenum. 
They're Gluten-Free and Soy-Free Too!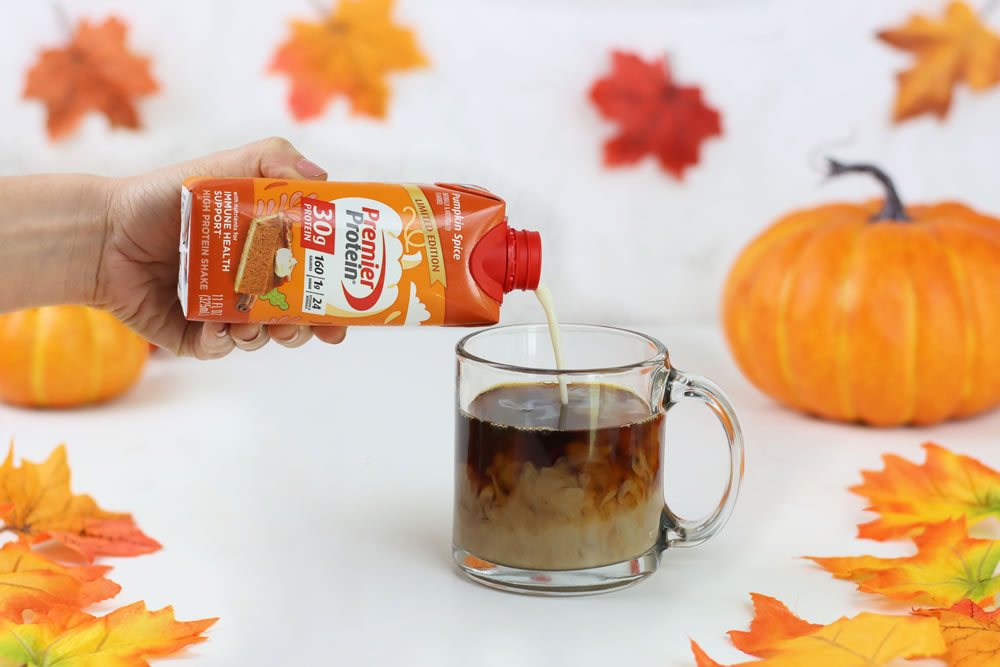 We're Getting Inspired: How To Use These Shakes In Your Day
We love taking these Premier Protein Pumpkin Spice shakes with us when we're on the go or having them as a light breakfast. But as flavorful as they are, they're also super versatile. 
You can also use them as:
A pre-workout, post-workout, or healthy afternoon snack

A protein-packed creamer for your coffee or tea.

The base for a healthy latte or cappuccino.

A liquid replacement in your favorite homemade baked goods like pancakes and muffins.

A delicious base for oatmeal, overnight oats or chia pudding.

A substitute for your cereal milk 
My new guilt-free way to enjoy Premier Protein's Pumpkin Spice Protein shake as a stand-in for the heavy cream and sugar in a lighter fall flavor-inspired version of crème brûlée. A French dessert, crème brûlée, which translates as burnt cream is traditionally a dish of rich custard made with heavy cream, egg yolks, sugar, vanilla, and sometimes a pinch of salt. Blanketed with a layer of hardened caramelized sugar it's usually an indulgent treat. Until now.
It's a yummy, protein packed dessert that will instantly get you into the fall spirit!
Plus they're super so easy to make. You'll just need a few ramekins, crème brulée dishes, or any small heat-safe baking dishes. If you don't have a culinary torch to burn the tops, you can simply pop them under the broiler for a couple of minutes instead.
Get The Recipe!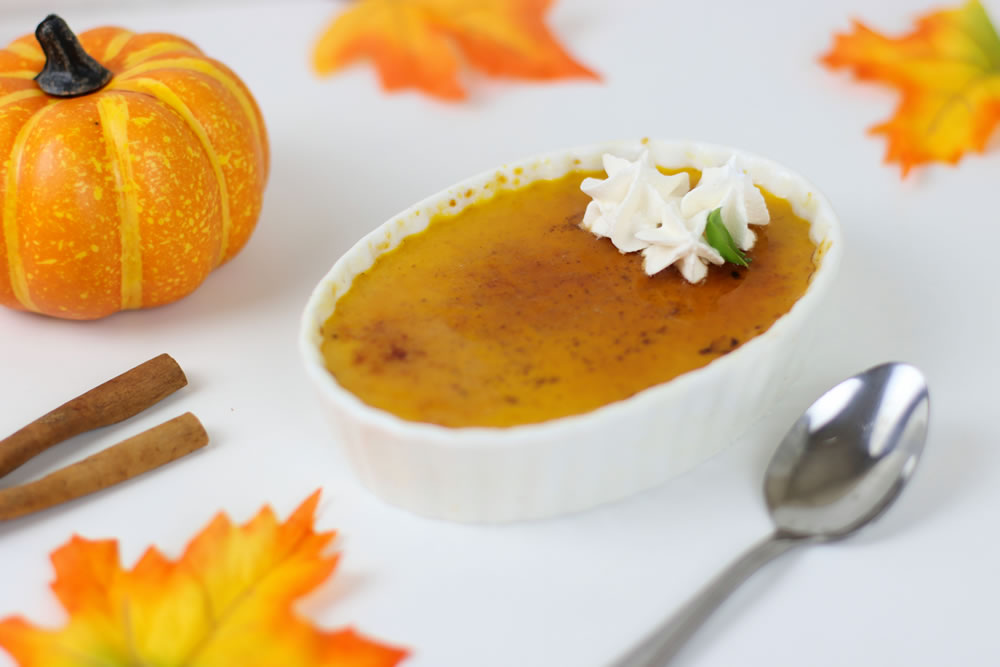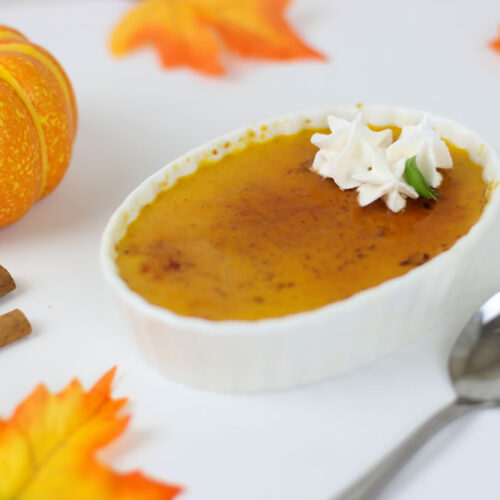 Healthy Pumpkin Spice Crème Brulée
If you love crème brulée, but hate the fat and sugar, this lightened up version made with Premier Protein's Pumpkin Spice Protein Shake is perfect for fall.
Equipment
Baking Sheet

creme brulee dishes or ramekins

culinary torch (optional)
Ingredients
1

cup

of Premier Protein Pumpkin Spice Shake

3

egg yolks

⅓

cup

of pumpkin puree

*not pumpkin pie filling

1

teaspoon

vanilla

¼

teaspoon

cinnamon

1

pinch

salt

4

teaspoons

sugar (use erythritol for a sugar-free version)
DIRECTIONS
Preheat your oven to 325° degrees. Then lay your ramekins on a baking sheet small baking sheet.

Heat 3 cups of water until almost boiling in a kettle or the microwave. This will be poured into the baking sheet to create a water bath.

Mix all the ingredients together in a bowl (except the sugar or erythritol) until well blended and smooth. You don't want it to be foamy otherwise the top won't bake up nice and flat. If it is, you can strain it through a fine-mesh sieve to get rid of the bubbles and foam.

Then, divide the mixture evenly between the ramekins and then gently place the pan in the oven. Before closing the oven door, carefully add your hot water to the pan. Try not to splash the water. It should reach about halfway up the sides of the ramekins.

Total baking time will depend on the size of the baking dishes or ramekins you choose. Four-ounce dishes should bake up in about 12 minutes where 6-ounce crème brulée's will cook up in about 15 and should jiggle just a bit in the center.

Once they're done baking, let the cème brulée cool. Then chill them in the fridge for 2 hours or even overnight to set.

Thinly dust the tops of the crème brulées with about 1 to 2 teaspoons of sugar (or erythritol). Pick up the dish and tilt it from side to side to allow the sugar granules to reach every nook of the crème brulée's surface. Pour off the excess sugar and then using your culinary gun, heat the sugar until it melts and creates a glassy caramelized shell on the top. Allow it to cool and harden a few minutes before serving.

Note: If you don't have a culinary torch, place them under a preheated broiler with the oven door open for about 2 minutes or until the sugar caramelizes.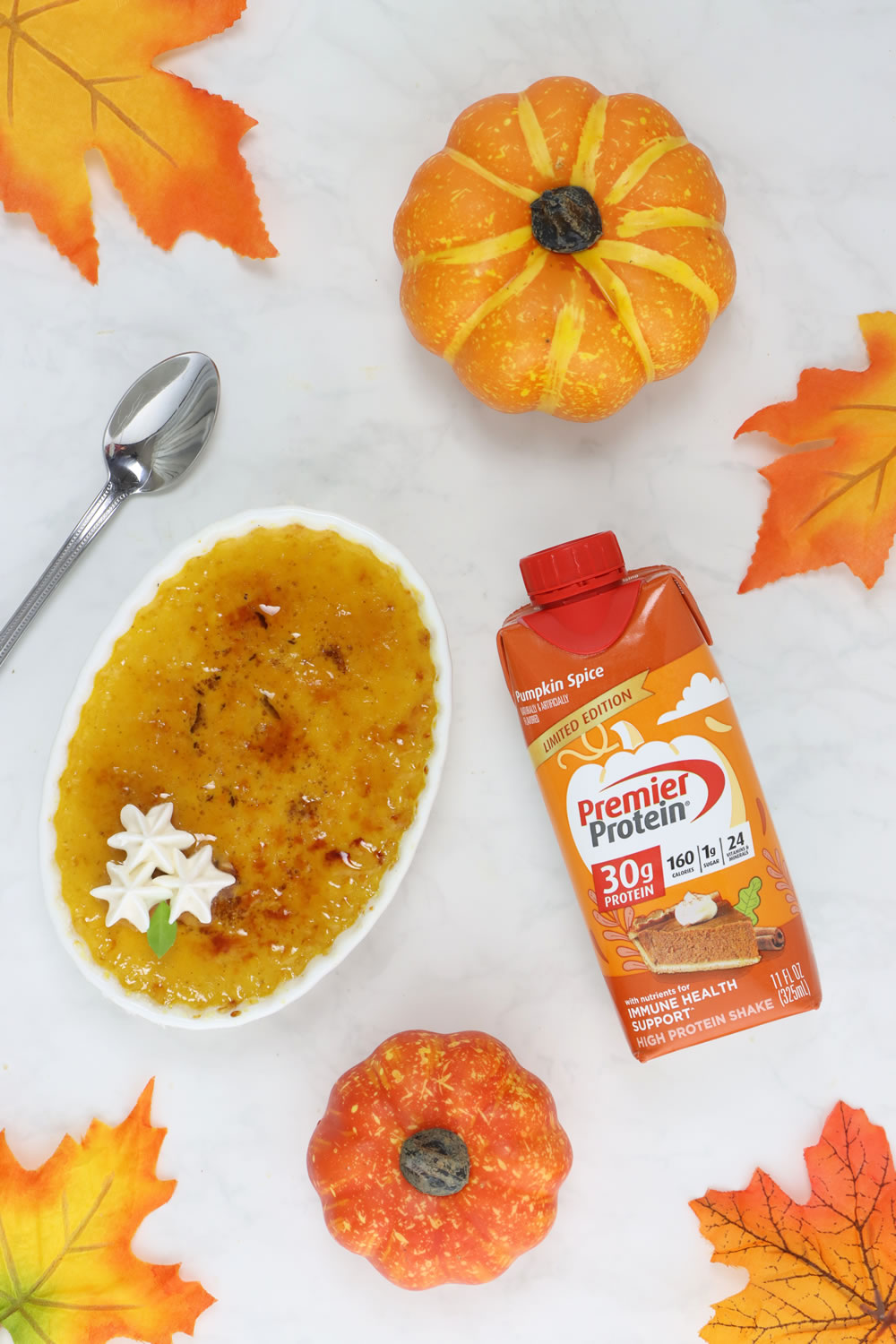 Where Can I Find Premier Protein's Pumpkin Spice Protein Shakes?
Premier Protein's Pumpkin Spice flavor isn't here to stay, so make sure to stock up so you can make your healthy and delicious pumpkin spice protein moments last. What's your guilt-free way to enjoy the Pumpkin Spice flavor?
Visit premierprotein.com to find where you can get more recipe ideas and find out where to score your Pumpkin Spice Protein Shakes before they're gone for the season.