Better Living uses affiliate links. If you make a purchase through them, we may receive a small commission (for which we are deeply grateful) at no cost to you.


I probably don't have to tell you that nachos are the best. And nachos in the summer? Even better.  And as it turns out spicy, juicy jerk chicken is the perfect flavorful protein for nachos. So for this recipe, we take shredded jerk chicken made with skinless boneless chicken breasts and make up a batch of delicious summery Caribbean inspired nachos for the perfect warm weather snack. We then top it off with some light and refreshing tropical flavors like fresh pineapple, red onion, and cilantro. And it's nachos so of course there's lots of cheese.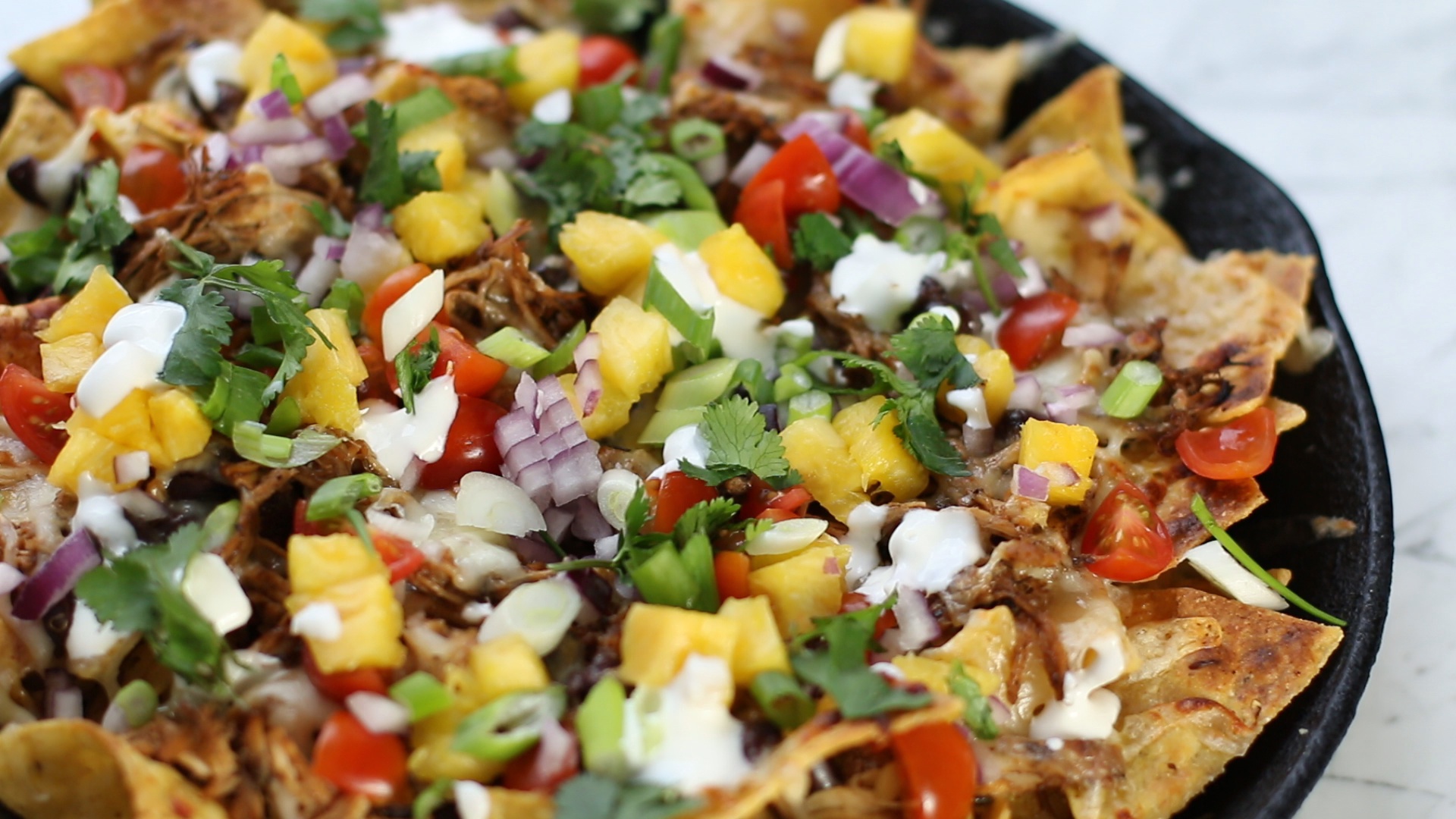 Jerk chicken is prepared in Jamaica with whole chickens, marinated overnight. It is then grilled and traditionally smoked over pimento wood from the same tree that gives us allspice. But we wanted to create a jerk chicken recipe that is a little more set it and forget it and gives us a little more time to relax this summer. So we picked up some super fresh Signature Farms® Boneless Skinless Chicken Breasts at our local Safeway and got out that old slow cooker. Less time cooking in a hot kitchen means more time to enjoy ourselves. If you're kind of over your slow cooker right now we get it. This recipe will work perfectly with your Instant Pot as well. The recipe card below has directions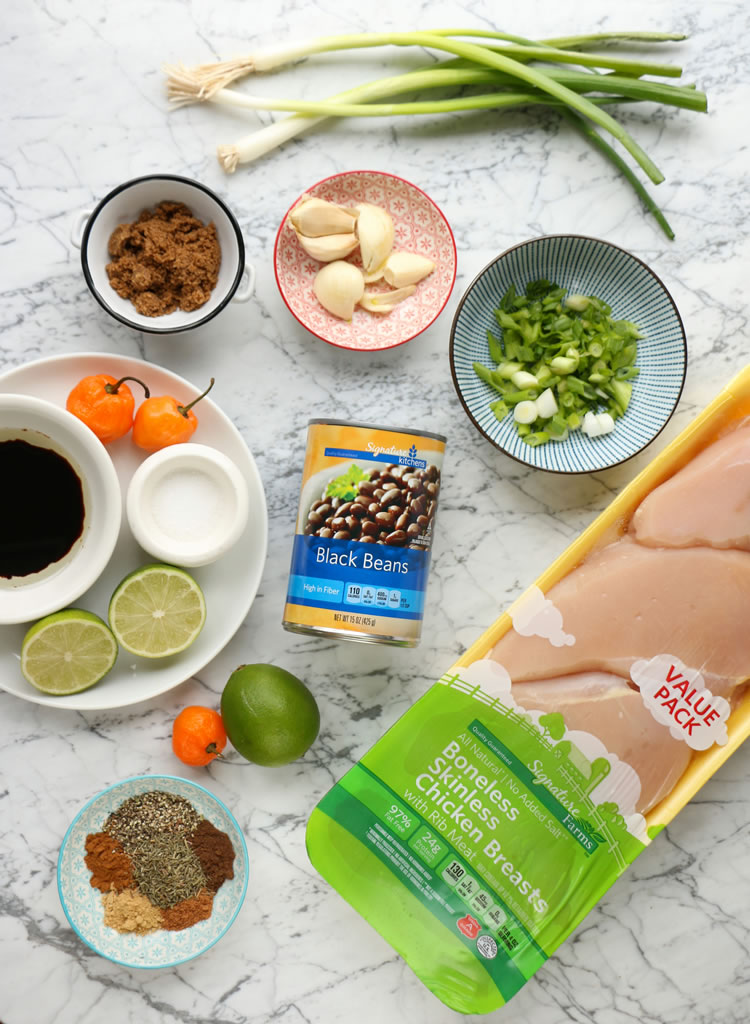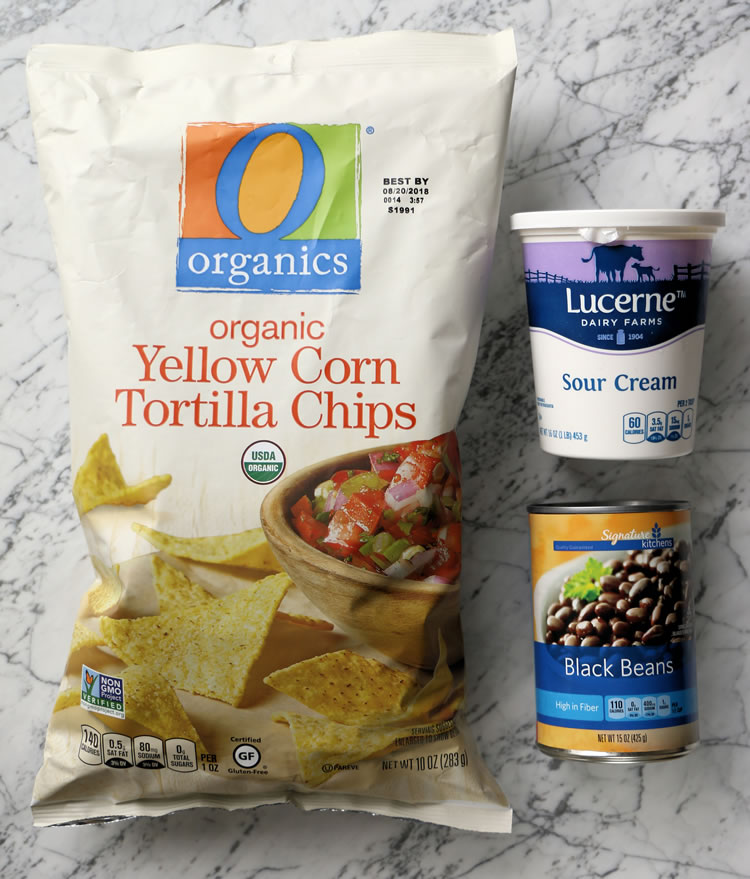 Once the chicken breasts are in the slow cooker we start on the jerk sauce. Blended with ingredients like soy sauce, lime juice, and garlic, as well as typical aromatic Jamaican jerk spices like allspice, ginger, cinnamon, and nutmeg, the marinade is then poured over the chicken and set to cook. In our sauce, we used ground ginger but fresh would be amazing as well. Scotch bonnet peppers, an authentic jerk ingredient that gives heat and flavor are also included. These are very hot and should be handled with gloves while removing the seeds. Removing the seeds will also the help to tame the heat.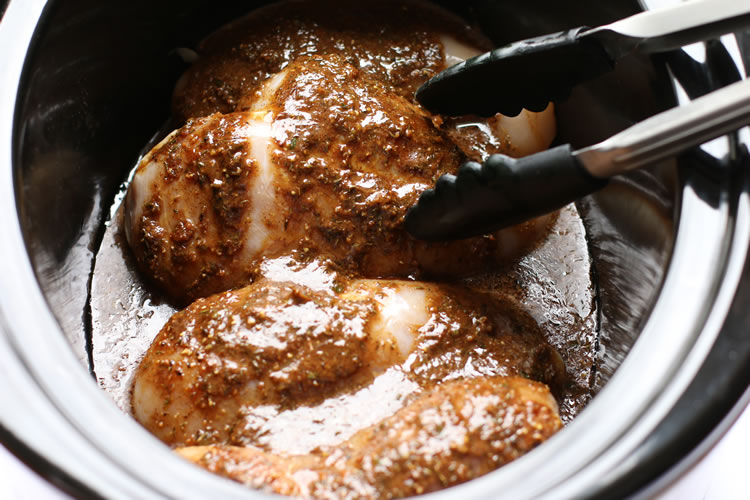 For 3 lbs. of chicken breast, set the slow cooker on 4 hours on high or 6 hours on low. You'll know the chicken is ready when it really super fork tender. It should also be easily shreddable. This can be easily done by taking two forks, inserting them into the chicken with backs opposite each other and pulling the meat into shreds. Shredding the jerk chicken not helps the chicken soak up all the delicious sauce but the texture works great on top of the nachos.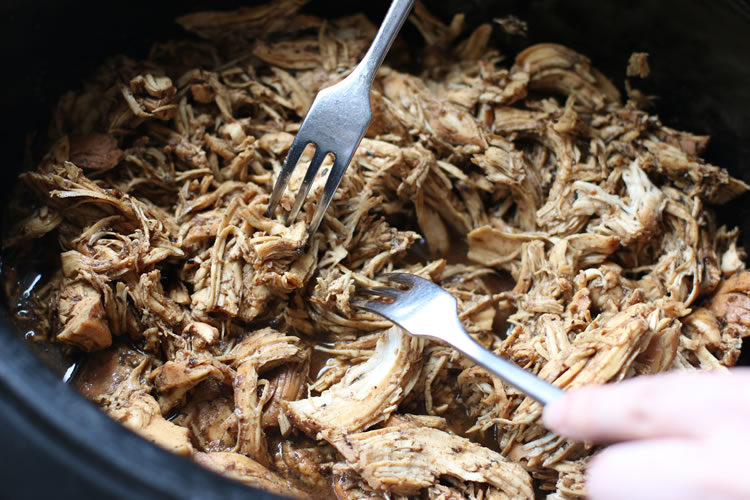 BONUS: the leftover shredded jerk chicken is perfect to use to stuff tacos, burritos, over salad or served in a bowl over rice and beans. It also freezes beautifully. It's great for when you're in need of a quick weekday dinner.
Now you can finally start to build your nachos! Grab your favorite tortilla chips and spread them out on a baking pan, skillet or oven proof dish. Super flavorful and authentic tasting O Organics® Yellow Corn Tortilla Chips are our go-to chips. Then cover the tortilla chips with a blend of Monterey Jack and mozzarella and the cooked shredded jerk chicken. We then add a sprinkle of Signature KitchensBlack Beans, MORE cheese and then bake them in a 350-degree oven until melted and bubbly. We recommend not using the broiler as it tends to burn the chips before the cheese gets a chance to melt.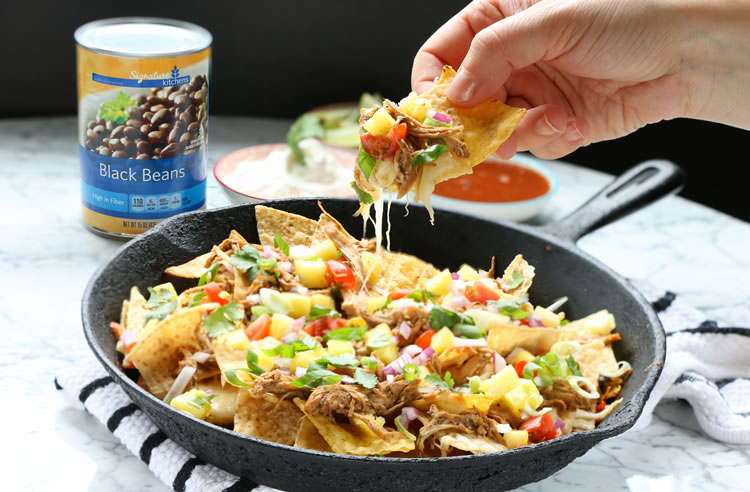 Just before serving we garnished the nachos with diced pineapple, tomatoes, red and green onion, cilantro and little sour cream to cool. Absolutely DELICIOUS! Serve with scotch bonnet style hot sauce to add some tang and zip that will put these Jerk Chicken Nachos right over the top.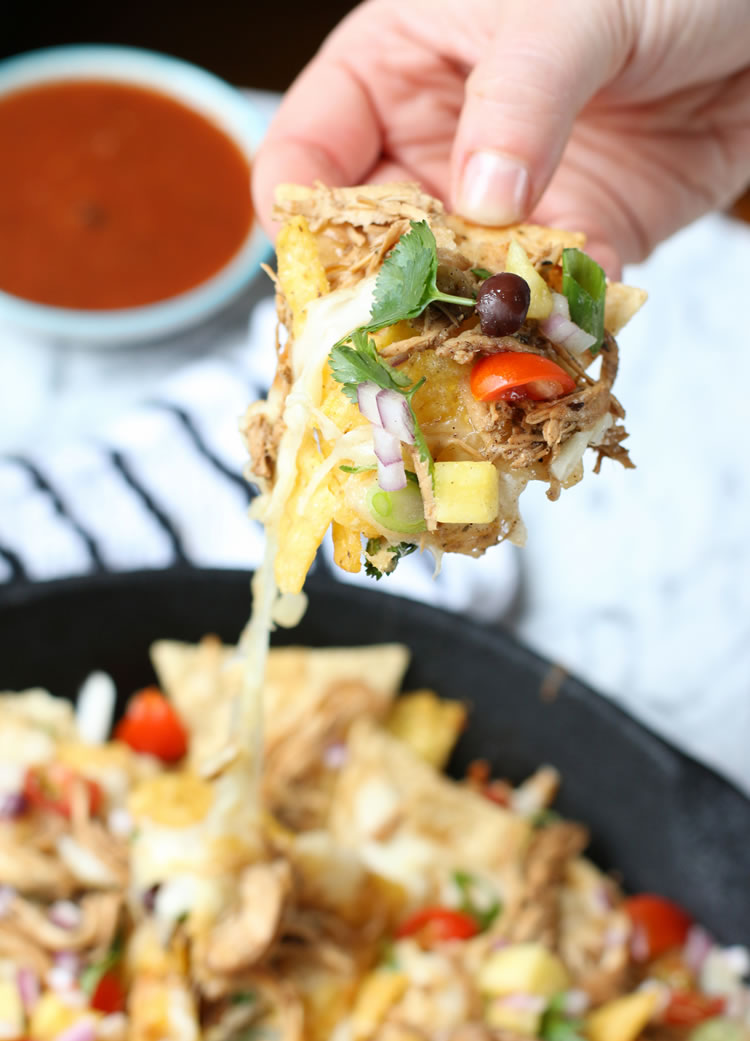 Get the recipe!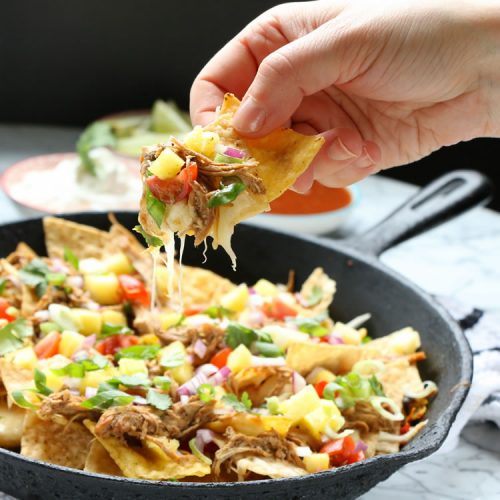 Slow Cooker Jerk Chicken Nachos
Spicy flavorful Jerk Chicken is cooked in a slow cooker, shredded and then baked on tortilla chips with cheese and black beans. It's then baked in the oven and garnished with pineapple, tomatoes, red onion, scallion, cilantro and sour cream for the perfect batch of summer nachos to serve at your next party.
Ingredients
JERK CHICKEN INGREDIENTS
3

lbs

Signature Farms Chicken breast

1/2

tsp

salt

1/2

cup

green onion (scallions)

1/4

cup

soy sauce

1/4

cup

vegetable oil (like olive, coconut or avocado)

1/4

cup

lime juice

3

cloves

garlic

2

tbsp

brown sugar

1

tablespoon

thyme

3

tsp

black pepper

3

tsp

allspice (ground)

2

tsp

cinnamon

2

tsp

nutmeg

2

tsp

ginger, ground (may use 1 tbsp fresh)

1-2

scotch bonnet peppers, deseeded

Use gloves while chopping!
NACHO INGREDIENTS
1

bag

Tortilla Chips ( we love O Organics Yellow Corn Tortilla Chips)

1/3

cup

Signature Kitchens Black Beans

2

cups

Monterey Jack cheese, shredded

1

cup

mozzarella cheese, shredded
NACHO TOPPINGS
1

cup

fresh pineapple, diced

1/2

cup

tomatoes, diced

1/4

cup

green onion (scallion)

1/4

cup

red onion, diced

3

tbs

sour cream

1/8

cup

cilantro, chopped
DIRECTIONS
Place all the jerk sauce ingredients in a blender. Blend until smooth. Set aside.

SLOW COOKER DIRECTIONS

Place the chicken breast in the slow cooker. Season with salt. Pour jerk sauce over the chicken. making sure to coat evenly. Place lid on the slow cooker and set for 6 hours on low OR 4 hours on high. The chicken is done when it is fork tender. Shred the chicken with two forks. This can be done inside the crockpot Set aside.

INSTANT POT DIRECTIONS

Place the chicken breast in the Instant Pot and pour in the jerk sauce.

Place the lid on the Instant Pot, lock in place and making sure the lid seals. S

et the timer for 15 minutes for 3 lbs of chicken. Larger pieces will need more time.

When the timer is finished, turn the pressure valve to "venting" and allow the pressure to release. Carefully r

emove the lid and transfer the chicken to a dish preserving all the juices.

Shred the chicken with two forks gently pulling the meat. Set aside

Preheat oven to 350◦ F (175◦ C). Place tortilla chips in an oven proof dish, skillet or on a baking sheet. Sprinkle with cheese, shredded jerk chicken, and black beans. Bake for 15 MINUTES or until melted and bubbly.

Before serving top nachos with pineapple, tomatoes, red onions, scallions, sour cream, and cilantro. Serve with your favorite scotch bonnet hot sauce and salsa on the side. ENJOY!!!
All the amazing ingredients for this recipe, including the Signature Farms Boneless Skinless Chicken Breasts and the Signature KitchensBlack Beans, are available exclusively at my local Safeway at a great value.
If you don't have a Safeway in your neck of the woods no need to worry! You can also find these products exclusively at all Albertsons Companies family of stores, including Albertsons, ACME Markets, Jewel-Osco, Vons, Pavilions, Randalls, Tom Thumb, Shaw's, Star Market, and Carrs/Safeway.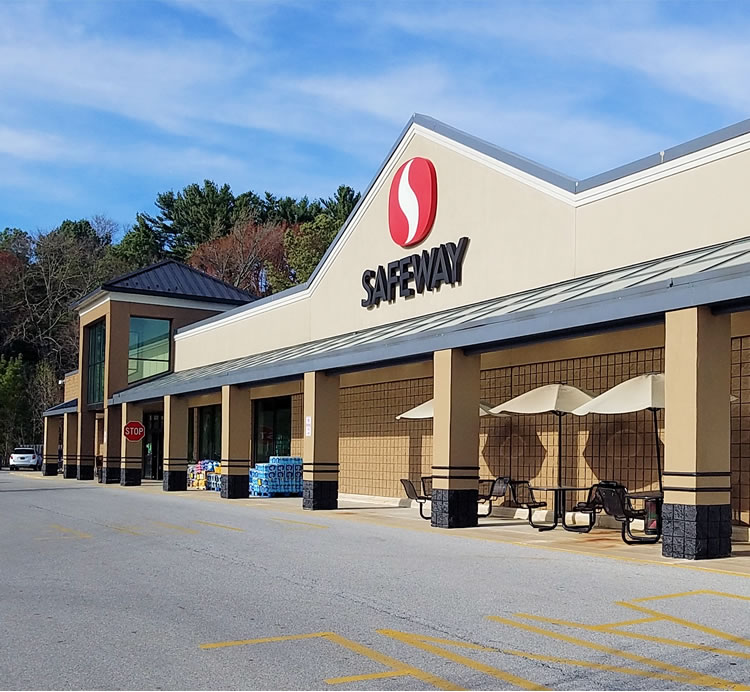 Visit Safeway.com to find a store near you or more meal prep tips and recipe ideas.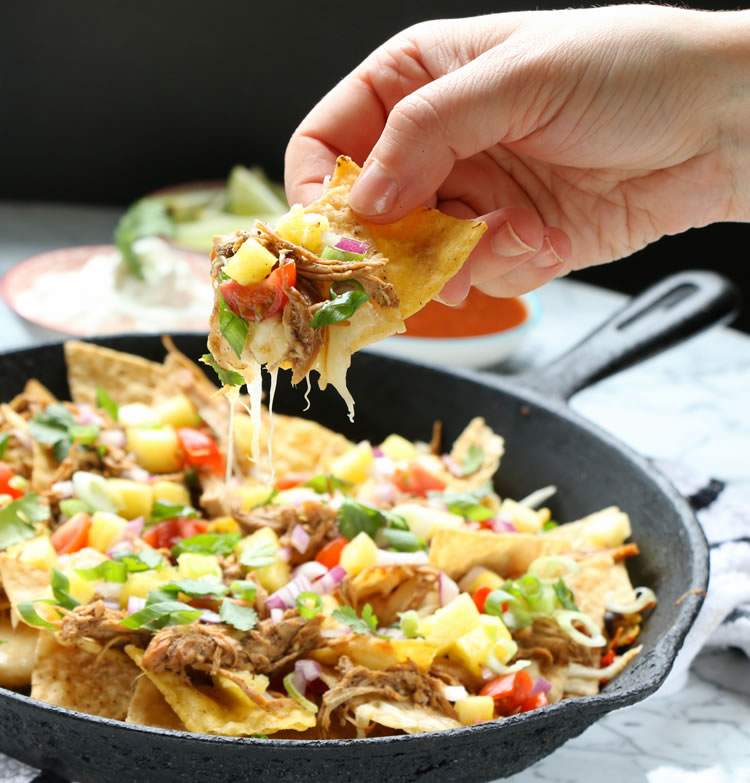 * This is a sponsored post written by me on behalf of Safeway.