Better Living uses affiliate links. If you make a purchase through them, we may receive a small commission (for which we are deeply grateful) at no cost to you.
*This post is sponsored by our friends at Powerizer. The information and opinions presented are here are all ours.
Getting your home ready for the holidays doesn't just mean putting up some great decorations and baking up a storm. Of course, that's part of it too, but it also means preparing your home by cleaning it from top to bottom. Especially if you're planning on having guests stay over. And even if you're not, there's no better feeling than having your home sparkle to start the new year off right.
But one of the most annoying parts about doing a whole house clean for the holidays (besides all the time) is getting together all the products you need. Like me, you probably have a cleaning caddy filled with 10 or more cleaning products. One for the kitchen, one for the toilet, one for the tub, one for the dishwasher and the list goes on and on. And that doesn't include all the laundry care products. Not only is this stuff expensive, but most of the time I'm thinking they don't even work that great.
We recently heard about Powerizer, a new super concentrated green cleaning product from the inventor of Orange Glo and OxiClean that claims it can clean every inch of your home replacing all those products we just talked about. We tried it out and we're totally sold. Made in the USA, Powerizer is engineered to clean like nobody's business with just one small scoop. It uses the cleaning power of sugar to remove film, dirt, build-up, soap scum, stains and residue that the other detergents we're all buying leave behind.
With Powerizer you can ditch all those other cleaning products and simplify your entire cleaning routine with one product. And it isn't just great in kitchens and bathrooms. It can clean your dishes and the inside of your dishwasher, all your linens and your washing machine plus your sinks, toilets, floors, tiles, grout, walls, upholstery, carpets and just about everything in between. And just think of all the money you can save.
Even better, Powerizer is completely non-toxic, environmentally friendly, biodegradable, hypoallergenic and made of naturally derived ingredients. (Don't you just hate all those toxic cleaners?) It also has a lovely fresh scent that's not overpowering and free of heavy perfumes and other damaging additives
Here's Everything You Can Clean In Your House For The Holidays (Or Any Day) –  Using 
Only: 
Powerizer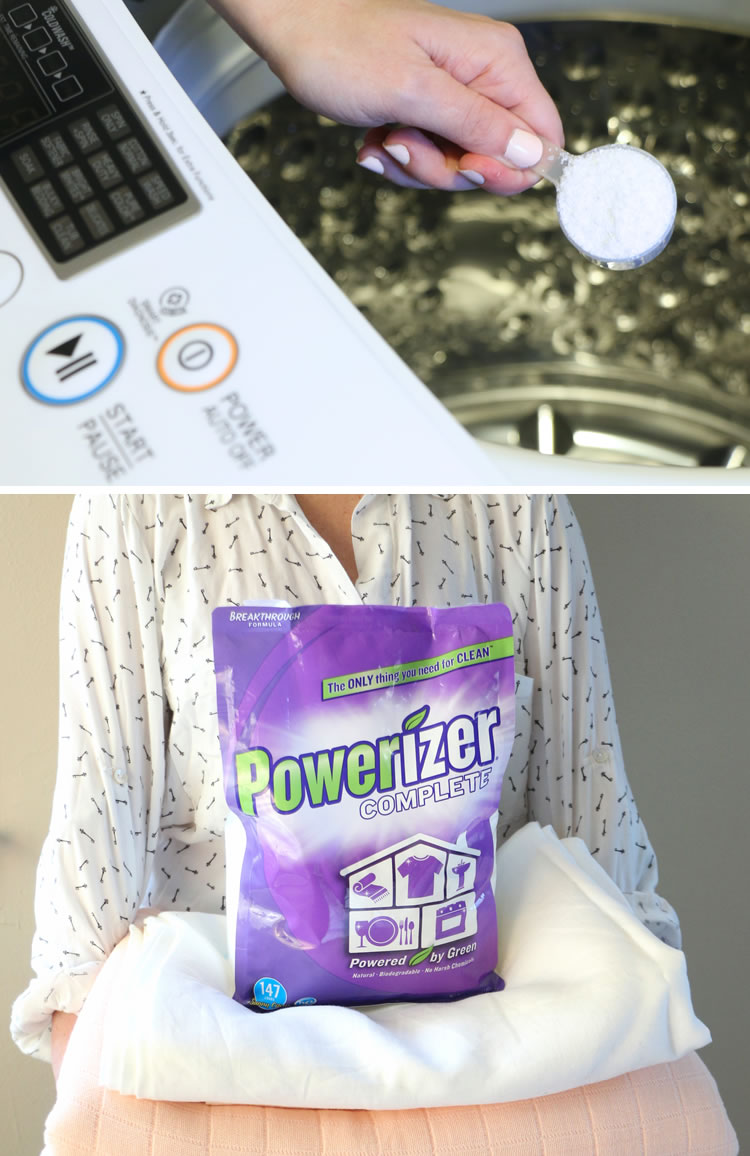 Clean Your Guest Bedding, Linens, Pillows & Towels
Before your guests come to stay you'll want to change all the bedding and make sure their pillows are fresh and clean. Powerizer contains a color-safe bleach that helps to brighten the colors on your clothes and remove super tough stains. It's also safe for all washing machines, including HE and works in all water temperatures. For a normal wash add 1-2 scoops of Powerizer to the drum and then follow with all your laundry.
For super stubborn stains pretreat with Powerizer dissolved in warm water and let sit for up to 6 hours. Wash in your next load (and some Powerizer) and you're good to go.
Powerizer is great for skin sensitivities and allergies. It even removes irritating residues and films other detergents leave behind. It even scrubs the inside of your washing machine while running!
Products You Can Ditch: Laundry Detergent, Stain Removers, Color Booster, Bleach & Fabric Softener and Machine Cleaner
Freshen Table Linens
Pull out those holiday linens including tablecloths & fabric napkins that have been in storage all year and look them over for stains and discoloration. Powerizer can freshen them up, remove tough stains and get rid of that old storage smell.
Products You Can Ditch: Laundry Detergent, Stain Removers & Bleach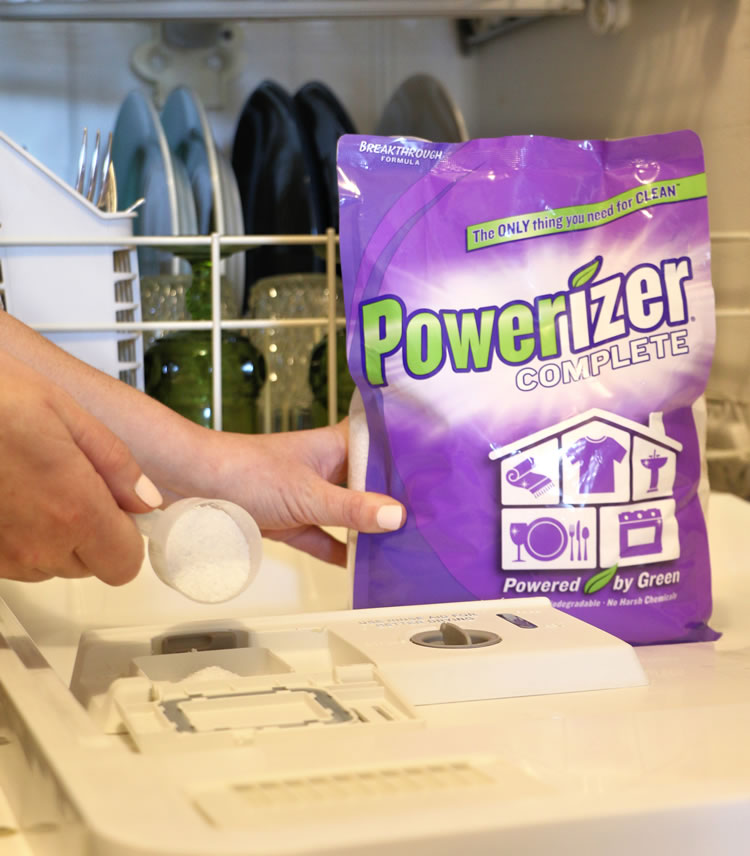 Get Silverware, Dishes & Glasses Ready Beforehand
If there's any time to pull out your fancy tableware it's the holidays. Save time before the big day and soak them in the sink with some hot water and a scoop of Powerizer to remove spots and stains. If they're not too bad a ride in the dishwasher with ¾ of a scoop of Powerizer for a normal wash load will do the trick.
Did you know that most dishwasher and laundry detergents leave a film on the inside of your machines? This scum ends up on all over your dishes even and builds up on your clothes. Um, ew. Powerizer cuts through these residues leaving everything sparkling clean including the inside of your dishwasher, washing machine, and their pipes. Powerizer rinses clean all on its own will not etch or scratch dishes. It's a dishwasher's and washing machine's new best friend. The inside of my dishwasher has never looked better.
Products You Can Ditch: Dish Detergent, Dishwasher Rinse Aid, Silver Cleaner and Machine Cleaner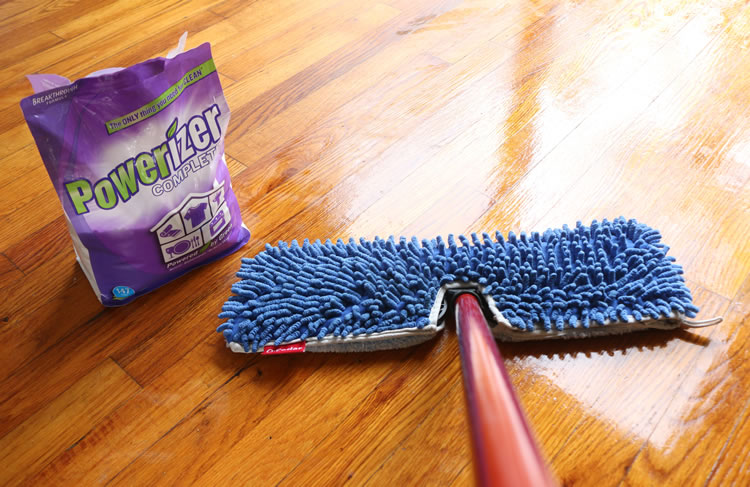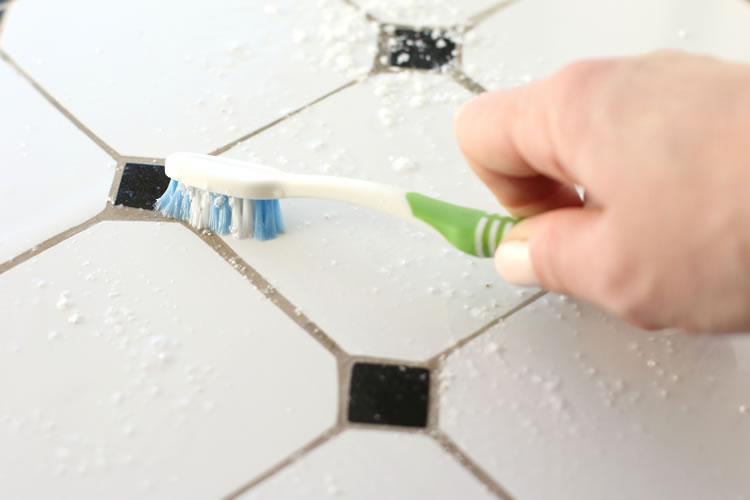 Clean Your Wood, Laminate And Tile Floors
Clean floors are a must when you're entertaining. Powerizer easily tackles built up dirt and sticky scummy bits easily making your floors clean and fresh. Simply dissolve a scoop of Powerizer in a bucket with one gallon of warm water and mop. To rinse, go over the floor again with clean water.
Powerizer is even great for whitening grout on tile floors (or walls) that have seen some better days. Dissolve Powerizer in a spray bottle with some warm water and then spray the grout. Let it soak and then wipe with a clean cloth or mop. Stop and admire your gorgeous grout (you'll be doing it, trust me).
Products You Can Ditch: Floor Cleaner, Grout Cleaner
Cleaning Tip! Start with tasks like sweeping, vacuuming and dusting, which are sure to kick up dust. Mopping floors and washing walls last so that you don't redeposit dust onto those clean wet surfaces.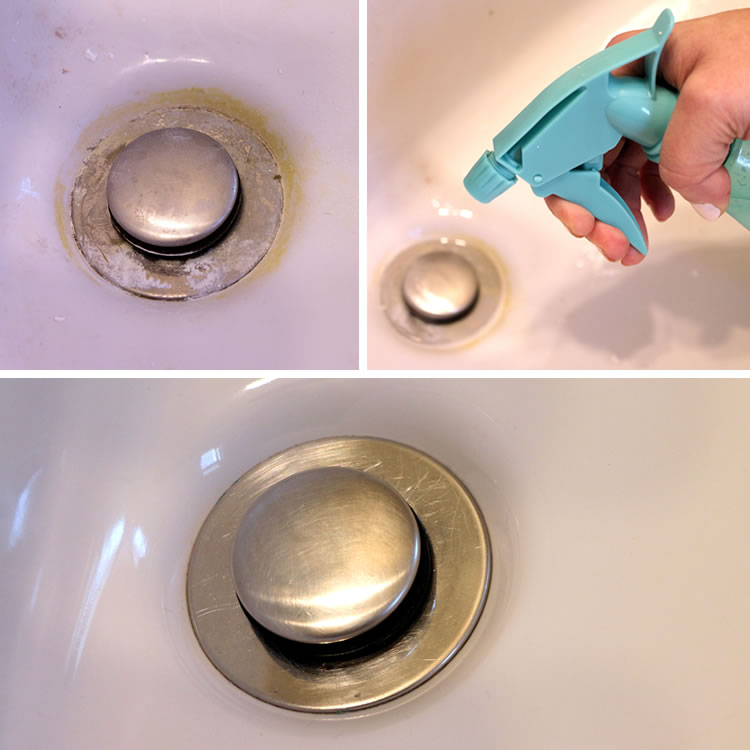 Make Your Bathroom Sparkle
I'm officially obsessed with using Powerizer in the bathroom! The sink, tub, and the toilet are the usual suspects we know to clean in the bathroom but don't forget glass surfaces your guests will notice like mirrors and shower doors. I'm freaking out because Powerizer left my mirrors 100% streak free and my sink and toilet cleaner than ever! For areas that need a little more love like grimy tubs and toilet let Powerizer soak on their surfaces while you do other tasks.
Products You Can Ditch: Toilet Cleaner, Bathroom, Tub & Sink Cleaner, Grout Cleaner, All-Purpose Cleaner, Window & Glass Cleaner, Floor Cleaner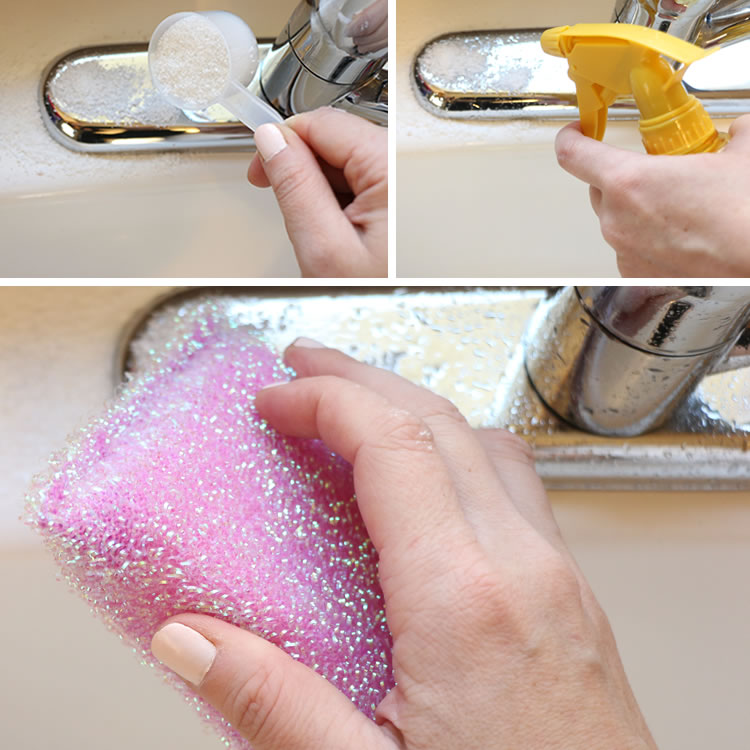 Clean The Kitchen From Top To Bottom
The kitchen is like command central during the holidays so making it shiny, clean and new is a must. Since Powerizer is an all-purpose cleaner it works to not only clean grit and grime but also deodorizes. This makes it perfect to use in every inch of your kitchen including your countertops, backsplash, inside and outside of the fridge, the microwave and the stove-top and inside your oven. Don't forget the floor and you get bonus points for getting behind the fridge. With Powerizer, metallic or chrome fixtures like the sink faucet will sparkle like you can't believe. I cleaned mine and couldn't believe how gorgeous it looked.
Products You Can Ditch: All-Purpose Cleaner, Disinfectant, Oven Cleaner, Grout Cleaner, Window, and Glass Cleaner, Floor Cleaner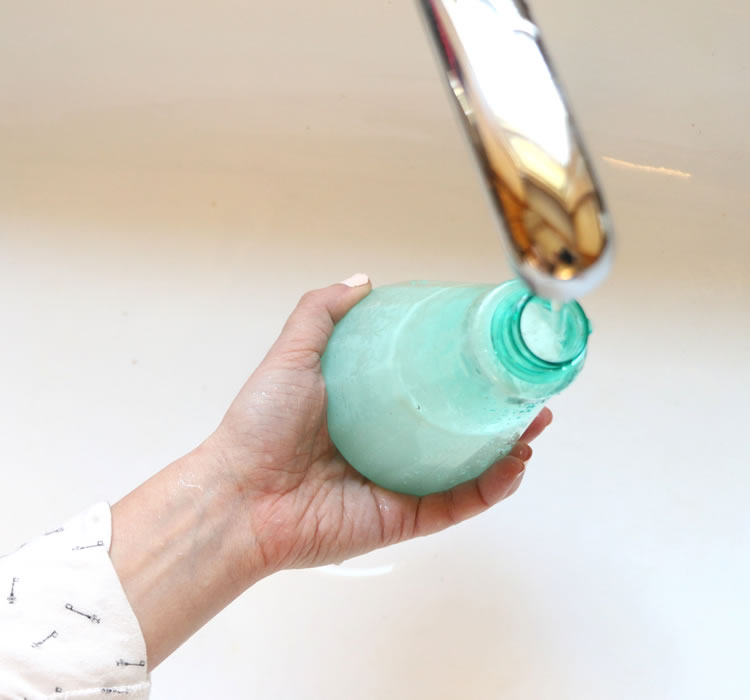 Super Quick Cleaning Tip! Add Powerizer to a spray bottle with some warm water and then shake it up until it dissolves. It's perfect to keep handy for when an unexpected mess or stain happens including spills on sofas, messy food on counters, dreaded wine mishaps or pet accidents on the carpet. Keep a few stashed around the house for when you need to clean on the fly.
Spot-Treat Sofa, Upholstery, Rug And 
Carpet Stains
Now is the time to check for carpet stains you may not have noticed before. And if you have pets you might just find more than you bargained for. First vacuum the area to remove any loose dirt or dust. Next, dissolve 1 to 2 scoops of Powerizer in a gallon of warm or hot water and put in a spray or nozzle tipped bottle. Then saturate the area with the solution massaging into fibers or area and let sit for 5-10 minutes. Blot with a dry towel. You might need to repeat a few more times for nasty stubborn stains. We treated a high traffic soiled area on our rug with Powerizer that was not looking so great. I can happily report it now looks brand new!
Products You Can Ditch: All-Purpose Cleaner, Disinfectants, Stain Removers and Carpet Cleaner
Clean Mirrors & Windows
Powerizer does a crazy amazing job at removing spots, dust, and whatever else is caked on your mirrors and smooth surfaces. I was downright shocked at how gorgeous my mirrors looked after using Powerizer. No streaks at all! I'm retiring my vinegar and water routine. All my windows are next.
Products You Can Ditch: Glass & Window Cleaner
Wipe Down All Those Dirty, Dusty Surfaces
When cleaning for the holidays don't forget to wipe those dusty surfaces that aren't supposed to be so fuzzy. This includes bookshelves, photo and art frames, molding, doors and door knobs, baseboards and ceiling fans. Use Powerizer to scrub those grimy light switch covers that usually get ignored.
Products You Can Ditch: All-Purpose Cleaner, Glass Cleaner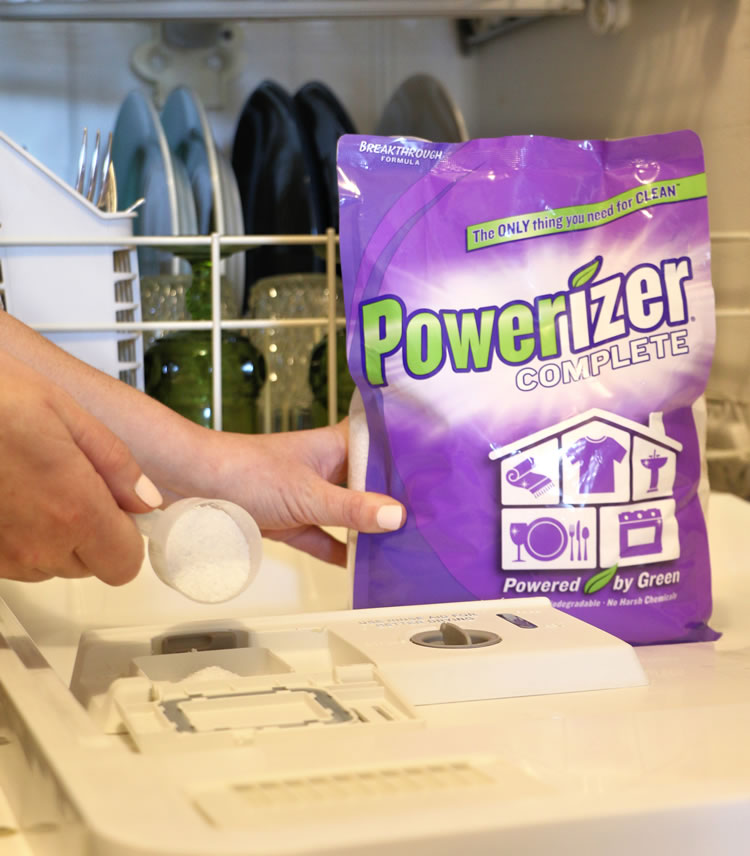 Simplify your green cleaning routine with Powerizer! We think you'll love it as much as we do!
Visit PowerizerClean.com to see how you can get your home sparkling clean for the holidays.
Use Coupon CODE: 

BLHoliday 

at checkout 

(valid thru December 23rd)