Better Living uses affiliate links. If you make a purchase through them, we may receive a small commission (for which we are deeply grateful) at no cost to you.
The holidays can have us running around like crazy and constantly short on time. In between decorating, shopping, wrapping gifts, and baking up a storm, having to cook dinner is the last thing we want to do. 
That's why having frozen pizza is a great thing to have on hand to help you save lots of meal-prepping time during the holidays! Not only is frozen pizza quick and easy, it's super delicious too. Unfortunately, most of the frozen pizzas on the market aren't made with the best ingredients. Plus if you have dietary restrictions or are trying to eat healthier, it can be difficult to find one that you actually want to eat. 
We have a favorite we think you'll love.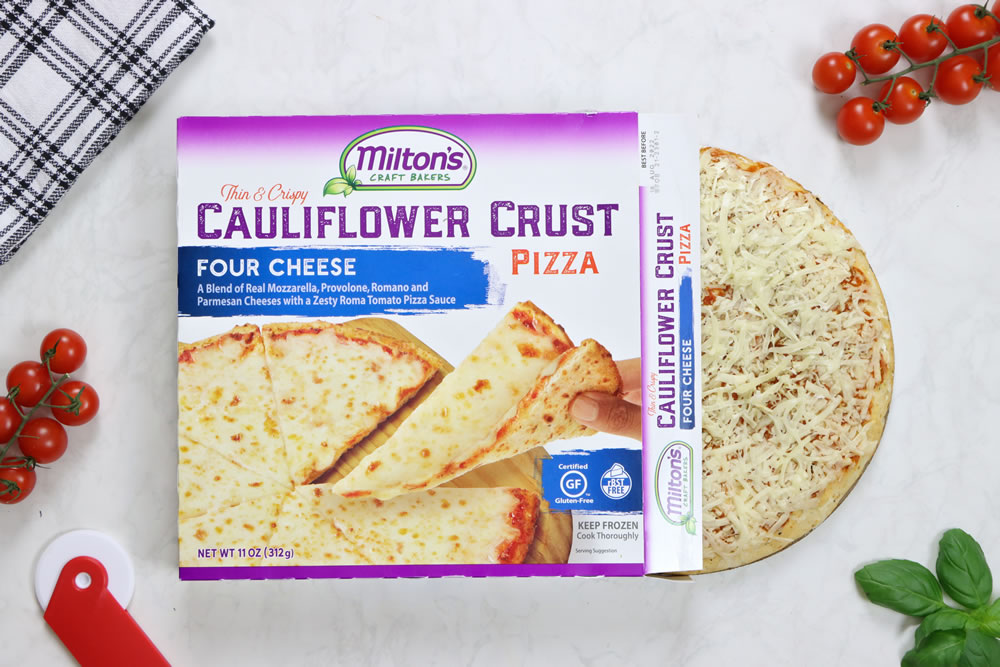 Milton's Cauliflower Crust Pizza
Infused with the goodness of cauliflower and gluten-free, Milton's Cauliflower Crust Pizzas from Milton's Craft Bakers, are a delicious and better-for-you pizza option. Plus, they can help you streamline your busy winter days and holiday to-do lists through the power of frozen pizza. 
These are the ultimate frozen pizzas to keep you eating well without any fuss through the holidays!  
Gluten-free and made using rBST free premium cheeses, try all 4 flavors:
Uncured Pepperoni 

Margherita 

Four Cheese

Roasted Vegetable
They're made by Milton's Craft Bakers, a company that specializes in "better-for-you" bread, crackers, and foods made only with artisanal ingredients and nothing artificial.
And if you love thin crust pizza, you'll love Milton's Cauliflower Crust Pizza as much as we do since they have a thin & crispy crust just like you'd get from your local pizzeria. Keep scrolling for a 2 FOR 1 coupon at the bottom of this post.
Holiday Pizza Party Tips
Here are some great ways Milton's Cauliflower Crust Pizzas can give you more time to enjoy your holidays through the power of pizza!
They're Ready In Less than 15 Minutes So You Can Enjoy More Holiday Fun
The holidays are all about getting things done as quickly as possible so you can have more time to relax and spend with your loved ones. Not only are Milton's Cauliflower Crust Pizzas delicious and made with healthy high-quality ingredients, but they don't have to be thawed and can be ready in less than 15 minutes.  After you pull them from the oven just give them a couple minutes to cool before slicing.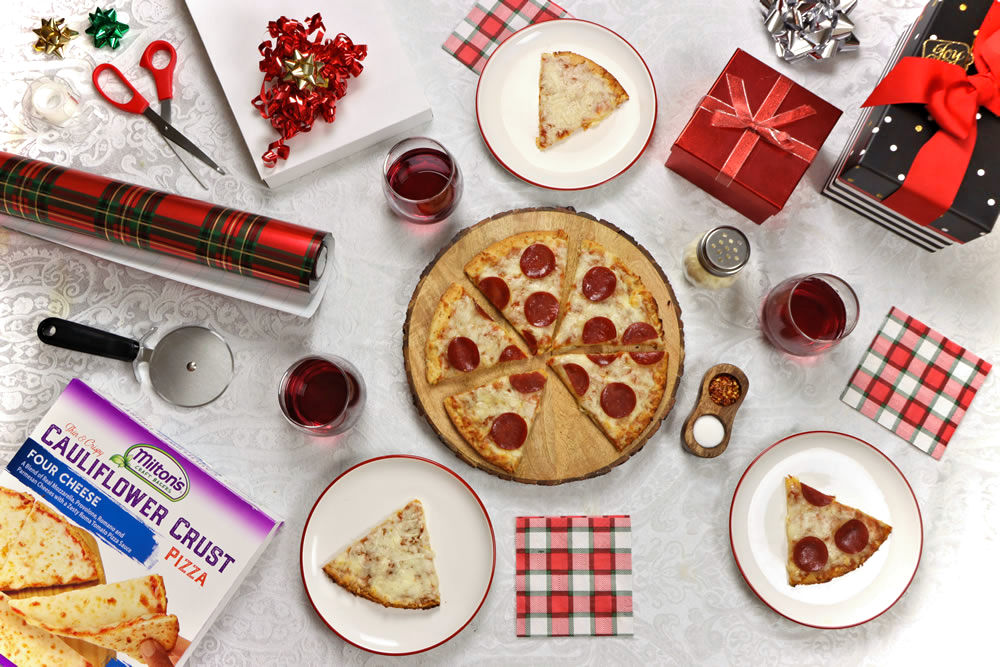 Host A Gift Wrapping Pizza Party
Here's a fun and easy holiday party idea! Bake up a bunch of Milton's Cauliflower Crust Pizzas and host a gift wrapping party. All you have to do is supply a variety of gift wrap in some fun prints, plenty of tape, and toppers like bows and gift tags. You can also ask guests to bring some along
It's a super fun way to eat some great pizza, and get some holiday to-do's done while spending time with your favorite people. It's a win, win, win!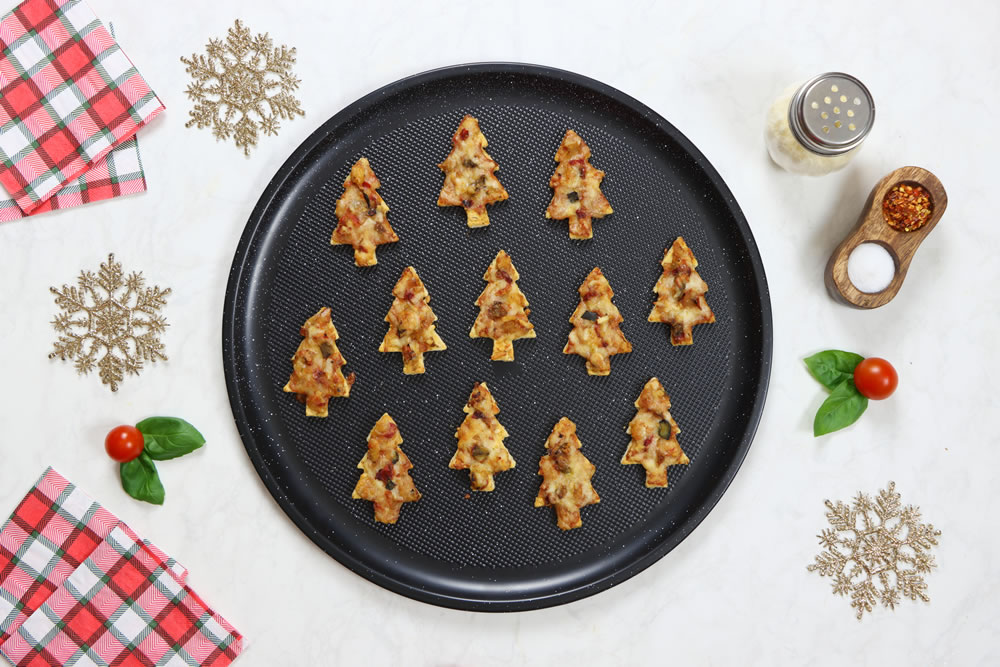 They Can Be Cut Into Fun Holiday Shapes
No matter how old you are, fun-shaped food is always the best. Try this holiday food craft with your frozen Thin & Crispy Milton's Cauliflower Pizzas: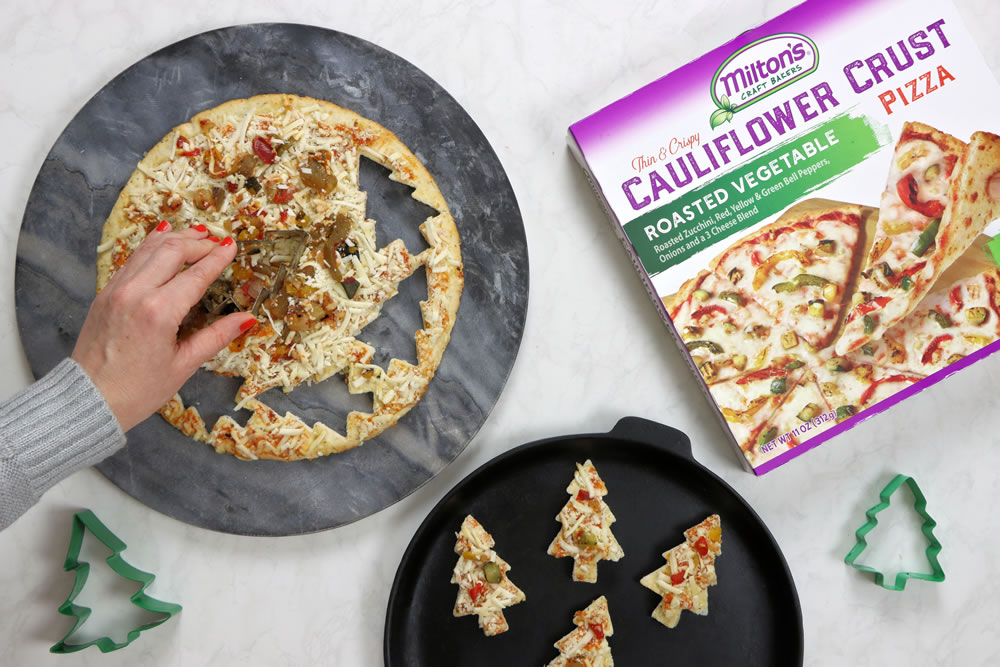 Step 1 – Before baking, thaw the pizzas for about 20 minutes to soften them just a bit. then use a cookie cutter to cut them into fun holiday shapes. We like Christmas trees, but shapes like stockings and stars would work great too. Kids will love a snowman shape too. To decorate, add your own black olive bits for the eyes and mouth and orange pepper or carrot for the nose. 
Be sure the cookie cutter you use is the metal kind because plastic cookie cutters aren't sharp enough to cut through the crust.
Step 2. Place the shapes on a baking sheet and bake as directed for about 8-10 minutes. Then you have yourself a fun holiday appetizer or snack for kids. 
Pizza Craft Tip: If you like the Christmas tree shape, we recommend using Milton's Roasted Vegetable Cauliflower Pizza flavor since the different colored veggies look like little ornaments. They're super cute!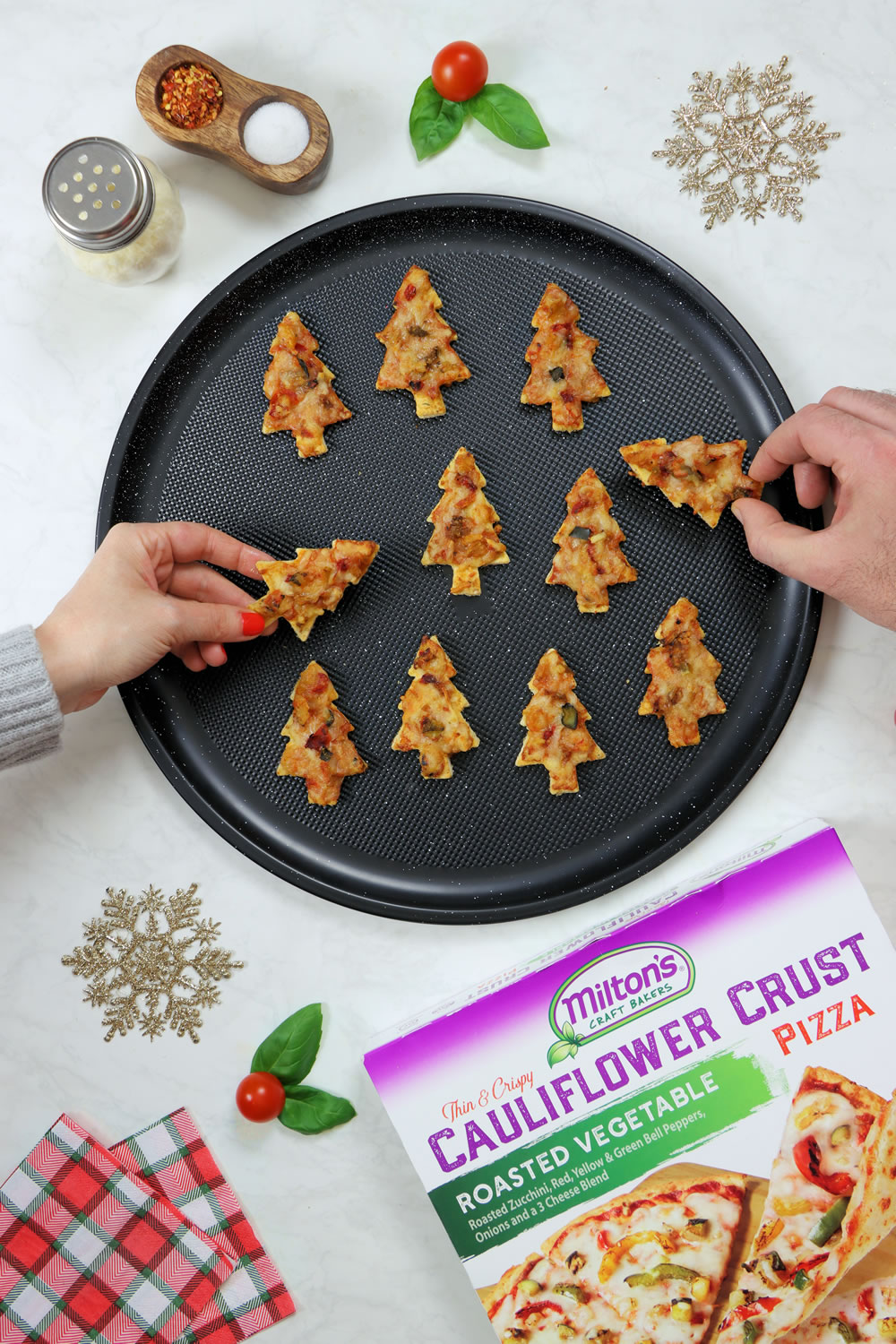 Dress Them Up With Your Favorite Toppings
Having frozen pizza when you're in a crunch for time can be a total lifesaver during the holidays. The best part is that you can customize these pizzas with any extra toppings you already have on hand. This way everyone in your family can always have their ideal slice. You can even set up a topping bar if you're having guests over.
A Total Crowd Pleaser, These Pizzas Make A Great Appetizer
No matter what the season or holiday, everyone loves pizza. Plus Milton's Cauliflower Crust Pizzas are really easy to serve when you have even when you have holiday guests. Once they're baked, top them with greens like arugula, or even buffalo chicken and blue cheese and then serve them like flat breads. A drizzle of balsamic can put them over the top.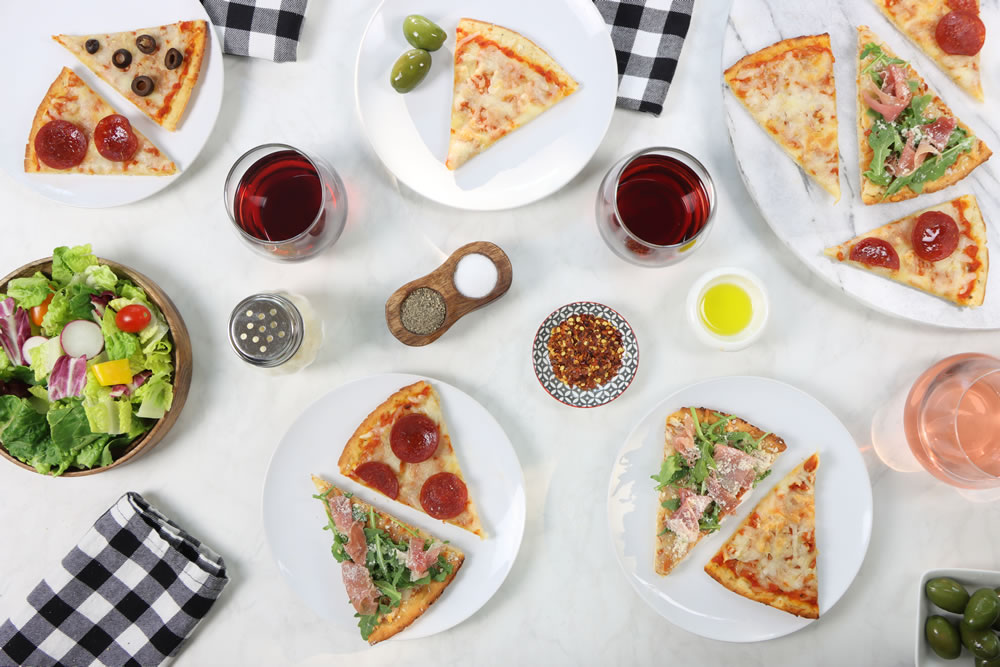 They Go Great With Wine!
Try Milton's Cauliflower Crust Pizzas with your favorite Pinot Noir, Cabernet, Merlot or Chianti. There's no need to get fancy either. There are some amazing red wines and red wine blends available in the bottle or by the box for low price points that you and your guests will enjoy.
Milton's Cauliflower Crust Pizza Benefits
Made of Cauliflower and Gluten Free Ingredients, They're Perfect For Those Of Us With Dietary Restrictions Or Trying To Eat Cleaner
These pizzas are ideal to serve on busy nights or to your holiday party guests. They're simply delicious, but more importantly they're also perfect for anyone who has dietary restrictions or allergies. In addition to being gluten free and using cheeses made from milk that is rBST free, they're made with better-for-you ingredients without any artificial preservatives or artificial flavors.
Any way we can get more veggies in our diet, especially around the holidays, is always a plus.
Keep Milton's Cauliflower Crust Pizza flavors in your freezer for a holiday pizza party or any time!
They Come in Four Delicious Flavors
Each of Milton's Cauliflower Crust Pizzas are topped with a zesty Roma tomato pizza sauce, and their own special cheese blends. Infused with cauliflower, the super crispy and delicious pizza crust is then seasoned with garlic powder and Italian seasoning to pack even more flavor. If you're a veggie crust lover, you know how hard it can be to find one that actually tastes good. And making your own can be even harder. Luckily there are four yummy flavors to choose from.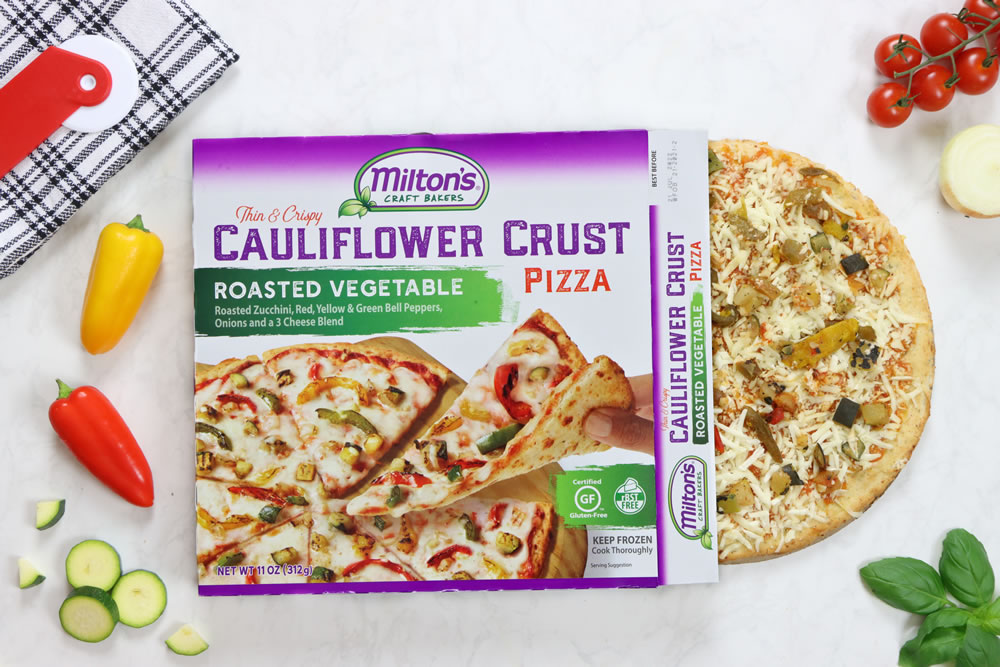 Milton's Cauliflower Crust Pizza flavors are:
Uncured Pepperoni:  Topped with a delicious high-quality uncured pepperoni over Milton's Four Cheese blend. Can't go wrong with this one. 
Margherita: Topped with diced Roma tomatoes and basil. Take it up a notch with a drizzle of balsamic vinegar.
Four Cheese: For the cheese-lover, this one's made with a blend of mozzarella, provolone, Romano, and Parmesan cheeses. It's also great for customizing. Perfect for your holiday pizza party
Roasted Vegetable: Love veggies? This one is topped with roasted zucchini, red yellow, and green bell peppers, onions, and Milton's three cheese blend.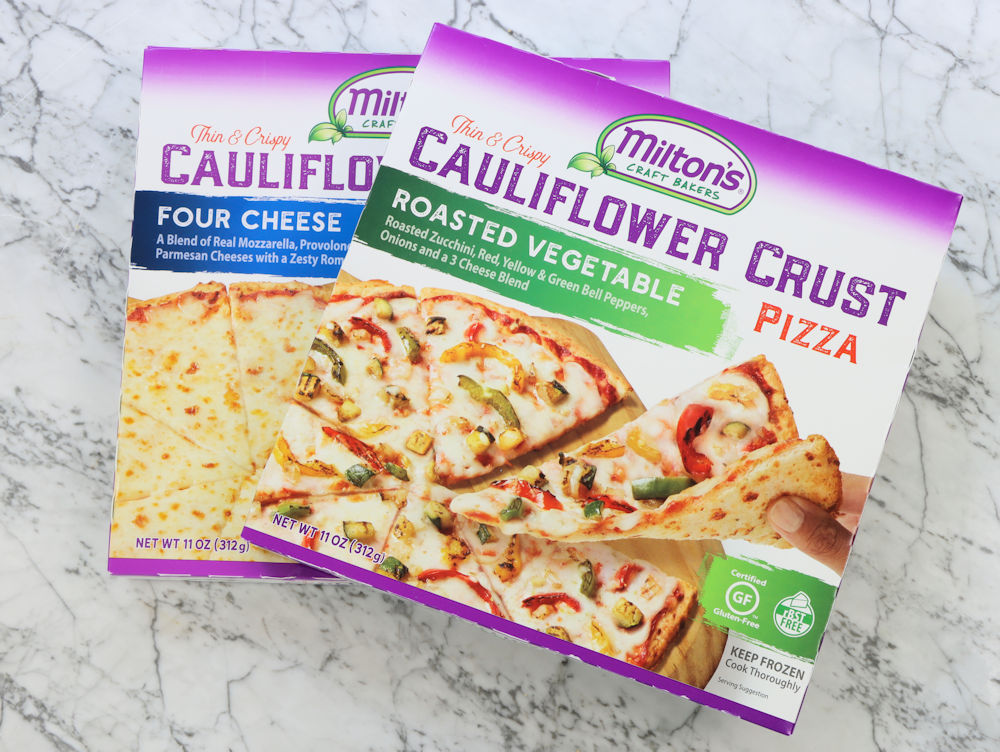 Where To Buy Milton's Cauliflower Crust Pizza
Milton's Craft Bakers Four Cheese and Roasted Vegetable Cauliflower Crust Pizzas are now available at Giant! Find a location near you and get a 2 FOR 1 (BOGO) Coupon now!
Visit MiltonsCraftBakers.com to learn more or to find their Thin & Crispy Cauliflower Crust Pizzas near you