Better Living uses affiliate links. If you make a purchase through them, we may receive a small commission (for which we are deeply grateful) at no cost to you.

The holidays are a wonderful time for giving gifts. But sometimes it can get tiring giving the same old types of gifts year after year. That's why giving a gift basket can make such a great gift. Not only are they unique, but they can be personalized to the recipient. They can also be created around a theme or simply just packed with lots of goodies. This year why not give a gift basket with a healthy theme in mind. Here are some tips and tricks to putting together the ultimate healthy gift basket.
Think About The Person You're Giving It To
When making any gift basket it's important to give some thought to the person you're giving it to. Think about their eating habits and their dislikes. Do they stick to a certain diet or lifestyle like gluten-free, paleo or sugar-free? Are they allergic to anything like nuts, eggs or dairy? If so be sure to place items in the basket that adhere to their lifestyle or diet limitations. Have they ever mentioned they wanted to try something new or maybe there's a product or food you know they use or enjoy? Maybe they're adventurous like me and just love to try new things? When selecting items for the basket keep the answers to the questions in the back of your mind. And remember it's supposed to be a gift so try to keep the vibe light and fun.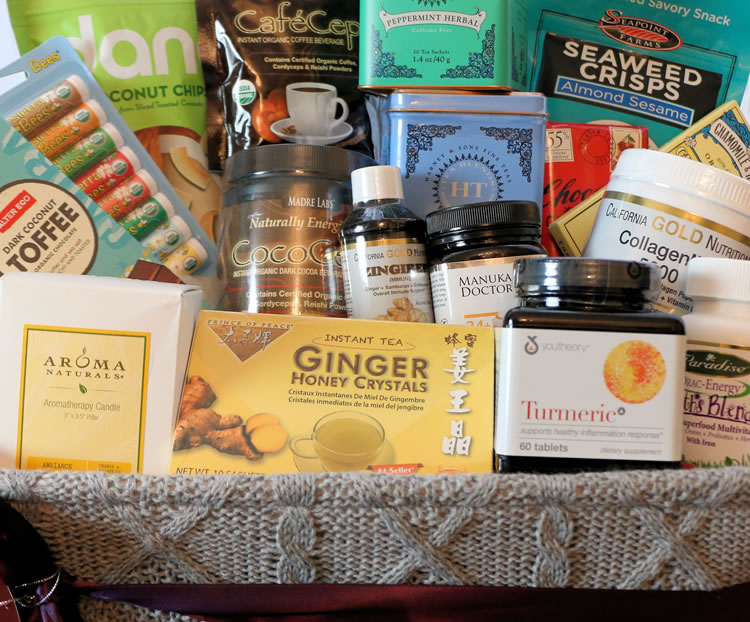 Find A Fun And Reusable Container
I love getting a gift basket and then being able to actually use or repurpose the container all the goodies came in. Of course, you could always use a woven basket, but why not get a little creative. We found this adorable grey cable knit sweater lined crate or basket at our local Home Goods. I like that it's clearly a winter style without being over the top holiday. Perfect for holiday gift basket giving no matter the person's religion. You can always add your own decorative touches like bows and ribbons to give your gift basket a more festive feel. It can also then later be used in the home as a cute storage container. Other ideas for gift basket vessels would be reusable wooden crates, a grocery tote or duffel style sports bag, or even wooden or galvanized metal trays. I have even seen some with a little chalkboard plaque that can have a sweet little message written on them. Before choosing your container make sure it will fit all the treats you want to include!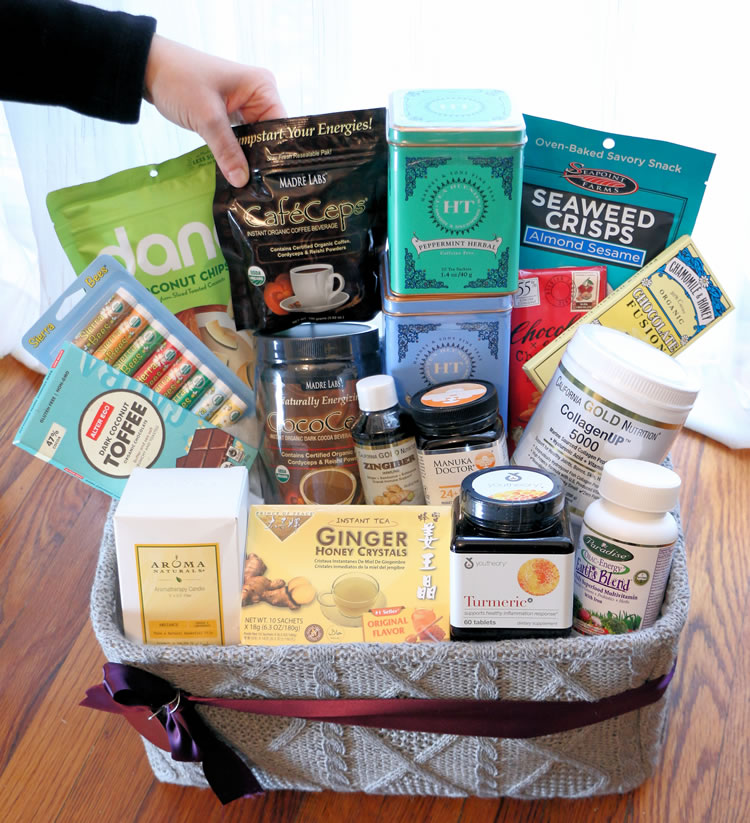 Make Shopping Easy
If you're set on creating a healthy gift basket this season iHerb.com makes shopping super easy. Not only do they carry tons of supplements at great prices they also have a large stock of chocolates, teas, coffees, honey, snacks, bath, beauty and other healthy goodies that will be perfect for your healthy gift. Why waste time running around to a bunch of different stores? You're busy enough during the holidays. Order everything you need at iHerb.com and get it delivered quickly while you relax at home. What can be better than that?
Don't Forget To Make It Pretty
A gift basket's presentation is everything! But don't be nervous if you're not the crafty type. Putting together a gift basket that looks great is easy. First, consider the size and shape of you're gift basket container. If your basket is deep you're going to need something to prop up the goodies so when they're displayed in the basket they're all visible. Simply line the basket with some crumpled paper or foam peanuts to create a lifted effect in the basket. Whatever you use to line the basket make sure it's lightweight. When you've achieved the height you need, next place a nice thick layer of decorative filler or shred. This is what's going to be visible peeking out between the gift basket goodies so make sure it coordinates with your gift basket container and covers the bottom layer fully. You can find this at your local craft or dollar store.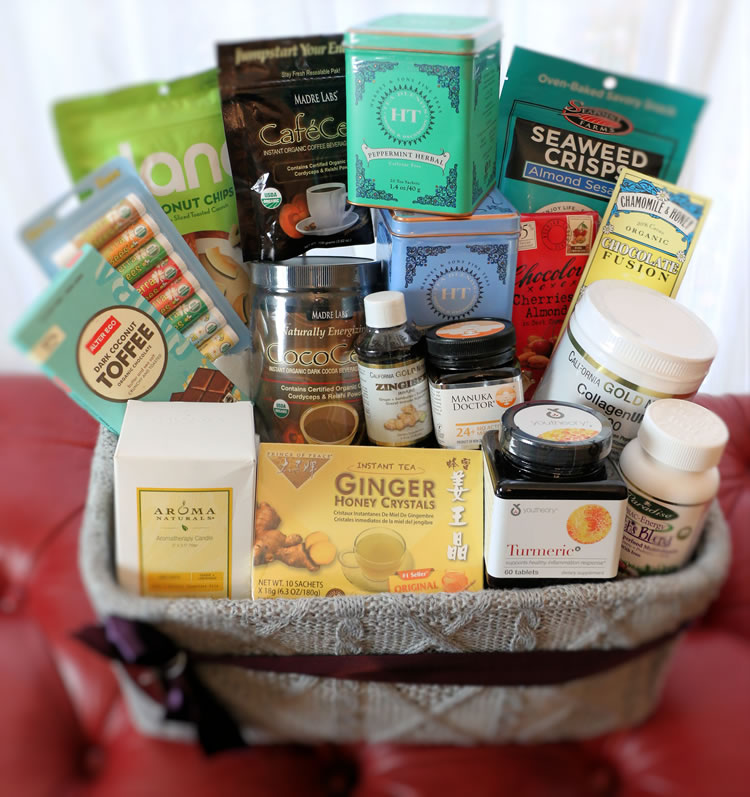 Working from the back to the front start placing your items so they are all visible and arranged nicely. Heaviest and tallest items should be placed towards the back and center to provide balance and stability, but otherwise just play with it and have fun arranging. If you want to anchor smaller items that seem like they won't stay put consider using clear tape or glue dots. Then attach them to heavier items.
When you're finished placing all the items, take your clear cellophane and wrap it up around the basket. Roll out enough of the clear cellophane so that it will cover both sides with extra to spare. Gather it together and then tie it off with a twisty tie or some string. Then place your decorative bow or ribbon to disguise the tie and trim the cellophane at the top if it seems like there is too much excess.
What should you put in a healthy gift basket?
There are lots of great things you can put in a healthy gift basket including superfoods, snacks, supplements, chocolates, and teas. Here are some ideas we had on what to include in your basket:
1. A Clean Burning Candle
A candle always makes a great gift and putting one in a gift basket is no exception. They're soothing and elegant and they smell irresistible. But not all candles are can be considered healthy. Most commercial candles contain artificial ingredients and synthetic fragrances that can put toxins into the air when burned. Not too healthy.
For a healthy candle that burns clean look for candles that are made from natural waxes like those from soy or beeswax. These types of waxes have some great advantages. Soy candles burn longer than conventional candles while beeswax candles give off a subtle aroma of honey as they burn. They also emit negative ions into the air that actually cleanse the indoor air of odors and allergens.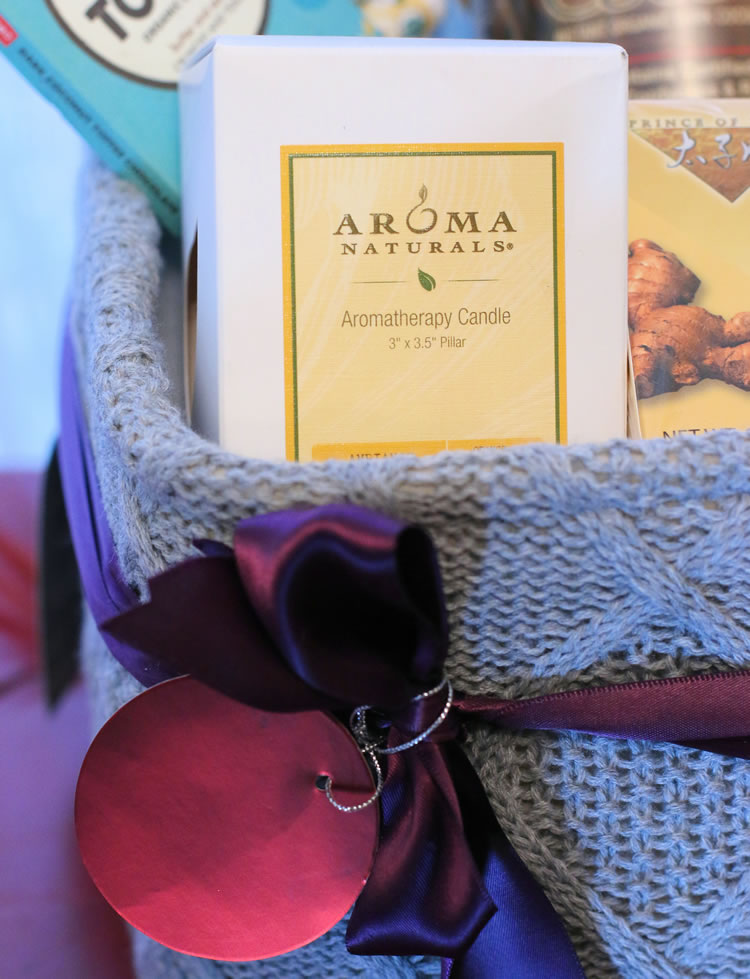 We love these Aroma Naturals Naturally Blended Pillar Candles. They come in great scents like Orange & Lemongrass, Orange, Clove & Cinnamon (great holiday scent) or Eucalyptus and Mint. These artisan-style handcrafted candles are made of food grade waxes with only essential oils and pure plant aromas that will create a relaxing atmosphere while keeping the air healthy.
Recommended  Candles: Aroma Naturals Naturally Blended Pillar Candles.
2. Healthy Snacks
Who wouldn't love getting a big basket full of yummy new snacks to try? Snacks are just plain fun and are a great way to build out a holiday gift basket. But they don't have to be full of processed and unhealthy ingredients. You can even create a healthy gift basket with simply snacks alone. And with healthy snacks being all the rage right now there are so many there are tons to choose from for even the pickiest of eaters. Here are some ideas on what healthy snacks to include:
Seaweed chips/crisps
Coconut chips
Trail Mix
Dried Fruit (apples, mangos, goji berries, blueberries, cranberries, etc.)
Nuts (almonds, macadamia, cashews, peanuts, etc.)
Seeds (pumpkin, sunflower, etc.)
Energy Bars
Popcorn
Chips made from lentils, quinoa, beans or chickpeas
Jerky (beef, bison, turkey, salmon, etc.)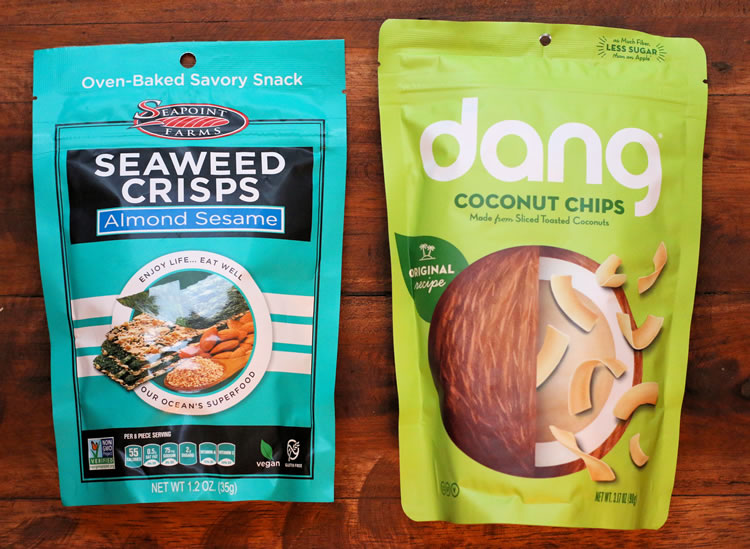 Recommended Healthy Snacks:
3. Artisan Chocolates
Anything chocolate makes a great gift any time of the year and adding chocolate to your gift basket is the perfect way to add a decadent sweet treat while keeping the healthy theme. Not only is chocolate is one of the best food sources of antioxidants but it's also bursting with nutrients that can boost health. Cocoa and dark chocolate are rich in a variety of powerful antioxidants, can protect against heart disease, reduce insulin resistance, may also improve the function of the brain(1). Chocolate has been linked to a number of other great health benefits like:
Lower BMI,  (2)
A boost of brain power and increased alertness (3)
Improvement in eyesight (4)
Lower blood pressure (5)
Reduced inflammation (6)
Our Recommended Favorite Chocolate Bars: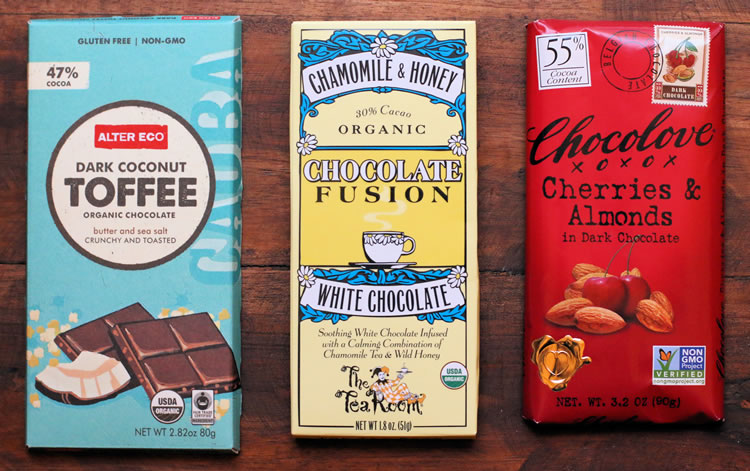 4. Hot Chocolate Mix
There's nothing more comforting on a cold winter day than a steaming hot cup of hot chocolate so no one is going to complain if that comes in their gift basket. But I love when something tastes great and also provides some awesome health benefits. I also love to give people things they may not have the opportunity to try on their own.  That's why I would recommend this Madre Labs CocoCeps Instant Organic Dark Cocoa.
What's so different about it? CocoCeps is and instant USDA certified organic dark cocoa beverage blended with Cordyceps and Reishi mushrooms which boost the immune system, improve energy and sleep, promote heart health, relieve allergies while having anti-aging properties. Super rich in polyphenols, CocoCeps allows you to gain all the health benefits of dark chocolate along with the amazing benefits of these medicinal mushrooms. This blend has no sugar added so it can be naturally sweetened to taste if desired.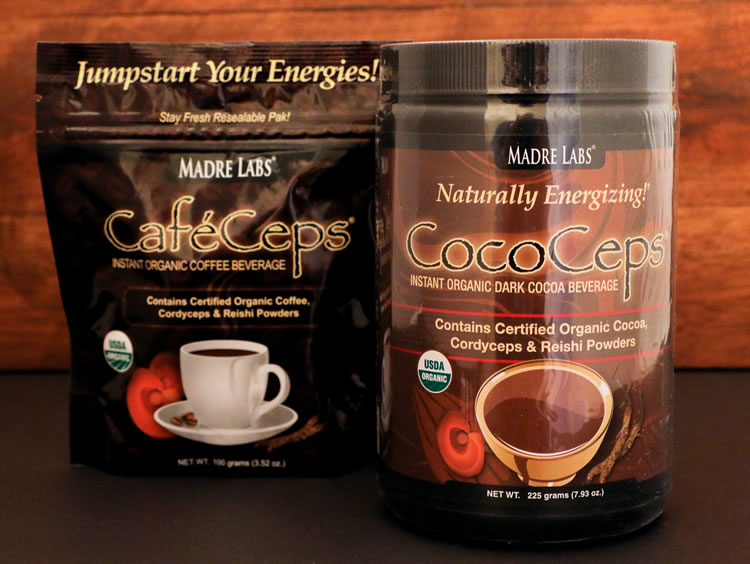 Fun Fact: Cordyceps is a mushroom which has been used for centuries in Tibetan and Chinese cultures and was originally found wild on the plains of Tibet.
Reishi is known in China as Ling Zhi translating to "Divine Mushroom." It is the most revered mushroom in East Asian culture.
For an alternative or cool basket pairing Madre Labs, CafeCeps Organic Instant Coffee blended with Cordyceps and Reishi Mushrooms is also available @ iHerb.com.  The two can be blended together or enjoyed separately.
Recommended Cocoa, Coffee & Mushroom Blends:
5. A Selection of Teas And Accompaniments
Teas make a lovely gift and will find themselves right at home in any healthy holiday gift basket. And can anyone ever have enough tea? Not only are they delicious and virtually calorie-free, but tons of scientific studies have shown that teas are chock full of antioxidants and may reduce the risk of heart disease, increase immunity, boost the immune system and soothe the digestive system. Of course, benefits may vary depending on the variety. And with so many different types flavors and selections from around the world, tea is anything but boring.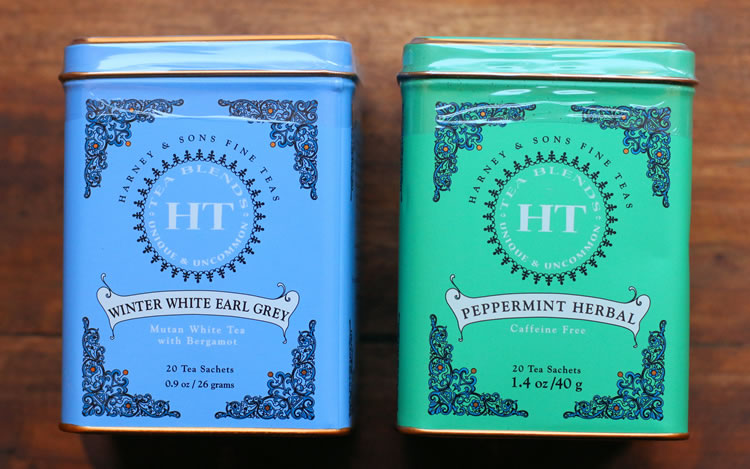 For teas that provide a boost of energy choose teas for your gift basket like black, green, oolong or white. For teas that promote relaxation select herbal teas like chamomile, peppermint, tulsi, lavender, and ginger. We love these Harney & Sons Fine Teas. Not only are they great quality teas in a wide variety of flavors, but they come in an adorable reusable tin. Wouldn't they make adorable flower vases?\
And for a lovely tea accompaniment, these Prince of Peace Instant Ginger Honey Crystals are wonderful. Instantly soluble with no artificial additives, each bag contains the concentrated extract from 12 grams of raw ginger. The naturally sweet and spicy flavor and smooth taste complement tea wonderfully. You can find them all at iHerb.com.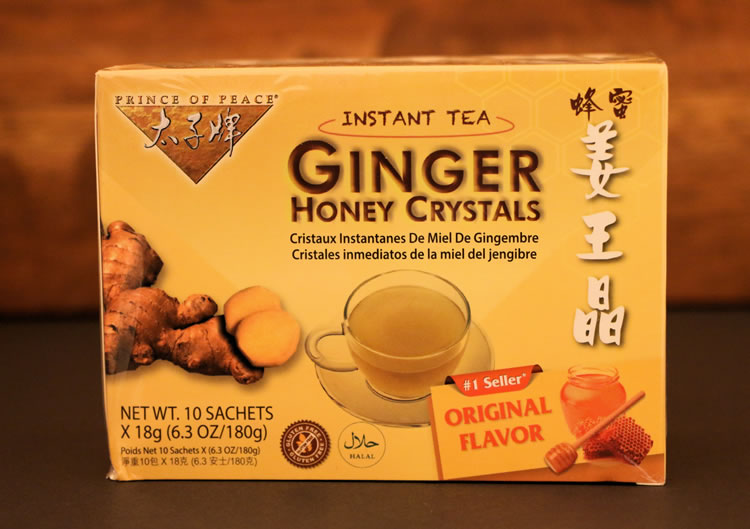 Recommended Teas And Accompaniments Shown:
6. Superfoods For A Healthy Winter
For a super healthy gift basket, why not include a few supplements or superfoods that are great for the immune systems while promoting general health and well-being. And if you're giving your gift basket to someone who works in a school or office where germs like to hang out these sorts of products would be welcomed. Especially since cold and flu season is just around the corner. Some incredible immune boosters you might include in the basket are items that include turmeric, ginger, echinacea, Manuka Honey or a superfood blend. Collagen has recently been on the top of every health and beauty hotlist. Not only does it promote the growth and maintenance of healthy skin, hair, and nails but collagen has also been credited with reducing joint pain, boosting metabolism and reducing the appearance of cellulite. Who wouldn't want that?
Recommended Superfoods: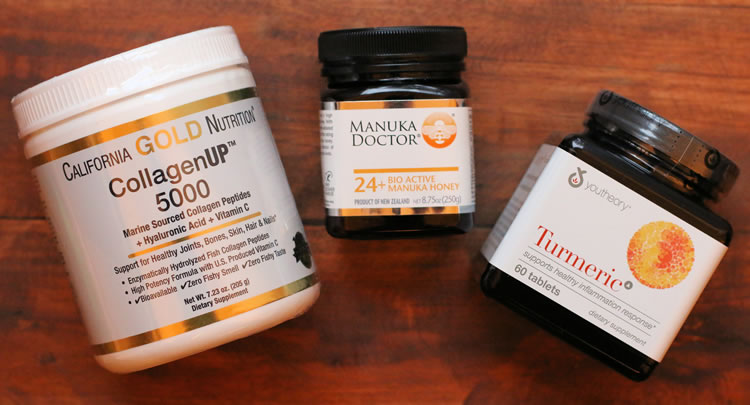 7. Lip Balms
Lip balms make great gifts especially around the holidays when the cold winter weather is here to stay and your lips may need some extra protection from the elements. No one loves chapped lips and lip balms are kind of like pens in that one is never enough.
For the healthiest options choose lip balm products without synthetic ingredients. Instead opt for those with natural ingredients that moisturize and protect like beeswax, cocoa butter, shea butter and aloe vera. Antioxidants in the form of Vitamin E can be a healthy and welcome bonus. I tend to favor lip balms made from beeswax. Beeswax hydrates wonderfully by locking in moisture while soothing dry chapped lips and promoting healing. Beeswax also has anti-inflammatory, antibacterial, and antioxidant qualities.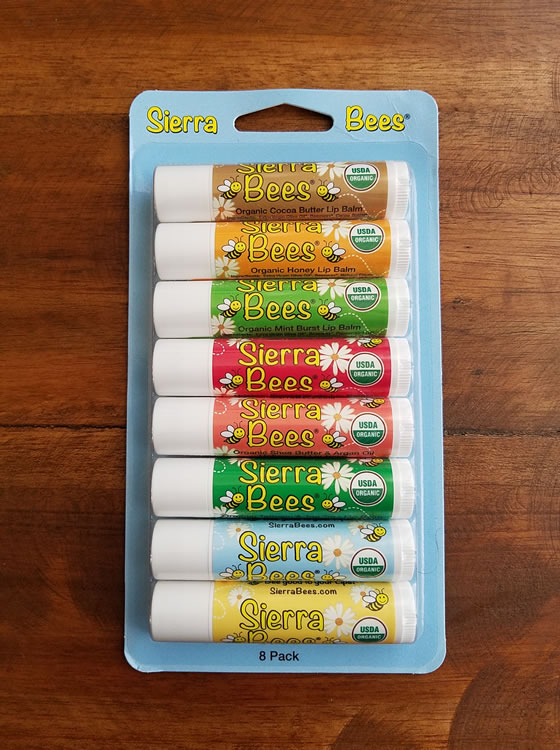 We love this variety pack of Sierra Bees Lip Balm with a section of 12 lip balms with holiday friendly flavors like pomegranate, creme brulee, mint burst and honey. Gift the whole pack or and divide it among a few gift baskets.
We love the Sierra Bees Organic Lip Balms because they are:
USDA Organic
Non GMOs
Gluten Free
Cruelty Free
Certified Organic
I also love how Sierra Bees is committed to sustainably sourcing their beeswax by adhering to stringent social, environmental and economic requirements. Our bees are so important and what we buy speaks volumes about what we care about and support.
Recommended Lip Balms:
? iHerb Fun Facts! Did you know….???
iHerb sells over 35,000 products and ships to over 160 countries!
iHerb is a Google Trusted Store and their customer service team provides support in 10 different languages!
We love shopping at iHerb! Their prices are amazing and they ship quickly.
☃ Want $5 off your iHerb Order?
All NEW iHerb Customers will GET $5 OFF their order of $20 or more!!! Just click ? here to apply the code!
<<⭐ What's your favorite tip or trick for putting together a gift basket? Let us know in the comments! ?