Better Living uses affiliate links. If you make a purchase through them, we may receive a small commission (for which we are deeply grateful) at no cost to you.
Thank you HGTV HOME™ by Sherwin-Williams for sponsoring this post. Visit HGTV HOME™ by Sherwin-Williams for the latest in color inspo and get started on your home project today!
Can you believe it's already 2018? This year I'm ready to tackle some home projects that I've had on the back burner. After moving into a new house last year I quickly realized that every single room was painted the same exact color. Yup. From the bedrooms to the kitchen to even the bathrooms. The same shade of tan. It's tan-o-mania up in here. Although it is actually a pretty color it definitely doesn't work in every room.
We were recently invited to try one of HGTV HOMETM by Sherwin-Williams new 2018 Color Collections of the Year. So for the first project of the year, I decided to give the guest room a little refresh with some new paint. And nothing gives a room some new life quicker than a fresh coat of paint. If you're looking for big impact on a budget, this is definitely the way to go. Since my mom visits often from I like to decorate the guest room in colors that she loves. She's a water-loving Pisces so that means I usually go with colors inspired by the ocean. Here's the before picture: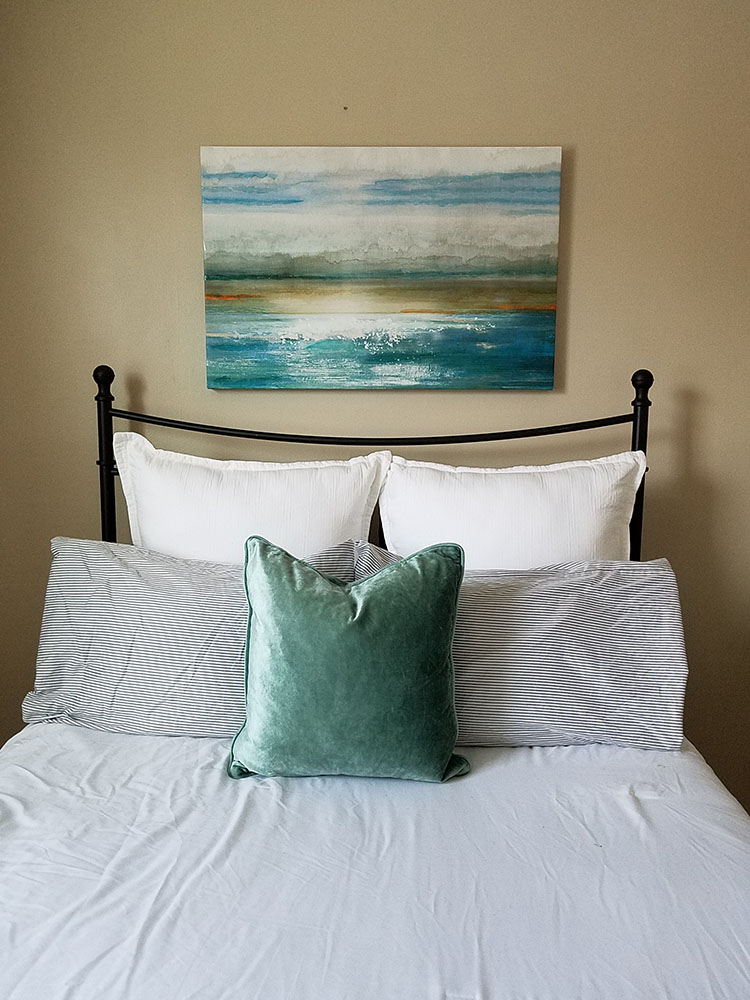 And here is the HGTV HOMETM by Sherwin-Williams Next Journey Color Collection for 2018:

Now which color to choose? Our guest room has one east facing window. This means gorgeous warm light in the morning followed by light that after around noonish can begin to turn blue.  With a little research, I found it's best to work with this type of light so and go with colors like greens, blues or neutrals with those undertones. This is perfect because the artwork in this room works perfectly with these types of colors.
So which color did we go with? Drumroll please….
Comfort Gray (HGSW 3286) from the HGTV HOMETM by Sherwin-Williams Next Journey Color Collection!!! This is a gorgeous grayish green that can even appear bluish in this room. The colors in this collection remind me of the ocean on a stormy day. Just like in the painting. Here's a swatch of the color: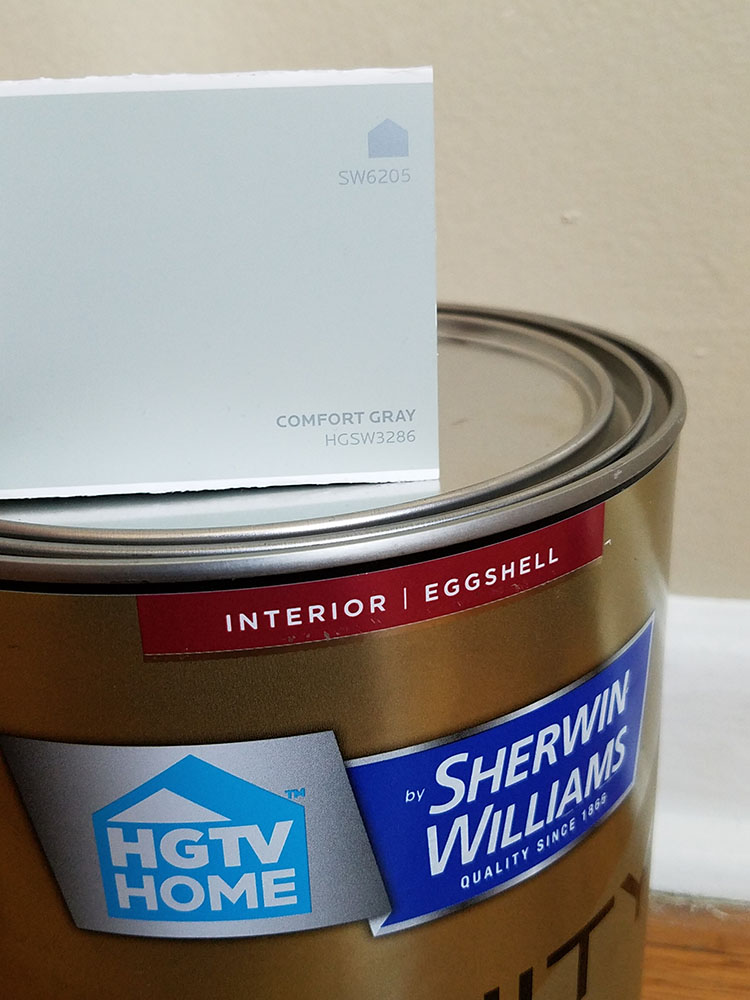 We picked up a gallon of the INFINITY Paint and Primer line paint at our local Lowe's where you can find the HGTV HOMETM by Sherwin-Williams Color Collections. INFINITY is a complete, one-coat, paint and primer in one with great hiding power and coverage. INFINITY is also formulated to be 50 percent more scrubbable, washable and stain resistant than other interior paints, which is a lifesaver if you have kids.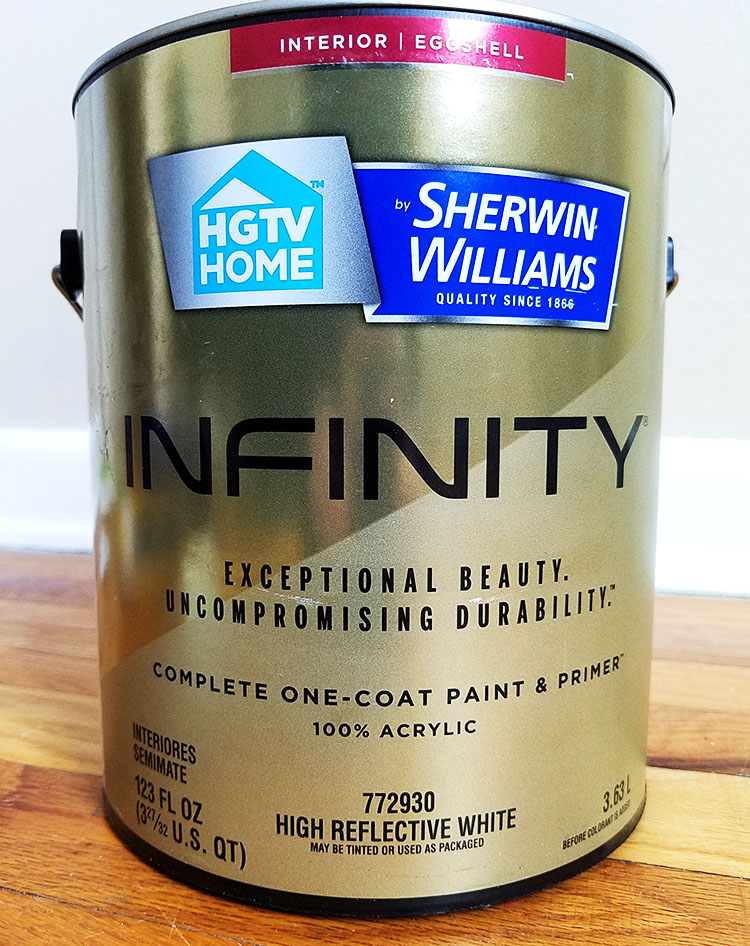 We also picked up some Purdy brushes for the job. A 2-inch brush for painting around the trim and a roller brush and handle for the walls.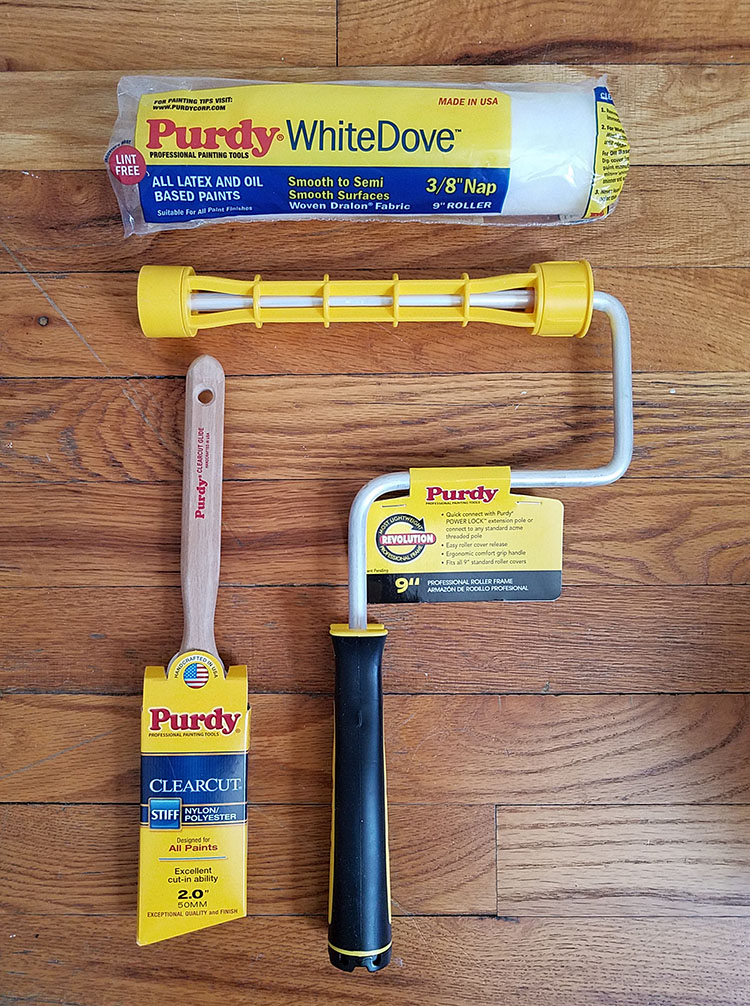 I've never used these brushes before but they did an amazing job. Not one bristle lost and a smooth application. This Purdy roller handle was also much higher quality than some others I handled at the store. Delightful.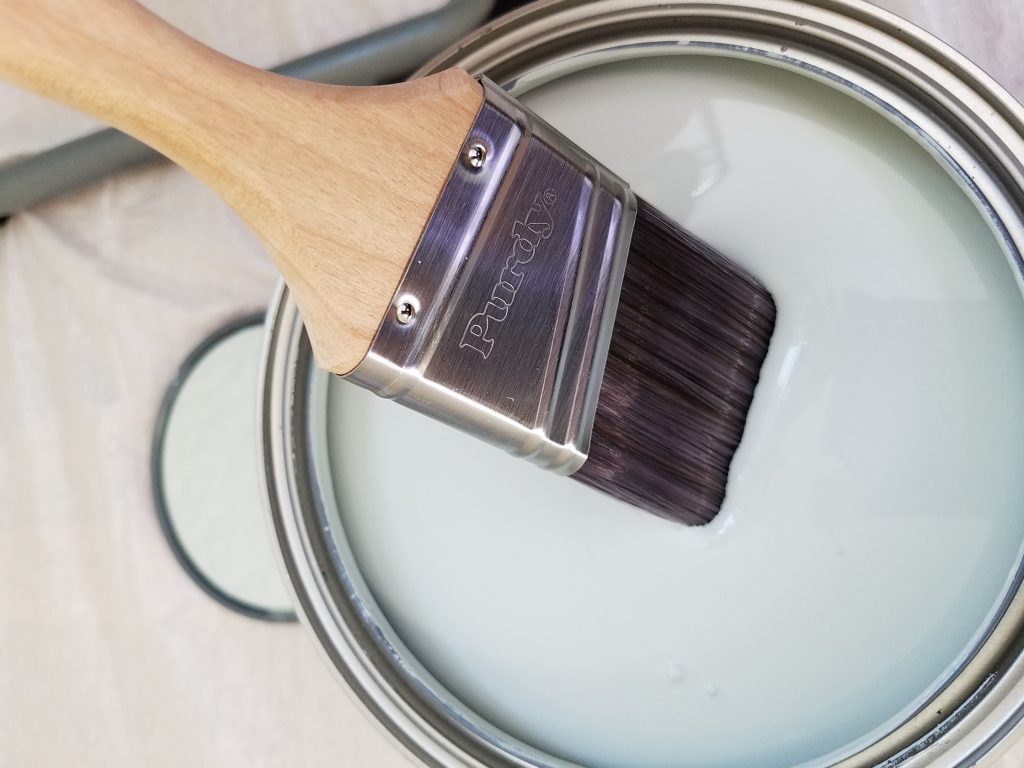 Don't you just love a fresh can of paint?  Just be aware that your wet paint is not always indicative of what your finished result will be. Always err on the safe side and get a sample from the store to test in the room you're planning to paint. Paint a square on the wall, let it dry and then view it at different times of day to make sure it's the color you're going for. Below you can see the paint on the right is dried down after about 15 minutes and the paint on the left (lighter in color) is fresh.
The INFINITY paint goes on silky smooth and I was really happy with the eggshell finish. It was a pleasure to work with and will definitely be my go-to paint in the future.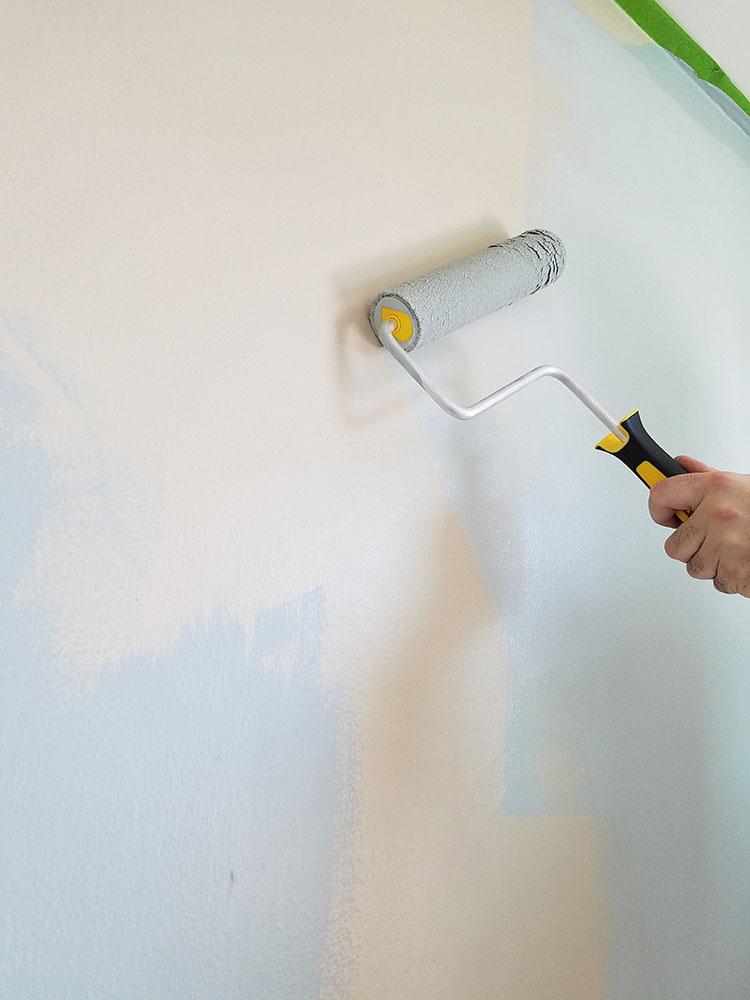 And for the big guest room reveal….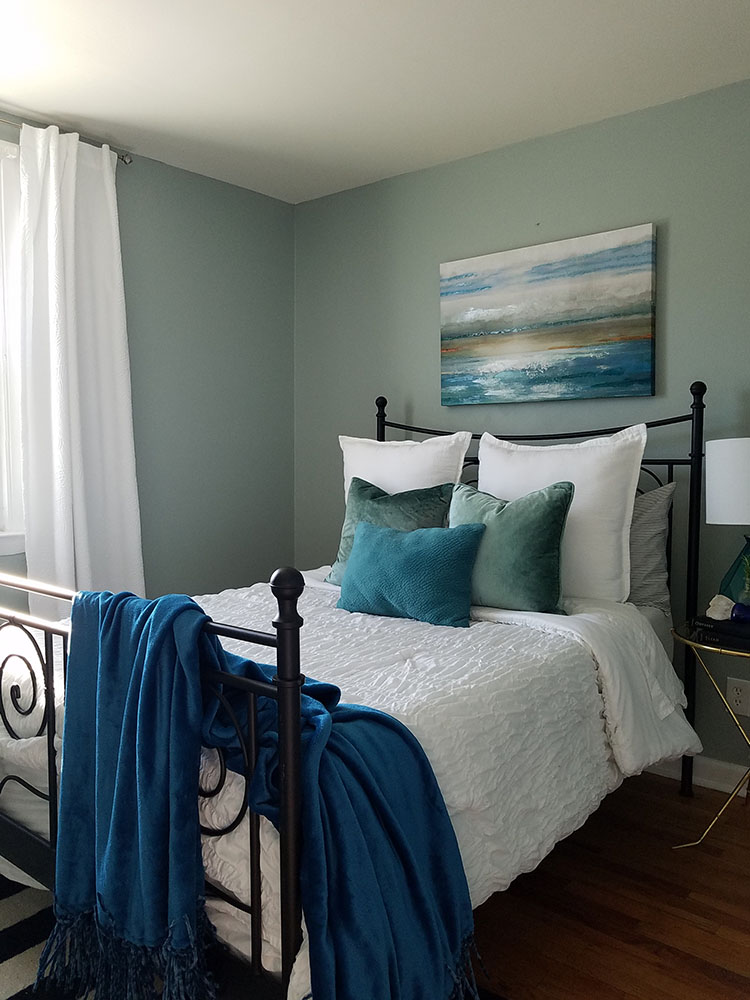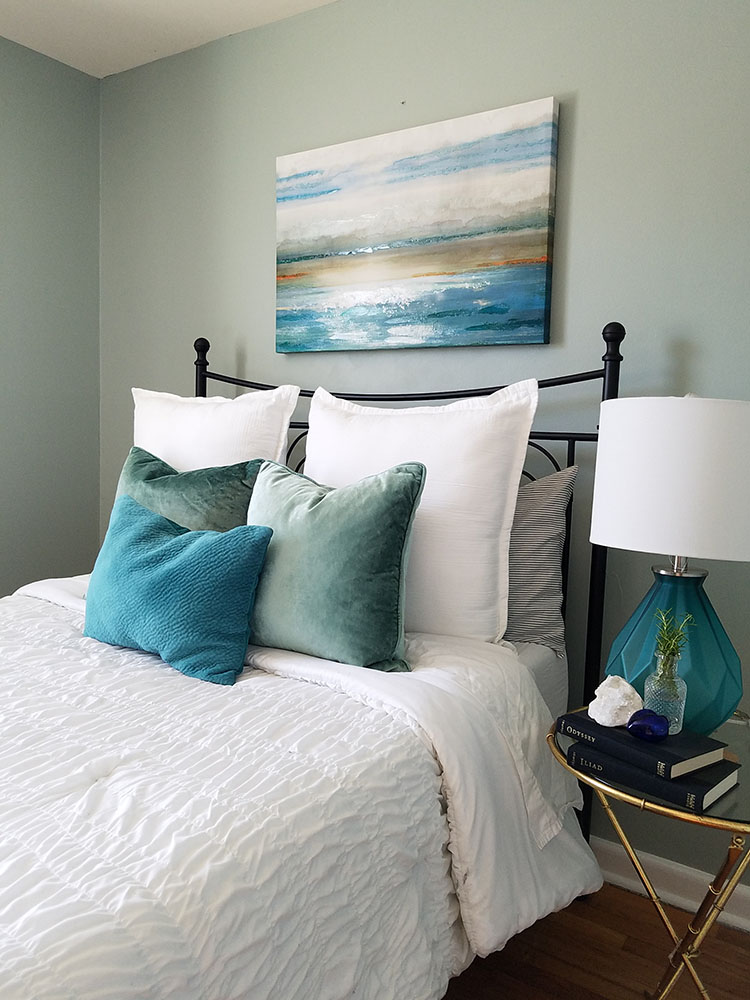 I really love this color and the way it changes throughout the day. I texted my mom a picture of her freshly painted guest room. She absolutely loves the color and said she's already packing her bags. I can't wait to add a few more decorative accents to complete the look!
Want to start refreshing your home and don't know where to start? Take the guesswork and frustration out of coordinating colors in your home by using one of the HGTV HOMETM by Sherwin-Williams new 2018 Color Collections of the Year. These four designer-inspired Color Collections are unique to HGTV HOMETM by Sherwin-Williams with palettes of 8 colors that work together in any combination.
The Color Collections are designed to work beautifully together in any space. All you have to do is choose the designer-inspired look you want to achieve from themes like Next Journey, Future Thinker, Thoughtful Living or Individual Mix. And, with four on-trend Color Collections of the Year from HGTV HOMETM by Sherwin-Williams, it's easier than ever to bring harmony to your home. Each Color Collection has a range of colors that go together in any combination, helping take the guesswork out of choosing color and giving your home a sense of room-to-room harmony.
You can also use your dedicated Color Collection to inspire more than just paint colors! Look for similar hues in the upholstery, artwork, and other pieces you decorate with for a perfectly coordinated look. How sweet is that?
For more inspiration or to see the HGTV HOMETM by Sherwin-Williams 2018 Color Collections of the Year –>click HERE!
I was selected for this opportunity as a member of CLEVER and the content and opinions expressed here are all my own.